Architects Offices, Famous Architects, Designers, Practice, Info, Design Offices, List
Global Architecture Offices : Key Practices
Celebrated Building Designers listed by Studio
World Architects – alphabetical
Architects Offices T-Z (this page)
Contemporary Architects : T-Z
This page contains a selection of major architect offices, with links to individual global architecture practice pages. We've selected what we feel are the key architects offices in the world. The focus is on contemporary architects but information on key traditional architecture offices is also welcome.
Architects listed alphabetically for their surname

photo : Cemal Emden
T
TaAG Arquitectura
Tabanlioglu
Tadao Ando
Tadashi Suga
Takeshi Hosaka
Tange Associates
Tasou Associates
Tatiana Bilbao
Tectoniques
Tectvs
Teeple Architects
Tegnestuen Vandkunsten
TEN Arquitectos
TERADADESIGN
Terry Farrell
Terry Farrell Architects
Terry Pawson
Terunobu Fujimori
Tezuka Architects
TFP Farrells
Tham & Videgård Arkitekter
Tham Videgard Hansson
THE FIRM
The Jerde Partnership
the next ENTERprise
The Smithsons
Thom Mayne
Thomas Ford Partners
Thomas Hamilton
Thomas Heatherwick
Thomas Tait
Tim Foster Architects
Tim Ronalds
Timo Penttilä and Juha Leiviskä Architects
Tod Williams Billie Tsien
Todd Architects
Tom Heneghan
Tom Kundig
Tom Kundig Architect
Tonkin Liu
Tony Fretton
Tony Owen NDM
Tony Owen Partners
Lapeña & Torres
Touraine Richmond
Toyo Ito
Toyo Ito architect
TP Bennett
Trahan Architects
Troughton McAslan
Tuncer Cakmakli Architects
Turner + Associates
TYIN tegnestue Architects
TYIN tegnestue Arkitekter
U
uarchitects
UNStudio
UN Studio
una arquitetos
Urh Arhitekti
Ushida Findlay
Uwe Schröder Architekten
UZU
V
Vaillo + Irigaray
Valerio Olgiati
Dick van Gameren architecten
Van Heyningen + Hayward
Varabyeu Partners
Vazio Arquitetura
Vector Architects
Venturi, Scott Brown and Associates
Viaplana Pinon
Vidal Arquitectos
Vilhelm Lauritzen Arkitekter
Ville Hara
Vincent Coleman
Virai Arquitectos
Vlado Valkof Design Initiatives
Vogt Landscape Architects
Volkan Alkanoglu
von Gerkan, Marg & Partners
W
Walker Bushe Architects
Walker Simpson
Walter Gropius
Walter Netsch
Walters & Cohen
Walters & Cohen Architects
waltritsch a+u
Wandel Hoefer Lorch Architekten
Wang Shu Amateur Architecture Studio
Waro Kishi
Warren and Mahoney Architects
Waugh Thistleton
Weiss Manfredi
Wells Coates
Wells Mackereth
Werner Sobek
West 8
Weston Williamson
what architecture
White Architects
White Arkitekter
WHY architecture
Wickham van Eyck
Wid Chapman Architects
Wiel Arets
Wiel Arets Architect
Wilkinson Eyre
Wilkinson Eyre Architects
Will Alsop
Will Alsop at RMJM
Will Bruder
William Adam
William Chambers
William O'Brien Jr.
William Whitfield
William Wilkins
Williamson Chong Architects
Wilmotte Associes
Wingårdh Arkitektkontor
Wingender Hovenier
Winy Maas MVRDV
Witherford Watson Mann
Woha Architecture
Wolf D. Prix
Wong & Ouyang
Woods Bagot
Woods Bagot Architects
Woods Bagot Shanghai
Woods Bagot Singapore
Wright & Wright
WSP | Parsons Brinckerhoff
WTArchitecture
wurm + wurm
WXY architecture
X
X-TU Architects
xarchitekten
Xavier Vilalta Studio d ' Arquitectura
Xpiral
xten architecture
Y
Yoshio Taniguchi and Associates
YRM
Yuko Nagayama Associates
Z
Zaha Hadid
Zaha Hadid Architects
Zaha Hadid Architecture
Zaha Hadid Architecture Designs
Zaha Hadid Buildings
Zaha Hadid Events
Zaha Hadid Exhibitions
Zebrano Design
Zechner & Zechner
Ziger/Snead
Zoka Zola Architecture + Urban Design
Zone Architects
Zublena Macary
Zvi Hecker
Zwarts Jansma
More world architects offices online soon at e-architect
Architects : geographical / alphabetical / historical
Some more information about one of the architectural practices above:
Zaha Hadid Architect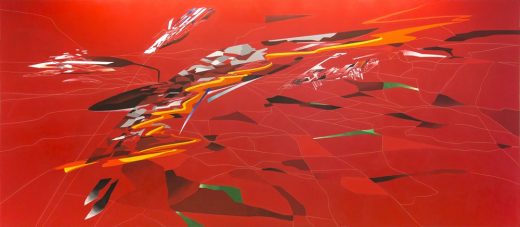 'Metropolis', 1988 © Zaha Hadid Foundation
Zaha was educated first at the American University of Beirut, Lebanon, and later at the Architectural Association in London (AA School), UK, from 1972.
Her early career as an Achitect was at OMA, then called Office for Metropolitan Architecture, in Rotterdam, The Netherlands, as a partner.
She taught at the Architectural Association with Rem Koolhaas and Elia Zenghelis, who both worked for OMA architects.
Zaha ran her own architecture studio at the AA until 1987. She later became Professor at the University of Applied Arts, Vienna, Austria.
Key architecture awards for ZHA include winning the Pritzker Prize Architecture Award in 2004, and the Stirling Prize in 2010 + 2011.
Tadao Ando Architect & Associates are based in Osaka, Japan
Tadao Ando Architect


Designed by architect Tadao Ando, He Art Museum will open on 21st March 2020. © HEM
Tadao was born in Osaka, Japan, in 1941. He did not train as an architect, initially working as a boxer.
In 1969-70 he established his architecture practice in Osaka.
Major architecture awards won by his architectural firm include the RIBA Gold Medal in 1997, and the AIA Gold Medal in 2002.
Significant works by his architectural practice include the Chichu Art Museum, Naoshima, Kagawa Prefecture, Japan; the Naoshima Contemporary Art Museum, Naoshima; the Church of the Light in Ibaraki-shi, Osaka; and the Modern Art Museum of Fort Worth, Fort Worth, Texas, USA.
Comments for the Global World Architecture Practices page welcome. Additions are always considered.