UN Studio, Architects, Building, Netherlands, Pictures, Projects in Holland, Dutch Designs, Photos
UNStudio Architects: Architecture
Contemporary Dutch Architecture Practice – Architectural Office Holland, Europe
post updated 19 November 2023
UNStudio News
UNStudio News
16 November 2023
Eclipse Campus, Dusseldorf, North Rhine-Westphalia, Germany
Design: UNStudio and HPP Architects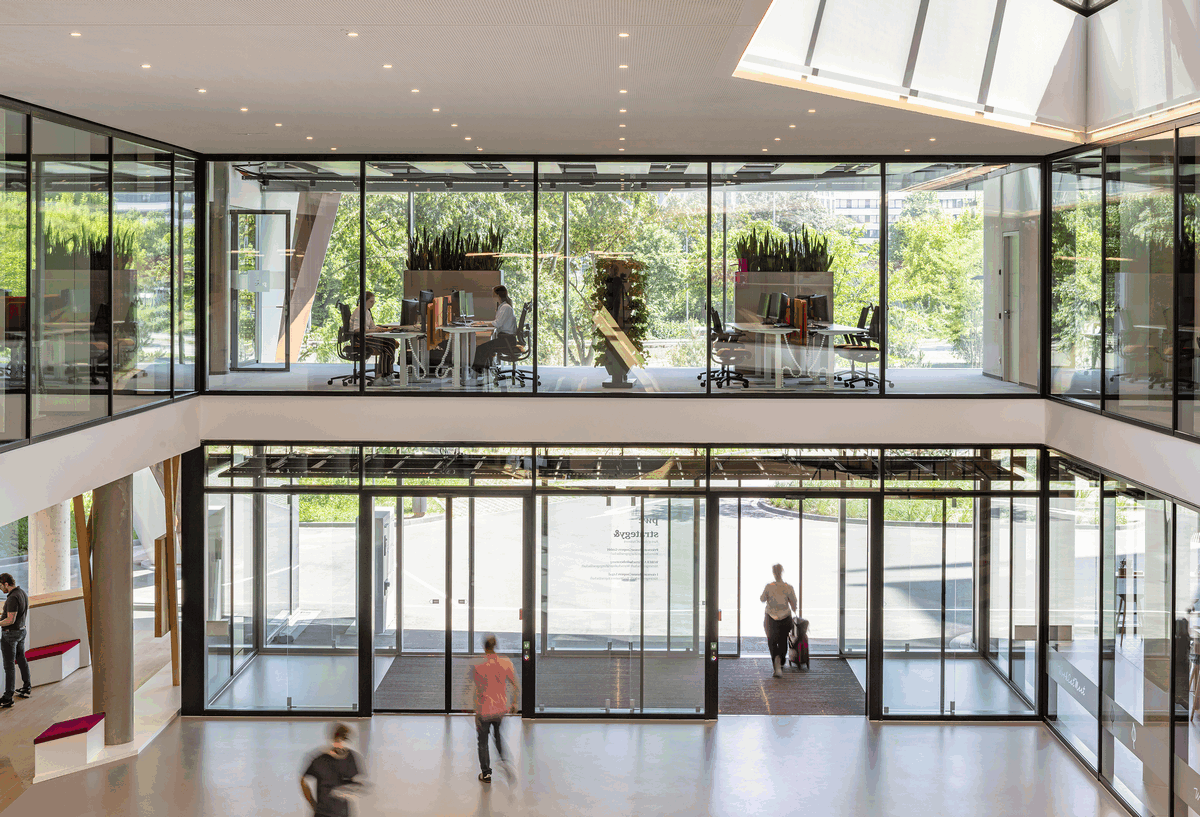 photo : H.G. Esch
Eclipse Campus Dusseldorf, Germany
Designed for die developer, Eclipse is a new vertical work campus located on Kennedydamm and home to the auditing and consulting firm PwC Germany. The highly sustainable campus was designed in a collaboration between UNStudio and German architecture firm HPP Architects and was realised by HPP Architects.
29 June 2023
Booking.com Amsterdam workplace, Oosterdokseiland, Amsterdam, The Netherlands
Architect: UNStudio ; Lead Interior Architect: HofmanDujardin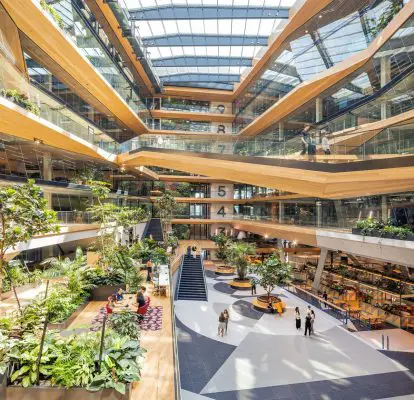 photo : Matthijs van Roon
Booking.com Amsterdam workplace building
16 Dec 2022
Madrid-Chamartín station, Madrid, Spain
Design: UNStudio, with b720 Arquitectura and engineers Esteyco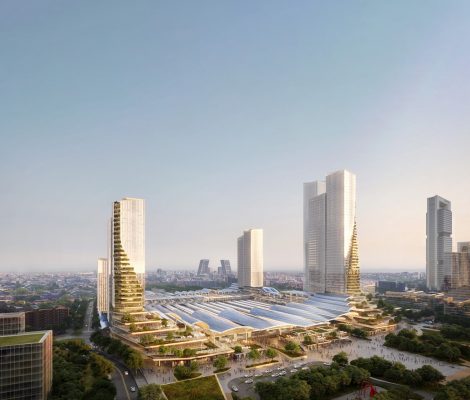 image : bucharest.studio
Madrid-Chamartín: Clara Campoamor Station
The international competition was launched in 2020 by Adif Alta Velocidad (AV) to transform the Madrid-Chamartín Clara Campoamor railway hub into an international benchmark for sustainable, multimodal, connected and integrated mobility. UNStudio, b720 Arquitectura and Esteyco's proposal, christened 'Open ecosystem', unanimously obtained the maximum possible score from the jury.
2 Sep 2022
NION Frankfurt am Main office building, Europaviertel, Frankfurt am Main, Hesse, Germany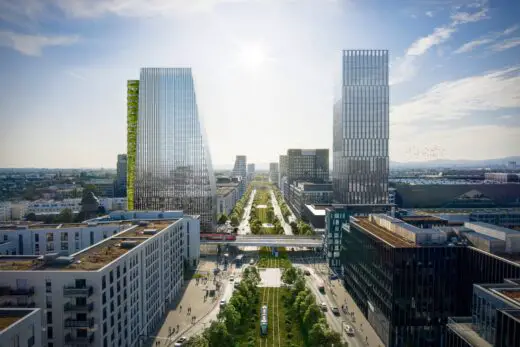 image : MOARE
NION Frankfurt am Main office building
NION is located in the Europaviertel West, at the interface to the Europaviertel East. This lively hybrid city district, which combines residential, work and recreational facilities, has been in continual development since 2005.
30 June 2022
UNStudio expands its leadership team and local presence across the globe
UNStudio Architects News
UNStudio is strengthening its presence around the globe with new leadership appointments across its offices. Alongside new appointments in our Amsterdam HQ, UNStudio's satellite offices are now expanding with a series of appointments and promotions to reinforce our strategy of further international development.
15 Dec 2021
Shanghai Jiuguang Center, North Shanghai, People's Republic of China
Interior: UNStudio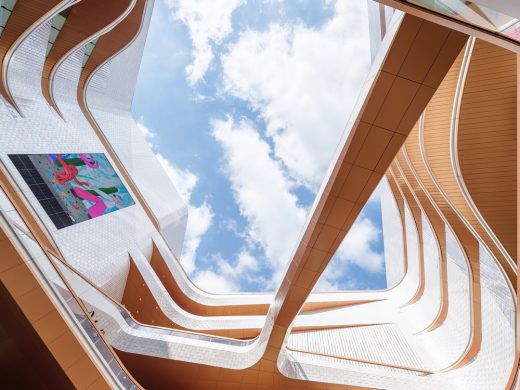 photo © Aaron&Rex
Jiuguang Shopping Center North Shanghai
UNStudio, in collaboration with Nihon Sekkei, recently completed the Shanghai Jiuguang Center. The design for this brand new retail destination, which sits in the middle of a bustling Shanghai neighbourhood merges an advanced commercial ecosystem with a human-centric, customer-friendly destination.
15 Nov 2021
31 Krzhizhanovskogo Street, Moscow, Russia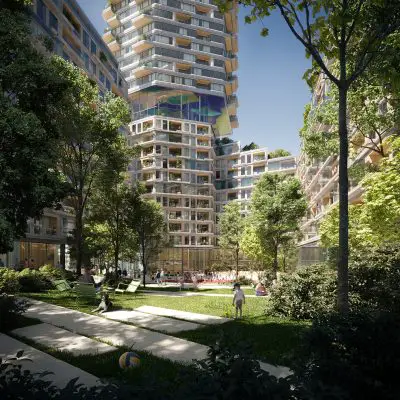 visualisation : MARTA Pictures
K31 Courtyard Krzhizhanovskogo Street
UNStudio's community-focused architectural concept has been selected as the winner for a new 118.000 m2 residential complex at 31 Krzhizhanovskogo Street in Moscow. The international competition was formulated and organised by Citymakers for project developer Glavstroy, who requested a design that incorporates the historical heritage of the region and contributes to the formation of a local community.
12 May 2021
Elysion Congress Centre, Eindhoven Brainport, The Netherlands
Design: UNStudio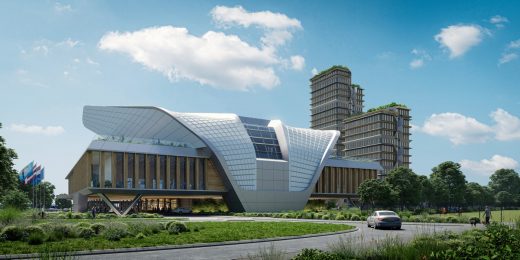 visualisation : Flying architecture
Elysion Congress Centre
UNStudio in the winning consortium for the design, build, finance and operation of a landmark Congress and Conference Centre in the Netherlands. Brainport Eindhoven is currently one of the leading innovative technology regions in Europe.
11 Dec 2020
Oppo Store Beijing
8 Sep 2020
Doha Metro Network, Doha, Qatar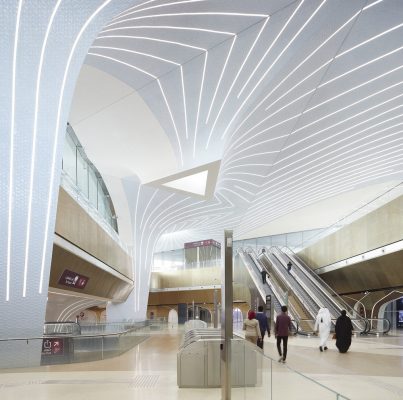 Interior Msheireb (interchange) Station. photo © Hufton+Crow
Doha Metro Network
UNStudio present the first stations on the new Doha Metro Network. With the Doha Metro, Qatar Railways has created one of the most advanced and fastest driverless metro systems in the world. Phase one of the project involved the construction of three metro lines (Red, Green and Gold), with 37 stations currently having been completed.
18 June 2020
Echo Building at TU Delft, Delft, The Netherlands
Architects: UNStudio with Arup and BBN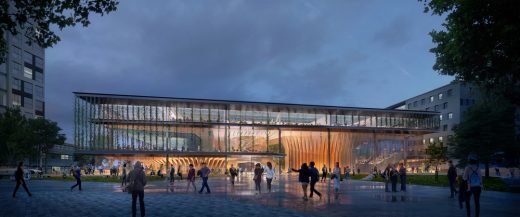 visualisation : Plompmozes
Echo Building at TU Delft
A future-proof campus: now under construction, Echo, a new multifunctional and flexible education building for TU Delft.
3 Apr 2020
18 Septemberplein C&A Building, Eindhoven, The Netherlands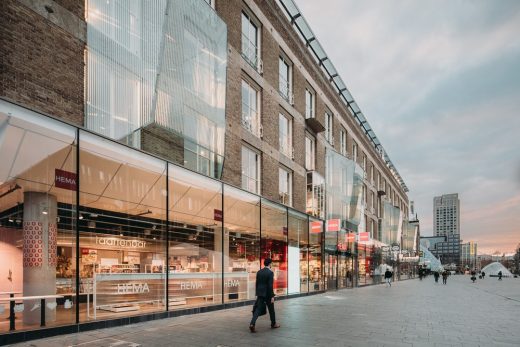 photograph © Evabloem
18 Septemberplein Renovation in Eindhoven
As part of Pan-European retail real estate investment manager Redevco's redevelopment of the 9,000 sqm, 18 Septemberplein C&A Building, UNStudio was invited to restore and connect this historical building to its existing urban context. The the four-storey building is a significant piece of protected post-war architecture.
26 Feb 2020
UNStudio and UNSense to collaborate with IE School of Architecture and Design as they launch the world's first MBArch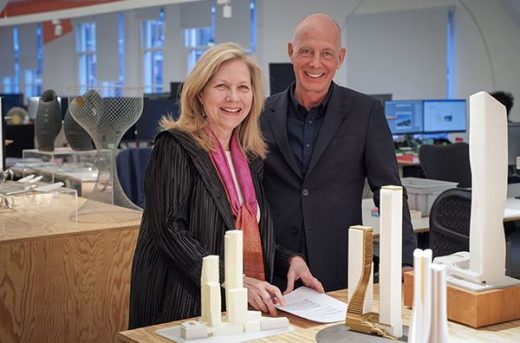 photograph courtesy of UNStudio
IE University's Master in Business for Architecture and Design is a leading global program that trains professionals with the skills and knowledge they need in management, entrepreneurship and innovation, all aligned within a single vision: business and design are stronger together:
Master in Business for Architecture and Design
7 Aug 2019
Smart and green mobility to futureproof cities
The world's cities are facing an urgent set of challenges when it comes to ensuring a fundamental necessity of urban living: getting around:
UNStudio Sustainable Mobility Report
27 June 2019
Business School for the Creative Industries, Epsom, Surrey, southeast England, UK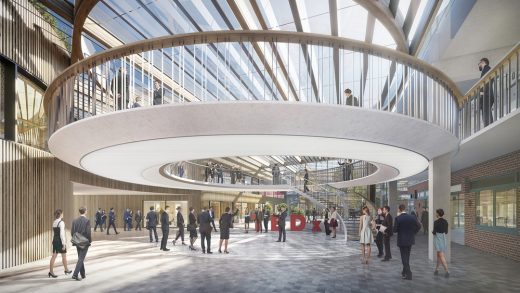 visualisation : FlyingArchitecture
Business School – UCA – University for the Creative Arts
This new extension proposes a connecting building to supplement the current facility and accommodate new undergraduate and post-graduate programmes.
24 May 2019
Karle Town Centre Masterplan, Bangalore, India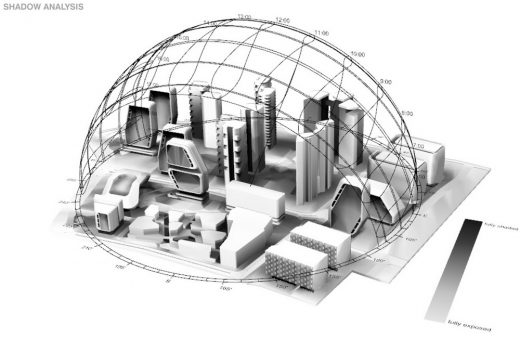 image courtesy of architects
Karle Town Centre Bangalore
According to economists, we are currently living in the 'Indian Century', and Bangalore – with its moniker as the Silicon Valley of India, due to the large number of information technology companies based in the city – finds itself at the epicenter of this rapid growth.
1 Mar 2019
Stichting Brainport Smart District, Helmond, The Netherlands
Stichting Brainport Smart District
10 Dec 2018
The Lyric Theatre Complex, West Kowloon, China
Architects: UNStudio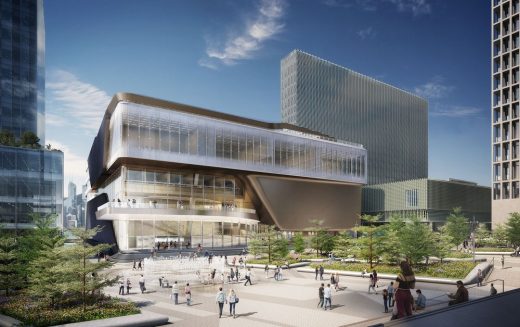 renderings by DBOX ; Masterplan image: © WKCDA
The Lyric Theatre Complex in West Kowloon
The Lyric Theatre Complex is located in the West Kowloon Cultural District in Hong Kong, an ambitious 40 hectare waterfront cultural quarter which combines open public space with a wide range of cultural venues. Here museums, theatres and concert halls intermingle to create a vibrant district for Hong Kong, where different disciplines within the arts can interact, collaborate, innovate and develop.
3 Dec 2018
Socio-Technical City of the Future, The Hague, Holland



rendering from architects
Socio-Technical City of the Future in The Hague
The CID test site covers a 1 x 1 km area in the centre of The Hague; currently a major infrastructure hub within the triangle of the Hague Central Station and two nearby stations, but in the future vision of the Socio-Technical City it becomes a green, self-sufficient double-layered district, where a new urban layer of housing, offices, urban mobility and park-like public space is composed over the existing train track infrastructure.
27 Nov 2018
A tour of UNStudio in Singapore
Completion of V on Shenton and the Scotts Tower marks four completed projects in the city
With the recent completion of two new projects in Singapore, we've put together a quick tour of buildings in the city to date:
Singapore University of Technology and Design
7 Sep 2018
Hilversum Media Park 2030, Netherlands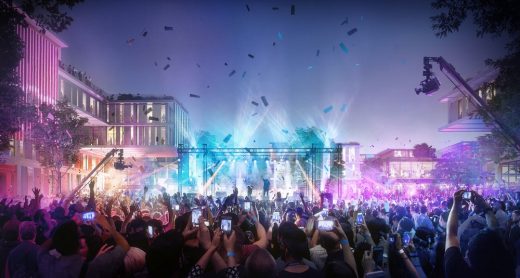 picture © Plompmozes
Hilversum Media Park 2030 Masterplan
A new social ecosystem where innovation is a spectacle and culture is the heart of the community.
15 Aug 2018
Southbank by Beulah, Melbourne, Victoria, Australia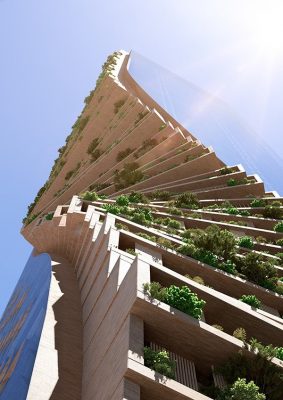 image : Norm Li, courtesy of UNStudio
Southbank by Beulah Melbourne design
Beulah International select UNStudio's proposal for Australia's tallest tower from designs submitted by six of the world's leading architecture firms
9 Jul 2018
Keppel Cove Marina & Clubhouse, Zhongshan, Guangdong, China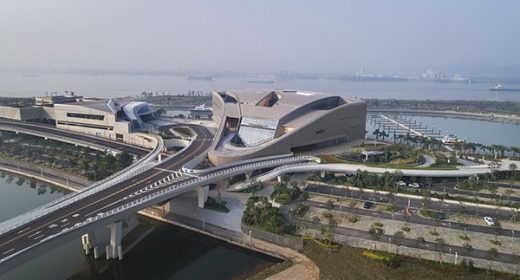 photography : Tom Roe
Keppel Cove Marina
New Marina at Keppel Cove in Zhongshan
The new Marina at Keppel Cove is located in Zhongshan, in the Guandong Province of China and is situated on the banks of the River Xi.
16 Jun 2018
IJbaan Cable Car in Amsterdam, Amsterdam, the Netherlands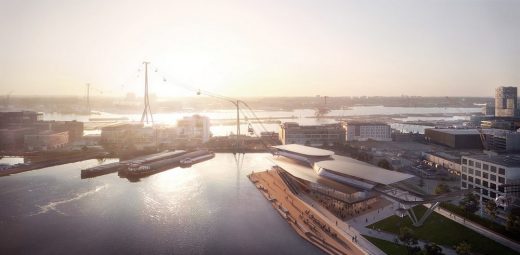 visual : Plompmozes
IJbaan Cable Car by UNStudio
Design unveiled for future cable car project commissioned by the IJbaan Foundation.
24 May 2018
Ellipsicoon Pavilion for Revolution Precrafted Properties
Design: Ben van Berkel / UNStudio, The Netherlands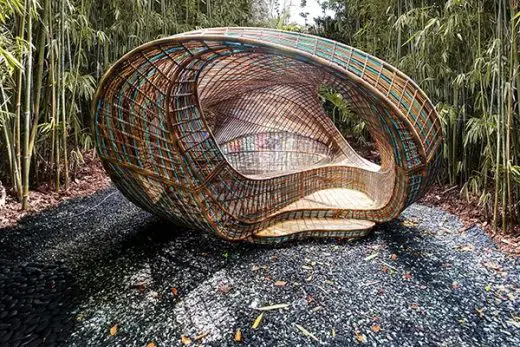 image courtesy of architects
Ellipsicoon Pavilion by Ben van Berkel / UNStudio by Revolution Precrafted Properties
A place of rest, retreat and mindfulness, the Ellipsicoon creates a tranquil nomadic extension to the home: a detached, secluded space of immersion in nature.
9 May 2018
New Budapest Bridge, Budapest, Hungary


Rendering by AV-Render.com
New Budapest Bridge
This Amsterdam architects office wins the competition for the New Budapest Bridge – the first international bridge design competition in Hungary for over 120 years
22 Feb 2018
EuropaCity's Centre Culturel, Triangle de Gonesse, Ile-de-France, North of Paris, France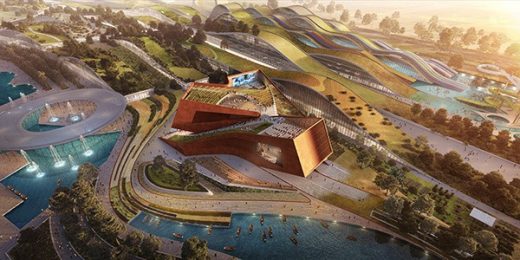 visualisations : Flying Architecture
EuropaCity's Centre Culturel
A large-scale competition was launched inviting proposals for 8 key buildings within the EuropaCity development, masterplanned by BIG. These include a concert hall, hotels, a contemporary circus and an exhibition hall. The proposal was selected for the 'Centre Culturel Dédié Au 7è Art', a cinema complex and cultural laboratory which opens up and expands the traditional cinema experience.
9 Feb 2018
Gothenburg Cable Car, Sweden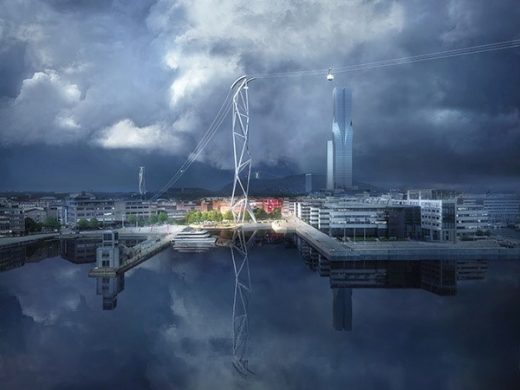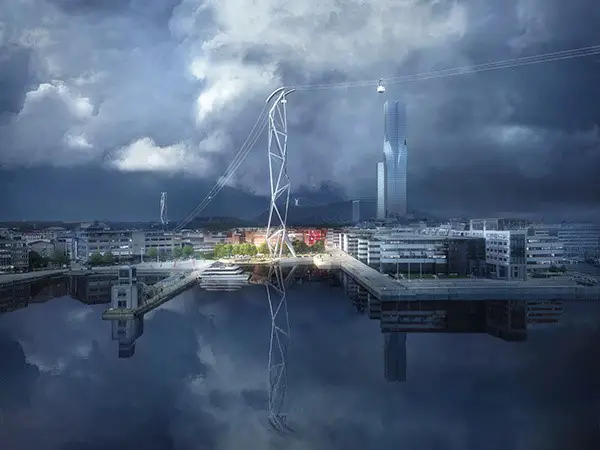 image courtesy of architects
Gothenburg Cable Car
This design has been selected as the winning entry in the competition for the Gothenburg cable car. Proposals were also submitted by BIG, WilkensonEyre and White Arkitekter with Diller, Scofidio+Renfro.
6 Feb 2018
FOUR Frankfurt Towers, Frankfurt, Germany
Design: UNStudio & HPP Architects (UNS + HPP)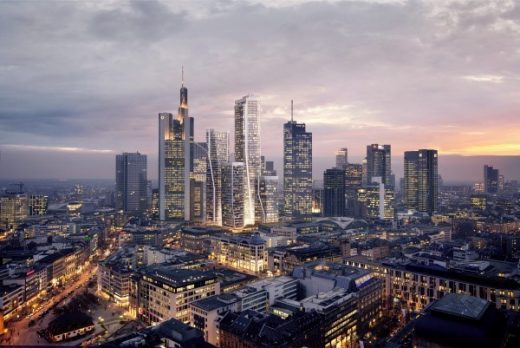 image courtesy of architects
FOUR Frankfurt
Following the announcement by Groß & Partner of UNStudio as the unanimous winner of the architectural design competition for the FOUR Frankfurt project, we are happy to announce that UNStudio has now joined forces with HPP Architects to create a consortium (UNS + HPP) to carry out the next phases of the project. Both companies bring many years of experience with large-scale projects, complex planning and design processes.
28 Nov 2017
Kutaisi International Airport Extension, Georgia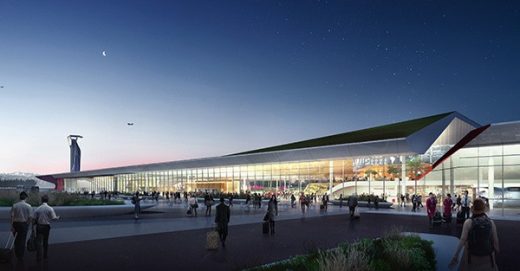 imjage : VA-render
Kutaisi International Airport Extension
18 Sep 2017
Raffles City Hangzhou Building, China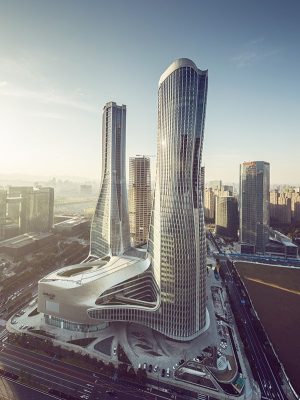 photos: © Hufton+Crow, © Seth Powers, © Jin Xing
Raffles City Hangzhou Building
CapitaLand's new Raffles City is a sustainable urban hub for living, working and leisure located in Hangzhou, one of China's most picturesque cities. It forms the eighth Raffles City development in China.
28 Aug 2017
IPARK, Daegu Wolbae, South Korea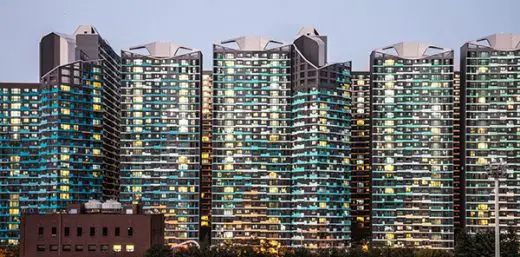 photo © Edmon Leong
IPARK, Daegu Wolbae
In both IPARK developments (Blocks 1 & 2) a pointillist framework of colour in two distinct designs – similar to the texture of a fabric or a media screen – is used to connect and dissolve the individual apartment towers into one consolidated mega-block, whilst creating distinct identities for each development within the Daegu cityscape.
4 Mar 2017
'City for All' at Former Deutsche Bank Site in Frankfurt, Germany
A 'City for All' – UNStudio announced as the unanimous winner of the architectural competition for the former Deutsche Bank site in Frankfurt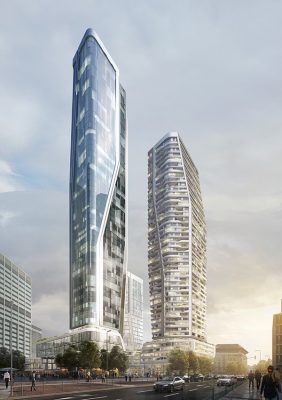 image from architect
City for All in Frankfurt
Comprising four high-rise towers with a multi-storey plinth and housing mixed-use programmes, large public spaces and incorporated subsidised housing, the design for the former Deutsche Bank site will create a 'City for All' in the heart of Frankfurt.
16 Dec 2016
UNStudio and MDT-tex join forces to realise the Eye_Beacon Pavilion for the Amsterdam Light Festival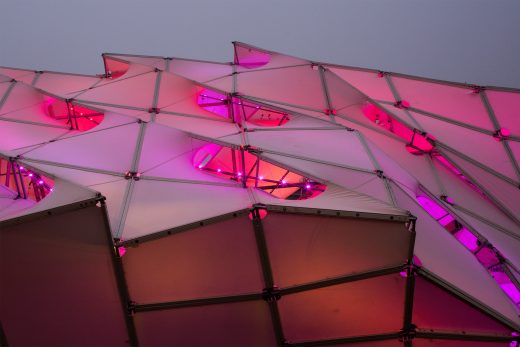 photo © Janus van den Eijnden
Eye_Beacon Pavilion Amsterdam Light Festival news
3 Dec 2016
UNStudio Ribbon wine rack
The Ribbon wine rack is available in two versions, steel and Super Black
Video by Giacomo Giannini, courtesy of Alessi – a short film showing how Ribbon is made:

UNStudio architects : more information
16 Nov 2016
Eunma Housing Development, Daechi-Dong, Seoul, South Korea
Design: Ben van Berkel / UNStudio and Heerim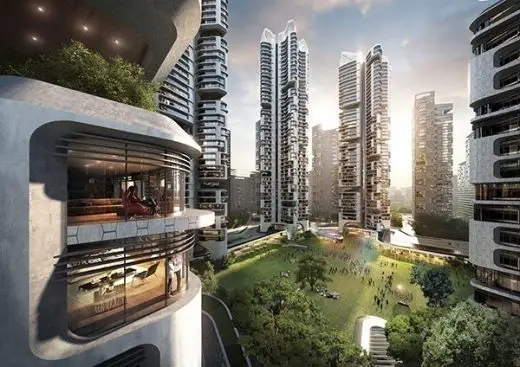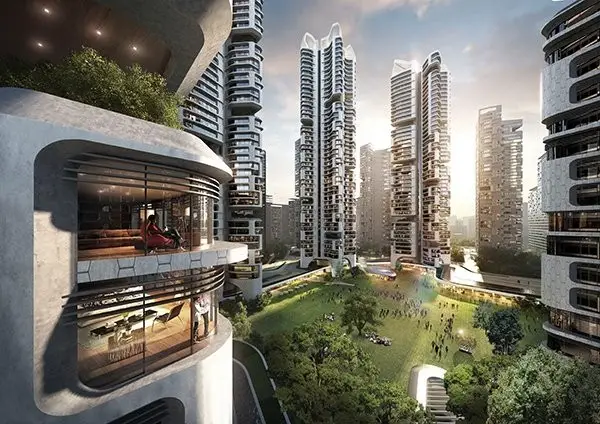 image from architect
Eunma Housing Development
This dutch architecture office in collaboration with Heerim have won the competition to design the 32 tower masterplan for the Eunma Housing Development in Daechi-Dong, Seoul.
10 Nov 2016
A10 ring road and the Lelylaan area in Amsterdam, The Netherlands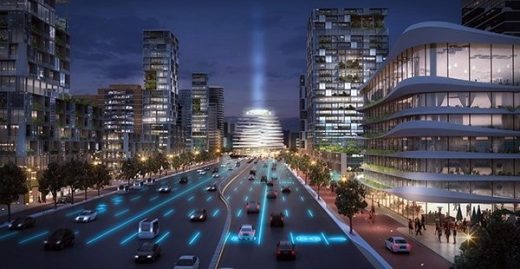 image from architect
A10 ring road and the Lelylaan area
1 Aug 2016
Knowledge Matters Book by UNStudio
'Knowledge Matters' – The new book by Ben van Berkel & Caroline Bos / UNStudio
To be published by Frame Publishers on Sept 1st 2016 and will be available for pre-order via the Frame Store on Aug 15th.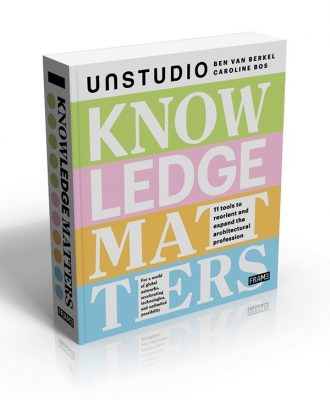 20 Nov 2015
Arnhem Station, The Netherlands
Design: UNStudio with Arup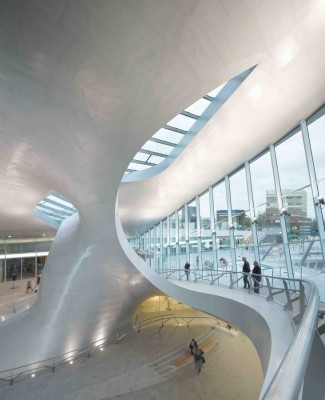 photo © Ronald Tilleman
Arnhem Station Building
With the opening of the new station building designed by Dutch architects UNStudio the transformation of the area is now complete. Since 1996 this international architecture practice has collaborated with Arup to achieve an integrated design with distinctive architectural and technical concepts for the masterplan, public transport terminal and underground parking.
20 Nov 2013
Baumkirchen Mitte in Munich, Germany, Europe
Design: Ben van Berkel / UNStudio


image by architects
Baumkirchen Mitte
Dutch architect Ben van Berkel says: "In the design for the facade of the building we chose for an articulated sobriety, incorporating contrasting scales of detail. The horizontal bands which wrap and organise the building present a sober articulation from a distance, however as you get closer to the building you discover a refined scale of intricate, complex detailing."
13 Nov 2013
Kutaisi 'King David the Builder' International Airport, Georgia, Asia


photograph © Nakanimamasakhlisi
Kutaisi 'King David the Builder' International Airport
Ben van Berkel / UNStudio's Kutaisi International Airport in Georgia completed. UNStudio's recently completed Kutaisi International Airport serves domestic and international flights for use by tourists, national politicians and international diplomats. The airport is destined to become a central hub, with up to one million travellers targeted in 2014-2015. Current figures for the airport show 30 flights per week, with an increase to 40 expected in Spring 2014, by which time direct flights from Western Europe to Kutaisi will also be possible.
Aedes Gallery Architecture Exhibition, Berlin, Germany
May 17 – Jul 4, 2013
Aedes Gallery Berlin UNStudio Exhibition
For many years this international architecture practice has been investigating the potential of the temporary installation as an experimental testing ground for manifold architectural concerns and it is these investigations that form the basis of the exhibition 'Motion Matters'. The exhibition presents ten of UNStudio's milestone projects, in addition to conveying their perspective on 25 years of architectural production, their current approach to architectural practice and the wider discourse that determines design challenges today.
11 Apr 2013
Centre for Virtual Engineering, Stuttgart, south west Germany


photo : Christian Richters
Centre for Virtual Engineering in Stuttgart
This building includes laboratories, research facilities and public exhibition areas. This sustainable building was awarded DGNB Gold certification (from the German Sustainable Building Council).
UNStudio at Tortona Design Week 2013, Milan, north Italy


picture : Iwan Baan
Tortona Design Week Milan
This international architectural practice present a selection of their product and interior works in the Emporio building in Zona Tortona and in collaboration with UNStudio's Knowledge Platforms a programme of 'Platform Dialogues' by specialists from within this architecture practice's network.
26 Oct 2012
Haus am Weinberg, Stuttgart, Germany


image © Iwan Baan
Haus am Weinberg
This beautiful contemporary house on a gently sloping site has views of the terraces of an ancient hillside vineyard. The circulation, programme and views are all governed by a single idea, 'the twist'. The curved section reminds me of this studio's american house which was sadly destroyed in a fire.
26 Oct 2012
UNStudio in Motion


image by architects office
UNStudio Netherlands – Practice information
'UNStudio in Motion', a bilingual (Chinese and English) project book detailing 51 projects from the last ten years of this international architecture practice has recently been published in collaboration with Tianjin Ifengspace Media Co. Ltd.
26 Oct 2012
Theatre Spijkenisse, Rotterdam, The Netherlands


image by architects studio
Theatre Spijkenisse
The design for the Theatre Spijkenisse focuses on the placement and orientation of the building in the urban location, whilst simultaneously providing architectural solutions for programming needs and public access. Traffic flows play an important role in the organisation of the building.
14 Aug 2012
V on Shenton, Singapore


image by architects practice
V on Shenton
Ben van Berkel / UNStudio have designed the new UIC building, 'V on Shenton', in the heart of Singapore's Central Business District. The former UIC Building dominated the city skyline as Singapore's tallest building for many years since its completion in 1973 and was part of an important collection of towers located along Shenton Way in the heart of Singapore's Central Business District.
Recent Designs by UNStudio
15 May 2012
Arnhem Central Platforms, The Netherlands


photo : Tim Snoek
Arnhem Central
Arnhem Central converts several regional routes and high speed trains to Germany. As passenger numbers will continue to grow, the railway infrastructure is being substantially revitalised. On the train station level a new 4th platform has been added and all the platform roofs have been replaced. The design concept for the new platform roofs provides a sense of light and space.
15 May 2012
Hanjie Wanda Square, Wuhan, China


image by architects
Hanjie Wanda Square is under construction – a new luxury shopping plaza located in the Wuhan Central Culture Centre, one of the most important areas of Wuhan City. This international architecture practice's approach combines both contemporary and traditional design elements in one concept.
15 May 2012
Raffles City Hangzhou, China


image by architects
Raffles City Hangzhou
Under construction – the mixed-use Raffles City development is located near the Qiangtan River in Hangzhou, the capital of Zhejiang province.
15 May 2012
Scitech Redevelopment, Beijing, China


image by architects studio
Scitech Redevelopment Beijing
The Scitech mixed-use redevelopment is located on a crossing point of traditional and modern developments in Beijing. The massing strategy for the plot focuses on creating optimal links between the mixed-use programming of the redevelopment, whilst interweaving a dense low rise development with a high rise component.
15 May 2012
Hangzhou New District, Hangzhou, China


image by architects
Hangzhou New District
Master Plan – Hangzhou has long been known for its lake district and green tea plantations. The architecture practice's approach to the masterplan for the New District therefore embraces Hangzhou's longstanding identity whilst connecting the Old City Centre with the new Central Business District.
15 May 2012
World Horticultural Expo Pavilion, Qingdao, China


image by architects
World Horticultural Expo Pavilion Qingdao
The design for the World Horticultural Expo 2014 Theme Pavilion consists of the Main Expo Hall, a Performance Hall, Conference Centre and a Media Centre. The architecture practice's winning competition entry for the Qingdao Expo 2014 Theme Pavilion focuses on the relationship between Science and Nature. Whilst maintaining their individual identities, the buildings become gently absorbed in the landscape.
UNStudio Architects : older projects


image from the architects
Key Older Projects
Major Projects built or designed by UNStudio up to 2011:
EEA + Tax offices, Groningen, Netherlands


photo : Ronald Tilleman
IBG and Tax Offices
UNStudio Tower, Amsterdam, Netherlands


photo © Christian Richters
UNStudio Tower
Millennium Park Pavilion, Chicago, USA
Design: Zaha Hadid Architects + UNStudio


image © www.moka-studio.com
Millennium Park Pavilion Design
Dance Palace, St Petersburg, Russia


image by architects office
Dance Palace St Petersburg
Mercedes-Benz Museum, Stuttgart, Germany


photo : Christian Richters
Mercedes-Benz Museum
MOMEMA : Museum of Middle East Modern Art, Dubai, UAE


image from UNStudio
MOMEMA
More buildings by UNStudio online soon
Location: Amsterdam, Holland, western Europe
Design Practice Information
UNStudio Architects – Background
Dutch architects firm set up in 1999.
Founding partners: Ben van Berkel + Caroline Bos
Architects studio location: Amsterdam, Netherlands
Amsterdam Architects Offices, NL
Ben van Berkel originally practised with Santiago Calatrava.
His first architects office was called Van Berkel & Bos Architectuurbureau: so-called due to partner Caroline Bos
Ben van Berkel – Architectural Education:
AA London
Taught by architect Zaha Hadid
Ben van Berkel former tutor : architect Zaha Hadid
Buildings / photos for the UNStudio Architecture page welcome
Website: www.unstudio.com