Modern houses photos, Modernist homes architects, 20C property images, Residential designs
Modern Houses – 20th Century Homes
20th Century Home Images, Examples of key Properties & Discussion
post updated 6 September 2023
Introduction to Modern Houses
Modern Architecture became linked to a certain genre of building and thus over time wasn't really 'modern' anymore. Thus Modern Houses (or Modernist Houses) suggests a certain style, not simply a 'contemporary' or 'current' construction.
Arango Residence design by John Lautner architect: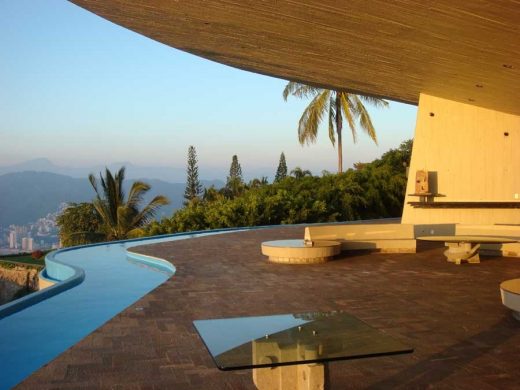 photo : Sara Sackner
Modern Architecture was associated with some great architects and some powerful countries and companies. It became the equivalent of the Classical Style in the Georgian period, ie the establishment architecture, the status quo. Since the seventies architecture styles have become more fractured and we have – amongst what could be termed contemporary architects – post-modernists, neo-modernists, deconstructivists, contextualists, expressionists and so on.
Modern American Houses – post from March 17th, 2016
Famous Modern Houses
Philip Johnson Glass House, New Canaan, Connecticut, USA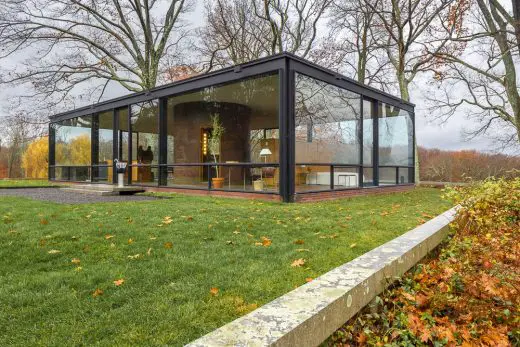 photograph : Simon Garcia | arqfoto.com
Philip Johnson Glass House – various news updates
The Glass House was the start of Philip Johnson's fifty-year odyssey of architectural experimentation in forms, materials, and ideas, through the addition of other structures. These include the Brick House/Guest House, Pond Pavilion, Painting Gallery, Sculpture Gallery, Ghost House, Library/Study, Da Monsta, and the methodical sculpting of the surrounding landscape. Today, The Glass House is still one of the most popular architectural attractions in Fairfield County Connecticut.
Apr 20, 2012
Martin House Complex, Buffalo, New York, USA
Design: Frank Lloyd Wright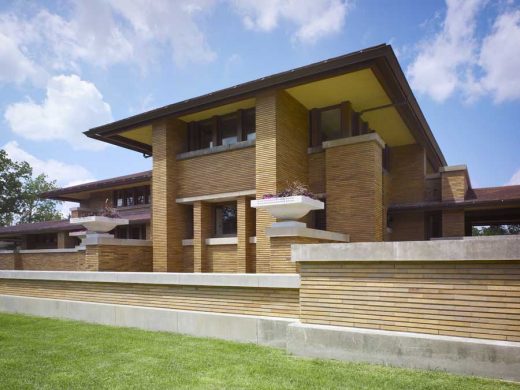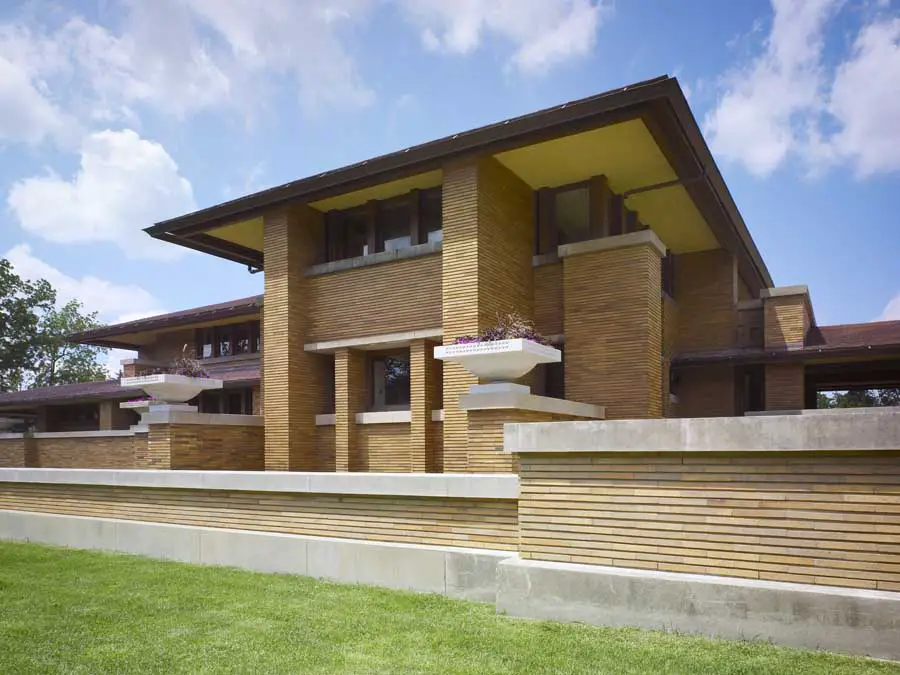 photograph : Biff Henrich / courtesy MHRC
Martin House Complex Buffalo
This is viewed as the most substantial and highly developed of Frank Lloyd Wright's Prairie houses in the Eastern United States – the property has National Historic Landmark status.
18 Nov 2011
Capel Manor House Guest Pavilion, Kent, England, UK
Design: Ewan Cameron Architects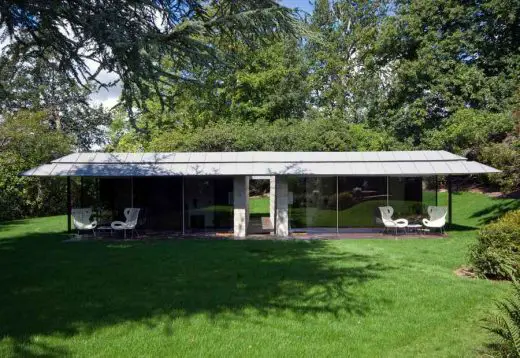 image from architects
Capel Manor House
The brief was to design a guest pavilion comprising 2 bedroom suites that would sit adjacent to an Italianate orangery from 1860, on the grounds of Capel Manor House, an iconic modernist pavilion designed by Michael Manser in the late 1960s.
Modernist Houses – Recent Additions
May 10, 2017
Midcentury Modern House, San Carlos, California, USA
Design: Klopf Architecture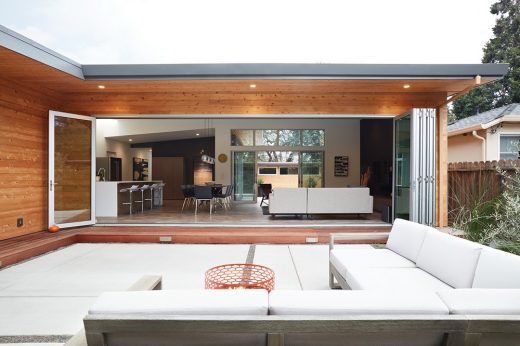 photo © Mariko Reed
Midcentury Modern House
The previous owner of this 1960s modern home covered over the walls of glass with plywood and installed a massive awning at the rear of the house, blocking out most light and connection with the outdoors. The original interior had a maze-like layout starting with a small entry area and moving into too many hallways.
Jan 15, 2016
Norman Lykes Home, Phoenix, Arizona, USA
Design: Frank Lloyd Wright
Date built: 1959-67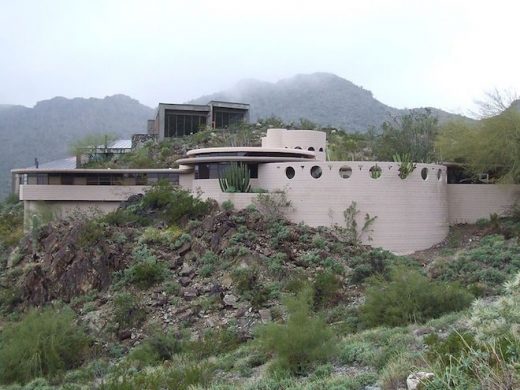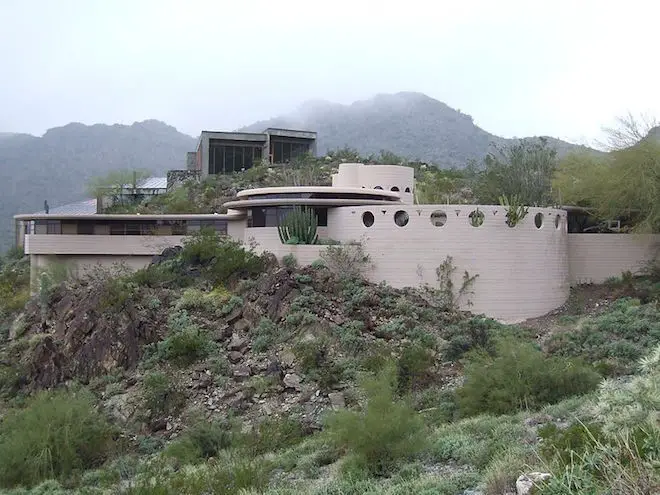 image : Wikimedia Commons
Norman Lykes Home Phoenix
This curvaceous 20th Century Arizona residence is a good example of the architect's late-career style, exemplified by the David and Gladys Wright home. The asking price is $3.6 million, and includes the original furniture.
Jul 26, 2011
Houses of Sagaponac, Long Island, New York, USA
Bachman Wilson House, NJ designed by celebrated American architect Frank Lloyd Wright: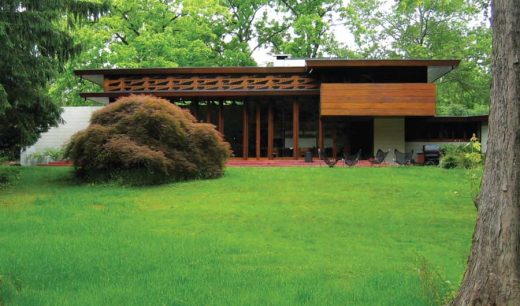 photo from Brown Harris Stevens
Houses of Sagaponac
Luxury real estate firm Brown Harris Stevens announces "Houses of Sagaponac," a modernist residential development. The project features a series of houses created by internationally recognized architects who were given the directive to achieve design excellence and push the envelope of contemporary architecture resulting in a community by and for thinking people.
Maison Louis Carré, Bazoches-sur-Guyonne, France
Dates built: 1956-1959/63
Design: Alvar Aalto, architect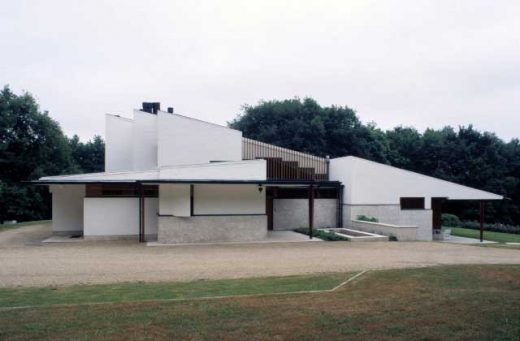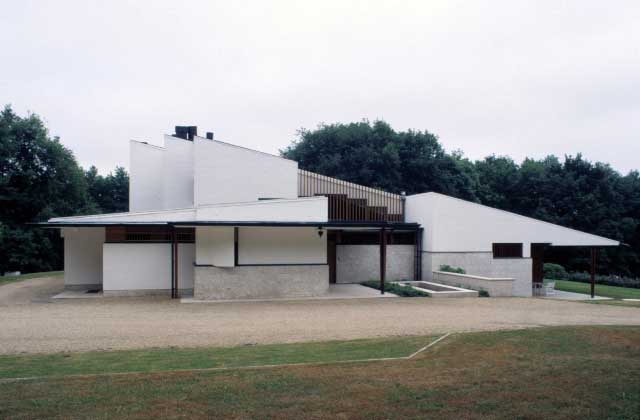 photograph © Martti Karpanen, Alvar Aalto Museum
Maison Louis Carré
In 1959, the French art dealer and collector Louis Carré moved with his third wife Olga into the house designed by Alvar Aalto about 40 km southwest of Paris. Combining architecture, furniture and landscape, Maison Louis Carré is the architect's only remaining building in France and one of his most remarkable private houses.
Villa La Roche, Paris, France
Date built: 1925
Design: Le Corbusier + Pierre Jeanneret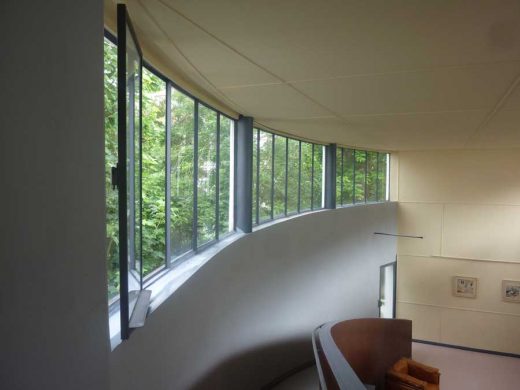 photo © Karavan
Villa La Roche : Le Corbusier design – added 12 Jun 2011
This Modernist city home was designed for a Swiss banker and art collector: it is a good example of Le Corbusier's architecture. The entire building is an art gallery, an 'architectural promenade' – a theme inspired by Le Corbusier's visit to the Acropolis in 1911.
Miller House, Columbus, Indiana, USA
Design: Eero Saarinen – opens to public – added May 2011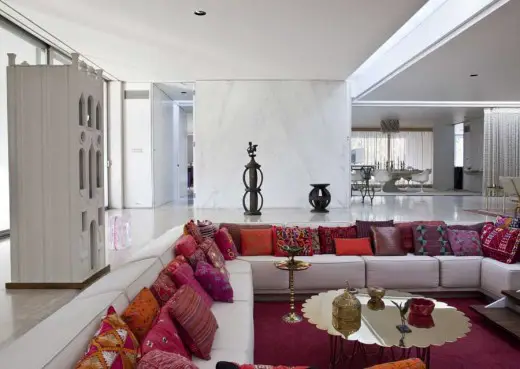 photo Courtesy of the Indianapolis Museum of Art
Miller House Columbus : Eero Saarinen design
Miller House is one of the country's most highly-regarded examples of mid-century Modernist residences and was designed by Eero Saarinen, with interiors by Alexander Girard, and landscape design by Dan Kiley. Members of the Miller family donated the house and gardens, along with many of its original furnishings, to the Museum.
New Photos of a significant Modern House
High & Over, England, UK : 1930s house design by Amyas Connell architect – added 25 Jun 2010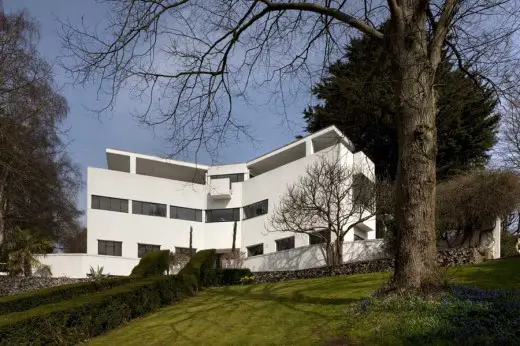 photo : Morley von Sternberg
High and Over house – one of the first Modern houses in England
The design evolved as a Y-shaped plan to optimise views and sunlight for the property. There were no modern houses of quality in England at the time, but the architect had toured Europe and was aware of developments there. Concrete was the material that was regarded as 'modern' and the house was designed in concrete, but had to be redesigned as concrete frame with brick infill before local builders could face it. It was all rendered over to look like concrete.
10 Mar 2010
Villa Savoye, France : pictures of key Le Corbusier house as a ruin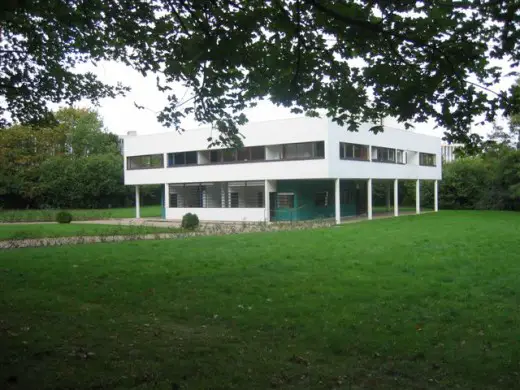 photo © Isabelle Lomholt
Villa Savoye – famous Modern House, in France
The house demonstrates the 'Five Points' that Corb placed central to his work, briefly piloti, fenetre longeur, free plan, active roof space and free facade. He was very focused on proportion of mass and space and keen to meld lessons from Classical architecture with modern technology exploited in cars, ships and planes.
Further down this page we list classic Modern Houses by major architects, including Le Corbusier, Mies Van der Rohe, Frank Lloyd Wright, Alvar Aalto, Pierre Chareau, Adolf Loos, etc.
Modern Houses Selection
20th Century Homes Selection – in approximate order of importance
Farnsworth House, USA
design by Mies van der Rohe, architect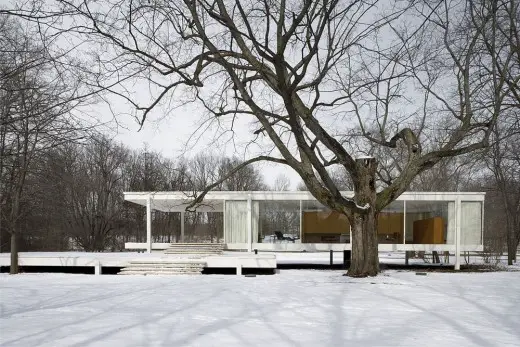 photo by Carol M. Highsmith, courtesy wikimedia commons
Farnsworth House
Arango Residence, Acapulco, Mexico
design by John Lautner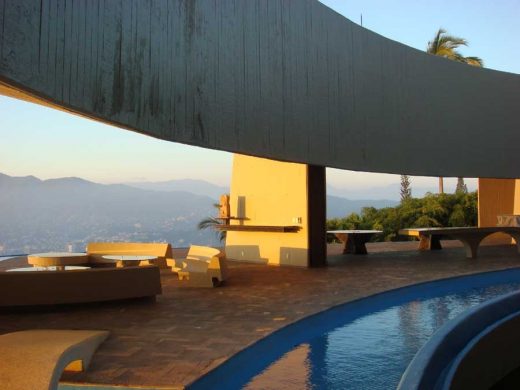 photo : Sara Sackner
Arango Residence
Villa Müller, Prague, Czechia (formerly Czech Republic)
design by architect Adolf Loos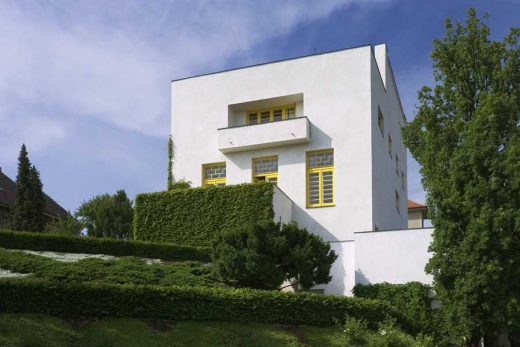 photograph : Martin Polak
Villa Müller Prague
Tugendhat Villa, Brno, Czechia
design by Mies van der Rohe Architect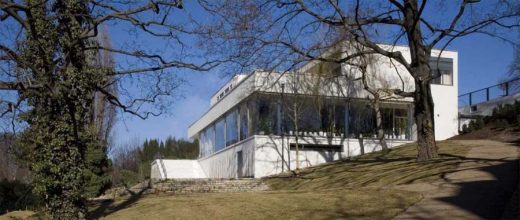 photo from architects
Tugendhat Villa Brno
Casa Mila, Barcelona, Catalonia, north east Spain
design by Antoni Gaudí, Architect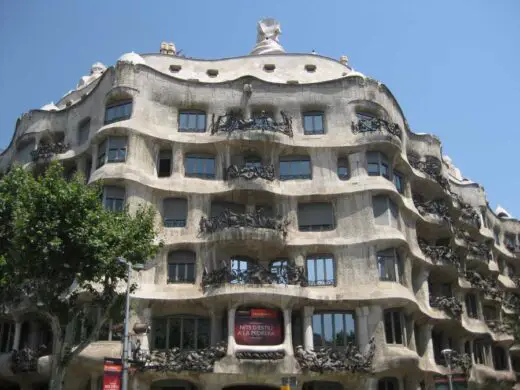 photo © Adrian Welch
Casa Mila La Pedrera
Zimmerman House, Manchester, New Hampshire, USA
one of many Modern houses by Frank Lloyd Wright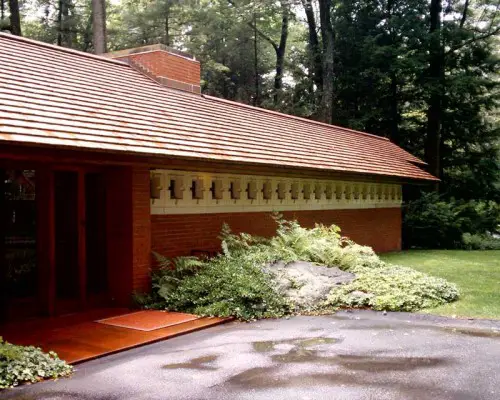 picture © Adrian Welch
Zimmerman House
Casa Batllo, Barcelona, Catalonia, Spain
celebrated Catalan house by Antoni Gaudí architect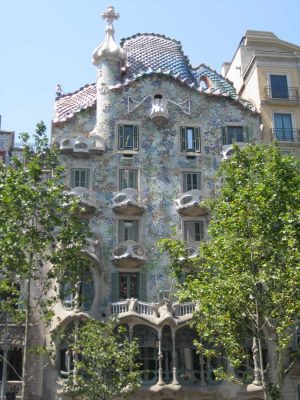 photo © Adrian Welch
Casa Batllo
Frognal Road House, Northwest London, England, UK
design by Max Fry Architect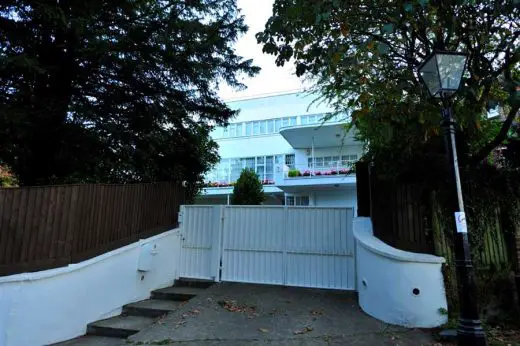 picture © Nick Weall
Frognal Road House
Beckhard House, Glen Cove, USA c.1964
design by Herbert Beckhard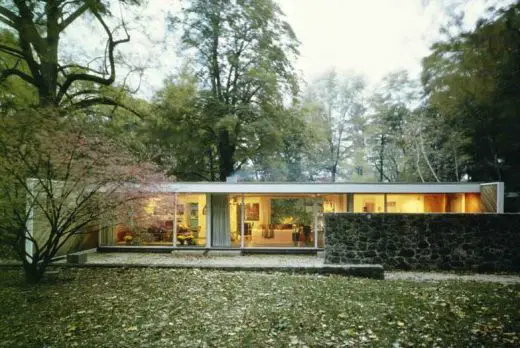 photo K. Wheeler
Rebhuhn House, Glen Cove, USA c.1938
design by Frank Lloyd Wright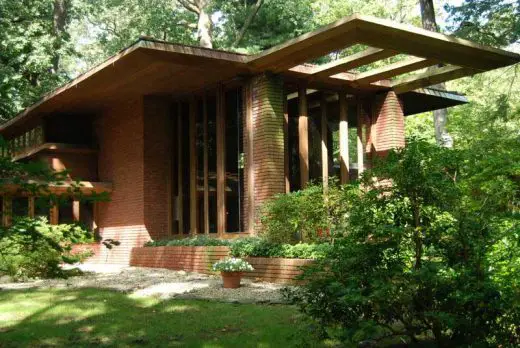 photo : Erik H. Neil
The Rink, Gifford, East Lothian, Scotland
design by Campbell & Arnott Architects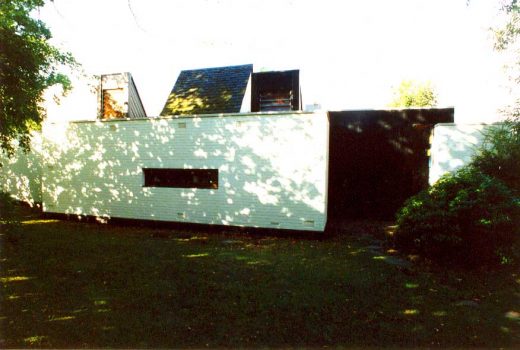 picture from houseowner
Lismhor House, Edinburgh, Scotland
design by Kininmonth & Basil Spence
More Modern houses online soon
Modern House : Key architects + titles of some Classic Modern Houses
Property Articles
New House Designs : contemporary houses as opposed to simply 20th century houses
World Architects – principal designers:
Marcel Breuer, Le Corbusier, Antoni Gaudi, Arne Jacobsen, Philip Johnson, Edwin Lutyens, Rennie Mackintosh, Richard Meier, Jorn Utzon, Mies Van der Rohe
Comments on the Modern Houses page welcome : info(at)e-architect.com
Prague Modern Buildings – Modernist house by architect Mart Stam:
Modern Houses – No Images
Maison de Verre, Paris, France
1932
Design: Pierre Chareau, Architect
Maison de Verre : aka Maison Dalsace / House of Glass – this Modern house appears in most key books on the History of Architecture
This page is about 'Modern Houses', not simply 'Contemporary Houses' or 'Current Houses'. However, below are selected contemporary buildings (these now appear in full on the New Houses page).
More Modernist houses online soon
Modern Cambridge Houses, England, UK
11 Wilberforce Road home by David + MM Roberts: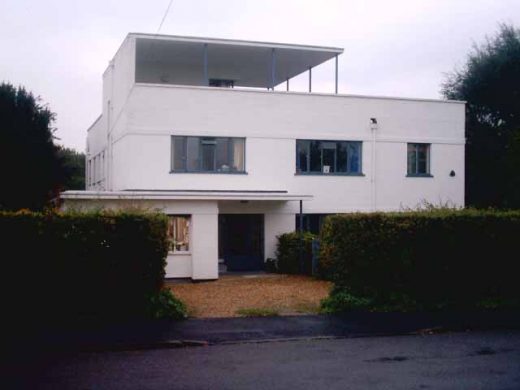 photograph © AW
Property design by Trevord Dannatt Architect: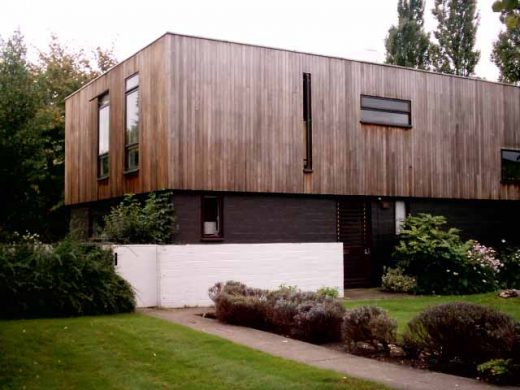 photograph © AW
Cambridge House – for more properties
European Modern Houses
Personal Note from the e-architect Editor:
My visit to Aalto's Villa Mairea, finding the owners of the house were on holiday (shown round by the gardener) on a scholarship to study Modern Finnish Architecture in 2001 at the age of 19, has to be the highlight of my years as an architecture student.
Later, whilst working for Eva Jiricna Architects a group of us visited the office's work in Brno and to see one of Mies van der Rohe's best houses, the Tugendhat Villa. Mies designed many houses earlier in his career whilst in Europe. The Tugendhat Villa is one of the best modern houses I've visited. Adrian Welch, Architect
Architectural Designs
How to become an architect in UK
Major Architects + Titles of some Classic Modern Houses – property additions welcome
1960's Modern House, Gold Coast, Queensland, Australia
Design: Jamison Architects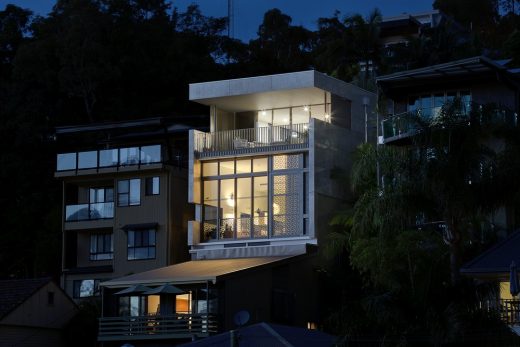 photo : Remco Photography
60s Modern House on Gold Coast
'60s Modern' is a renovation project. It is the upper unit of an original early 1980s duplex building.
Modern Houses in British Columbia, Canada
Buildings / photos for the Modern Houses – 20th Century Properties page welcome