How to become an architect in UK Guide, London Architecture Advice
How to become an architect in UK
2 Oct 2020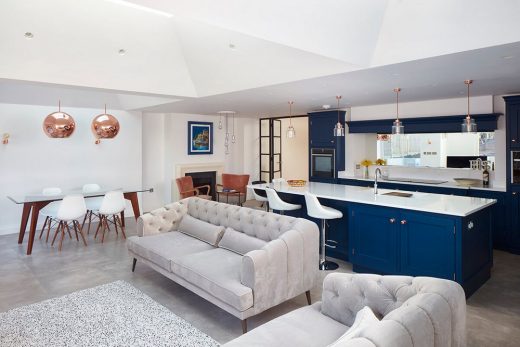 An architect is a person, who designs a building from start to finish. As an architect, you have to know building laws and be able to help a client get a building permission.
According to the National Careers Service, architects in the UK earn up to £27,500 – £90,000. As you can see, an architect has great career opportunities. However, the salary of an architectural professional depends a lot on his/her experience.
An architect would be the perfect choice for people who are interested in the prestige profession and high income jobs. With such a profession, you will be able to find well-paid work.
On the other hand, an architect job itself is very challenging and it requires a practical skill set, knowledge as well as attention to detail. An architectural professional takes responsibility for the safety and durability of a construction.
It's worth noting that becoming an architect is not easy. You have to study seven years to obtain a degree in architecture and one year to get practical experience to become a fully qualified architect.
This blog post concentrates on the process of learning architecture and getting experience in the architectural industry. Plus, you'll find the questions that architectural industry professionals usually face on their way to success and, most importantly, be able to get answers to them.
So, let's get started.
How to Become Architect, the Main Process
The process of studying architecture consists of several stages. These include:
A five year studying course
First work experience
Finishing the last 2 years of studying
An additional year of practise
An exam
Architects registration
Now, you know what the process of learning architecture looks like and what steps you need to take in order to become an architect.
Let's dig deeper into each stage of the studying process to get more details about architecture as a profession.
Steps to Become an Architect
The process of learning architecture in the United Kingdom always begins with a 5-year study. As a result, a student gets the so-called undergraduate degree. Later, this degree has to be recognised by the Royal Institute of British Architects (RIBA).
After you have been studying for 3 years, you'll begin to get practical experience. Students work for an architecture firm to get their first work experience in the construction industry.
At this stage, you'll work closely with mentors at the university and an employer. The mentors will guide you through this process and help you achieve success in work.
There are also students, who prefer to work as volunteers. Oftentimes, they need to travel to another city.
At the next stage, students have to come back to the university. Now, their task is to study the last 2 years and get a degree.
After that, students have to do 1 year of practice. During the work process, students are held responsible for architectural projects.
Lastly, you have to pass the RIBA's exam and prove that you are qualified to work as an architect.
If you've passed the exam and proved your qualification successfully, then you can register at the architects registration board.
That's it. Now, it's time to begin your journey and establish a career in the architecture industry. You can start searching for jobs, get a good monitor for architect work, take a building project and work as a fully qualified architecture professional.
How Much Can You Earn By Becoming An Architect?
As an architect in the UK, your earnings can vary depending on a variety of factors such as your experience level, the location of your practice and the type of work you do.
On average, the salary for a newly qualified architect ranges from £30,000 to £40,000 per year. However, for a senior architect with more than 10 years of experience, the average salary is around £45,000 to £70,000 per year (source costs.co.uk).
However, architects working in London or the Southeast of England can earn more with salaries ranging from £35,000 to £80,000 per year for newly qualified architects and £50,000 to £100,000 per year for senior architects.
Additionally, if you work for a larger architectural practice or a multinational company, you may be able to earn higher salaries and bonuses than if you work for a smaller practice.
It's also worth pointing out that depending upon an architect's fee structure; the fees that an architect may charge can vary because you can decide to work for a fixed fee, percentage basis or even an hourly rate.
Types of Works Architects Perform
Traditionally, architects work full time at firms or companies. Architectural professionals do different types of important tasks during their work. The main job of fully qualified architects is to prepare plans as well as drawings for the construction of buildings.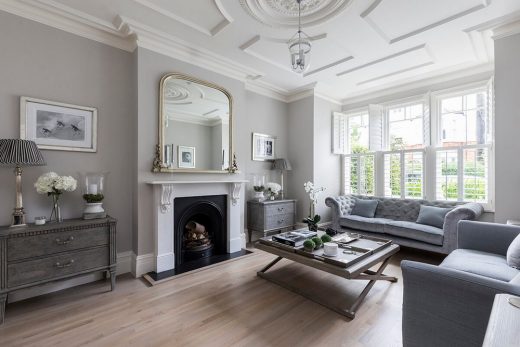 When Do People Contact Architectural Firms?
UK residents choose to use architectural services when they need to get buildings and structures designed. Sometimes, architectural professionals are hired when the need to design towns or even cities arises.
Skills that a Qualified Architect Needs
Let's assume that you have graduated from the university and got an architecture degree. What is next?
Once you become an architect, your success will depend a lot on work experience. After getting an architect degree, you will be able to work full time and start getting practical experience.
A person with an architecture degree should be able to think analytically and creatively. So, it's crucial for experts in architecture to have analytical skills as well as creative skills. People with architecture degrees also have to be good at drawing, math, problem solving and have excellent communication skills.
Experience means a lot for an architect. While getting the work experience, you'll be able to develop all the necessary skills which are required for becoming an architect.
How Long Does It Take to Become an Architect Uk?
It takes 7 years to become an architect in the UK: 3 – 4 years to get a bachelor's degree and 2 years to get a postgraduate degree as well as 1 year to get work experience.
What A Levels Do You Need To Be an Architect?
You need A Levels in subjects such as art, design, maths and science to be an architect.
What Qualifications Do You Need to Be an Architect?
You need qualifications for RIBA Parts 1, Part 2 and 3 to be an architect.
What GCSES Do I Need to Be an Architect?
You need 5 GCSES at grades 9 – 4 such as English, Science and Mach to be an architect. Universities have different entry requirements.
Comments on this How to become an architect in UK advice tips article are welcome.
London Building Designs
Contemporary London Architecture Designs
London Architecture Designs – chronological list
London Architecture Tours – tailored UK capital city walks by e-architect
Earls Court Redevelopment
Design: Pilbrow & Partners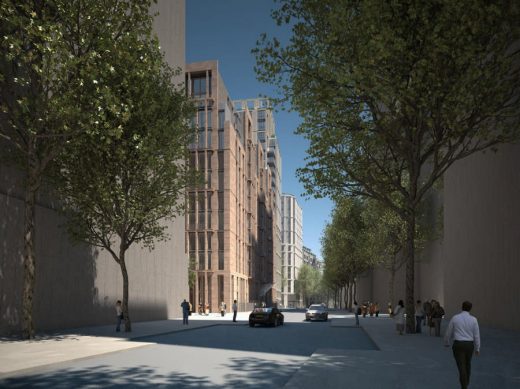 Kew Bridge Road Flats


photo © Nick Weall
Olympia Development, Earls Court
Comments / photos for the How to become an architect in UK page welcome