New Houses Photos, Architects, Homes, Property Designs Pictures, Residence Projects
New Houses – Property Designs
Contemporary Residential Architecture – International Exceptional Properties
post updated 3 November 2021
House designs – latest properties on e-architect from around the world
Contemporary Houses
On this page e-architect have selected the major new houses from across the globe:
One of the most famous Modern residences in the world, a simple volume 'floating' above the ground plane, by celebrated architect Mies van der Rohe: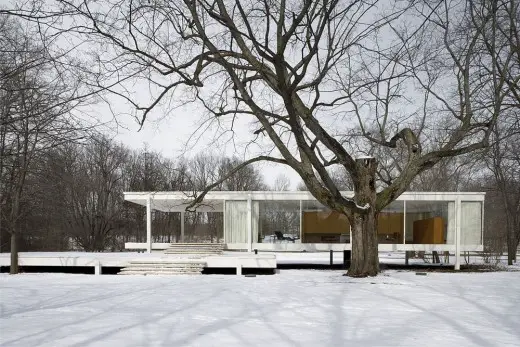 photo by Carol M. Highsmith, courtesy wikimedia commons
Farnsworth House, USA
New Houses Designs
We have 9 pages of new houses selections with links to a large number of individual project pages. Modern Houses, ie from the 20th century in the International Style, are located on a further page. We also list residences by country – see the links at the base of the page.
House Designs : A-B
Contemporary Houses : D-E
Contemporary Property Designs : F-G
New Property Designs : I-L
Contemporary House Designs : M
Contemporary Residential Properties : N
Contemporary Residential Designs : O
New Residential Designs : Q-R
New Home Designs : S
Property Designs : T-U
New Properties : V-Z
These pages carry residential projects designed in a contemporary style – houses typically with open-plan spaces and non-traditional forms, materials and organisation. Residential designs featured are either of top quality or interesting or ideally both.
We cover completed homes, new home designs and house competitions across the globe. The focus is on contemporary residences but information on traditional houses is also welcome.
Latest Residential Designs
Residential Architecture – latest properties added, arranged chronologically:
3 Aug 2021
TRD House, São Paulo, Brasil, South America
Architect: Biselli Katchborian Arquitetos Associados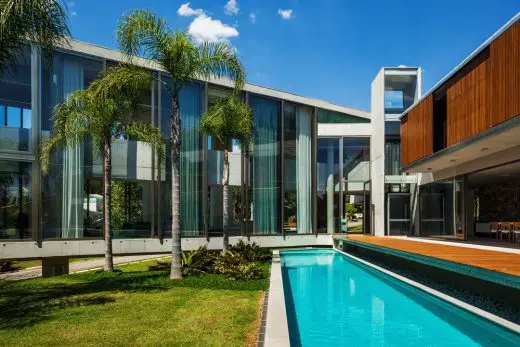 photo : Nelson Kon
TRD House São Paulo
This modern residential property project mixes the use of glass, wood and concrete elements. Located in a small gated community on the outskirts of São Paulo it features glass elements and a concrete structure, as well as a piece of helical staircase, connecting the living environment to the walkway that unites the accommodation volumes of the program.
10 Oct 2013
Villa Escarpa, Algarve, Portugal
Design: Mario Martins


photo : Fernando Guerra [FG+SG]
This beautiful new residence is located near the village of Praia da Luz, in the district of Lagos. A condition of the planning permission was that the new house be built in the same space once occupied by another building. It was located in an superb position on a ridge overlooking the Algarve coastline.
2 Oct 2013
Brown Vujcich House, Herne Bay, Auckland, North Island, New Zealand
Design: Bossley Architects


photo : Patrick Reynolds
This is an elegant contemporary residence located close to the waterfront. The lower level opens out to the surrounding space, with a terrace and outdoor area for each room. A terrace and pool are accessed from the family living space. A deck offers views of the harbour.
26 Sep 2013
House IV, Eindhoven, Holland, The Netherlands
Design: De Bever Architecten


photo : Norbert van Onna
The house is situated on a corner lot in the typical 1930s district 'de Elzent' against the natural landscape of the river Dommel valley, in the center of Eindhoven, The Netherlands.
25 Sep 2013
Summerhouse Lagnö, Sweden
Tham & Videgård Arkitekter


photo : Åke E'son Lindman
The setting is the Stockholm archipelago, natural ground sloping gently down to the sea in the south, mostly open with a few trees and bushes. Unlike other projects we worked on located on more isolated islands in the archipelago without car access from the mainland, this site was relatively easy to reach also with heavy transports.
23 Sep 2013
Caterpillar House, Chile
Design: Sebastián Irarrázaval Delpiano ; Associated Architect: Erick Caro


photo : Sergio Pirrone
Putting aside the fulfillment of the brief; the main purposes of the house were two: The first one was to integrate it to the territory of this part of the city where the presence of the Andes Mountain is extremely strong both visually and tectonically.
19 Sep 2013
Linhares Dias House, Brasília, Brazil
Design: Daniel Mangabeira, Henrique Coutinho, Matheus Seco


photo : Joana França
This house is located in a residential area site close to the Paranoa Lake. The various spaces are not expressed but instead contianed within a big roof and two dominant 'bookend' walls.
19 Sep 2013
CH house, Tel Aviv, Israel
Design: Domb architects


photo : Amit Geron
A house in the periphery of Tel Aviv. The design is clean and very limited in architectural elements. Basic finish materials: white plaster, iron and glass. The old house served the family while raising children.
11 Sep 2013
House in Nuglar, Solothurn, Switzerland
Design: HHF


photo : Tom Bisig
House D is oriented parallel to the landscape, thereby making the view a matter of prime importance. Across more than 180 degrees, you gaze over unbuilt, verdant land with mature fruit trees.
9 Sep 2013
Zagorje Cottage, Kumrovec, Krapina-Zagorje County, northern Croatia
Design: PROARH


photo : Damir Fabijanic
The pre-existing traditional Zagorje cottage is situated on the green slopes near Kumrovec and was structurally and statically in poor condition.
5 Sep 2013
Downley House, England, UK
Design: Birds Portchmouth Russum Architects


photo : Nick Kane
This large private house is a tour de force in a technicolour architectural style that derives from that of James Stirling, from whose practice these architects emerged. This means that it is an assemblage of strong primary forms, mostly cylinders and cubes. The entire structure, including the curved elements, is of cross-laminated timber.
5 Sep 2013
Rockmount Residence, Wirral, England, UK
Design: ShedKM


photo from architect
The site is an extraordinary elevated mound with views towards the setting sun across the River Dee to the North Wales coast. Shed KM's ingenious response is a new take on a classic modern linear house plan.
5 Sep 2013
Folding House, England, UK
Design: AR Design Studio


image : AR Design Studio
Hampshire based modern architects, AR Design Studio have designed a highly contemporary dream home for a retired client and his son. Showcasing stunning river views from all three levels, the folding design incorporates a blend of indoor and outdoor living spaces that extend out into the landscape and beyond.
3 Sep 2013
House in La Floresta, Catalonia, Spain
Design: Alventosa Morell Arquitectes


photo : Alventosa Morell Arquitectes
This Project springs up after some previous conversations with the owner of the site, who shares our concern about the exhaustion of the sources of fossil energies, and also the need of being more respectful with our immediate environment.
2 Sep 2013
CasaAltamira, Ciudad Colón, Costa Rica
Design: Joan Puigcorbé


photo : Rodrigo Montoya / Joan Puigcorbé
The architects say, "We conceive architecture as a language across which properties can express themselves such as: harmony, creativity, happiness, beauty, poetry, complexity, magic, provocation and culture."
24 Aug 2013
Residence in Southlands, Vancouver, British Columbia, Canada
Architect: DIALOG


photograph : Kristopher Grunert
This residence nestles into a mature, heavily vegetated corner site in Vancouver's historical Dunbar-Southlands neighborhood. A year-round fresh water stream divides the irregularly shaped property as it threads its way below Marine Drive to the south.
New House Designs
New House Designs – Top Global Selection<
Major residences designed in the last two decades – included here for their innovative design rather than say a connection to famous people or stunning location.
Contemporary residence (1998) in France by Rem Koolhaas / OMA: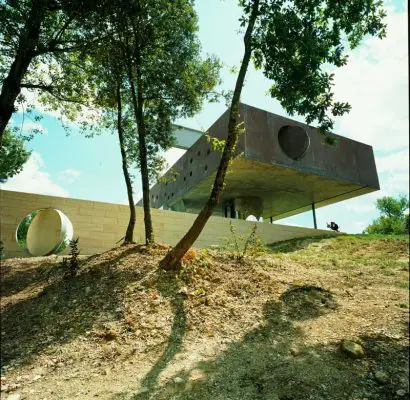 Maison á Bordeaux photo : Hans Werlemann, from OMA
Maison á Bordeaux, France
Striking house from California by XTEN Architecture:


image : Art Gray
Openhouse, USA
Powerful articulation of form in this contemporary Japanese property: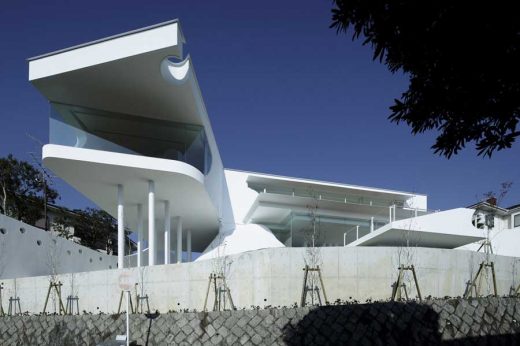 picture : Koichi Torimura
Mountains & Opening House, Japan
Home sited on the edge of a 70-metre high cliff near Sydney, Australia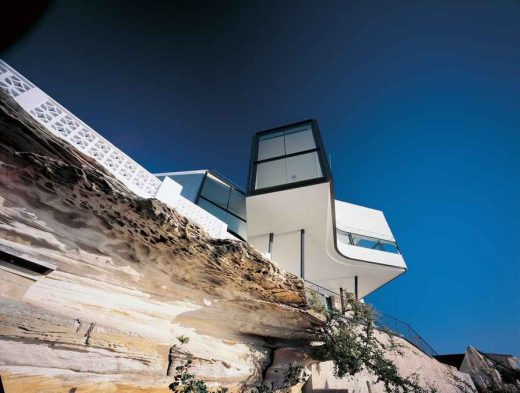 photograph © Brett Boardman
Dover Heights House
One of many finely articulated houses by Marcio Kogan in Brazil: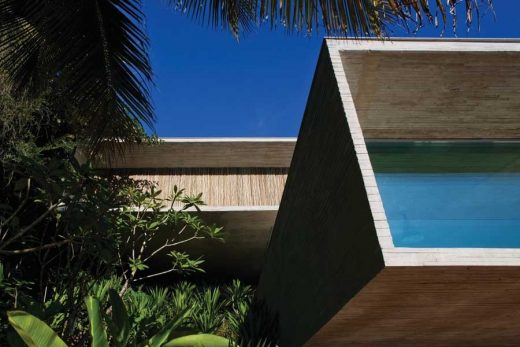 photo : Nelson Kon
Paraty House, Brazil
Dupli.Casa – stunning house design by one of Europe's most exuberant and talented architects, J Mayer H: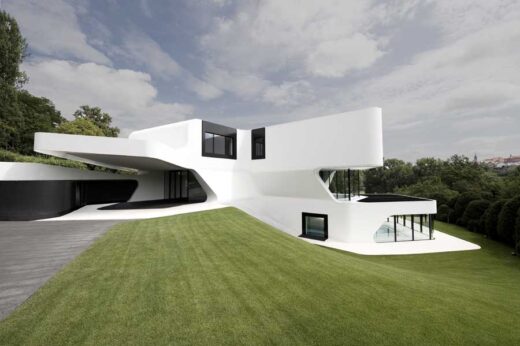 picture : David Franck Photographie
Dupli.Casa, Germany
The most unusual Japanese residence designed in the last decade: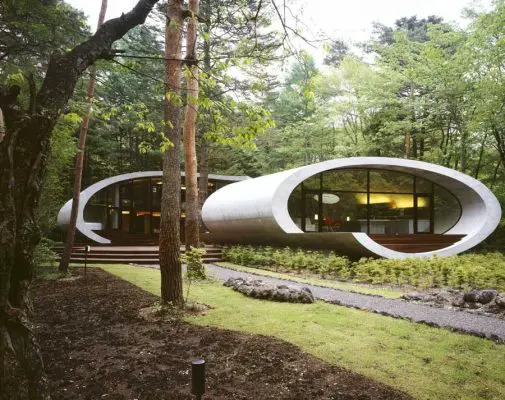 picture : Nacasa & Partners Inc.
SHELL villa, Japan
Dynamic Australian residence by alex popov & associates: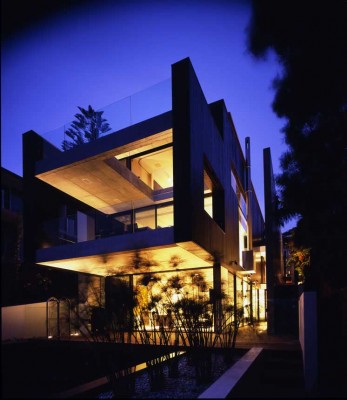 image courtesy of Kraig Carlstrom
Whale Beach House, Australia
More new houses online soon
Contemporary Properties
New House : Properties grouped by country
New Home : Properties grouped by city
If considering selling your property you should check out we buy any home.
Images of quality New Houses + New Property Designs welcome
Residences / photos for the New Houses page welcome