Villa La Roche, Modern French House, Photos, Architect, France, Corb Design, Home
Villa La Roche : Modern House in Paris
Le Corbusier Building in Paris – 20th Century Architecture in France
11 Jun 2011
Villa La Roche, Paris
Date built: 1925
Architect: Le Corbusier and Pierre Jeanneret
Location: Paris, France
Designed by Le Corbusier as a home for Raoul La Roche, a Swiss banker and collector of avant-garde art.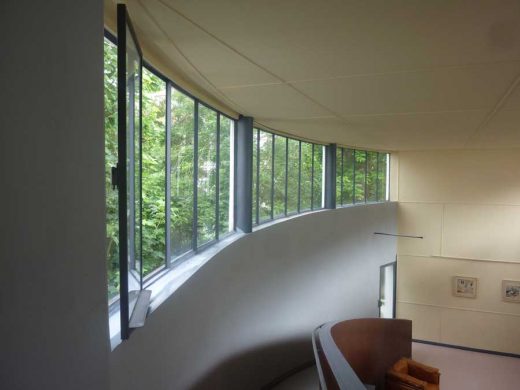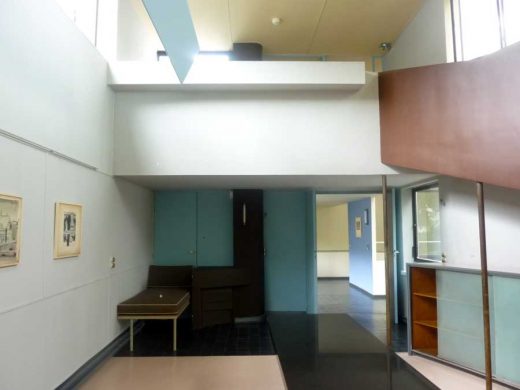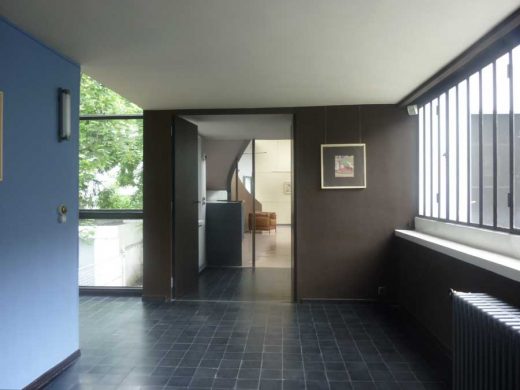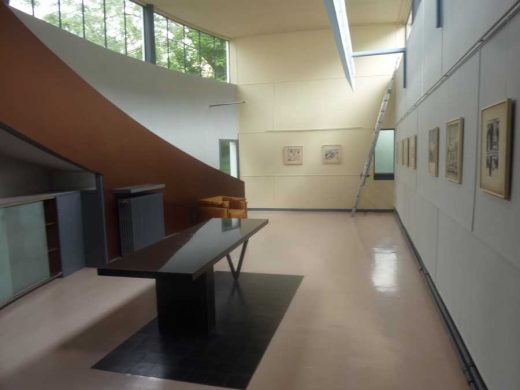 Photographs © Karavan – for e-architect
Villa La Roche Paris
Exterior
Hall and landing
Address:
Villa La Roche
10 square du Docteur-Blanche
75016 Paris, France
Project Description
Villa La Roche is a good example of Le Corbusier's architecture. Designed for a Swiss banker and art collector. The entire building is an art gallery, an 'architectural promenade' – a theme inspired by Le Corbusier's visit to the Acropolis in 1911 and repeated for the Visual Arts nearly forty years later.
Charles Jencks describes the promenade:
"Open the door, go under a bridge, and the tight space explodes upwards and through punched-out voids that are mysteriously backlit. Go across the triple-height space, look at the Purist paintings, one of which you now seem to be moving through, turn left up a stair, and survey the pure prisms from a balcony"…"Catch your breath, turn around, and proceed to the culmination, La Roche's curved gallery…Mount the brown ramp to the left, to Le Roche's aerie, his top-lit library. The spatial sequence is remarkable and remained a constant preoccupation of Le Corbusier. It also became the stock in trade of subsequent Modern architects."
Gallery
Gallery balcony
Villa La Roche has been thoroughly restored and can be seen in pristine condition – the bright white surfaces and the blues, reds and blacks. The villa is open to the public, administered by the Fondation Le Corbusier, which is based in the adjoining Villa Jeanneret at 8 square du Docteur-Blanche. For visiting hours please call +33 1 42 88 41 53.
The villa is ten minutes' walk west of Jasmin metro station on Line 9. From the metro station follow rue Jasmin (direction south-west) to the end, turn right onto rue Raffet, then right again onto rue du Docteur Blanche. Square du Docteur-Blance is a private square behind wrought iron gates shortly on your right, with the Villa La Roche at the end (and the Villa Jeanneret on your right just before it).
Library
Library ; view across walk bridge towards dining room
Dining Room
Hall
Roof terrace
Villa La Roche photos © Karavan
Villa La Roche architect: Le Corbusier
Location: 10 square du Docteur-Blanche, 75016 Paris, France
New Paris Architecture
Contemporary Paris Architecture
Paris Building Designs – chronological list
Paris Architecture Tours by e-architect
Le Corbusier Buildings in Paris
Paris Corb Building Selection
Villa Savoie, Poissy, north west of Paris, France
Villa Savoie Le Corbusier house Paris : key French building by Corb
Villa Savoye : photos of this famous Le Corbusier house as a ruin
Cité de Refuge, 12 Rue Cantagrel, 75013 Paris, France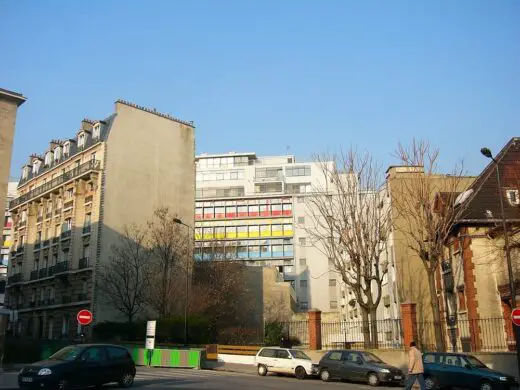 photo by Rory Hyde from Amsterdam, Netherlands – Le Corbusier- Salvation Army Hostel, 1931-33, CC BY-SA 2.0, http://commons.wikimedia.org/w/index.php?curid=20421514
Cité de Refuge Le Corbusier Building in Paris
Le Corbusier Architecture
Le Corbusier Show : The Interior of the Cabanon
Le Corbusier Exhibition
RIBA Gold Medal Winner 1953 : Le Corbusier
Unité d'Habitation, Berlin
Le Corbusier building
Comments / photos for the Villa La Roche – Modernist House Paris page welcome