Frank Gehry Architect, Buildings, Photos, Venice Studio, LA Architecture Office, Design Practice USA
Frank Gehry Architect
Contemporary American Architecture Practice based in Los Angeles, California: US Design Studio
post updated April 5, 2022
Frank Gehry Architecture News
Apr 5, 2022
Colburn School, Los Angeles, California, USA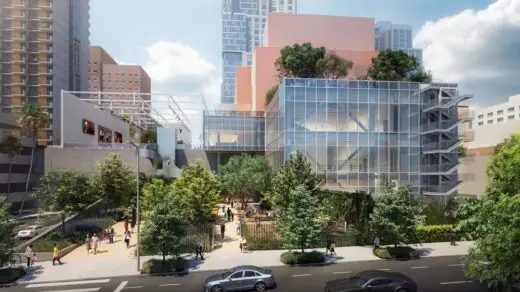 image © Gehry Partners
Colburn School Los Angeles
The Colburn School, LA's World-Renowned School for Music and Dance, unveils Frank Gehry Design for a transformational expansion of its campus. The Gift from Terri and Jerry Kohl adds a new performance venue, "A Hall for All," to the celebrated cultural corridor of downtown LA. $270 million raised to date in support of concert hall and dance facilities to benefit Colburn students and the community.
Jul 11, 2017
Shortlist for landmark Centre for Music in London
DS+R are shortlisted to develop a concept design for a new concert hall in the City of London. The Barbican Centre, London Symphony Orchestra and Guildhall School of Music & Drama are leading the competition, backed by £2.5million in funding from the City of London Corporation:
Centre for Music London Competition Architects News
Apr 27, 2017
Berlin/Los Angeles: Space for Music, Getty Centre, Los Angeles, CA, USA
Celebrating the 50th anniversary of Berlin and Los Angeles being 'sister cities', the exhibition explores connections between Hans Scharoun's Berlin Philharmonic and Frank Gehry's Walt Disney Concert Hall
April 25 – July 30, 2017
At the Getty Research Institute, Getty Center
Walt Disney Concert Hall, Los Angeles, California, USA: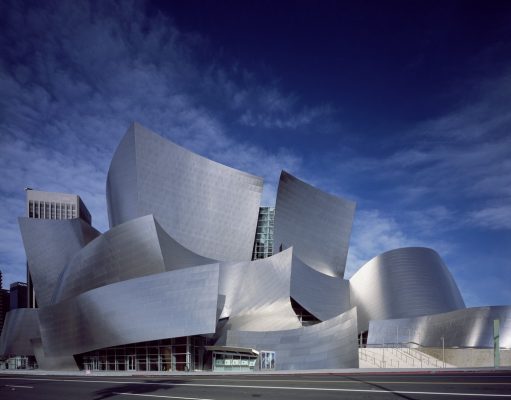 Photograph by Carol Highsmith. Washington, DC, Library of Congress, Prints & Photographs Division, Photographs in the Carol M. Highsmith Archive
Walt Disney Concert Hall
Architecture Exhibition with Frank Gehry Building
Mar 31, 2017
New US Building by Frank Gehry
The Philadelphia Museum of Art Breaks Ground on Frank Gehry-Designed "Core Project"
The Philadelphia Museum of Art begins a new phase of transformation and renewal, supported by a $525 million campaign. A key part of this campaign, the Core Project will create a significant amount of new public space within the footprint of the landmark building and add 23,000 square feet of new gallery space for the display of the collection.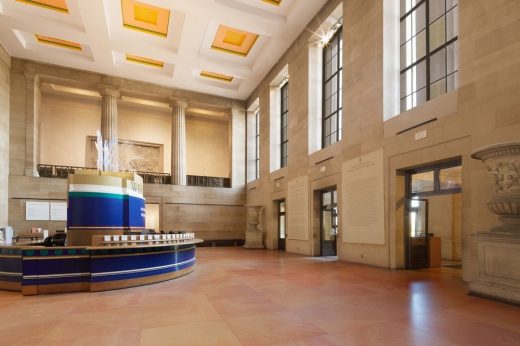 image courtesy of architects
Philadelphia Museum of Art Building by Frank Gehry
As the next phase in the implementation of the Museum's Facilities Master Plan, the Core Project will add 67,000 square feet of new public space, an additional 11,500 square feet for the display of the Museum's rich holdings of American art, and an equal amount of gallery space for the presentation of contemporary art.
Nov 22, 2016
Frank Gehry Architecture
Presidential Medal of Freedom for Architect Frank Gehry
President Barack Obama named 21 recipients of the Presidential Medal of Freedom, among them architects Frank Gehry and Maya Lin.
The award is considered the United State's highest civilian honor and bestowed to those "who have made especially meritorious contributions" to the United States.
"The Presidential Medal of Freedom is not just the nation's highest civilian honor — it's a tribute to the idea that all of us, no matter where we come from, have the opportunity to change this country for the better," said President Obama. "These 21 individuals have helped push America forward, inspiring millions of people around the world along the way."
In the announcement, on November 16, 2016, the White House described Frank Gehry as "one of the world's leading architects, whose works have helped define contemporary architecture." The declaration also highlighted Maya Lin's contributions to environmentalism, and her Vietnam Veterans Memorial in Washington, D.C.
Architects Mies van der Rohe, Buckminster Fuller, and I.M. Pei have received this award in the past.
Jul 8, 2016
Borman House, Broad Beach, Malibu, Los Angeles, California, USA
This Broad Beach property went on market in 2013 for $57.5 million. It is back for sale now with a $33.9 million asking price, reports curbed.com.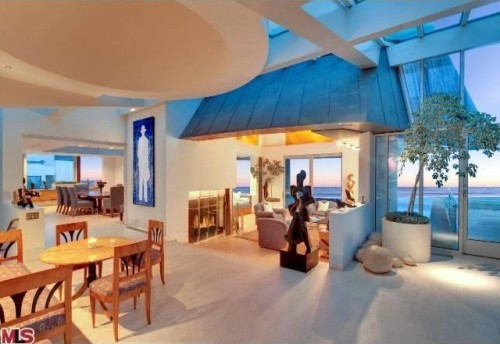 The six-bedroom residence by architect Frank Gehry includes plenty of unique features and is located on a prime stretch of beachfront.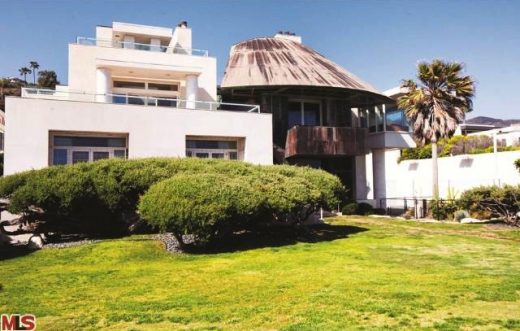 The 11,413 sqft residence over three levels was built for insurance executive Burton Borman in 1989 on a prime 1.46 acre lot with 160 feet of beachfront.
It features a rather unusual mushroom cap at the center of the house, and an impressive spiral staircase. A lap pool and tennis court plus generous patios at each level help create a feeling of luxury.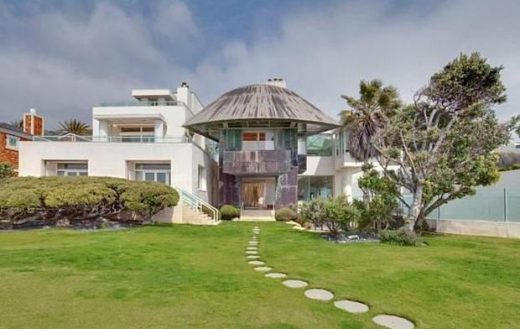 Malibu House by Frank Gehry architect
Frank Gehry (1929-) was born in Toronto, Canada and has become a naturalised American citizen.
The architect has won the most prestigious architecture & design awards incl. Pritzker Architecture Prize (1989) American Institute of Architects Gold Medal (1999) and the Royal Institute of British Architects Gold Medal (2000).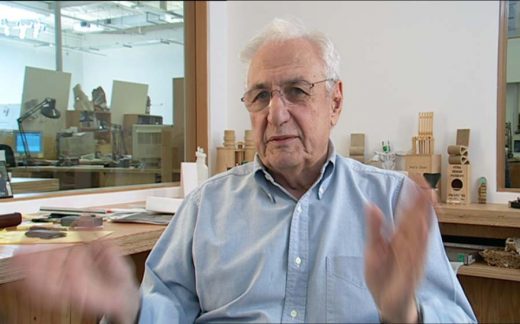 image of the architect received Sep 2003
Frank Gehry News
Architectural News, chronological:
post updated Dec 30, 2015
Biomuseo in Amador, Panama City, Panamá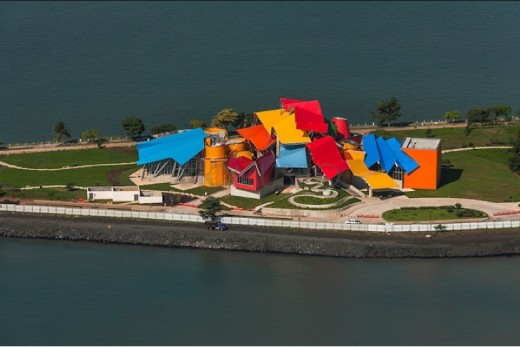 Biomuseo Panama City
The Biodiversity Museum: Panama Bridge of Life, the architects first design in Latin America, located in the country from where his wife originates.
Nov 24, 2015
New book: 'Gehry in Sydney'
A new "fly on the wall" book traces the trajectory of architect Frank Gehry's first Australian project, from concept to completion: Dr Chau Chak Wing Building in Sydney
Feb 4, 2015
UTS Business School by Frank Gehry
Design: Gehry Partners LLP with architect Daryl Jackson Robin Dyke (Australia)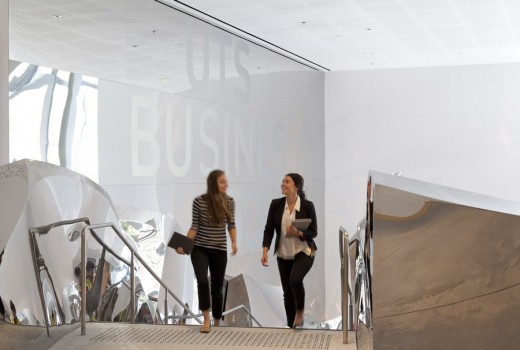 photograph : Andrew Worssam
Dr Chau Chak Wing Building in Sydney
22 Oct 2013
Mirvish+Gehry Toronto, Ontario, Canada
Design: Gehry Partners LLP


model photo : Gehry Partners LLP
Three new towers in Toronto's downtown theatre district for David Mirvish, a Canadian art collector and theatre producer. The client is a passionate supporter of the theatre and Canada's artistic community.
Frank Gehry Architecture : info on the architect
Gehry International, Inc., Architects : practice information
new photos added 18 Oct 2013
The Gehry Residence, Santa Monica, Los Angeles, CA, USA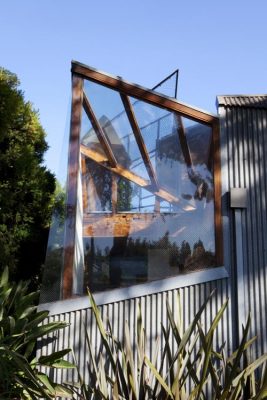 photograph © Kenneth Johansson Photography
This is Frank Gehry's house, a key building for understanding his approach to architecture and design – using industrial materials in new ways, assembling building form almost like an artist such as Kurt Schwitters.
Bodegas Marques de Riscal Elciego, Spain – added


photo : Milly Wood
Experience Music Project Building, Seatle, WA, USA – added
Gehry Partners


photo : Alain Lucier
EMP Museum Seattle
15 Mar 2013
Dancing House – 'Fred and Ginger', Prague, Czech Republic – new photographs


photo © Ivan Andera
Dancing House Prague
After Jean Nouvel turned down the invitation, Frank Gehry architect accepted. He nicknamed the project Fred and Ginger. Some interiors of the investor's offices were designed by Eva Jiricna. Completed 1996, first very controversial for the Prague citizens, now widely acknowledged piece of art.
5 + 4 Mar 2013
Facebook Campus Expansion, Menlo Park, California, USA


photo from facebook
Facebook Campus Project
Approval the firm's design for the Expansion Of Facebook's Headquarters in Menlo Park, California. the project is located on the former Tyco Electronics site.
4 Mar 2013
Maggie's Hong Kong, China


general HK photo © Andrew McRae
Maggie's Hong Kong
Secretary for Food & Health, Dr Ko Wing Man will open Maggie's Hong Kong on Thursday, March 7. They will join Charles Jencks Maggie's co-founder, Laura Lee chief executive, Keith Kerr chairman of Maggie's Hong Kong Board of Directors and Eleanor Ling from the Keswick Foundation.
4 Mar 2013
Ocean Avenue Project, Santa Monica, Los Angeles, California, USA
Design: Gehry Partners, LLP


image © Gehry Partners, LLP
Ocean Avenue Project Santa Monica
This building design reminds me of the architect's skyscraper in New York (Eight Spruce Street) with its twisting fluted form, though here is is mdoelled in a white palette more suitable to the sunny Californian context. "After 25 years, I am excited to finally design a project in my hometown of 40 years," said the celebrated Santa Monica architect.
Emporis Skyscraper Award
New York by Gehry at Eight Spruce Street wins the Emporis Skyscraper Award


photograph : Gehry Photos
Emporis Skyscraper Award – 6 Dec 2012
New York by Gehry at 8 Spruce Street has won this architecture prize for new skyscrapers, beating over 220 towers from around the world. This building – clad with a flowing stainless steel facade – is the first skyscraper by architect Frank Gehry.
Dr Chau Chak Wing Building, UTS, Sydney, NSW, Australia
Design: Gehry Partners LLP with architect Daryl Jackson Robin Dyke (Australia)
East façade, view across Ultimo Pedestrian Network, model scale: 1-to-100


image : Gehry Partners, LLP
Dr Chau Chak Wing Building
2 Dec 2012 – Lend Lease, one of Australia's largest contractors, has been appointed by UTS to build the Dr Chau Chak Wing Building aka 'Gehry's Tree house'.
To open in mid-2014 at a total development cost of $180 million, the building will house the UTS Business School. The UTS building will be 12 storeys high.
One of the key construction challenges presented by the project is its unique, undulating brick façade, comprising of 320,000 bricks, all laid by hand in situ. The bricks, a reference to Sydney's sandstone heritage, will sit on top of a steel substrate.
Frank Gehry Exhibition
Outside the Box | Frank Gehry, ArtisTree, Hong Kong – see 'Architecture Events' for details


photo : Philip Greenberg
The exhibition marks a milestone for Hong Kong's arts and cultural scene, and pays tribute to the work of one of the world's most important and distinctive architects, whose bold designs have changed the face of architecture. Cited as one of the most culturally influential people in the world in the last 15 years by Wallpaper magazine, this Los Angeles architect has redefined the boundaries of architecture.
Recent Buildings + Designs by Frank Gehry
New York by Gehry, NYC – news : Rippling Building Manhattan – 29 Jul 2011


photo : dbox
Novartis HQ, Basel, Switzerland – 3 Jun


photo : building owner
Novartis HQ Basel building
Guggenheim Abu Dhabi, UAE – news, 31 May 2011


image from Saadiyat
Guggenheim Abu Dhabi
New York by Gehry – 8 Spruce Street, NYC, USA


photo : dbox
Rising to 870 feet, Frank Gehry's first skyscraper, the 76-story New York by Gehry, with its undulating stainless steel cladding shaped to look like draped fabric, is now the tallest residential building in the Western Hemisphere, and an inspired addition to the Lower Manhattan skyline.
Santa Monica Place Mall, Los Angeles, USA – original by Frank Gehry


picture : Babak Bassir
Eisenhower Memorial, Washington DC : designs unveiled – 26 Mar 2010


image from architects
Signature Center, New York, USA : designs unveiled – 23 Mar 2010


building image from architects
V&A Museum Dundee, Scotland : Frank Gehry rules himself out of competition
Maggie's Dundee Garden, Scotland – counterpoint to the Gehry architecture


photo © Keith Hunter
Weisman Art Museum, Minneapolis, USA – Oct 2009


image courtesy Gehry Partners
Major Architecture by Frank Gehry
The Walt Disney Concert Hall, Los Angeles, California, USA
Date built: 2003


picture © Andrew McRae
Walt Disney Concert Hall
Home to Los Angeles Philharmonic: the concert hall building is a key part of downtown Los Angeles cultural hub and after Bilbao became the architect's 'next big thing'.
Frank Gehry Architect – List of Buildings + Designs by this celebrated architect
Iconic Frank Gehry Building
Bilbao Guggenheim, Spain


photo © Guggenheim Museum Bilbao
Guggenheim Museum Bilbao
Featured Buildings by Gehry Partners
Serpentine Pavilion 2008, London, England


photograph © Gehry Partners LLP 2008
Serpentine Gallery Pavilion 2008
InterActivCorp Headquarters, New York, USA


picture © 2008 Gehry Partners LLP
InterActivCorp New York Building
DZ Bank Building, Berlin, Germany


photo © Adrian Welch
DZ Bank Building
Maggies Centre, Dundee, Scotland, UK
Design with James F Stephen Architects, local Dundee architectural practice


image © Adrian Welch
Maggies Centre Dundee by Frank Gehry – photos
the US architect's reinterpretation of a Scottish Broch: signature architecture of shiny surfaces on 'vernacular' base. The architect was selected as architect to design Dundee Maggies Centre by friend Charles Jencks and his late wife, Maggie Keswick-Jencks – who died of cancer and set about creating civilised buildings for people learning to cope with cancer.
Barcelona Fish Sculpture, Catalunya, Spain : Frank Gehry Building in Barcelona Photos
Date built: 1992


photos © AW
Location: Santa Monica, Los Angeles, California, USA
Gehry Partners Practice Information
Frank 0. Gehry & Associates Inc
1520-B Cloverfield Boulevard, Santa Monica, CA 90404 USA
tel 310 828 6088 fax 310 828 2098
Frank Gehry – the architect


images of the architect received Sep 2003
Winner of RIBA Gold Medal 2000
Museum of Tolerance, Jerusalem, Israel
Museum of Tolerance Building : Frank Gehry departure from the project Jan 2010
Louis Vuitton Foundation for Creation, Paris, France
Cost: £70m
Louis Vuitton Foundation Building
Neue Zollhof office complex, Düsseldorf, Germany


photo © webbaviation
Fred & Ginger building, Jiraskuv Bridge, central Prague, Czech Republic
aka The Dancing Building, officially the Rasin Building
More design projects online soon
Architect Frank Gehry
Frank Gehry is Design Principal for the firm of Gehry Partners. Before founding the practice, Frank Gehry worked with architects Victor Gruen and Pereira & Luckman in Los Angeles, USA, and with André Remondet in Paris, France.
He was raised in Toronto, Canada. He moved to Los Angeles in 1947 with his family. Gehry received his Bachelor of Architecture degree from the University of Southern California in 1954, and he studied City Planning at the Harvard University Graduate School of Design.
As well as designing stunning buildings, Frank Gehry has made many designs for cardboard & bentwood furniture.
Architecture Awards
Pritzker Architecture Prize 1989
Arnold W. Brunner Memorial Prize in Architecture 1977
Wolf Prize in Art (Architecture) 1992
Praemium Imperiale Award 1992
Gold Medal – American Institute of Architects 1999
Gold Medal – Royal Institute of British Architects 2000
Lifetime Achievement Award – Americans for the Arts 2000
Another key building not far from the Frank Gehry building in Dundee is another Maggie's Centre – by Zaha Hadid
Frank Gehry Client & Friend : the late Charles Jencks
Serpentine London 2008 Pavilion photos
Bilbao Guggenheim building, Spain:


building image received Sep 2003
Frank Gehry Architecture Exhbition, 18 Feb – 7 May 2006 : Toronto, Ontario, Canada
He was the Pritzker Prize architects Winner in 1989.
Guggenheim Building, Leith, Scotland : unbuilt Scottish proposal
Buildings / photos for the Frank Gehry Architecture page welcome
Gehry Partners LLP website – n/a, checked May 31, 2020