Chicago Building News 2023, Illinois Construction Design, Architecture Projects, US Property Images
Chicago Architecture News
Key Contemporary Architectural Developments in Illinois, USA Built Environment Updates
post updated August 12, 2023
Chicago Architecture Design – chronological list
Chicago Architectural News
Chicago Building News, chronological:
August 12, 2023
One Chicago, River North area, Downtown Chicago
Architects: Goettsch Partners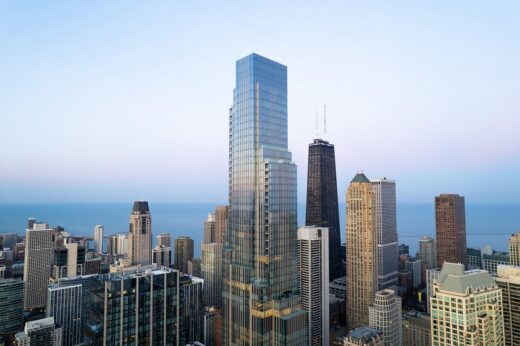 photo © Ian Jolipa
One Chicago Downtown Residences
One Chicago, a two-tower luxury residential and mixed-use complex completed last year, has won the 2023 International Architecture Award. The project was led by JDL Development and designed in partnership between renowned architecture firms Goettsch Partners (GP) and Hartshorne Plunkard Architecture (HPA).
Aug 10, 2023
AIA Chicago to Honor Cynthia Weese, FAIA, Principal of Weese Langley Weese Architects, with 2023 Lifetime Achievement Award
Cynthia Weese Architect: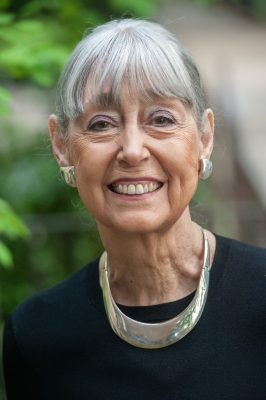 photo : Steven E. Gross_14017 Weese Family 004 (002)
Award to be given on September 28 at Designight 2023 AIA Chicago's signature award program, at the Harris Theater for Music and Dance in Chicago's Millennium Park
(August 10, 2023) CHICAGO – AIA Chicago, the second largest chapter of the American Institute of Architects and the collective voice of over 4,000 licensed architects, emerging professionals, architecture students, and allied professionals, today announced that Cynthia Weese, FAIA, Principal of Weese Langley Weese Architects, will receive the 2023 AIA Chicago Lifetime Achievement Award. Weese will be given the award at Designight 2023 AIA Chicago's held at the Harris Theater for Music and Dance in Chicago's Millennium Park on Thursday, September 28, 2023.
"Cynthia has been a trailblazer for women in the field of architecture." said Mindy Viamontes, 2023 AIA Chicago President. "Her influence will continue to inspire female leaders for generations to come."
For nearly fifty years, Cynthia Weese has served the architectural profession as a reformer working to advance women in the field, as a design innovator in affordable housing, adaptive reuse and educational facilities, and as an academic visionary. Weese's life-long fascination with architectural design began as a child in Iowa where three buildings sparked her imagination: Eliel Saarinen's Art Center in Des Moines, Iowa; Frank Lloyd Wright's Johnson Wax Research Tower in Racine, Wisconsin; and her grandmother's Craftsman-style home built by her grandfather in Des Moines.
Inspired by these spaces, Weese attended Washington University in St. Louis where she earned a B.S., Architectural Sciences and a B.Arch. After obtaining her degrees, Weese began her career in Chicago where she became a leader in the profession. In 1974, she became a founding member of Chicago Women in Architecture (CWA), the groundbreaking forum advocating for women architects. In 1978, after two major architectural exhibitions in Chicago opened with no women architects represented, she organized the exhibit "Chicago Women Architects: Contemporary Directions" under the aegis of CWA and with support from the Graham Foundation.
Weese's work in and outside the design studio challenged the status quo. She joined a group of Chicago architectural innovators, known as the Chicago Seven, who supplanted rigid mid-century modernism through their design work and exhibitions. Weese was founding member and first woman president of the Chicago Architectural Club, and member, vice president and president of the AIA Chicago board. Between 1993 and 2005, Weese served her alma mater as dean of the School of Architecture, becoming the first woman to serve as dean of a college at Washington University.
The Lifetime Achievement Award is nominated by the AIA Chicago general membership, reviewed by a Committee of Fellows and previous Lifetime Achievement Award winners, and selected by the AIA Chicago Board of Directors.
In awarding the Lifetime Achievement Award, the AIA Chicago Board of Directors noted that Weese is "a true pioneer and vanguard for the profession, city and women architects. Her portfolio, experiences and dedication to the profession is a fantastic example of true leadership. Cynthia has been an unwavering advocate for women in the professions and continues to inspire younger generations."
In 1977, Weese established her studio Weese Langley Weese Architects which became known for its creative designs for adaptive reuse, affordable housing, academic buildings and museum galleries. Among Weese's most significant works are:
Harris Hall, Northwestern University: renovation of historic classroom building
Math/Statistics Building, University of Chicago: space study
Gallery House for an Artist, Empire, Michigan
Noyes Hall, University of Chicago: conversion of pool into business school study space
A New Leaf event space, 1820 North Wells, Chicago
F.W. Olin Classroom Building, Luther College, Decorah, Iowa
Avery Coonley School Expansion, Downers Grove, Illinois
Art Institute of Chicago, Kraft General Foods Education Center
Studio of a New Leaf, 1816–18 North Wells, Chicago
Koren Classroom and Faculty Office Building, Luther College, Decorah, Iowa
880 Lake Shore Drive: apartment renovation in Mies van der Rohe building
Chicago City Day School Expansion, Chicago, Illinois
1758 North Wells, Chicago: townhouse renovation
100 West Chestnut Apartments, Chicago: 280-unit residential highrise
Cynthia Parry apartment: renovation in Sol Kogin Building
A House in the Woods, Sheboygan, Wisconsin
Chestnut Place Apartments, Chicago: 280-unit residential highrise
Kuntz House, Wayne, Illinois
A New Leaf, 1646 North Wells, Chicago: numerous interventions
1211 North LaSalle, Chicago: conversion of 17-story SRO hotel into apartments
Illinois Corn Crib: conversion of corn crib into weekend retreat.
"Cynthia's place in the overall canon of Chicago architecture is a significant one." said AIA Chicago's Executive Director Jen Masengarb. "She is the only woman in the ranks of architectural innovators known as the Chicago Seven and serves as a founding member of two institutions – Chicago Women in Architecture and the Chicago Architectural Club – which enrich both gender and thought diversity in our community. Her work in the profession, academia, and the non-profit sector continues to broaden horizons for women in the profession today."
Weese has received numerous awards for her leadership in service as a reformer, design innovator and academic visionary:
2018 Award for Excellence in Design, Leadership and Service, Society of Architectural Historians
2017 Lifetime Achievement Award, Chicago Women in Architecture
2010 Award for Contributions to the Field of Architecture, Society of Architectural Historians
2010 Sam Fox School of Design, Washington University, Dean's Medal
2007 Washington University Distinguished Alumni Award
2004 AIA Illinois Excellence in Education Award
2002 Tau Sigma Delta Gold Medal in Architecture
1995 AIA St. Louis Honor Award in Architecture, The Secret Garden of a New Leaf
1992 AIA Chicago Honor Award in Interior Architecture, 880 Lake Shore Drive City Apartment
1991 Fellow, American Institute of Architects
1990 AIA Chicago Distinguished Service Award
1990 AIA Chicago Honor Award in Interior Architecture, The Secret Garden of a New Leaf
1990 Metropolitan Chicago YWCA: Outstanding Achievement Award
Previous recipients of the Lifetime Achievement Award are Ralph Johnson, FAIA, LEED AP (2022); Stuart Cohen, FAIA (2021); Phillip C. Johnson, FAIA (2020); John Syversten, FAIA (2019); Peter Landon, FAIA (2018); Carol Ross Barney, FAIA (2017); Ronald Krueck, FAIA (2016); Richard H. Driehaus (2015); John Vinci, FAIA (2014); Stanley Tigerman, FAIA (2013); Helmut Jahn, FAIA (2012); Ben Weese (2011); Natalie DeBlois, FAIA (2010); Gertrude Lempp Kerbis, FAIA (2008); John Holabird, Jr., FAIA (2007); Walter Netsch, FAIA (2006). In 2009, Daniel Burnham, FAIA and Edward Bennett, FAIA, were recognized posthumously on the centennial of The Plan of Chicago.
Other awards to be given at Designight 2023 on September 28 include the Design Excellence Awards (recognizing projects of all scales, from Architecture XS to XL, and Interior Architecture S to L), the Decarbonization Award, and the Roberta Feldman Architecture for Social Justice Award which is administered by the AIA Chicago Foundation. Designight 2023 will also feature the second annual People's Choice Awards presented in partnership with the Chicago Architecture Center.
Finalists for the juried awards and the Lerch Bates People's Choice Awards will be announced in August along with information on how the public can vote for their favorite designs.
Designight 2023
Harris Theater for Music and Dance
Millennium Park
205 E Randolph St, Chicago, IL 60601
Thursday, September 28, 2022
6:00 p.m. to 7:30 p.m. with After Party to follow
To purchase Award Ceremony tickets beginning August 14 call or visit:
Harris Theater Box Office: (312) 334 7777;
Harris Theater Website: HarrisTheaterChicago.org;
Harris Theater Address: 205 East Randolph Drive
Theater rental and services have been underwritten through support of the Harris Theater for Music and Dance.
To purchase After Party tickets beginning August 3 visit: https://www.aiachicago.org/designight or https://www.designight.org
About AIA Chicago
The American Institute of Architects Chicago (AIA Chicago) serves nearly 4,000 architect members in Chicago and is the second largest AIA chapter in the country. AIA Chicago's mission builds on the city's architectural legacy by advocating for the profession, sharing knowledge among members, and partnering with communities. It fosters a culture of design excellence for equitable, sustainable places and spaces.
AIA Chicago offers lectures and continuing education courses; specialized, issue-specific Knowledge Communities; advocacy for architects; and help for consumers looking for an architect.
AIA Chicago is the local Chicago chapter of The American Institute of Architects. Based in Washington, D.C., the AIA has been the leading professional membership association for licensed architects, emerging professionals, and allied partners since 1857. Learn more by visiting www.aiachicago.org.
Feb 2, 2023
Skokie Valley Synagogue, 8825 E. Prairie Road, Skokie, Illinois 60076, USA
Architects: Studio ST Architects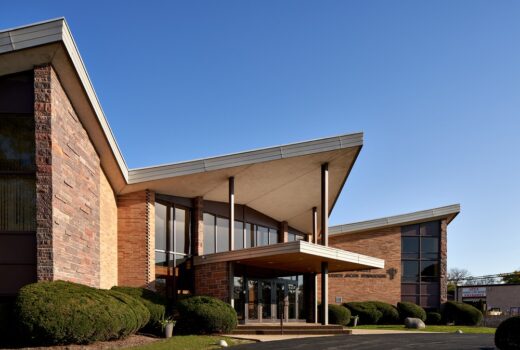 photo © Andrew Bruah, © Kendall McCaugherty
photo :
Skokie Valley Synagogue
Skokie Valley Synagogue renovation fosters light and inclusivity, by Studio ST Architects. Link to image folder here.
The Skokie Valley Synagogue renovation transformed the sanctuary, built in 1963, from a dark and formal space to an ethereal, light-filled and ADA accessible room for communal prayer.
Chicago Architecture News in 2022
Contemporary Chicago Building News, chronological:
Oct 25, 2022
Stone Island, 48 East Oak Street, 60611 Chicago, Illinois, USA
Architects: OMA / AMO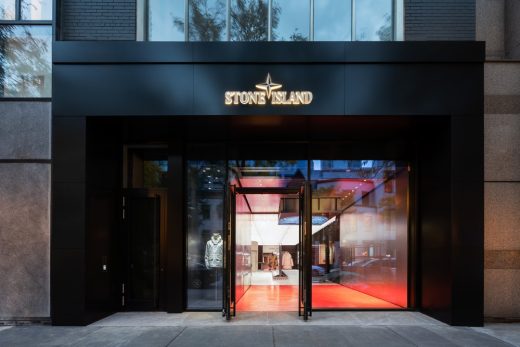 photos : Marco Cappelletti, courtesy OMA AMO and Stone Island
Stone Island, Chicago: Illinois Shop
Long before social media, Stone Island built a loyal community of followers, drawn by the brand's devotion to research and technology. The new stores – in Chicago, Seoul, Munich, Stockholm – complement Stone Island's current online presence. Here, the physical and virtual journeys come together.
Sep 4, 2022
Wilmette Residence, Wilmette
Architects: Nicholas Design Collaborative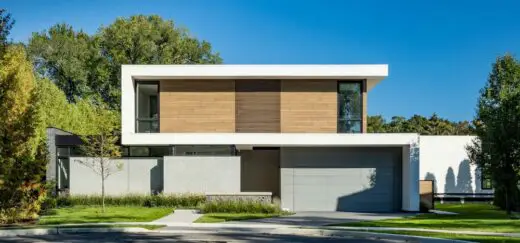 photo : Van Inwegen Digital Arts
Wilmette Residence, Cook County Illinois
A 5,000 sqft plus basement, single family residence located on a cul-de-sac, adjacent to a golf course in an older, inner ring suburb of Chicago. The Wilmette Residence is triangular in shape and the house responds directly to the site conditions by subdividing the land into 4 distinct exterior spaces with interior spaces responding and interacting with those spaces.
Aug 26, 2022
Esperanza Health Center
Architects: JGMA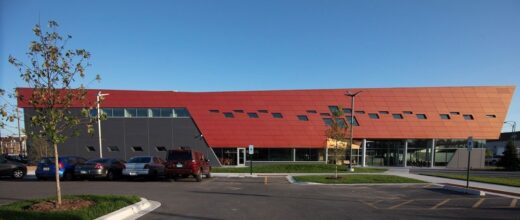 photo : Maria Monteagudo, JGMA | Focal Point
Esperanza Health Center Chicago
Esperanza Health Center is a community health system whose mission is to promote healthy lifestyles and improve health status through the provision of high-quality care and wellness services. Emphasizing prevention and education, services are provided by a bilingual and culturally diverse staff dedicated to overcoming the barriers faced by underserved communities.
Jun 14, 2022
Go Green Community Fresh Market, Englewood, Illinois
Architects: Wheeler Kearns Architects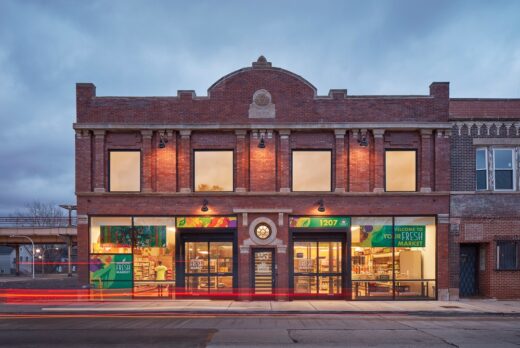 photo : Tom Harris
Go Green Community Fresh Market, Englewood
This is the first phase of a masterplan driven by the Inner-City Muslim Action Network (IMAN), in collaboration with the Resident Association of Greater Englewood (RAGE), Teamwork Englewood, and E.G. Woode. As one of six finalists in the 2020 Chicago Prize, the Fresh Market has been recognized as a community resource that will revitalize a neighborhood severely challenged by long-term, systemic disinvestment.
Apr 11, 2022
800 Fulton Market
Architects: Skidmore, Owings & Merrill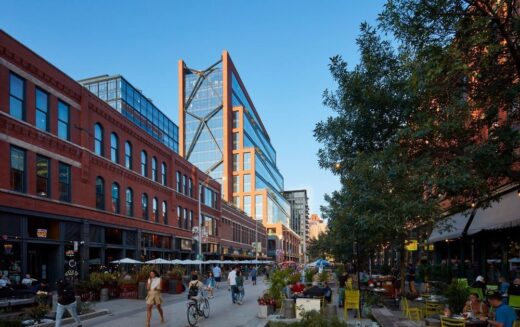 photo : Dave Burk
800 Fulton Market, Chicago Building
The mixed-use office tower leverages advanced capacity-monitoring technology and ample outdoor space to promote tenant safety, health and wellness. The 326-foot-tall mixed-use office tower includes pandemic-responsive design features, from seven landscaped terraces that allow for indoor/outdoor workspaces, to assistive smart building systems.
Jan 6, 2022
Invest South/West, Humboldt Park
Design: JGMA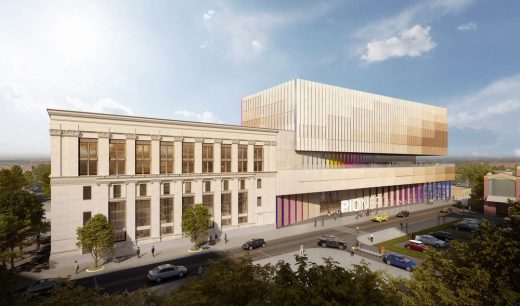 image courtesy of architects practice
Invest South/West in Humboldt Park
The City of Chicago selected Team Pioneros, a 100% Latino project team, led by JGMA, Park Row Development with All Construction Group, to redevelop the Invest South/West landmark Pioneer Bank Building located at the northwest corner of North Avenue and Pulaski Road in Humboldt Park. The $53.9 m proposal will rehabilitate the vacant landmark bank building and parking lot with affordable housing, an entrepreneurial incubator space, a Latino cultural center, and office space.
Nov 19, 2021
Pepper Family Wildlife Center At Lincoln Park Zoo
Design: Goettsch Partners (GP) with PJA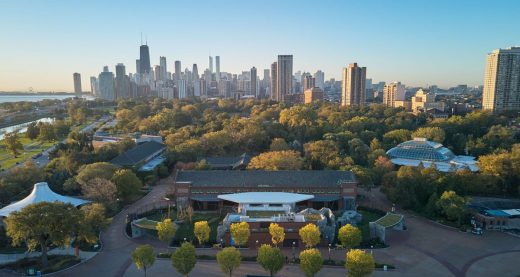 photo © Tom Harris
Pepper Family Wildlife Center At Lincoln Park Zoo
This is a $41 million renovation, restoration and expansion of the historic lion house at Chicago's Lincoln Park Zoo. The 54,000-sqft state-of-the-art facility nearly doubles the size of the previous lion habitat and provides increased transparency and a more immersive experience for visitors while restoring the architectural integrity of the original landmarked building.
Sep 29, 2021
SOS Children's Villages, Roosevelt Square
Architects: JGMA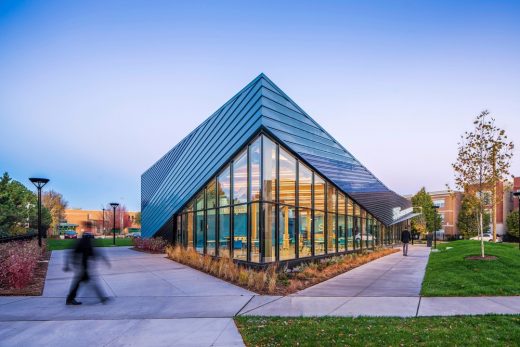 photo : Tom Rotisser
SOS Children's Villages Chicago Building
The design for the new SOS Children's Villages Illinois and Maestro Cares Community Center exemplifies a unification of SOS's child-fostering mission, with the surrounding family "villages" of the Roosevelt Square community. The prominent corner site along the active Blue Island Avenue, just south and west of Chicago's downtown area, welcomes engagement with adjacent residential neighborhoods, while presenting a positive and compelling outward image to the public.
Sep 22, 2021
110 North Wacker Drive – Emporis Skyscraper Award
Design: Goettsch Partners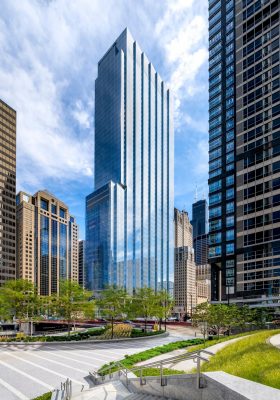 photo © Nick Ulivieri Photography
Emporis Skyscraper Award 2020
Sep 19, 2021
The Chicago Architecture Biennial Timber Pavilion, 8255 S Houston Avenue
Design: SOM + University of Michigan Taubman College of Architecture and Urban Planning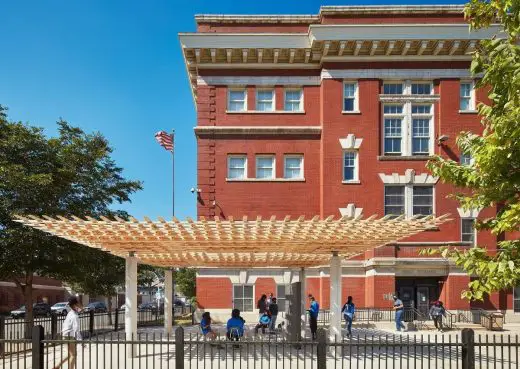 photo : Kendall McCaugherty © Hall+Merrick Photographers
Chicago Architecture Biennial Timber Pavilion
Designed and fabricated by SOM and the University of Michigan Taubman College of Architecture and Urban Planning, the pavilion is an open-air learning lab and gathering space for a school in Chicago's South Shore. The SPLAM (SPatial LAMinated timber( pavilion showcases the potential for prefabricated timber framing panels using robotic technology to advance more sustainable and efficient methods of design and construction.
July 21, 2021
Loyola Academy Center for the Performing Arts, Wilmette, Illinois
Design: Krueck Sexton Partners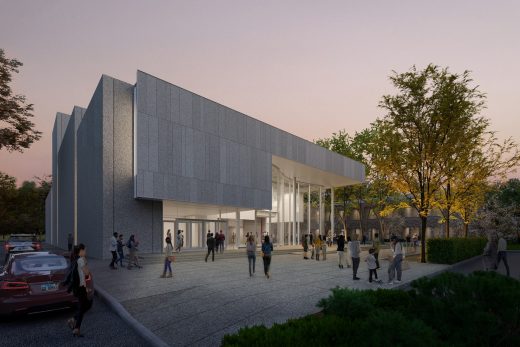 image courtesy of architectue practice
Loyola Academy Center for the Performing Arts Building
The 29,000-square-foot building is strategically positioned to form a new campus quadrangle and outdoor plaza that will function as an open-air performance stage. Inside, a spacious lobby and gallery space will lead to the Leemputte Family Theater, a 565-seat proscenium theater with a balcony, orchestra pit, fly tower, and state-of-the-art lighting and production technologies.
June 18, 2021
Chicago Architectural Club Thompson Center Competition
Original Design: Helmut Jahn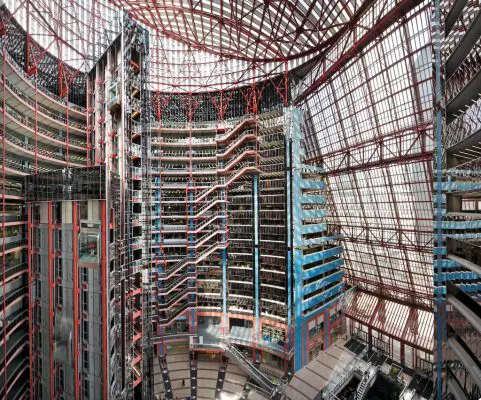 photo courtesy of CAC
Chicago Architectural Club Thompson Center Competition
Competition Calling for New, Creative Visions for Designed by Helmut Jahn and Now For Sale by State of Illinois. The architecture ompetition seeks to give State of Illinois Center new life while preserving its architecture and public character; winning design to be announced early August 2021.
Jun 10, 2021
State/Lake Station Renewal, 200 North State Street, IL 60601
Design: Skidmore, Owings & Merrill (SOM)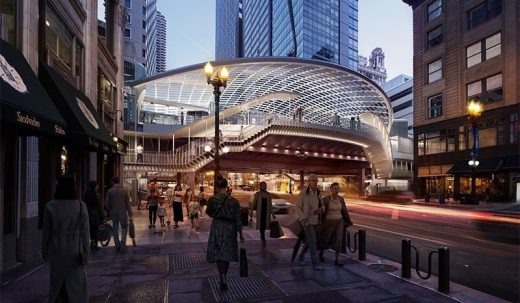 image courtesy of architects office
State/Lake Station Renewal
Reimagining one of the oldest stations in Chicago's elevated rail network, the new design improves accessibility, safety and comfort for all riders, and maintains a respectful relationship to the adjacent historic and cultural fabric of downtown.
May 25, 2021
Chicago Architecture Center: CAC
Apr 7, 2021
Bernard Zell Anshe Emet Day School
Feb 10, 2021
Manufacturing, Technology & Engineering Center
Jan 21, 2021
Lakeview Penthouse
Nov 13, 2020
Hermitage Residence, Bucktown
Nov 13, 2020
House Etch, Lakeview
Oct 15, 2020
110 North Wacker Drive
Architects: Goettsch Partners, Inc.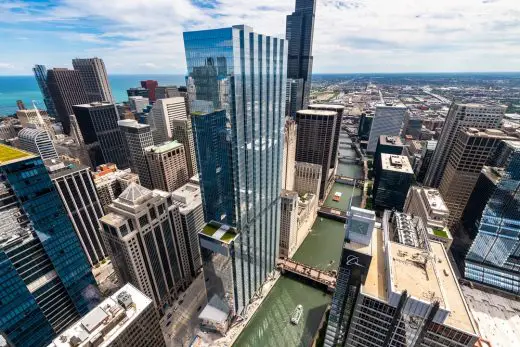 image courtesy of architects firm
110 North Wacker
The Howard Hughes Corporation® (NYSE: HHC) and Riverside Investment & Development announced today the opening of the trophy-class office tower at 110 North Wacker Drive. The announcement marks the culmination of the highly-anticipated 55-story downtown riverfront building, which is a collaboration with the award-winning leasing, design and construction team of CBRE, Goettsch Partners and Clark Construction.
Aug 14, 2020
Mansueto High School, Brighton Park
June 12, 2020
X Luxury Apartment Building
June 9, 2020
41st Street Bridge over Lake Shore Drive
June 9, 2020
The Alice Center for Education and Engagement
May 7, 2020
Purple Llama Coffee & Records Shop
Apr 6, 2020
Modular Coronavirus Testing Walk-in Booth
Mar 10, 2020
Loyola Avenue Housing Refurbishment
Jan 27, 2020
Charles River Associates Chicago Office, One South Wacker Drive
Design: Elkus Manfredi Architects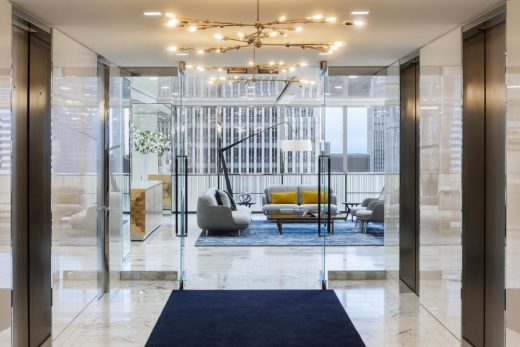 photograph © Andrew Bordwin
Charles River Associates Offices
CRA's 35,620-sf workplace redesign unifies the company's existing two-floor office and replaces the previously dim, dark, crowded environment with a daylight-filled, expansive workplace within the original two-floor footprint.
Dec 30, 2019
Union Station Tower
Jun 17, 2019
Rockford Public Schools District 205 in Illinois
Chicago Architecture Tours
Visiting the Windy City?
Check out e-architect's bespoke city walks:
Chicago Architecture Walking Tours
More Chicago Architecture News online soon
Chicago Architecture News 2018
Nov 2, 2018
777 West Chicago Avenue Building, 777 W Chicago Avenue
Design: Solomon Cordwell Buenz (SCB) Architects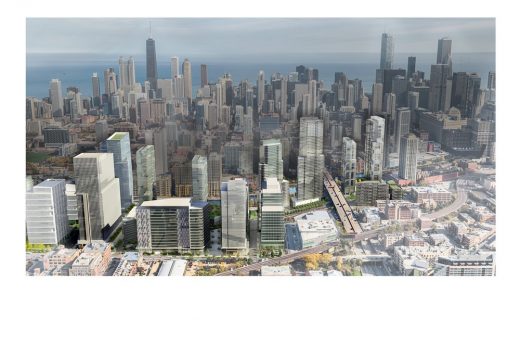 image : Solomon Cordwell Buenz Architects
777 W. Chicago Avenue Building
Tribune Real Estate Holdings receives final approval for a transformational riverfront development at 777 W. Chicago Avenue. Together with Tribune Media's neighboring property at 700 West Chicago Avenue, the combined site will be reimagined as The River District, a landmark urban tech-centric neighborhood, extends the downtown district.
Oct 26, 2018
Catalog at Willis Tower, Wacker Drive
Executive architect & interior designer: Gensler ; Exterior facade design: SkB Architects
Catalog at Willis Tower
Oct 21, 2018
Unity Temple Building Restoration, 875 Lake Street, Oak Park, llinois
Restoration Architects: Harboe Architects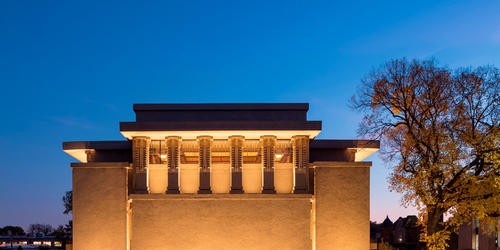 photo : Tom Rossiter
Unity Temple Building Illinois
Originally completed in 1908, Unity Temple is one of Frank Lloyd Wright's greatest works, one of the ten Key Works of Modern Architecture by FLW nominated to the World Heritage list.
Aug 4, 2018
150 North Riverside Building
Design: Goettsch Partners (GP)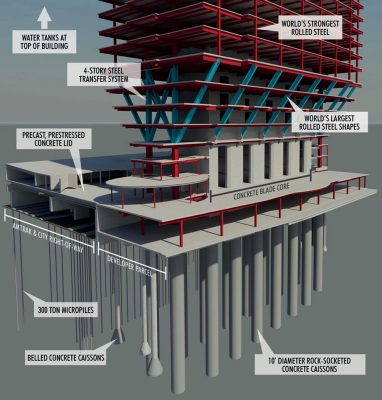 image courtesy of Chicago Athenaeum
150 North Riverside Building Chicago
Jul, 2018
Shirley Ryan AbilityLab, 355 E Erie Street
Design: HDR | Gensler in Association with Clive Wilkinson Architects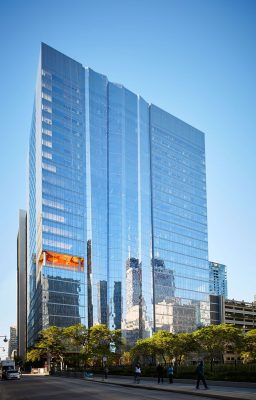 photo courtesy of The Chicago Athenaeum
Shirley Ryan AbilityLab Chicago Building
More often than not, new facilities are inspired by what has already been done. The Shirley Ryan AbilityLab upends that paradigm. By creating a facility that transforms the way science and care coexist, it's reshaping the future of rehabilitation and accelerating the way discoveries are applied to advance human ability.
Jul 8, 2018
Knox College Whitcomb Art Center, S Prairie St, Galesburg, Illinois
Design: Lake|Flato Architects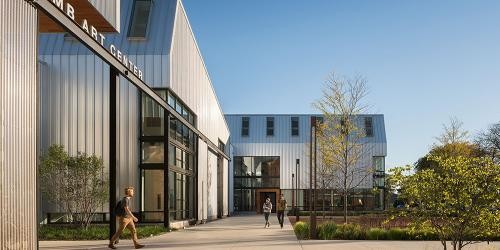 image Courtesy architecture office
Knox College Whitcomb Art Center Building
The Whitcomb Art Center creates a vibrant new home for Knox College's arts programs and provides a fresh new take on Galesburg's Midwest Americana charm.
Jun 19, 2018
Wintrust Arena, 200 E Cermak Road
Design: Pelli Clarke Pelli Architects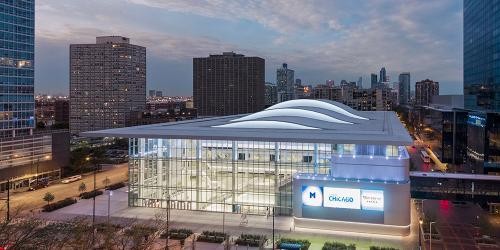 photographer : Jeff Goldberg/ESTO
Wintrust Arena Chicago Building
This project adds a mid-size venue that doubles as an arena for DePaul University basketball to Wintrust Arena, the country's largest convention center.
Jun 15, 2018
150 North Riverside Office Building, West Loop – Wins at American Architecture Awards 2018
Design: Goettsch Partners (GP)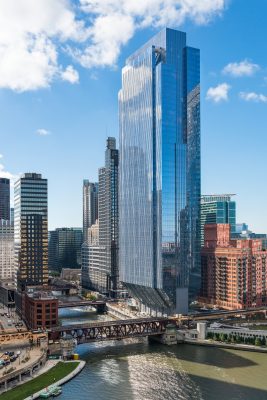 photograph © Nick Ulivieri
150 North Riverside Office Development
Chicago-based developer Riverside Investment & Development celebrated the debut of the 150 North Riverside office tower, which opened for business in February, with an official ribbon-cutting ceremony today.
Mar 26, 2018
Viceroy Hotel
Design: Goettsch Partners with hospitality design firm TAL Studio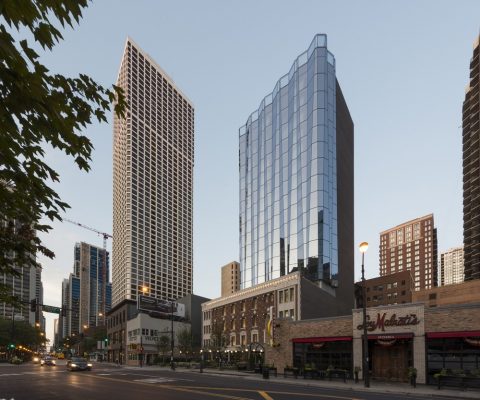 photo © Christian Horan Photography
Viceroy Hotel Chicago Building
The new Viceroy Chicago by Chicago-based developer Convexity Properties exhibits excellent architectural style.
Mar 7, 2018
The Chicago Architecture Biennial Announce Appointment of Yesomi Umolu as Artistic Director of 2019 Edition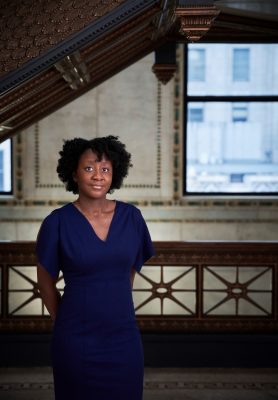 photo by Andrew Bruah, courtesy the Chicago Architecture Biennial
Chicago Architecture Biennial News
The Chicago Architecture Biennial (CAB) and Mayor Rahm Emanuel announce that Chicago-based curator and writer Yesomi Umolu will serve as the Artistic Director of the Biennial's 2019 edition.
Jan 29, 2018
Obama Presidential Center, Jackson Park, Southside
Design: Tod Williams Billie Tsien Architects | Partners (TWBTA) in collaboration with Chicago-based Interactive Design Architects (IDEA)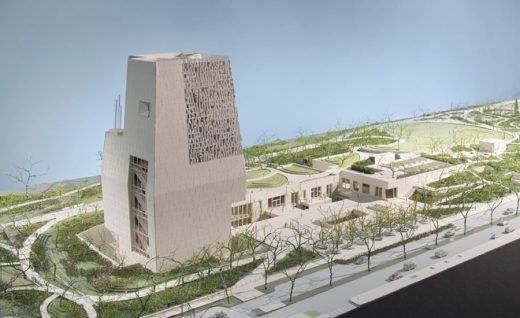 images courtesy of the Obama Foundation
Obama Presidential Center, Jackson Park: OPC Chicago
The Obama Foundation release new renderings of the Obama Presidential Center planned for a site in Jackson Park on Chicago's South Side. The drawings show subtle but significant revisions to the design by TWBTA with IDEA.
Jan 26, 2018
Woodlawn Residential Commons, University of Chicago
Design: Elkus Manfredi Architects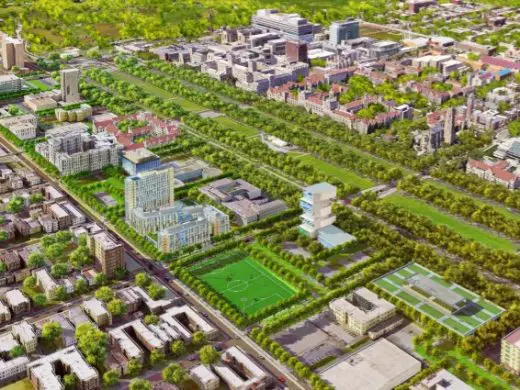 image © Elkus Manfredi Architects
Woodlawn Residential Commons, University of Chicago
The new Woodlawn Residential Commons is to be located between Woodlawn and University avenues, just north of 61st street.
Illinois Architectural Updates 2017
Oct 23, 2017
Apple Michigan Avenue
Architects: Foster + Partners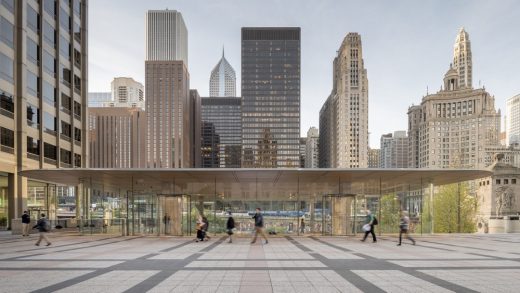 photography © Nigel Young Foster + Partners
Apple on Michigan Avenue
Inspired by the pulse of Chicago's artistic energy, Apple has created a new platform for performance in a city charged by music. Located at the intersection of the Chicago River and North Michigan Avenue's 'Magnificent Mile', Apple Michigan Avenue cascades down from Pioneer Court to the river's edge, creating new connections between the city and the river.
Aug 15, 2017
Tours of SC Johnson Headquarters Racine, Wisconsin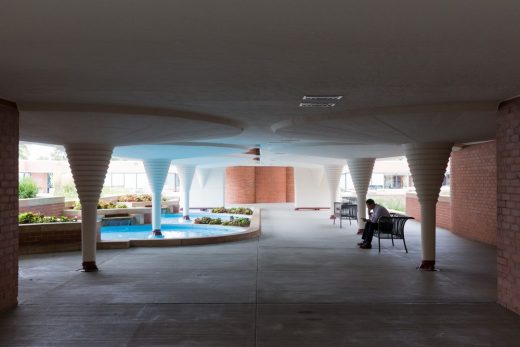 photo : Iwan Baan
SC Johnson headquarters in Racine designed by Frank Lloyd Wright architect.
More Chicago Architecture News online soon
Location: Chicago, Illinois, USA
Contemporary Chicago Architecture
Chicago Architecture Design – chronological list
Chicago Buildings : news + key projects
Comments / photos for the Chicago Architecture News page welcome