Foster + Partners Architects UK, Office Buildings Projects Photos, Architecture Studio News
Foster + Partners Architects News
Contemporary Architectural Practice in London: Major Design Office in England, UK
post updated 21 May 2023
Foster + Partners News
Foster + Partners Architects News, chronological:
12 Dec 2022
New sustainable headquarters for MOL Group in Budapest, southern Budapest, Hungary
Design: Foster + Partners, in collaboration with Finta Studio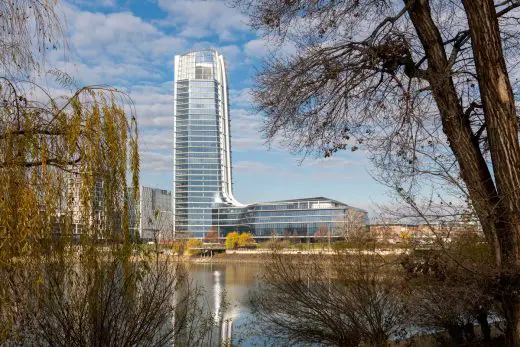 photos : Nigel Young / Foster + Partners
MOL Group Budapest headquarters building
1 Dec 2022
Sulis Hospital Bath, Peasedown St. John, near Bath, south west England, UK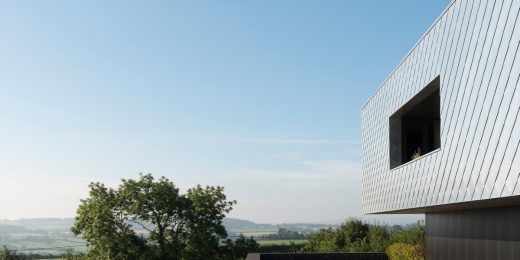 photo © Nigel Young / Foster + Partners
Sulis Hospital Bath, Peasedown St. John
Sulis Hospital Bath is a quietly revolutionary building which incorporates biophilic design to enhance wellbeing and improve recovery times for patients. The hospital is set in the picturesque Somerset countryside, on the outskirts of Peasedown St John village.
18 Nov 2022
Bilbao Fine Arts Museum, Bilbao, Basque Country, Northeast Spain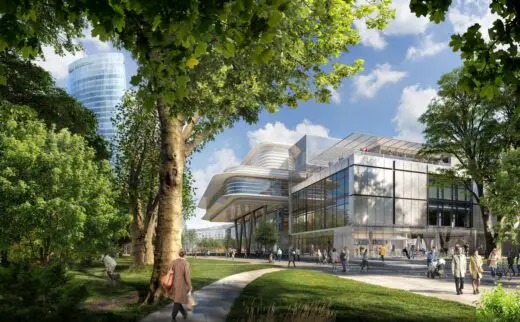 images courtesy of architects practice
Bilbao Fine Arts Museum Building
10 Nov 2022
CPK Airport, between Warsaw and Łódź, Poland
Architecture: Foster + Partners, with Buro Happold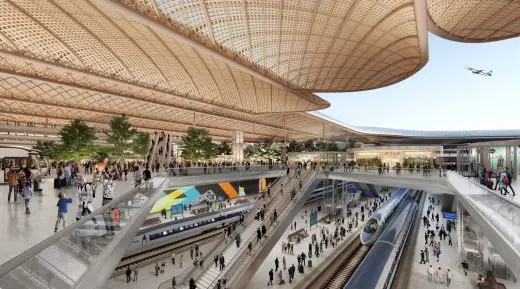 image : Foster + Partners
CPK Airport Poland
Oct 27, 2022
425 Park Avenue, New York City, NY, United States of America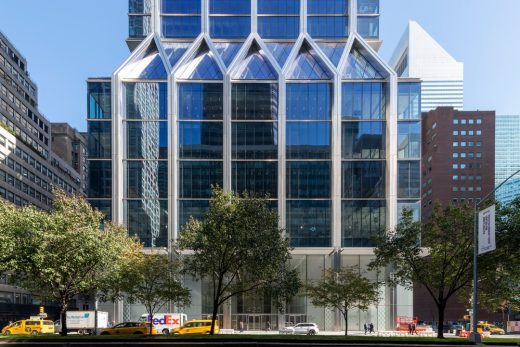 photo © Nigel Young / Foster + Partners
image Courtesy architecture office
425 Park Avenue New York City Office Building
British architect Norman Foster attended the grand opening of 425 Park Avenue, the first full-block office building on New York's Park Avenue in over 50 years. The new building is located alongside Modernist icons such as the Seagram Building, Lever House and the CBS Building, on the world's grand boulevard of commerce.
Oct 21, 2022
50 Hudson Yards, Hudson Yards district, New York City, NY, USA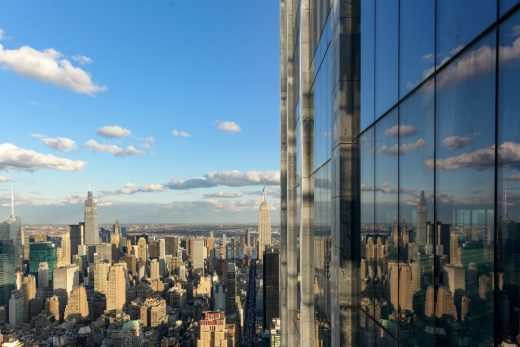 photo : Nigel Young / Foster + Partners
50 Hudson Yards
6 Oct 2022
Ferring Pharmaceuticals A/S, Kastrup, Copenhagen, Zealand, Denmark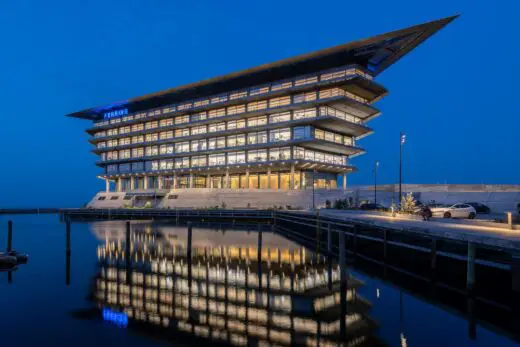 photo : Nigel Young / Foster + Partners
Ferring Pharmaceuticals A/S Copenhagen
The building sits on a large plinth which acts as the first line of defence against potential floods. The design integrates robust street furniture and resilient soft landscaping, which responds to the harsh marine environment.
27 Sep 2022
DJI Sky City, Shenzhen, China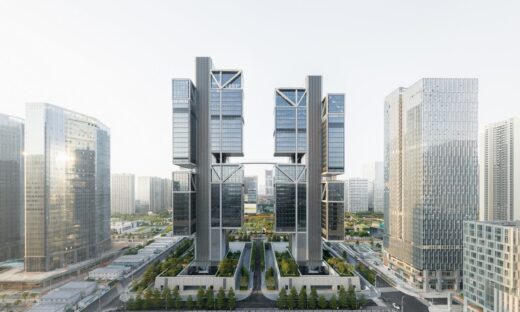 image courtesy of architects practice
DJI Sky City Shenzhen Building
The towers unite DJI employees who have been scattered among several Shenzhen buildings during the company's rapid growth, bringing them into a purpose-built structure that puts physical form to the company's name, Da-Jiang Innovations (大疆创新, or "Innovation Without Borders" in Mandarin). Across its 200-meter height, Sky City exemplifies how DJI has matured from a flight technology startup to a global innovation leader.
26 Sep 2022
Marine Life Institute, AMAALA, Saudi Arabia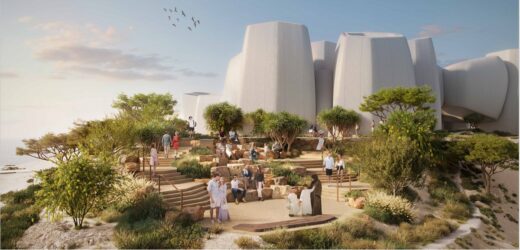 image courtesy of architects practice
Marine Life Institute AMAALA Triple Bay
Created by world-class architectural design firm Foster + Partners, the institute will function as both a scientific research center and a tourist destination. It will accelerate conservation-driven research, while offering visitors truly multidimensional experiences that bridge educational exhibitions with adventure-filled excursions.
20 Sep 2022
Lusail Stadium Building, Qatar, The Gulf, Middle East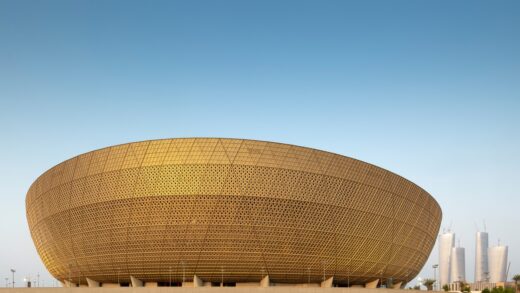 image courtesy of architecture practice
Lusail Stadium Qatar World Cup
23 June 2022
Ombú, Calle del Ombú, 6, 28045 Madrid, Spain – adjacent to Méndez Álvaro station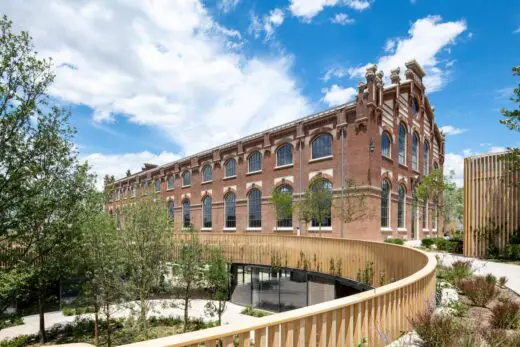 photograph © Nigel Young / Foster + Partners
Ombú Madrid office building for Acciona
Ombú has a 1.0 Planet Ecological Footprint, meaning its carbon emissions will be absorbed by the current capacity of the earth. This achieves the balance of sources and sinks required by the Paris Agreement, with its environmental impact compatible with the original +2°C target.
20 May 2022
BWDC Residential Tower, Manila, Philippines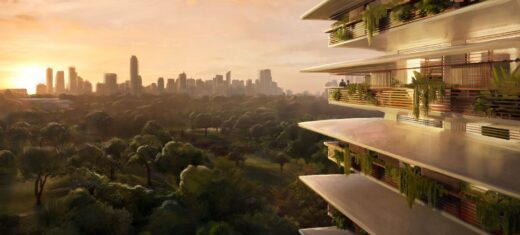 image : Foster + Partners
BWDC Residential Tower Manila
11 May 2022
Salesforce Tower at Sydney Place, Sydney, New South Wales, Australia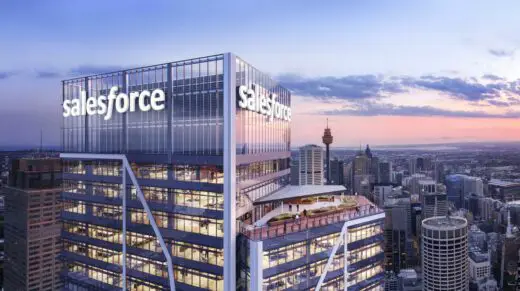 image © Foster + Partners
Salesforce Tower at Sydney Place
The tower makes a distinctive contribution to Sydney's skyline with its innovative façade – a series of external cross-braces derived from structural stress diagrams. The south façade is broken into three bays with the concrete cores 'book-ending' the three transparent banks of lifts that animate the façade.
Apr 14, 2022
JPMorgan Chase HQ, New York City, NY, USA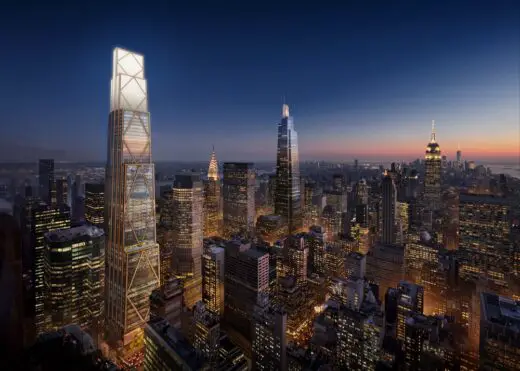 image © dbox / Foster + Partners
JPMorgan Chase HQ
The new building will house up to 14,000 employees, offering 2.5 times more outdoor space on the ground level of Park and Madison Avenues, featuring wider sidewalks and a large public plaza on Madison Avenue with natural green space and other amenities geared toward the residents, workers and visitors who frequent the neighborhood on a daily basis. JPMorgan Chase New Global Headquarters Building New York City.
31 Mar 2022
Transamerica Pyramid Center in San Francisco, 600 Montgomery Street, San Francisco, California, USA
Renewal Design: Foster + Partners, Architects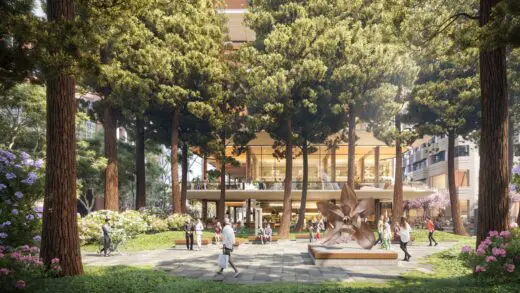 image © Foster + Partners
Transamerica Pyramid Center San Francisco
The biggest renovation in the building's 50-year history, this redevelopment seeks to give a new lease of life to one of the city's most recognizable landmarks and the second tallest building in the city. The project will also expand and upgrade the adjacent Three Transamerica (545 Sansome) to a contemporary high-design office building.
29 Mar 2022
Carpyen Capsule table light launched at Maison&Objet
Capsule, a new family of table lights designed for Carpyen has been launched at this year's Maison&Objet Fair in Paris.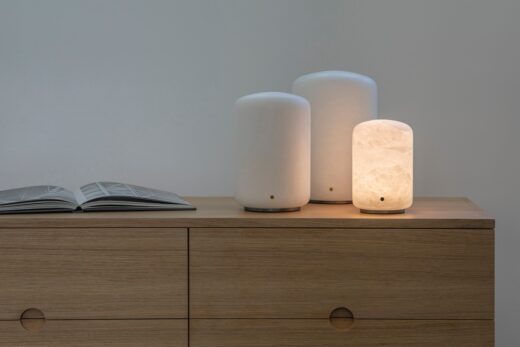 photographs © Aaron Hargreaves / Foster + Partners
Designed by the industrial design team at Foster + Partners, the new product reflects the diversity of the practice's output.
Capsule is a family of table lights designed to capitalise on the unique materiality of alabaster rock. Their pillowed cylindrical forms are defined by soft continuous curves that allow for even illumination throughout the lamp, revealing the depth and unique textural detail of alabaster rock.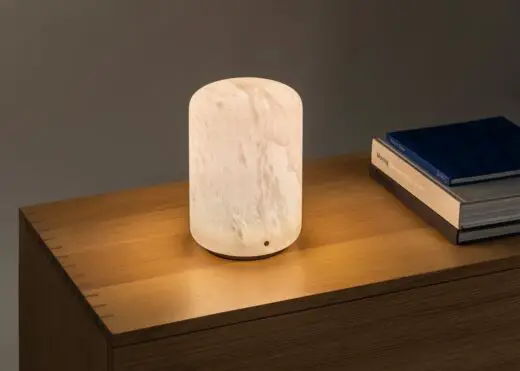 Manufactured by Carpyen in Spain, each lamp is individually lathed from locally sourced rock, sustaining traditional and local manufacturing. Given the naturally varied colours and veining of alabaster, each lamp is unique, celebrating the natural beauty of the material through its simplified form. The soft curves allow for a consistent thickness of material, avoiding dark spots that form with more angular geometry.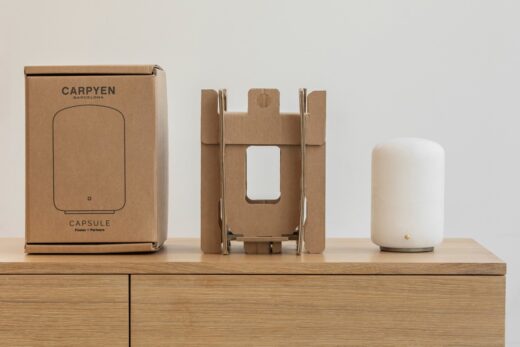 Mike Holland, Head of Industrial Design, Foster + Partners, said: "Capsule capitalises of the natural properties of alabaster to create a carefully crafted lamp. Its simple form allows the richness of the material to shine through, with every piece embodying a distinctive presence."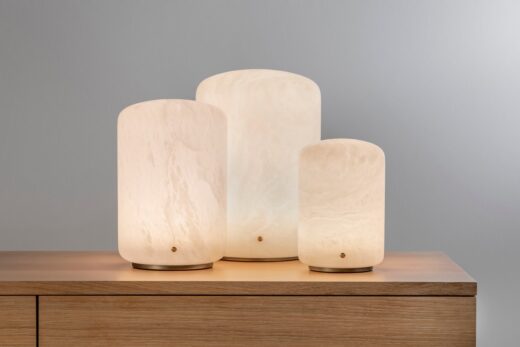 Designed to provide soft light to any commercial or residential space, Capsule is available in three different sizes. Seated on a thin bronze band the lamps can be dimmed by a discreet touch sensor at the base.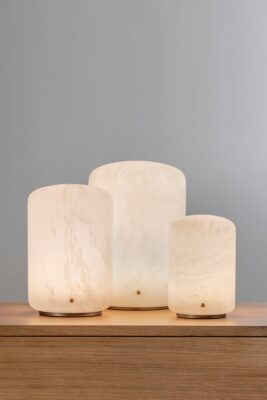 The practice has also designed the fully recyclable packaging box for shipping the lamp. A protective cardboard spaceframe eliminates the need for plastic filling materials and the lamp is further protected with a hessian bag. Using single-coloured ink and reducing the use of stickers also enhances the lamp's environmental credentials.
18 Jan 2022
Stockholm Central Station design competition
Design: Foster + Partners with Marge Arkitekter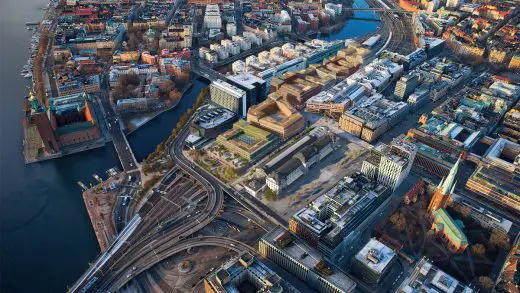 image : Foster + Partners
Stockholm Central Station design competition
Future plans to increase the number of trains coming into the city are set to catalyse the reinvention of Stockholm's central heart. The new district, largely built over the existing tracks, will re-link the surrounding streets to create an active, friendly, and safe public realm that will stitch together the east and west sides of the city, improving passenger connections across Stockholm, without impacting the historic skyline.
5 Jan 2022
Datong Art Museum, Shanxi Province, China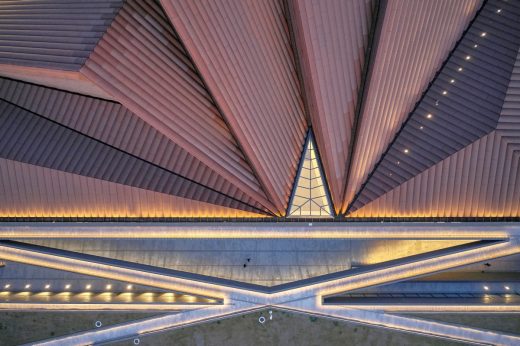 photo : Yang Chaoying
Datong Art Museum Building
Datong Art Museum – an important new cultural destination in China – has opened to the public with a special exhibition featuring oil paintings by local artists. One of four major buildings within Datong New City's cultural plaza, it is set to become a new hub for creative industries in the region.
13 Dec 2021
Narbo Via, Narbonne, Languedoc-Roussillon, Occitanie region, southern France
Design: Foster + Partners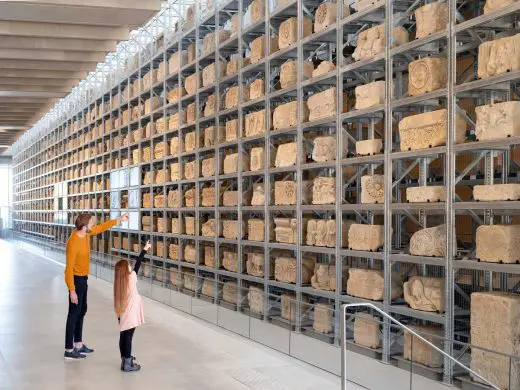 photograph : Philippe Chancel
Narbo Via Narbonne
This new museum of Roman antiquities in Narbonne has now opened following an inauguration ceremony. The building, designed and engineered by Foster + Partners is set to become a new landmark at the entrance to the city, on a site adjacent to the Canal de la Robine.
24 Nov 2021
Apple at The Grove, Mid-City, Los Angeles, California, USA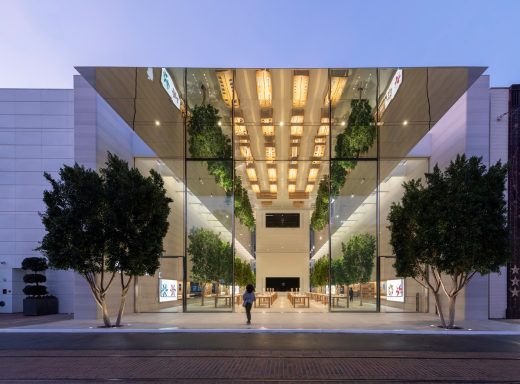 photo : Nigel Young/Foster+Partners
Apple at The Grove
Apple at The Grove is an embodiment of Los Angeles' energy and creative spirit. Located Mid-City, adjacent to Beverly Hills and West Hollywood, the new store is at the heart of the global entertainment industry. It forms an integral part of The Grove, the famous open-air shopping and entertainment complex that is one of the city's most popular visitor destinations, ranking as one of the top shopping and entertainment centers in the country.
30 Oct 2021
Apple Bagdat Caddesi Istanbul Building, Istanbul, Western Turkey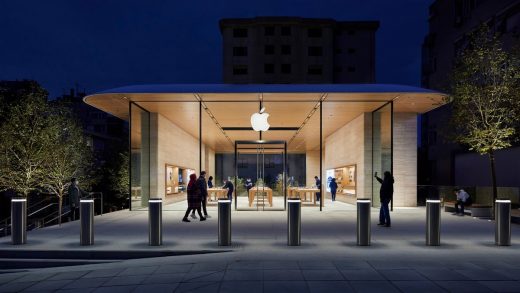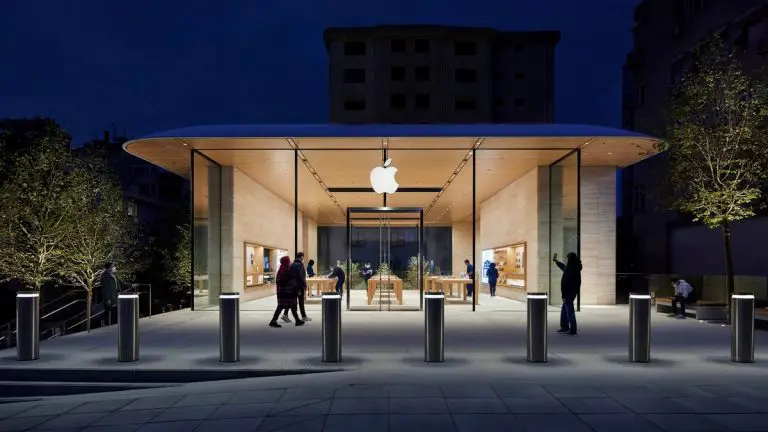 photo © Apple
Apple Bagdat Caddesi Istanbul Building Design
Located on the bustling Bagdat Caddesi in Istanbul, this new retail building seeks to create a green oasis of creativity in the heart of the city. One of the most iconic and lively shopping destinations in Istanbul, the tree-lined avenue attracts visitors from all over the world and is likened to Paris' Champs-Élysées.
7 Sep 2021
Artemide Takku – a versatile, battery-powered lamp launches at Milan Design Week 2021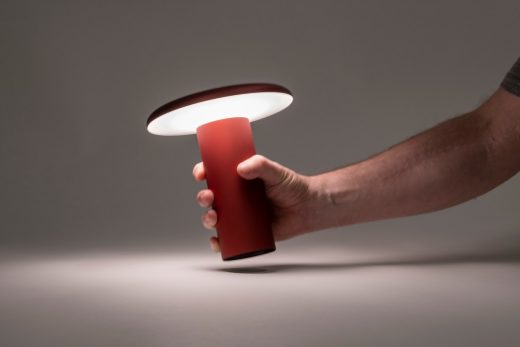 photograph : Nigel Young / Foster + Partners
Marking the start of the Milan Design Week 2021, Artemide has launched the latest addition to its range of innovative lighting solutions – an understated portable battery-powered lamp named Takku. The lamp can be used as an intimate source of light for the bedside or tabletop. Takku's versatility allows it to adapt to spatial layouts that change through time, be it the home-office, indoor/outdoor hospitality settings or a variety of dynamic spaces.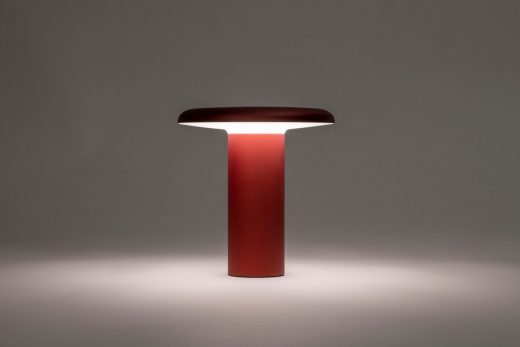 photograph : Nigel Young / Foster + Partners
Mike Holland, Head of Industrial Design, Foster + Partners, said: "The name Takku comes from the Japanese word for a pin or a tack. As well as inferring its shape, it also alludes to its inherent portability, like a pin used to temporarily fix notes to a surface. In terms of its engineering, the weighted base gives the lamp stability and a tactile quality. We worked hard to optimise the light diffuser to distribute the light down the stem, while also creating a visible illuminated edge around the shade and express a volume of light."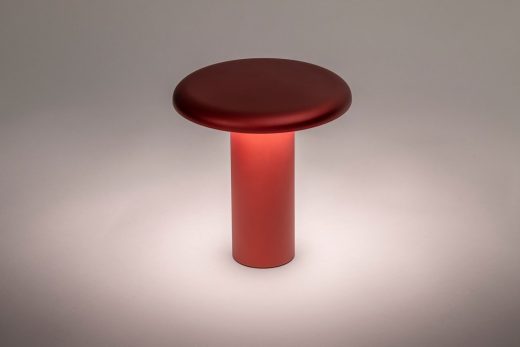 photo : Nigel Young / Foster + Partners
Showcasing its industrial roots, it has an extruded anodised aluminium stem containing a single LED and re-chargeable power source that is optimised for disassembly. The light is reflected off the inside of a formed aluminium head containing an optimised diffuser that distributes the light evenly around the stem, creating an ethereal, floating aesthetic.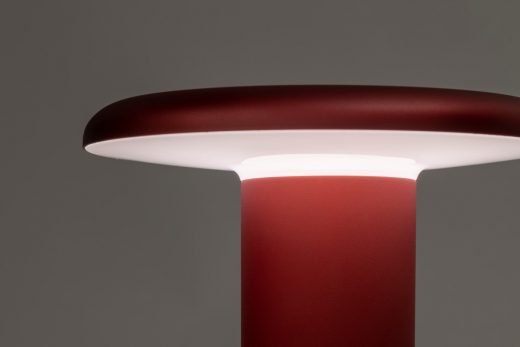 picture : Nigel Young / Foster + Partners
Engineered for precision, the weighted base gives the lamp stability and a tactile quality. The light can be dimmed or brightened via a discreet button on the stem and can last up to 32 hours on a single charge.
Made from low carbon recycled aluminium, Takku is available in a range of anodised colours and paint finishes and is suitable for indoor and outside use.
11 Aug 2021
Edmond and Lily Safra Center for Brain Sciences, Hebrew University of Jerusalem, Israel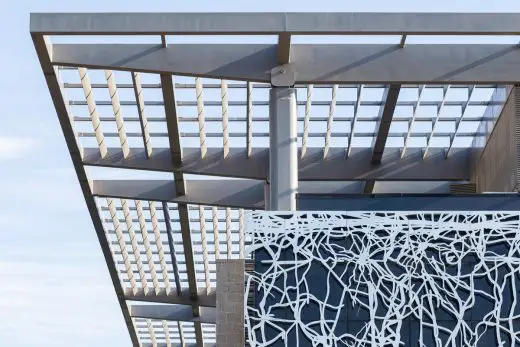 photo : Studio Harel Gilboa
Edmond and Lily Safra Center for Brain Sciences
Situated in the heart of the Hebrew University of Jerusalem, the Edmond and Lily Safra Center for Brain Sciences is a pioneering research facility for the scientific exploration of the brain. It has been carefully sited amid the natural rugged setting of the campus.
July 27, 2021
Atlanta Centennial Yards master site plan, Downtown Atlanta, Georgia, USA
Design: Foster + Partners with Perkins+Will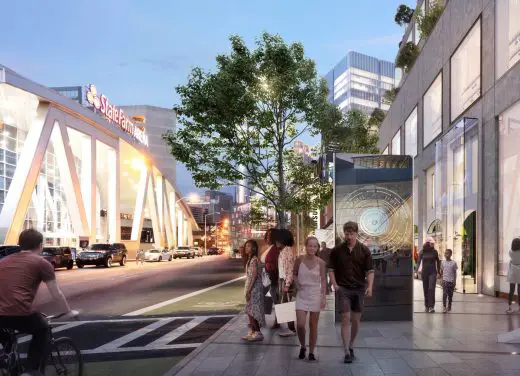 image : Foster + Partners
Atlanta Centennial Yards Downtown masterplan
The master site plan proposal to stitch together the pivotal Centennial Yards site in Downtown Atlanta has been revealed. The project is part of a $5 billion transformation of parking lots and former railyards into an experiential and inclusive mixed-use development. Foster + Partners is collaborating with Perkins+Will in further refining the plan that positions Centennial Yards as a leading model of urban design and placemaking.
7 July 2021
Ellinikon Marina Residential Tower, Ellinikon, Athens, Greece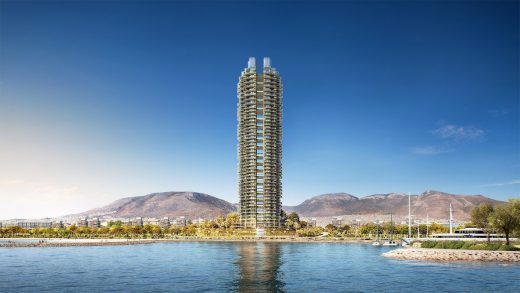 image : dbox / Foster + Partners
Ellinikon Marina Residential Tower
Lamda Development release designs for Marina Tower, the first green high-rise building in Greece. Located in the Agios Kosmas marina area and one of Ellinikon's first architectural landmarks, Marina Tower will be the tallest building in Greece and the tallest green beachfront high-rise building in the Mediterranean.
19 May 2021
The Forestias, Bang Na-Trat Road, Bangkok, Thailand, Southeast Asia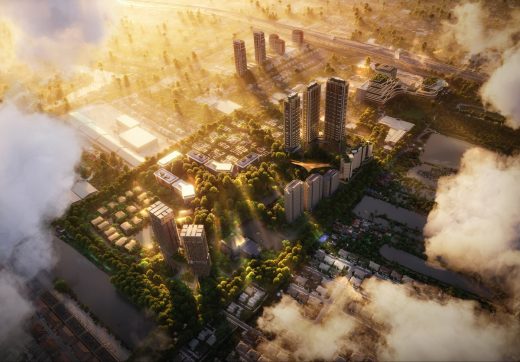 image : Foster + Partners
The Forestias Bangkok
Designs for The Forestias– a new residential-led masterplan with a large forest at its heart – have been revealed. Located on the outskirts of Bangkok, the pioneering development addresses the growing disconnect between contemporary city life and family traditions, underpinned by the idea of health and wellbeing.
8 May 2021
LEVA chair design for Mattiazzi by Foster + Partners
LEVA chair design for Mattiazzi
As part of the practice's first Environmental Product Declaration (EPD), Foster + Partners has completed a comprehensive life cycle assessment (LCA) of the LEVA chair designed for Mattiazzi. The industrial design and sustainability teams at Foster + Partners undertook this project with a view to encourage and challenge the manufacturers we work with to embrace more sustainable production processes.
18 Dec 2020
Norman Foster Sketchbooks 1975-2020 – Norman Foster And Jorge Sainz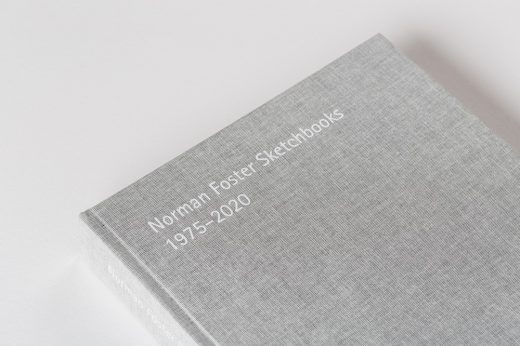 photo courtesy of architects office
Norman Foster Sketchbooks 1975-2020
Edited by Jorge Sainz, and with texts by Sainz and Norman Foster, this title represents the introduction to a compilation of several volumes that will follow the work of Norman Foster in chronological decades, with two volumes published each year.
20 Nov 2020
Guangming Hub, Shenzhen, China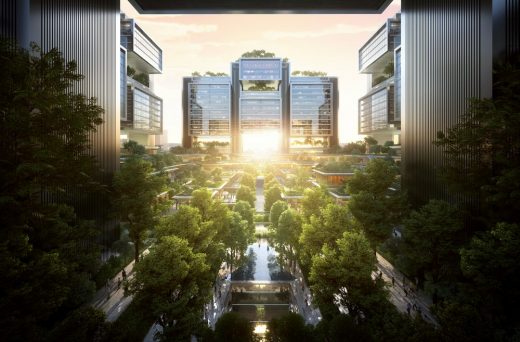 rendering © Foster + Partners
Guangming Hub
Foster + Partners has won the design competition for Guangming Hub, a new Transport Oriented Development situated on the high-speed rail link that connects Hong Kong, Shenzhen and Guangzhou. The proposal also integrates three new metro lines in the city and is the central focus of a new masterplan for the region that aims to create a new urban destination.
7 Oct 2020
Norman Foster addresses the first United Nations Forum of Mayors in Geneva
Norman Foster has given the opening keynote to the first UN Forum of Mayors, a platform where mayors presented their experience dealing with the COVID-19 health emergency and other challenges their cities are facing. Marking the start of this year's Session of the Committee on Urban Development, Housing and Land Management, mayors from 41 cities as diverse as Belgrade, Glasgow, Kazan, Milan, Pittsburgh and Reykjavík, sent a clear message that healthy populations require more resilient and sustainable cities.
Forum of Mayors 2020. Sami Kanaan, Mayor of Geneva, Switzerland. Co-Chair of the Forum of Mayors; Norman Foster, Architect; and Olga Algayerova, Under-Secretary-General and UNECE Executive Secretary. Palais des Nations, Geneva, Switzerland, October 6, 2020: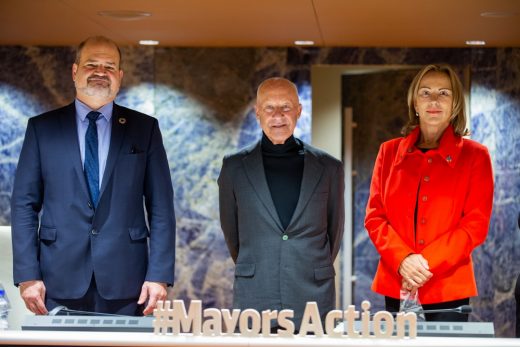 photo © UNECE/Pierre Albouy
From introducing temporary public spaces where people can walk or cycle while practicing social distancing, experimenting with new means of public transport, to decarbonizing heating systems, Norman Foster's speech to the forum outlined how the current pandemic can be seen as an opportunity for mayors and other civic leaders across world.
Forum of Mayors 2020. Norman Foster, Architect Special address: "A message to Mayors". Palais des Nations, Geneva, Switzerland, October 6: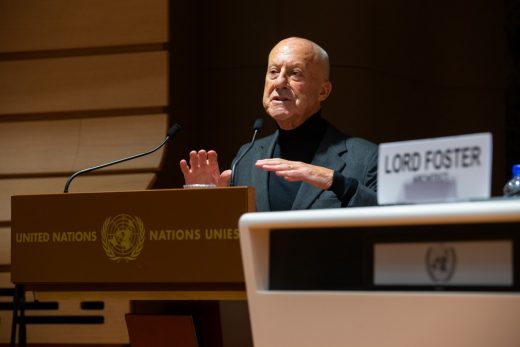 photo © UNECE/Pierre Albouy
Norman Foster, Founder and Executive Chairman, Foster + Partners, said: "Many have questioned the impact that the pandemic will have on cities. Significant issues have been raised about their future and as an architect and urbanist I am honoured to have had this opportunity to address Mayors and civic leaders from around the world as part of this important initiative by the United Nations."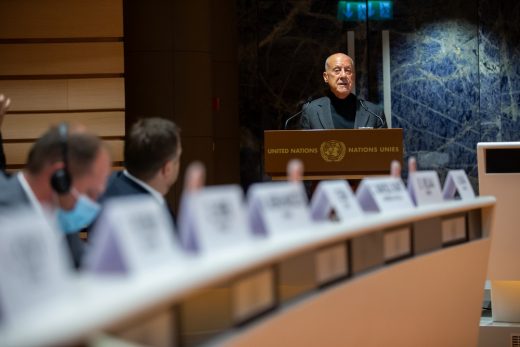 photo © UNECE/Pierre Albouy
Speaking about how it is 'vital that Mayors lead public debate on how cities can be remoulded into greener, healthier, and more liveable places', he lauded the initiative, urging civic leaders to be 'at the forefront of change.' His address illustrated the challenges and opportunities at both the urban scale and at the level of individual buildings with 'sustainable principles hardwired into them'. He went on to showcase how these are not novel 'trends' but moves that have already taken place in cities around the world, from Madrid to Seoul.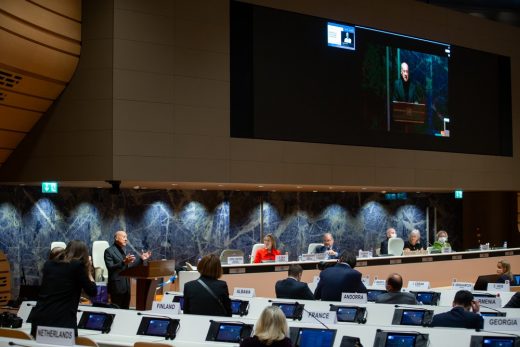 photo © UNECE/Pierre Albouy
"Cities are the future, statistically more so today than ever before. City centres will have the potential to be quieter, cleaner, safer, healthier and vitally, if the opportunity is grasped, to be greener," added Foster.
Click to read Norman Foster's keynote speech.
Mayors of 41 cities participated in the forum including:
• Giuseppe Sala, Mayor of Milan, Italy
• Abdulah Skaka, Mayor of Sarajevo, Bosnia and Herzegovina
• Jan Vapaavuori, Mayor of Helsinki, Finland
• Remigijus Šimašius, Mayor of Vilnius, Lithuania
• Gergely Karácsony, Mayor of Budapest, Hungary
• Jānis Vilnītis, Chairman of the Liepāja City Council, Latvia
• Viktoria Mozgacheva, Deputy Mayor of Bishkek, Kyrgyzstan
• Konstantin Georgieski, Mayor of Ohrid, Republic North Macedonia
• Conxita Marsol Riart, Mayor of Andorra la Vella, Andorra
• Peter Danielsson, Mayor of Helsingborg, Sweden
• Hazel Chu, Lord Mayor of Dublin, Ireland
• Erion Veliaj, Mayor of Tirana, Albania
• Kostas Bakoyannis, Mayor of Athens, Greece
• Hayk Marutyan, Mayor of Yerevan, Armenia
• Maia Bitadze, Deputy Mayor of Tbilisi, Georgia
• Fleur Hassan-Nahoum, Deputy Mayor of Jerusalem, Israel
• Vitali Klitschko, Mayor of Kyiv, Ukraine
• Jahongir Ortiqkhojaev, Mayor of Tashkent, Uzbekistan
• Zdeněk Hřib, Mayor of Prague, Czech Republic
• Nina Abrahamczik, Vienna City Council, Austria
• Martin Horn, Mayor of Freiburg, Germany
• Morten Wolden, Chief Executive of Trondheim, Norway
• Marcin Krupa, Mayor of Katowice, Poland
• Kishwar Shamirov, Mayor of Khorog, Tajikistan
• Carlos Carreiras, Mayor of Cascais, Portugal
• Tomaso Rossini, Captain of the Castle, San Marino
• Zoran Radojičić, Mayor of Belgrade, Serbia
• Lucia Štasselová, Deputy Mayor of Bratislava, Slovakia
• Gregor Macedoni, Mayor of Novo mesto, Slovenia
• Alec von Graffenried, Mayor of Berne, Switzerland
• Dagur B. Eggertsson, Mayor of Reykjavík, Iceland
• Susan Aitken, Leader of Glasgow City Council, United Kingdom
• Ilsur Metshin, Mayor of Kazan, Russian Federation
• Ion Ceban, Mayor of Chișinău, Moldova
• Andres Jaadla, Vice Mayor of Rakvere, Estonia
• Pierre Hurmic, Mayor of Bordeaux, France
• Bill Peduto, Mayor of Pittsburgh, USA
• Lisa Helps, Mayor of Victoria, Canada
22 Sep 2020
Hankook Technoplex in Pangyo, South Korea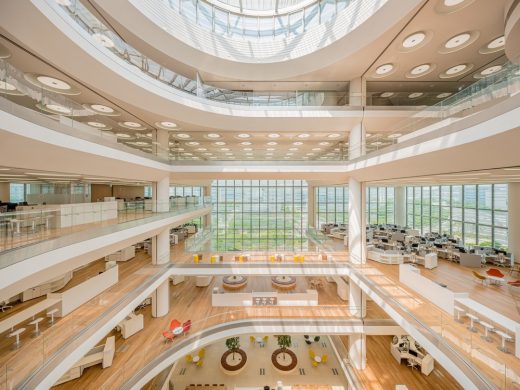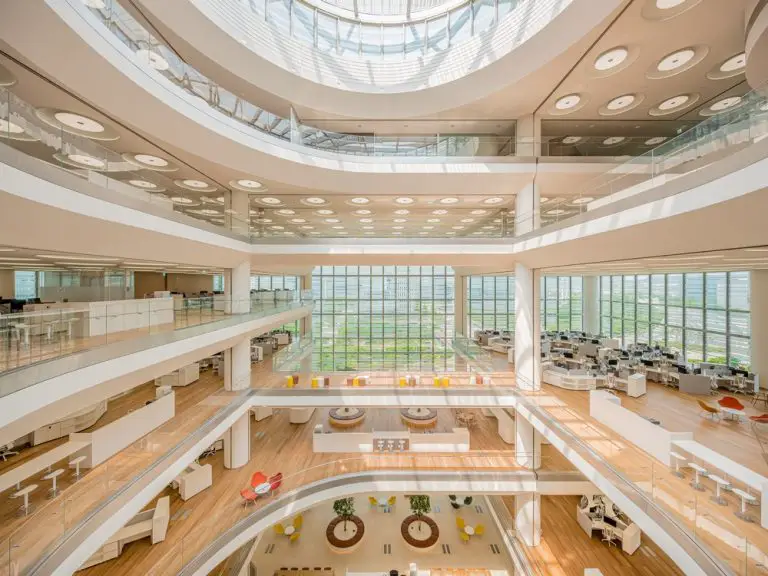 photo : TIME OF BLUE
Hankook Technoplex in Pangyo
Building on the successful partnership developed during the Hankook Technodome project – the company's integrated R&D centre in Daejeon – Foster + Partners has designed Hankook's new headquarters in Pangyo, on the outskirts of Seoul.
17 Sep 2020
Apple Marina Bay Sands, Singapore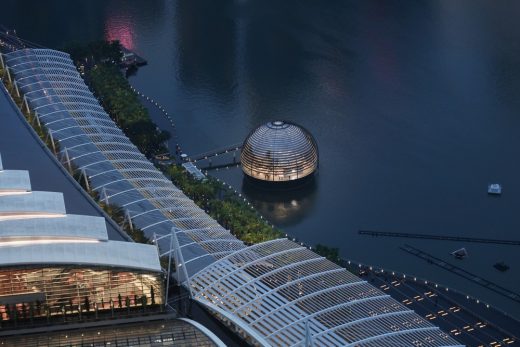 photograph : Finbarr Fallon
Apple Marina Bay Sands Singapore
A new distinctive 30-metre-diameter structure is a fully glazed dome with a black glass base, complementing the sister pavilions through its scale and materiality.
11 Sep 2020
Magdi Yacoub Global Heart Centre, Cairo, Egypt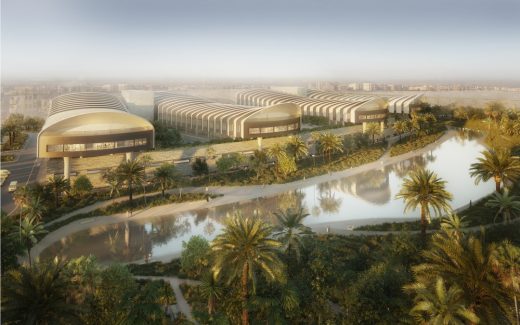 image courtesy of architecture office
Magdi Yacoub Global Heart Centre
Construction has started on the newest outpost of the Aswan Heart Centre founded by renowned Egyptian surgeon Sir Magdi Yacoub and provides free state-of-the-art treatment for the people of Egypt and beyond, in particular those in sub-Saharan Africa.
12 Aug 2020
Apple Central World, Ratchaprasong, Bangkok, Thailand, Southeast Asia
Design: Foster + Partners with Architects 49 Ltd.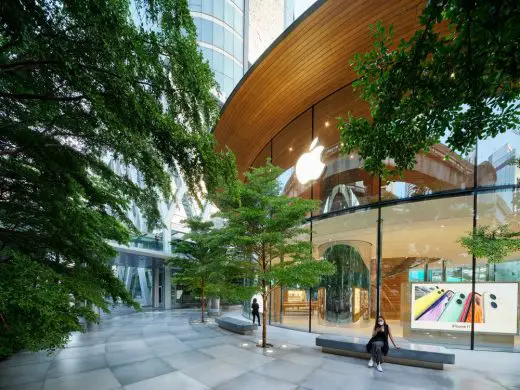 photo © Apple
Apple Central World Bangkok Store
Apple Central World in Bangkok welcomed its first visitors. Located in one of the city's iconic urban centers, the new store establishes a quiet sculptural presence at the heart of the bustling Central World Square on the intersection of Rama I and Ratchadamri roads.
6 Aug 2020
Pitt Street OSD and metro station, Sydney, New South Wales, Australia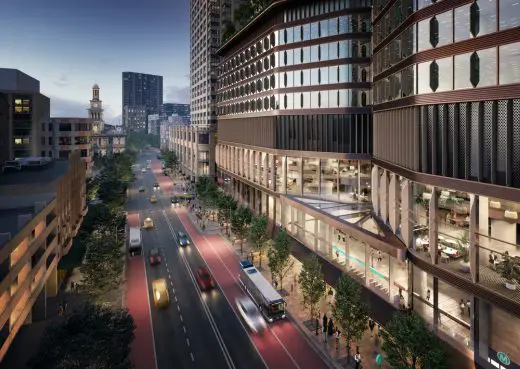 image © Foster + Partners
Pitt Street Over Station Development Sydney
Designs for a mixed-use over station development at the heart of Sydney have been revealed. The new 39-storey premium office building on the corner of Park and Pitt streets will create a vibrant mixed-use hub offering flexible office space with an elevated lobby and retail plaza in the heart of Sydney's retail, dining and entertainment precinct.
3 Aug 2020
Apple Sanlitun, Sanlitun, Chaoyang District, Beijing, China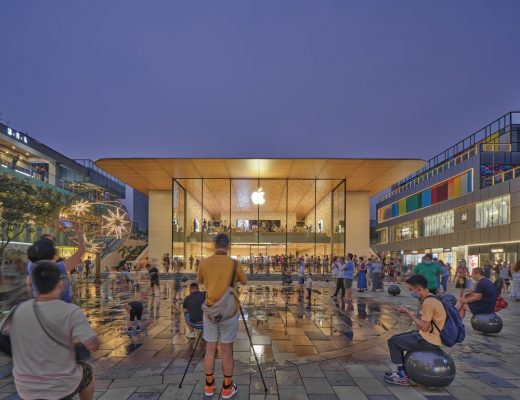 image courtesy of architects
Apple Sanlitun
The design is the result of a close collaboration between Apple's teams and the integrated engineering and design teams at Foster + Partners.
27 May 2020
Foster + Partners' machine-cut visor obtains CE Certification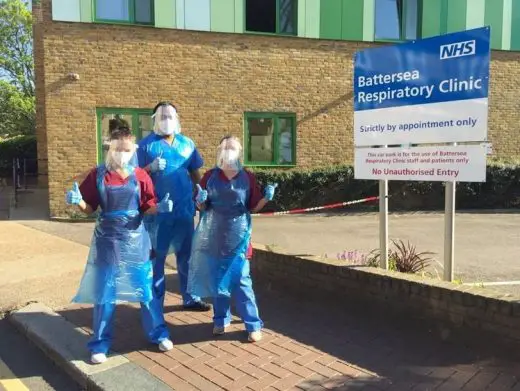 The all-purpose face visor designed by Foster + Partners for medical professionals has now received full CE Certification. We have updated our free open source data accordingly and this raises our hopes that more companies will investigate and adopt this type of design and method of manufacture.
29 Apr 2020
Plus: The new Journal of Foster + Partners launched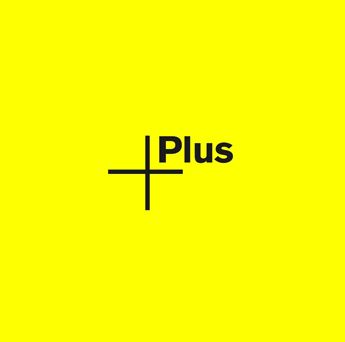 Plus – a new journal from Foster + Partners – was launched today as a 'digital-first' publication on fosterandpartners.com. Every month, new articles will be added, showcasing both the in-depth research and the broad array of the firm's interdisciplinary collaboration within the practice and pertinent issues affecting the world around us from independent writers.
It provides a forum for non-traditional stories and case studies on the innovation and processes that reinforce the diverse projects in the practice, as well as a platform for industry experts and more. The articles will offer insights into ideas that underpin our work, creating connections between projects and the wider issues that affect the built environment today.
The inaugural features include an exploration of the practice's work with metal 3D-printing in 'A Journey to Digital Manufacture'; 'Structure of Support' – an in depth discussion on the structural design and of Maggie's Manchester, examining the close relationship between architecture and engineering, coupled with the vital supporting role the centre plays; and 'Biophilia in Design', developing a greater understanding on the importance of this aspect of environmental design.
Future articles will explore the development of SandBOX, a conceptual design system created by researchers and analysts at the practice; an anthropological investigation into the importance of public space in Chinese city life; and a study of spatial configuration and staff movement in healthcare.
8 Jan 2020
Alibaba's new HQ, Shanghai, China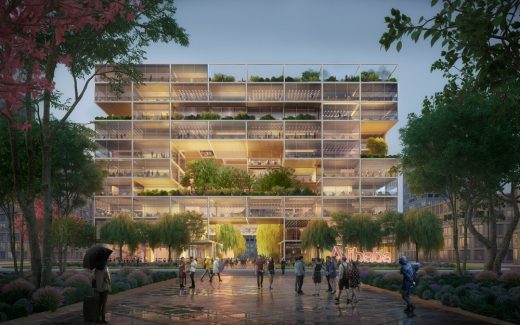 image © Foster + Partners
Alibaba Shanghai HQ Building by Foster + Partners
The architectural firm win the ompetition to design the new headquarters for the Chinese ecommerce giant. The HQ is set to showcase the Chinese company's unique working culture to the public.
6 Dec 2019
COP25: Foster + Partners launches its sustainability manifesto
Foster + Partners has launched its sustainability manifesto, revealing its methodology for greener projects and demonstrating the practice's ongoing commitment towards achieving the goals of the Paris Agreement. Outlining a holistic sustainable approach, this methodology enables the measurement of embodied and operational carbon in each project.
Over the last five years, drawing on the practice's experience, expertise and in collaboration with others, Foster + Partners has created a unique system that can effectively determine carbon emissions at every project stage. This process gives greater insight into the different aspects that affect the environmental impact of a project and provides tools to mitigate and lower their carbon content.
As part of the COP25, the practice has been invited to present this methodology and tools by UNFCCC, UN Environment and the European Commission at their respective events in Madrid. It is also represented at the UK Pavilion demonstrating sustainable and green innovations at the event.
Applying the manifesto's principles to its own operations, Foster + Partners has been purchasing 100% of its electricity from renewable sources for the past three years. In addition to this, the practice is also fully offsetting its annual global carbon emissions associated with transport (airline and vehicular), as well as those associated with heating and waste from its London campus.
Download the Foster + Partners Sustainability Manifesto 2019.
Oct 24, 2019
Comcast Technology Center, Philadelphia, Pennsylvania, USA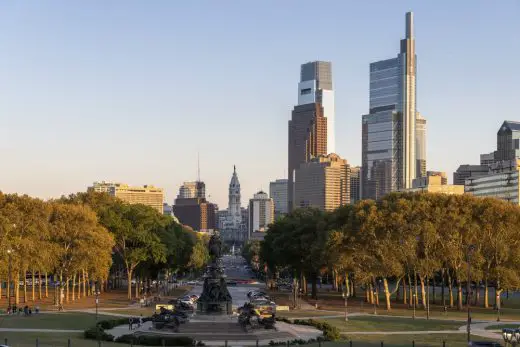 photography © Nigel Young / Foster + Partners
Comcast Technology Center Building
Located next to the existing Comcast Center, the Comcast Technology Center rises 1,121 feet (341 meters) as the city's tallest building. The Comcast Technology Center is vertically stepped, with loft-like work spaces and state-of-the-art television studios for NBC10 and Telemundo62, with a 12-story Four Seasons Hotel above.
28 Sep 2019
Le Dôme Winery, Saint-Émillion, Bordeaux, France
Le Dôme Winery in Saint-Émillion, Bordeaux
Foster + Partners' designs for the new Le Dôme winery in Saint-Émillion have been unveiled. Nestled in the rolling hills of Bordeaux, the design of the new building aims to blend seamlessly with the landscape.
25 Sep 2019
Gabriela Hearst, London, England, UK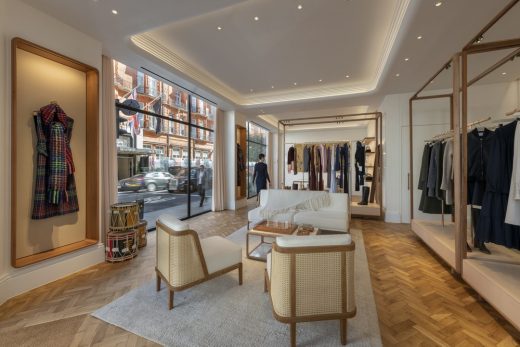 photography : Nigel Young / Foster + Partners
Gabriela Hearst London Store
Gabriela Hearst, the sustainable global fashion brand with an uncompromising commitment to the environment, has opened its first London outpost, designed by Foster + Partners.
Foster + Partners News 2018
Dec 12, 2018
425 Park Avenue, Manhattan, NYC, USA
425 Park Avenue Building News
Topping Out news: the tower's form is a pure expression of its function. The building is divided vertically into three distinct volumes: a seven-storey base, knitted to the urban grain at street level; a recessed central section; and a slender formation of premium floors at the top.
12 Dec 2018
The Tulip City, city of London, England, UK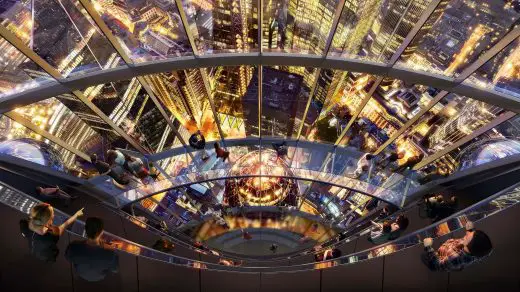 image Courtesy Foster + Partners, Architects
The Tulip City of London Building
A planning application has been submitted by this celebrated British architecture office to the City of London Corporation for a new public cultural attraction which would be sited next to 30 St Mary Axe.
Jul 5, 2018
Norman Foster Wins Prestigious American Prize for Design
The Architect of the World's Most Iconic Works of Contemporary Architecture as the new $5 Billion Apple 'Spaceship' Headquarters, the famed 'Gherkin Building' in London, and the British Museum's Great Court is Honored for His Achievements in the Field of Industrial Design.
Norman Foster Wins American Prize for Design 2018
2 Jul 2018
Apple Cotai Central, Macau, China
Architects: Foster + Partners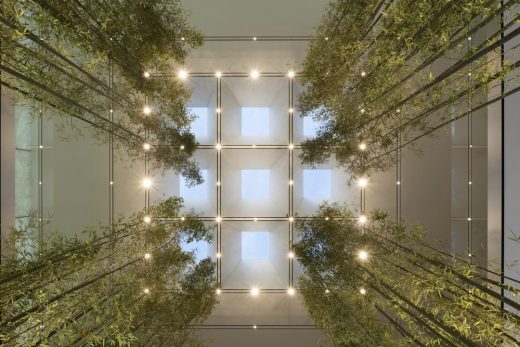 photograph © Nigel Young / Foster + Partners
Apple Cotai Central by Foster + Partners
Apple Cotai Central offers a calm complement to the buzz and excitement of Macau, responding to the desire for an inviting, contemplative space, where technology, entertainment and arts come together to make a positive contribution to the city.
30 Jun 2018
Bloomberg London Shortlisted at World Architecture Festival 2018 Awards
Bloomberg European Headquarters in London is one of 536 shortlisted entries across 81 countries: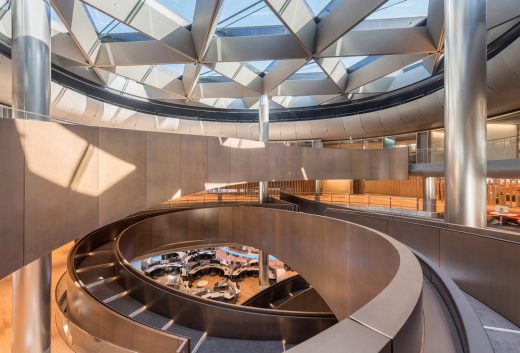 photograph © Nigel Young / Foster + Partners
World Architecture Festival Awards 2018 Shortlist
22 Jun 2018
50 Scollard Apartments, Toronto, Ontario, Canada
Architects: Foster + Partners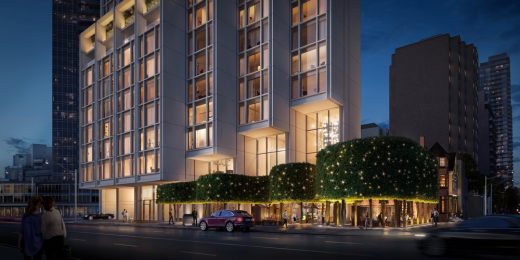 image courtesy of architecture office
50 Scollard Apartments Toronto
A unique amalgam of community-based amenities, heritage restoration, high-end luxury residences, and public green space, 50 Scollard lays the foundation for a rich social anchor within a vibrant district in downtown Toronto.
20 Jun 2018
Axis Madrid – Plaza Colón Building Refurbishment, Madrid, Spain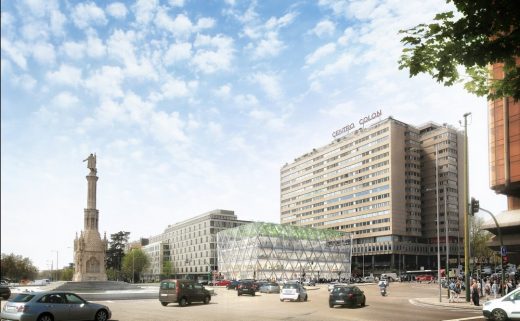 image Courtesy architecture office
Axis Madrid
The comprehensive refurbishment of the Plaza Colón building, at one of the most major intersections in the city, the project seeks to completely transform and revitalise the existing structure to create a new iconic landmark that reflects the prestige and importance of the site.
9 May 2018
DJI's new HQ, Shenzhen, China
Architects: Foster + Partners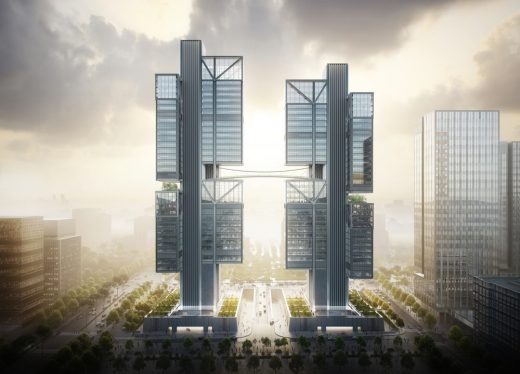 image : Foster + Partners
DJI HQ Building
Vision unveiled for the new headquarters for DJI, the world leading robotics company, currently under construction in Shenzhen.
1 May 2018
DP World Cargospeed, Dubai, UAE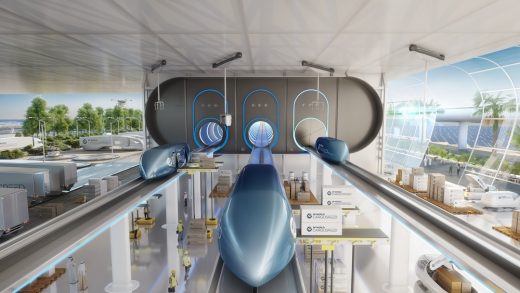 image Courtesy architecture office
DP World Cargospeed Dubai Building
Foster + Partners has created a video that describes a vision for the future of high-speed transportation. DP World Cargospeed, a collaboration of cargo giant DP World and Virgin Hyperloop One aims to create an infrastructural network that forms a fundamental part of a new ecosystem, in which urban centers, rural landscapes, people & nature are all interconnected. This is a unique project with far-reaching global implications that could have its first step based in Dubai.
29 Mar 2018
Vatican Pavilion at the Venice Architecture Biennale, Italy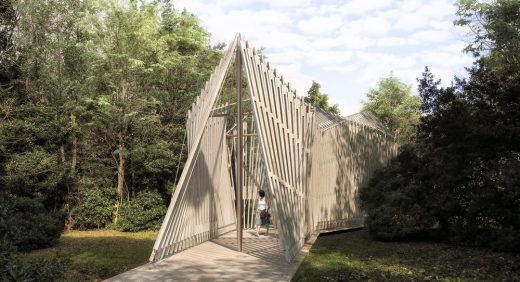 image courtesy of architects
Vatican Pavilion at the Venice Architecture Biennale
Foster + Partners, in partnership with Tecno, will build one of the chapels located in a wooded area at one end of the Venetian island of San Giorgio Maggiore.
25 Mar 2018
Sainsbury Centre for Visual Arts, Norwich, Norfolk, England, UK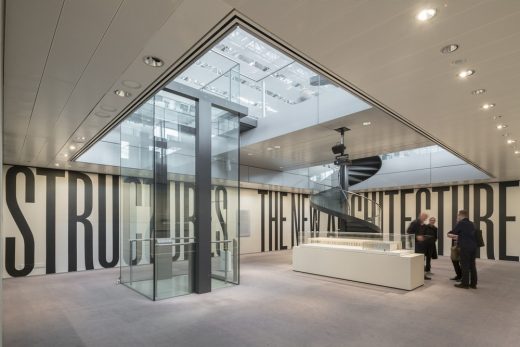 photograph ® Nigel Young – Foster + Partners
Sainsbury Centre for Visual Arts Building by Foster + Partners
Opened in 1978, the Sainsbury Centre for Visual Arts was the practice's first cultural project, and one that embraced several themes that have remained at the core of our unique design approach – a strong belief in the integration of architecture and engineering, a commitment to low-energy, sustainable design, and a never-ending drive towards innovation.
19 Feb 2018
The Murray, 22 Cotton Tree Drive, Central, Hong Kong, China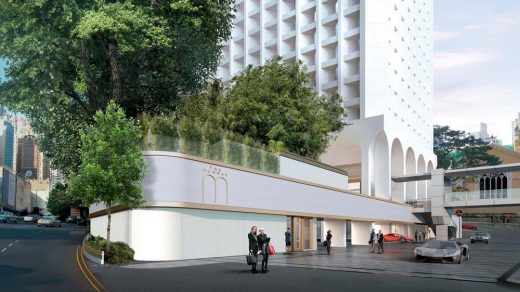 image courtesy of architects
Murray Hotel Hong Kong
The Murray Hotel, re-imagined and designed by Foster + Partners, officially marked its completion at a plaque unveiling ceremony in Hong Kong officiated by guest-of-honour, Mrs. Carrie Lam, Chief Executive of the HKSAR along with Mr. Peter Woo, Chairman of Wheelock Holdings Pte Ltd. The Murray, converted from the previously known Murray Building, is one of several historic landmarks under the Conserving Central Initiative Project to celebrate the 20th anniversary of the HKSAR.
24 Nov 2017
Marseille Airport Building Extension, France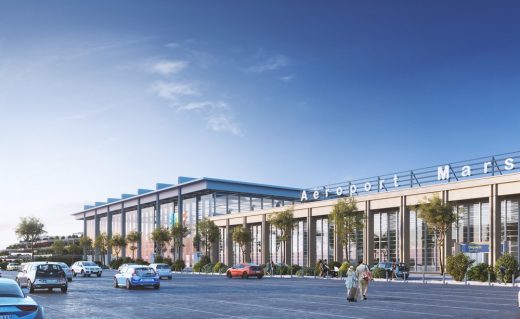 image courtesy of architects
Marseille Airport Building Extension
The competition winning entry for the new Marseille Airport extension was revealed today at a grand ceremony in the presence of JC Gaudin, Mayor of Marseille; Renaud Muselier, President of the region; Martine Vassal, President of the Departmental Council; JL Chauvin, President of the Chamber of Commerce, and several other dignitaries.
17 Nov 2017
Ocean Terminal Extension, Kowloon, Hong Kong, China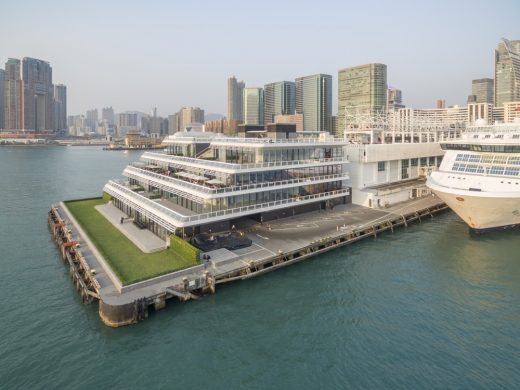 photo © Foster + Partners
Ocean Terminal Extension in Hong Kong
A new gateway for thousands of international cruise liner passengers, the extension to the Ocean Terminal in Harbour City, Hong Kong has opened. With stunning new outdoor spaces for dining and leisure capitalising on the unmatched panoramic views of the harbour, this new expansion creates a new landmark for Hong Kong.
6 Nov 2017
Ashburnham Primary School Playground, West London, England, UK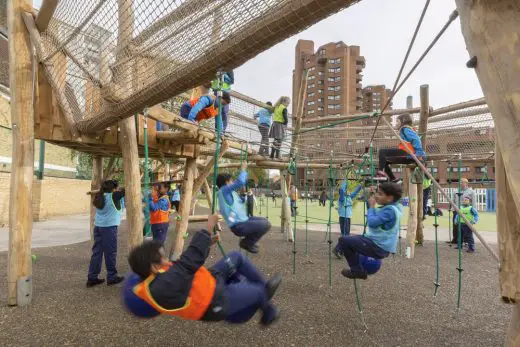 photograph : Aaron Hargreaves / Foster + Partners
Ashburnham Primary School Playground London
The opening of the new children's playground at Ashburnham Community School in West London was met with shrieks of delight, as the children got a first taste of the recently transformed school grounds.
25 Oct 2017
Bloomberg European Headquarters, Bloomberg Place, London, EC4, England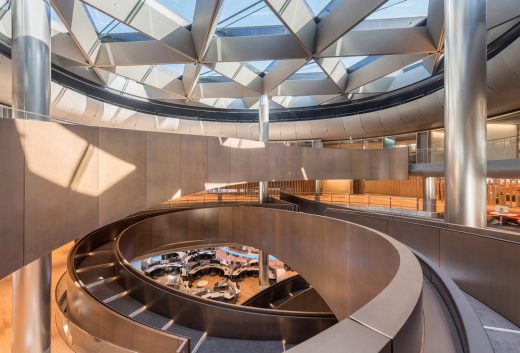 photo © Nigel Young / Foster + Partners
Bloomberg European Headquarters in London
The new European headquarters of Bloomberg LP has been launched at an event hosted by its founder Michael R. Bloomberg, in the company of Lord Foster, Founder and Executive Chairman, Foster + Partners and Sadiq Khan, Mayor of London. Located between the Bank of England and St Paul's Cathedral, the building responds to its historic context, yet is uniquely of its place and time. It is a true exemplar of sustainable development, with a BREEAM Outstanding rating – the highest design-stage score ever achieved by any major office development.
Aug 10, 2017
Apple Retail Store, Carnegie Library, Washington DC



image Courtesy of architects
Carnegie Library Apple Store Design
This interesting project aims to renew the Carnegie Library building as a retail and education facility.
5 Aug 2017
Oceanwide Center Building, Transbay Area, San Francisco, California, USA



images courtesy of Foster + Partners
Oceanwide Center San Francisco Building
The Oceanwide Center buildings comprises two high-rise towers, along with new public spaces and pedestrian links through downtown. The two buildings provide 1.35 million square feet of office space and 650,000 square feet of residential units.
2 Aug 2017
Foster + Partners to Re-purpose Bee'ah Landfill in UAE
Foster + Partners is transforming the landfill site of Bee'ah, the leading sustainable waste management company in the Middle East, located in Sharjah, United Arab Emirates.
The city is expected to reach its goal of zero landfill waste by 2020, and once it does, the current landfill will no longer be of use. Foster + Partners is redeveloping the site with a sustainable masterplan that reflects Bee'ah's "vision of a world where clean energy is generated sustainability and utilized both sparingly and efficiently," according to the British architectural firm. The site is located next to the yet-to-be-completed Bee'ah headquarters, a sustainable, renewable-energy powered complex designed by Zaha Hadid Architects.
Link: http://www.fosterandpartners.com/news/archive/2017/07/foster-plus-partners-to-transform-sharjah-landfill-with-new-sustainable-masterplan-for-bee-ah/
11 Jul 2017
International shortlist revealed for architects to design landmark Centre for Music in London
DS+R are shortlisted to develop a concept design for a new concert hall in the City of London. The Barbican Centre, London Symphony Orchestra and Guildhall School of Music & Drama are leading the competition, backed by £2.5million in funding from the City of London Corporation:
Centre for Music London Competition
21 Jun, 2017
Bloomberg's New European Headquarters, City of London, UK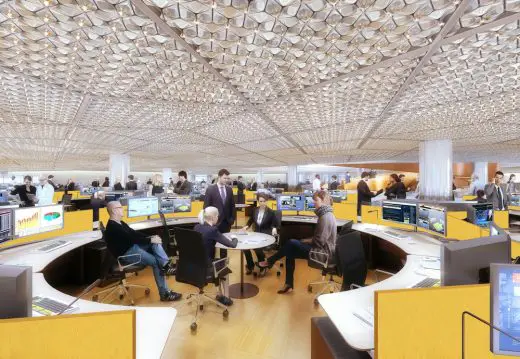 image © ChopsMoxie/Foster + Partners
Bloomberg's New European Headquarters Building
Opening this autumn, Bloomberg's new European headquarters in the heart of the City of London is the first wholly owned, designed and constructed Bloomberg building globally. Conceived in collaboration with Foster + Partners, it reflects founder Mike Bloomberg's long-held belief that workspaces should foster collaboration, innovation and productivity.
Circular Quay Tower, Sydney, NSW, Australia
19/06/2017 – Foster + Partners wins design competition for Circular Quay Tower, Sydney
Foster + Partners has been selected as the winners of an international competition to design a new office tower for Sydney's Circular Quay, close to the city's harbor and iconic Opera House. Located between George and Pitt streets, the tower will serve as a centerpiece of the urban district's reinvigorated masterplan, featuring a scheme characterized by its array of pedestrian pathways that cross through the site at multiple levels. The laneways will be lined with retail shops, cafes and bars.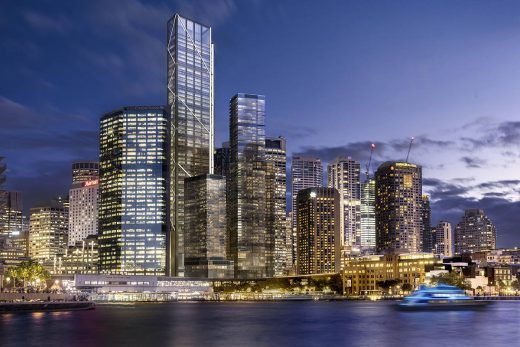 "We wanted Circular Quay Tower and its surroundings to be of its place, taking advantage of its topography and unique location near Sydney Harbour," said design team leader Gerard Evenden, Head of Studio and Senior Executive Partner at Foster + Partner. "The tower will form the centrepiece of an urban regeneration precinct that will reshape the northern end of the CBD into a vibrant community contributing to Sydney's status as a global city."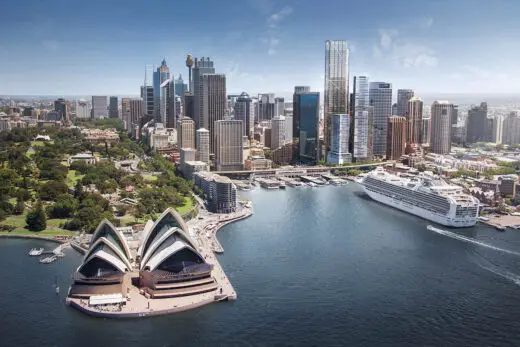 images courtesy of architects office
The tower will feature an innovative façade made up of a series of external cross-brace members that put the building's structural engineering and load-tracing on display. On the south elevation, three bays of transparent elevators will be book-ended by the building's concrete cores, animating the façade and articulating the structure's vertical elements. By offsetting the core to one side and pushing the structure to the exterior, the interior floor plan can remain open, allowing for flexible arrangements for future tenants.
May 5, 2017
University of Pennsylvania Hospital Pavilion, Pennsylvania, Philadelphia, USA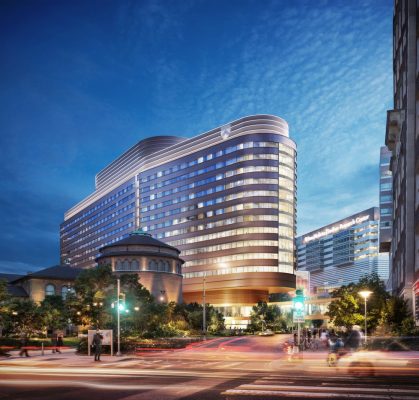 image from architects
University of Pennsylvania Hospital Pavilion Building by Foster + Partners
The University of Pennsylvania announced the groundbreaking for the construction of a new hospital on Penn Medicine's West Philadelphia campus designed by Foster + Partners as part of PennFirst, an Integrated Project Delivery (IPD) team.
25 Feb 2017
National Bank of Kuwait Building, Kuwait City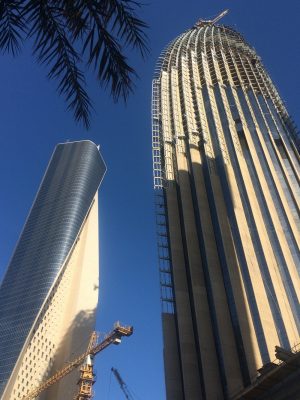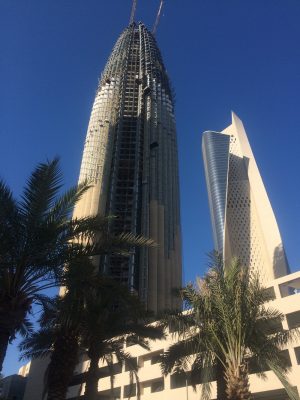 photo © Adrian Welch
National Bank of Kuwait Tower
Located on a prominent site, the 300-m-high headquarters tower for the National Bank of Kuwait will have a distinctive presence among the high-rise buildings of Sharq, the city's growing financial district.
31 Jan 2017
Jabal Omar Hotel Development, Mecca, Saudi Arabia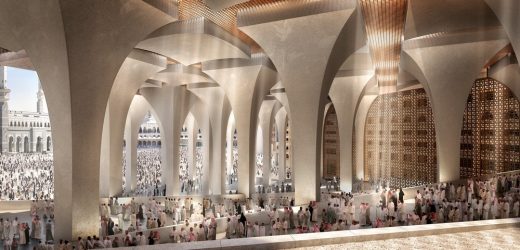 image courtesy architects
Jabal Omar Development in Mecca
Foster + Partners' competition winning scheme for a new luxury hotel and serviced apartments in the heart of Makkah has been revealed. Inspired by traditional Arab architecture, it's design reinterprets the traditional dense building clusters, creating a new contemporary vernacular that respects its sacred location.
18 Jan 2017
Andhra Pradesh Capital Competition, India
Foster + Partners has won an international competition for a new £500 m capital for the state of Andhra Pradesh in south-eastern India, reports the Architects' Journal.
The architecture studio, working in partnership with Mumbai architect Hafeez Contractor, was chosen for the prestigious commission ahead of an undisclosed shortlist of international firms last month.
Planned to complete in 2022, the project will create a new municipal capital for India's eighth largest state, which lost its former capital, Hyderabad, to the newly formed state of Telangana two years ago.
The 365ha masterplan will deliver a new civic core for the planned 200km2 settlement on the southern banks of the Krishna river, known as Amaravati.
16 Jan 2017
The RIBA Norman Foster Travelling Scholarship 2017 launched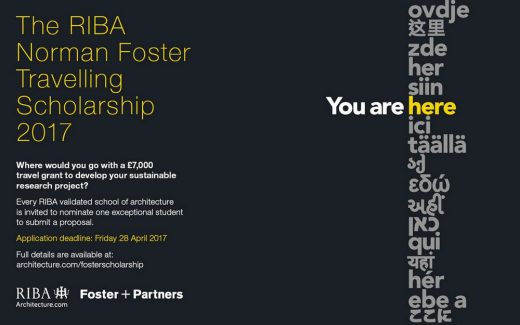 Applications are invited from schools of architecture around the world directly by the RIBA to put forward one applicant each. Entries will be assessed by a panel of judges which will include Lord Foster and RIBA President Jane Duncan:
RIBA Norman Foster Travelling Scholarship 2017
Foster + Partners Architecture
Foster + Partners – main page : current architecture news (this page)
Fosters + Partners Architects – Key Buildings List
Foster + Partners Architects Designs : Projects from 2013-16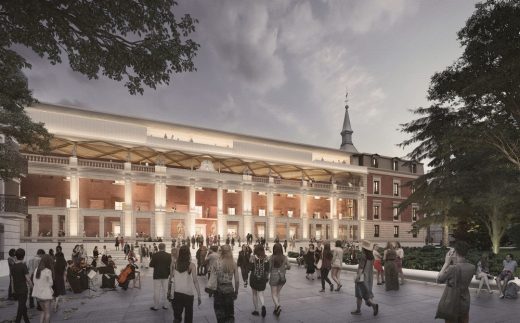 image courtesy architects
Foster + Partners Architecture : Projects from 2011-12
Foster + Partners Designs : Projects from 2010
Foster + Partners Architecture Designs : Projects from 2008-09
Foster + Partners Buildings : Projects from pre-2008
Key Architecture Projects by Foster + Partners
Swiss Re, London, UK
Swiss Re Building : London skyscraper
Crystal Island, Moscow, Russia
Crystal Island tower : 450m high tower
Spaceport America, New Mexico, USA
Apaceport New Mexico
Millau Viaduct, France
Millau Bridge
Overview of the Practice
Lord Foster runs one of the most celebrated architect offices in the world of the last century. Not only prolific, the architects practice has consistently pushed boundaries, especially in terms of materials and technology, but also of form and building envelope.
Norman was born in Manchester in 1935. Having moved to London, and worked in Team 4, he established Foster Associates in 1967. This continued the Hi-Tec (or High-Tech) style of Team 4 with influences from Archigram. Prefabrication and modular design were clear goals with a passion for good detailing.
One of Norman Foster's key early works was the Willis Faber Dumas building (1974) in southern England. It eschewed traditional wet trades for the facade and compartmentalised space within. This design, along with the Sainsbury Centre for Visual Arts at UEA and the former Renault Distribution Centre, celebrated technology and notions of flexibility in architecture.
Related architects at this time (early 1980s) included Nicholas Grimshaw, Richard Rogers and Michael Hopkins. In fact, this reaction to the doctrines of Modern architects Corb and Mies can be traced back to the late 1960s, for example Norman Foster's Reliance Controls Electronics Factory (1967).
During the Postmodern years the Foster + Partners style became a little more colourful but never strayed from technological rigour. In the 21st century – with new computer technology – forms have become more flowing, for example Beijing airport and the Swiss Re Building.
Over the years a stunning array of buildings and bridges has emerged from the Foster + Partners architects office. We selected the key designs by the practice, in chronological order below.
Major Buildings by this Architects Office
Willis Faber & Dumas Headquarters, Ipswich, England (1974)
Sainsbury Centre, Norwich, England (1977)
Renault Distribution Centre, Swindon, England (1982)
Hong Kong & Shanghai Bank, Hong Kong (1986)
Stansted Airport Building, England (1991)
Carré d'Art, Nîmes, France (1993)
Chek Lap Kok Airport, Hong Kong (1998)
Reichstag Building, Berlin, Germany (1999)
British Museum Great Court, London, England (2001)
30 St Mary Axe – aka Swiss Re Building, London, England (2004)
Millau Viaduct, France (2004)
Comments on the selection welcome. These Foster + Partners designs aren't selected simply due to their fame – we've excluded London City Hall and the Millennium Bridge for example – but because each design signified a strong creative achievement.
Adrian Welch, e-architect Editor
More Architecture by Foster + Partners online soon
Address: Riverside, 22 Hester Rd, Battersea, London SW11 4AN, United Kingdom
Phone: +44 20 7738 0455
Architecture Practice Information
Architecture stuido headquarterd in London, UK
Architecture Education
Manchester University School of Architecture, England
Yale University, USA
Team 4 architects, London
with his wife, Wendy Foster + Richard Rogers & Sue Rogers
Foster Associates, London
1967-
Norman was knighted in 1990
Norman Foster : Architecture
Pritzker Prize architects Winner in 1999
Norman Foster, architect – RIBA Gold Medal 1983 Winner
American Institute of Architects Gold Medal winner : 1994
Buildings / photos for the Norman Foster Architect page welcome
Website: www.fosterandpartners.com