Norman Foster, Architect, Buildings, Photos, England, Projects, Studio, Picture, News
Norman Foster Architect : Architecture
Celebrated Architect based in London, England, UK + Madrid Foundation News
23 Sep 2017
Norman Foster Foundation
Norman Foster Foundation in Madrid
"I believe that cities can change the world for good. They are doing so. Cities are the future now."
— Norman Foster
On June 1st 2017, the Norman Foster Foundation officially launched in Madrid with the forum, 'Future is Now'. The forum successfully challenged preconceived ideas about the future of our cities through diverse points of view.
Forum – Future is Now | Norman Foster Foundation from Norman Foster Foundation on Vimeo.
More than 2,100 people attended the event, 1,057 of whom were students from 32 international universities.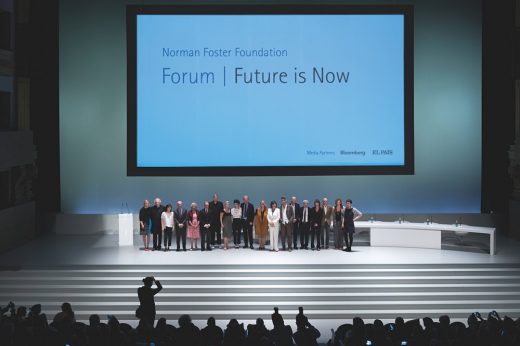 To watch the complete forum go to Forum – Future is Now.
Address: Norman Foster Foundation, Monte Esquinza 48, 28020 Madrid Spain
Lord Foster News
15 Jan 2016
Students invited to enter RIBA Norman Foster Travelling Scholarship
Expand your horizons and travel the world with Lord Foster in 2016:
The 2016 Royal Institute of British Architects (RIBA) Norman Foster Travelling Scholarship has launched and is inviting applications from schools of architecture around the world. A £6,000 grant will be awarded to one student by a panel of judges which includes Lord Foster and President of the RIBA Jane Duncan.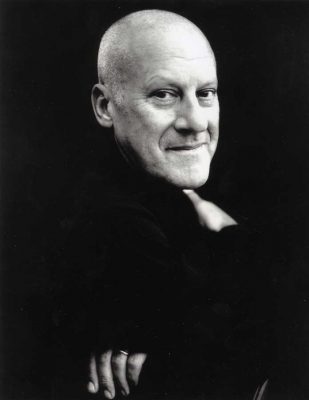 photo © Carolyn Djanogly
RIBA Norman Foster Travelling Scholarship
1 Mar 2013
Carré d'Art-Nîmes Architecture Exhibition 'MOVING. NORMAN FOSTER ON ART'
Carré d'Art – Nîmes Museum of Contemporary Art, France
May 3 – Sep 15 2013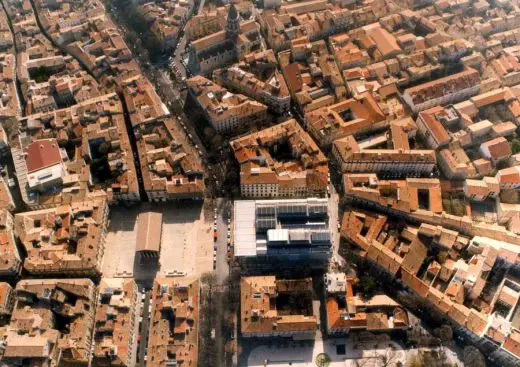 photo : Nigel Young, Foster & Partners
Carré d'Art-Nîmes Exhibition
Curators:
Norman Foster ; Jean-Marc Prévost, Carré d'Art, Nîmes
Some 2000 years ago, a Roman architect designed what is one of the most inspired buildings left by Latin civilisation, in the heart of the forum. It was, and still is, dedicated to the Princes of Youth, to the grandson of the Emperor Augustus, that friend of Nîmes.
6 Dec 2012
Tribute to Oscar Niemeyer by Norman Foster
Oscar Niemeyer & Lord Foster:


photograph : Abitare
Oscar Niemeyer architect
"I was deeply saddened to learn of the death of Oscar Niemeyer. He was an inspiration to me – and to a generation of architects. Few people get to meet their heroes and I am grateful to have had the chance to spend time with him in Rio last year.
For architects schooled in the mainstream Modern Movement, he stood accepted wisdom on its head. Inverting the familiar dictum that 'form follows function', Niemeyer demonstrated instead that, 'When a form creates beauty it becomes functional and therefore fundamental in architecture'."
Foster + Partners joins Prime Minister on UKTI visit to Brazil
28 Sep 2012 – Chief Executive, Mouzhan Majidi is part of a delegation of British business leaders taking part in a trade mission to Brazil, led by Prime Minister, David Cameron.
Foster + Partners has been active in Brazil for a number of years and is opening an office in São Paulo – an important step, which demonstrates a commitment to investing in local partnerships and strengthening relationships with local architects, clients and consultants. Allied to this, the practice brings more than forty years' international experience and the expertise of its in-house engineering, interiors, research and specialist groups.
Current high-profile projects include the redevelopment of an entire city block on Rua Oscar Freire in the Jardins district of São Paulo, one of the most famous shopping streets in the Americas. A further project in São Paulo, currently at detail design stage, contributes to the regeneration of a 20,000 square metre brownfield site in an upcoming area of the city. In Rio, the practice is working on a sustainable masterplan and mixed-use office scheme within the Porto Maravilha redevelopment zone, as well as exploring a number of potential opportunities across Brazil.
Mouzhan Majidi, Chief Executive:
"Brazil is one of the most important emerging markets with huge potential for future development and with our skills and expertise, particularly in the field of infrastructure, sustainability and masterplanning, we are eager to bring our ability to innovate to this new market."
Trade and Investment Minister Lord Green said:
"Brazil's fast growing economy offers many opportunities for UK companies. Trade between our two nations increased by a quarter in the last two years and London's successful summer of sport has helped to raise the profile of British companies even further. I congratulate Foster + Partners for securing new business in Brazil. Getting more companies exporting is a crucial part of the Government's plan for growth."
New VELUX Modular Skylight sets new standards for energy efficiency
17 Sep 2012 – New VELUX Modular Skylight sets new standards for energy efficiency
VELUX and Foster + Partners launched the new VELUX Modular Skylights during an event at 30 St Mary Axe in London on 13 September 2012. The first collaboration of its kind for both companies, the project aims to radically improve the environmental performance of every aspect of roof lights – the new frame offers levels of insulation far better than a typical aluminium profile.
The innovative VMS solution is designed to function in a wide range of building types, from offices to schools, retail spaces and hotels. The range of three skylights fulfil different requirements in terms of size, placement and functionality and the modular system is highly versatile – it can be used to create a single window or long light, or even to cover an entire atrium.
VELUX Modular Skylight – more information


image : VELUX
Foster + Partners – Venice Architecture Biennale : Common Ground
28 Aug 2012 – Venice Biennale British Pavilion, Italy


images © Carlos Carcas
Norman Foster has curated two spaces for the 2012 Venice Architecture Biennale: the 'Gateway' installation at the head of the Arsenale, which is the first gallery that visitors pass through within the Corderie. The second space is in the Central Pavilion in the Giardini.
24 Apr 2012
RIBA Norman Foster Travelling Scholarship – Winner News


image of Norman Foster
RIBA Norman Foster Travelling Scholarship
24 Jan 2012
Lord Foster awarded honorary doctorate by Universidad Politécnica de Madrid, Spain
Lord Foster has today been made Doctor Honoris Causa by UPM, the Universidad Politécnica de Madrid. The event was chaired by the rector of the university, Javier Uceda, with a laudation by UPM professor, Luis Fernández-Galiano.
Delivering a short lecture at the ceremony entitled 'Constancy and Change', Lord Foster advocated a holistic approach to the design of infrastructure and individual buildings, both in retrofitting existing cities and in establishing future communities. He stressed the value of investing in education, citing the encouragement he received as a student to pursue his interest in the relationship between architecture, transport and civic space.
6 Oct 2011
Lord Foster – Steve Jobs Tribute
Tribute from Lord Foster to Steve Jobs, Chairman of Apple
With my colleagues I would like to pay tribute to Steve Jobs. Like so many millions our lives have been profoundly and positively influenced by the innovations pioneered by Steve and Apple, names which are inseparable.
We were greatly privileged to know Steve as a person, as a friend and in every way so much more than a client. Steve was an inspiration and a role model. He encouraged us to develop new ways of looking at design to reflect his unique ability to weave backwards and forwards between grand strategy and the minutiae of the tiniest of internal fittings. For him no detail was small in its significance and he would be simultaneously questioning the headlines of our project together whilst he delved into its fine print.
He was the ultimate perfectionist and demanded of himself as he demanded of others. We are better as individuals and certainly wiser as architects through the experience of the last two years and more of working for him. His participation was so intense and creative that our memory will be that of working with one of the truly great designers and mentors.
Norman Foster
Architect
Chairman + Founder of Foster + Partners
4 Jul 2011
Foster + Partners Prize
Winner for 2011 : Aditya Aachi
Foster + Partners Prize
22 Jun 2011
Norman Foster Honour
Lord Foster honoured with Save the Children Award
Norman Foster has been presented with the 2011 Save the Children Award, given by Save the Children Spain, at a ceremony in Madrid. The high-profile awards are given annually to outstanding individuals whose work helps to build a better world for children. Lord Foster has been recognised for his longstanding relationship with the charity and his humanitarian work.
Lord Foster accepts Save the Children Award:


photos © Save the Children
In 2008, Foster + Partners started working with Save the Children, along with Article 25 and Buro Happold, to establish a design prototype for a school in Sierra Leone. The project aims to help to improve education in one of the world's poorest countries and will create a series of highly flexible buildings with larger classrooms, effective ventilation and natural light. The design is being jointly funded by Foster + Partners, Article 25 and Buro Happold and construction will be financed by the Foster family.
The practice has also been involved with Save the Children through the design of a Christmas tree, which was auctioned in 2006 to raise £17,000; and, working with artist, Ben Johnson, the realisation of a Nobel Prize sculpture for 'Rewrite the Future', a peace campaign set up by the charity that encourages children to use drawing as a tool for advocacy.
Lord Foster said:
"It is a privilege to receive this award from Save the Children, an organisation we have worked closely with for a number of years. As architects, our starting point is always to try to improve the quality of people's lives. In Sierra Leone we recognised the urgent need for school buildings that could be both affordable and sustainable. That led us to develop a pilot school, which we hope will provide a model for communities throughout the country."
Norman Foster Portrait photograph:


photo of Norman Foster from HPA
RIBA Norman Foster Travelling Scholarship : launched 9 Nov 2010
Norman Foster – Key Projects
Featured Foster + Partners designs, alphabetical:
Chek Lap Kok, Hong Kong
Norman Foster airport
Hong Kong & Shanghai Bank, Hong Kong
HSBC Bank Building
Hotel Puerta America, Madrid, Spain
various interiors, various designers
Hotel Puerta America
Stansted Airport, London area
Stansted Airport
Norman Foster Architecture – Key Buildings
Buildings by Norman Foster, chronological:
Willis Faber & Dumas Headquarters, Ipswich, England 1975
Sainsbury Centre for Visual Arts, Norwich, England 1978
Hongkong and Shanghai Bank HQ, Hong Kong 1986
Stansted Airport, England 1991
Sackler Galleries, Royal Academy of Arts, London 1991
Torre de Collserola, Barcelona, Spain 1992
Carré d'Art, Nîmes, France 1993
American Air Museum, Duxford, England 1997
Commerzbank Headquarters, Frankfurt, Germany 1997
Hong Kong International Airport, Chek Lap Kok, Hong Kong 1998
British Museum Great Court, London 2000
City Hall, Greater London Authority Headquarters, London 2002
Swiss Re Building, London 2003
McLaren Technology Centre, Woking, England 2004
Millau Viaduct, Gorge du Tarn, France 2005
Wembley National Stadium, London 2006
More architecture projects by Norman Foster online soon
Location: 22 Hester Road, London, England, UK
Norman Foster Architect – Practice Information
Fosters + Partners studio located at Riverside Three, 22 Hester Rd, London, England, UK
Norman was born in Manchester, England.
Norman lives between Switzerland and England
Pritzker Prize Winner – Lord Foster in 1999
RIBA Gold Medal Winner 1983 – Norman Foster
Norman Foster is the founder and executive chairman of Foster + Partners, a global studio for architecture, urbanism and design, rooted in sustainability. He was born in Manchester, and after graduating from Manchester University School of Architecture and City Planning in 1961 he won a Henry Fellowship to Yale University, where he was a fellow of Jonathan Edwards College and gained a Master's Degree in Architecture.
In 1967, he established Foster + Partners in London, and over five decades the practice has been responsible for a strikingly wide range of work, from urban master plans, public infrastructure, airports, civic and cultural buildings, offices and workplaces to private houses and furniture design.
Major architectural projects include Beijing Airport, Millau Viaduct in France, 30 St Mary Axe (also known as the Gherkin) and the Great Court at the British Museum in London, the Hearst Headquarters tower in New York, and the Museum of Fine Arts, Boston. Current projects include the Apple Park in California, Bloomberg's European Headquarters in London, and the Norton Museum of Art in Florida.
He is president of the Norman Foster Foundation, based in Madrid with a global reach, promoting interdisciplinary thinking and research to help new generations of architects, designers and urbanists anticipate the future. He became the 21st Pritzker Architecture Prize Laureate in 1999 and was awarded the Praemium Imperiale Award for Architecture in Tokyo in 2002.
In 2009, he became the 29th laureate of the prestigious Prince of Asturias award for the Arts and was awarded the Knight Commander's Cross of the Order of Merit of the Federal Republic of Germany. In 1990, he was granted a Knighthood in the Queen's Birthday Honours, appointed by the Queen to the Order of Merit in 1997 and in 1999 was honoured with a Life Peerage in the Queen's Birthday Honours List, as Lord Foster of Thames Bank.
Glasgow Bridge
Scottish Bridge Competition
Buildings / photos for the Norman Foster Architect page welcome
Website: www.fosterandpartners.com