ZAC Châteaucreux Saint-Etienne Building, French Project Design, Award, Images
ZAC Châteaucreux Saint-Etienne
French Mixed-Use Development: New Esplanade de France Buildings design by ecdm
5 Jan 2012
Date: 2012-
Design: Emmanuel COMBAREL Dominique MARREC Architects (ecdm)
English text (scroll down for French):
Ilot Post Weiss à Saint Etienne Châteaucreux
2011
Contribute to a new polarity in the landscape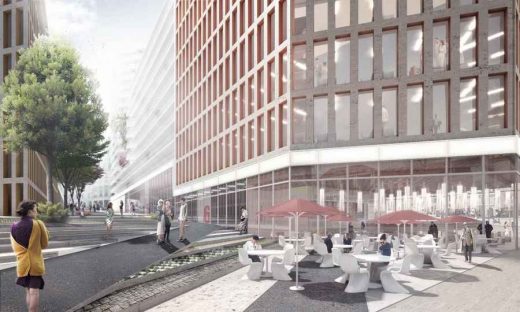 ZAC Châteaucreux Saint-Etienne Building
Images from ecdm
Located across from the St. Etienne station on the Esplanade de France, the influence of the intervention at the heart of the BIA Châteaucreux is a link between neighborhoods and horizon lines, a low point in the topography of St. Etienne in front of a preferred route to the city center. Combined with the scale of the project and the symbolic value of the program, This unique location gives the project a special status in the construction of the city.
The project subscribes to the contemporary idea of the construction of the city that leads to the creation of rhythms, of multipurpose spaces contributing to the realization of a less linear environment, able to evolve and mutate. The goal is to embed the large commercial component of the neighbourhood in a more complex urban dynamic, made of interlocking assemblies essential to any large and vibrant city. Thus, the project offers an open floor plan, initiating continuity and affiliations, creating links between polarity and panoramas, hills and plains, lower and upper town.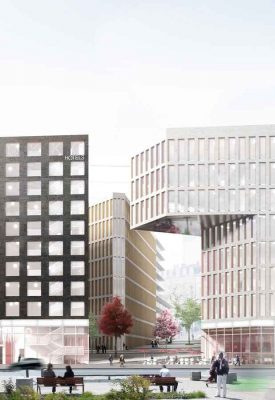 Topographic composition
In a preliminary study of the uses of land in St Etienne, we began to articulate a sculpted volume, defined by it's relationship to a city structured by the frames and cut outs on the horizon. The initial volume deformes, breaks into three compact masses, a multiplicity of plans and volumes and two mineral axes.
The volume deteriorates in a specific manner leading to the establishment of a new topography. It is therefore a very open plan, traversable and animated, a space organized by the characteristics of the multi-purpose program, able to create discourse with the city to better develop and animate it. Considerations of density, mass, voids and solids were central in the development of the project.
The project is first extruded to form an exact podium to ensure alignment and management of tight limits in order to densify and animate public spaces without residual anecdote. The heart of the block forms a fifth unifying and transversable facade, which is fully engaged in the work of modeling the volume, creates an open promenade and provides a view of the surrounding landscape.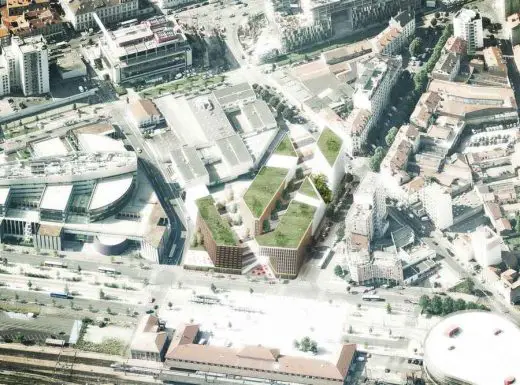 A mix organized
The links the project forms with the public space and the ground are merged in a landscaping proposition in which areas of commercial interface, restaurants and services are placed around the periphery, creating direct links with the public space. At the edge of the parcel, these pleats become a large stair that transforms the esplanade into an open agora.
The length of the Avenue Denfert-Rocherau, the podium lifts up to reveal a line of shops and services. The hotel sits at the end of this line. The angle is created by the rigorous massing of the project, the hall clearly articulates two facades with the same voice and links them to the ground floor shops by placing a brasserie on the south façade.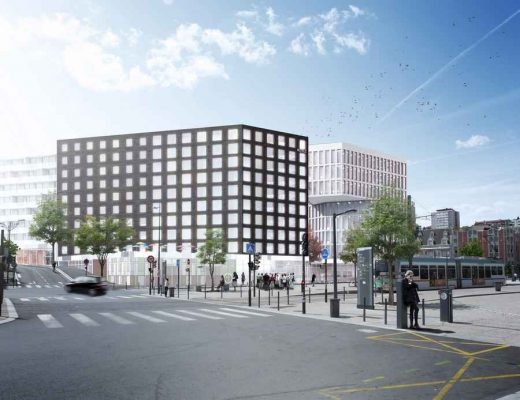 ZAC Châteaucreux Saint-Etienne – Building Information
Program: construction of a property consisting of housing, offices, hotels and shops
Owner: Vinci Immobilier, Cardinal Group
Architect architects ECDM
Location: Saint-Etienne (42)
Area: 30,000 sqm
Delivery: 2014
French text:
ZAC Châteaucreux Saint-Etienne Design
Concourir à une nouvelle polarité dans le paysage
Située face à la gare de Saint-Etienne, en bordure de l'esplanade de France, l'emprise de la consultation au cœur de la ZAC de Châteaucreux constitue une articulation entre des quartiers et des horizons multiples, un point bas dans la topographie de Saint-Etienne se devant d'impulser un parcours privilégié vers le centre ville. Combinée à l'échelle de l'opération et à la haute valeur symbolique du programme, cette situation exceptionnelle confère au projet un statut spécifique dans la construction de la ville.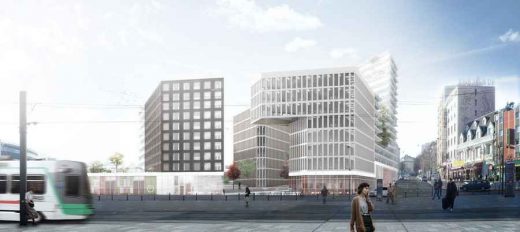 Le projet s'inscrit dans une pensée contemporaine de la production de la ville qui induit la mise en œuvre de rythmes, d'activités et usages multiples concourant à la réalisation d'un environnement moins linéaire, apte à évoluer, impulser, muter. L'enjeu est d'imbriquer la composante fortement tertiaire du quartier dans une dynamique urbaine plus complexe, faite d'assemblages et d'imbrications propres à la centralité de villes attractives et vivantes. Ainsi le projet propose un aménagement ouvert, initiant des continuités et des filiations, mettant en relation des polarités et des panoramas, pour associer et connecter plaine et collines, ville basse et ville haute.
Composition topographique
Dans un premier travail sur la consommation du territoire et son utilisation, nous avons élaboré un volume sculpté, défini à partir de la relation à une ville étendue et structurée par de multiples cadrages et découpages de l'horizon. Le volume initial se déforme, se scinde en trois volumes compacts, libérant des failles visuelles, une multiplicité de plans et volumes et deux axes minérals.
Le travail sur le volume, sur le modelé se décline ici de façon spécifique pour aboutir à la création d'une nouvelle topographie. C'est donc un aménagement réellement ouvert, parcourable et animé qui est proposé, un espace organisant des spécificités de programmes multiples, à même de dialoguer et de travailler entre eux et avec la ville pour mieux l'animer et la valoriser. Les questions de la densité, de la masse, des vides et des pleins sont ici centrales, le grand paysage stéphanois ayant cette spécificité qui fait qu'ici plus qu'ailleurs, les vues et perspectives se prolongent, traversent, englobent.
Le projet est tout d'abord extrusion pour former un socle exact garantissant un alignement et une gestion tendue des limites afin de densifier, animer les espaces publics sans anecdote résiduelle. Le cœur d'îlot forme une 5ème façade parcourable, fédératrice, qui participe pleinement du travail sur le modelé et le volume, un espace de promenade ouvert sur le grand paysage et donné à voir depuis les alentours comme un modelé paysager du territoire.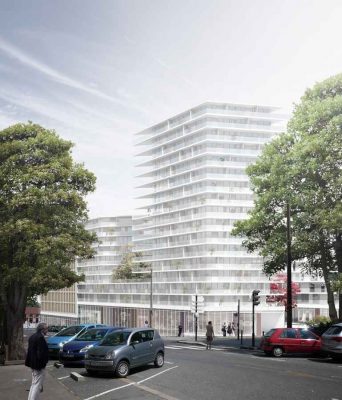 Une mixité organisée
Les rapports du projet avec l'espace public et le sol sont confondus en une proposition paysagère dans laquelle les espaces d'interface à vocation commerciale, de restauration et de services, sont disposés sur la périphérie, en liaisons directes avec l'espace public. A l'angle de la parcelle, ces plissés deviennent un large escalier qui transforme l'esplanade en une agora ouverte.
Le long de l'avenue Denfert-Rochereau, accompagnant un trajet privilégié vers le centre ville, ce socle se soulève pour ménager un linéaire de commerces et de services. L'hôtel s'implante à l'extrémité de ce linéaire. L'angle est tenu par la volumétrie rigoureuse de l'ouvrage, son hall clairement affirmé articulant deux façades de même facture et retournant à RDC les commerces en implantant une brasserie sur la façade sud.
ZAC Châteaucreux Saint-Etienne – fiche technique
Programme: construction d'un ensemble immobilier comprenant logements, bureaux, hôtels et commerces
Maître d'ouvrage: Vinci Immobilier, Groupe Cardinal
Maître d'œuvre: ECDM
Localisation: Saint-Etienne (42)
Superficie: 30 000 m² SHON
Coût: –
Livraison: 2014
ZAC Châteaucreux Saint-Etienne images / information from Emmanuel COMBAREL Dominique MARREC Architects
Location: Châteaucreux, Saint-Etienne, France
New Buildings in France
French Architectural Projects
French Architectural Design – chronological list
French Architect Offices – design firm listings
Paris Architecture Walking Tours by e-architect
ecdm architectes : Paris architect office contact details
ZAC Beauvert, Grenoble, southeast France
Design: AKTIS Architecture et Urbanisme


picture © theNood
ZAC Beauvert
Saint-Étienne Buildings
Saint-Étienne Architecture Selection
Cité du Design
Design: LIN Finn Geipel + Giulia Andi


image from architect
Cité du Design Saint-Étienne
Saint-Etienne Office Building
Manuelle Gautrand Architecture


photo : Philippe Ruault
Saint-Etienne Office Building
Zenith Music Venue
Foster + Partners
Zenith St Etienne
French Architecture – Selection
Maison at Bordeaux
Rem Koolhaas
Pierre Vives Project
Zaha Hadid
Comments / photos for the ZAC Châteaucreux – Saint-Etienne Architecture design by ecdm architects page welcome