Grimshaw Architects, Building News, Design Projects, British Architecture Office, English Studio Images
Grimshaw Architects : Architecture
Contemporary Architectural Practice London, England: UK Design Office News
post updated 3 June 2023
Grimshaw News
Grimshaw Architecture News – latest additions to this page, arranged chronologically:
23 Jan 2023
Eden Project Morecambe receives funding from UK government's Levelling Up Fund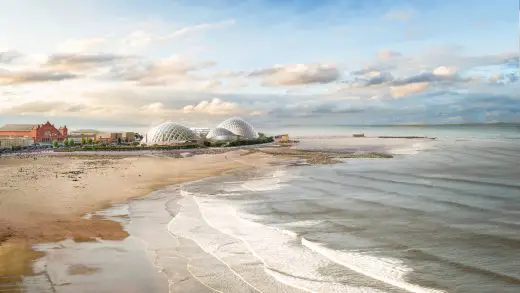 Eden Project Morecambe (previously Eden Project North) has received £50m funding in the second round of the UK government's Levelling Up Fund. The bid was submitted by Lancaster City Council, one of the Eden Project's key partners on the project and was chosen as a recipient of the largest investment possible under the fund, earmarked for large-scale cultural regeneration projects:
Eden Project Morecambe
4 Nov 2022
Andrew Thomas appointed managing partner of Grimshaw's London studio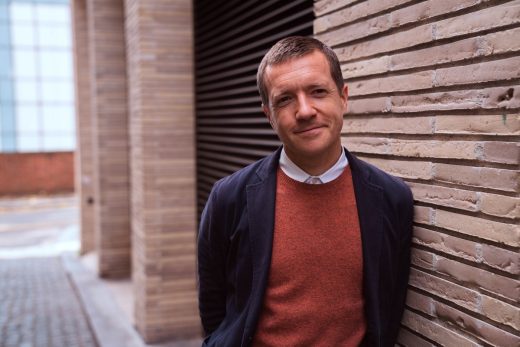 Andrew Thomas, Partner at Grimshaw, has been appointed Managing Partner of Grimshaw's London studio, taking over leadership from Kirsten Lees who steps down after four years in the position. Andrew took the position from 31 October 2022.
The London studio managing partner role is voted in by the nine London partners every three years, and takes responsibility for the overall performance of the studio. Kirsten remained in the position for an additional year to provide the studio with continuity during the years of the Covid pandemic.
Andrew takes over the London studio at a time of stability as it increases its cross-sector portfolio of work. In the UK, The practice continues to work on London Euston HS2 Station, Eden Project Morecombe, and YTL Arena in Bristol, and internationally on Oman Botanical Gardens and Shenzhen Airport East Integrated Transportation Hub. The London studio also recently announced its appointment to lead the Waterloo Station masterplan in London, is currently working on the development of a 600-home scheme at Bath Riverside, and celebrated the opening of the Elizabeth line where Grimshaw was responsible for the line-wide design.
Andrew has been a partner at Grimshaw since 2012, and since joining the practice in 2001 he has been part of delivering a number projects across the UK and internationally, including the Core and Foundation buildings at the Eden Project, the Fulton Center in New York, Istanbul New Airport, and most recently Noida International Airport in Delhi, India.
Andrew also leads the London studio in the delivery of its positive works programme which works with local communities and organisations to bring about positive change. As part of this programme, teams and individuals within the studio contribute their expertise, knowledge and support to projects throughout London, such as the Octopus Community Plant Nursery Pavilion which opened in June this year, offering a place of both shelter and workshops for the community-led food and plant growing initiative.
"Stepping into the role of Managing Partner of Grimshaw London, I inherit a studio that's in excellent business health, with a hugely talented team and an exciting and diverse collection of projects. We're privileged to have inspiring, like-minded clients across many sectors and geographies, and we're driven by the opportunity to work with them in response to their ambitions and the broader challenges of our times. The key focus of my tenure will be to continue to build on these fantastic opportunities, to deliver real social and environmental impact through our projects and to support the passion of our people to make a difference within the communities we operate."
Andrew Thomas, London Managing Partner, Grimshaw
"Leading the studio through four and a half years, including managing, with the London partners, the impact of the pandemic across the business has led to major changes in how we all work, as well as place an even greater spotlight on equity and diversity in our industry and society at large. Andrew is well-placed to continue to evolve the studio within this context as it looks forward to its growth in the next few years." Kirsten Lees, Partner, Grimshaw
Previously on e-architect:
3 Oct 2022
Waterloo Station Masterplan, south London, England, UK
Design: Grimshaw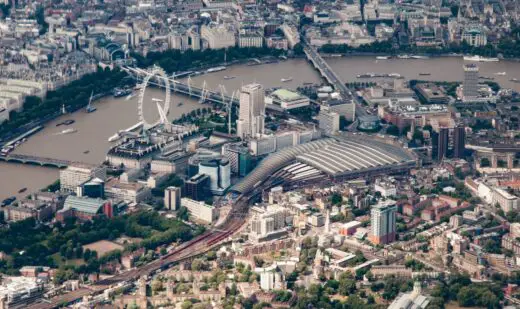 image courtesy of architects practice
Waterloo Station Masterplan
Aug 26, 2022
East End Arts District Los Angeles Campus, Los Angeles, Southern California, USA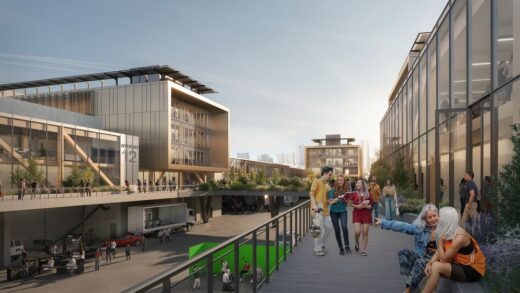 image Courtesy architects office
East End Arts District Los Angeles Campus
Working with independent studio production company, East End Studios, Grimshaw has revealed designs for a 16-soundstage studio production campus in the Arts District of Los Angeles. A development application for the project – the East End Arts District Los Angeles Campus – was filed with the City of Los Angeles on the 15 August 2022.
30 June 2022
Futures Institute at the Dollar Academy, Clackmannanshire, Central Scotland, UK
Design: Grimshaw, Architects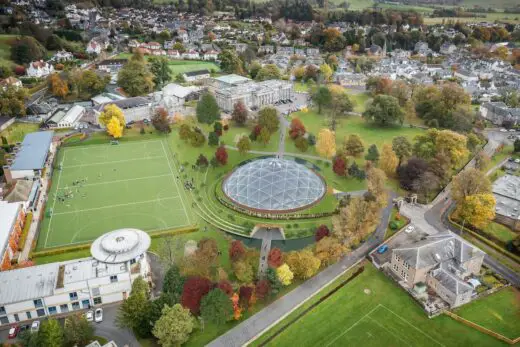 image courtesy of architects practice
Futures Institute at the Dollar Academy
International architecture practice, Grimshaw has revealed designs for the Futures Institute at Dollar Academy (FIDA) in Scotland, UK, a permanent home for the Institute which will be delivered to receive the country's first Living Building certification.
29 May 2022
Civil Engineering Building University of Cambridge, Cambridge, Cambridgeshire, England, UK
Design: Grimshaw with RHP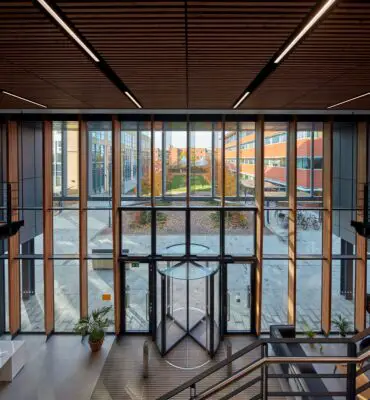 photo : Paul Raftery
Civil Engineering Building University of Cambridge
The Civil Engineering Building is the first part of a move of the University's engineering faculty from its current central location on Fen Causeway to the University's West Cambridge site, where it incorporates the National Research Facility for Infrastructure. The building design is by Grimshaw.
31 Jan 2022
Eden Project North, Morecambe, Lancashire, Northwest England, UK
Design: Grimshaw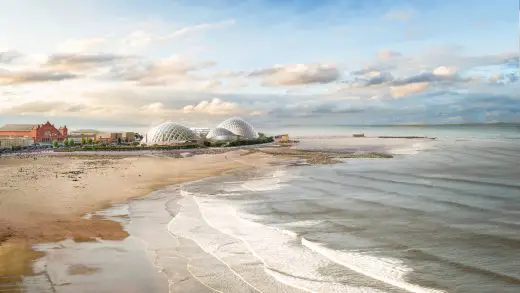 picture courtesy of Grimshaw architects
Eden Project North Morecambe
Eden Project North, located in Morecambe in the UK, received planning permission from Lancaster City Council on 31 January, marking a significant step forward for Eden Project and the Grimshaw designs for this major new attraction. The project, developed with support from local partners Lancaster City Council, Lancashire County Council, Lancashire Enterprise Partnership and Lancaster University, will focus on reimaging health and wellbeing, taking inspiration from its location within the landscape of Morecambe Bay – a natural estuary south of the Lake District.
8 Jan 2022
Andrew Whalley OBE
Grimshaw's Chairman, Andrew Whalley, has received an OBE (Officer of the Order of the British Empire) in the Queen's New Year Honours List 2022. The honour, awarded in the international list, recognises Andrew's services to architecture and environmental sustainability.
From the start of his career at Grimshaw in the 1980s Andrew has worked on many award-winning projects including the International Terminal at Waterloo in London, UK; Eden Project in Cornwall, UK; the redevelopment of the historic Paddington Station in London, UK; the Experimental and Performing Arts Building in Troy, New York, USA; the Fulton Centre in New York, USA and the design and delivery of Terra-The Sustainability Pavilion for Dubai Expo 2020.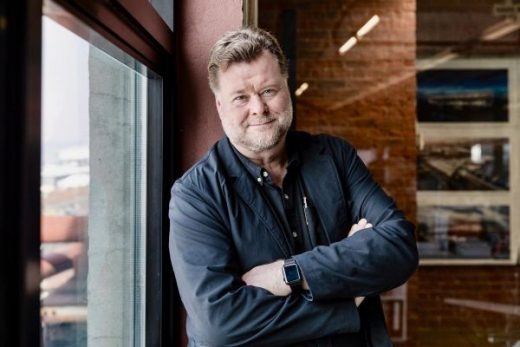 photo courtesy of Grimshaw architects
Appointed Deputy Chairman of Grimshaw in 2011 and then succeeding Sir Nicholas Grimshaw as Chairman in 2019, Andrew has also overseen many of the practice's public exhibitions and publications and has been instrumental in evolving the practice's design approach, ambition and values. It is his leadership that has encouraged the development of Grimshaw's international influence leading to, today, a network of studios across the world with over 550 people.
Andrew has also consolidated and extended the legacy of Nick Grimshaw's practice across the wider architectural community: teaching and leading on academic programmes – including the Royal College of Art, Imperial College and the Architectural Association in London, UK and the University of Penn, Washington University in the USA and as an Adjunct Professor at Politecnico di Milano, Italy – and advocating research and development. His commitment to developing design solutions and innovations which take inspiration from nature and technology is most recently evidenced in Grimshaw's partnership with the Glasgow School of Art to launch a new biomimetic design course. Andrew's focus on the environmental responsibility of architecture continues as he propels Grimshaw, and the design industry, forward to net zero and regenerative design.
Andrew was elected to the AIA College of Fellows for Design in 2019 and awarded an Honorary Doctorate of Letters from his alma mater, The Glasgow School of Art. The Consortium for Sustainable Urbanisation honoured Andrew with their 2021 Champion Award
'It's fantastic to be recognised with an OBE in this year's honours list.' said Andrew Whalley. 'I am incredibly proud of the architectural design industry and Grimshaw and the critical role we have to play with our clients, peers and stakeholders in tackling the climate and biodiversity crisis. This honour serves as more impetus to our environmental focus.'
'Andrew is an ambassador for the importance of intelligent purposeful design,' said Vincent Chang, Deputy Chairman of Grimshaw, 'and the awarding of his OBE is recognition of his architectural design excellence, stewardship of projects, and commitment to environmental design as we all, as a design community, strive to deliver a better more sustainable, future.'
1 January 2022
Grimshaw Architects Chairman Honoured with an OBE
Andrew David Whalley, Global Chairman, Grimshaw Architects, awarded an OBE: Officer of the Order of the British Empire, for services to Architecture and to Environmental sustainability. The New Year Honours 2022 Overseas and International List was published on 31 December 2021.
25 November 2021
University of Bern Muesmatt campus masterplan, Bern, Switzerland
Design: Grimshaw, Architects, with Archipel Generalplanung AG and landscape architects LAND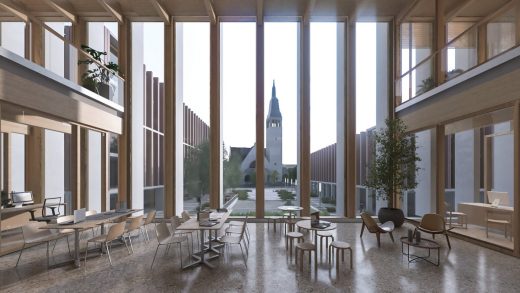 University of Bern Muesmatt campus masterplan
International architecture practice Grimshaw, in partnership with Archipel Generalplanung AG and landscape architects LAND has been awarded first place in the competition to design the masterplan for University of Bern Muesmatt campus. An anonymous competition, the winning design was selected from a shortlist of 26 teams. Grimshaw was also highly commended in the design competition for the campus' new natural sciences building.
6 Oct 2021
Terra – The Sustainability Pavilion, Dubai, UAE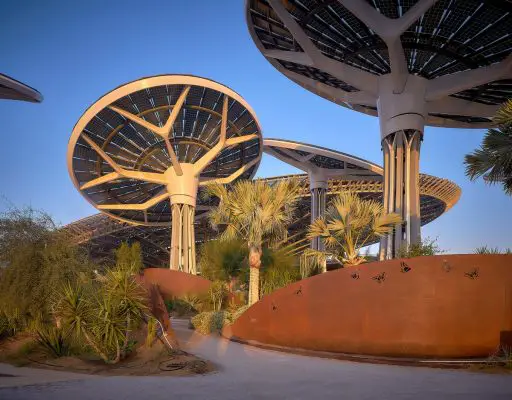 photo : Phil Handforth
Expo 2020 Dubai Sustainability Pavilion Building
Terra – The Sustainability Pavilion, opened to the public in 2021 as one of the top three attractions of the Dubai Expo 2020, and aims to illuminate the ingenuity and possibility of architecture as society looks to intelligent strategies for future sustainable living.
27 July 2019
Grimshaw Architects to speak at RIBA North
Leading bathroom brand VitrA is delighted to announce the first RIBA + VitrA Regional Talk at RIBA North with Grimshaw Architects. Part of VitrA's continued partnership with the Royal Institute of British Architects (RIBA), the talk will be taking place on Thursday 1st August at the RIBA North offices in Liverpool:
RIBA North News
12 June 2019
Grimshaw appoints Andrew Whalley to Chairman
Andrew succeeds Sir Nicholas Grimshaw, who founded this architecture practice in 1980.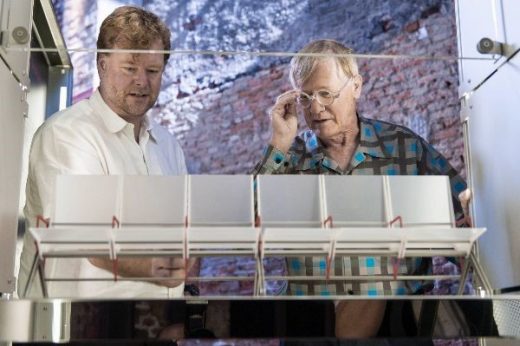 photograph courtesy of Grimshaw architects
Grimshaw appoints Andrew Whalley to Chairman
19 Mar 2019
Vaughan Metropolitan Centre Transit Station, Toronto, Ontario, Canada
Architects: Grimshaw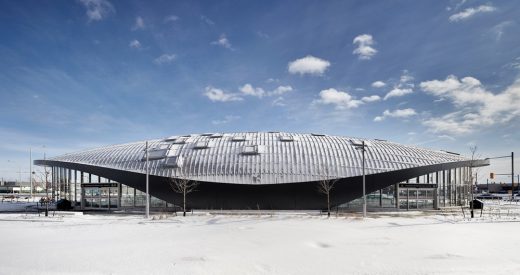 photo : Shai Gil
Vaughan Metropolitan Centre Transit Station
Commuters moving under the "lens" complete the passive kinetic effect by being in and seeing their reflection in the panels, becoming part of the ever-changing atmosphere above. Strategic skylights align with solstice and equinox sun angles channel light two levels down into the depths of the station, kinetically illuminating a typical daylight-starved space.
Grimshaw Architects News 2018
11 Dec 2018
City Quays 2 Belfast Harbour Building, Northern Ireland
Design: Grimshaw, Architects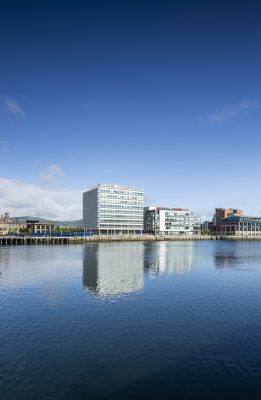 photo : Donal McCann Photography
City Quays 2 Belfast Harbour Building by Grimshaw
The completion of City Quays 2 marks the latest addition to Grimshaw's commercial development portfolio with a building in the heart of Belfast Harbour in Northern Ireland.
27 Sep 2018
Sir Nicholas Grimshaw wins Royal Gold Medal for Architecture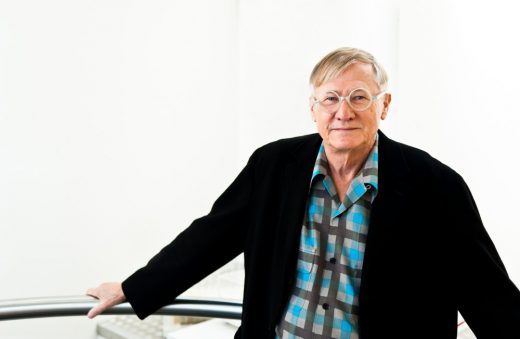 photo : Rick Roxburgh
Sir Nicholas Grimshaw wins the Royal Gold Medal for Architecture 2019 Winner.
UK's highest honour for architecture is approved personally by Her Majesty The Queen, awarded for his sustained contribution to architecture in the UK and globally.
27 Jul 2018
New Botanical Garden in Sharjah, UAE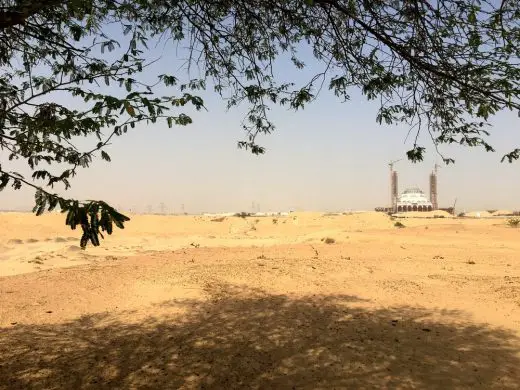 photo © Grimshaw
New Sharjah Botanical Garden
Grimshaw has been appointed for a new botanical garden in Sharjah, UAE, which has a mission to encourage discovery and education while conserving the rich floral heritage of Sharjah, the UAE and the rest of the world.
11 May 2018
Watershed at the Meat Market, Melbourne, Victoria, Australia
Architects: Grimshaw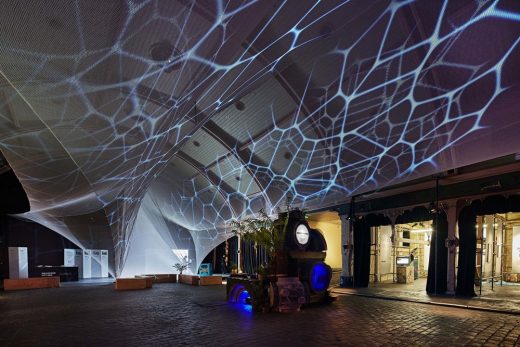 photographs : Michael Kai and Shannon McGrath
Watershed at the Meat Market
Grimshaw has transformed the Meat Market in North Melbourne into a giant installation that literally wraps around the events at the hub for Melbourne Knowledge Week (MKW18), the City of Melbourne's annual festival which explores the smart and innovative future of Australia's fastest growing city.
Architects News 2017
14 Nov 2017
Oman Botanic Garden Design, foothills of the Al Hajar Mountains, Seeb, Oman
Design: Arup, Grimshaw and Haley Sharpe Design (hsd)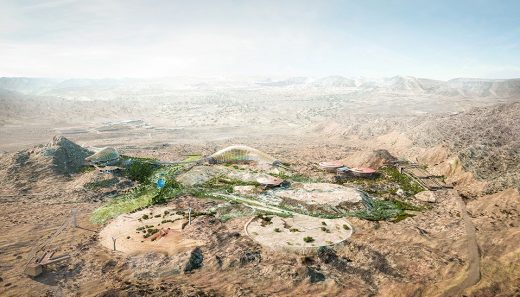 picture © Arup / Grimshaw
Oman Botanic Garden Biomes
The buildings, along with the garden site, have been designed to achieve the globally recognised sustainable standard, LEED Platinum. With water such a precious resource, particularly in the region, Arup has developed a strategy for the irrigation and water features. Water is sourced sustainably and not a single drop is wasted.
May 20, 2017
Phillip and Patricia Frost Museum of Science, Miami, FL, USA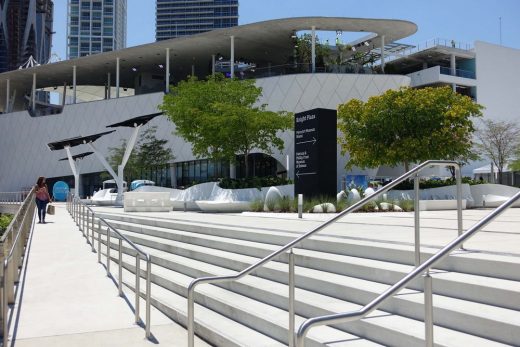 image from architect
Phillip and Patricia Frost Museum of Science in Miami
Grimshaw is pleased to announce the opening of the Phillip and Patricia Frost Museum of Science (Frost Science) in Miami, Florida. This exciting new 250,000 square foot facility brings together an aquarium, planetarium and science museum onto one campus in downtown Miami's Museum Park.
2 May 2016
Washington Union Station Concourse Modernization Project, USA
Design: KGP Design Studio, Grimshaw and Arup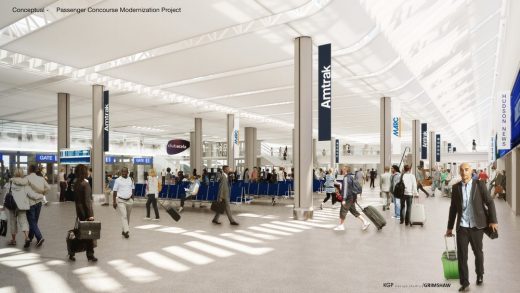 image from architect
Washington Union Station Concourse Modernization Project
Appointed by Amtrak, this design team is pleased to announce the advancement of the Concourse Modernization project at Washington Union Station. This near-term comprehensive renovation of Washington Union Station's intercity and commuter rail concourse will add approximately 20,000 square feet (1,900 sq m) of new passenger space.
26 Mar 2016
Nine Elms Over Site Development, London, UK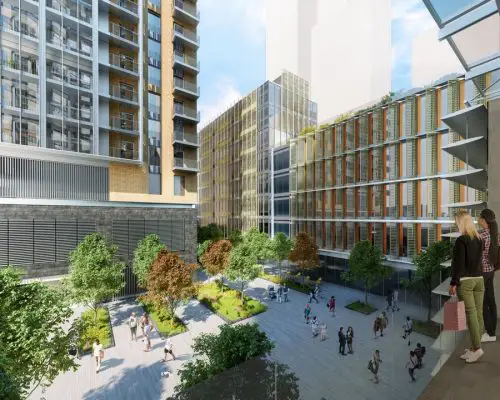 Nine Elms Over Site Development
Planning Consent granted for the Nine Elms Over Site Development in a unanimous decision. Four key buildings are contained in the design: three of which will be residential with a minimum of 25% affordable rental housing, built over Nine Elms Underground Station. The fourth building will comprise commercial office and retail spaces.
23 Mar 2016
Tessellating Canopy System at Frankfurt design festival, Germany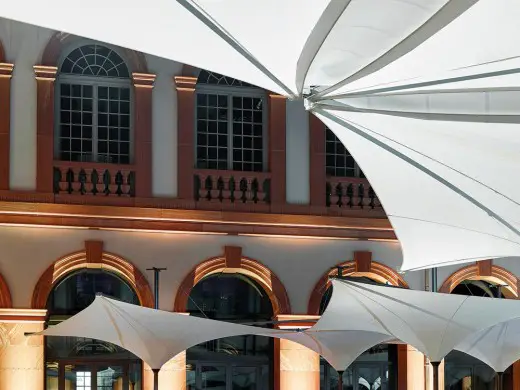 Tessellating Canopy System in Frankfurt
A successful collaboration between architects and tensile designers reached its final stage last week at Frankfurt's Light + Building festival and trade fair, where MDT-tex launched the final Tensilation Type EV canopy system.
11 Feb 2016
New Arthur Phillip High School and Parramatta Public School Building, Parramatta, NSW, Australia
Design: Grimshaw Architects / BVN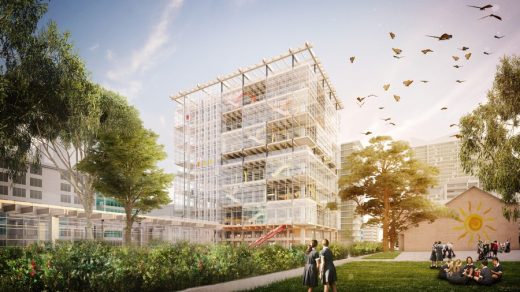 image courtesy of architecture firm
New High-rise Public School in New South Wales
The first high-tech, high-rise public school is to be built in Australia's New South Wales, through an investment of more than AUD 100 million. Global construction consultancy Turner & Townsend is to provide full cost management services and advisory for this project.
15 Dec 2015
699 Bourke Street, Melbourne, Victoria, Australia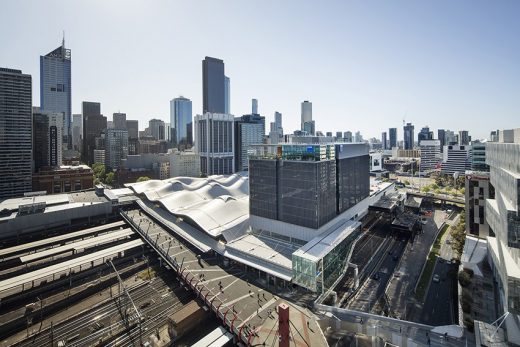 photo : John Gollings
699 Bourke Street Melbourne
The architects office worked closely with the developers of the building, Mirvac, and major tenants, AGL, to deliver an A-Grade office space that is designed to take best advantage of the unique over-rail air-rights site.
15 Oct 2013
Grimshaw to design new Istanbul Airport
World's Largest Airport Terminal Building


photo from architects
Following a competitive interview process Grimshaw, in partnership with Nordic Office of Architecture, has been appointed by the Turkish consortium of Cengiz, Mapa, Limak, Kolin and Kalyon to design the terminal complex for Istanbul New Airport.
Located on the Black Sea coast, some 35km outside of Istanbul, the ambitious six-runway development, masterplanned by Arup, will be delivered in four phases. The first phase will open in 2019 and aims to serve 90 million passengers per year. This will increase to 150 million passengers per annum once fully complete. The new airport will include the world's largest airport terminal, with a gross floor area close to one million square metres.
16 Jul 2013
Highpoint Shopping Centre, Melbourne, Victoria, Australia


photo : Phillip Noller
Highpoint Shopping Centre
This 30,000sqm extension to the existing shopping centre building is the first retail centric project by the British architects practice since their acclaimed Sainsbury's building in Camden, London. The architects "challenged existing retail perceptions by breaking down the traditional inward-looking approach. Importantly, the new Highpoint creates a vibrant public realm with strong connections to the surrounding environment, landscape and community".
16 Apr 2013
Reading Station Redevelopment, Berkshire, England, UK


photo : Rick Roxburgh
Reading Station Redevelopment
The second phase of the Grimshaw designed Reading station redevelopment opened to passengers last week. Five new platform faces and a new transfer bridge were unveiled on Tuesday 2nd April, making interchange at the station simpler, quicker and easier.
9 Apr 2013
Aspire Tower, Parramatta, western Sydney, NSW, Australia


image from architects
Aspire Tower Building Sydney
A Development Application has been submitted on behalf of Parramatta City Council for a landmark mixed-use tower. The Aspire Tower emerged from a design excellence competition held by the Council and is set to establish a new benchmark for innovative, passive-environmental design in Australian high-rise developments. Designed to act as a catalyst project for Parramatta Square, the tower provides high density, urban residential living which is not only affordable but also sustainable.
28 Mar 2013
The Queens Museum of Art Building Expansion, NY, USA
Design: Grimshaw Architects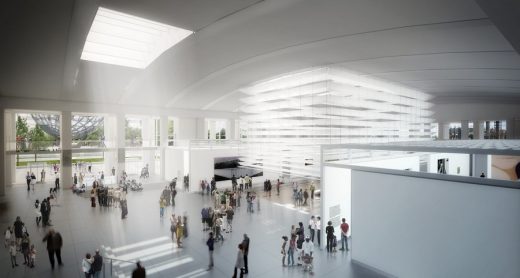 image : Courtesy of Grimshaw and the Queens Museum of Art
Queens Museum of Art Building Expansion
On April 11 2013 the Queens Museum will be hosting a first look at their $68 m architectural expansion, which will double the size of the museum. The expansion project, designed by Grimshaw, will further enhance the museum's ability to present high-quality art to the uniquely diverse communities of Queens through a broad variety of exhibitions and programs that reflect the richness and breadth of the cultural environment.
26 Mar 2013
Stoke-on-Trent Bus Station, Midlands, England, UK
Design: Grimshaw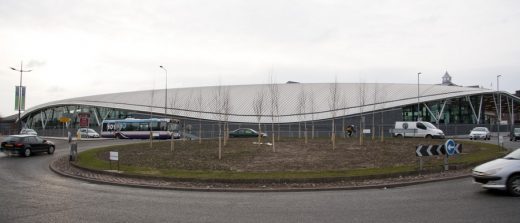 picture from architects
Stoke Bus Station Building
The Stoke on Trent City Centre Bus Station will officially open to the public on Tuesday 26th March. The architects won an international design competition for this building back in 2010. The project forms a significant step in the city's redevelopment plan. Situated on a prominent site on the boundary of the city centre alongside the ring road, the scheme offers spectacular distant views, whilst the character and landscape of its location has been a strong source of inspiration for the design.
25 Jan 2013
London : Hub City – Vision, UK
Design: Grimshaw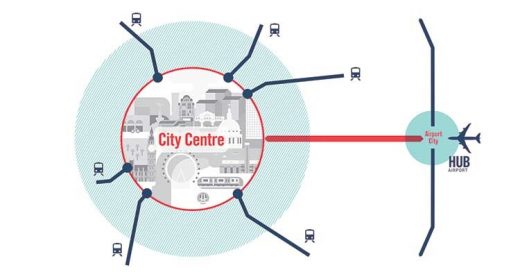 pictures from architects
London Hub City Vision
This British architects practice has today unveiled an ambitious and attainable proposal to address the aviation capacity issues facing the Southeast of the UK. 'London: Hub City' focuses on London's position as one of the world's most vibrant commercial and cultural centres. It argues that the capital should be made accessible to travellers, including those using London as a 'hub' to reach other parts of the world, to an unprecedented degree.
14 Dec 2012
Frankfurt Airport Terminal 1 Forecourt Building, Germany
Design: Grimshaw


image : Grimshaw
Frankfurt Airport Forecourt
Grimshaw is delighted to announce that it has completed a detailed masterplanning study for Fraport which provides a new vision for the existing forecourt area at Frankfurt Airport's Terminal 1. Grimshaw's defining concept for the masterplan is to bring light, greenery and fresh air into the heart of the airport. The current forecourt at Frankfurt Terminal 1 is a kilometre long strip of private and public transport modes, that has no sense of order and no respite from the noise and fumes of associated vehicles.
13 Dec 2012
Euro Pulkovo Airport, St Petersburg, Russia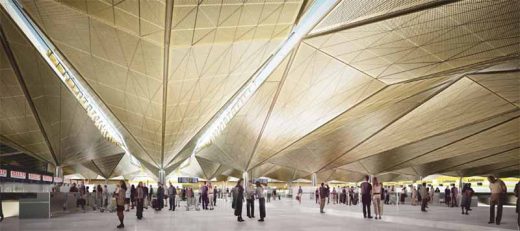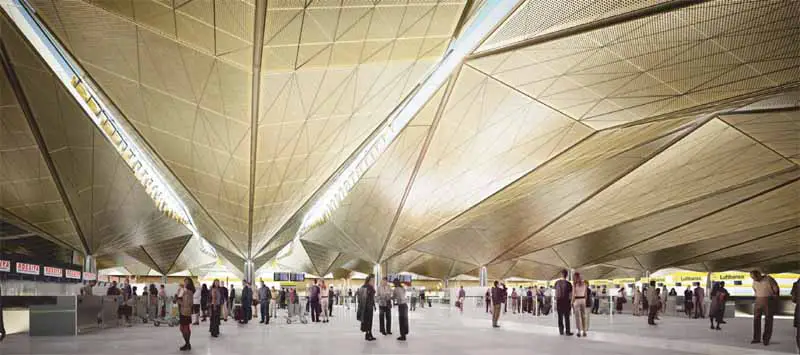 image from architects
Russian airport building
Construction progress – film + information
8 Nov 2012
West Kowloon Cultural District Art-themed Park, SAR, China
One of 7 Shortlisted Design Teams news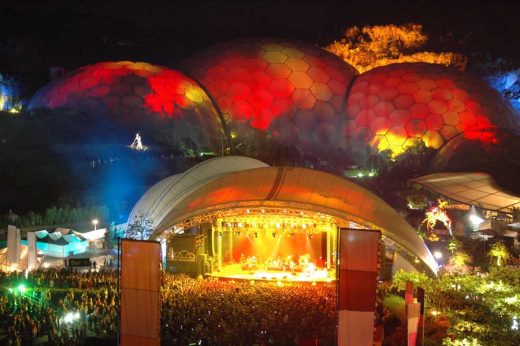 photo from West Kowloon Cultural District Authority
West Kowloon Cultural District Art-themed Park
The West Kowloon Cultural District Authority ("WKCDA") announced today a shortlist of seven design teams that have been invited to submit technical proposals for the development of Hong Kong's first art-themed park, 14 hectares of landscaped public space for arts and culture at the West Kowloon Cultural District, by the waterfront in Kowloon.
29 Oct 2012
Via Verde, South Bronx, New York City, NY, USA


photograph : David Sundberg_Esto
Via Verde South Bronx
This South Bronx building is a "revolutionary mixed-use, mixed income residential development" according to the architects. The project showcases high-quality innovative green design while also providing affordable housing for low and moderate income households.
7 Sep 2012
Sizewell Nuclear Power Station Building, England, UK
Grimshaw has won the contract to design a new £10 billion nuclear power station at Sizewell, in Suffolk, south east England.
Gruen / Grimshaw for Union Station Master Plan, Los Angeles, CA, USA
Design: Gruen Associates with Grimshaw
Union Station Master Plan
The Los Angeles County Metropolitan Transportation Authority (Metro) Board of Directors approved LA-based Gruen Associates, in association with Grimshaw Architects, as the consultant team for the creation of a masterplan for the historic Union Station and its surrounding 40 acres. Metro CEO Art Leahy was authorized by the board to execute a firm fixed price contract not to exceed $4,150,000.
13 Jun 2012
Grimshaw selected to revamp Duke University's West Campus Union, NC, USA
Grimshaw is pleased to announce their appointment to transform Duke University's West Campus Union in Durham, North Carolina, USA.
Built in 1931, the West Campus Union was once the social center of the west campus at this prestigious academic institution. Duke University hopes to modernize the prominent historic building and re-establish it as the epicenter of west campus student life by reorganizing existing layouts and adding features that promote a healthy and dynamic campus culture.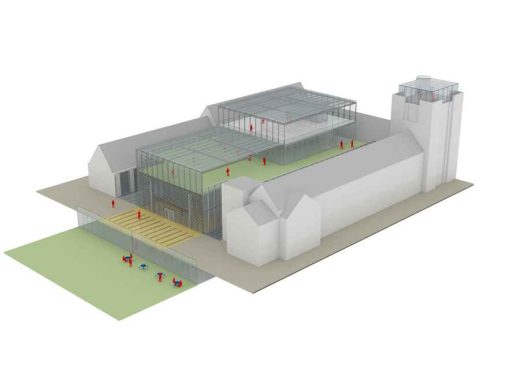 picture from architect
Inspired by the close-knit Duke community, the scheme will provide spaces where faculty, students, staff, and alumni can meet one another, for either planned or impromptu interactions. The design aims for careful attention to sustainability and intelligent use of resources that will reinforce Duke's holistic approach to student lifestyles and well-being. This architecture practice will embark on a sensitive integration of new contemporary architecture in harmony with careful preservation of the historic structure.
The project will expand dining facilities into a multi-venue space with additional capacity for learning facilities and events. Innovative energy and engineering solutions will work in concert with programming development to deliver a solution that sustains the natural, social and built environment.
Grimshaw will work with Duke faculty, staff and students to foster spontaneous interaction and clarify circulation while celebrating the union's original architectural character. The project is poised to establish the West Campus Union as an exciting campus hub for student and community engagement. Construction on the project is expected to begin in the summer of 2013.
23 May 2012
Grimshaw wins masterplan central Tirana, Albania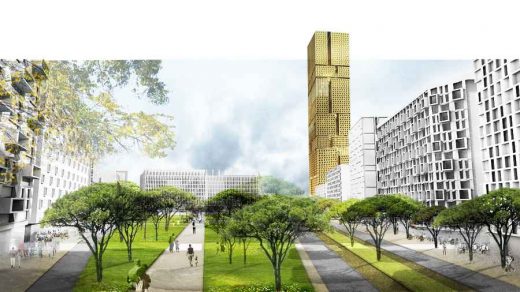 picture from architect
Albanian Masterplan Competition
This architectural practice is the successful finalist selected to masterplan the central Boulevard of Albania's capital city, Tirana. The other finalist was DAR.
12 Mar 2012
Monchengladbach Competition, Germany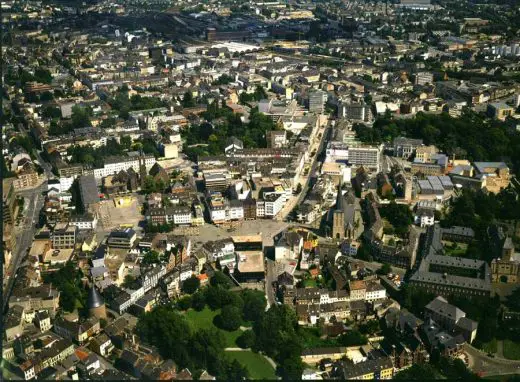 image from Grimshaw, architects
Monchengladbach Masterplan Competition
This architecture office has won a competition to develop a masterplan for the centre of the German city of Monchengladbach. The architecture practice, in association with local project partners Konrath & Wennemar and FSWLA were selected though an international competitive process to develop a masterplan strategy for the city centre area of Mönchengladbach, Germany.
Recent News by Grimshaw
2 Mar 2012
Miami Museum of Science Building, Florida, USA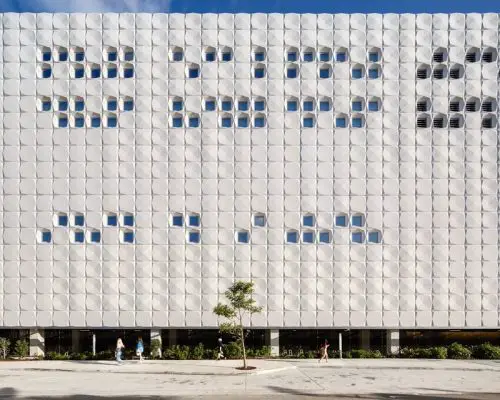 photo courtesy of architects
Miami Science Museum
After years of planning and widespread community support, the new Patricia and Phillip Frost Museum of Science today broke ground in Downtown Miami's Museum Park on the 24th of February. The groundbreaking ceremony took place at the museum's new site overlooking Biscayne Bay, marking the continuation of Miami's rise as one of the world's most culturally rich cities. The groundbreaking event marks the beginning of construction, with the new museum scheduled to open to the public by early 2015.
24 Jan 2012
Wimbledon Masterplan, London, UK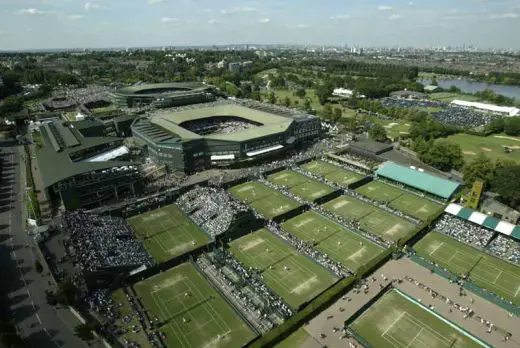 image from Olympic Delivery Authority
Wimbledon Masterplan
After a competitive selection process Grimshaw is delighted to announce that it has been selected by The All England Lawn Tennis Club to design their "Wimbledon 2020" masterplan for future development requirements. The new masterplan continues the previous 'Long Term Plan', which was commissioned in 1993 and completed in June 2011.
8 Dec 2011
Grimshaw Architects win Dulwich College Project, London, England, UK
Shortlisted architects included Amanda Levete Architects, Hopkins Architects, and Walters and Cohen.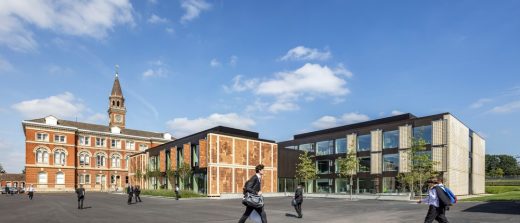 photo © Daniel Shearing
Dulwich College Building
Dr Joe Spence, the Master of Dulwich College, and his Chairman of Governors, Lord Turnbull, are delighted to have secured the appointment of Grimshaw Architects to work with the College on plans for its science building, including creative reuse of the existing 1950s facilities – Phase 1 of the Master Plan devised by John McAslan + Partners through the early months of 2011.
2 Aug 2011
Energy-from-Waste Building, Suffolk, England, UK


image from architect
Energy-from-Waste Building
20 Jan 2011
Bangor University Pontio, Wales, UK


image : Grimshaw
Bangor University Pontio
8 Dec 2010
Nunawading Station, Melbourne, Victoria, Australia


photo : Shannon McGrath
Nunawading Station
12 Sep 2010
St Botolphs Development, London, UK


photo © Nick Weall
St Botolphs Building
20 Feb 2009
Performing Arts Centre – EMPAC, Troy, New York State, USA


photo : Paul Rivera/archphoto
EMPAC Troy
Featured Buildings by Grimshaw
Projects by Grimshaw Architects listed alphabetically, with images:
Asser Levy Park Amphitheater Project, New York, USA


image © Grimshaw
Coney Island Ampitheater
Bijlmer Station expansion, Amsterdam, The Netherlands
2007


photo © Ger Van Der Vlugt
Bijlmer Station building
Croton Water Filtration Plant, Bronx, New York, USA


picture © Grimshaw
Croton Plant Bronx
Eden Project, Cornwall, south-west England, UK



Eden Project photo © Grimshaw
Eden Project
Fundación Caixa Galicia, La Coruña, Spain
2006


Fundación Caixa Galicia: photo Edmund Sumner
Fundación Caixa Galicia
Museo del Acero – Museum of Steel, Monterrey, Mexico
2007


image from architect
Museo del Acero
Newport Station, Newport, Wales, UK
Architect: Grimshaw with Atkins


image from the architect
Newport Station
Southern Cross Station Expansion, Melbourne, Victoria, Australia
2006
Grimshaw with Daryl Jackson Architects


picture from Grimshaw 290607
Southern Cross Station
winner of Lubetkin Prize + RIBA Awards 2007 – RIBA International Award
Thermae : Bath Spa development, Avon, England, UK
2006


photograph : Edmund Sumner
Bath Spa
Western Avenue (A40) Footbridge, Acton, London, England, UK


photograph : Mark Humphreys
Western Avenue Footbridge
More projects by Grimshaw online soon
Grimshaw Architects : projects by Grimshaw Architects, no images
Location: 57 Clerkenwell Rd, London, EC1M 5NG, UK
London Architecture Practice Information
Grimshaw offices in London (Head), New York and Melbourne
Grimshaw is an international architectural practice delivering buildings, infrastructure and places across the world. We design environments that inspire people and protect our planet. With offices in New York, London, Paris, Los Angeles, Dubai, Melbourne and Sydney, Grimshaw employs over 550 staff. The practice's international portfolio covers all major sectors and has been honoured with over 200 international design awards.
https://grimshaw.global
Nick Grimshaw – older projects, by Nicholas Grimshaw and Partners


photograph © Adrian Welch
London Architecture : news + key projects
Comments / photos for the Nicholas Grimshaw Architects page welcome
Website: https://grimshaw.global