David Chipperfield Architects Studio London, Pritzker Architecture Prize, Buildings Images, Projects Design Photos
David Chipperfield Architects
DCA: Contemporary Architecture Practice in England: UK Design Office Award News
post updated 7 March 2023
David Chipperfield Architects News
Sir David Alan Chipperfield CH Receives the 2023 Pritzker Architecture Prize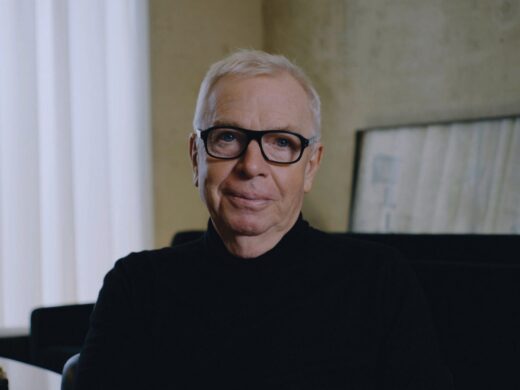 photo courtesy of architects office
David Chipperfield News
March 7, 2023 | Chicago, IL – Civic architect, urban planner and activist, Sir David Alan Chipperfield CH has been selected as the 2023 Laureate of The Pritzker Architecture Prize, the award that is regarded internationally as architecture's highest honor.
Subtle yet powerful, subdued yet elegant, he is a prolific architect who is radical in his restraint, demonstrating his reverence for history and culture while honoring the preexisting built and natural environments, as he reimagines functionality and accessibility of new buildings, renovations and restorations through timeless modern design that confronts climate urgencies, transforms social relationships and reinvigorates cities.
Previously on e-architect:
17 May 2022
Morland Mixité Capitale, Paris, France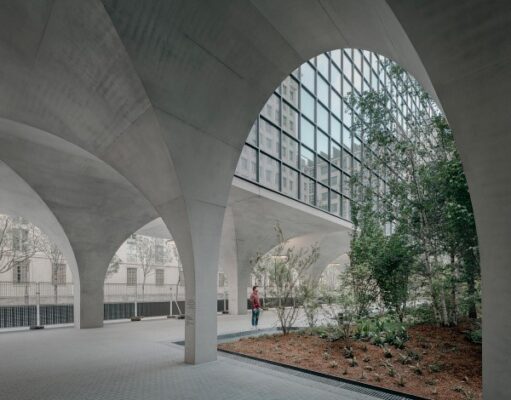 photo © Simon Menges
Morland Mixité Capitale
Following six years of design and construction, the mixed-use complex Morland Mixité Capitale in the centre of Paris has been completed. The building on the banks of the River Seine was originally constructed in the 1960s and has been refurbished, remodelled and extended by David Chipperfield Architects Berlin.
8 Feb 2022
Schützenstrasse Development,, Munich, Bavaria, Germany
Design: David Chipperfield Architects Berlin (DCA)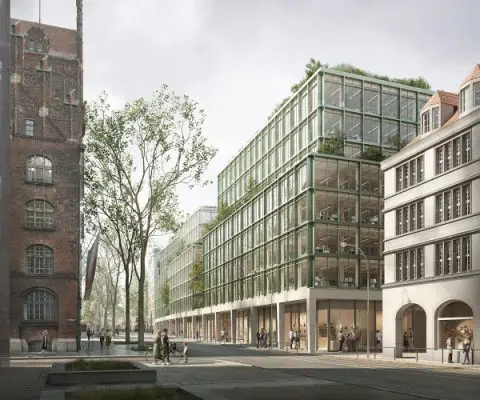 rendering © Filippo Bolognese Images
Schützenstraße Development
David Chipperfield Architects Berlin has won the competition for the development of a mixed-use complex in the heart of Munich. The jury chaired by Professor Ludwig Wappner, selected the office's design, developed in collaboration with the landscape architects Atelier Loidl Landschaftsarchitekten, as the winner from a total of eleven entries from international architectural practices.
11 Dec 2020
Kunsthaus Zürich, Zürich, Switzerland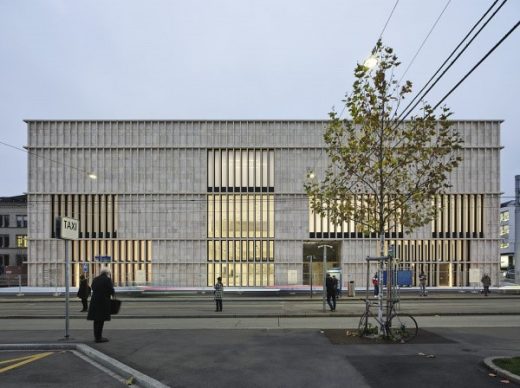 photograph : Noshe
Kunsthaus Zürich
The extension building adds a new, freestanding museum building to the Kunsthaus Zürich. The institution now represents the largest art museum in Switzerland.
26 June 2020
Carmen Würth Forum, Künzelsau, Baden-Württemberg, south central Germany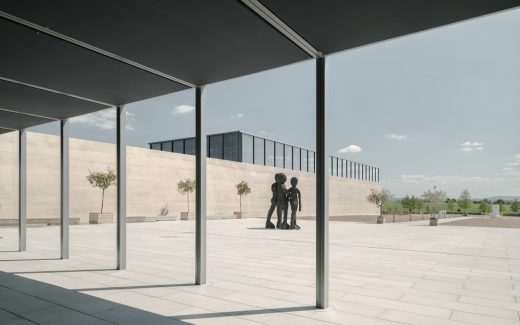 photograph © Simon Menges
Carmen Würth Forum in Künzelsau
A second construction phase completes the Carmen Würth Forum for the Adolf Würth GmbH & Co. KG situated in the town of Künzelsau in southern Germany.
4 Nov 2019
The West Bund Museum, Shanghai, People's Republic of China
Design: David Chipperfield Architects Ltd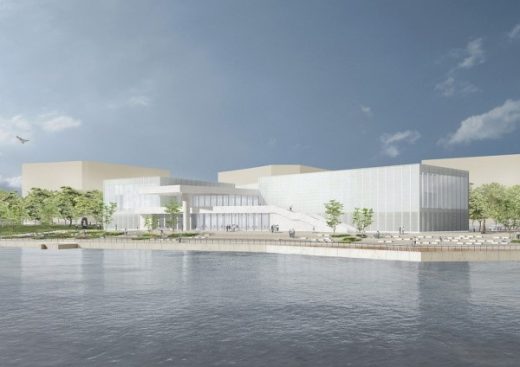 image © David Chipperfield Architects (DCA) /Hayes Davidson
The West Bund Museum
The West Bund Museum is a new art gallery on the Shanghai Corniche, an 8.5 kilometre frontage on the northern bank of the Huangpu River.
1 Jun 2019
KARL, Karlstraße, Munich, Bavaria, Germany
Design: David Chipperfield Architects Berlin (DCA) / Enzo Enea
KARL Building Munich by David Chipperfield & Enzo Enea
24 Apr 2019
Approval for Dunard Centre, Edinburgh, Scotland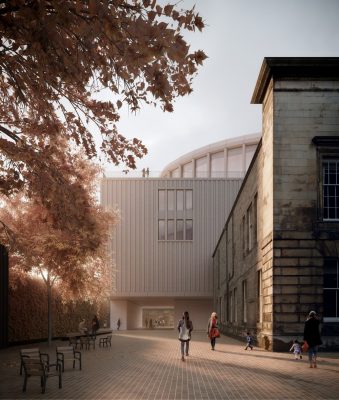 image © DCA/Hayes Davidson
Dunard Centre, New Edinburgh Concert Hall Building design by David Chipperfield Architects: the Scottish capital's first purpose-built music and performance venue for over 100 years, supported by Royal Bank of Scotland.
Read the article in full on one of e-architect's sister site, established in 2000: Dunard Centre Edinburgh Building by David Chipperfield Architects
4 Apr 2019
Richard-Strauss-Strasse Office Building, Munich, Germany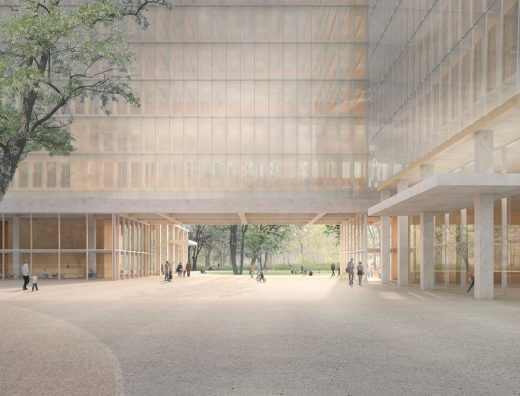 visualisation © David Chipperfield Architects
Richard-Strauss-Strasse Office Building
David Chipperfield Architects Berlin, in collaboration with the landscape architects Atelier Loidl, has won the competition for a new headquarters for the Bayerische Versorgungskammer in Munich's Bogenhausen district.
17 Dec 2018
James Simon Galerie, Museum Island, Berlin, Germany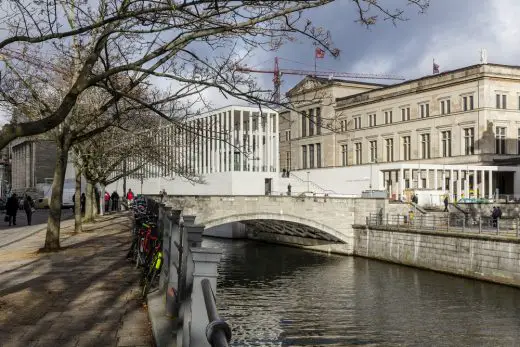 photo © Ute Zscharnt for DCA
James Simon Galerie
As a continuation of Friedrich August Stüler's forum architecture, the James Simon Galerie serves as the new entrance building for Museum Island, completing the ensemble between the Kupfergraben canal and the south-west façade of the Neues Museum.
29 Aug 2018
New Building for Scottish Chamber Orchestra, Edinburgh, Scotland
New images have been released of £45m building for the Scottish Chamber Orchestra in Edinburgh by David Chipperfield Architects. The scheme has been submitted for planning.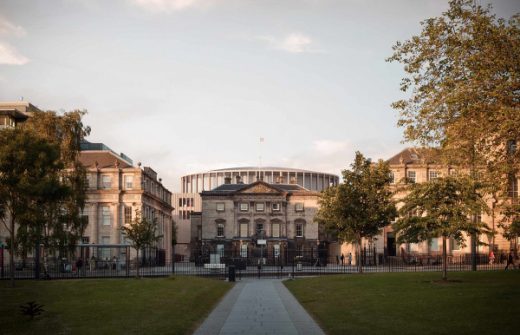 image © Hayes Davidson
Accoridng to DCA, "Edinburgh is a city with a rich cultural heritage that plays host to the world's largest performing arts festival every August. The proposed IMPACT (International Music and Performing Arts Charitable Trust) Centre will be Edinburgh's first new dedicated space for music and the performing arts in 100 years, addressing a long-identified need."
Located within the city's UNESCO World Heritage Site at the eastern end of its Georgian New Town, the public building is shaped internally by the acoustic requirements of the 1,000-seat concert hall, and externally by its celebrated urban environment.
17 Jun 2018
Amorepacific Headquarters, Seoul, Korea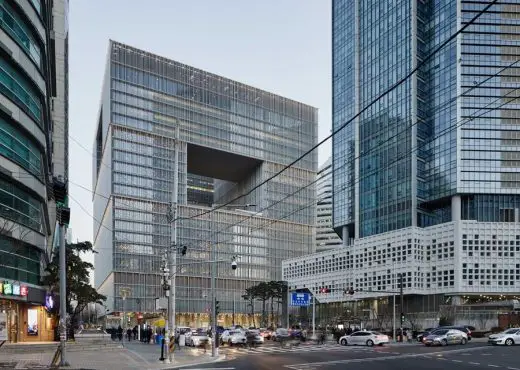 photograph © Noshe
Amorepacific Head Office Seoul
The new building is situated in the district of Yongsan-gu, between the site of a spacious public park currently under development, and a business district of high-rise towers.
31 Jul 2017
Carmen Würth Forum, Künzelsau, Germany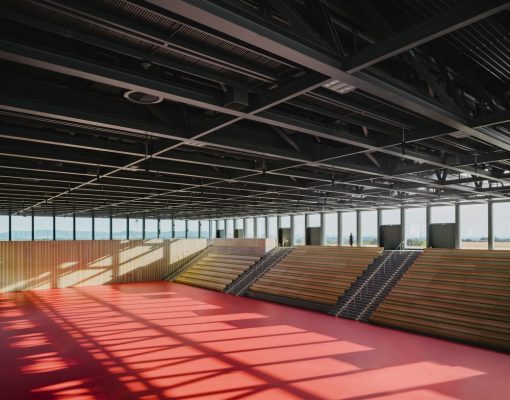 photo © Simon Menges
Carmen Würth Forum
Surrounded by open fields and at a little distance from the main office complex, David Chipperfield Architects Berlin is building the Carmen Würth Forum, the first stage of which – comprising a large events hall and a smaller hall for chamber music recitals – was completed in July 2017.
5 May 2017
David Chipperfield Architects selected for Edinburgh Concert Hall Building
The project to create Edinburgh's first new performance building in 100 years is gathering pace following the appointment of an architect-led design team.
The task of designing the 1,000-seat auditorium, which will rival the best in Europe for acoustics and audience experience, has been given to DCA. This award-winning international team, responsible for the acclaimed Neues Museum restoration in Berlin and currently transforming the Royal Academy in London, was selected following a comprehensive competition conducted under European procurement rules. Past design commissions include the BBC Scotland HQ at Pacific Quay, Glasgow, and the Hepworth Gallery in Wakefield.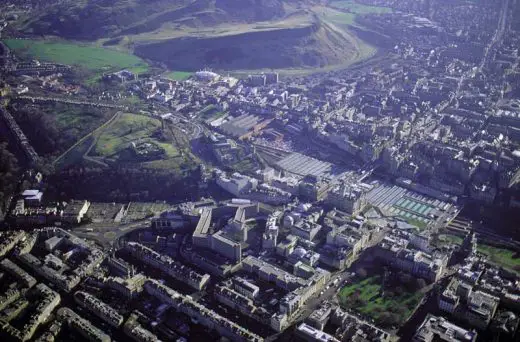 photo from MLA
The new auditorium, to be built to the highest standards in the heart of the city, will be a thrilling home for all kinds of musical performance – from orchestral to jazz and folk – welcoming chamber groups, soloists, choirs and dance ensembles. The design will reflect this versatility and provide an exciting new hub for Edinburgh in a world-class hall situated immediately behind the historic Dundas House at 36 St Andrew Square.
Read the article in full on one of e-architect's sister sites, established in 2000: Edinburgh Concert Hall Building by David Chipperfield Architects
23 May 2016
Sir David Chipperfield has chosen Swiss architect Simon Kretz as his protégé in the Rolex Mentor and Protégé Arts Initiative
David Chipperfield – Rolex Mentor and Protégé Arts Initiative 2016
16 Mar 2016
Stockholm City Planning Committee Approves Nobel Center Design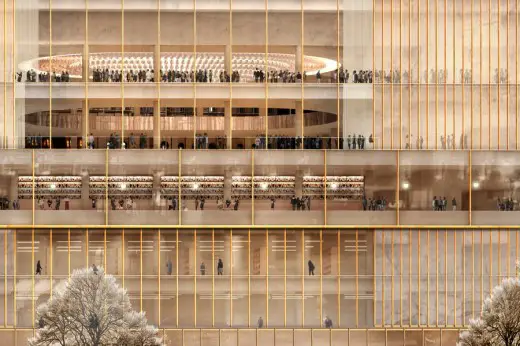 image by architects
Nobelhuset Building in Stockholm
The City Planning Committee approved the detailed local plan for the Nobel Center and the building that Sir David Chipperfield designed. A concept for the future exhibitions in the building, which is being put together by the Nobel Museum in Stockholm and the German-based exhibition design firm Atelier Brückner.
6 Feb 2016
DCA wins Boulevard Morland Development, Paris, France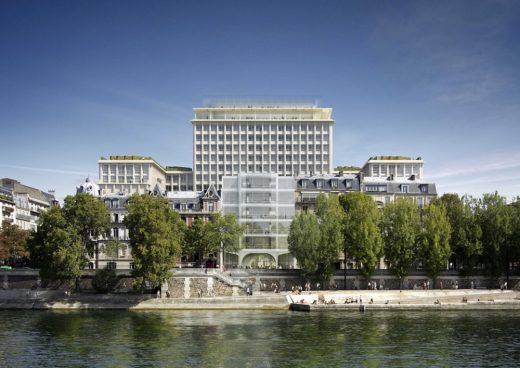 image © Imaging Atelier
03.02.2016 – DCA with Paris-based developer Emerige, has won the Call for Projects to redevelop the Boulevard Morland site in the 4th arrondissement of Paris.
10 Apr 2014
Nobel Center Winner – David Chipperfield Architects Berlin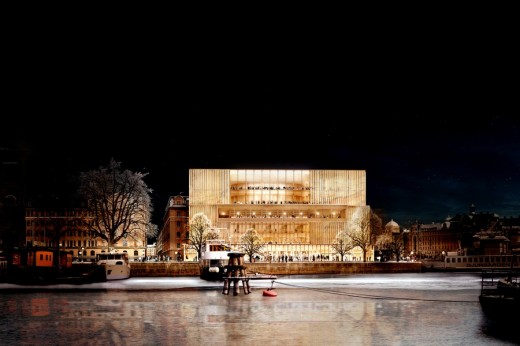 image by architects
Nobelhuset Stockholm
Under the direction of David Chipperfield and Christoph Felger, DCA Berlin has won the competition for the design of the Nobel Center – 'Nobelhuset' in Stockholm. David Chipperfield: "We are extremely excited and honoured to have been selected to be the architects for the Nobel Center. We look forward to working together to develop a building that reflects both the values of the Nobel Prize and the high expectations of the citizens of Stockholm."
David Chipperfield Architects' Museo Jumex Opens, Mexico City
13 November 2013 – Museo Jumex, a new contemporary art space in Mexico City, will be opening to the public on 17 November following a weekend of celebratory events.

photograph : Pedro Hiriart
Designed by DCA, this building has been created to showcase part of 'Colección Jumex' – the largest private art collection in Latin America founded by Mexico City-born Eugenio López in 2001, containing over 2000 pieces by notable international, Mexican and Latin American artists. The museum will also provide a public platform for discourse and educational activities, and a lively programme of world-class temporary exhibitions; including the first ever show of Cy Twombly's work in Latin America.
The museum appears as a freestanding pavilion that corresponds to the eclectic nature of the neighbouring buildings, among them the Museo Soumaya and the underground Teatro Cervantes. Made of exposed white concrete and locally sourced travertine, it features a distinctive saw-tooth roof and rests on fourteen columns, allowing the surrounding public plaza to merge with the ground floor.
David Chipperfield Architects worked in collaboration with local architects TAAU/Oscar Rodríguez.
Canada Water project receives planning permission, London, UK
Canada Water


photograph : Richard Davies
7 Nov 2013 – Southwark Council has granted planning permission for a landmark tower and two additional buildings designed by David Chipperfield Architects as part of the redevelopment of sites C & E at Canada Water. Sellar Developments, a leading property company currently working extensively in Southwark, acquired the Decathlon site in 2011 and has been working with David Chipperfield Architects, Maccreanor Lavington Architects, landscape architects VOGT, and local community groups to develop proposals which make the most of existing waterside features and bring significant benefits to the local community.
The introduction of a high-quality mixed use development is part of Southwark Council's plan to regenerate the wider area which will form a new town centre for Canada Water. The three buildings comprise a long narrow block on pilotis, a medium-rise building and a slender landmark tower of 150m. They will be grouped around a soft landscape feature in a square bounded by perimeter blocks of the wider masterplan by Maccreanor Lavington Architects. This open public space will serve as a new town square and a central pedestrian route, improving access to Canada Water.
21 Feb 2013
Saint Louis Art Museum Building, USA


image from BQ
Saint Louis Art Museum Expansion news update
Greatly expanding the exhibition space for the Museum's outstanding collection and providing major new amenities for the public, the more than 200,000-square-foot East Building matches the iconic Cass Gilbert-designed 1904 building in scale and dignity but offers a contemporary sense of simplicity and transparency.
7 Nov 2012
Elizabeth House Redevelopment, London, England, UK


photograph © Ingrid Von Kruse
The practice has won planning permission for the £600m redevelopment of Elizabeth House near Waterloo in south London.
30 May 2012
Musée des Beaux-arts Rheims, northeast France


image © David Chipperfield Architects
Musée des Beaux-arts Rheims
The new Musée des Beaux-arts is situated on the periphery of a long green space, arising from the town fortifications, between the old and new town. The Gallo- Roman gate and the modernist market hall, located in its vicinity, are evidence of Reim's architectural history from antiquity to modern times. An excavation site with mediaeval findings is situated at the site of the new museum.
29 Nov 2011
Boulogne-Billancourt
David Chipperfield will build the share N°5 (60,000sqm office building) of the du Trapèze in Boulogne-Billancourt, Paris, France.
added 3 Jun 2011
Novartis HQ, Basel, Switzerland


photo : building owner
Novartis HQ Basel
18 May 2011
The Hepworth, Wakefield, UK


photograph © Iwan Baan
The Hepworth wins RIBA Award 2012
opened 16 Apr 2011
Turner Contemporary Gallery, Margate, UK


picture : Richard Bryant/Arcaidimages.com
Turner Contemporary Gallery
David Chipperfield Buildings
Buildings / Designs by David Chipperfield Architects in 2010, chronological:
Anchorage Museum, Alaska, USA


photo © Christian Richters
Anchorage Museum final spaces open
Neues Museum Rebuilding, Berlin


photograph © Joerg Von Bruchhausen
Neues Museum
Museum Folkwang, Essen, Germany


photo : Christian Richters
Museum Folkwang
Key Buildings by DCA in 2009
Buildings / Designs listed chronologically:
City of Justice, Barcelona, Spain


photograph : Christian Richters
City of Justice Barcelona Buildings
Ninetree Village, southeast China


photo © Shu He
Ninetree Village Buildings, Hangzhou
Key Buildings by DCA in 2008
Designs, chronological:
Liangzhu Culture Museum, China


photo © Christian Richters
Liangzhu Culture Museum
Empire Riverside Hotel, Germany


photo © Ralf Buscher
Empire Riverside Hotel Hamburg
America's Cup Building, Spain


photograph © Richard Walch
America's Cup Building
Marbach Museum Building, Germany


photo © Christian Richters
Marbach Museum of Modern Literature
Key David Chipperfield Building
Hotel Puerta America, Madrid, Spain
Design: various interiors, various architects / designers


image from Hotel Puerta America website
Spanish designer hotel interior
David Chipperfield Buildings : projects up to 2010
Location: Cobham Mews, Agar Grove, London NW1 9SB, England, UK
David Chipperfield Architects Practice Information
English architects, known for restrained contemporary style


photo of the architect © Nick Knight, from David Chipperfield Architects
David Chipperfield Architect : Practice Information
Edificio Veles e Vents, Valencia, Spain


photograph © Christian Richters
Des Moines Public Library, Des Moines, Iowa, USA
2007


photo © Farshid Assassi
Des Moines Public Library – RIBA Awards 2007 – RIBA International Award
RIBA European Award 2007 : Museum of Modern Literature Marbech + America's Cup Building Valencia both by DCA
Comments / photos for the David Chipperfield Architect page welcome
Website: https://davidchipperfield.com