House in Cascais, Juso Property, Residence in Portugal, Portuguese Residential Architecture
House in Juso, Portugal : Cascais Property
Cascais Residential Building design by ARX Portugal + Stefano Riva : Edifícios portugueses
23 Feb 2012
Location: near Aldeia de Juso, north of Cascais, west of Lisbon, southwest Portugal
English text (scroll down for Spanish):
Design: ARX Portugal + Stefano Riva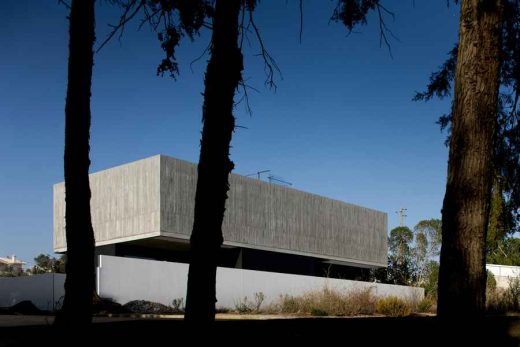 Photos by Fernando Guerra | FG+SG • ultimasreportagens.com ; ARX Portugal
House in Juso
In the concept for this small house in the vicinity of Aldeia de Juso, the tiniest area of flat land and the house's, as well as the high density of the new houses yet to be built in the surroundings, forcibly draw us to some sort of "obsession" about the possibilities of dilating space.
Underlying this question, the importance of "expanding" the outdoor space becomes a particular central aspect, since it is also a building integrated in a semi-rural area, where people go looking for the experience of inhabiting garden or open yard spaces.
We propose, after all, to solve and clarify the question, by widening to the maximum the inhabitable premises in their global scope, both in the vertical and horizontal referentials, in both interior and exterior. The building has been thus structured in three floors, spatially related in profile, each level having specific and different characteristics. In Level -1, the areas are laid out (as the regulations so demand) under the contour of the ground level. However, this idea of "imposed limits" is to be questioned through the means of "distensions" and "advancements", to be operated in the three possible directions (north, east and west), shaped as yards and pool.
In this floor there will also be included work and service areas.
On the ground level, the limits for the "precincts", appears widened and defined by the walls around the lot. The inner space is freely configured. Consistent with the strategy of maximizing the presence of the gardened outdoor space, the garage is then left aside to an "inserted" area to the south of the kitchen. All the social spaces of the building are located on this floor.
On the upper floor resides what is the most significant expression of this project. Until the maximum limits allowed by the regulations, was shaped a kind of enclosure of opaque lines encompassing the bedrooms and their respective yards, thus expanding the enjoyable areas and protecting their necessary intimacy.
On the roof level, an accessible terrace finally liberates the eye over a 360º view of the surrounding houses, the sea or the beautiful mountains of Sintra.
House in Juso – Building Information
Location: Juso, Portugal
Project-construction: 2008-11
Architecture: ARX Portugal + Stefano Riva: Nuno Mateus e José Mateus c/ Stefano Riva
Landscape Architecture: Sara Machado
Engineerings: Marco Caixa, António Paiva, Fernandes, Miguel Marques
Contractor: Gardenblok Construções Lda.
Area: 170 m2
Photography: Fernando Guerra | FG+SG • ultimasreportagens.com ; ARX Portugal
Spanish text:
Casa no Juso
Na concepção desta pequena casa nas imediações da Aldeia de Juso, a exígua área do terreno, bem como a densidade elevada de novas casas a serem construídas na envolvente, levam-nos para uma espécie de "obsessão" sobre as possibilidades de dilatação do espaço.
Subjacente a essa questão, está a importância de "expandir" o espaço exterior, aspecto particularmente importante, dado que se trata de uma habitação integrada numa zona semi-rural, procurada por quem deseja a vivência dos espaços de jardim ou quintal.
Propomo-nos a resolver e clarificar, o alargamento máximo do recinto habitável na sua globalidade, tanto no referencial horizontal, como na vertical, no interior como exterior. A casa surge estruturada em 3 pisos, que se relacionam espacialmente em corte e que possuem características distintas, em cada nível.
No piso –1, os espaços dispõem-se (tal como impõem os regulamentos) sob o contorno do piso 0. Contudo, essa ideia de 'limite imposto' é questionada através de 'avanços' ou 'distensões', operadas nas 3 direcções possíveis (norte, este e oeste), sob a forma de pátios e piscina. Estão integrados, neste nível, espaços de trabalho e de apoio.
No piso 0, o limite do "recinto", surge alargado e definido através dos muros do lote. O espaço interior é configurado de forma livre.
Em coerência com a estratégia de maximizar a presença de espaço exterior ajardinado, a garagem é remetida para uma zona "encaixada" a sul da cozinha. Neste piso localizam-se todos os espaços sociais da habitação.
No piso superior, reside a expressão mais significativa deste projecto. É configurado (até aos limites máximos permitidos pelo regulamento) uma espécie de recinto de contornos opacos, englobando quartos e respectivos pátios, que dilatam o espaço fruível e protegem a intimidade. Na cobertura, um terraço visitável liberta finalmente o olhar que se abre numa visão de 360º, sobre o casario envolvente, na direcção do mar, ou da magnífica Serra de Sintra.
House in Juso – Ficha Técnica
Localização: Juso, Portugal
Projecto-obra: 2008-11
Arquitectura: ARX Portugal + Stefano Riva: Nuno Mateus e José Mateus c/ Stefano Riva
Arquitectura Paisagista: Sara Machado
Especialidades: Marco Caixa, António Paiva, Fernandes, Miguel Marques
Construtor: Gardenblok Construções Lda.
Área: 170 m2
Fotografia: Fernando Guerra | FG+SG • ultimasreportagens.com; ARX Portugal
Cascais house images / information from ARX Portugal
Location: Juso, Portugal, southwest Europe
New Portuguese Architecture
Contemporary Portuguese Architecture
Portuguese Architecture Designs – chronological list
Lisbon Architecture Tours by e-architect
Portuguese Architect – contact details
Portuguese Property
New Portuguese Properties – Selection
FdP house, Alto Alentejo, eastern Portugal
Design: Architect Gonçalo Bonniz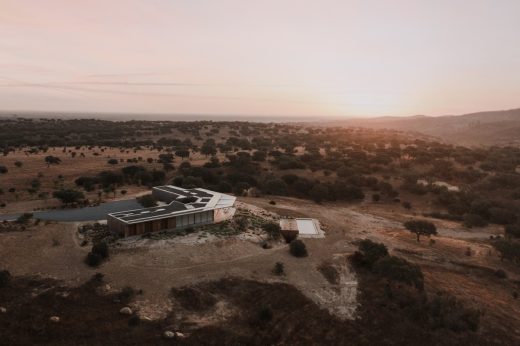 photo : Woodtarget
FdP house in Alto Alentejo
Senhora da Hora, Porto
Architects: Raulino Silva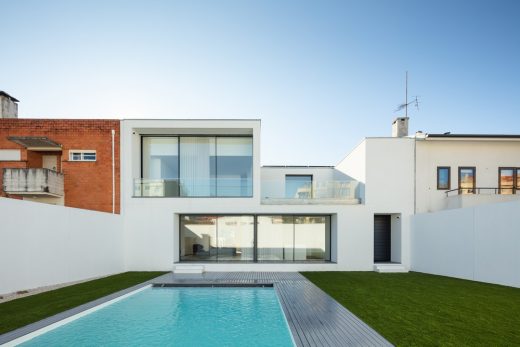 photography : João Morgado
Senhora da Hora House, Porto
House in Malveira
ARX Portugal Arquitectos
House in Malveira
House Chão das Giestas, Guarda
AVA – Atelier Veloso Arquitectos
House Chão das Giestas
Houses in Portugal
House in Tendais
A43 arquitectura
House in Tendais
House in Grândola
ARX Portugal Arquitectos
House in Grândola
House 1 in Penafiel
Cláudio Vilarinho
House in Penafiel
Comments / photos for Juso House – New Residence in Portugal page welcome