New York Architecture Designs, NYC Building News, Manhattan Real Estate Photos, USA City Images
New York Architecture News : NYC Building
Contemporary Manhattan Architectural Developments, NY, United States of America
post updated May 22, 2023
NYC Architecture Designs – chronological list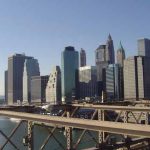 New York Architecture – photo © Tim Collins
New York Architecture Walking Tours by e-architect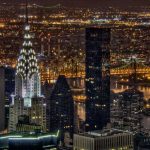 photo © Joe Lekas
New York Architecture News in 2023
May 22, 2023
200 Montague Street, Brooklyn Heights, NYC
Design: Beyer Blinder Belle Architects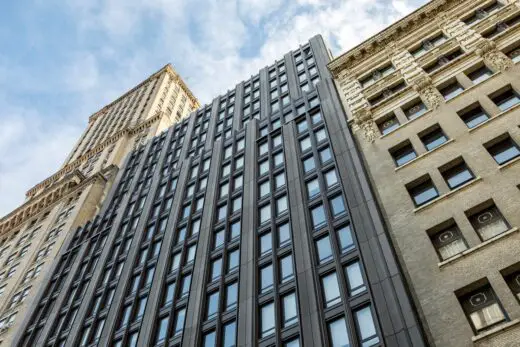 photo : Paul Rivera
200 Montague Street Brooklyn Heights
200 Montague Street, a new 20-story, 121-unit residential building in Brooklyn Heights, is completed. Located in the Borough Hall Skyscraper Historic District, 200 Montague reinterprets the architectural essence of its historic neighbors to create a contemporary residential building for today's Brooklyn Heights.
May 18, 2023
Ansche Chesed Synagogue
Architecture: Studio ST Architects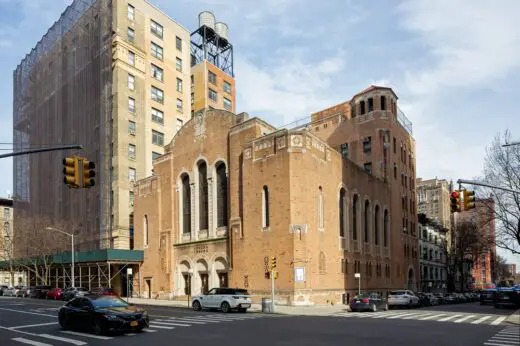 photo : Bilyana Dimitrova
Ansche Chesed Synagogue
On April 29, the Ansche Chesed Synagogue dedicated their newly renovated spaces in a community-wide luncheon. The dedication will conclude a three-year $8 million renovation, which tripled the main lobby space in this 94-year-old landmarked building on West End Avenue and 100th Street.
Apr 5, 2023
Cathedral Church of St John the Divine, Morningside Heights
Architecture: Ennead Architects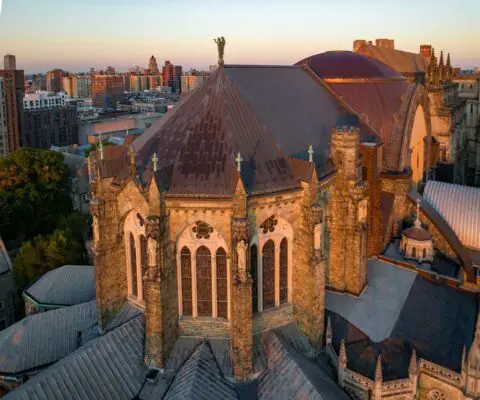 photo © Demian Neufeldk
Cathedral Church of St John the Divine
Internationally renowned architecture firm Ennead Architects completed its three-year preservation of the Crossing Dome at the heart of the Cathedral Church of St. John the Divine in New York City. Located in Morningside Heights in Manhattan, the landmark Cathedral has suffered years of deterioration, water infiltration and damage from a 2001 fire.
Feb 26, 2023
Wonderforest, Prospect Heights district, Brooklyn, NY
Design: Palette Architecture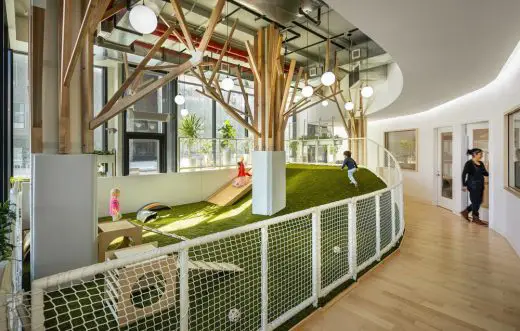 photos by Pavel Bendov and James Clark
Wonderforest Nature Preschool Brooklyn
Feb 9, 2023
Opera169, Washington Heights, Manhattan
Architects: ADAT Studio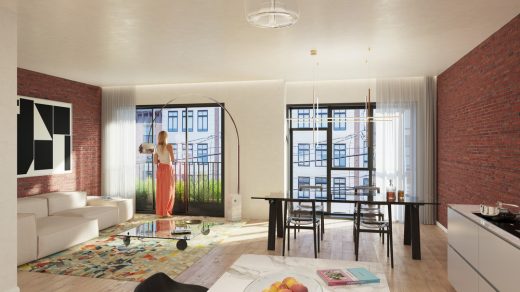 photo : ADAT
Opera169, Washington Heights, Manhattan
ADAT Studio presents Opera169, a six-story residential building in Washington Heights, Manhattan. Carried out for Harrest, an international real estate development company, the new project aims to maximize outdoor spaces and promote a sense of belonging in a green and historic New York neighborhood.
Feb 1, 2023
Mid-Century Italian Tribeca Apartment, Tribeca
Design: Jessica Gersten Interiors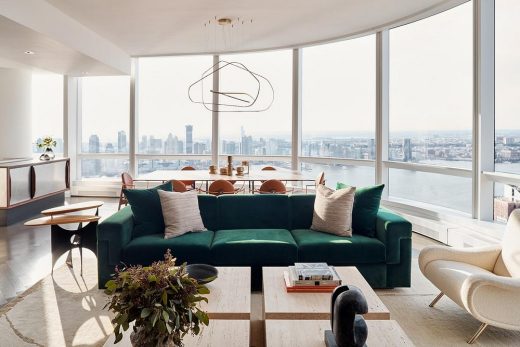 photo : Blaine Davis
Mid-Century Italian Tribeca Apartment, NYC
Jan 24, 2023
North Salem Residence, North Salem, Upstate New York, USA
Design: Archi-Tectonics's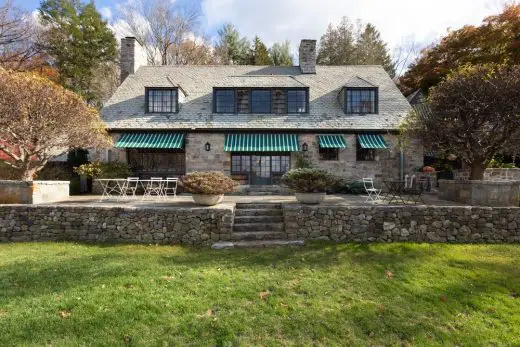 photo : Federica Carlet
North Salem Residence, Upstate New York Renovation
New York Building News in 2022
Dec 3, 2022
Museum of the Moving Image, Queens, NY
Architects: AC Höcek Architecture LLC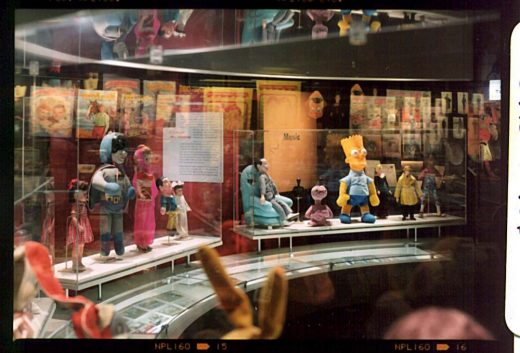 photo : Stefan Hagen
Museum of the Moving Image, Queens NYC
Since its opening in 1988, the Museum of the Moving Image has been recognized as a major, internationally known institution and the only museum in the United States dedicated to exploring the art, history, and technology of the moving image.
Oct 27, 2022
425 Park Avenue, Manhattan
Architects: Foster + Partners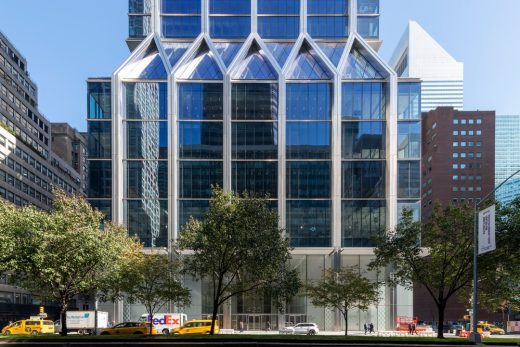 photo © Nigel Young / Foster + Partners
image Courtesy architecture office
425 Park Avenue New York City Office Building
British architect Norman Foster attended the grand opening of 425 Park Avenue, the first full-block office building on New York's Park Avenue in over 50 years. The new building is located alongside Modernist icons such as the Seagram Building, Lever House and the CBS Building, on the world's grand boulevard of commerce.
Oct 21, 2022
50 Hudson Yards, Hudson Yards district, NYC
Architects: Foster + Partners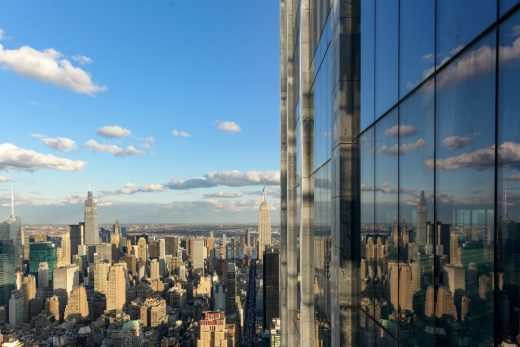 photo : Nigel Young / Foster + Partners
50 Hudson Yards
This 78-story office building covers an entire block – the tower is a distinctive piece of the city that mindfully sits within New York's urban grid. The LEED Gold-designed tower building acts as a gateway to New York's vibrant new neighborhood, offering a direct underground connection to the adjacent subway station.
Oct 6, 2022
The Richard Gilder Center For Science, Education, And Innovation, American Museum of Natural History, NYC
Design: Studio Gang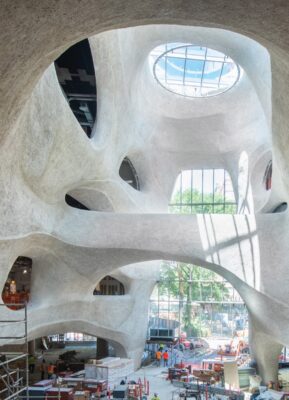 photo : Denis Finnin / © AMNH
Richard Gilder Center for Science, Education, and Innovation, Manhattan
The American Museum of Natural History today announced that the Richard Gilder Center for Science, Education, and Innovation will open to the public on Friday 17 February 2023. Designed by Jeanne Gang and Studio Gang, the Richard Gilder Center for Science, Education, and Innovation project will add exhibition galleries, state-of-the-art classrooms, an immersive digital theater, and a redesigned library as well as reveal more of the Museum's scientific collections.
Sep 27, 2022
David Geffen Hall, Wu Tsai Theater, Lincoln Center, Manhattan
Design: Diamond Schmitt Architects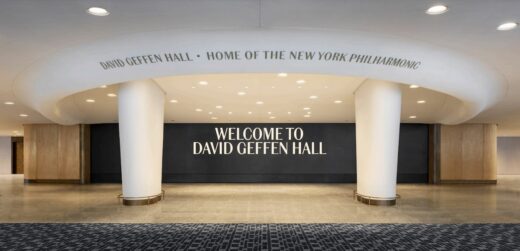 photo © Michael Moran
David Geffen Hall New York City
The new David Geffen Hall opens to the public on October 8, 2022, the home of the New York Philharmonic and new welcoming cultural home for New York. Completed two years early with a transformative design by Diamond Schmitt Architects and Tod Williams Billie Tsien Architects, the project represents a statement of faith in New York and its artistic community, while delivering jobs and economic development at a crucial time for the city's rebound.
July 22, 2022
West Residence, Hell's Kitchen, Manhattan
Architecture: concrete
West Residence, New York Apartments
Jul 17, 2022
Sag Harbor Residence, NY
Design: Narofsky Architecture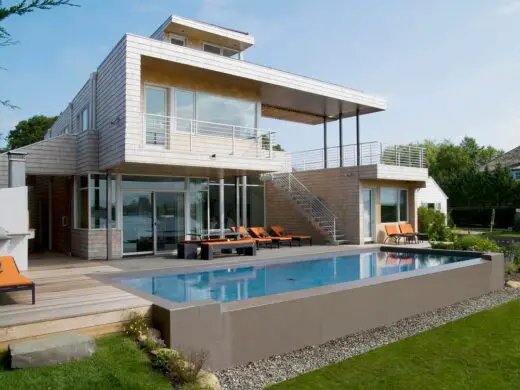 photo : Ber Murphy
Sag Harbor Residence, NY
July 14, 2022
Great Neck Residence
Design: Narofsky Architecture
Great Neck Residence
July 12, 2022
Klaynberg Residence, North Shore, Long Island, Queens, NYC
Design: Narofsky Architecture
Klaynberg Residence, North Shore Long Island
July 6, 2022
Manhattan Neighborhood Network
Design: Kostow Greenwood Architects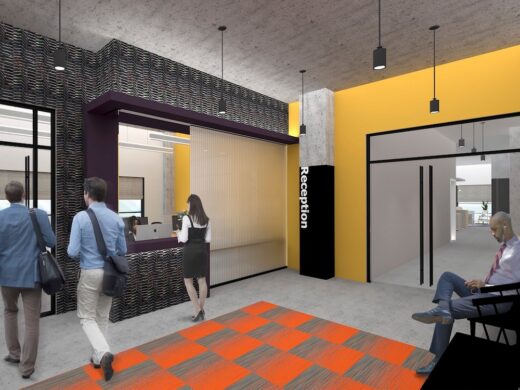 image © Kostow Greenwood Architects
Manhattan Neighborhood Network, New York City
This building is a new state-of-the-art community media facility in NYC's Midtown West neighborhood. The 3rd and 4th floors of 509 West 38th Street ("Henry Hall"), a new commercial condominium residential tower in the Hudson Yards neighborhood will be delivered as white space.
Jun 17, 2022
Carroll Gardens Townhouse, Brooklyn, NY, United States
Design: Barker Associates Architecture Office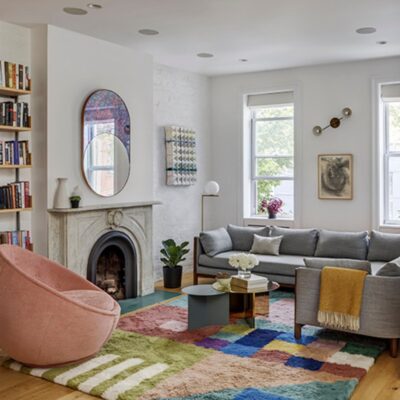 photo : Francis Dzikowski/OTTO
Carroll Gardens Townhouse, Brooklyn, NY
The Carroll Gardens Townhouse project is situated one block from the Gowanus Canal in Carroll Gardens, Brooklyn. The family of four, a husband and wife working in the publishing field, and their two daughters, lived in the house for ten years before deciding to do an extension to expand their kitchen and to create bigger rooms for their two daughters.
Jun 16, 2022
Maison Meadowlark, Bridgehampton, South Fork of Suffolk County, NY, USA
Architecture: Studio Zung
Maison Meadowlark, Bridgehampton, NY
Jun 16, 2022
Kerns McCall Apartment
Design: Narofsky Architecture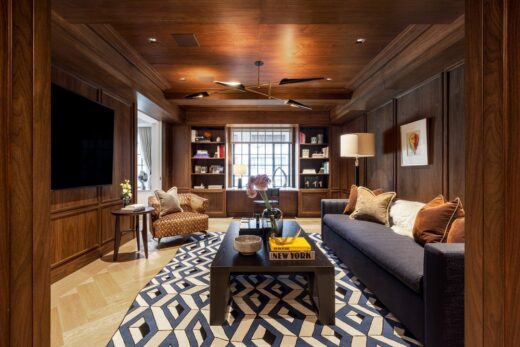 photo : Tom Sibley
Kerns McCall Apartment
The building was built in 1929 and is a classic Art Deco Design. Out of respect to the very beautiful detailing found in this building, when designing the Kerns McCall Apartment, Narofsky Architecture were inspired to continue the feel while entertaining current modern lifestyles. The apartment was purchased from the original family and it had never been renovated.
Jun 13, 2022
Garden-Level Apartment, Chelsea, Manhattan, NYC, USA
Design: Martin Hopp Architect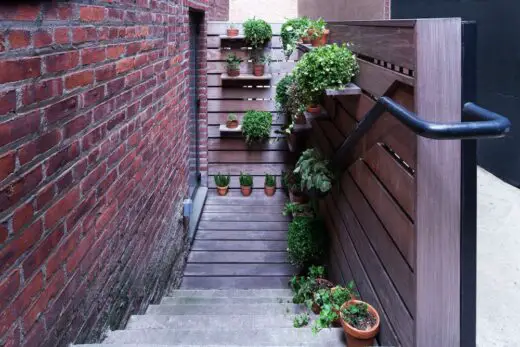 photo : Fei Liu
Garden-Level Apartment, Chelsea
Located in a 1930s building, this Garden-Level Apartment needed major structural repairs. Its odd layout and challenging features of exposed foundation walls and large structural columns were further complicated by being partially submerged below grade and hemmed in by foundations.
More New York Architecture News online here at e-architect soon
New York Architecture News Spring – Winter 2022
May 23, 2022
Maspeth Squash, Queens, NY
Architecture: Jacobschang Architecture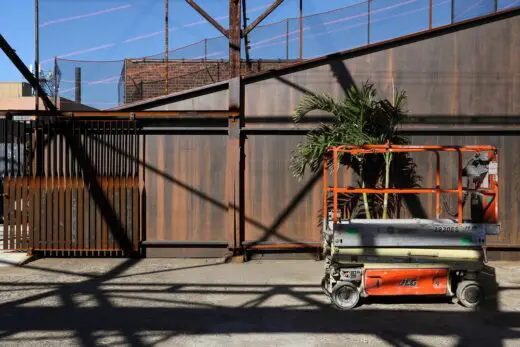 photo : Ryan Lahiff
Maspeth Squash, Queens, NY
Maspeth Squash is a professional quality outdoor squash facility located in the heart of industrial Maspeth, Queens. The project was initiated from the owner's desire to construct an easily accessible court for everyday use but also as a vehicle for introducing the sport of squash to a broader.
May 17, 2022
Time & Life Building, Midtown Manhattan, NYC, USA
Design: Pei Cobb Freed & Partners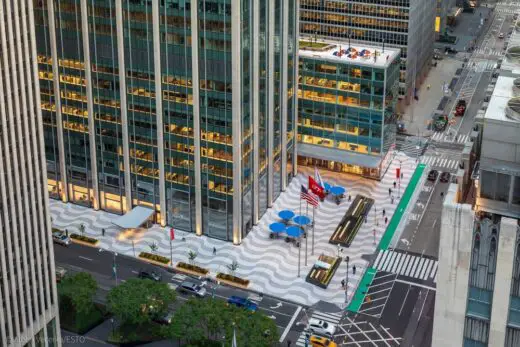 photo : Albert Vecerka/ESTO
Time & Life Building, Midtown Manhattan
The launch of the television series Mad Men, set in the Time & Life Building in Midtown Manhattan, introduced the iconic 1959 tower to a new generation. But despite its growing fame, the aging tower owned by Rockefeller Group struggled to compete in the New York City commercial real estate market due to an inefficient building envelope, outdated mechanical systems, and a timeworn lobby.
Mar 18, 2022
Inside Out Cabana, East Hampton, NY, USA
Design: The Up Studio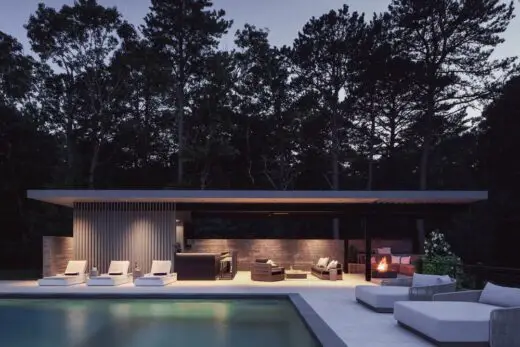 photo : Conor Harrigan
Inside Out Cabana, East Hampton NY
As the eye flows from the street to the woodlands, this Long Island pool house responds in kind by gradually shifting from solid to void. The property's covered area provides shade from the hot summer sun with seating beside a large outdoor bar.
April 29, 2022
Olson Kundig New York City Architects Office News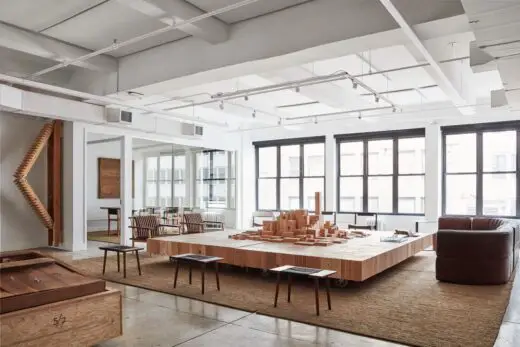 photo : Angela Hau
Olson Kundig New York City Architects Studio
April 28, 2022
FILTER at Design Pavilion / NYCxDesign Festival, Times Square, NYC
Design: CLB Architects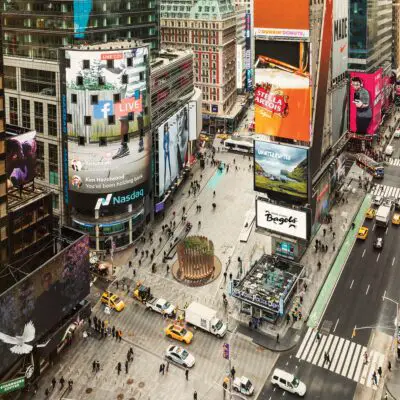 image : CLB Architects
FILTER Times Square
Designed as both a monumental object and an ephemeral experience, the pavilion establishes a new node in the heart of New York City's urban fabric – reorienting that experience toward the natural, rather than the man-made. Evoking the rugged Wyoming landscape from which it originates, FILTER draws the visitor into an engagement of its flowing folds of weathered steel and timber.
April 27, 2022
Flatiron Loft, Flatiron District, Manhattan, NY 10011
Design: thread collective
Flatiron Loft Interior
Apr 19, 2022
ModernHaus Hotel, 27 Grand Street, SoHo, Manhattan
Architecture: Palette Architecture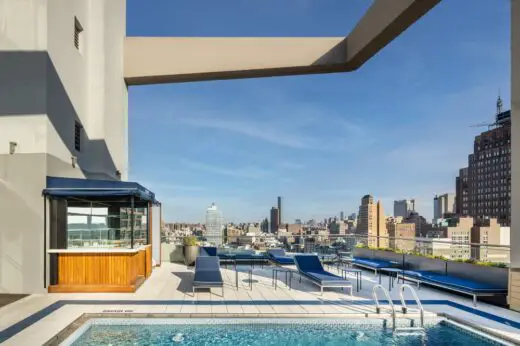 photo : Pavel Bendov
ModernHaus Hotel, SoHo
Contemporary refurbishment of a luxurious 114-room boutique hotel formerly known as The James New York. Situated in NYC's vibrant SoHo district, the property was acquired by the current owners in 2017, and the hotel has changed ownership twice since its original construction in 2010.
Apr 14, 2022
JPMorgan Chase HQ, Manhattan
Design: Foster + Partners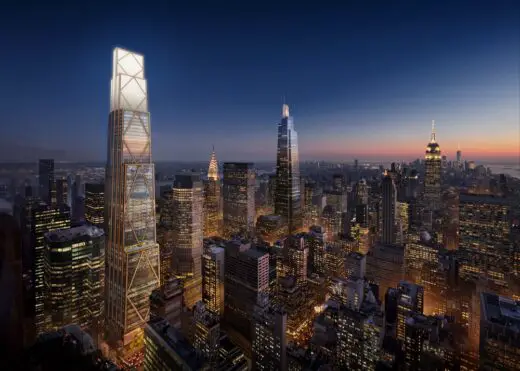 image © dbox / Foster + Partners
JPMorgan Chase HQ
New York City's largest all-electric tower with net zero operational emissions will exceed the highest standards in sustainability. Foster + Partners-designed building will offer 2.5 times more ground-level outdoor space, featuring an expansive public plaza with street-level green spaces; will use healthy building principles to set new standards for employee wellness and hospitality.
Mar 28, 2022
Pulse Studio, Empire State Building, Manhattan
Design: Interdisciplinary Architecture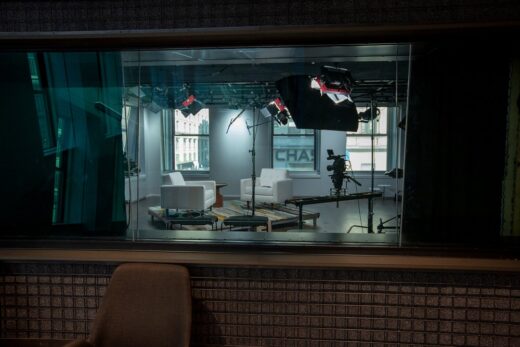 photo : LinkedIn
LinkedIn Studio, Empire State Building NY
Interdisciplinary Architecture (IA) recently completed Pulse Studio, a flagship video production facility for LinkedIn in the company's New York City headquarters at the Empire State Building. IA designed the 6,900-sqft studio to take advantage of its iconic location while still offering total acoustic insulation from the building's mechanical systems and the bustling streets below.
Mar 23, 2022
Greenpoint Brownstone House, Brooklyn
Mar 18, 2022
C+S House, East Hampton NY
Mar 10, 2022
New York Small World, Chelsea, Manhattan
Design: Efficiency Lab for Architecture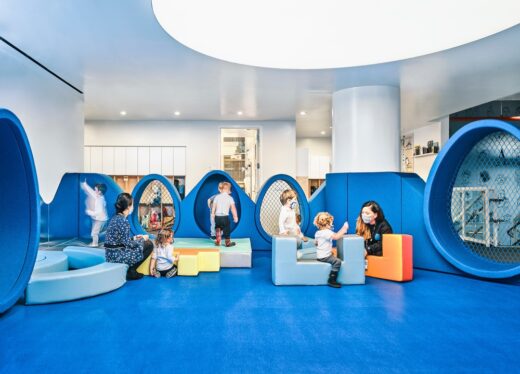 photo © Inessa Binenbaum
Small World Daycare Center NY
Designed by Efficiency Lab for Architecture, the New York Small World project is an interior renovation of the second floor of Avenues: The World School's Chelsea, Manhattan building to expand its existing Daycare Center. At the heart of the newly transformed Small World level lies an interior Movement Room, an undulating playscape that encourages discovery, creativity, and exploration.
Mar 9, 2022
David Geffen Hall Concert Hall, Lincoln Center, Manhattan
Design: Diamond Schmitt Architects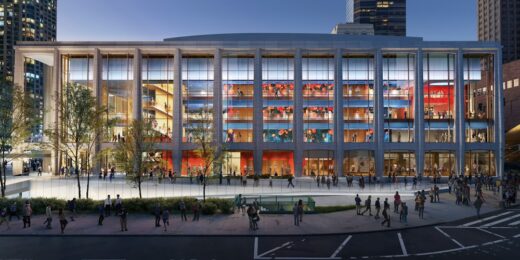 image : DBOX
David Geffen Concert Hall, New York
$550M Fundraising Goal Achieved! The Hall will be delivered two years ahead of schedule and on budget. Building through the crisis to create a home for all New Yorkers. The project supports 6,000 jobs, $600 million in economic development for recovering city.
Mar 8, 2022
Interwoven, Flatiron North Public Plaza, E 23rd St, Manhattan, NYC
Design: Atelier Cho Thompson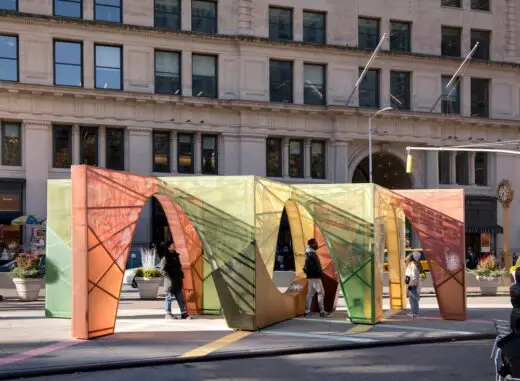 photo : Martin Seck
Interwoven Flatiron North Public Plaza, NY
Atelier Cho Thompson was selected as the winner of the eighth annual Flatiron Public Plaza Holiday Design Competition sponsored by the Van Alen Institute & Flatiron/23rd Street Partnership. The project, entitled Interwoven, will be on view November 22, 2021–January 2, 2022 in the Flatiron North Public Plaza on Broadway, Fifth Avenue, and 23rd Street, creating a highly visible landmark in the heart of Manhattan throughout the holidays.
NY Lake House, Mohonk Preserve
Saint Marks Place Boerum Hill, Brooklyn condominium
Hudson Lookout House, Catskills NY
Winfield Hall, Long Island Mansion
Feb 9, 2022
Wildflower Studios, Queens, New York, USA
Architects: BIG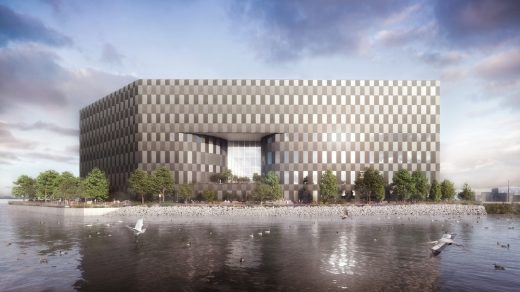 image courtesy of architects practice
Wildflower Studios, Queens by BIG
Wildflower Studios is a 760,000 sqft commercial film studio situated in the Ditmars-Steinway neighborhood of New York City. It is located on an industrial five-acre lot bound by the Steinway Creek and Steinway Pianos manufacturing warehouse.
Feb 8, 2022
168 Plymouth in DUMBO, 168 Plymouth St, Brooklyn, NY 11201
Design: Alloy Design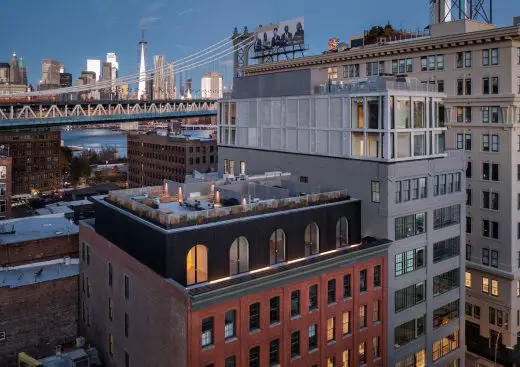 photo : Pavel Bendov
168 Plymouth in DUMBO, Brooklyn
Alloy Development announce that 168 Plymouth, the final two historic factories-to-loft conversions in DUMBO, is over 75-percent sold and has reached completion of construction. Move-ins started at the residential development last Fall, which features 46 homes in four distinct designs, including brick and timber lofts, daylight factory lofts, townhouses, and contemporary penthouses.
Pashby-Amann Residence, Vernon Township NJ – in neighboring New Jersey
Jan 20, 2022
603 West 44th Street, west Manhattan
Design: Sydness Architects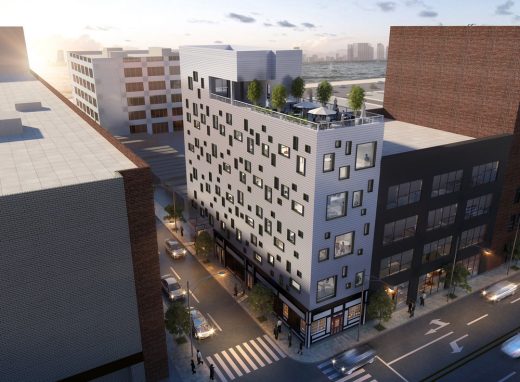 photo : Sydness Architects
603 West 44th Street New York
603 West 44th Street is a six-story office building on Manhattan's west side is the result of adding five new floors onto an existing one-story pub/restaurant. McQuaid's Public House has been a fixture in the neighborhood for decades and the owner wanted to retain the existing pub and add the new office building floors and ground floor lobby with as little interruption to pub operations as possible.
New York City Penthouse Project For Sale
Jan 20, 2022
1156 Avenue of the Americas
Design: Sydness Architects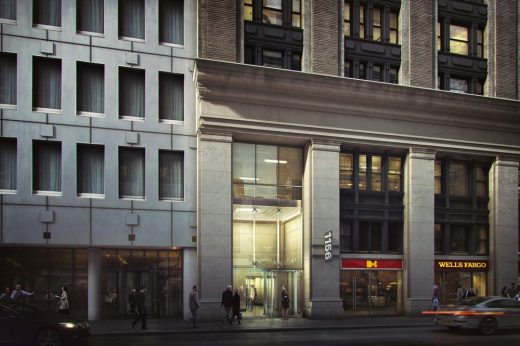 image : Sydness Architects
1156 Avenue of the Americas, New York
A classic 1911 building at the corner of 45th Street and Avenue of the Americas, 1156 will be modernized and upgraded with a new entry facade, new enlarged double-height lobby and new elevators in a repositioning project designed by Sydness Architects.
Jan 25, 2022
Kanuk, Greene Street, Soho, Manhattan
Design: Atelier Barda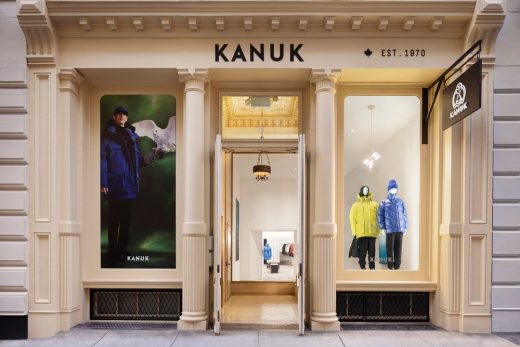 photo : Eric Petschek
Kanuk Shop, SoHo New York City
This Canadian manufacturer of handcrafted winter coats since 1970, opened up its first international boutique in a historical six-storey building on Greene Street in the heart of SoHo, far away from its original headquarters in Montreal. With the addition of this New York store, designed by Montreal architecture studio Atelier Barda, the Quebec-based brand continues to export its legacy to international markets.
Jan 12, 2022
New York fire underlines importance of compartmentation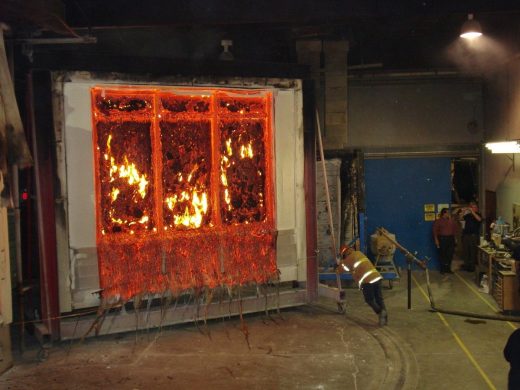 photo courtesy of author
American fire compartmentation and building safety
The recent tragic fire in New York underlines how fire remains a potent threat, despite advances in building design and construction and strict building regulations. Some 20 people, including nine children died during a fire in the Bronx apartment building. Another 32 people were taken to hospital, several of whom remain in a critical condition.
More New York Architecture News on e-architect soon
New York Architecture News 2019 – 2021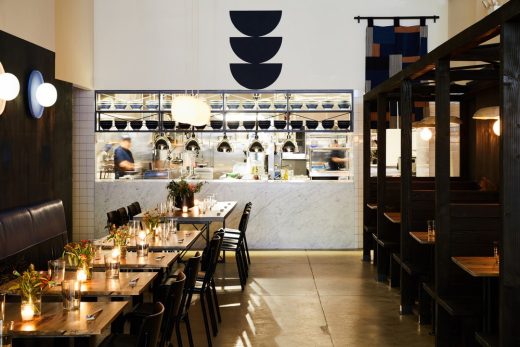 photograph : Nicole Franzenn
New York Building News
**************
Manhattan Architectural Updates Archive
New York Architecture News 2018
New York Architecture News 2017
New York Architecture News 2016 incl 2012-2015
Location: New York City, NY, USA
Key New York Buildings
Center for Architecture in New York Events, NYC
Storefront for Art and Architecture : NY Architectural Exhibition
NYC Information Center : WXY architecture + urban design
Photos for the New York Architecture News – NYC Building Developments page welcome