Manchester building news 2023, Architecture photos, Property design projects by architects, England skyscrapers Info
Manchester Building News
Contemporary Mancunian Architecture Developments: Northwest England Property, UK
post updated 5 November 2023
Manchester Architecture Walking Tours
Manchester Architecture Walking Tours
Manchester Architectural Designs – chronological list
Manchester Architecture News
5 November 2023
Manchester Metropolitan University Library, All Saints, Oxford Road
Design: Hawkins\Brown + Schmidt Hammer Lassen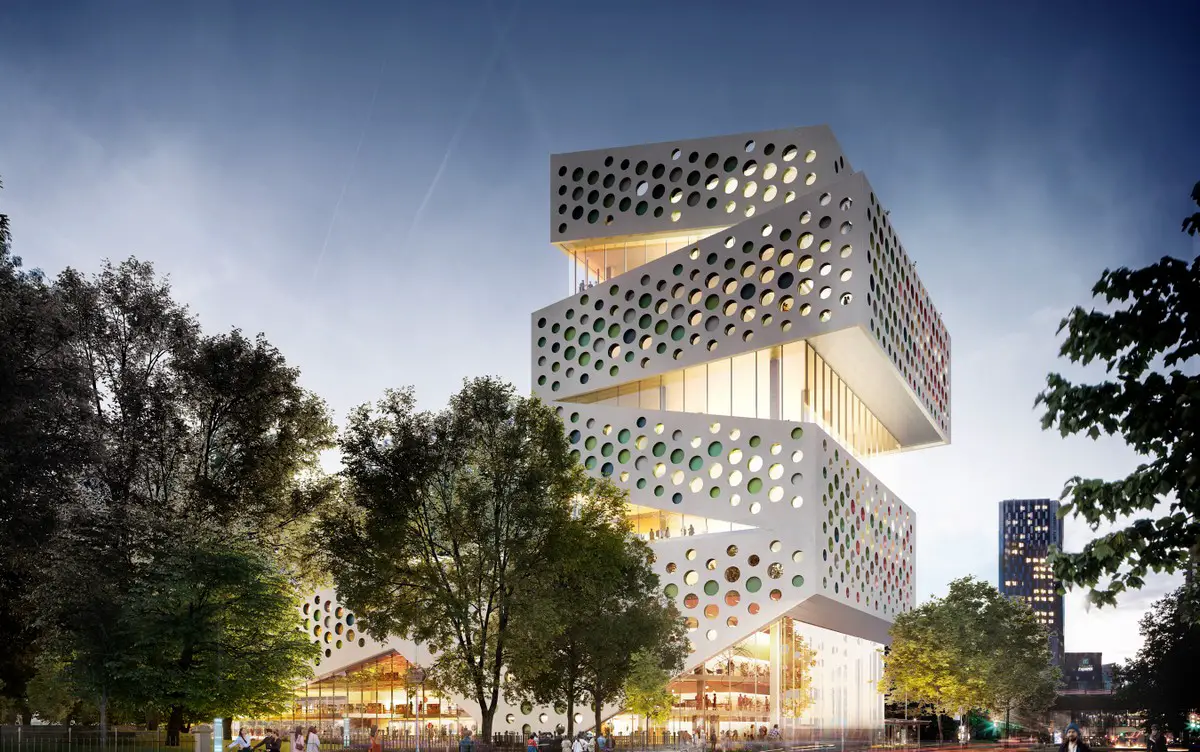 image courtesy of architects practice
Manchester Metropolitan University Library Building Design
Proposals for the landmark development would see the current library at All Saints on Oxford Road replaced with a modern and dynamic learning environment that places students and their learning at its core. The University has submitted a planning application for the visionary library which will help Manchester to retain its status as a choice destination for students.
20 October 2023
One Silk Street a Finalist at Building Beauty Awards
Building Beauty Awards 2023
18 October 2023
Aviva Studios, St. John's Quarter – the new home of Factory International
Design: OMA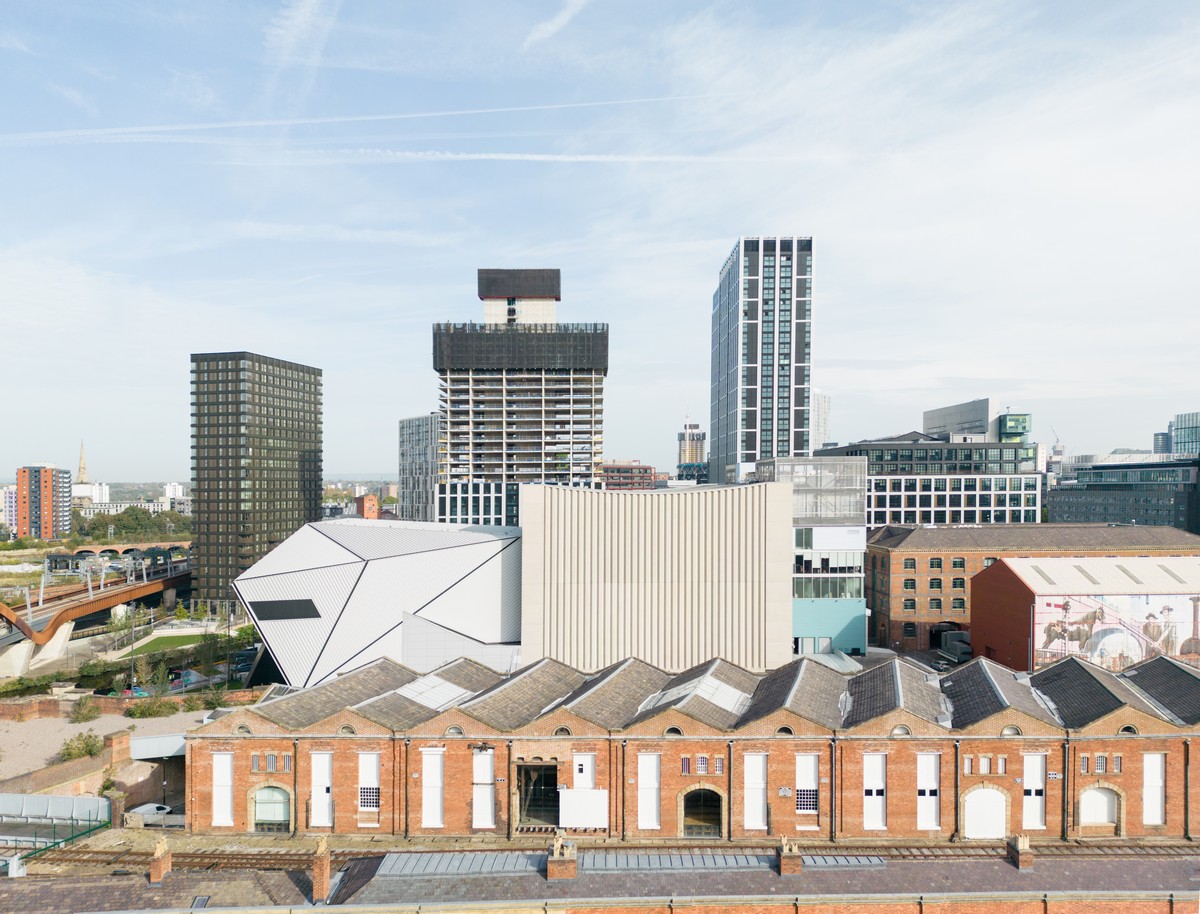 photograph : Marco Cappelletti, Courtesy of OMA and Factory International
Aviva Studios Manchester cultural venue
The OMA-designed venue, the new permanent home of Factory International, is the UK's largest investment in a national cultural project since the opening of Tate Modern in 2000.
14 September 2023
Aviva Studios to Open on 18th October 2023
Design: Office for Metropolitan Architecture (OMA)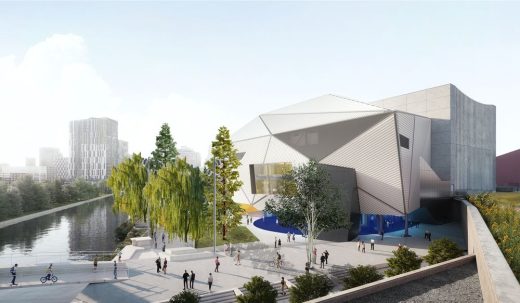 photo : OMA
Aviva Studios Manchester cultural venue opening on 18th October 2023
Manchester's landmark new cultural venue, Aviva Studios – the new permanent home of Factory International – will open on 18 October 2023 with the official opening production Free Your Mind, created especially for Aviva Studios and taking place throughout the building's ultra-flexible spaces.
13 August 2023
One Silk Street, Ancoats
Architects: Mecanoo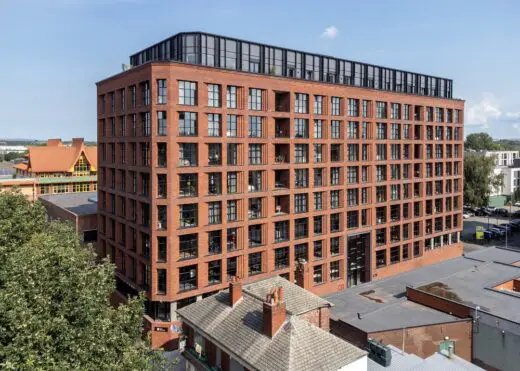 photo : Greg Holmes Photography
One Silk Street
One Silk Street sits in the heart of the Ancoats area in Manchester, a significant historical landmark associated with the Industrial Revolution. It contains the highest concentration of Grade II and II* Listed mill buildings in Manchester.
10 August 2023
Moss Lane East student accommodation
Design: Carson Sall architects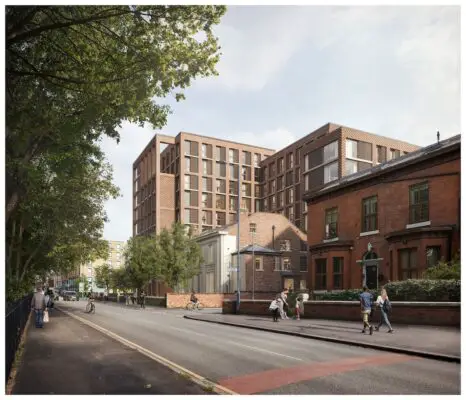 image courtesy of architects practice
Moss Lane East student accommodation
Purpose-built student accommodation (PBSA) specialists Alumno are set to develop a new project on Moss Lane East following a successful planning application submitted by Cityside UK. Manchester City Council recently approved the development, which is designed by architects Carson Sall and comprises a newbuild nine-storey block along with the refurbishment of an adjacent listed Georgian Villa overlooking Whitworth Park.
Manchester Architecture News – latest additions to this page, arranged chronologically:
31 May 2023
DMWR Architects promotes Cristina Pavan to Associate
DMWR Architects has promoted Cristina Pavan to Associate.
Cristina joined DMWR in 2021 as Project Architect with over 20 years' experience in the UK on multimillion pound projects across a wide range of sectors, such as residential, student accommodation, public sector, industrial and commercial.
Barry Harper-Smith, Managing Director of DMWR Architects comments, "Cristina has made a fantastic contribution to our team in Manchester over the past years working on some high-profile projects across a range of sectors. It's wonderful to have this hard work recognised with her promotion to Associate."
Cristina's experience across all RIBA stages has been instrumental to the development and delivery of a number of key commercial projects within DMWR. She is currently working on a heritage refurbishment project, involving the renovation and extension of a former mill building to give it a new lease of life as offices, with self-storage and parking facilities and associated external landscaping areas.
Cristina comments, "I am really excited to be promoted to Associate and look forward to the challenges and opportunities ahead, working with such a fantastic team at DMWR."
DMWR Architects is an international award-winning RIBA Chartered Practice employing over 65 staff with offices in London, Manchester, and Hertfordshire. Established in 1963 the Practice, alongside its parent company CHQ Group, specialises across many sectors including residential, student accommodation, retail, commercial, healthcare, leisure, and international projects.
For further information about DMWR Architects please visit https://www.dmwr.co.uk
31 October 2022
Manchester Museum Renewal, 250 Oxford Road
Design: Purcell ; Studio C102 with Mobile Studio Architects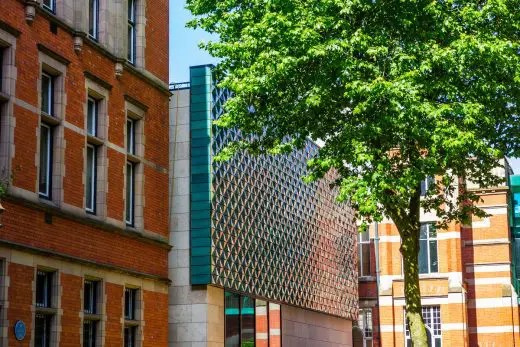 photography : Chris Bull
Manchester Museum Galleries
10 Oct 2022
MediaCity Exemplar Office Building, Salford, Northwest England, UK
Architects: Sheppard Robson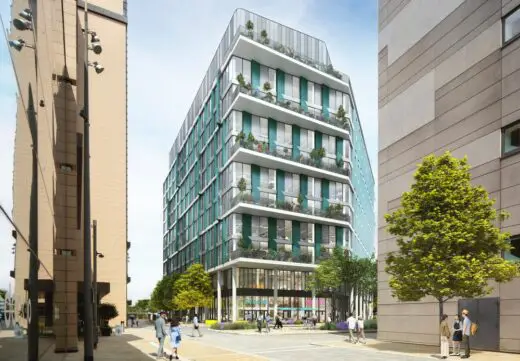 image courtesy of architects practice
MediaCity Exemplar Office Building, Salford
Sheppard Robson gets green light for sustainable exemplar office building at MediaCity, Salford. The new development has been designed as a distinct marker building, highlighting the future sustainable and wellbeing credentials of MediaCity.
31 May 2022
AO Arena, Victoria Station Approach, Hunts Bank
Design: HOK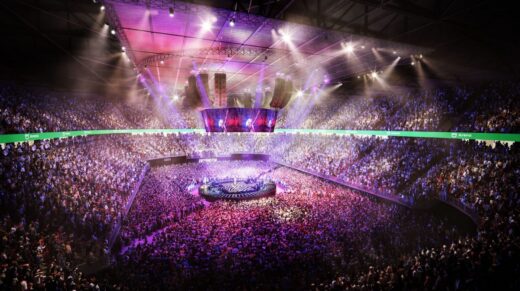 image : HOK
AO Arena Manchester building
ASM Global and HOK have announced an ambitious plan to transform the iconic AO Arena in Manchester. Set to begin this summer, the £50-million renovation will enhance the venue's position as a premier destination for live entertainment through innovative new guest amenities and significant infrastructure improvements.
24 May 2022
The Welcome Building, RHS Garden Bridgewater is 2022 RIBA Northwest Building of the Year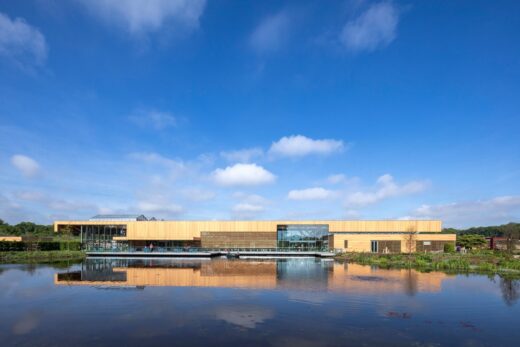 photo © Peter Cook
The Welcome Building, RHS Garden Bridgewater
The Welcome Building, RHS Garden Bridgewater by Hodder + Partners has been announced as the 2022 Royal Institute of British Architects (RIBA) Northwest Building of the Year. The Welcome Building at RHS Garden Bridgewater is a sustainable, engaging, and considered 'public pavilion' which has been designed and delivered to house all amenities for visitors to RHS Garden Bridgewater.
4 Mar 2022
Tower of Light, Lower Mosley Street, M1 5HA
Architects: Tonkin Liu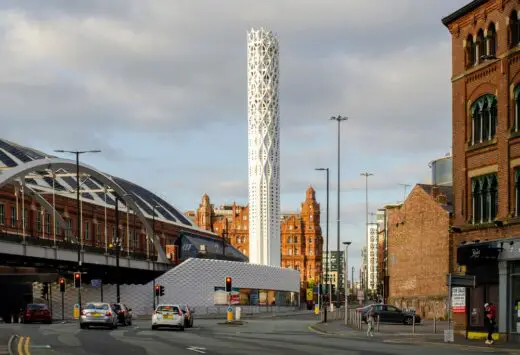 image courtesy of architecture practice
Tower of Light and Wall of Energy, Manchester
The Tower of Light is a 40-metre tall tower supporting and enclosing flues for a new low-carbon energy centre in Manchester's city centre. The biomimetic structure has built on the decade- long innovation and research, Shell Lace Structure, pioneered by Tonkin Liu and developed in collaboration with engineers at Arup.
4 Mar 2022
School Of Digital Arts (SODA) Manchester Metropolitan University
Design: Feilden Clegg Bradley Studios ; façade lighting: Studiotech
School Of Digital Arts (SODA) Manchester Metropolitan University
2 Mar 2022
Contact Manchester theatre and arts venue, Oxford Road
Design: Sheppard Robson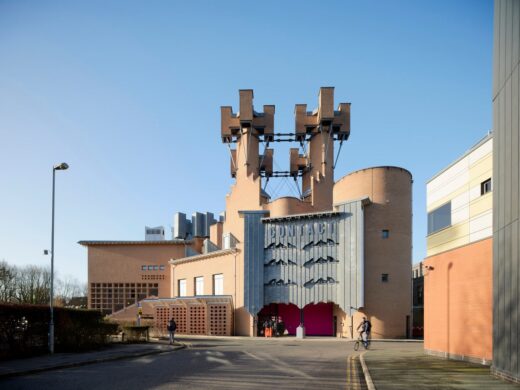 photo : Adrian Lambert
Contact Manchester theatre and arts venue
Contact, the UK's leading theatre and arts venue with young people at its heart, has reopened its doors to the public following a major refurbishment and extension. This has been driven by a project team that includes architects Sheppard Robson, Max Fordham as M&E and acoustic engineers, Civic as structural engineers and Theatre Projects as theatre consultants.
18 Feb 2022
WaterSHED sports hall, Wardle Academy, Rochdale, Lancashire, north west England, UK
Design: BDP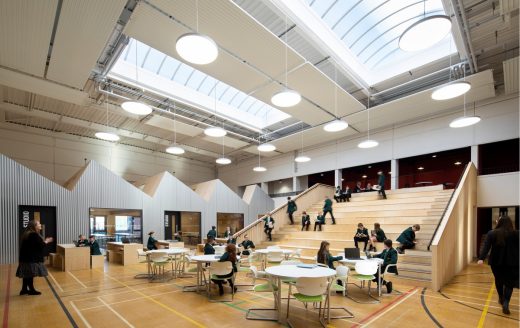 photos courtesy of architects office
WaterSHED sports hall at Wardle Academy, Rochdale
Interdisciplinary design consultancy, BDP has completed the innovative transformation of a school sports hall in Rochdale to create an exciting suite of classrooms, dining and social spaces. The new facility will enable the Watergrove Trust to meet an urgent demand for school places and accommodate more teaching and associate staff jobs for the area.
11 Jan 2022
Rugby Football League Education and training base in Beswick, Beswick
Architect: Holmes Miller, Architects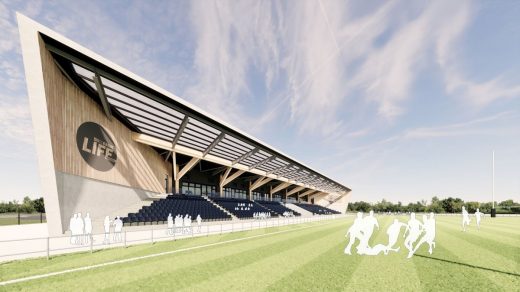 image courtesy of architects practice
Rugby Football League Facility in Manchester
Holmes Miller architects has submitted a planning application on behalf of the Rugby Football League (RFL) to Manchester City Council for its proposed new education and training facility in the Beswick area of the city. Land off Grey Mare Lane is the proposed site for a unique facility to be shared between Rugby League's elite athletes, community players, coaches and match officials, and young people and adults from the local area.
More Manchester Building News on e-architect soon
Manchester Building News 2021
15 Dec 2021
KAMPUS
Architects: Mecanoo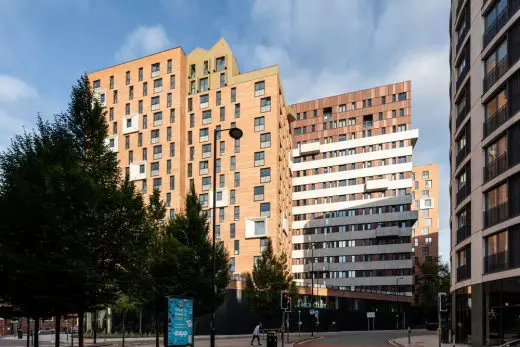 photo : Greg Holmes Photography
KAMPUS, former Manchester Metropolitan University
Utilising the qualities of the existing built structures – Victorian brick canal-side warehouses and the 1964 concrete tower – presents the opportunity to develop at the city block scale, creating new connections and a new destination. A melting pot of buildings and spaces, KAMPUS will celebrate the vibrancy and diversity of the city with respect to the historic quality of Canal Street.
27 November 2021
Excelsior Works, Castlefield Conservation Area
Architect: Tim Groom Architects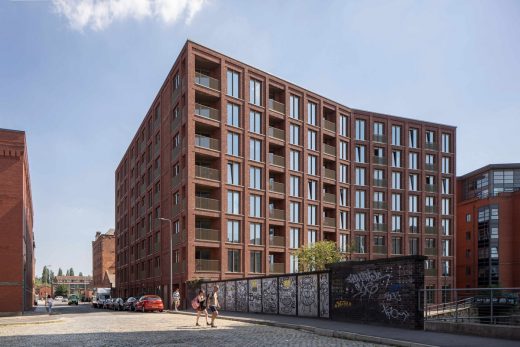 photo courtesy of Brick Awards / architects
Excelsior Works
The client's brief was to design a residential scheme with a mix of one, two and three-bedroom apartments for individual private sale. Occupying the site of a former bookbinding works and sitting on the periphery of the Castlefield Conservation Area, the Client was keen for the scheme to pay tribute to both the site, and City's industrial past.
4 Nov 2021
Manchester School of Architecture Visiting Professors
1 Nov 2021
Preston Mosque Design by AIDIA STUDIO
21 Sep 2021
The Factory
Architect: Office for Metropolitan Architecture (OMA)
Opening date to be confirmed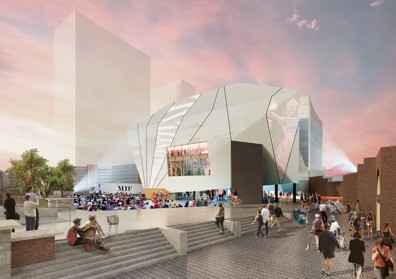 image courtesy of architects practice
The Factory is a world-class cultural space being developed in the heart of Manchester backed by Manchester City Council, HM Government and Arts Council England. It has been designed by one of the world's leading architects, Rem Koolhaas' Office for Metropolitan Architecture (OMA) and will be the architects' first major public building in the UK.
At 13,300 square metres, The Factory will be ultra-flexible, enabling large-scale artistic work of invention and ambition that is not made anywhere else in the world. It will be a permanent home for the world-famous Manchester International Festival (MIF) commissioning and presenting a year-round programme of extraordinary, ground-breaking and interdisciplinary work by leading artists from across the world.
https://mif.co.uk/the-factory/
20 Sep 2021
Ryder Architecture new Manchester office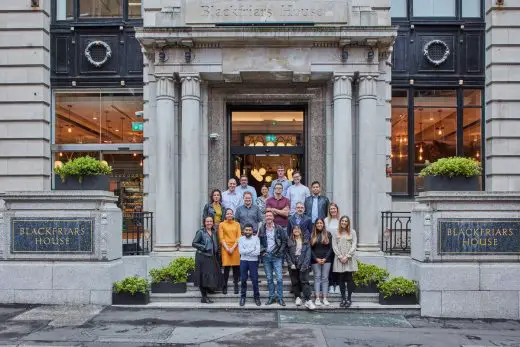 photo courtesy of architects office
Ryder Architecture Manchester design office
Ryder has announced the opening of its new office location situated in Manchester. The opening of the practice's fifth UK location marks an exciting evolution for the practice, particularly for its regional work in the north west. Having established a base in Liverpool in 2007, Ryder has developed strong connections within the local community and region.
10 Aug 2021
Manchester Museum Building Renewal
Design: Studio C102 with Mobile Studio Architects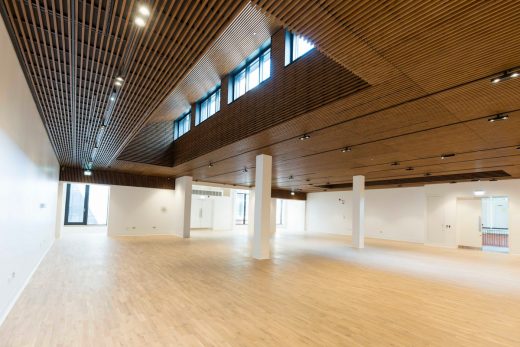 photograph : Chris Bull, 22/7/21, www.chrisbullphotographer.com
Manchester Museum Building Refurbishment
Manchester Museum, part of the University of Manchester, has reached the final phase of its ambitious transformation project and it will temporarily close its doors so construction work can take place.
17 Jun 2021
Space Studios
Design: PRP Architects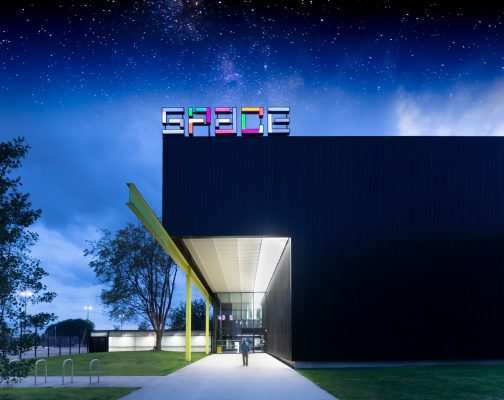 image courtesy of architecture practice
Space Studios
PRP appointed as architect and masterplanner on the third expansion in eight years of Space Studios, Manchester's key filming facility. The latest phase is set to expand the film studio to an overall size of 17 acres, with a total of 120,000 sq. ft of stage space.
19 May 2021
Manchester Engineering Campus Development News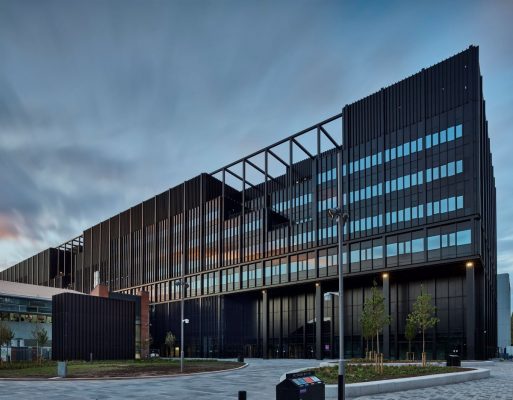 photo : Balfour Beatty
Manchester Engineering Campus Development
Construction of the largest home for engineering in any UK university has been completed. With the conclusion of the base build phase, the Manchester Engineering Campus Development (MECD) was handed over to the University of Manchester on Friday, 14 May 2021.
11 May 2021
Grafton Street Helipad Bridge
Design: Sheppard Robson Architects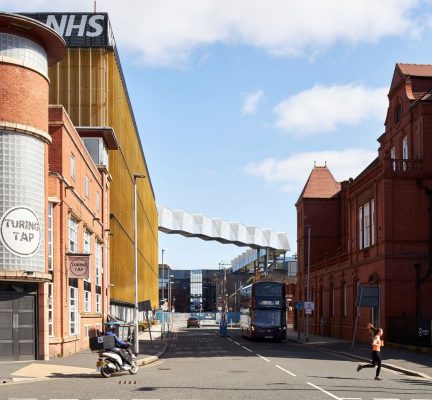 photo : Adrian Lambert
Manchester hospital corridor in sky bridge
Suspended 18m above street-level lies the new 130m-long link bridge that will boost accident and emergency treatment by enabling critically ill or injured patients to be transported by helicopter directly to the city-centre hospitals from around the region. This includes transport to the Emergency Departments at Manchester Royal Infirmary (MRI) and Royal Manchester Children's Hospital (RMCH) which are next to the link bridge.
25 Feb 2021
New multi-million pound Greater Manchester building marks two decades and 85 schools for leading architects
Leading Northeast practice Space Architects is celebrating 20 years of designing schools, with the submission of plans for their 85th building, a multi-million pound school in Hyde, Greater Manchester.
Plans for the new Belle Vue Academy in Hyde, Manchester, designed by leading Northeast practice Space Architects: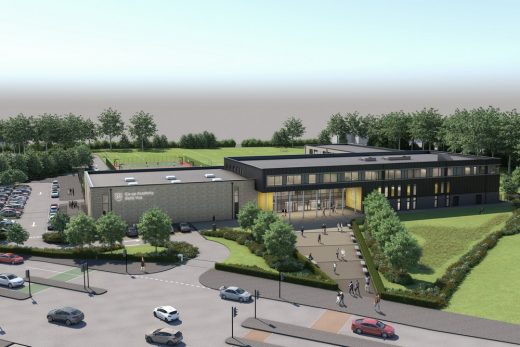 image courtesy of architects practice
The firm's first secondary education project in the public sector was Blyth Community College, which opened in Northumberland in 2002. Since then, they have delivered eight schools for Gateshead Council, ten for Dumfries and Galloway Council in Scotland and five schools on the Isle of Wight, as well as facilities in Sunderland, Knowsley and Hull, amongst others.
Planning permission was submitted for the new multi-million pound Belle Vue Academy – a secondary school accommodating 1,200 students and up to 70 staff and sponsored by Co-op – in January. Work is expected to commence on site this summer providing 8,610sqm of space over three floors.
The school provides over 57 teaching and community spaces including an auditorium, dining areas and sports hall, in line with the Department for Education's baseline designs.
The 85 schools across the UK designed by Space Architects include primaries, secondaries, special and free school schemes, totaling £800 million in design and build over the past two decades. Prior to their work in the public sector, the practice spent several decades designing private schools, before the then government's PFI scheme saw significant investment in new state schools.
Space Architects worked with Sir Robert McAlpine on an ambitious timeline that will complete the project at pace. From the first client engagement meeting, through to planning submission took just two months, allowing the project to start on site in summer 2021 should the application be successful.
Paul Broadfoot, a Director at Space Architects, is leading the project. He said; "From the first client meeting in early November to full planning being submitted in January, was a remarkable achievement. It is a testament to the efforts of Sir Robert McAlpine and the design team, Manchester City Council and school sponsor Co-op. The collective drive of all stakeholders was evident in every meeting which pushed the envelope on creating an excellent educational facility that is not only a stunning design but also suits the specific teaching pedagogy of Co-op Academies.
"This building marks 20 years of school design for the practice. A lot has changed over the years in terms of the procurement, design and build of education schemes, but one thing that remains constant is our commitment to delivering buildings that improve people's lives and make a difference to where they live, work, learn and play.
"Our work at a national level underlines the fact that from here in the region, we continue to make a positive contribution, both economically through job creation and retention, as well as flying the flag for Northeast creativity. With the current government pledging to 'build, build, build' over the coming years there is plenty of opportunity to continue to deliver exceptional buildings that make a real difference to local communities."
Belle Vue Academy will be situated on the site of the former Showcase Cinema on Hyde Road in Manchester. For more than 140 years, the site was part of the well-known Belle Vue Zoological Gardens, from which the new school takes its name. A memorial stone located at the entrance to the site will be retained.
8 Jan 2021
Shelia Bird Studio Manchester Refurbishment Projects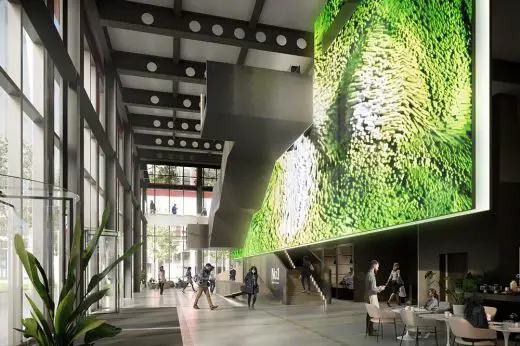 image courtesy of architects practice
Shelia Bird Studio Manchester Refurbishment Projects
Independent design practice, Sheila Bird Studio, launches into 2021 with a new mantra, having completed four iconic Manchester refurbishment projects. The architectural company insists that offices and workspaces must have 'a pulse' in a post pandemic world.
More contemporary Manchester Building News online here at e-architect soon
Northwest England Property Developments News
Archive of our news pages for this city:
Manchester Building News 2020 – 2019 & 2020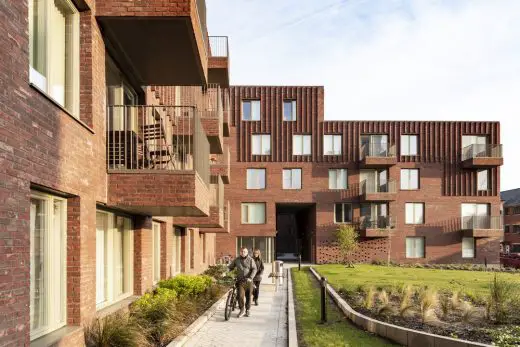 photo : Greg Holmes
Manchester Architectural News in 2017 & 2018
Manchester Architecture News – contemporary property updates up to an including 2016
Manchester Property Development News 2009 – in full
Manchester Development News 2008 – in full
More current Manchester Building News online here at e-architect soon
Location: Manchester, Northwest England, UK
Northwest England Architectural Developments
Contemporary Mancunian Building Developments
Manchester Civil Justice Centre
Manchester Architecture Photos
Manchester Town Hall Redevelopment
Manchester Architectural Offices
Manchester Buildings Photographs
Comments / photos for this Manchester Building News page welcome