Landscape architecture photos, Park architects, Spatial designs news, Urban garden pictures
Landscape Architecture : Public Realm Design
Major Public Realm + Garden Projects from around the World
post updated 18 August 2023
e-architect choose the best Landscape Architecture. We feature completed architectural landscapes, new garden designs, architectural exhibitions and public realm competitions across the world. The focus is on contemporary landscape designs but information on key traditional gardens & urban spaces is also welcome.
Landscape Architecture Design
We have 2 pages of Landscape Architecture selections.
Landscape Architecture : news + key projects (this page)
Landscape Architecture Design : A-Z
Landscape Architecture Design News
Public Realm Architecture News – latest additions to this page, arranged chronologically:
20 Nov 2015
Madrid Rio Landscape Design
Design: Ginés Garrido of Burgos & Garrido, including Porras & La Casta, Rubio & Álvarez-Sala, and West 8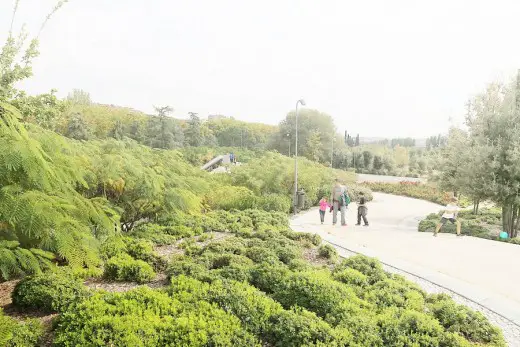 Madrid Rio image from West 8 landscape architects
The Harvard Graduate School of Design (GSD) is pleased to announce that the 12th Veronica Rudge Green Prize in Urban Design has been awarded to Madrid Río, a new linear park in Madrid. The three Madrid architecture studios and the Rotterdam-based landscape architecture firm will share the prize's $50,000 purse.
23 Sep 2013
Collyer Quay Landscape, Singapore, Southeast Asia
Design: ONG&ONG Architects


photo : Derek Swalwell
The development includes the newly completed Fullerton Bay Hotel flanked by two conservation buildings, Clifford Pier and Customs Harbour Branch Building. An array of retail, dining and entertainment establishments are housed along this stretch, which is nicely complemented by the vast outdoor performance spaces that were incorporated into the landscape.
19 Aug 2013
A Path in the Forest, Kadriorg, Tallinn, Estonia, Eastern Europe
Design: Tetsuo Kondo Architects


photo : Tetsuo Kondo Architects
The architects say this about the project:
"In the elegant woods of Kadriorg, we added a path.
A path which relies on the forest as it flutters through the woods with over 300 years of age.
I feel that the appearance of the woods slightly changes when you walk along this path. We no longer are looking up at the woods from the ground but we get closer to the leaves and sliver through the branches."
17 Jun 2013
Spring Street Park, Los Angeles, California, USA
Design: Lehrer Architects


photo : Lehrer Architects
Spring Street Park has opened in Downtown Los Angeles, the 16th Park in the 50 Parks Initiative. The Mayor also announced the City of Los Angeles has purchased a lot from the State of California on the corner of 1st St and Broadway to create a new public space adjacent to Grand Park and across the street from City Hall.
11 Jun 2013
Royal Botanic Garden Sydney Masterplan, NSW, Australia
Design: Grant Associates


photo : Royal botanic gardens and domain trust © Simone Cottrell
Working alongside Cox Richardson Architects and Planners, Grant Associates will be responsible for developing the landscape strategy and public realm elements of the new masterplan. With a combined area of 64 hectares, on a spectacular location bordering the iconic Sydney Harbour waterfront, the Royal Botanic Garden, Sydney and public Domain is the largest single site in the Sydney Central Business District.
30 May 2013
Florentine Planes Landscape Design – ARTLANDS, Italy
Aaron Betsky, director at the Cincinnati Art Museum, will lecture this Friday May 31 at 9:15 pm at the Centro Pecci in Prato, Italy.


photograph : Peppe Maisto
Aaron Betsky's presentation marks the conclusion of ARTLANDS Tour #2, the program of conferences and walks in the Florentine Plane which Image (www.image-web.org) started last year to provide knowledge and insights into the new landscape proposals suggested by the works carried out by biologist Carlo Scoccianti and aimed at defining new natural environments through the reclamation and alteration of the territory.
17 Apr 2013
Pormetxeta Square – Urban Realm Project, Barakaldo, Bilbao, north east Spain
Design: Xpiral Architecture + MTM Architects


photo : David Frutos
Pormetxeta Square Design
The Pormetxeta Square, was the result of the "Europan VI" competition of 2001. The project was selected to take part in the Spanish Architecture Exhibition "On Site" that was organized at MoMA in New York in 2006; afterwards the exhibited model was acquired by the museum.
11 Apr 2013
Maaskant Prize for Young Architects 2013
Organisers: Rotterdam-Maaskant


images from architects
Maaskant Prize for Young Architects 2013
The Rotterdam LOLA landscape architects is awarded with the Rotterdam-Maaskant Prize for young architects 2013. The prize goes to LOLA landscape architects because with their designs they shape in their own way a sublime experience in the city and landscape. They combine the knowledge of large-scale ecosystems with their own conception of space.
26 Mar 2013
Eduard Wallnoefer Platz, Innsbruck, Austria
Design: LAAC Architects / Stiefel Kramer Architecture with artist Christopher Grüner


photo : Guenter Richard Wett
Innsbruck Public Realm
The surface of the square is realised in modulated slabs (max. 100m2) of elaborated in-situ concrete. Crucial is the appearance of a single material topography, completed by devices like railings, staircases, furniture and almost invisibly integrated infrastructural elements. Tree-hutches, seating accommodation and fountains are constitutive parts of the concrete topography. The appearing surface water drains away within the property.
Urban Architectural Design News in 2012
19 Dec 2012
Boekenberg Park, Deurne, Belgium
OMGEVING


photo from architect
Boekenberg Park
The architects and landscape designers approached this building within the conceptual framework of an 18th century English Garden. The concept was to bring the visitor to the romantic natural setting and to confront him with emotionally charged dramatic 'events'.
15 Oct 2012
Seattle Olympic Sculpture Park, Washington, USA
Design: Weiss/Manfredi


photograph © Iwan Baan
Seattle Olympic Sculpture Park
The Olympic Sculpture Park has transformed a nine-acre industrial site into open and vibrant green space for art. This new waterfront park gives Seattle residents and visitors the opportunity to experience a variety of sculpture in an outdoor setting, while enjoying the incredible views and beauty of the Olympic Mountains and Puget Sound.
26 Sep 2012
Queens Plaza Improvement Project, Long Island City, New York, USA
Marpillero Pollak Architects + others


photo : Marpillero Pollak Architects
Queens Plaza Landscape Architecture
The completion of the $45 million Queens Plaza Improvement Project in Long Island City has transformed the primary entry point into the New York City borough of Queens into a sustainable, urban designed destination for pedestrians and cyclists.
15 Aug 2012
Fort Werk aan 't Spoel, Culemborg
Design: Rietveld Landscape | Atelier de Lyon


photo : Rob 't Hart
Fort Werk aan 't Spoel
Fort "Werk aan 't Spoel" is a national monument dating from 1794. Part of the New Dutch Waterline – a military defense line making use of intentional flooding – it served to protect one of the inundation locks.
15 Jun 2012
Parc del Centre del Poblenou, Barcelona, Spain
Design: Atelier Jean Nouvel


photo © Milos Stipcic
Parc del Centre del Poblenou
Recent Landscape Architecture Designs
5 May 2012
Union Square, Washington DC, USA
Davis Brody Bond / Gustafson Guthrie Nichol


image Courtesy of GGN, © Methanoia
Union Square Washington DC
Seattle-based landscape architects Gustafson Guthrie Nichol and New York-based architects Davis Brody Bond are selected as winners of the National Mall Design Competition for Union Square. The design competition, organized by the Trust for the National Mall, was a three-stage process through which a jury of eight esteemed professionals selected a design team for each of the three re-design sites of the National Mall.
2 May 2012
Nirlon Knowledge Park, Mumbai, India
BDP Khandekar – award news


photo from architect
Nirlon Knowledge Park
This Indian Urban Landscape design has won the Asia Pacific 2012 Award in the commercial : renovation/ redevelopment category at the International Property Awards. The park is a former factory complex that has been transformed into a highly sustainable and high-density park-like campus where up to 20,000 people will work. The park was designed by BDP Khandekar which was responsible for the vision, masterplanning and landscaping.
18 Apr 2012
Plaza in Onda, Alicante, southern Spain
Raichdelrio with RdL Arquitectos


image : SBDA
Plaza in Onda
Spanish Architecture Competition : the Plaza del Raval de Sant Josep.
This public realm project solves an urban void in the middle of a historical village, part of a sequence of 3 urban voids, which is used once a year as a folk party including bulls.
4 Feb 2012
FRAC centre backyard garden competition, Orléans, France
Bassinet Turquin Paysage – 2nd prize design


image from landscape architects
FRAC Centre Garden
The project is called Mineral Botanical, the garden is the subject of material transmutation, where mineral surface meets botanical surface.
14 Nov 2011
LUX – Stahlhof Belval Ouest, Luxembourg
AllesWirdGut Architektur


photograph : Roger Wagner
Luxembourg Landscape Design
22 Sep 2011
Sensational Garden, Frosinone, central Italy
Nabito Architects and Partners


image from architect
Sensational Garden Italy
Recent Landscape Designs from around the World
Belval Square Mile Competition, Luxembourg
Design: KCAP Architects&Planners / Topotek 1


picture from architect
Belval Landscape Competition
The City Dune, Copenhagen, Denmark
SLA


photograph © OREV Vandingssystemer
Copenhagen Landscape Architecture
Lincoln Park, Miami Beach, Florida, USA
West 8


render from architect
Lincoln Park Miami Beach
UW School of Medicine, Seattle, USA
2011-


picture © Gustafson Guthrie Nichol + Crystal CG
UW School of Medicine
Gustafson Guthrie Nichol announce their role as landscape architects for the third phase of UW Medicine's research hub in Seattle's South Lake Union neighborhood.
More Landscape Architecture Projects online soon
Parks + Squares
Landscape Architects : Key Designers
Barcelona Parks + Squares, Spain


photo © AW
Barcelona Parks and Squares
Scottish Landscape Architecture
Hidden Gardens Glasgow : City Design Co-operative Ltd


image from City Design Co-operative
Scottish Landscape Architecture
Comments / photos for the Contemporary Landscape Architecture page welcome