Italian property photos, Italy houses, Modern villas, Homes images, IT residences, New residential designs
Italian Houses : Villas in Italy
New Residences in Southern Europe – Contemporary Residential Properties
post updated 14 September 2023
Italian Properties
We've selected what we feel are the key examples of Italian Houses. We aim to include properties that are either of top quality or interesting, or ideally both.
Residences in Italy, chronological:
19 Apr 2023
Villa Selvadolce, Bordighera, Liguria, north west Italy
Design: Giordano Hadamik Architects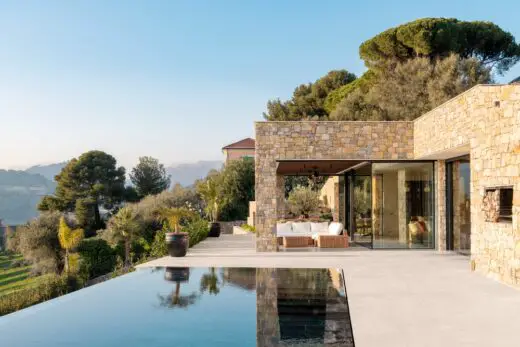 photo : Anna Positano
Villa Selvadolce, Liguria
This contemporary Italian house is composed of a single floor inserted into the landscape with 3 bedrooms, large open-plan living areas and utility spaces, outside patio, sun terrace, Pool and Whirlpool area. A series of green courtyard gardens define the internal floor plan and integrate natural sunlight, ventilation and exotic vegetation into the living spaces.
14 Nov 2022
Villa Emerald, Lake Garda, Brescia, Lombardy, Northwest Italy
Design: The Building Group and the BP + P studio


photo © Piero Ottaviano
Villa Emerald, Lake Garda Residence
Nestled in the morainic hills overlooking Lake Garda stands Villa Emerald, a true gem of architecture and design whose name evokes the colour of the waters in which it is reflected, in harmony with the surrounding landscape and nature. The Emerald private residence is characterised by the careful choice of colours and premium materials for the finishes, and by the close attention paid to the furnishings, embellished with artistic elements in a majestic combination of art and architecture that makes the structure extraordinary and unique.
29 May 2022
SS House, Ostuni, Brindisi, Apulia, Southern Italy
Design: REISARCHITETTURA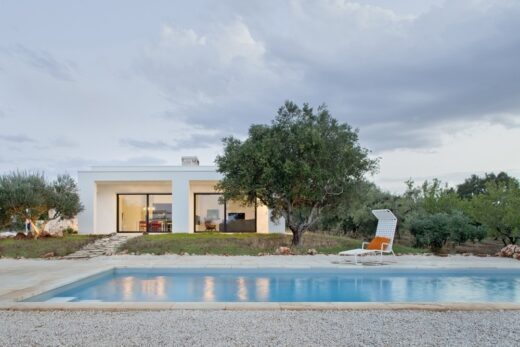 photo : Alessandra Bello
SS House, Ostuni, Italy Property
The SS House is an Italian private vacation home inserted into a young olive grove in the Ostuni countryside, in the Valle d'Itria area, Puglia. The volume, white and pure, stands out in the surrounding countryside through its simple forms of traditional Apulian architecture, innovated with infusions of contemporary architectural details.
4 Feb 2022
Renaissance Villa Guarienti-Brenzone, Punta San Vigilio, Lake Garda, Brescia, Lombardy, Northwest Italy
Design: CLAB architettura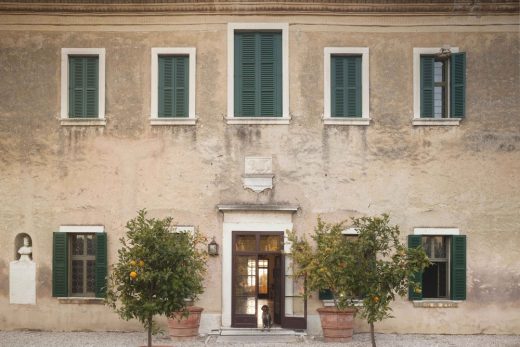 photo : Marco Tote
Renaissance Villa Guarienti-Brenzone Punta San Vigilio
The project is located inside the Renaissance Villa Guarienti-Brenzone, built in the sixteenth century by the will of the jurist and humanist Agostino Brenzoni. The building is placed in Punta di San Vigilio's promontory, along the extreme edge of Baldo's mountain, which is the most protruding point of the eastern coast of Garda Lake.
23 February 2022
The Tower of Villa Mogna, Pecetto, Turin, Northwest Italy
Design: BP+P Boffa Petrone & Partners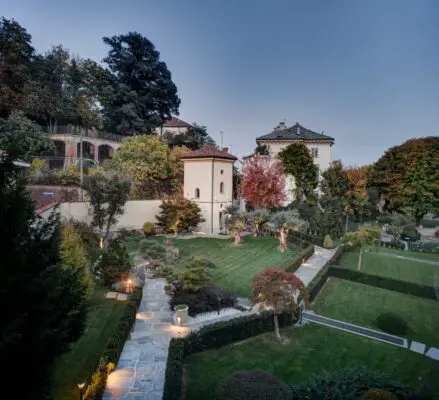 photo © Piero Ottaviano
The Tower of Villa Mogna, Pecetto, Turin
In Pecetto, the "village of cherries" located on the hill south-east of Turin, stands the historic Villa Mogna, so called because it was the ancient residence of Mario Mogna, the mayor of the municipality in the early twentieth century. He was responsible for the introduction of cherry tree cultivation, essential for the local economy.
More Italian Houses on e-architect soon
Italian Houses 2021
19 October 2021
The Greenary: Building a House around a Tree, Parma, North-central Italy
Design: CRA-Carlo Ratti Associati, in collaboration with Italo Rota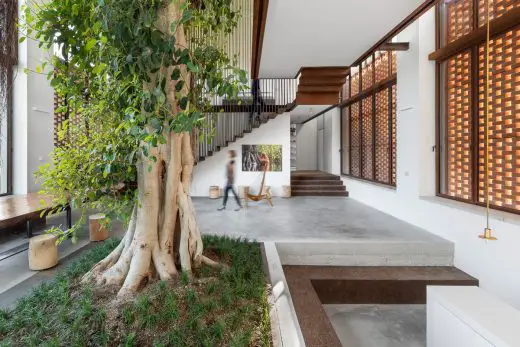 photos by Delfino Sisto Legnani and Alessandro Saletta from DSL Studio
The Greenary, Parma
This unusual Italian residence is built around a ten-metre-tall ficus tree, placed at the center of the living space. The traditional Italian farmhouse was redesigned to showcase new approaches to blur the boundaries between the natural and artificial.
18 Jan 2021
Villa G01, Northern Sardinia
Design: Mask Architects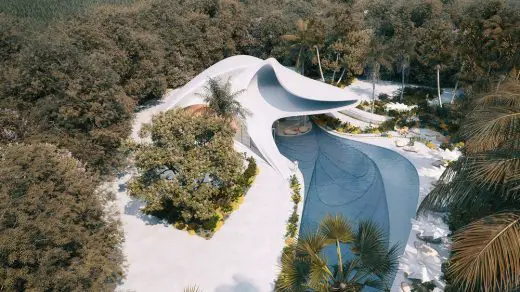 rendering : Genc Design Studio by Derya Genc
Villa G01, Sardinia Property
Öznur Pınar ÇER and Danilo PETTA, the founders of Mask Architects designed this luxury villa with panoramic sea view, located in one of the most exclusive areas of Northern Sardinia. The villa was designed to ensure the sustainability of the local architectural and material texture of Sardinia, using today's technology with robotic construction technique.
More contemporary Italian Houses online here at e-architect soon
Italian Houses 2020
22 Nov 2020
Residenza Q, Abruzzo, Southern Italy
Design: Architect Valeria Aretusi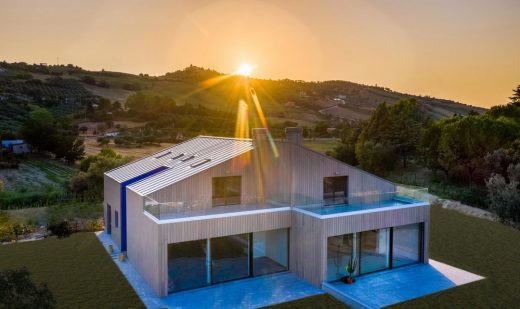 photograph : Erwin Benfatto
Residenza Q, Abruzzo
In Abruzzo, halfway between sea and olive trees, a ruin had been transformed by architect Valeria Aretusi into a villa with a clean and Nordic design, flooded with light and blue, fragrant of wood and salt. This Italian villa surrounded by olive trees on the hills of Abruzzo, results from the demolition and enlargement of a ruin located on top of a hill overlooking the sea, on the slopes of the village of Montepagano.
4 Aug 2020
House H, Dobbiaco, South Tyrol, Northern Italy
Design: Plasma studio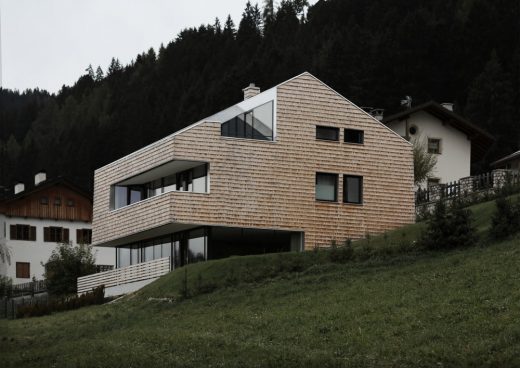 photos : Plasma studio, Holger Kehne
House H in Dobbiaco, South Tyrol
This residential building stands in the borough of Santa Maria, place of pilgrimage near Dobbiaco. At the edge of the village, the site consists of a slope towards South, facing the sun and the Dolomites.
27 July 2020
Schäfer House, San Candido, the Dolomites, Northeast Italy
Design: Plasma Studio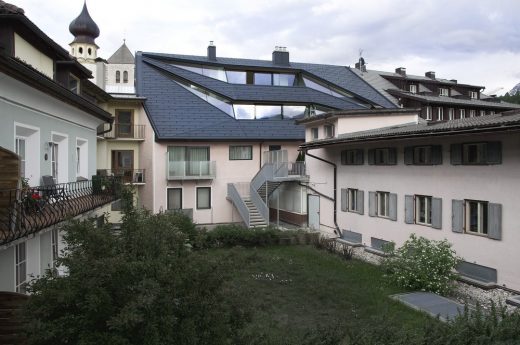 photograph : Michael Pezzei
House in San Candido
The building is located in the historical center of San Candido, a small touristic village in the Dolomites. In the first three storeys (including one underground floor) it houses a department store while the upper three storeys have been transformed from a partly underused attic space into four large, independent apartments for the owner and his 3 daughters.
8 Jun 2020
Urban Cabin, Albino, Bergamo, Northwest Italy
Architect: Francesca Perani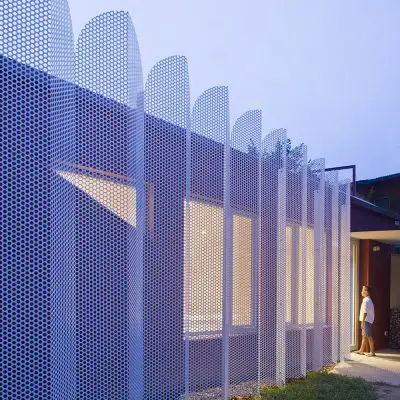 photo © Francesca Perani
Urban Cabin in Albino, Bergamo
Located at the centre of the town of Albino in Valle Seriana, the micro-apartment of just 25 sqm has been designed for a local couple, of Italian and Persian origin. This contemporary Italian property consists of the complete restoration of an open porch, once used as a storage area, contiguous to a private garden.
28 May 2020
Lake House Völs, Fiè allo Sciliar, South Tyrol
Design: noa*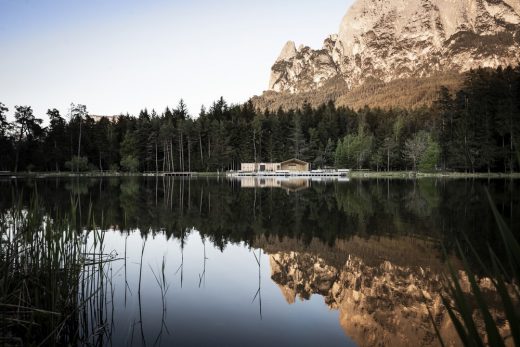 photo : Alex Filz
Lake House Völs in Fiè allo Sciliar, South Tyrol
It was the famed jump into the deep end: at the idyllic Völser Weiher lake in South Tyrol, noa* merged a modern design concept with well-loved tradition to deliver architecture that works in harmony with nature.
13 May 2020
Messner House, Alpe di Siusi, South Tyrol
Design: noa*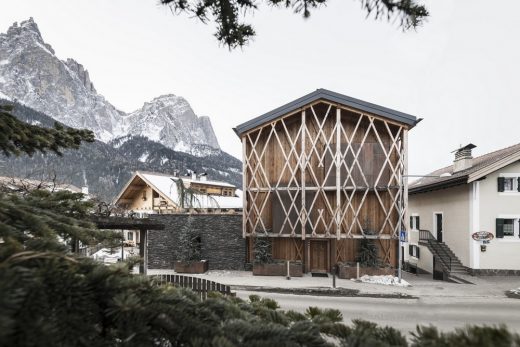 photograph : Alex Filz
Messner House in Alpe di Siusi, South Tyrol
Messner House is sited at the foot of the Sciliar, in the picturesque area of Alpe di Siusi (Bolzano). This Italian residential property project has at its core, the South Tyrolean tradition combined with surprising features internally, resulting from design of visionary and unexpected spaces.
5 Mar 2020
Südtirol Home, Anterselva, South Tyrol, Northern Italy
Design: noa*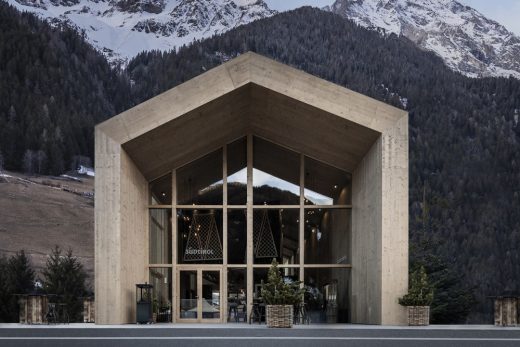 photo : Alex Filz
Südtirol Home
Is it possible to taste, smell and feel a country? Yes, it is. With the finest nuances, noa* brings the Südtirol-Home' guests in Antholz on an exciting olfactory and visual journey of discovery through South Tyrol.
More modern Italian Houses online here soon
Italian Houses 2006 – 2019
20 Jun 2019
Z House, Tarvisio, Udine, Italia, Northeast Italy
Design: GEA Gri e Zucchi Architettura srl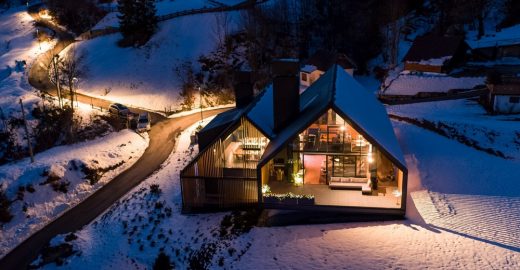 photo : Gianni Antoniali
Z House in Tarvisio, Udine
The site on which the house is placed is a complex place, with a steep slope, access uphill, a few buildings around and full of panoramic "frameworks".
17 Jun 2019
Apartment Z in Bozen, South Tyrol
29 Apr 2019
Effebi House, Arezzo province, Tuscany
Design: Architettura Matassoni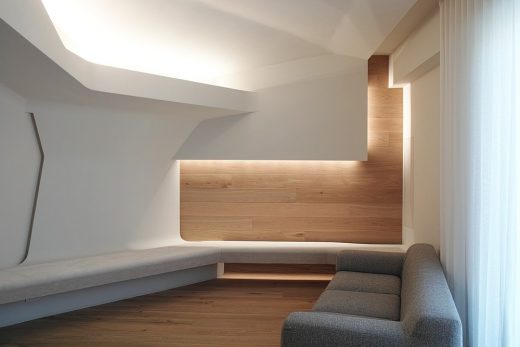 photo : Architettura Matassoni
House in Arezzo province, Tuscany
This Italian property is the result of the refurbishment of a seventies flat located near Arezzo in Tuscany, Italy, made for a four people young family.
28 Dec 2019
Yellow and Terrazzo House, Bulciago, Northern Italy
Main Architects: Francesca Perani Enterprise + Bloomscape architecture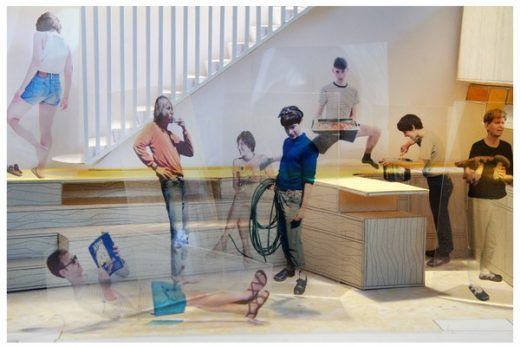 photography : Francesca Perani
House in Bulciago, Northern Italy
A subtle yet contemporary architectural restoration reinterpreting the character of local 1970s residential buildings.
More contemporary Italian Houses online soon
Italian Houses 2018
18 Dec 2018
South Tyrol House, Kaltern an der Weinstraße (Caldaro) South Tyrol, Northern Italy
Design: feld72, architects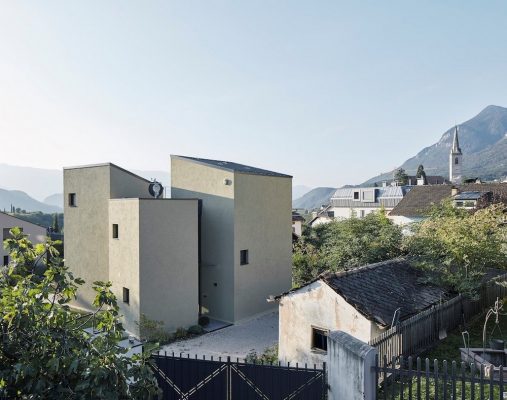 photo : David Schreyer
South Tyrol Family Home
Four tower-like volumes, which to the outside appear relatively homogenous whilst distinctly displaying their varying functional characters to the inside, are arranged around a central piazza. For instance, the so-called water tower houses the wet rooms, another tower accommodates the staircase and, in two further towers, a number of bedrooms as well as the living spaces are located.
30 Aug 2018
Black Eagle Residential House, Selva of Val Gardena, The Dolomites, Northern Italy
Design: Perathoner Architects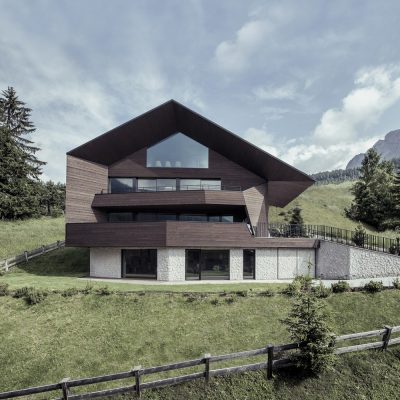 photo : Arik Oberrauch
Black Eagle Residential House
27 Jul 2018
Penthouse Interior, Cesena, Emilia-Romagna region
Architects: tissellistudioarchitetti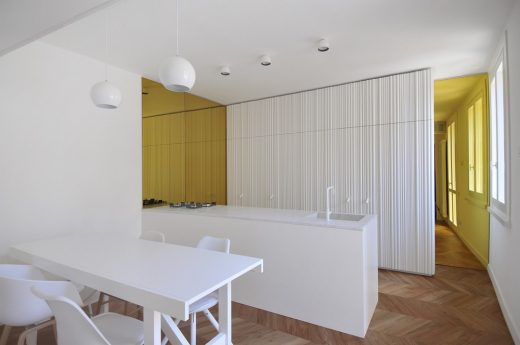 photography : Cinzia Mondello
Penthouse in Cesena
24 Jul 2018
Luxury Seaside Properties in Italy, Liguria / Tuscany, west coast of Italy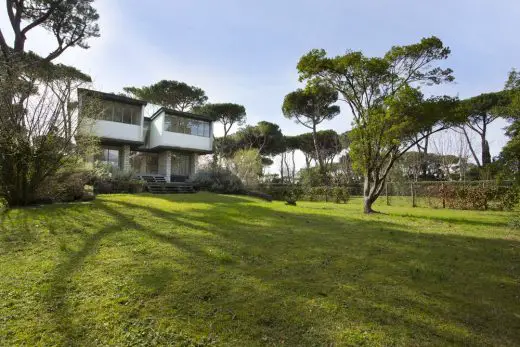 image Courtesy architecture office
Luxury Seaside Villas in Italy
7 Jul 2018
vc1 Residential Complex, Cesena, Emilia-Romagna region
Architects: tissellistudioarchitetti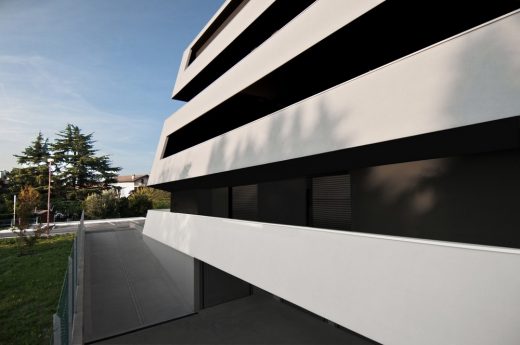 photo : tissellistudioarchitetti
Residential Building in Cesena
5 Jul 2018
SD Residential Complex, Cesena, Emilia-Romagna region
Architects: tissellistudioarchitetti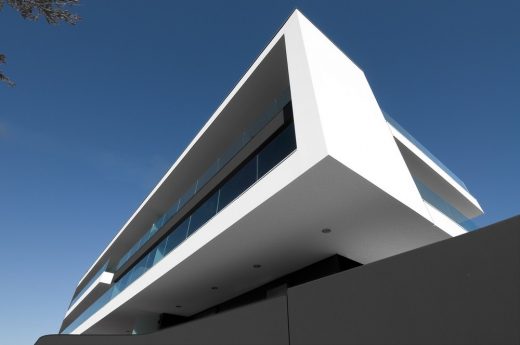 photo : tissellistudioarchitetti
SD Residential Complex Cesena
Italian Houses 2017
30 Aug 2017
Black Eagle Residential House, Selva of Val Gardena, The Dolomites, Northern Italy
Design: Perathoner Architects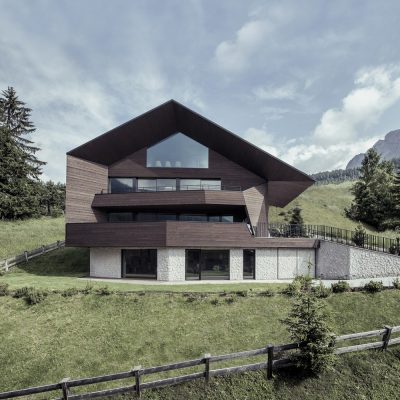 photo : Arik Oberrauch
Black Eagle Residential House in Dolomites
The main goal of the project was to merge the building with the surrounding natural alpine landscape. The steepness of the terrain suggested extending the building over four floors with the first two levels partly below grade.
26 Jul 2017
Penthouse Interior, Cesena, Emilia-Romagna region
Architects: tissellistudioarchitetti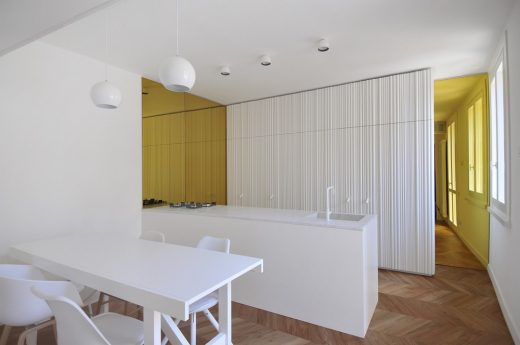 photography : Cinzia Mondello
Penthouse Interior in Cesena
The flat is located in the heart of Cesena's historical centre (Italy), a privileged position which allows the visual contemplation of an outstanding urban and natural landscape.
14 Jul 2017
SUP House, Maranello (Modena), Emilia-Romagna
Architects: tissellistudioarchitetti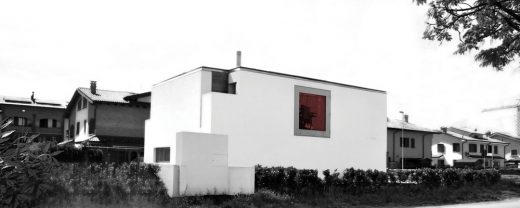 photo : tissellistudioarchitetti
SUP House in Modena
The program includes the design and project management of a building that would permanently accommodate a young couple with three. The aim was to return to their hometown after years of moving around Italy due to the husband's job.
29 Jun 2017
Container Villas Near Todi, Torre Squadrata, Todi, Umbria
Design: LAD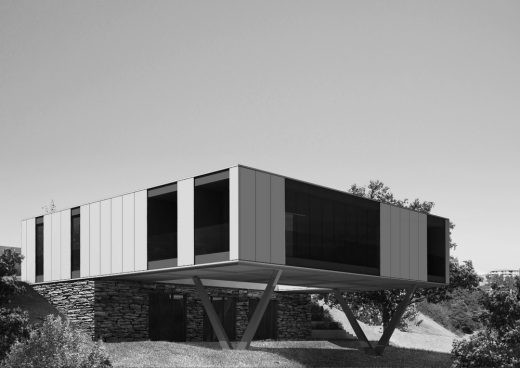 image Courtesy architecture office
Villas CH-O ans CH-S
CH-O and CH-S (Container House type – "O" and type – "S") are two dwellings sited just outside Todi, Perugia (Italy), that are designed from repurposed shipping containers. The project's site is comprised of a steep slope facing a valley with a dramatic panorama of rural central Italy.
20 Jun 2017
Buda House, Cesena, Emilia-Romagna
Architects: tissellistudioarchitetti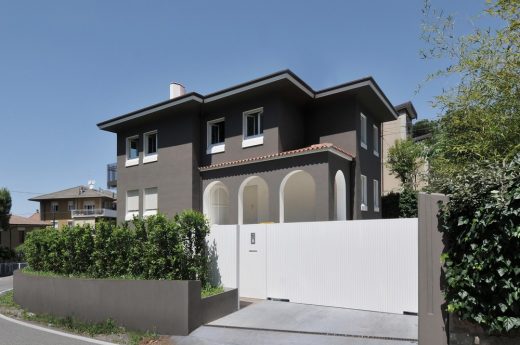 photograph : Filippo Tisselli
Buda House in Cesena
The client inherited a villa from a beloved aunt and wanted to keep alive the associated memories and affections in the renovation designed to inject it with new life and adapt it to the needs of their family.
23 Mar 2017
House A236, Palermo, Sicily, Southern Italy
Architects: studio DiDeA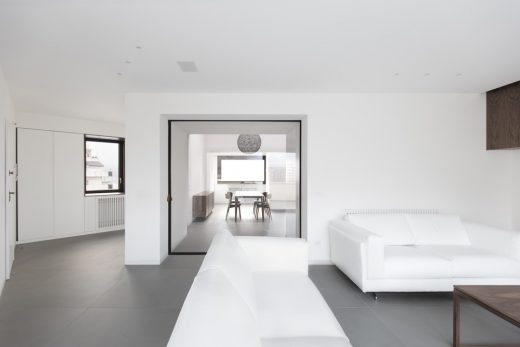 photograph © Studio Didea
New House in Palermo
Studio DiDeA reconfigures a two levels penthouse in Palermo to create a luminous and spacious house, overlooking the city harbor. The 180 smq apartment is an articulate space where sunlight, an essential colour palette ,and space saving furniture define the project.
24 Feb 2017
House in Forte dei Marmi, Lucca, Tuscany, Central-West Italy
Architects: FABBRICANOVE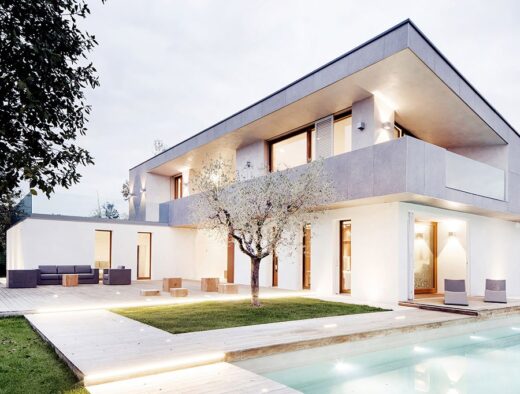 photograph : Filippo Romano
House in Forte dei Marmi
This new home in Forte dei Marmi, realized by architetti Enzo Fontana, Giovanni Bartolozzi, Lorenzo Matteoli, an architectural studio founded in Florence in 2009, is the result of precise attention to the relation between the natural landscape and the built environment.
Italian Houses 2016
14 Dec 2016
A157, Palermo, Sicily
Architects: studio DiDeA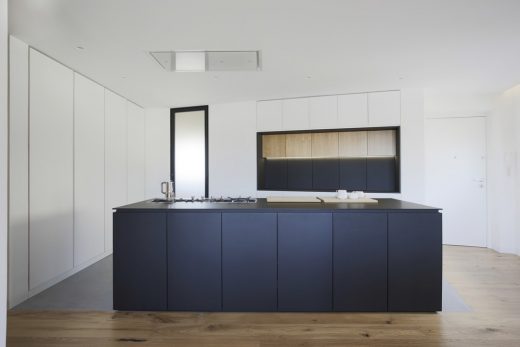 photograph © Studio Didea
Apartment A157 in Palermo
The house is 103 square meters and it employs interior elements that are able to serve several functions. The architects decided to give more space to the day zone, to share with friends and family.
3 Nov 2016
Villa on the Hills, Udine, Northeast Italy
Design: iarchitects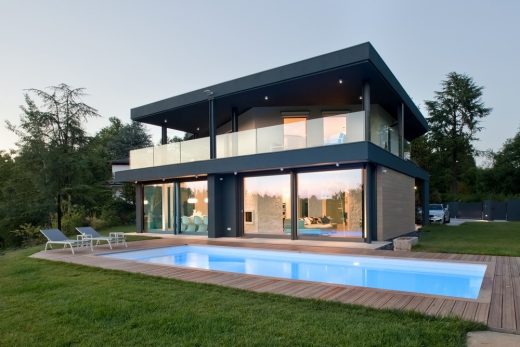 photograph © Alessandra Bello
Villa on the Hills in Udine
This residential project is a renovation of a private home on the hills near Udine. The intervention converted the space of the residency, a seventies building distinguished by a complex geometry in a new two levels house, flood with natural light and open to the surrounding hills.
13 Sep 2016
House at Muehlen In Taufers / Campo Tures, South Tyrol, Northern Italy
Design: Pedevilla Architects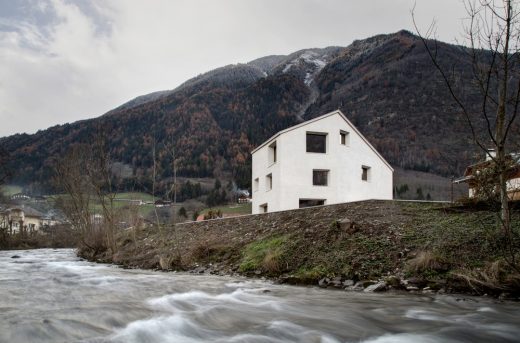 photograph © Pedevilla Architects / Photography by Gustav Willeit
House at Mill Creek Muehlen In Taufers
This North Italian home has low energy Casa Clima B class certification meaning heating energy consumption is less than 50 kw hours / sqm annually. In self-confident manner the white monolith rises from the site. The volumetric principle was emphasised by the exclusive usage of the white exterior rendering.
page updated 25 Sep 2016
Motelparo Villa, Marche di Fermo, eastern Italy
Design: Roy David Studio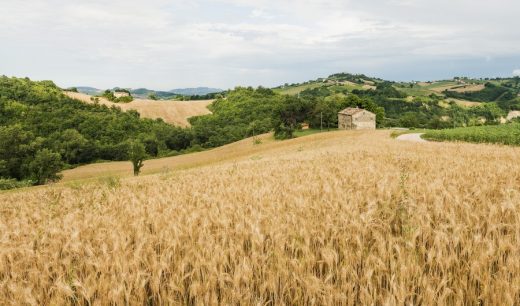 photo : Matteo Canestraro
Motelparo Villa in Marche di Fermo
Located in the romantic landscape of great Tuscany this preserved villa is owned by an Israeli family function as the ideal private vacation resort. The architect Ilana David partner at ROY DAVID STUDIO Tel Aviv-based architecture & interior design practice, was motivated to transform the old stable into the desired vacation house by preserving its original structural style.
Italian Home Designs
Recent Houses in Italy shown on e-architect, 2011-2013, chronological:
7 Nov 2013
House in Montesardo, Lecce, Puglia, Southern Italy
Design: Studio Ricciardi Architetti


photo : Mario Ricciardi
House in Montesardo
Restoration of an Italian house. There is a small barrel-vaulted entrance hall, a laundry, a small toilette, a kitchen and living-dining. The kitchen, completely transformed, is now the "connecting hub" between entrance hall and living.
16 Aug 2013
House in Miglionico, Basilicata, Lucania, South of Italy
Design: OSA Architettura E Paesaggio


photo : Massimo Acito
House in Miglionico
The strict geometries of the plant give rise to warm, inner domestic spaces; the volumes of services (bathrooms, storerooms, kitchen, laundry) define the rooms of the house that are arranged in succession along a linear path. All rooms enjoy a panoramic view over the lake below.
19 May 2013
House in Bozen, North Italy
Design: monovolume architecture+design


photo © M&H Photostudio
House in Northern Italy
The project M2 at Bozen-Moritzing is a Klimahouse A which hosts two accommodations on separate floors. Because of his punctuated facade in the north and the east it seems closed to the access road.
19 May 2013
House in Meran, North Italy
Design: monovolume architecture+design


photo © M&H Photostudio
House in Meran
The project M, a residential building in the centre of Meran, is embedded in the quiet area of Obermais. The concept of the design was it to play with transparent and solid surfaces what fallows fascinating insights and outlooks.
16 Apr 2013
Casa Paeco, Castel Di Lama, Eastern Italy
Design: Studio Emanuele Scaramucci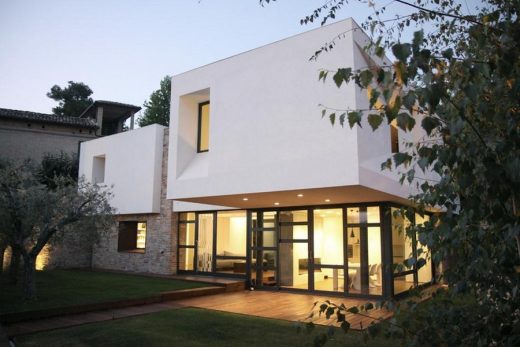 photo : Gabriele Viviani
Casa Castel Di Lama
The building evokes some of the characteristics elements of the Marche architecture, especially through the use of materials such as brick, typical of rural constructions. Two large and full shapes, white, clear, Mediterranean, are resting on an "empty built" (the glass base) placed in the middle of a hortus conclusus (element dear to the Ascoli's tradition).
12 Apr 2013
Ceno House, Brindisi, Southeast Italy
Design: Daniele Corsaro


photo : Dario Miale
House in Brindisi
Casa Ceno is a single-family house (300sq/mts) designed in a strict relationship with the surrounding environment and an almost obsessive research not to alter the landscape. In the present case this is done breaking it into three homes. On the one hand there is a building for sleeping area and on the other there are two: one for the living room/dining area and a dependence.
2 Apr 2012
House in Mathi, Turin, Northern Italy
Design: MARC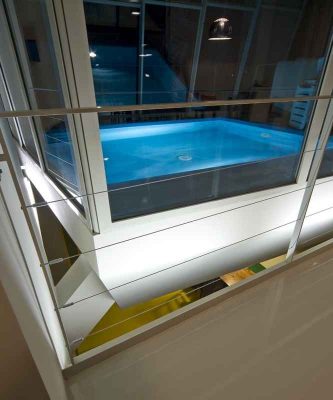 photograph : Beppe Giardino
House in Mathi
The client decides to leave his nice apartment downtown Torino to move his family to his hometown, restoring a big shed, little more than a roof in ruins, adjacent to the little house he restored with his wife in the years after their wedding. It is a long-time dream, for which he is eager to invest most of his resources.
30 Mar 2012
Casa a Morchiuso, Como, Northern Italy


photograph : Filippo Simonetti – Brunate
Casa a Morchiuso
This new Italian property is a private family home for the architect and his wife.
1 Nov 2011
Villa Gardone, Gardone Riviera, Lake Garda, Brescia, Lombardy, Northwest Italy
2011-
Richard Meier & Partners


picture Courtesy Richard Meier and Partners
Villa Gardone
Villa Gardone is part of a villa ensemble in Gardone Riviera, Italy. The project is located approximately 300 meters from Lake Garda. The residence sits on an east facing slope opening south towards the lake, and offering unique views of the water, the city center and the surrounding areas.
Italian Residences
Key Italian Properties, alphabetical:
Casa del Masso, Como, North Italy
Marco Castelletti architetto


photograph : Filippo Simonetti – Brunate
Lake Como house
Villa ad Alzate, Como
Marco Castelletti architetto


photo : Filippo Simonetti – Brunate
Villa ad Alzate
Villa con piscina, Como
Marco Castelletti architetto


photo : Filippo Simonetti – Brunate
Como villa
Villa Menaggio, Como
Studio Alhadeff


photo from architect
Villa Menaggio
More Italian Properties online soon
Location: Italy
Italian Architecture
Italian Architecture Designs – chronological list
10 suggestions for your italian home
Comments / photos for the Italian Houses page welcome