Belfast Buildings, New Northern Irish Architecture, Property News, Built Environment
Belfast Architecture, Northern Ireland
Contemporary Building Developments in Northern Ireland: Locations, Dates, Architects
Post updated 14 June 2023
Belfast Building – Latest Designs
June 14, 2023
Architect focussed on social justice wins international design competition for Mackies site in West Belfast
London-based Matthew Lloyd Architects has won a Belfast urban design competition run by Take Back the City – a coalition of families in housing need and experts in planning, architecture and design, who are campaigning to convert 25-acres of publicly-owned land in west Belfast into a sustainable and inclusive housing development.
Matthew Lloyd of Matthew Lloyd Architects (centre), winner of the £10,000 prize sponsored by the Oak Foundation, with Sean Brady of Participation and the Practice of Rights Project, and Take Back the City campaigner Marissa McMahon, who have been working with local communities to develop proposals for the Mackies site for many years: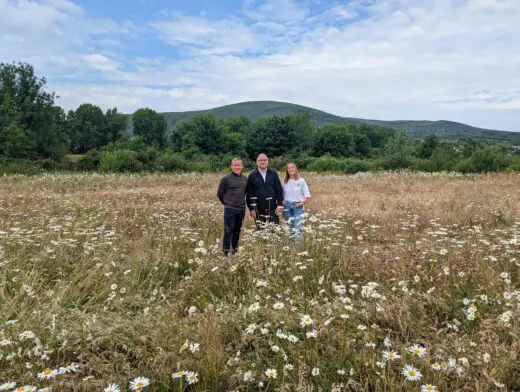 The international urban design competition was launched last May to demonstrate how the former Mackies site, off Springfield Road, could be transformed to tackle the growing housing crisis and escalating poverty in North and West Belfast.
Out of 67 entrants from six continents, 11 prestigious entries were shortlisted from Ireland, Scotland, England, Egypt, India, Ukraine, Canada, USA and Mexico. Lloyd's was selected as the winner because it delivered a design which promotes 'connectivity, links between communities, sustainability and habitability'.
Over the past 25 years Lloyd's practice has worked alongside local people on a range of developments including mixed-tenure housing, churches and community buildings, mainly in east London.
On Monday, a £10,000 prize, sponsored by the Oak Foundation, was awarded to Matthew Lloyd himself at Forthspring Inter Community Group adjacent to Mackies, where campaigners have been working with local communities to develop the proposals for the site for many years.
Matthew Lloyd of Matthew Lloyd Architects, winner of the £10,000 prize sponsored by the Oak Foundation, with Take Back the City campaigners who have been working with local communities to develop proposals for the Mackies site for many years: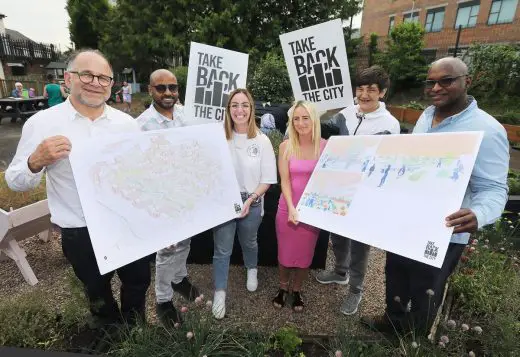 Matthew Lloyd said: "What really motivated us to compete was the socially-oriented nature of the project. The brief for this competition was not your typical architect's brief; it was people-centred and truly appealing."
"Collaboration will be key in bringing this plan to life on the site, and we are excited to get involved and showcase what can be achieved."
Marissa McMahon of Take Back the City said: "We held this competition because our local housing system is completely broken, and local authorities are either unable or unwilling to develop effective ideas to reduce the ever growing housing waiting lists in our communities. We looked beyond our borders for the best the world has to offer and were overwhelmed by the quality of designs.
"Matthew Lloyd and his team perfectly addressed the brief developed by families in housing need. His design was endorsed in an unparalleled process of community engagement which included hundreds of local people in public events and thousands more online before being judged by an international panel of experts.
"Working with Matthew and his team we will now submit the plan for the approval of local council and the support of elected representatives. Council's local development plan provides a framework for the people of Belfast to participate in decisions about how our land is used.
"We do not need to suffer a housing crisis. We do not need to suffer a cost of living crisis. We have a choice. We can build a sustainable city, without walls, where every child has a home and that is what the Take Back the City plan aims to achieve."
To view the winning design, please visit: https://www.takebackthecity.ie/competition
Belfast Building Designs
18 Nov 2022
Belfast architectural practice poised for growth under new ownershipn
Collins Rolston embarking on growth strategy under new ownership… some of the Belfast based team (from left) Jennifer Whittaker; Mark Cooper; Gemma Beattie; Harry Rolston; James McConnell and Mark Collins: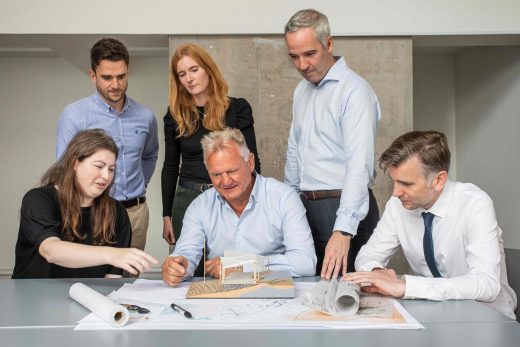 New offices planned in Belfast, Dublin, and London
An ambitious Belfast based architectural practice is poised for a new growth phase as it enters its 30th year in business under new ownership.
Collins Rolston, established by the highly respected Harry Rolston in 1992, has been acquired by long-standing director, Mark Collins. As a result of the change in ownership the practice has been changed from Rolston Architects to Collins Rolston.
The firm is planning to open a new Belfast City centre headquarters as well as new offices in both London and Dublin in response to growing client needs and increased sectoral diversification.
Mark Collins paid tribute to Harry Rolston whom he described as a true pioneer within the profession.
"Harry has immense standing within the architectural fraternity and has led a team that has become of the best on the island, with a strong reputation in all aspects of residential housing through to education, health, commercial and urban regeneration schemes.
"The team, that I'm now honoured to lead, is excited to be entering a new era of growth and practice development that will incorporate the delivery of an increasing number of projects in Northern Ireland, the Republic of Ireland and England."
Collins Rolston has experienced significant growth over the past two years with the number of professional staff tripling and fee turnover increasing which Mark Collins attributes to "an authentic can-do attitude, focus on value engineering, underpinned by design excellence."
The practice has consciously diversified its project portfolio to now incorporate health, education, retail, office, heritage, and social regeneration schemes as well as residential development, social housing, and high-end residential schemes.
With 30 live design and build projects for private developers the firm has recently extended its geographical reach by securing a place on a major social housing framework with Sligo / Donegal council. Meanwhile, a new 69-unit scheme is underway in Dublin.
However, the team has a strong commercial focus too, having successfully delivered more than 80 commercial projects in the last 24 months including: a fast-track extension to Altnagelvin Hospital's A&E Department; a new Headquarters for Springfield Charitable Association, a new £7m office innovation hub in Glengormley and a £50m public realm project at Corporation Street, Belfast. The firm also has seven live retail projects for a major retailer.
4 Oct 2022
Belfast Stories Visitor Attraction Design Competition
Belfast Stories Design Competition
The Royal Institute of British Architects (RIBA) has launched a competition on behalf of Belfast City Council, seeking an integrated design team for their ambitious Belfast Stories project. This is to be a unique visitor destination of unprecedented scale and ambition in the heart of the city centre, that will catalyse economic, social, and cultural regeneration in the city and wider region.
31 May 2022
City Of The Future Competition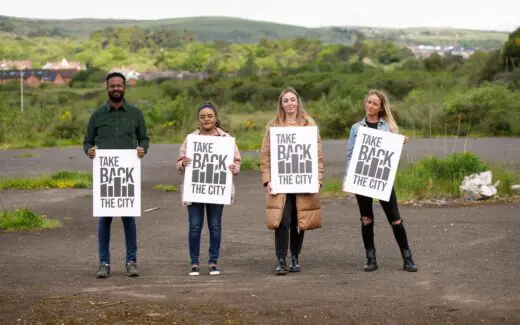 image from design contest organiser
City of the Future Urban Design Competition Belfast
Take Back the City Coalition is launching an international competition for architects, planners and urban design consultants to submit a design to transform Belfast's largest publicly owned site. With the potential for 950 gentle density homes in the area of highest social housing need in Belfast, entrants are being encouraged to submit design concepts to help transform the site formerly occupied by Mackies, once one of West Belfast's largest employers.
23 Sep 2021
The Loft Lines, Queen's Island, Titanic Quarter
Design: TODD Architects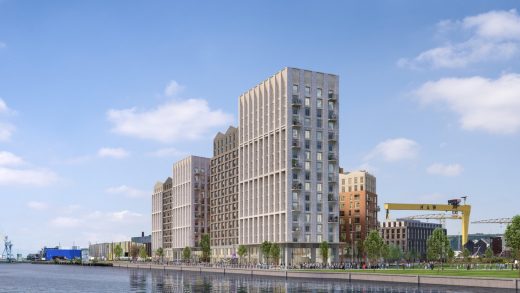 image from architecture office
New Homes at Queen's Island, Titanic Quarter, Belfast
TODD Architects has submitted a planning application for 780 new homes at Queen's Island in the heart of Belfast's Titanic Quarter. On approval, the multi-million-pound scheme known as The Loft Lines would become one of the largest new residential construction projects in the UK and forms part of Belfast's wider ambition to deliver over 31,500 new homes in the city by 2035.
1 Nov 2020
Ethos sponsors Belfast Design Week student post competition
Belfast Design Week and Scott Lawrie's Ethos Design & Architecture have collaborated to run a student design competition with Ulster University:
Belfast Design Week student post competition
21 Oct 2020
Bedford Yard Belfast aparthotel and office Building
Design: TODD Architects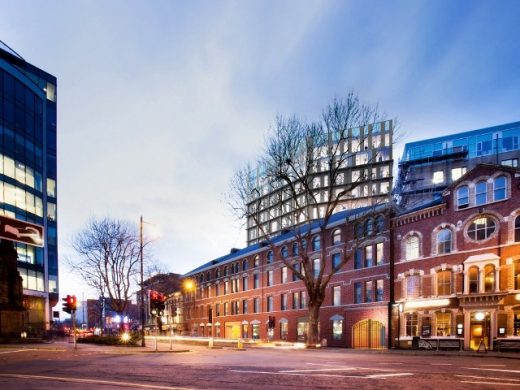 image courtesy of architects office
Bedford Yard Belfast Building
By refurbishing a vacant four-storey red brick former warehouse and adding a newbuild structure behind, the landmark development will deliver approximately 10,000sq ft lettable office space and a 132-room aparthotel with spectacular vistas across the city. The scheme is expected to create hundreds of jobs in the city.
3 Sep 2020
reefLIVE Aquarium, Titanic Quarter, Queen's Road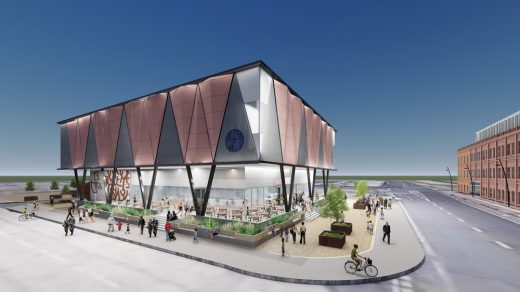 image courtesy of architects office
reefLIVE Aquarium Belfast Building
Belfast City Council has approved plans to develop a state-of-the-art aquarium in Titanic Quarter, Belfast. The decision to approve the £12 million reefLIVE aquarium was made at the 2 September planning committee meeting, allowing the company to set sail on the development of reefLIVE's first aquarium.
20 May 2019
The Mercantile office development
Design: TODD Architects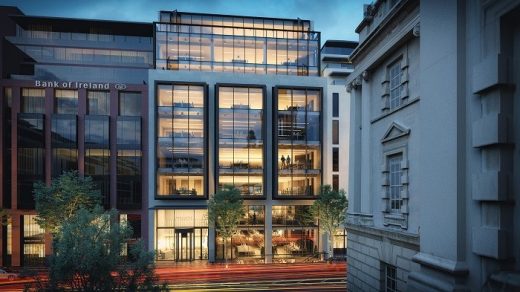 image courtesy of architects office
The Mercantile office development in Belfast Building
This landmark office building is located on a prime commercial site within the main public square and civic space in Belfast City Centre directly to the rear of City Hall.
22 Mar 2019
Belfast Transport Hub, Weavers Cross
Design: John McAslan + Partners with Arup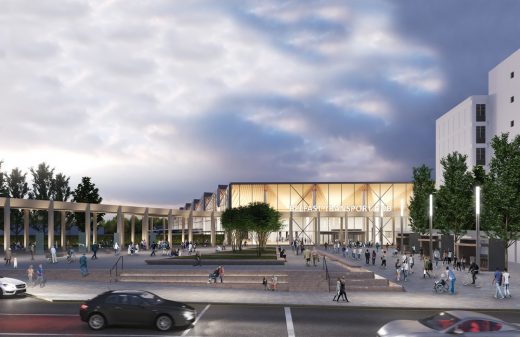 image courtesy of architecture office
New Belfast Transport Hub Building
Department for Infrastructure that planning permission has been granted for the new Belfast Transport Hub.
14 Jan 2019 – new images added ; 6 Jan 2019
The Waterside, Belfast takes centre stage at World Architecture News Awards
Masterplan Design: Henning Larsen, Denmark
Osborne+Co's £450M place-making masterplan for Belfast waterfront was one of the winners in this year's, recently announced, World Architecture News Awards.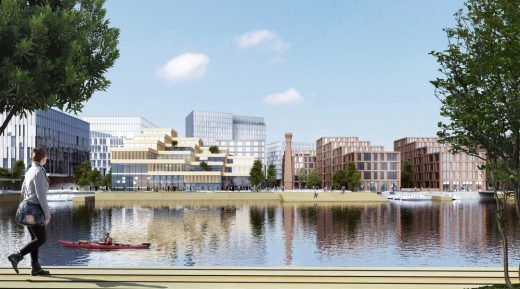 image courtesy of architects
Conceived by world renowned architects, Henning Larsen, The Waterside masterplan was the winner of the Future Projects Urban Design Award. Praised by the judges as a "tasteful and well-conceived plan", The Waterside is set to revive Belfast by linking East Belfast and the city centre, inviting people to repopulate the city and becoming a focal point of the city's flourishing creative eco-system.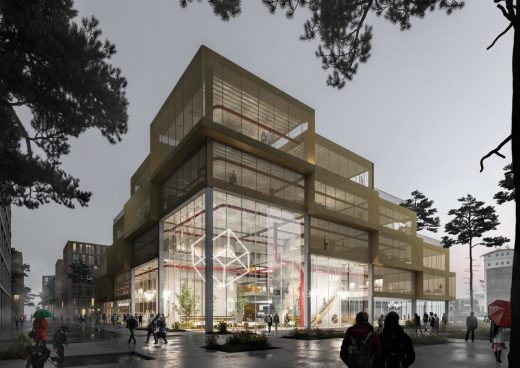 The 1.8m sq ft of regeneration development will create a new world-class waterfront locale that includes Grade A contemporary offices, a hotel, 700 homes across a range of tenures, retail and leisure space, plus a new pedestrian and cycle bridge. Architects Henning Larsen bring a Nordic understanding of outdoor living to Belfast.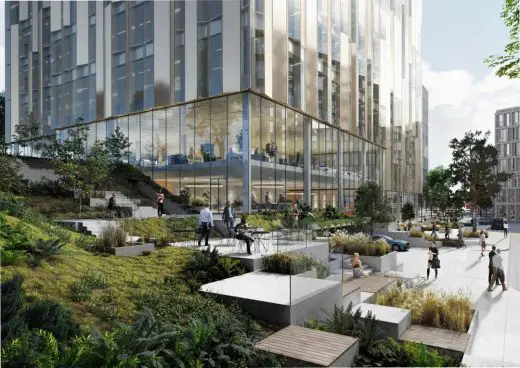 Lasse Westergaard, Senior Architect, said: "The Waterside will fully activate the potential of the River Lagan. We know that harbours have enormous potential to activate public life in a city. The masterplan will create the framework for people to feel part of a shared public life, as the River Lagan will no longer create a barrier in Belfast but is going to connect it instead. The terraced stone landscape of the Giant's Causeway was a general source of inspiration for the development, from the stepped massing of the buildings, the layout of the terraced landscape areas, to the use of stone and geometric patterns in outdoor surfaces and pavements.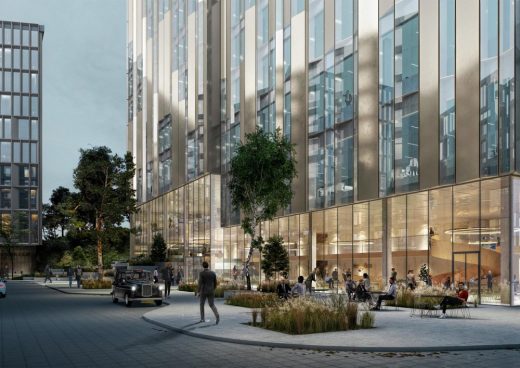 Analysing the microclimate, the architects applied an effective scale-gradient strategy to the project. Instead of winds being guided through the streets, the strategy of placing the lower buildings towards the waterfront guides winds over the building to reduce wind speeds significantly and thus prolonging the outdoor season. Additionally, a key objective is to bring as much daylight as possible into the buildings and public realm on site."
Osborne+Co's Chris Kane: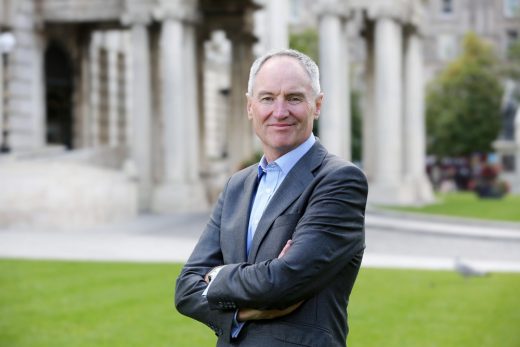 The Waterside masterplan is being realised by place-making visionary, Osborne+Co's Chris Kane, who sees development as a tool to help drive workplace and cultural evolution in Belfast, bringing global benchmarks for 'best in class' property development to the city. Planning approval has already been granted for a 25,000 sq metre, 13 storey Grade A Office development which will be operational by 2021. Construction is scheduled to begin in 2019, under the guidance of Osborne+Co's Construction Director Flan McNamara, formerly Project Director on the £2BN London Bridge Quarter (& The Shard). When its transformation is complete this derelict site will become a world-class destination for 21st century working, living and entertainment.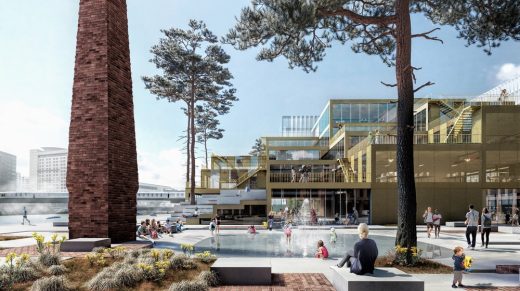 The WAN Awards 2018 has 30 categories recognising the world's top architects and their current and future projects. The 2018 winners were revealed at a celebration dinner at the London Hilton Bankside recently, attended by architects and industry leaders from around the world. For the full list of winners of the WAN Awards 2018, see www.worldarchitecturenews.com/article/1519216/top-global-projects-triumph-wan-awards
Privately owned, Osborne+Co was established by Jim and Conor Osborne as the new umbrella brand that unites their global track record of delivering projects under the GRDI name and as the UK property business of Vanguard Real Estate, with $2.5BN of end value projects across four continents.
17 Dec 2018
Kings Hall Health and Wellbeing Campus, South Belfast
Design: TODD Architects / Consarc Design Group
FIRST PHASE OF KINGS HALL TRANSFORMATION INTO HEALTH & WELLBEING APPROVED BY BCC
The first phase of plans to transform the Kings Hall heritage site to a Health and Wellbeing Campus has been granted Planning Approval by Belfast City Council.
Based in south Belfast, the Kings Hall Health and Wellbeing Park will become the most innovative Health and Wellbeing hub in the UK.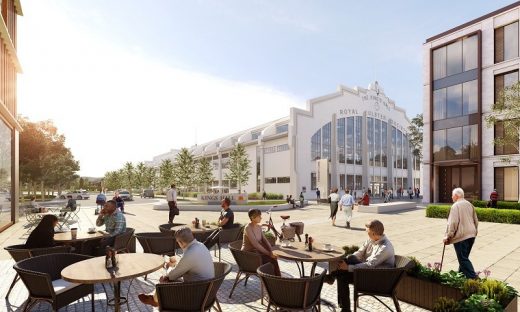 image courtesy of architects
TODD Architects and Consarc Design Group are working with healthcare specialist developers Benmore Octopus Healthcare Developments Ltd on the design of an innovative health park masterplan located at the iconic Kings Hall, South Belfast.
The King's Hall Health and Wellbeing Park is a joint venture between developer Benmore Group and healthcare and property investor Octopus Healthcare.
The campus will be the first of its kind, setting a new standard for health care provision in Northern Ireland. It will provide GP services in new accommodation for population south of the city.
The vision is to create an integrated healthcare model which will be part of a wider lifestyle, leisure and well-being park. The masterplan scheme of site area 68,424 sqm will offer a range of integrated and onsite health, community and leisure facilities. These include a primary care complex alongside ancillary medical facilities with the ability to accommodate care for over 25,000 patients.
The suburban city redevelopment will also include elderly residential care facilities ; consisting of independent living apartments and bespoke homes for the over-55s as well as a hotel and resident's gym facilities and a multi-storey car park.
Architecturally, the former Kings Hall landmark venue will be sensitively refurbished, with the primary design ambition to preserve the heritage of this iconic and unique 1930's art deco building. The existing Kings Hall will sit at the heart of the scheme, along with the addition of new, neighbouring medical and accommodation-based facilities masterplanned which to create a village feel.
The architectural team have developed this landmark regeneration masterplan, working closely with the developers and collaborating with Belfast City Council, extensively engaging with various healthcare stakeholders and the local community.
David Burrows of Benmore Octopus said the proposed £100m project will be the "most innovative healthcare and wellbeing hub in the UK".
"It will create next generation GP care services for the growing population of south Belfast as well as delivering a range of on-site diagnostic facilities alongside housing options for the over 55-plus. We believe the King's Hall Health and Wellbeing Park will be a beacon of excellence and a standard bearer for integrated healthcare provision in the city and Northern Ireland going forward."
Planning Approval was granted by Belfast City Council at the December Planning Meeting and it is proposed that works will commencing on site in 2019
11 Dec 2018
City Quays 2 Belfast Harbour Building
Design: Grimshaw, Architects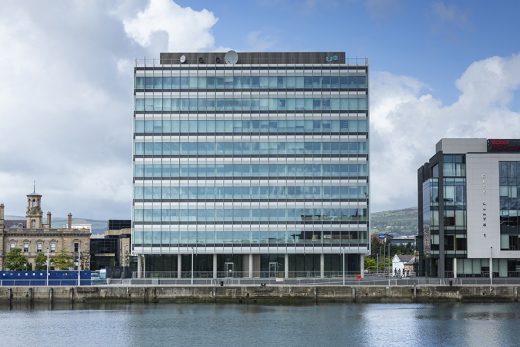 photograph : Donal McCann Photography
City Quays 2 Belfast Harbour Building
The £18m scheme provides eight floors of Grade A office space which is occupied by media and technology tenants, including broadcaster ITV and radio station U105. City Quays 2 is located on a waterfront site, formerly a ferry terminal, and is built as the first side of a planned new square.
6 Aug 2018
The Sixth Belfast Offices
Design: Allford Hall Monaghan Morris Architects (AHMM)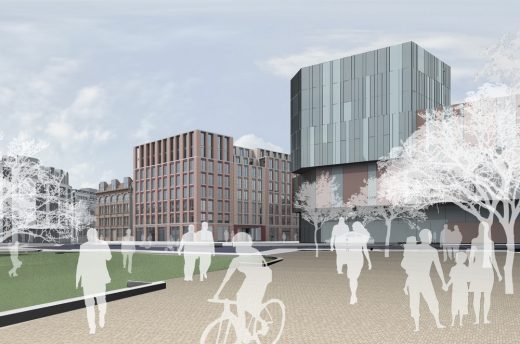 image courtesy of architects
The Sixth Belfast Building
3 Apr 2017
Queen's University Belfast Computer Science Hub Building
Design: Kennedy Fitzgerald Architects LLP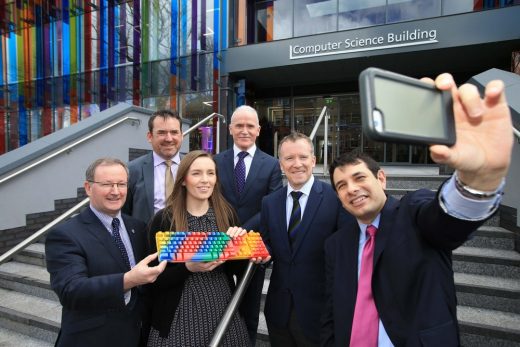 photo : Paul McErlean Photography
Queen's University Belfast Computer Science Hub Building
3 May 2016
Pictures of New Buildings in Belfast


photo © Adrian Welch
Belfast Architecture Photos
Two important buildings posted by e-architect in previous years:
Lyric Theatre Belfast Building
More Belfast Buildings online soon
Belfast Building News up to 2013
Location: Belfast, Northern Ireland
Irish Buildings
Irish Architecture Designs – chronological list
Belfast City Campus University of Ulster
Public Records Office of Northern Ireland
University of Ulster Belfast Campus
Comments / photos for the Belfast Architecture page welcome