Sears Tower, Chicago Skyscraper Renewal, Architecture, Architect, Date, Height, Storeys, Designer
Sears Tower Chicago Modernization
Sustainable Modernization of Famous Chicago Building: Illinois Skyscraper Renewal, USA
page updated Dec 15, 2018 ; Jun 30, 2009
Sears Tower modernization and hotel
Design: Adrian Smith + Gordon Gill Architecture
Sears Tower Unveils Sustainable Plan to Transform Tallest Building in Western Hemisphere
Project will significantly reduce energy use and CO2 emissions, spur economic development
Images © Adrian Smith + Gordon Gill Architecture
CHICAGO – June 24, 2009 – Sears Tower today announced plans for the most significant sustainable modernization projects of an existing building ever undertaken. The project will result in unparalleled energy savings and reduced CO2 emissions to the tallest building in the Western Hemisphere, reducing the base building electricity use by up to 80 percent, which includes a combination of energy savings and co-generation.
The energy savings equal 68 million kilowatt hours annually or 150,000 barrels of oil every year. The sustainability plans also drive economic development in the West Loop, creating more than 3,600 jobs, and are part of a broader initiative to transform the global icon.
"Sears Tower, an iconic structure that defines the city's skyline, will undergo a groundbreaking transformation that creates economic growth with positive impact on our environment, leaving a lasting legacy for future generations," said John Huston of American Landmark Properties, representing the partnership that owns Sears Tower. "As the stewards of this icon, we take seriously our responsibility to make it relevant and successful, and the changes made and benefits realized through the bold sustainable initiatives at the tower serve as an example that a sustainable future is more than a concept, it is within our reach."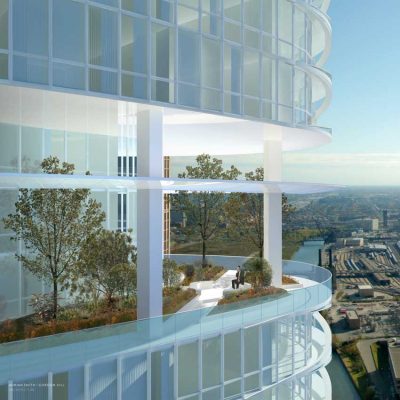 The building, which already meets Leadership in Energy and Environmental Design (LEED) criteria, will undertake sustainability initiatives above and beyond those used by the United Stated Green Building Council to rate a green building. Modernization strategies, designed by Chicago-based Adrian Smith + Gordon Gill Architecture (AS+GG), include: Efficiency improvements to the building's exterior envelope and windows.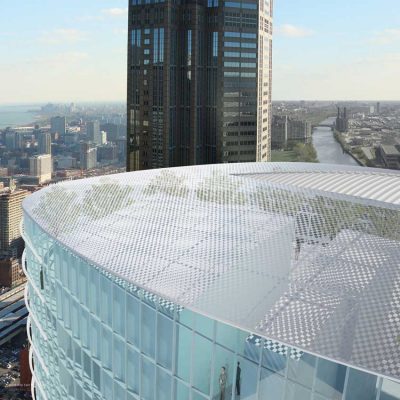 The tower has 16,000 single-pane windows. Sustainability plans for the building call for a window replacement and glazing program. Strategies to achieve a thermal break of the curtain wall are also being investigated.
These upgrades would achieve savings of up to 50 percent of heating energy. Mechanical systems upgrades in the form of new gas boilers that utilize fuel cell technologies, which generate electricity, heating and cooling at as much as 90 percent efficiency. Mechanical upgrades also will include new high-efficiency chillers and upgrades to the distribution system.
The tower's 104 high speed elevators and 15 escalators that will be modernized with the latest technology to achieve 40 percent reduction in their energy consumption. Water savings that will be realized with conservation initiatives through upgrades to restroom fixtures, condensation recovery systems and water efficient landscaping, which will reduce water usage by 40 percent and save 24 million gallons of water each year.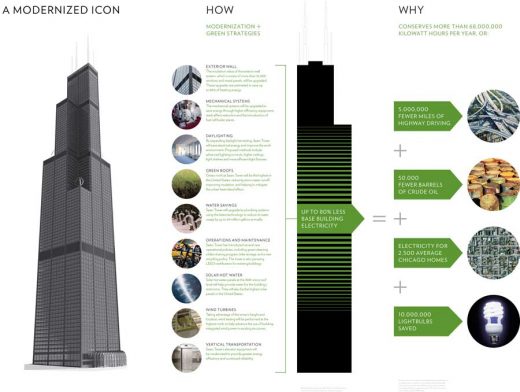 Lighting that will be upgraded through advanced lighting control systems and daylight harvesting, an advanced lighting control system that automatically dims lights in tenant spaces based on the amount of sunlight entering through the windows. Combined, these upgrades will save up to 40 percent of lighting energy consumption.
Renewable energy like wind and solar, and technologies like green roofs that will be tested. Wind turbines will be tested to take advantage of the tower's height and unique set-back roof areas.
Solar hot-water panels will help heat water for the building. Green roofs that can sustain high- altitude conditions, and that will be among the tallest in the world, will be tested to reduce storm water runoff, improve insulation, help mitigate the urban heat island effect, and provide pleasant vistas for tenants overlooking the areas.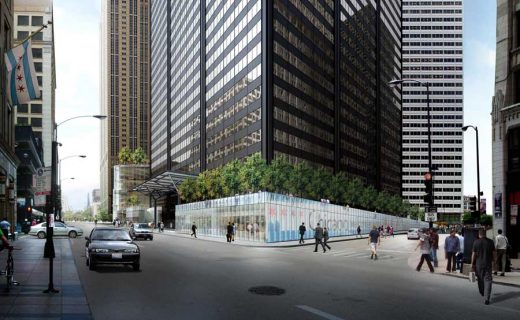 "Buildings are the world's largest contributor to carbon emissions, and therefore the biggest opportunity to address climate change is to retrofit existing structures," said Adrian Smith, partner, AS+GG. "Our goal in the Sears Tower greening project is to create a holistic approach that integrates high-performance building technologies and design strategies for maximum energy efficiency. In the process, we hope to set a benchmark for how high-rise buildings throughout the world can limit their impact on the environment."
"Sustainable architecture in new buildings is important but not enough to address the climate and energy crises facing our world," added Gordon Gill, partner, AS+GG. "We have to apply what we've learned to our existing stock of commercial buildings—especially iconic structures such as Sears Tower, which we hope will inspire similar initiatives around the globe. These will serve as great examples for building owners and managers and can reposition existing building stock to be as competitive as most new buildings or even better."
As an important part of the modernization program, Sears Tower's plazas and retail spaces will also undergo changes. A new park at Wacker Drive and Adams Street will be an inviting public space with landscaping and seating. The Adams Street granite wall will be replaced with an interactive digital display, glass storefronts, and trees, which will be planted to form a landscaped terrace that will add a natural filter for carbon dioxide.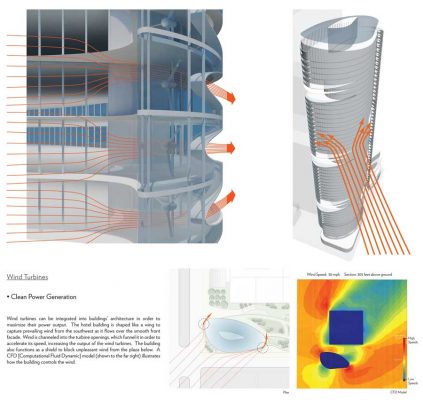 In addition to the most significant energy efficiency renovations ever undertaken on an existing building, another aspect of the transformation is a proposed new, privately funded hotel for the site at Jackson Boulevard and Wacker Drive. The hotel will be designed for a LEED Gold rating, and will become one of the most sustainable hotels in Chicago. The hotel will fill a critical need in the West Loop and provide a much welcomed facility for existing building tenants.
The reduction in energy use and CO2 emissions realized through the sustainability and modernization plans for the tower also brings economic opportunities by creating more than 3,600 jobs. Extending its impact beyond the site itself, the project will feature a dynamic Sustainable Technology Learning Center that is designed to help building visitors and Chicago tourists learn about ways to save energy and money, as Sears Tower serves as a laboratory that demonstrates to the office building industry how a sustainability program can be accomplished.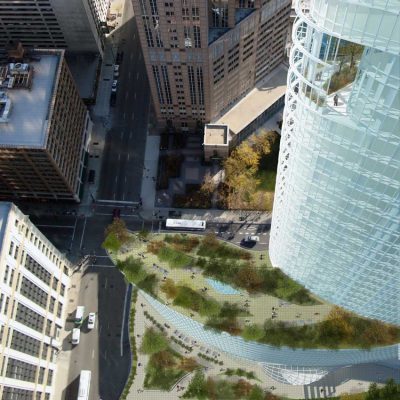 "The plans for the building bring new activity to the West Loop, and make it even more attractive to current and future tenants who are looking for more sustainable office solutions," said Robert A. Wislow, chairman and CEO of U.S. Equities Asset Management, the management and leasing agent for the tower.
"Today, tenants want the buildings they inhabit to be environmentally friendly and more healthy for their employees. They demand sustainable workplaces. They are doing this because it is the right thing to do, has a positive effect on the environment, helps make their employees more productive and is becoming more and more important to their employees."
The cost of construction for the Sears Tower project is estimated at $350 million. A number of private and public financing and funding options are being explored. The majority of the energy savings will be realized in approximately five years and work will start immediately.
"The Illinois Environmental Council supports private and public investments in projects that spur job creation and economic development here in Illinois, while helping to meet the challenge of global climate change," said Charles Jackson, IEC executive director. "The Sears Tower energy sustainability and environmental education project presents a tremendous opportunity for inspiring building owners and the public to aspire to the highest standards of energy-efficiency."
Sears Tower's commitment to energy efficiency is well established. Since 1989, the building has reduced its annual electricity consumption by 34 percent. Since 1984, its energy efficiency improvements have resulted in a reduction of 51 million pounds of carbon emissions annually, or the equivalent of removing more than 4,400 cars from the road each year.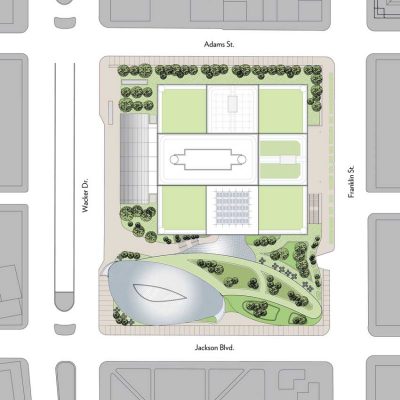 For more information on the sustainability plans for the building, please visit: www.searstower.com/icon.
Sears Tower : main page
About Sears Tower
Sears Tower is the premier corporate office building in Chicago, offering more than 4.5 million square feet of office and retail space. Located in Chicago's West Loop at 233 S. Wacker Drive, the skyscraper is easily accessible from the commuter rail stations, highways and all forms of public transportation. Standing 1,450 feet and 110 stories tall, Sears Tower is the tallest building in the Western Hemisphere and an integral part of Chicago's culture.
Originally opened in September 1973, it is home to more than 100 different companies, including prominent financial services firms, law firms and insurance companies. Sears Tower boasts spectacular vistas of Chicago, with views that can reach nearly 50 miles on a clear day. Sears Tower also boasts a tremendous infrastructure system, which includes enormous telecommunications capacity and unsurpassed electrical capacity and reliability. The Sears Tower Skydeck on the 103rd floor attracts more than 1.3 million visitors per year.
About 233 S. Wacker Drive, LLC
The building is owned by 233 S. Wacker Drive LLC, a real estate investment group formed in 2004 to purchase the tower. Ownership includes Yisroel Gluck and John Huston, of American Landmark Properties, Ltd., based in Skokie, Ill.; and partners Joseph Chetrit, and Joseph Moinian of The Moinian Group.
About U.S. Equities Asset Management, LLC
U.S. Equities Asset Management, LLC, is a leading full-service commercial real estate firm headquartered in Chicago, with operations in Detroit, Philadelphia, Argentina, Chile, Uruguay, Paraguay, Bolivia, and Colombia. The company serves as a strategic real estate advisor to clients throughout the United States and Latin America, providing development, program management, build-to-suit and construction oversight services; asset management and leasing; tenant representation, consulting and advisory services; and acquisition, disposition and financing of real estate assets.
The asset management services group provides asset oversight, property and facility management, marketing and leasing and strategic planning to a diverse group of clients. Currently, the portfolio includes more than 400 properties totaling over 24 million square feet of office, retail, institutional, dormitory, facility and residential management services for approximately 50 clients, including 2.5 million square feet of management assignments along Chicago's famous Michigan Avenue.
About Adrian Smith + Gordon Gill Architecture
Adrian Smith + Gordon Gill Architecture was founded in 2006 in Chicago. AS+GG is focused on the design of high-performance architecture on an international scale. The firm is dedicated to the creation of new paradigms for sustainable development, and uses an integrated design approach that emphasizes symbiosis with the natural environment.
AS+GG's architects are expert in a range of building types, including supertall towers, large-scale mixed-use developments, corporate offices, exhibition and cultural facilities, civic and public spaces, and hotels and residential complexes. Currently, AS+GG is involved in more than two dozen projects in the United States, Canada, China, South Korea and the United Arab Emirates.
About the Illinois Environmental Council
The Illinois Environmental Council (IEC) is a 34-year old organization that promotes sound environmental laws and policies, as well as the adoption of environmental best practices in the private sector. Also, IEC provides a forum for environmental advocacy organizations and facilitates a statewide activist network.
Sears Tower modernization and hotel images / information from Adrian Smith + Gordon Gill Architecture
Adrian Smith Gordon Gill Architecture
Location: Chicago, IL, USA
Chicago Architecture
Chicago Architecture Design – chronological list
Chicago Architecture Walking Tours – city walks by e-architect
Sears Tower : World Skyscraper global background
Comments / photos for the Sears Tower Architecture page welcome
Website : http://icon.searstower.com