World Architecture in 2010, Building, Project, Photo, News, Design, Property, Image
World Architecture in 2010
Architectural Review of 2010 by Adrian Welch & Isabelle Lomholt
post updated 21 June 2021
World Architecture 2010 Review
Looking back over the past year it is clear that major events provided a generous stage for architecture. We had the World Cup in South Africa, then the Shanghai Expo. From August to October we had the Venice Biennale.
Expo Shanghai 2010, China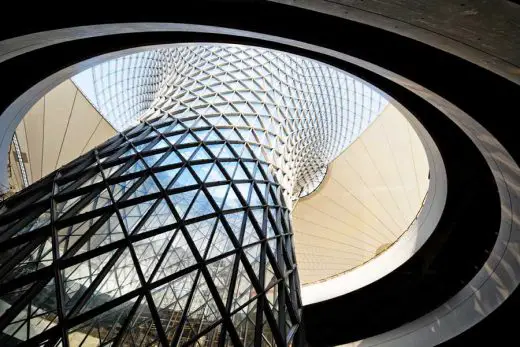 photo : Thomas Ott, Mühltal
Venice Biennale, Italy


image © Adrian Welch
Burj Khalifa, Dubai, UAE : World's Tallest Building


photograph : Imre Solt
Major buildings completed in 2010 include the world's tallest tower, the Burj Khalifah in Dubai and MAXXI by Zaha Hadid Architects in Rome.
MAXXI Rome, Italy – by Zaha Hadid


photo : Roland Halbe
Dynamo Stadium, Moscow, Russia – FIFA 2018 World Cup Venues


image © (Designed by) Erick van Egeraat
Finally, at the end of the year we had the announcement of the World Cup venues in Russia and Qatar, unveiling designs for stadiums in those countries.
World Cup Stadiums Qatar – FIFA 2022 World Cup Venues


render © hhvision, Cologne
Key Buildings completed in 2010
Other significant buildings that have opened in the year include:
Masdar Institute Campus, Abu Dhabi, UAE : Foster + Partners



photo : Nigel Young / Foster + Partners
Compared to a large amount of flashy buildings in UAE these buildings show restraint and respect to the arabic culture. Fosters have been criticised in recent years for too many identikit buildings – simple glassy volumes such as Moor House or More London – but here they eschew glass and metal for more earthy materials and employ texture and filigree within the forms.
Mountains & Opening House, Japan : EASTERN design office


photo from architects
We have always admired the Japanese propensity for innovation – here is an unusual hill-top house that caught our eye.
Vitra Haus, Germany : Herzog & de Meuron


photograph Iwan Baan, © Vitra
Herzog & de Meuron also have a strong reputation for innovation, notably since their twisted copper cladding of the Signal Box in Basel was completed and silk screen printed glass and concrete at Mulhouse and Eberswalde. Here it is not innovation in facade treatment but a bold play with form. Separate extruded forms are deposited in an informal way, volumes crunching together.
Neues Museum, Germany : David Chipperfield Architects with Julian Harrap


photograph : Ute Zscharnt
Masterful project, an antidote to the surfeit of wild and wacky projects prevalent in world architecture. Buildings by Chipperfield are generally serious and restrained, in fact projects like the Justice Campus in Barcelona verge on the severe, so he was a good choice for this project, a sensitive reworking of one of Germany's major museums. A strong contender for the Stirling Prize, it was pipped by Zaha's MAXXI.
Ravensbourne College building, London : Foreign Office Architects


photo : Morley von Sternberg
Foreign Office Architects through their writing and lectures show a strong interest in tessellation and mathematical generation of pattern – for example their waterfront landscape in Barcelona. This is the most overt expression of this interest so far, reminiscent of Jean Nouvel's Institut Du Monde Arabe in Paris, albeit without the facade grid and oculus movement.
Lafayette 148, Shantou, Guangdong, China : Studio for Architecture


photograph : But-Sou Lai
It is not often you see a building that really surprises you, but this is one. Essentially a massive box with a decorative facade, nothing new in a way, but the punctured brise soleil that ripple across the facades vary in a supple way, beyond the typical random patterning fashionable across the globe. Perhaps the show is skin deep but nevertheless we look forward to the next buildings by the relatively unknown Studio for Architecture with anticipation.
Capital Gate Abu Dhabi, UAE : 'World's Furthest Leaning Manmade Tower'



image from RMJM
Ok, a building that leans a lot! It appeared in the Guinness Book of Records.
Central St Giles London, UK : Renzo Piano Building Workshop


photo © Nick Weall
Controversial building – a large new form in the centre of London with Renzo Piano trying to reduce bulk by division into facades each at a different angle and height…and colour. The vivid colours are fresh and fun but are violently different to the historic context. With the studio's Shard tower (to be London's tallest tower) also under attack London is a place of major work but also of concern for RPBW.
Centre Pompidou-Metz, France : Shigeru Ban, architect


photo : Roland Halbe
Everyone gets the original Pompidou by Rogers and Piano, whatever its weaknesses it was a bold structure that clearly expressed some novel ideas, making a spectacle of both circulation (the external escalators) and servicing (the external coloured ducts). What can we make of Shigeru Ban's project for the Pompidou, located near the Belgian border? Many of the studio's projects have shown breathtaking confidence, especially the Curtain Wall house from 1995 but here the conversation between flowing lattice roof and other elements becomes convoluted.
Evelyn Grace Academy, Brixton, London, UK : Zaha Hadid Architects


photograph © Luke Hayes
Hadid's warped forms more usually found in arts buildings and private houses here work with the confines of an English school programme, in a deptived community – according to the school pupils an inspirational environment in which to learn.
8 House, Ørestad, Copenhagen, Denmark : BIG, architects


photograph : Ty Stange
BIG have been rapidly rising to prominence – when we interviewed Bjarke Ingels at the Venice Biennale it was clear the studio was now engaged beyond its core typology of housing. Nevertheless in our view this is where BIG have excelled most, since the VM Mountain Dwellings and indeed right back to the days of PLOT and their Ørestad housing
A house awaiting death, Japan : EASTERN design office


photograph : Koichi Torimrua
Like the Mountains & Opening House again we have thought-provoking Japanese poetry made concrete, intriguing and honest project.
1111 Lincoln Road, Miami Beach, USA : Herzog & de Meuron


Nelson Garrido/1111Lincoln Road MBeach1, LLLP
A straightforward commission, the type many studios might not publish, Herzog & de Meuron work their magic to transform a car park into sculpture.
Buildings in 2011
Major Buildings to look out for in 2011 include
Abu Dhabi Louvre Building, UAE : Jean Nouvel



photo from the architects
A major commission and a major architects studio, a welcome antidote in the arabic world to the glitzy multitude of recent skyscrapers – as was I M Pei's recent Museum of Islamic Art in Qatar.
Metropol Parasol, Seville, Spain : J. MAYER H. Architects


image from architect
J. MAYER H. Architects have a reputation for exciting organic forms, notably their stunning Dupli.Casa house from a couple of years ago. Normally they work with steel and concrete, but here the organic forms are softened by the timber lattice. Too early to evaluate fully, we hope to show the completed structures soon.
Guangzhou Opera House, China : Zaha Hadid Architects


image from ZHA
Due for publication at the end of Winter, another major Zaha Hadid building
Glasgow Transport Museum, Scotland, UK : Zaha Hadid Architects


picture © webbaviation
Zaha's first sizable building in her adopted homeland
Architectural Designs
Architecture Context : article by Trevor Tucker. 21 Sep 2010
Design Narrative : article by Lee Miles – 7 Sep 2010
Website: Architecture City Walking Tours
Planetization Architecture : article by Mphethi Morojele – 17 Aug 2010
Sustainable Buildings – Building Issues : article by Adrian Welch
Comments / photos for the Architectural Review of 2010 Article page welcome