Hyatt Capital Gate Abu Dhabi, Hotel Property Picture, Leaning Tower Design UAE, Height, Photo
Capital Gate Abu Dhabi
Hyatt Hotel + Offices : UAE Architecture Tower design by RMJM Architects
page updated 31 Jan 2018 + 27 Jul 2017 ; 20 May 2014 – new, larger photos added to this page
Hyatt Capital Gate Abu Dhabi
World's Furthest Leaning Manmade Tower News
Design: RMJM Architects
Capital Gate, owned and developed in Abu Dhabi, the capital of the United Arab Emirates, by ADNEC (Abu Dhabi National Exhibitions Company), is certified as the 'World's Furthest Leaning Manmade Tower,' by Guinness World Records.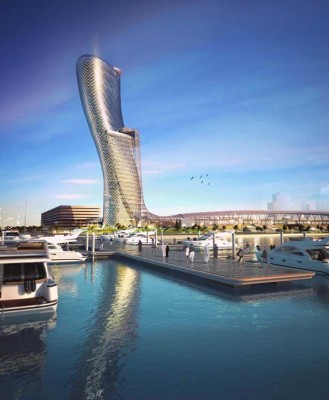 Capital Gate was built to lean 18 degrees westwards – more than four times that of the world famous Leaning Tower of Pisa – and earned the Guinness recognition after rigorous evaluation by the Awards Committee after the exterior of the 160-metre (524.9 ft), 35-storey tower was completed.
The Capital Gate floor plates are stacked vertically up to the 12th storey after which, they are staggered over each other by between 300mm to 1400mm giving rise to the tower's dramatic lean.
The Capital Gate Tower features other innovative construction techniques including the world's first known use of a 'pre-cambered' core, which contains more than 15,000 cubic metres of concrete reinforced with 10,000 tons of steel. The core, deliberately built slightly off centre, has straightened as the building has risen, compressing the concrete and giving it strength, and moving into (vertical) position as the weight of the floors has been added.
"Capital Gate has been a true design-and-build project from the very start. There have been numerous challenges, which I am pleased to say we have surmounted thanks to a structured partnering programme and the hard work and commitment of everyone involved. Both ADNEC and our partners have thoroughly enjoyed the opportunity to create an iconic structure which is not only distinctive in appearance but also extremely functional," said His Excellency Ali Saeed Bin Harmal Al Dhaheri, ADNEC's Managing Director.
Capital Gate houses the 5-star Hyatt Capital Gate hotel as well as approximately 20,000sqm of premium office space.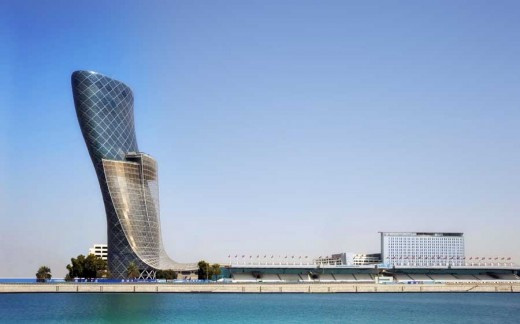 Peter Fulton, Managing Director, Hyatt International, Southwest Asia commented, "This is indeed a proud day for all of us involved with Capital Gate. We are fortunate to have been given the opportunity to showcase our hotel in one of the Middle East's most significant developments. Along with our partners at ADNEC, we hope to be able to offer a unique and authentic guest experience that will complement this iconic structure, making it the preferred address in Abu Dhabi for the discerning traveller."
CAPITAL GATE was designed by international architecture firm RMJM and is adjacent to the Abu Dhabi National Exhibition Centre within ADNEC's Capital Centre.
RMJM has a 40 year history of designing and delivering world class buildings in the Middle East. The award of this world record substantiates this and puts both Capital Gate and Abu Dhabi firmly on the world stage, and at the cutting edge of global architecture. RMJM are delighted to have been instrumental in this pioneering achievement," said Nick Haston, RMJM Middle East CEO.
Besides CAPITAL GATE'S gravity-defying lean and its pre-cambered core, the tower has several other elements that enhance its reputation as one of the world's most distinctive projects:
Each room is different as is each pane of façade glass and every interior angle.
CAPITAL GATE's shell comprises a super-strong exo-skeleton called the diagrid that carries all the weight of the floors while also providing an unobstructed floor plate precluding the need for pillars or internal beams. Other high-profile buildings that use diagrid technology include New York's Hearst Tower, the Swiss Re building ('The Gherkin') in London and Beijing's CCTV tower.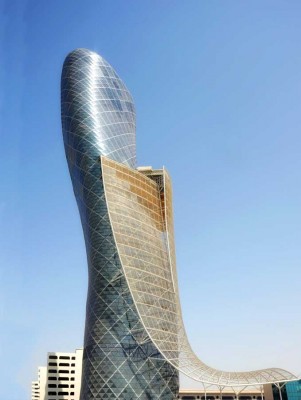 CAPITAL GATE's double-glazed façade achieves greater energy efficiency with waste air being pre-cooled between the inner and outer façades, before being expelled.
The Capital Gate tower's façade glass is of low emissivity and is the first time it has been used in the UAE. It keeps the building's interior cool and eliminates glare, while maintaining transparency.
The distinctive stainless steel 'splash' that descends from the 19th floor, is a design element and a shading device that eliminates over 30 percent of the sun's heat before it reaches the Capital Gate Abu Dhabi building. The splash also twists around the building towards the south to shield the tower as much as possible from direct sunlight.
CAPITAL GATE's 19th storey outdoor swimming pool has an unrivalled panoramic view.
A cantilevered tea lounge overhangs the tower's exterior, 80m above the ground.
CAPITAL GATE also has an internal diagrid that has been used to create a tapered, 60m high atrium.
The tower's foundation is a dense mesh of reinforced steel above 490 piles, drilled 20 – 30 meters underground.
Guinness World Record certificate for Capital Gate Abu Dhabi: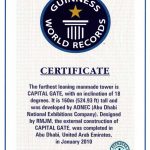 Commenting on CAPITAL GATE's record-breaking achievement, His Excellency Sheikh Sultan Bin Tahnoon Al Nahyan, ADNEC's Chairman said: "CAPITAL GATE is a landmark development for Abu Dhabi and with this recognition the tower takes its place among the world's great buildings. It is a signature building which speaks to the fore-sight of the emirate".
Completed: January 2010
CAPITAL GATE's status as one of the world's most complex engineering projects has been further endorsed by a recent exclusive National Geographic television documentary. The 'Megastructures' programme devoted to the project – 'The Leaning Tower of Abu Dhabi' – has been translated into 44 languages and will be broadcast in 166 countries reaching a potential audience of 200 million viewers. 'The Leaning Tower of Abu Dhabi' is due to air in the Middle East next month.
Hyatt Capital Gate Tower Abu Dhabi – Building Information
Completion: 2011
Height: 165 m (540 ft)
Stories: 36
Primary Use: Hotel / Office
Owner/Developer: ADNEC Group
Design Architect: RMJM
Structural Engineer: RMJM
MEP: RMJM
Project Manager: Mace Ltd; ADNEC Group
Contractor: Al Habtoor Engineering Enterprises
Capital Gate architect : RMJM Architects
18 Nov 2009
Capital Gate Abu Dhabi Tower
Abu Dhabi's iconic tower reaches final height of 160 metres
Capital Gate, Abu Dhabi's iconic leaning tower, has topped out its central core and reached its final height of 160 metres, marking one of the most significant milestones in its construction.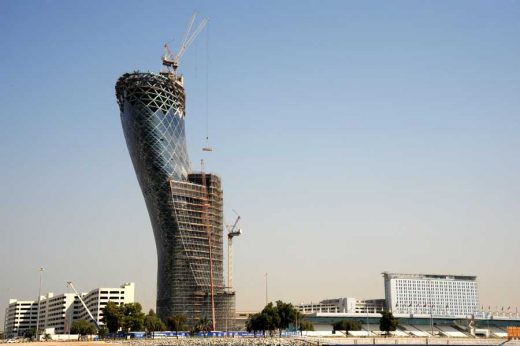 Capital Gate leans an incredible 18 degrees (14 degrees more than the famous leaning tower of Pisa). It is being developed by Abu Dhabi National Exhibitions Company (ADNEC) and has been designed by Edinburgh-based architects RMJM. The tower forms the focal point of the Capital Centre development, an AED8 billion business and residential micro city being constructed around the thriving Abu Dhabi National Exhibition Centre.
"Capital Gate is an excellent example of what can be achieved when vision, creativity, design and engineering combine effectively with a partnership approach among team members. I am pleased at the steady progress being made on Capital Gate and would like to commend everyone involved in bringing this amazing and complex project to life. We look forward to working with RMJM, and Al Habtoor, the contractors of Capital Gate, to ensure the development is delivered to the people of Abu Dhabi over the course of the next year," said Simon Horgan, Group CEO of ADNEC.
RMJM's Associate Director, Tony Archibold, said: "Topping out the core is a major milestone to achieve. We still have challenges to face, but with the meticulous planning and recording that we have implemented throughout the construction, the pathway to successful completion is very much in sight."
Elaborating on the complexity involved in the completion of the core, Archibold explained that the core slants in opposite direction to the lean of the building, straightening as it grows. "This has never been attempted anywhere in the world before," he said.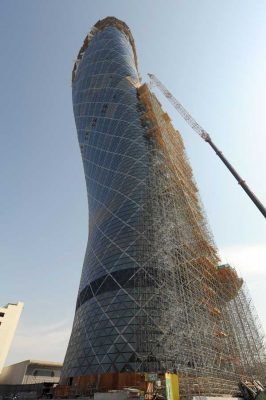 Capital Gate will house Abu Dhabi's first Hyatt hotel – Hyatt at Capital Centre, a presidential style luxury 5 star hotel which will provide 189 hotel rooms for visitors and exhibitors at the Abu Dhabi National Exhibition Centre, as well as international business and leisure travellers. It will also be the location for the most exclusive office space in the capital.
Level 18 of Capital Gate will feature a cantilevered tea lounge, which projects out over the eastern portion of the facade, and on top of which is an open sun terrace and pool with a sweeping view of Abu Dhabi and the Gulf.
Due to its unique shape, Capital Gate is being constructed on top of a concrete raft with a dense mesh of reinforced steel. The tower comprises of a complex steel diagrid, which sits above an extensive distribution of 490 piles that have been drilled 30m underground to accommodate gravitational, wind and seismic pressures. The angles and dimensions of the building have been measured and designed meticulously to ensure that each individually shaped diagrid accurately defines the shape of this magnificent structure.
Capital Gate Abu Dhabi images / information from RMJM Architects
14 Jan 2009
Capital Gate Construction
Advanced Diagrid Technology Gives Shape to Capital Gate
An advanced building technique is being used to shape one of the world's most iconic buildings, Capital Gate in Abu Dhabi. The diagrid technology has been used on only a few high-profile international buildings, including the Hearst Tower in New York City, the Swiss Re building ("the Gherkin") in London and the CCTV headquarters tower in Beijing. The system requires less structural steel than a conventional steel frame, reducing costs and benefiting the environment. The diagrid is formed by creating triangular structures with diagonal support beams.
Capital Gate, which has applied to the Guinness World Records for the "world's most inclined building" is being built by Abu Dhabi National Exhibitions Company (ADNEC) and has been designed by global architects RMJM. The structural steel diagrid has now reached level eight of the 35 storey, 160 metre tower, with the core at level 11. The diagrid will now begin to curve westward as the tower's unique leaning posture becomes visible.
Simon Horgan, ADNEC Group CEO said, "Capital Gate will be an international icon for the emirate of Abu Dhabi and for ADNEC. When Abu Dhabi undertakes a project it does so with one aim – to be the best; the incredible technical achievement and aesthetic splendour of Capital Gate ensures it will be regarded around the world as one of the most magnificent buildings ever constructed."
"Globally, diagrid structures have been emerging as a new design trend for tall buildings with their powerful structural rationale and aesthetic potential," said Gordon Affleck, Design Principal for RMJM Middle East.
"And ADNEC's Capital Gate iconic tower will be the first building in Abu Dhabi to use this technique."
The total weight of Capital Gate's steel is estimated to be around 21,500 tons which compares favourably to the 110,000 tons used to build Beijing's Bird's Nest, the 50,000 tons estimated for the CCTV tower in Beijing and the 36,910 tons of steel used in Malaysia's Petronas Towers in Kuala Lumpur.
Capital Gate's 'diagrid' is subdivided into 722 elements and approximately 8,500 structural steel beams for the entire building. Each 'diagrid' element weighs approximately 15 tons and sports a painted finish.
The building's decorative 'splash' is designed to mimic a wave. Besides providing an innovative sun shade for the Capital Gate tower itself, the splash also provides a new and creative treatment for the roof of the existing Grandstand canopy in the adjoining Abu Dhabi National Exhibition Centre Grandstand. The splash is a completely independent structure made of structural steel "I-beams" fixed to the main building structure.
Capital Gate, is being constructed on top of a 2 metre deep concrete base filled with an incredibly dense mesh of reinforced steel. This base sits above an intensive distribution of 490 piles which have been drilled 30 metres underground to accommodate the gravitational, wind and seismic pressures caused by the lean of the building.
Capital Gate will accommodate the 5-star 'Hyatt at Capital Centre' hotel and will provide the most exclusive office space in Abu Dhabi.
The iconic tower forms a major part of the Capital Centre development, an AED 8 billion (US$2.2 billion) business and residential micro city being constructed around the thriving Abu Dhabi National Exhibition Centre.
Capital Gate : World's most inclined tower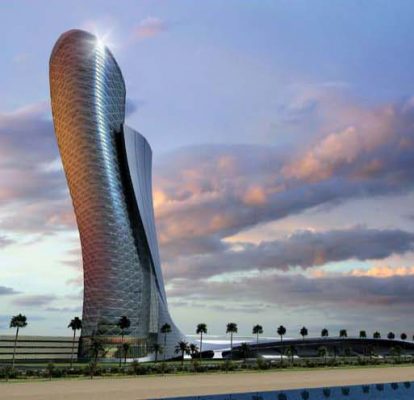 27 Oct 2008
Capital Gate tower Abu Dhabi images / information from RMJM Architects
Capital Gate Tower Abu Dhabi : Further Information on the tower
Location: Capital Gate, Abu Dhabi, UAE
Abu Dhabi Architecture
Abu Dhabi Architecture Designs – chronological list
New Abu Dhabi Architecture – architectural selection below:
Al Wathba Wetland Reserve visitor center in Abu Dhabi
Architects: Almena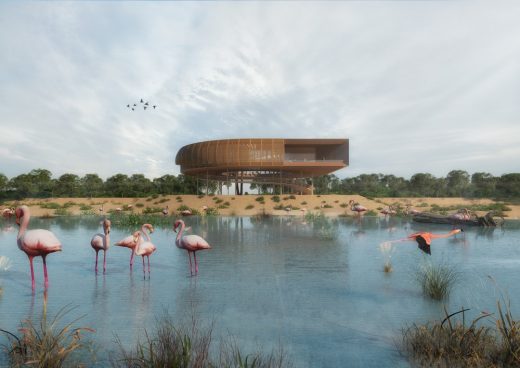 image courtesy of architectural studio
Al Wathba Wetland Reserve visitor center
Abrahamic Family House Abu Dhabi, Saadiyat Island
Design: Sir David Adjaye Architect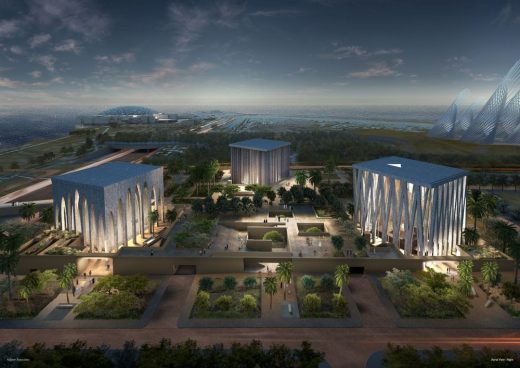 image courtesy of architects
Abrahamic Family House in Abu Dhabi
Buildings by Capital Gate architect
Architecture by RMJM Hillier Architects – selection:
Comments / photos for the Hyatt Capital Gate Tower Abu Dhabi Building page welcome