Richard Rogers Architect, Photos, Building News, Projects, London Design Office
Richard Rogers Architect : Architecture
Contemporary Architecture Practice, London, England, UK
19 Dec 2021
Richard Rogers dies aged 88
Millennium Dome architect Richard Rogers has died at the age of 88.
A spokesman said he had "passed away quietly" on Saturday evening – BBC News
From the Centre Pompidou in Paris (1976), to the Lloyd's building in London (1984), his work had huge influence on the architectural world.
I only met him once, at the Architecture Foundation in London with my boss Eva Jiricna (ex-Richard Rogers), but his influence was already pervasive on my thinking before starting at architecture school in 1989. There were a number of British architectural programmes on television that analysed his buildings alongside the other two major UK architects – Norman Foster and James Stirling.
Whilst at Eva Jiricna's we won the chance to design the Faith Zone within the Millennium Dome. Seeing the size and complexity of the overall project was a reminder of just how talented Richard was. I admired the way he discussed architecture in frequent television appearances, with a gentle personable air that is not so sommon amongst famous architects. Despite his hugely impressive achievements he retained an air of humbleness.
Architect Adrian Welch, Founding Editor.
3 Sep 2020
Architect Richard Rogers to Retire
Current architecture practice page for this celebrated London architect:
Rogers Stirk Harbour + Partners (RSHP)
11 Dec 2018
Richard Rogers News
Richard Rogers Architect Wins 2019 AIA Gold Medal
Lord Richard Rogers, Hon. FAIA
From the Centre Pompidou in Paris to New York City's post–September 11 skyline, the work of Richard Rogers, Hon. FAIA, has influenced architectural conversations and helped redefine an architect's responsibilities to society. Rogers' commitment to our cities, environment, and humanity has resulted in a wealth of honors, while cementing his place in architectural history.
Richard Rogers Architect Wins 2019 AIA Gold Medal
21 Jan 2016
Richard Rogers & David Bowie
Italian-British architect Richard Rogers achieved recognition from music legend David Bowie back in 1995, in the song "Thru' these Architect's Eyes".
In the first verse, he namedrops both the late Philip Johnson and Richard Rogers:
"And stomping along on this big Philip Johnson/Is delay just wasting my time/Looking across at Richard Rogers/Scheming dreams to blow both their minds."
"Thru' These Architect's Eyes" is the 17th track on David Bowie's concept album, Outside, for which the musician reunited with producer Brian Eno.
Richard Rogers Award News
14 Dec 2015 – The architecture firm Wins ULI J.C. Nichols Prize for Visionaries in Urban Development
The Urban Land Institute (ULI) has selected Rogers as the 2015 recipient of the J.C. Nichols Prize for Visionaries in Urban Development. The Institute's highest honor, the award "recognizes a person or a person representing an institution who has demonstrated a longtime commitment to the creation of communities that reflect the highest standards of design and development."
Rogers was selected as the prize's 16th recipient for "his career-long focus on creating sustainable communities that thrive by providing a high quality of life for all citizens."
Rogers Stirk Harbour + Partners News
Five New Partners Appointed at RSHP
18 Nov, 2015
RSHP Rogers Stirk Harbour + Partner have announced the elevation of five associates to partner level while Mike Davies CBE, who has worked alongside Lord Rogers for more than forty years, will be reducing his roles.
Davies was involved in some of this archkitecture practice's most significant projects including the Pompidou Centre in Paris, Lloyd's of London, the Millennium Dome, and Heathrow Airport Terminal 5. As a Chevalier de la Légion d'Honneur, Davies is currently the project director for Grand Paris, the masterplan for Greater Paris 2025 which was commissioned by former President Nicolas Sarkozy. RSHP said Davies "will remain employed in a part-time role."
Richard Rogers Partnership – Key Projects
1 Hyde Park, Knightsbridge, west London
2007-09


image from developer
One Hyde Park
Heathrow Terminal 5, London, UK


image from T5i
Heathrow Airport T5 Building
Daiwa Building, City of London, UK
1999


photo © Adrian Welch
Daiwa Building
122 Leadenhall Street, London, England, UK
2006-10


site photograph © AW
122 Leadenhall Street : London office tower
Waterside House – M&S head office, Paddington Basin, London
–


photograph © Nick Weall
Paddington Basin
European Law Courts, Antwerp, Belgium
2006
Belgian Project
Mossbourne Community Academy, 100 Down's Park Road, Hackney, London
2005
Stirling Prize 2006 winner for the:
Barajas Airport European Terminal, Madrid, Spain


photo : Amparo Garrido © The Photographer
Barajas Airport photos
Lloyd's building, City of London


image © Adrian Welch
Lloyd's Building
Capodichino underground station redevelopment, Naples, Italy
2006-
Canary Wharf RS1, Canary Wharf, east London
1988-
214m / 702ft
Heron Quays West Tower 1, Canary Wharf
214m / 702ft
East Darling Harbour Masterplan, Sydney, Australia
–
5 finalists including Richard Rogers Partnership
Riverside South development – two towers, Canary Wharf
2007-
Bracknell Town Centre Regeneration, Berkshire, England
–
£750m with Chapman Taylor Architects
Extension to & refurbishment of Javits Convention Center
2005-
Jacob K. Javits Convention Center, 655 West 34th Street, New York
1979-86 originally by I M Pei & Partners, Architects
Richard Rogers Partnership – deleted projecs
Central Library Birmingham, central England
2002-06: not built
£180m
Birmingham Library Competition 2006
Javits Convention Center Extension to & refurbishment, New York City, NY, USA
Jacob K. Javits Convention Center
CB1 Scheme, Cambridge, England, UK
Richard Rogers Architects were designing a £725m masterplan for 25 acre Cambridge railway station area – entitled the CB1 Scheme – for the Ashwell Property Group: flats, offices, hotels, public square, bus interchange, county heritage centre and shops: planning submission rejected Apr 2006. Richard Rogers once taught architecture in Cambridge.
Four Key Buildings by the Architect
We feature four key projects by this celebrated London-based architect: a classic Richard Rogers building The Pompidou Centre in Paris, a recent UK project, the Glasgow Bridge, the Millennium Dome, London and the Lloyds Building London.
The first major building by this British architect, completed with celebrated Italian architect, Renzo Piano:
Centre George Pompidou / Pompidou Centre, Rue Beaubourg, Paris IVe, France
Date built: 1976
Design: Richard Rogers / Renzo Piano Architects

Pompidou Building, Paris: ducts image © Adrian Welch
Radical for its time with service ducts expressed on the exterior and all structure glamourised and articulated externally where possible. The architectural realisation of some Archigram ideas, with escalators providing dynamism to the main west facade. Half of the plot was given over to a rectilinear square which again added dynamism to the building. Also known as the Beaubourg Centre or simply The Pompidou.

Pompidou Building, Paris: photo from the top © Adrian Welch
Classic Pompidou Centre Paris
Our second major project, a competition win for a bridge in the UK:
Clyde Pedestrian Bridge, Glasgow, Scotland
Design with Atkins Architects:
This project was abandoned


Glasgow Bridge Picture: Photo Credit Steve Hosey Graphics
Glasgow Bridge by Richard Rogers
Our third key project, a major London building:
Millenniumn Dome, Greenwich, east London, UK


image © Adrian Welch
Millenniumn Dome London : Tensile Structure
Our fourth featuyred project, after The Pompidou his next major building:
Lloyds Building, City of London
1979-84


photograph © AJW
Lloyd's Building London
Lloyd's Register of Shipping, Fenchurch St, London EC3
2002
£70m
Richard Rogers Partnership Background
The partnership made their name with the Pompidou Centre in Paris. Their reputation for exuberant hi-tech architecture was cemented with Lloyd's of London and latterly the Millennium Dome, also London.
The Richard Rogers Partnership – Key Projects
Pompidou Centre (aka Beaubourg Centre), Paris, France
Lloyds Building, City of London, UK
Millennium Dome, Greenwich, London, UK
Daiwa Building, City of London 1999
Headquarters for Channel 4 Television, London, UK
Marks & Spencer, London, UK
European Court of Human Rights, Strasbourg, France
Law Courts, Bordeaux, France
Minami Yamashiro Primary School, Japan
Madrid International Airport, Spain
Heathrow Airport Terminal 5, London, UK
National Assembly, Cardiff, Wales, UK
Law Courts, Antwerp, Belgium
Bullring complex, Barcelona, Spain
Proposed Projects
Commercial offices, Canary Wharf, London, UK
122 Leadenhall Street office tower, City of London, UK
Early Richard Rogers Projects
Designs, alphabetical:
Minami-Yamashiro Elementary School, Kyoto, Japan
–
Billingsgate Securities Market, Lower Thames St, City of London, UK
1985-88
Billingsgate Market
Channel 4 Headquarters, Horseferry Road, St James' Park, West End, London
1994


photo © Nick Weall
Channel 4 TV Headquarters
Chiswick Park Building 5, west London, England
–
Kabuki-Cho, Tokyo, Japan
1990-93
LDDC Pump House, Tidal Basin Road, Royal Victoria Docks, east London
1987-88
Reuters Building, Commodity Quay, East Smithfield, east London
1989
£85m
Richard Rogers Partnership Offices, west London
1993
Design with Lifschutz Davidson Design
RIBA Awards 1993 Regional Award : London
Tradeston/Broomielaw bridge over the River Clyde – project abandoned:

photo : Steve Hosey Graphics

image from Richard Rogers Partnership
Richard Rogers says, "Great! This is a wonderful opportunity to contribute to one of Europe's most vibrant cultural centres."
More architectural projects online soon
Location: London, England, UK
Architects Practice Information
Practice renamed Rogers Stirk Harbour + Partners or RSHP
Pritzker Prize Architects – winner in 2007
Rogers Stirk Harbour + Partners studio based in London, UK
Background on the Architect
Richard Rogers: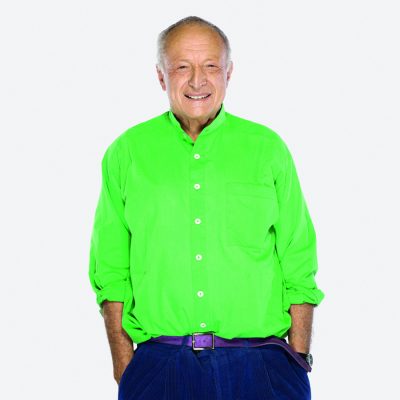 photo © Andrew Zuckerman
Richard was a key member of the British Hi-Tech movement alongside Norman Foster. With Norman Foster and James Stirling, Richard was often portrayed in the Eighties as one of three dominant British architects working across the globe. Other Hi-Tech architects were Nicholas Grimshaw (originally with Terry Farrell), Chris Wilkinson and Richard Horden.
His Welsh Assembly has often been compared to the Scottish Parliament Building but despite controversies is much cheaper and smaller.
He was the winner of RIBA Gold Medal in 1985.
Comments / photos for the Richard Rogers Architects page welcome