New Polish houses, Poland homes images, Residential architecture photos, Residence design pictures
Contemporary Polish Houses
Contemporary Property Poland – new home design images + information
post updated 27 September 2023
Polish Architecture Designs – chronological list
We've selected what we feel are the key examples of Polish houses.
We cover completed houses and new building designs across Poland. The focus is on contemporary Polish residences.
We have 1 page of Polish Residential Architecture selections.
Polish Residences
Poland Residential Architecture News arranged chronologically:
26 September 2023
House with a Hammock, Izabelin B, Mazowieckie, east-central Poland
Design: STOPROCENT Architekci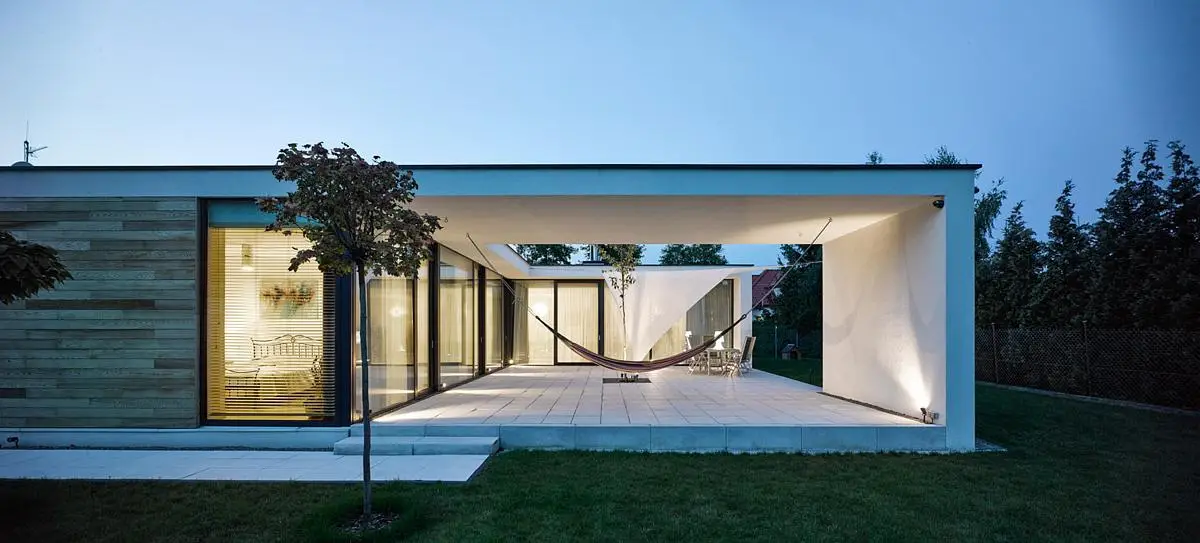 photo : Grzegorz Pedzich
House with a Hammock
House with a Hammock was designed for a young couple with a child. It was built on a small plot of land under the forest, withdrawn from the street. Near the borders of the plot there are adjacent single-family residential buildings. The challenge was to design the building in such a way as to ensure intimacy for the residents and at the same time to fit into the existing context.
16 Sep 2023
House K, Konin
Design: STOPROCENT Architekci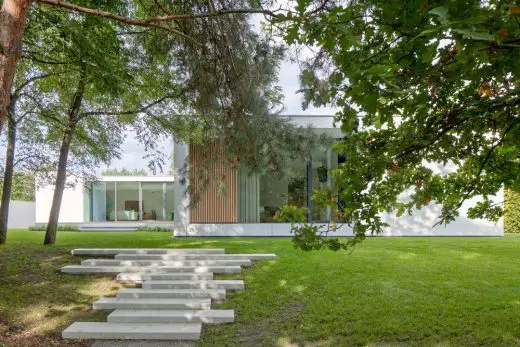 photograph : Piotr Krajewski
House in Konin
House K is one of STOPROCENT Architekci projects that had waited the longest for its construction. The architects started working on it in 2012, yet the house has just been finished in 2021.
14 Sep 2023
The Apple House, Krakow, southern Poland
Architecture: BXB studio Bogusław Barnaś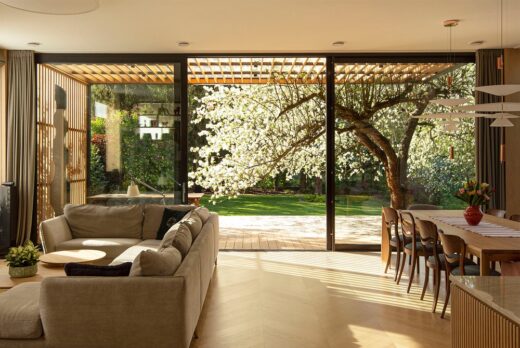 photo © Rafał Barnaś
The Apple House, Krakow
The Apple House was built in the depths of a long and narrow plot overgrown with trees, which we decided to keep, despite the fact that their location significantly hindered the development of the plot. Another challenge was to design two buildings on the plot.
2 Aug 2023
Beech Valley, Grabówko Lake, Kashubian Valley, north Poland
Architecture: ArchMondo Piotr Kowalczyk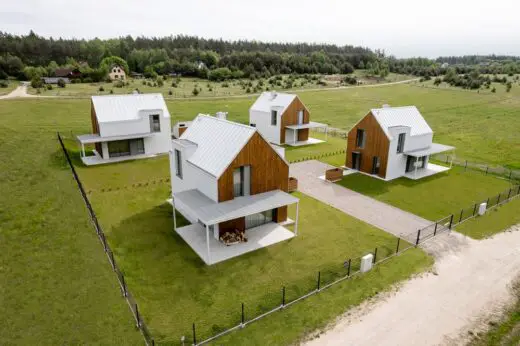 photos © Katarzyna Seliga-Wróblewska and Marcin Wróblewski
Beech Valley Housing Complex, Grabówko Lake
The Beech Valley is a complex of four houses located nearby the Grabówko Lake in Poland, in a charming Kashubian valley surrounded by picturesque beech forests.
3 July 2023
Krakow Tenement House by BXB studio Bogusław Barnaś, Krakow, southern Poland
Architecture: BXB studio Bogusław Barnaś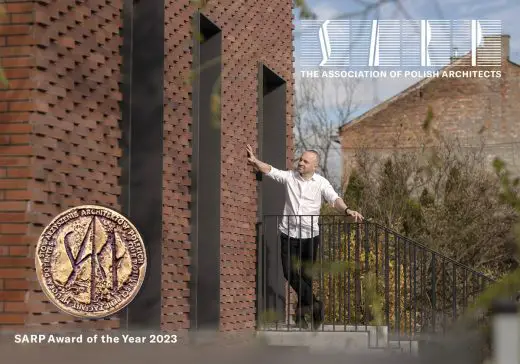 photo : Piotr Krajewski
Krakow Tenement House
A Micro Tenement House is a small residential building with a building footprint of 70m2, located on a narrow and tight plot of land, surrounded by residential buildings, a cozy urban street, and preserved trees. The distinctive feature of this building is its flexibility and adaptability, represented not only by its dynamic and innovative facade but primarily by its intelligent functional layout that can adjust to changing user needs.
10 Apr 2023
Hilltop House, Poznań, western Poland
Design: mode:lina architekci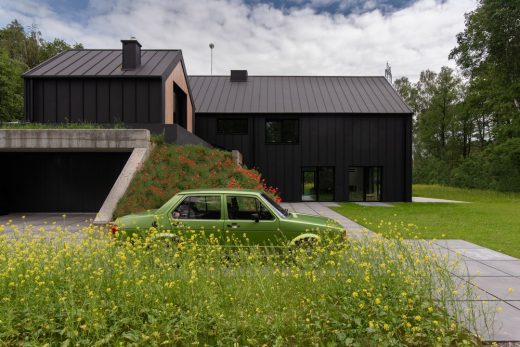 photo : Patryk Lewiński
Hilltop House, Poznań, Poland
The Hilltop House project is the result of pouring investors' dreams into a tangible form – both their love for mountains, winter sports, and cars, and their fondness of original architectural solutions. A modern barn neighbouring the forest wall, encased by three slopes of a green hill, has become their private haven in one of Poznań's bedroom communities.
23 Dec 2022
The Little Eaves House, Lanckorona, Lesser Poland
Design: Bogusław Barnaś, BXB studios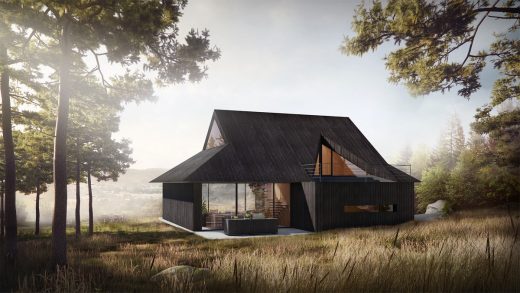 photo courtesy of architects office
The Little Eaves House
"This small house with an area of 170 square meters is inspired by a wooden hut I accidentally encountered during a bicycle trip, which somehow particularly captivated me and stayed in my memory, just like the characteristic arcaded houses of Lanckorona. The Little Eaves House breaks all conventions, rules and principles."
18 Aug 2022
Tenement House, Krakow, southern Poland
Architecture: BXB studio Bogusław Barnaś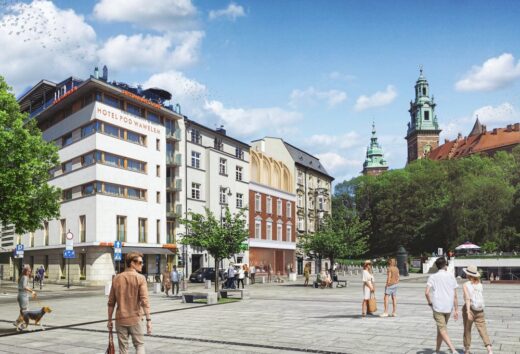 image : Unique Vision Studio Rafał Barnaś
Krakow Tenement House, Wawel
The Krakow Tenement House near the Wawel Royal Castle defines a completely new quality of the Vistula embankments. This building is extremely innovative and very Krakow-like at the same time.
20 Dec 2021
Villa Reden, Chorzów, Silesia, southern Poland
Design: Architekt Maciej Franta – Franta Group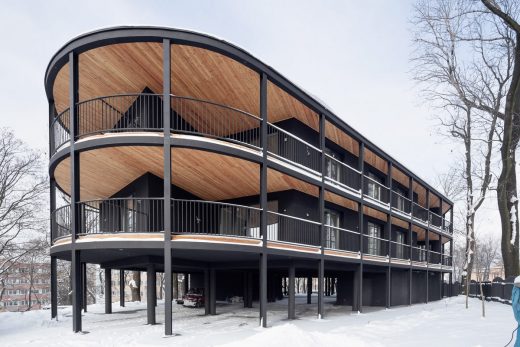 photo : Tomasz Zakrzewski
Villa Reden Apartments
The unique context of the place and the potential negative consequence of implementing a new tissue in this unique area meant that the decision to shape a new building was not easy and had to refer directly to these guidelines, not compete with them, and "respond" to the environment with its uniqueness in a contemporary way.
17 Dec 2021
ArchiPaper & The Farmhouse
Design: Boguslaw and Rafal Barnas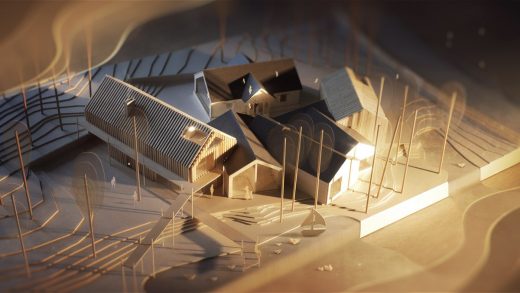 image courtesy of architects practice
ArchiPaper and The Farmhouse
This is a unique, never seen before, unprecedented, surprising, fairy-tale-like synthesis of visual arts and architecture. Two independent pieces of art created by brothers – Boguslaw and Rafal Barnas tell the story of the architectural design in the film ArchiPaper.
20 Nov 2021
Windmill House, Lublin, Lower Silesian Voivodeship, western Poland
Design: Michał Kucharski, o4architekci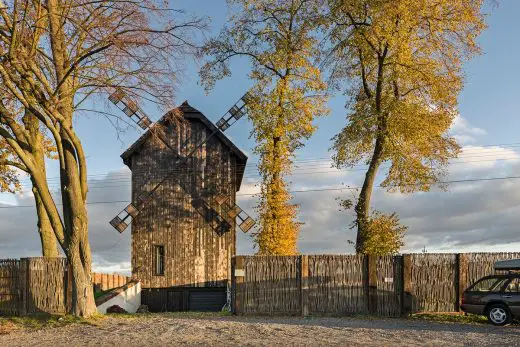 photograph : Rafał Chojnacki Fotografia Architektury
Windmill House in Lublin
The foundations for the project were created as a part of the international competition 'Contemporary House 2014 – Village House'. The work of Tomasz Padło and Michał Kucharski was awarded at the national stage in Poland.
More Polish Houses News on e-architect soon
Polish Houses 2018 – 2019
14 Sep 2019
The Star House, Warsaw Suburbs
Architects: Z3Z Architekci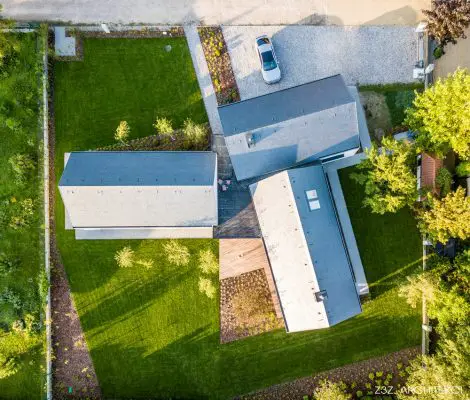 photograph : Juliusz Sokołowski
New House in Warsaw Suburbs
Each volume represents different function: living, sleeping and utility. The place where all three volumes intersect is the entrance zone. Because of its central placement, it provides easy access to all parts of the house.
9 July 2019
Cichy House, Czerwionka—Leszczyny, Silesia, southern Poland
Architects: Toprojekt



photograph : Juliusz Sokołowski
House in Czerwionka—Leszczyny
The fairly long plot lies in the North-South direction parallel to the motorway A1 at a distance of about 100 m, this makes the site vulnerable to noise from the highway.
17 Jun 2019
Red House, Rudy Wielkie, Gmina Kuźnia Raciborska, Racibórz County, Silesian Voivodeship, southern Poland
Architects: Toprojekt



photograph : Juliusz Sokołowski
Rudy Wielkie House
13 Jan 2018 – new images added:
Autofamily House
Design: KWK PROMES Robert Konieczny


image from architects
Autofamily House
The only access to the plot is from the south, effecting in a conflict between the driveway and the garden to be designed. Therefore, the garden and the house are elevated to the level +1 while the entrance stays at the level 0. For the inhabitants comfort the driveway leads them to the garden, creating easy connection between two floors.
More Polish Houses News online here at e-architect soon
Polish Houses 2014 – 2017
20 Nov 2017
Volkswagen Home, Warsaw
Architects: mode:lina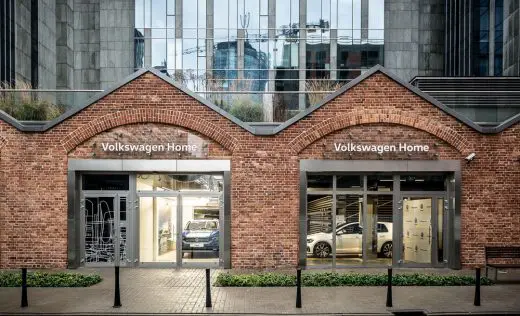 photography : Patryk Lewiński, Paweł Konarzewski
Volkswagen Home in Warsaw
Volkswagen has always been a truly visionary brand with a penchant for design. In this ever changing world, where new technologies rapidly transform the style of living and customers' expectations, Volkswagen decided to create a unique project,Volkswagen Home, and invited this architects studio from Poznań to design it.
26 Oct 2017
Edge House, Krakow
Design: Mobius Architekci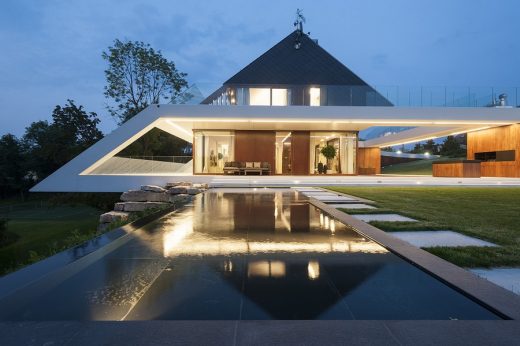 photography : Pawel Ulatowski
Contemporary House in Krakow
This property is an attempt at designing a contemporary urban house in a mountain environment, where the local law requires traditional form. The parcel consists of three levels: the level of green terraces created by means of the building's project, the arms which create it, parcel where the building's ground floor is located and the parcel below the scarp.
Wolf House Guben by Mies van der Rohe
Nemo House by the Masurian Lakes
Living-Garden House in Katowice
Podkowa Lesna Residence, Poland
More Polish Houses News online here at e-architect soon
Polish Houses 2006 – 2013
17 Jun 2013
Propeller House, outside Warsaw
Design: 81WAW.PL Architecture Studio


image from architect
Propeller House
Modern buildings are becoming more and more popular in Poland. Original architectural solutions are usually being used not only for projecting malls and office buildings, but also to design family houses.
3 Jun 2013
Semi-Detached House, Wilanów, Warsaw
Design: 81WAW.PL Architecture Studio


image from architect
Semi-Detached House Poland
Semi-detached houses are usually associated with two identical blocks connected with a wall. However, investment placed in Warsaw district Wilanów proofs that it is not always true.
21 May 2013
Horizontal House, Konstancin, Piaseczno County, Masovian Voivodeship, eastern Poland
Design: 81WAW.PL Architecture Studio


render : Michal Nowak
Horizontal House Poland
Two architects from architecture studio 81.WAW.PL designed ground-floor house, which plan is based on letter "L" and has 250 square meters of usable area. House is equipped in everything what family of four would need to live in a comfortable and cozy way. Function was defined as a very legible one.
22 Feb 2010
CO2-SAVER House, Laka, by Pszczyna
Architect: Peter Kuczia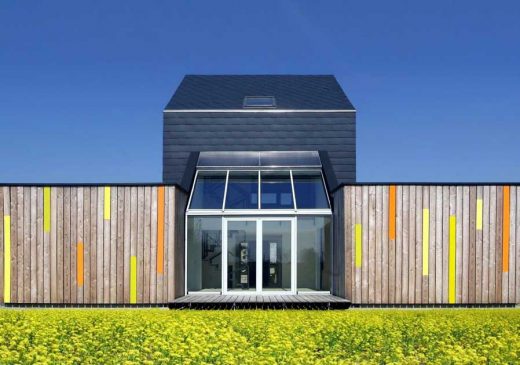 photo : Tomek Pikula
CO2-SAVER House
This very cost-effective green house blends – like a chameleon – with its surroundings. Colourful planks within the timber exterior facade of the house reflect the tones of the landscape.
23 Mar 2010
Garby house
Neostudio Architects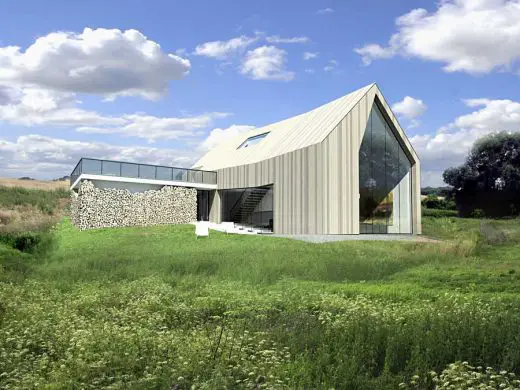 image from architect
Garby house
The client's wish was to have a high, two-level living room with large windows looking out to the south. The block of the house has been fitted to the existing slope in order to avoid too much capacity in its southern part – which resulted in a form soaking into the surrounding.
9 Apr 2009
OUTrial House, Ksíazenice
Design: kwk promes architects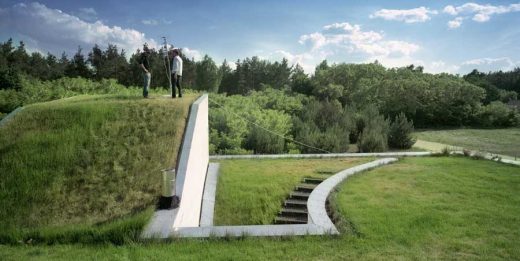 image from architect
OUTrial House
A green clearing surrounded by forest was the only context for the proposed small house. Hence the idea to "carve out" a piece of the grass-covered site, move it up and treat it as the roofing to arrange all the required functions underneath.
Key New Property in Poland, alphabetical:
102 house, Poznań
Zalewski Architecture Group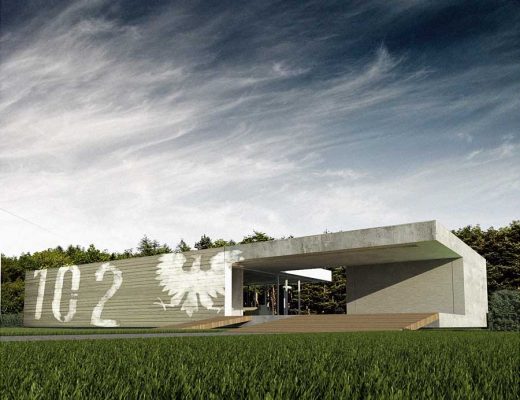 picture : Zalewski AG
102 house
Aatrial House, Opole
Design: kwk promes architects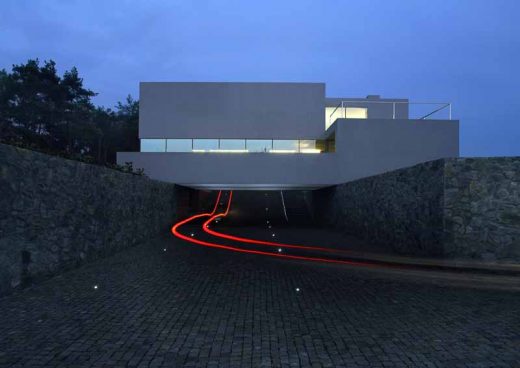 photo from architects
Opole house
"An obvious conflict develops between the driveway and the garden. The idea arose to lower the driveway in order to separate it from the garden. This prompted another idea – of a driveway leading inside to the ground floor level, from underneath the building, which became possible thanks to the creation of an inner atrium with the driveway in it."
Broken House, Katowice
Design: kwk promes architects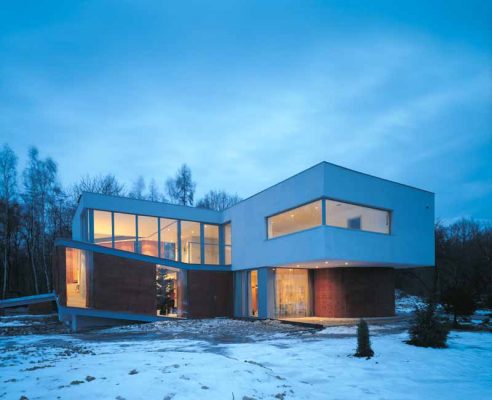 photo from architects
Katowice house
The building is located on the outskirts of Katowice, near a forest, on land deteriorated by 4th category mining damage, where tectonic faults are a possibility. Hence the connotation of uplifted layers of soil, interwoven with one another, which was the inspiration for the form of the house.
Dom Bezpieczny – Safe House, near Warsaw
Design: kwk promes Architects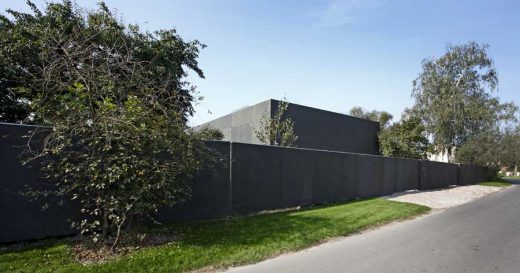 photograph : Aleksander Rutkowski photos
Safe House Poland
The house is situated in a small village at the outskirts of Warsaw. The surroundings are dominated with usual "polish cubes" from the sixties and old wooden barns. The clients' top priority was to gain the feeling of maximum security in their future house, which determined the building's outlook and performance.
Dom Ukryty + Dom Wroclaw
Design: kwk promes architects
kwk promes
The house will be situated in Lower Silesia, in a post-german city, where the majority of buildings are steep roofed villas. Under ground there are thousands of kilometres of partly buried tunnels, which became the starting point of the design idea.
Gathering place
Design: kwk promes architects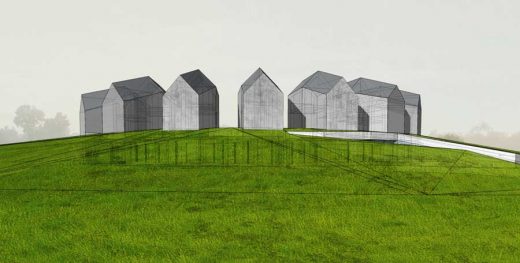 image from architect
Gathering place
The object was to be a gathering place for 8 related families. The key concept was to use a round plan, as a circle had been a symbol of gathering for ages.
House with a Capsule
Design: kwk promes architects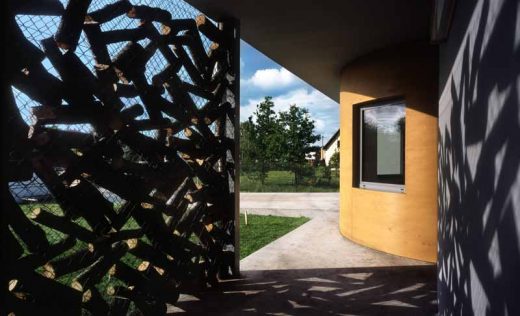 photo from architects
House with Capsule
The building is situated in an industrial area of Poland. It's been designed for an indigent family, which appreciates its functionality, as well as low maintenance and construction cost. The plan of this bungalow is based on a square, where internal and external spaces are combined.
Standard hOuse, Pszczyna, southern Poland
Design: kwk promes Architects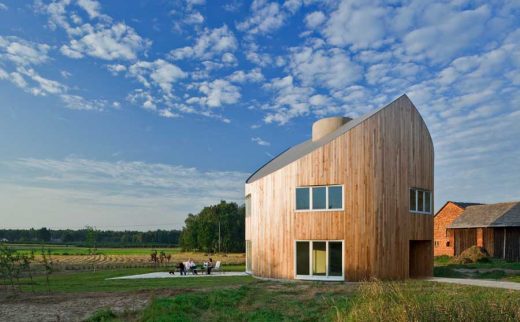 photo : Mariusz Czechowicz MURATOR
Standard hOuse
The project arose in untypical conditions: it was supposed to be built in two different places – near Pszczyna and in the outskirts of Berlin. As the second location was still to be chosen, the main goal became to design a house that fits every plot.
Stone Villa, Gdynia
Design: Schleifer & Milczanowski Architekci s.c.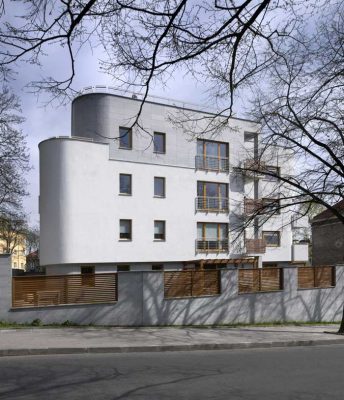 photo from architects
Stone Villa
Stone Villa is located in one of the most exclusive housing estates of Gdynia – Kamienna Góra. This part of town is under surveillance by historical preservation registry.
Villa Moniuszki, Gdansk
Design: Schleifer & Milczanowski Architekci s.c.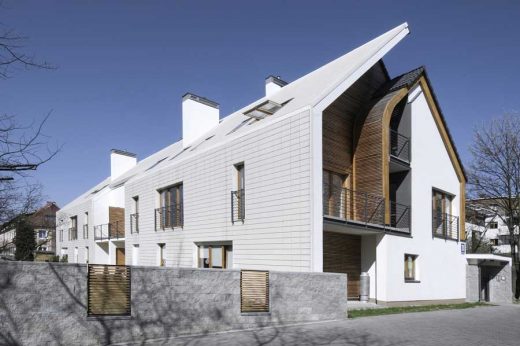 photo from architects
Villa Moniuszki
Villa Moniuszki is an intimate complex composed of two residential buildings. Both edifices belong to blocks of residential Wrzeszcz – one of the most exposed districts of Gdansk – taking advantage of all directions on the compass and proximity of the adjacent buildings.
More Contemporary Polish Houses online soon
Location: Poland, eastern Europe
New Polish Architecture
Contemporary Polish Architecture
Polish Architectural Designs – chronological list
Warsaw Architecture Walking Tours
Comments / photos for the Contemporary Polish Houses page welcome