Los Angeles Public Spaces, California Park Development, Senior Center USA, Architecture
Los Angeles Community Projects
American Public Space + Community & Senior Center designs by Lehrer Architects
Nov 26, 2013
Los Angeles Public Park + Community & Senior Center
Design: Lehrer Architects
Location: Los Angeles, California, USA
Two Los Angeles Projects Designed for Communities are Nominated for a National Best of Year Award
Spring Street Park & Potrero Heights Community & Senior Center
November 26, 2013 (Los Angeles) – Lehrer Architects is honored to announce that Spring Street Park and Potrero Heights Community & Senior Center are both nominated for a Best of Year Award.  Both architecture projects are national finalists in the "Outdoor" category.
The annual Best of Year Award is bestowed by Interior Design magazine upon design projects in several categories covering commercial, residential and institutional. Interior Design Editor-in-Chief Cindy Allen will announce winners in each category during a ceremony in New York City on December 5.  The full list of nominees is available at https://boyawards.secure-platform.com/a
Lehrer Architects' two nominations in the same Best of Year Award category actually encompass the firm's architecture work for civic/government and community commissions as well as demonstrate how the firm uses design–art, architecture, landscape–to draw out the inherent beauty of an environment.
This current recognition for Spring Street Park follows the recent recognition of being one of twenty national projects to be nominated for the 2013 People's Design Award given by the Smithsonian's Cooper-Hewitt, National Design Museum.   The Los Angeles Business Council also awarded Spring Street Park the Award of Excellence for "exceptional contribution" in the Landscape Architecture category.
This current recognition for Potrero Heights Community & Senior Center is in addition to recently receiving an Honor Award from the Southern California Development Forum.
Details of each project:
Spring Street Park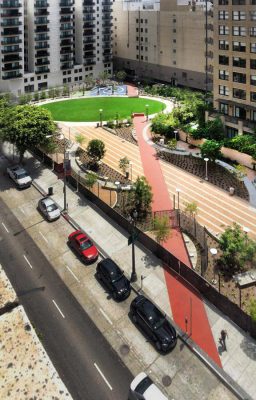 photo @ Lehrer Architects
Official opening:
June 17, 2013
Location:
426 S Spring Street, Los Angeles. In the Historic Old Bank District.
Square footage:
0.7 acre, L-shaped lot, bounded by Spring Street on the west, an alley on the east, and mid-block between 4th and 5th Street.
Design Collaborators – a unique Public/Private Partnership:
Bureau of Engineering, Department of Public Works. City of Los Angeles
Lehrer Architects
Lehrer Architects was selected to provide design leadership for the landscape architects of the City's Bureau of Engineering in an experimental public/private partnership.  Lead by Michael Lehrer, the architectural firm delivered a bold design with an agile approach to urban public use development.  The City brought landscape expertise to the design and implementation for a low maintenance, durable valued urban park.
Design Challenges:
Reclaiming two parking lots, emblematic of the 50-year degradation of the Historic Financial Center on Spring Street, and transforming them into the centerpiece of the new passionate, nascent, important mixed-use residential heart of old/new downtown Los Angeles.
Seeking approval for a bold, transformative design, with disparate public, private, and governmental stakeholders to reach consensus for the benefit of the community.
Relevance: 
Spring Street Park embodies the idea of "thrivability" evident in the best placemaking and sustainable practices of minimum lawns, low maintenance, low water planting which captures and cleanses all site water before returning it to the storm drain.
Design Details:
Located in a renewed and emerging historic context, Spring Street Park is designed to acknowledge and respond to the street, and the surrounding residential buildings with their new big residential windows and balconies to create a recreational destination for the full range of community.  The 64 bespoke Spring Street Bench Chairs, designed by Lehrer Architects, populate the Park when people aren't there, and are used to create places for one, for two, for several, or for the hundreds to see art displayed and performed during the monthly Downtown Art Walk. The aluminum seat backs perform constant lightplay with sun's reflection, creating shadows as light filters through perforated aluminum bamboo patterns.
A bold diagonal (but almost true east-west) red concrete path cuts the longest path through the Park connecting a vibrant Spring Street to an in-the-future vibrant alley.
In this modernist plan, the elliptical great lawn is used succinctly as a classical urban room, on the sunniest part of the site.  It is surrounded by an ellipse of vined green-screen columns (many are lights).  The ellipse is largely surrounded by a newly planted bamboo hedge, which will grow up to 30'.
A continuous narrow paved path designed for children on bicycles, adults with strollers and leisure pedestrians circumnavigates the Park.  A fountain, located at the street end of the great lawn, adds visual and acoustic interest enjoyed from the street and the Park.
The entrances to the Park are highlighted with aluminum scrims reiterating the bamboo ellipse.
Consultants:
Structural Engineer: John Labib and Associates
Lighting Designer: John Brubaker
Water Engineer: Pace Water
Electrical Engineer: Donald Dickerson and Associates
Spring Street Chair Fabricator: Arktura
Client: 
The City of Los Angeles
Bureau of Engineering, Department of Public Works. City of Los Angeles
Department of Recreation and Parks. City of Los Angeles
Former Mayor Antonio Villaraigosa
Councilman Jose Huizar
Former Councilwoman Jan Perry
Construction Budget:
$ 1.45 million
Potrero Heights Community & Senior Center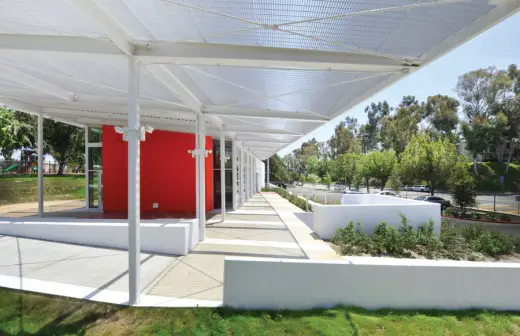 photo @ Lehrer Architects
Project Completed:
August 2013
Location:
8051 Arroyo Park Drive. Montebello, California
Square footage of structure and related lot:
4,000 sq. ft. building which offers an additional 4,000 sq. ft. of covered outdoor space.  The entire Park is almost 2 acres or 85,000 sq. ft.
Design Challenge:
Transform a very modest building program into an iconic public destination
Place a building in a small Park without diminishing the natural environment
Establish a "front door" for the Park
Design Relevance: 
The design concept allows the park to flow through the building.  Potrero Heights Park Community and Senior Services Center is a shelter where groups can gather and celebrate while simultaneously experiencing the outdoors.
Design Details:
The building responds to the landscape with large openings and transparencies seamlessly connecting the shaped exterior topography to the interior.
Seven large glass garage doors convert the interior assembly room into covered indoor/outdoor space.  Two floor-to-ceiling fabric curtains offer flexibility, acoustical attenuation and visual drama to the indoor and outdoor space as they are extended or retracted to further define the interior space.
The expansive, cantilevered roof of aluminum grating mimics the natural topography and provides both dappled light and shade for the interior and exterior spaces.  The roof, as a design concept, is meant to float and to minimize the building's visual impact from the street.  It is perfectly sloped for future photovoltaic installation.
The building's lateral support is achieved through simple wood shear walls, which is a creative design response to the modest budget. Sparing use of steel members was reserved only for gravity loads.
The building becomes the front door to the Park as it is sited towards the parking lot and street for easy accessibility, equalized cut and fill, and to retain as much Park landscape as possible.
Design Team:
Architect: Lehrer Architects
Interior & Environmental Concepts: Lehrer Architects
Structural Engineer: John Labib and Associates
Landscape Architect: Mia Lehrer and Associates
Lighting Designer: John Brubaker
MEP Engineers: Glumac
Client: 
County of Los Angeles
Community Development Commission of the County of Los Angeles
Construction Budget:
$ 1.9 million
Lehrer Architects
Michael B. Lehrer, FAIA, founded Lehrer Architects in 1985. The firm's approach, from the intimate to the monumental, is grounded in the idea that beauty is a rudiment of human dignity.  Lehrer Architects designs for community with a reverence for light and space. Delight is a matter of extreme gravitas in their approach to each project.  Lehrer Architects' residential, institutional and civic projects have been recognized with over 70 major national, state, and local design awards.
Michael Lehrer has been honored as a Fellow of the American Institute of Architects (FAIA) in recognition of outstanding contributions to the profession through design excellence, contributions in the field of architectural education, and the advancement of the profession.
www.lehrerarchitects.com
@LehrerArchLA
18 Jun 2013
Los Angeles Public Park
Design: Lehrer Architects
Spring Street Park in Downtown Los Angeles


photos from architect
Spring Street Park
Los Angeles Public Parks images / information from Lehrer Architects
Location: 426 S Spring Street, Los Angeles, Southern California, United States of America
Architecture in Los Angeles
L.A. Architectural Projects
Los Angeles Architecture Links – chronological list
Los Angeles Architecture Designs
Los Angeles Architecture Walking Tours
Los Angeles Buildings
'Rumblefish' – Taylor Yard Bikeway & Pedestrian Bridge, Elysian Valley / Taylor Yard
Design: SPF:architects (SPF:a)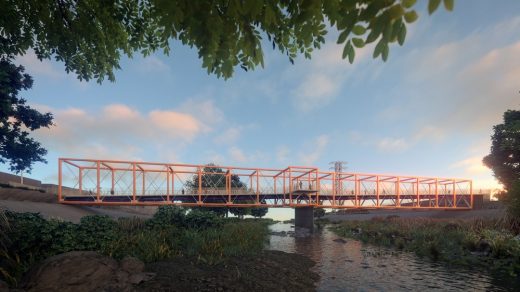 image : SPF:a
Taylor Yard Bikeway & Pedestrian Bridge
Central Los Angeles Area High School #9 for the Visual and Performing Arts
COOP HIMMELB(L)AU – award
Central Los Angeles Area High School #9 for the Visual and Performing Arts
Red Building at the Pacific Design Center
Pelli Clarke Pelli Architects
Red Building Pacific Design Center
Buildings / photos for the Los Angeles Public Park Design + Community & Senior Center Architecture page welcome