Library Buildings, Architecture, Architects, Photos, Interiors, Designs, News, Images, Projects
Library Buildings : Architecture
Major Contemporary Architectural Developments from around the world
post updated 16 August 2023
We've selected what we feel are the most important examples of Library Buildings. e-architect cover completed buildings, new building designs and architecture competitions across the world. The focus is on contemporary Library buildings but information on traditional buildings is also welcome.
Library Buildings
We have 3 pages of Library Architecture selections with links to hundreds of individual project pages.
Library Buildings : architecture news + key projects (this page)
Library Building Designs : A-K
Library Architecture : L-Z
Library Buildings – Latest Designs Added
Architecture Designs – latest additions to this page, arranged chronologically:
Do We Really Need Libraries Anymore?
Article by Adrian Welch, Senior Architect, for GAJ Dubai
May 2018
"Libraries are the thin red line between civilization and barbarism." Author Neil Gaiman
"Back in my school days I was a regular visitor to the library, but when was the last time I visited a library to borrow a book? It must be over two decades ago, so clearly I don't value libraries. But I do, I think, just somehow they have slipped me by."
Do We Need Libraries?
Feb 13, 2018
Joukowsky Institute for Archaeology and the Ancient World, Providence, RI, USA
Design: Anmahian Winton Architects


photo © Warren Jagger
Joukowsky Institute for Archaeology and the Ancient World
The Joukowsky Institute for Archaeology and the Ancient World at Brown University occupies Rhode Island Hall, a historic Greek Revival building at the center of the campus green. AW restored the building's beloved exterior and re-animated the interior with a new program and design vocabulary to create this endowed teaching and research facility.
3 Feb 2018
The Archive House, Ipark, Ullandhaug, Stavanger, south western Norway
Design: Lund+Slaatto Architects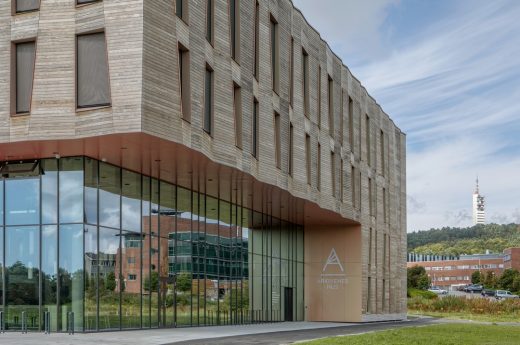 photo © Sindre Ellingsen
The Archive House, Stavanger
This building has been imaginatively designed to provide a 14,000 sqm cultural research centre which includes a café, library, meeting room and exhibition area. Kebony, a beautiful wood recommended by leading architects, was selected for the exterior cladding of the Archive House to create an eye-catching geometric 'folded' façade.
24 Mar 2018
Clare County Library, Ennis, Co. Clare, Republic of Ireland
Design: Keith Williams Architects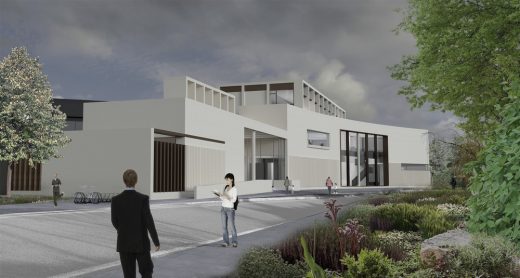 image courtesy of architects
New Library Building in County Clare
The new 2,300m2 project for client Clare County Council, has been conceived as a new cultural hub for the town and the region. It will abut the town's existing Glór Theatre (2001) adding the new County Library and a small contemporary Art Gallery.
15 Jan 2018
Museum of Language London Architecture Contest
Museum of Language London Design Competition by archasm
Carl Sandburg has accurately described language as the most indispensable tool in the life of us social animals, men. Men have traversed through ages and grown into the most superior race on Earth because of their advanced linguistic and communication skills. Human language is unique in comparison to other forms of communication, as it allows us to produce a vast range of expressions and emotions from a finite set of elements.
Library Buildings News 2017
11 Dec 2017
University of Bristol Library, Southwest England, UK
Design: Schmidt Hammer Lassen Architects and Hawkins\Brown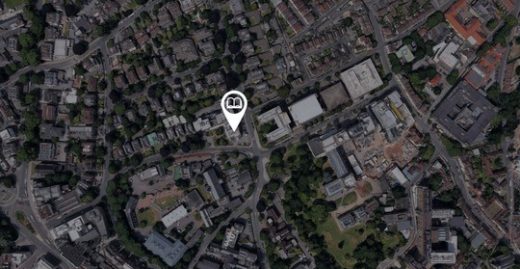 image Courtesy architecture office
New University of Bristol Library
A new £80m library development is to be built at the heart of the University of Bristol's Clifton Campus. The design will be by British architecture studio Hawkins\Brown and the Danish practice Schmidt Hammer Lassen Architects to work with renowned British engineering firm BuroHappold.
5 Jan 2016
Public Library Varna, Bulgaria
Design: spatial practice, architects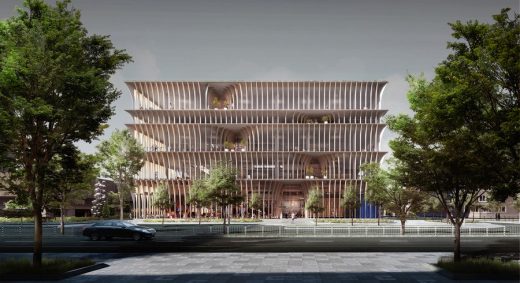 image from architect
Varna Public Library Design Competition entry shortlisted in third place, our of 370 entries.
3 Oct 2013
Jaime Garcia Terres Library, Mexico City
Design: arquitectura 911sc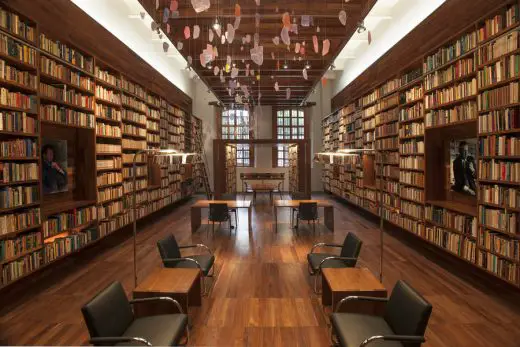 photo : Jaime Navarro
The project is part of the 'City of Books', a project by the Mexican Secretary of Culture to acquire the personal book collections of the most relevant Mexican writers and intellectuals of the 20th Century and commissioning architects the design of each personal library to be housed within La Ciudadela, an 18th Century building in the central part of Mexico City.
5 Sep 2013
Library of Birmingham, England, Uk
Design: Mecanoo


photo : Christian Richters
Centenary Square, the largest public square in the heart of Birmingham, currently lacks cohesion or a clear identity or atmosphere. Mecanoo's design transforms the square into one with three distinct realms: monumental, cultural and entertainment. These palazzos form an urban narrative of important periods in the history of the city; The Repertory Theatre (REP), a 1960s concrete building, the Library of Birmingham, designed in 2009 and Baskerville House, a listed sandstone building designed in 1936.
4 Sep 2013
BnL Bibliothèque Nationale de Luxembourg
Design: BOLLES+WILSON


model photograph © Tomasz Samek
The planned BnL, with its new and optimized program, addresses the Boulevard with an inviting, transparent and representative conical facade that metaphorically sucks visitors deep into the interior. Above the entrance and behind the inwardly sloping facade are conference rooms (bridging the entrance foyer). The interior unfolds as a landscape of reading terraces stepping up to a consultation deck, the top of five floors of secure archives, a magazine acropolis, the core of the building.
9 Aug 2013
Bayuquan Library Yingkou Plaza, Liaoning Province, north east China
Design: SH-DSD


photo from architect
Bayuquan library is another project designed by DSD in Bayuquan near Bayuquan Theatre. The idea of this design was from two rotated books. And the rotated blocks provide a best view. The library is mainly made up of 3 parts including the basement block containing 2 levels, the cantilever (3rd floor) and the connection.
19 Jul 2013
Municipal Library Setúbal, Portugal
Design: Jordana Tomé + Filipe Oliveira + Vitor Quaresma


image from architects
The Project designed by the architects Jordana Tomé, Filipe Oliveira and Vitor Quaresma was awarded with the first prize in the Public Competition for the Elaboration of the Project for Setúbal's Municipal Library.
26 Apr 2013
Dalian Library Building, China
Design: Preston Scott Cohen, Inc.


image from architect
Dalian Library
Datong Library aims to resolve the tension between the two major roles of a central library: as a place of community promenade and gathering and as an archive of knowledge and quite place of study. The form of the building embodies this tension, centering on a reflected pair of exceptional spaces. At the heart of the spaces of public promenade is a garden courtyard, around which classrooms, a gallery, informal reading rooms, and an auditorium are arrayed.
8 Apr 2013
New Central Library in Berlin, Germany
Design: Kubota & Bachmann Architects + Martinez


image : Jigen
New Library Building Berlin
This is a building proposal for the Berlin Central Library. Strategically sited within the city adjacent to the new Tempelhoff Park. The new library building should be viewed as a point of departure and is directly associated to the city's commitment to future urban development within this area.
4 Apr 2013
New Maranello Library, Emilia-Romagna, Northern Italy
Design: Andrea Maffei Architects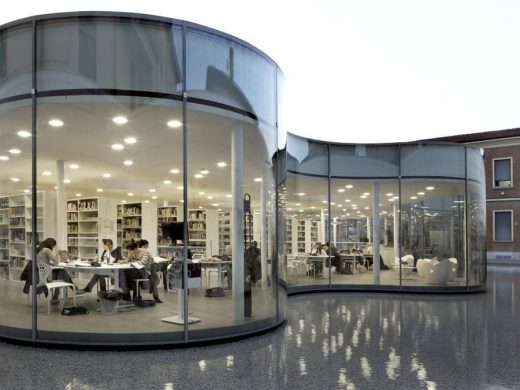 photo : Alessandra Chemollo
Maranello Library Building
This library building replaces an ex industrial warehouse maintaining the perimeter walls. The typical idea of the classic library is changed in an organic transparent shape put inside the original perimeter of the industrial building. The space between the transparent curvilinear glass skin and the existing perimeter walls is occupied as a connection element by a water tank, that stretches to the north of the road. The two-floors library occupies a gross floor surface of 1175 sqm.
19 Mar 2013
Ballyroan Library Building, Dublin, Republic of Ireland
Design: Box Architecture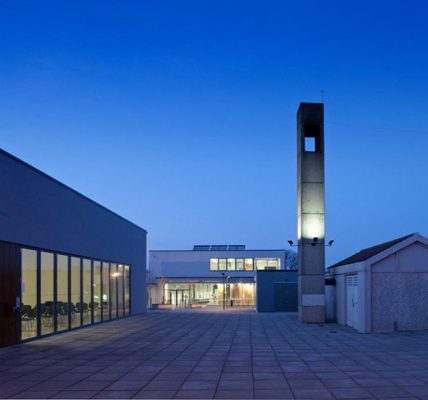 photo : Paul Tierney
Ballyroan Library Building
The original library building was built in the 1980's and served the community well over the past decades. However the library became outdated, in need of upgrading and became too small to deal with the collection of resources available to the community for reference or borrowing. After much consideration the existing building was demolished and rebuilt, doubling the size of the original library. A complete rebuild was deemed quicker, less disruptive, economic and a better environmentally sustainable solution.
13 Feb 2013
University of Helsinki City Campus Library, Finland
Anttinen Oiva arkkitehdit Oy – aoa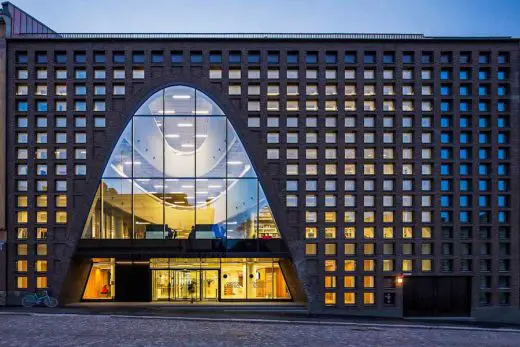 photo : Mika Huisman
University of Helsinki City Campus Library
The new library building – the largest academic library in Finland – complements the urban block by adding a curved brick facade, integrated within the street line formed by the adjacent buildings. This imposing building in the centre of the city "provides a gateway to the new information age".
25 Jan 2013
Cultural Centre and Library in Karlshamn, Sweden
Design: schmidt hammer lassen architects


picture from architects
Cultural Centre and Library in Karlshamn
The New Cultural Centre and Library in Karlshamn, Sweden, is designed to gather the city's cultural functions under one roof. schmidt hammer lassen architects has just won an international competition to design this 5,000 square metre cultural centre. Karlshamn will get a sculptural and flexible building containing a library, an exhibition area, a cinema, a tourist office and a café.
7 Nov 2012
Brentwood Library, Toronto, Canada
Design: Diamond Schmitt Architects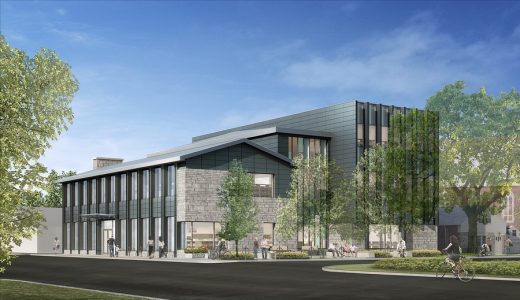 image from architects
Brentwood Library
This building has re-opened following a two-year renovation and expansion designed by Diamond Schmitt Architects. The updated library adds 30 percent more public service, collection and staff space configured on a tight site in the suburb of Etobicoke. The form of the original (1955) two-storey east wing is maintained and connects with a three-storey addition by a double-height Reading Room that houses the library's main book collection and seating areas. Natural lighting is abundant throughout the library and all occupied spaces have windows and outdoor views.
7 Nov 2012
Marne-la-Vallée University Library, Paris, France
Design: Beckmann-N'Thépé Agency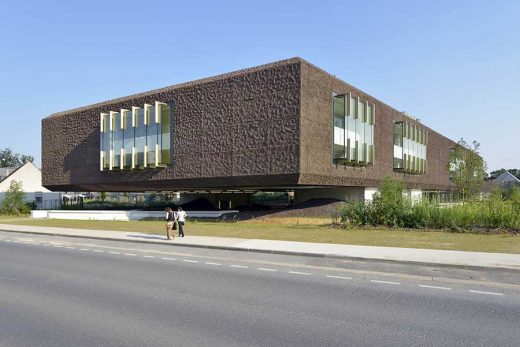 photo © Olivier Amsellem
Marne-la-Vallée University Library
The architects chose an audacious strategy for the design of this new building, which resembles a mound of earth 'torn from its natural environment,' in harmony with its surroundings. 'Between naturalism and terror, 'the Marne-la-Vallée Library puts us in touch with our dreams – active, joyous, sometimes disturbing, comforting, but always salutary'.
4 Oct 2012
Book Mountain – Spijkenisse Public Library, Rotterdam The Netherlands
Design: MVRDV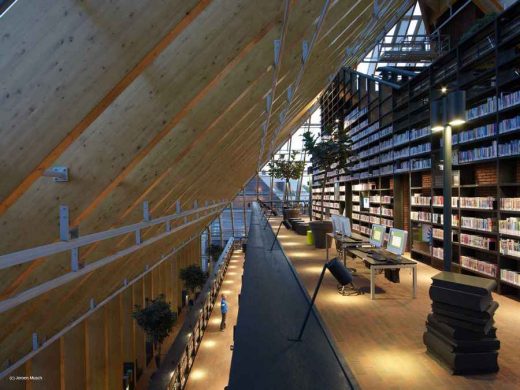 picture : Jeroen Musch
Spijkenisse Public Library
Today Spijkenisse Book Mountain and the adjacent residential neighbourhood will be opened by Prinses Laurentien of the Netherlands. Manifesting itself clearly as a mountain of books on the town's market square, the architecture is both an advertisement and an invitation for reading. Clever stacking of the buildings commercial functions produces its pyramidal form, which in turn, is wrapped in the libraries 480 meters route along bookshelves.
20 Jul 2012
LiYuan Library, near Beijing, China
Design: Li Xiadong/Atelier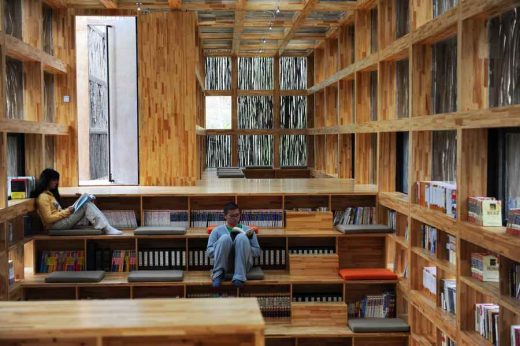 photograph from architects
Chinese Library Building
This architecture project is modest addition to the small village of Huairou on the outskirts of Beijing, just under a two hours drive from busy Beijing urban life. On the one hand it forms a modern programmatic complement to the village by adding a small library and reading space within a setting of quiet contemplation. On the other hand we wanted to use architecture to enhance the appreciation of the natural landscaping qualities.
16 Jul 2012
Médiathèque Romain Rolland, Paris, France
Design: Philippe Gazeau architecte


picture : Philippe Ruault
Médiathèque Romain Rolland
The Romainville multimedia library building is located in the heart of a dormitory town that is being completely renovated. The town planners wanted to open up the district by fragmenting the housing blocks, creating a central plain to provide a large park and two facilities, including the multimedia library which is intended to act as an attractive magnet on a neighbourhood level. The architecture floats between two 'flying carpets'.
11 Apr 2012
The Hive, Worcester, England
Design: Feilden Clegg Bradley Studios


photo © Hufton & Crow
Library Building Worcester
The UK's first purpose-built joint-use library building. The Hive which will serve the University of Worcester and the county that incorporates the county archive, a local history centre, accommodation for the County Archaeologist's team and a 'one stop shop' for the local authority: The building design is a pioneering response to the challenge of providing a wide range of public services in an age of austerity whilst promoting social and environmental sustainability.
6 Apr 2012
MedaTeca Building, nr. Milan, Lombardy, northern Italy
Design: Alterstudio Partners


photo from architects
MedaTeca Building
"This is MedaTeca: a contemporary architecture whose design, materials, façades colours and the large full-length windows that give onto the road, convey the public vocation of the building. The spaces are bright and comfortable, with double-height rooms and views between a floor and the other, furnished with pieces of the best Italian and International design and others especially designed by the architects."
Library Building – Recent Designs Added
12 Feb 2012
Biblioteca Central UAEM, Cuernavaca, Morelos, Mexico
Design: REC Arquitectura Y Construccion


image from architects
Biblioteca Central UAEM
The building complex is conceived in sub elements, each element rationally positioned and connected to one another with three generating ideas: culture, cultivation and domesticity.
26 Jan 2012
Avondale Heights Library & Learning Centre, Melbourne, Australia
Design: H2o architects, Collingwood


photograph : Trevor Mein – Mein Photo
Melbourne Library Building
Following a decade of modest local development, the Victorian Government proposed a new community resource combining an existing former school gymnasium with a new library and learning centre. This presented the opportunity for a significant, easily found and adventurous building reflecting community cultural aspirations.
10 Jan 2012
Taltal Public Library, Chile
Design: Murúa-Valenzuela


photo © macarenaalvarez
Biblioteca Pública Taltal
The project to design the new public library building arose from a public competition process petitioned by the Municipality of Taltal in 2008. This building design received the first place selection.
6 Dec 2011
Tianjin Binhai Library, China
Design: KDG group, INC


image from architects
Tianjin Library Building
Architecture competition – a proposal for redefining the appearance of the Tianjin Binhai Library, an existing four-story building situated on the bank of a river. The building is the center for this new development area, and the landmark for the waterfront walk.
Library Architecture – Key Projects
Key Architecture + Building Projects, alphabetical:
Aarhus Library, Denmark
schmidt hammer lassen architects


picture from architect
Aarhus Library Building
Bibliotheca Alexandrina, Egypt
Snohetta Architecture


photo from Snøhetta Architects
Alexandria Library Building
Bibliothèque Nationale, Paris, France
Dominique Perrault Architects


photograph © Georges Fessy / DPA / ADAGP
Bibliothèque Nationale François Mitterand
Birmingham Library : Architecture Contest
Mecanoo Architecten


picture from BQ
Birmingham Library building, UK
British Library building, London, UK
Design: Colin St John Wilson


photo © Adrian Welch
British Library Building
City Library Helmond, The Netherlands
Bolles+Wilson


picture : Christian Richters
City Library Helmond
Czech National Library, Czech Republic
Future Systems Architects


picture from architect
Czech National Library – design competition
Hockessin Public Library, Delaware, USA
Design: ikon.5 architects


photo © James D'Addio
Hockessin Library Building
King Abdulaziz Center, Saudi Arabia
Snøhetta


image : MIR
King Abdulaziz Library : design proposal
Library España, Colombia
Giancarlo Mazzanti Architect


photo : Sergio Gómez
Biblioteca Pública Santo Domingo
Library of the Future, Kortrijk, Belgium
REX


image © Luxigon courtesy REX
Kortrijk Library design
Royal Library extension, Denmark
Schmidt, Hammer & Lassen Architects


picture : Adrian Welch
Sort Diamant : Black Diamond
Seattle Public Library, Washington, USA
Rem Koolhaas Architects / OMA


photograph : Philippe Ruault
Seattle Public Library Building
Seville University Library, Spain
Zaha Hadid Architects


picture from architect
Seville University Library
Stockholm Library, Sweden
Winner : Heike Hanada


image from AAC organisers
Stockholm Library building Competition
Surry Hills Library Building, NSW, Australia
Francis-Jones Morehen Thorp


image : John Gollings courtesy by FJMT
Surry Hills Library Building
Turku City Library, Finland
JKMM Architects


picture : Arno de la Chapelle
Turku City Library Building
Waalse Krook, Gent, Belgium
UNStudio


image © Mir_www.mir.no
Waalse Krook Gent
More buildings + architecture projectsonline soon
Architecture Links
Peckham Library, London : Stirling Prize winner 2000 – major architecture prize
National Library of Scotland Building
Comments / photos for the Contemporary Library Architecture page welcome
Website: Libraries