Iceland architecture news 2023, Reykjavik building, Construction design architects, Property images
Iceland Architecture News
Contemporary Architecture + Property Information: Icelandic Built Environment in the North Atlantic
post updated 21 October 2023
Iceland Architectural News + Key New Property Designs, alphabetical:
Iceland Architecture Designs – chronological list
Icelandic Architecture News
30 August 2023
Ring of Bjólfur, Seydisfjordur
Design: Esja Architecture & Arkibygg Arkitektar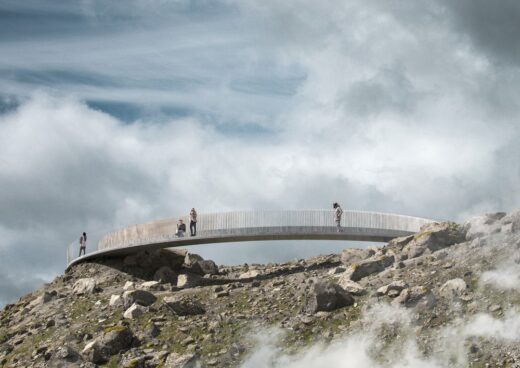 photo © Alex Cetea & Andrei Ducu Predescu
Ring of Bjólfur, Iceland
Ring of Bjólfur is a ring-shaped viewing platform on the slopes of Mount Bjólfur, 650 m over sea level. The simple concrete structure sits on top of the rugged landscape and hovers over the edge offering a spectacular view over the fjord and to the Atlantic Ocean.
9 June 2022
The Hill Farm, near Lake Mývatn, North Iceland
Design: Derin Kinacigil & Juan Franco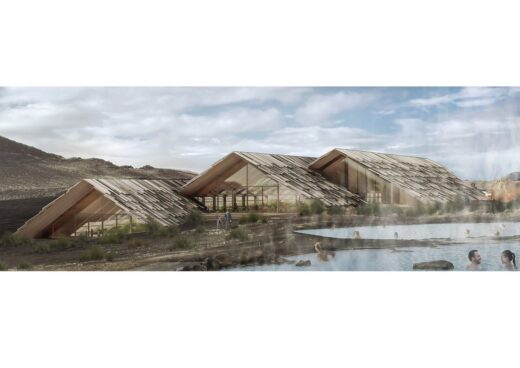 image courtesy of architectural practice
Iceland Greenhouse Restaurant Competition Winner
To resolve the program of the brief we developed a solution incorporating two principles. The first was to create building volumes that blend within the landscape, and the second was to compartmentalize the program into three clearly defined sectors.
6 June 2022
Greenhouse Restaurant
Design: United Architektur – a German architecture office founded by Jens Brinkmann



renderings by Thomas Saint-Guillain and United Architektur
Greenhouse Restaurant Mývatn Windows
United Architektur from Berlin won an honorable mention in an international design competition for a greenhouse restaurant in Iceland. The competition's idea is derived from Iceland's growing greenhouse revolution. It seeks to use its local renewable resources to support food production and suggest iconic solutions for the farm-to-table concept.
More Iceland Architecture News on e-architect soon
Iceland Architecture News 2019 – 2021
7 Jul 2021
Seaside Gardens, Gufunes, Reykjavik waterfront
Design: jvantspijker & partners / Felixx Landscape Architects / Andersen & Sigurdsson Architects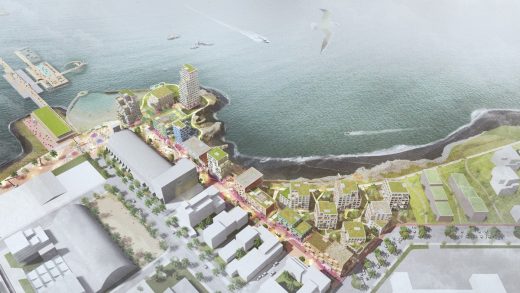 image © jvantspijiker+Felixx+Andersen&Sigurdsson
Seaside Gardens Gufunes
Team G+, a collaboration of Rotterdam based offices jvantspijker & partners, Felixx Landscape Architects and Andersen & Sigurdsson Architects from Copenhagen, winsthe urban planning & architecture competition organized by SPILDA development for the northern waterfront of Gufunes, Reykjavik in Iceland. Their proposal, Seaside Gardens, was unanimous winner in this two-stage competition.
24 July 2019
Aldin Biodomes, Reykjavik
Design: WilkinsonEyre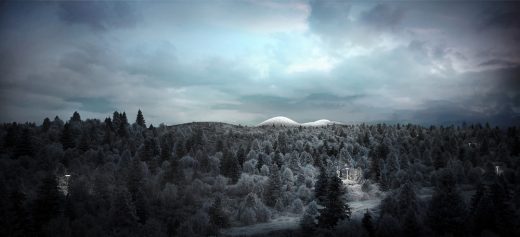 image Courtesy architecture office
Aldin Biodomes in Reykjavik
Planning permission has been granted for a major biodome complex in the Reykjavik region designed by WilkinsonEyre, working alongside a talented local design team.
More contemporary Iceland Architecture News online here soon
Iceland Architecture News 2006 – 2018
28 Feb 2018
The Icelandic bank, Landsbankinn, Reykjavik
Design: C.F. Møller Architects and Arkthing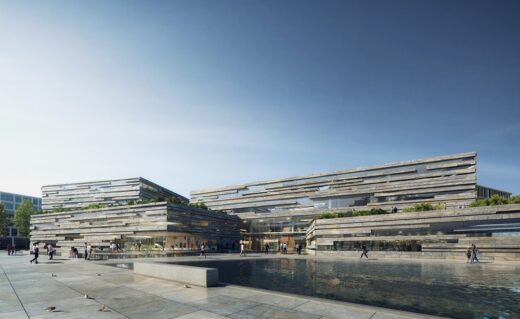 image Courtesy architecture office
The Icelandic bank, Landsbankinn in Reykjavik
The raw Icelandic nature, the basic language of the volcanic basalt stone, the horizontal layers of the rock, and the atmosphere of the caves and clefts have been a source of inspiration in the design of the project.
6 Jan 2017
Airport Terminal Extension in Keflavik, Reykjavik
Design: Andersen & Sigurdsson Arkitekter; Teikn Architects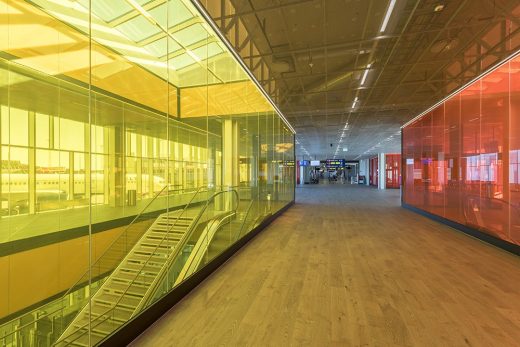 photo © Christopher Lund
Airport Terminal Extension in Keflavik
In the spring of 2010 the Eyjafjallajökull volcano in Iceland erupted, having a devastating effect on the country. Air traffic in Europe came to a standstill and as a result Iceland became increasingly isolated. Eyjafjallajökull was on everyone's lips, both east and west of the Atlantic, but the eruption turned out to have great promotional value for Iceland.
6 Jan 2017
Holmsheidi Prison, Reykjavik
Design: Arkis Architects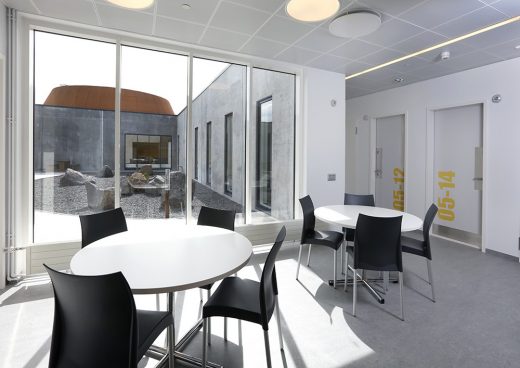 photo © Hreinn Magnusson
Holmsheidi Prison, Reykjavik
The Holmsheidi Prison is one of 30 model projects of the Nordic Built principles, and embodies the principles in its design and function. It is the result of rigorous consultation with the users with the aim of creating a sustainable prison from the standpoints of environment, social factors through the betterment of the inmates and economic factors.
8 Dec 2016
Gufunes Development, Reykjavik
Design: Felixx with JVantSpijker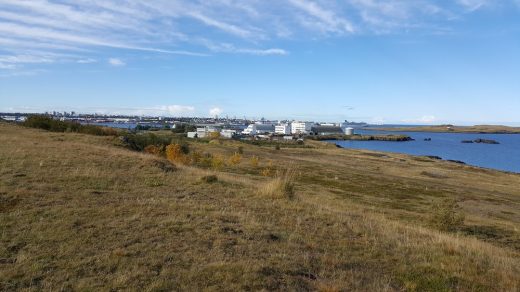 image Courtesy architecture office
Gufunes Development in Reykjavik
The Dutch design offices Felixx and jvantspijker, together with Orri Steinarsson, have won the international urban design competition in Gufunes, Reykjavik.
18 Apr 2016
Vacation Cottages, Brekkuskógur
Design: PK Arkitektar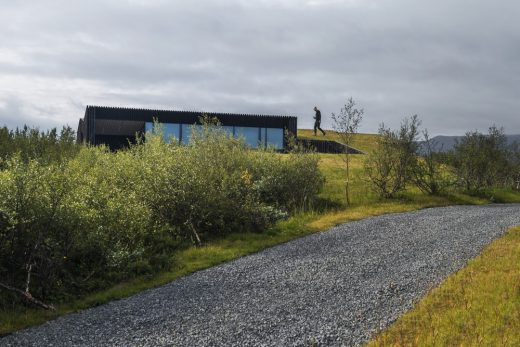 photographs : Rafael Pinho, Bjarni Kristinson
Vacation Cottages in Brekkuskogur
In Winter 2012 the studio was invited to take part in a competition for vacation rental cottages. The 20 cabins were to be located in Brekkuskógur, in the Southwest of Iceland.
6 Mar 2016
Thorlakshofn Port Weighting Station
Design: Yrki architects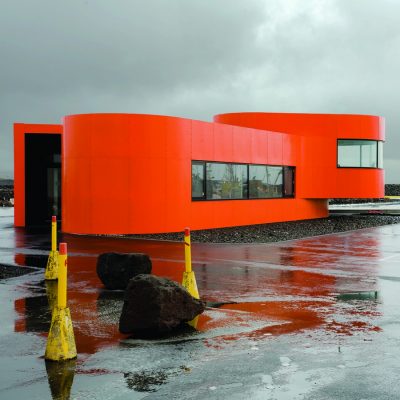 photograph : Þordis Erla Agustsdottir
Port Weighting Station in Western Iceland
The inspiration for the design for the Port Weighting Station in the tiny village of Thorlakshofn derives from a maritime reality. Oval forms refer to an organic and vivacious environment.
27 Feb 2014
Ice House in Iceland
Design: MINARC, architects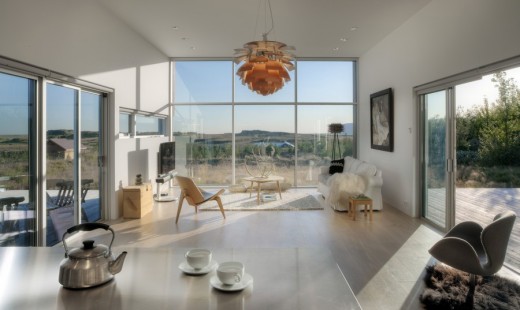 image from architect office
Ice House
To create a serene family sanctuary that harmoniously connects inhabitants with the surrounding natural environment by combining the most sustainable, eco -friendly materials and energy efficient technologies with minimalist architectural design.
29 Jan 2014
Redevelopment plan of an industrial seaside area in Reykjavik
Design: Felixx with JVantSpijker, The Netherlands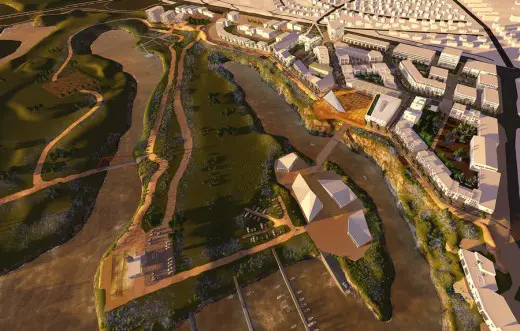 image Courtesy architecture office
Reykjavik Industrial Seaside Building
Two Rotterdam based offices jvantspijker and Felixx will design the new redevelopment plan of an industrial seaside area in Reykjavik, Iceland. The firms have won the first prize through an invited two-stage competition. The plan consists of 110.000 square meters of mixed use program, including four hundred new dwellings.
4 Dec 2013
Luxury Adventure Hotel, Hengill, southwest Iceland
Design: Minarc, Architects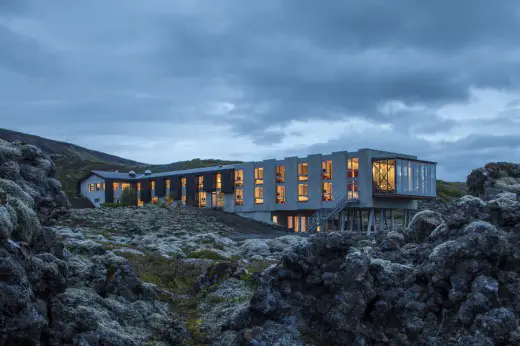 image Courtesy architecture office
ION Luxury Adventure Hotel
In a land of myth and legend, on an island where fire meets ice, surrounded by hot springs, glaciers, and the mystical glow of the Northern Lights, comes a new hotel where nothing comes between you and this otherworldly landscape. Ion, Iceland's newest luxury hotel designed by Minarc.
31 Jan 2013
The Station – Roadside Stop, Borgarnes
Design: KRADS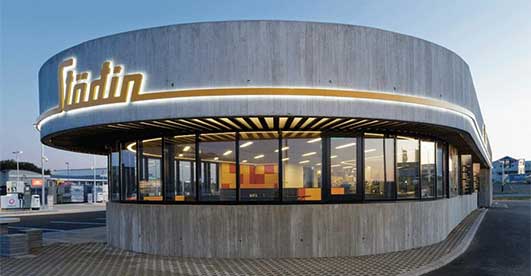 photo © Kristinn Magnusson
The Station – Roadside Stop
31 Jan 2013
Botanical Gardens Cafe, Akureyri
Design: Kollgata Arkitektúr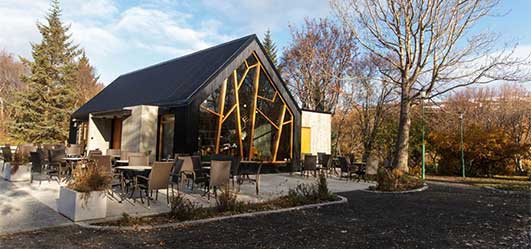 photo : Helga Kvam
Botanical Gardens Cafe Iceland
17 Jan 2013
Vigdis Language Center, Reykjavik
Design: OOIIO Architecture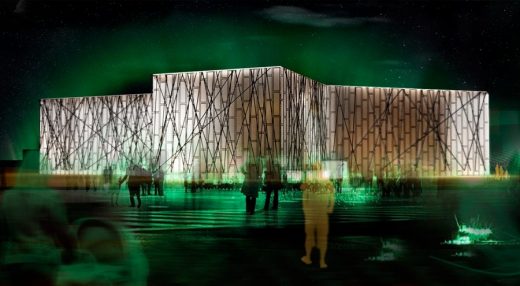 image Courtesy architecture office
Vigdis Language Center
Stofnun Vigdísar Finnbogadóttur) is one of the most important institutions for the internationalization and preservation of Icelandic culture and values. The building that hosts this Foundation should be representative of the importance of these activities for its country, Iceland.
More Iceland Architecture News online soon
Location: Iceland, north west Europe
Icelandic Architectural Designs
Northwest European Architecture
Reykjavik Architecture Walking Tours
16 May 2012
Pedestrian and Bicycle Bridges in Reykjavik
Design: Teiknistofan Tröð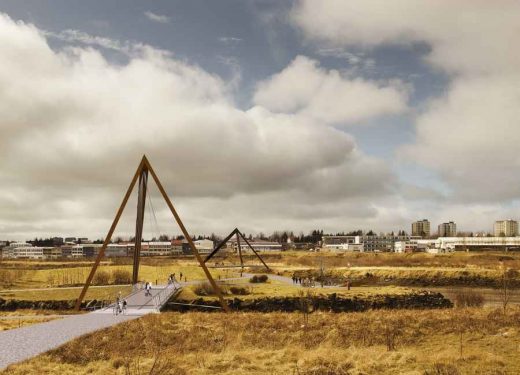 image Courtesy architecture office
Bridge Designs in Iceland
Teiknistofan Tröð won the 1st prize in an open two stage competition in Reykjavik. The bridges are designed in the shape of a triangular pyramid. The deck is held up with steel wires that connect to the top of the pyramid.
4 May 2012
Hotel Building in Reykjavik
Design: OOIIO Architecture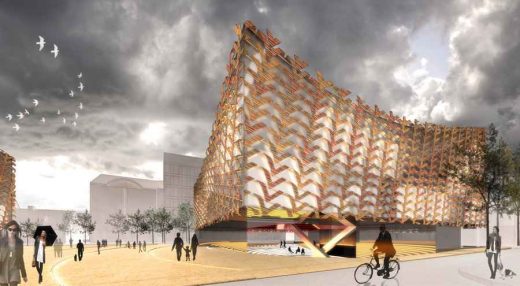 image Courtesy architecture office
Reykjavik Hotel Building
6 May 2011
Icelandic Concert & Conference Centre, Reykjavik
Henning Larsen Architects + Olafur Eliasson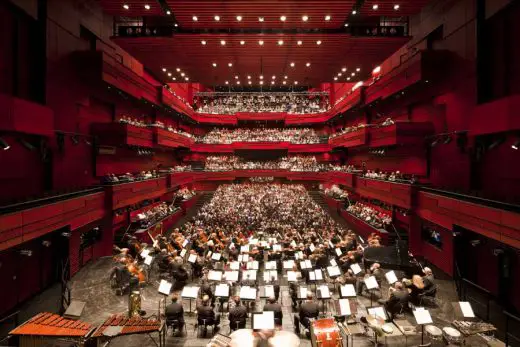 photograph : Nic Lehoux
Harpa Iceland
Northwest European Architecture
Northwest European Architecture
Norway Buildings


photograph © Reiulf Ramstad Architects
Faroe Island Buildings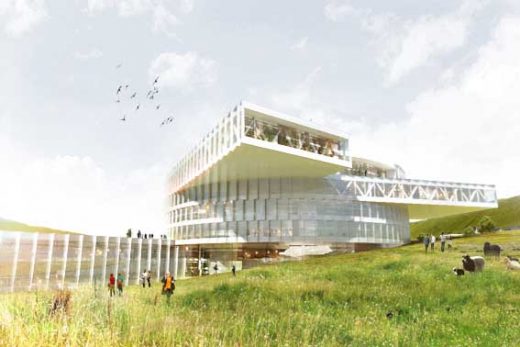 image : BIG, architects
Greenland Architecture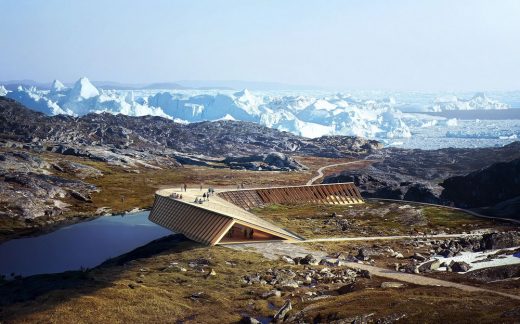 image from architects studio