Airport Terminal Extension Keflavik Building, Icelandic Architecture Images, Busgate, Architect
Airport Terminal Extension in Keflavik, Iceland
Flugstöð Leifs Eiríkssonar: Iceland Building design by Andersen & Sigurdsson Arkitekter / Teikn Architects
6 Jan 2017
Design: Andersen & Sigurdsson Arkitekter; Teikn Architects
Location: Reykjavik, Iceland
Airport Terminal Extension in Keflavik Building Design
In the spring of 2010 the Eyjafjallajökull volcano in Iceland erupted, having a devastating effect on the country. Air traffic in Europe came to a standstill and as a result Iceland became increasingly isolated. Eyjafjallajökull was on everyone's lips, both east and west of the Atlantic, but the eruption turned out to have great promotional value for Iceland.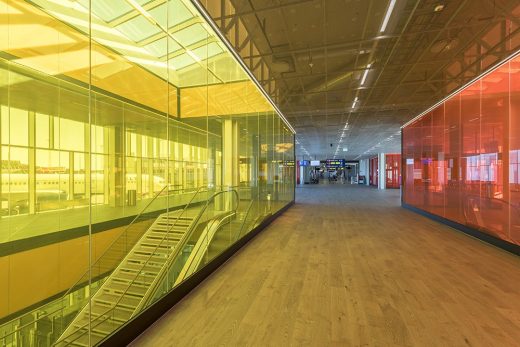 Photos © Christopher Lund
Airport Terminal Extension, Keflavik
When air traffic recommenced in Europe, tourists flooded to Iceland to experience the exceptional nature and culture of the country. With a population of only 330,000, the years after the eruption of Eyjafjallajökull saw a large number of tourists travelling to Iceland. The amount of passengers traveling through the airport has increased with 30-40% per year, and in 2015 almost 5 million passengers traveled through the terminal.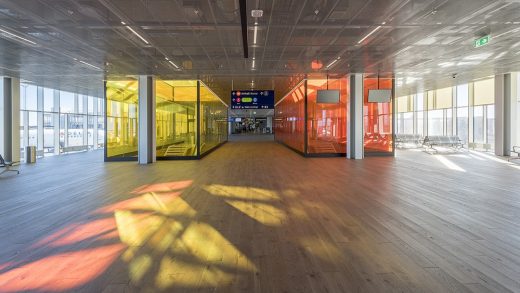 Keflavik Airport terminal opened in 1986, then 23,000m2. Since then the terminal has extended several times, and with the massive increase in the number of tourists traveling through the airport there is a continuous need to expand the terminal fast.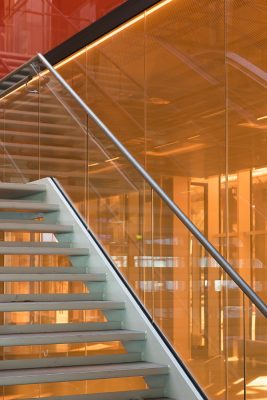 In 2016 the airport extended with a 4.700 m2 busgate terminal. It services passengers to and from the aircraft by remote stands. By limiting the size of the construction and the amount of service for the passengers it was possible speed up the building process and ensure maximum performance of the building in terms of passenger flow. The building programme is complex as it has to service both Schengen and non-Schengen passengers and also passengers of so-called third countries simultaneously.
The layout is simple and rational allowing for a great degree of flexibility. Extensive glass facades allow travellers to engage in the activities on apron as well as having spectacular views to the surrounding vast landscape and mountains. Travellers are exposed to the ever changing Icelandic weather conditions. In the wintertime one can experience the special Nordic light, aurora borealis, and in the summertime the building will be bathed in daylight all day long.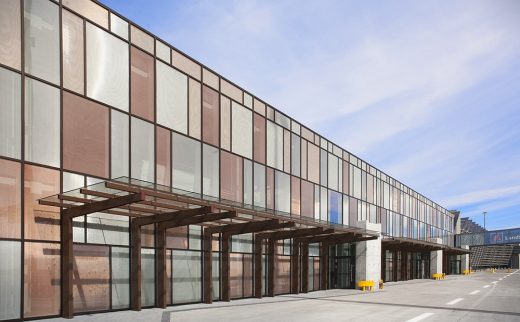 Photo © Sigurdur Pall Sigurdsson
The building is simple in its structure, consisting of a steel frame, prefabricated concrete floor slabs and a glass facade. The simplicity in the building structure was necessary in order to allow for the airport to be fully operational during the construction. The materials and colour schemes for the airport extension are inspired by Icelandic nature. The floors are made of black terrazzo and smoked oak. The interior glass walls are inspired by Icelandic autumn colours that can be found around the Thingvellir National Park.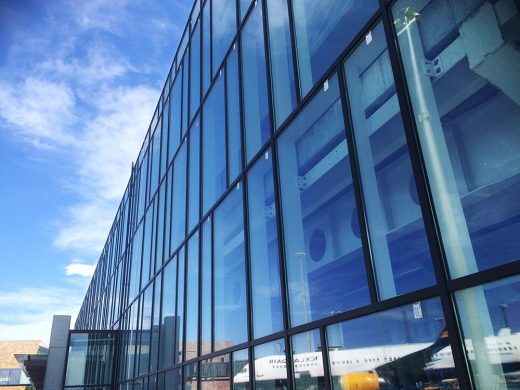 Photo © Thorhallur Sigurdsson
Woven aluminium mesh in natural colours is laminated into the exterior glass façade, acting as a sunscreen and having a positive effect on the indoor climate. This provides improved thermal performance, reduces glare and adds a unique depth in the texture of the façade. It also reduces heat loading and light transmission, potentially saving the building owners capital expenses in relation to heating, ventilation, and air conditioning.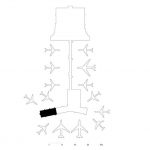 Airport Terminal Extension Keflavik – Building Information
Name of work in English: Airport Terminal Extension in Keflavik
Name of work in original language: Flugstöð Leifs Eiríkssonar
Location: Keflavik, Iceland
Year completed: 2016 (Year began 2015)
Studio: Andersen & Sigurdsson Arkitekter; Teikn Architects
Authors: Thorhallur Sigurdsson (1964 Iceland); Steinar Sigurdsson (1958 Iceland)
Architect: Ene Cordt Andersen, Brynhildur Eggertsdottir, Kim Bendsen, Mikael Schmidt Skadborg
Technical architect: Kári Esra Einarsson, Sturla Ásgeirsson
Acoustical: Trivium
Electrical: Mannvit
Construction: Verkís
Program: Infrastructure
Total area: 1700
Usable floor area: 4700
Client: ISAVIA OHF
Client Type: mixed
Map: LatLng: (63.98680669999999, -22.627966799999967)
Mies van der Rohe 2017 Award Nominations
Location: Keflavik, Iceland
Architecture in Iceland
Iceland Architecture Designs – chronological list
Icelandic Concert & Conference Centre, Reykjavik
Henning Larsen Architects + Olafur Eliasson


photo Courtesy of Harpa © Hörður Sveinsson
Harpa Iceland
Hotel in Reykjavik
Design: OOIIO Architecture


image from architect
New Hotel in Iceland
Reykjavik University building
Henning Larsen Architects


image from architects
Reykjavik University building
Iceland Architectural Designs
Vatnsmýri Urban Plan
Graeme Massie Architects


image from architects
Iceland Urban Plan
Vision Akureyri International Design Competition, 1st Prize
Graeme Massie Architects


image from architect
Icelandic building competition
Comments / photos for the Airport Terminal Extension in Keflavik building design by Andersen & Sigurdsson Arkitekter / Teikn Architects page welcome
Website: Keflavík International Airport