Furniture Design, Chair Pictures, Table, Projects, Lighting, Sinks, Designer Furnishings
Contemporary Furniture Design
Furnishings: Lights, Chairs, Tables, Sofas, Desks – Style Images + Information
post updated 13 May 2020
Furniture Design News
Contemporary Furniture Designs, chronological
5 Apr 2019
i29 Interior Architects Furniture News, The Netherlands
Lensvelt – Felix chair: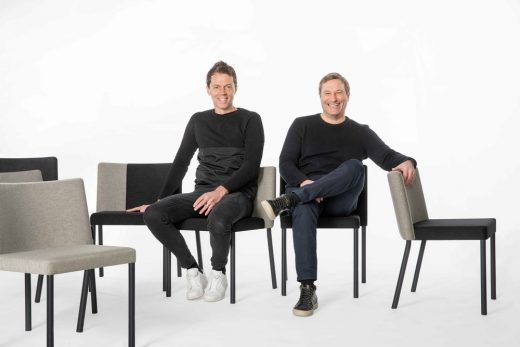 photo : Jan Willem Kaldenbach
i29 Interior Architects Furniture
During Milan Design week 2019, Lensvelt and Modular present their installation ALL NEW at Ventura Centrale. A range of new products will be presented.
20 Feb 2017
Villa Harnischmacher II, Germany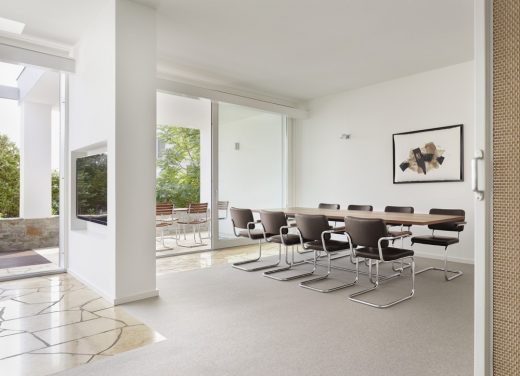 image courtesy of architects
Villa Harnischmacher II
An iconic Bauhaus villa in Wiesbaden's city centre by Marcel Breuer in 1954 sets the ideal stage for the tubular steel furniture that he designed in the late 1920s for the Frankenberg-based company.
These classic Breuer designs are supported by a sympathetic cast of contemporary designs from the Thonet portfolio. The bungalow is Breuer's only existing example of a residential home in Germany and is considered an outstanding work of modern architecture. The clear, open and simple design of the Thonet furniture harmoniously merges with the elegantly discreet and highly functional layout of the house.
10 Nov 2015
Design of closet unusual. Very creative!
Via: Archiproducts
Website: Contemporary Furniture Design – cabinet
14 Sep 2012
Furniture Design Collection
Herman Miller Announces Select Edition 2012
Eames LTR, for limited time, in Ray Eames colors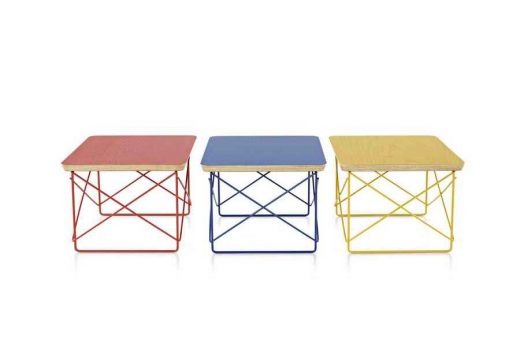 image copyright Herman Miller
Herman Miller Furniture
Starting in October, Herman Miller will offer a special limited run interpretation of its classic Eames Wire Base Low Tables (Eames LTR) in three colors that pay homage to Ray Eames on the 100th anniversary of her birth. Although it is difficult to distinguish the individual contributions of a creative duo such as Charles and Ray Eames, Ray clearly brought a gift for color. Herman Miller has chosen three bold colors for this years Select Edition program that were Ray's favorites and used on the exterior panels of Case Study House #8, which she and Charles designed. The tables will be sold through the Spring of 2013, and then cease to be produced, giving these tables added appeal to collectors.
Please note these tables will only be available in the US and are not being shipped out to other countries.
6 Jul 2012
Recent Furniture Design Collection
Estudio Carme Pinós presents their first furniture collection, Barcelona, Spain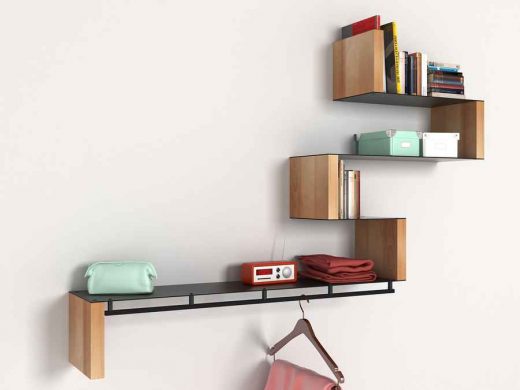 image : Estudio Carme Pinós
Carme Pinos furniture collection
Named OBJECTS, it is composed of versatile pieces that are easy to assemble. The collection is sold exclusively on-line, has been manufactured entirely in Spain and features the architect's flair for creating extremely light yet solid structures.
18 Jun 2012
Contemporary Furniture News – Design Copyright
Information provided to e-architect:
The Government has recently announced a change in the Law for Design Copyright from 25 years of first production to 70 years from the death of the Author.
This means designs already out of copyright for 30 years will be given back protection.
The largest sector affected with be the Furniture industry where iconic pieces of furniture now affordable through reproductions will no longer be available.
we believe the law perhaps should be changed from the day it is passed to all designs going forwards or from 1988 (covering items just reaching 25 years).
However, it should NOT be applied to anything that precedes this date as the protection has already long run out.
Giving back this protection will damage legitimate business leaving thousands out of work in the UK and gives a monopoly to the handful of companies who are allowed to buy licenses to sell these designs at inflated prices.
Online petition: Contemporary Furniture Design Petition
Contemporary Furniture Design News
La collection Essences
Jean Nouvel, architect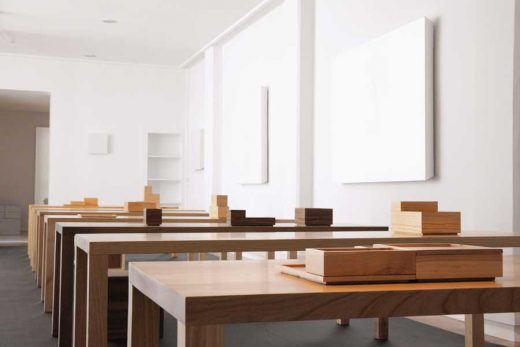 photo © Jean Nouvel Design
Furniture Designs by Jean Nouvel – 7 Jun 2012 – text in French only
PH Lamps
Unusually Large Vintage Poul Henningsen PH-6 1/2
Creator: Poul Henningsen
Period/Style: Mid Century Modern
Country: Denmark
Date: c. 1960s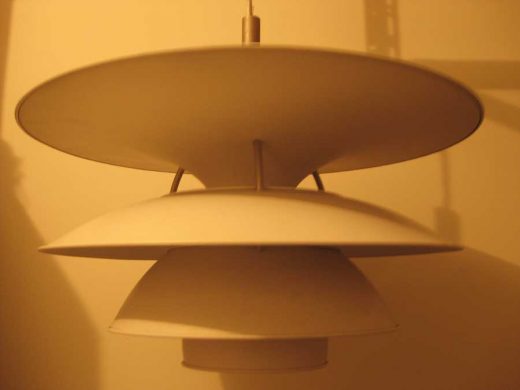 photo © Adrian Welch
Description: Amazing and extremely rare extra large-sized vintage PH-6 1/2 with white finish. Provides uniform 360 degree glare free illumination. The design of the shade creates indirect light for both horizontal and vertical surfaces within a space. Glare from the neck of the lamp is screened by an adjustable anti-glare ring. This fixture was designed to be mounted up high and become an alternative to the domestic chandelier.
Dimensions:
26″Dia X 20″H
66cm Dia X 50.75cm H
Condition: Good original condition
Number of items: 2
Update: sold
14 Jan 2012
Seating Design
Archetto, Pitti Uomo, Florence, Italy
Design: Sybarite Architects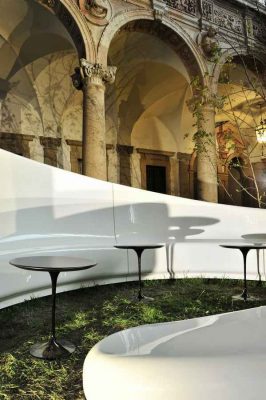 photograph : Cristiano Corte
Archetto Firenze
Presenting a solution for communal seating which is adaptable on many levels, the Archetto was initially designed for the Buyer's Club at the 2011 Pitti Uomo, a large fashion trade fair held in Florence, Italy. The brief was to make the best use of a small temporary space, to give substance and luxury to what could otherwise be boring and nondescript.
Furniture Designs
We've selected what we feel are the key examples of Furniture Design. We try to include only the best, most interesting Furniture Designs!
Latest Architectural Products + Contemporary Furniture
20 Oct 2010
SitTable
Ben van Berkel / UNStudio design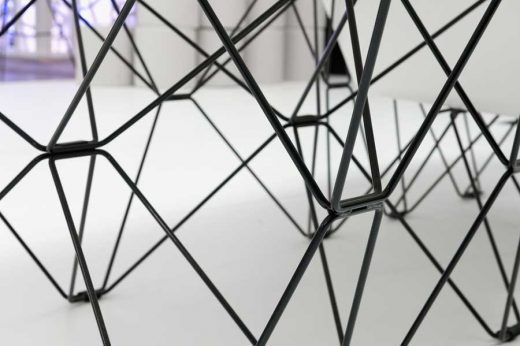 photo : Roel van Tour / Pim Top<
SitTable
7 Jul 2009
Ambar Light Fitting : Rogers Stirk Harbour + Partners
1 Jul 2009
Kanera sink : GRAFT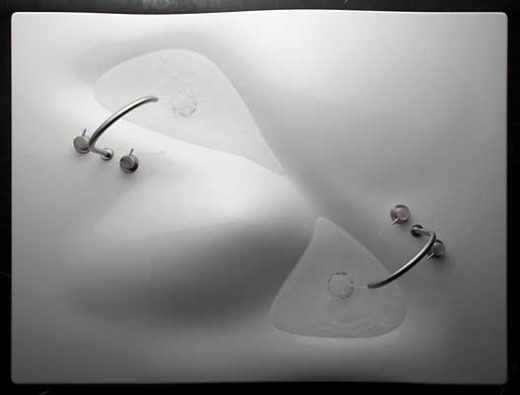 picture from architect
20 May 2009
Genesy lamp for Artemide
Design: Zaha Hadid Architects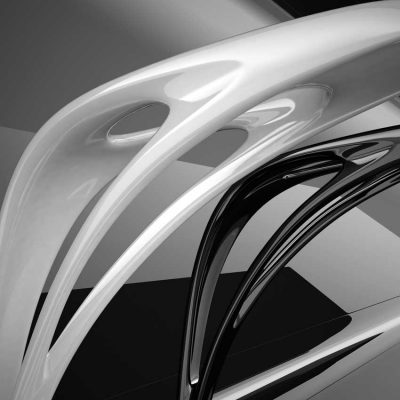 picture from architect
The lamp's structure increases in complexity as it rises from the floor. Like a growing organism, the central support sprouts branches that adopt a greater radial geometry to enhance the dynamic tensional forces of the structure. Nature continues to inform the design as these branches frame voids, enhancing the contrast between positive and negative, convex and concave, tension and compression.
Genesy lamp
20 Oct 2008
MYchair, Walter Knoll
Design: Ben van Berkel
MYchair, the new lounge chair from Ben van Berkel / UNStudio, is an example of architect-designed contemporary furniture. MYchair is the first chair designed by Ben van Berkel/UNStudio and is described as a real architect's chair.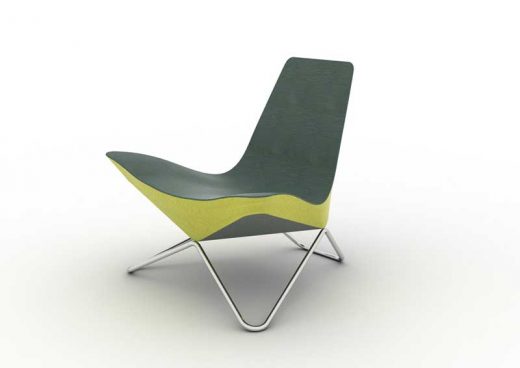 image from designer
"The architectural approach to furniture is different from that of the industrial designer as the architect begins with the space and the environment that the chair will become a part of. All the details of the chair are considered for their spatial effects. This architectural approach to furniture is connected with a very personal ideology of space." – Ben van Berkel
Walter Knoll chair
20 Mar 2008
Arzu Rugs : Hope by Designers Rug



picture from architect
Arzu Rugs
26 Sep 2007
FLAKES designer chairs and tables
Design: Schmidt, Hammer & Lassen K/S, Danmark
You can now customize your very own FLAKES designer chairs and tables straight from the manufacturers, courtesy of an ingenious 3D web tool.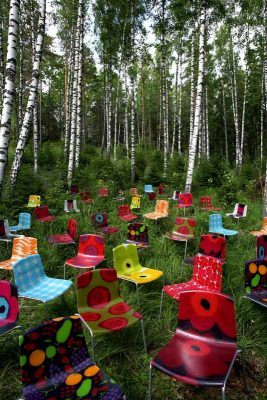 picture from architects
The idea is the brainchild of leading Danish architectural practice schmidt hammer lassen and Finnish furniture manufacturer Piiroinen, who together dreamed up the idea of allowing private customers to create their own unique designer furniture.
Flakes Designers Chairs
Nov 3, 2006
Morris Lapidus Furniture Collection
Collection marks first time ever Morris Lapidus furniture put into production:
Furniture by Morris Lapidus Architect
Morris Lapidus' signature forms—termed derisively by critics and then positively appropriated by Morris Lapidus himself—amoeba-like shapes or "woggles", cutouts or "cheese holes", and sweeping curves, are derived from his fascination with the human form.
More Furniture Design online soon
Contemporary Furniture Design page sponsor welcomed
Design Profiles
Contemporary Interior Design : KBA
Interior Furnishings : Context Interiors
Contemporary Product Design by an Architect
LACOSTE footwear : Zaha Hadid architect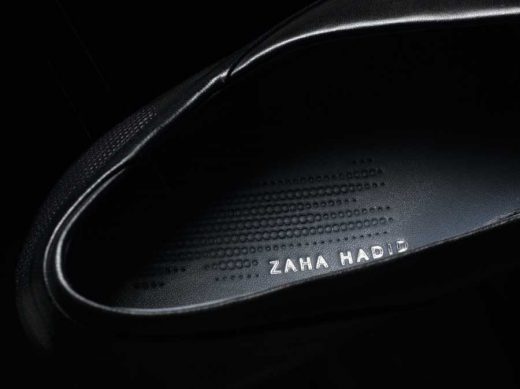 picture from architect
Design & photos for the Architectural Furniture Design page welcome