Morris Lapidus Architect, Buildings, Architecture USA, American Design Projects, Office
Morris Lapidus Architecture
20th Century American Architect Practice: Information + Images
Nov 3, 2006
Morris Lapidus – Key Projects
Morris Lapidus : Information received 031106
DENNIS MILLER ASSOCIATES L AUNCHES LINE OF FURNITURE BY RENOWNED ARCHITECT MORRIS LAPIDUS
Collection marks first time ever Morris Lapidus furniture put into production
Furniture to preview during Art Basel Miami Beach in the famed Lapidus Lobby of The Ritz Carlton, South Beach
NEW YORK – Dennis Miller Associates, in association with Lapidus collaborator Deborah Desilets, will launch the Morris Lapidus Collection in January 2007. The line will debut with five pieces of furniture by the acclaimed architect best known as the designer of glamorous post-war resort hotels in Miami Beach. The Morris Lapidus Collection will preview in a special exhibition concurrent with Art Basel Miami Beach in the famed Lapidus Upper-Lobby of the Ritz Carlton, at 1 Lincoln Road in South Beach, from December 6th through December 9th, 2006.
Morris Lapidus Fountain, Lincoln Road Mall – a water feature and landscaping designed by Morris Lapidus on Lincoln Road Mall in Miami Beach, Florida, USA: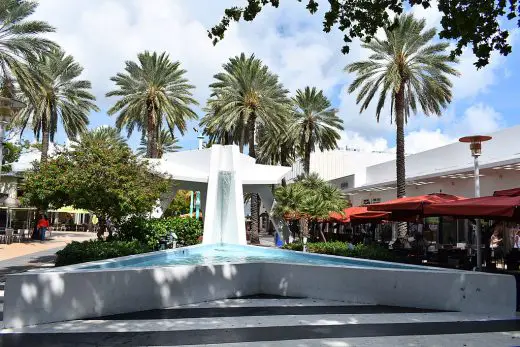 photo : Tamanoeconomico, CC BY-SA 4.0 https://creativecommons.org/licenses/by-sa/4.0, via Wikimedia Commons
"It took more than 20 years for Morris Lapidus to begin to be accepted in the world of design yet his impression on it and the architectural landscape of Miami has been indelible.†Half a decade later,†we are thrilled not only to bring his furniture to life, but to make his iconic style accessible to those seeking Lapidus' personal style of 'firmness, fitness, and delight,' said Dennis Miller.
Originally designed specifically for hotels or particular projects, Morris Lapidus' furniture designs now will be made available to the public for the first time. The collection will feature two works of furniture designed for south Florida hotels, the Eden Roc and the Sans Souci, a sofa created especially for Lapidus' own Miami Beach apartment, and two pieces used in an apartment building lobby by Fred Trump in New Jersey.
Each piece has been selected by Dennis Miller from photographs found in Lapidus' personal library of archival images from his prolific sixty-plus year career. Expressing Lapidus in his various moods—sinuous, straight-edged, round—the furnishings were chosen for their timeless relevance and application to today's residential and commercial interiors.
The Morris Lapidus Collection includes
Collins Chair: U-curved armchair with wood legs and deep, firm seating from the lobby of Morris Lapidus' renowned Eden Roc hotel, Miami Beach (1955)
Lincoln Chair: Square-ish wood-framed upholstered open-backed lounge chair from Morris Lapidus' first Miami Beach hotel, the Sans Souci (1949)
Ocean Bench: Curving two-piece "S"-shaped bench from a Fred Trump Apartment Building lobby, New Jersey (1948) – curves used later in the DiLido lobby (now the Ritz-Carlton)
Alton Chair: Round armless barrel chair with a "butterfly" back used as a side chair to the "S"-bench in a Fred Trump apartment building lobby, New Jersey (1948)
Island Sofa: Acrylic-arm sofa from Morris Lapidus' famous Miami Beach apartment (1963)
Morris Lapidus' signature forms—termed derisively by critics and then positively appropriated by Morris Lapidus himself—amoeba-like shapes or "woggles", cutouts or "cheese holes", and sweeping curves, are derived from his fascination with the human form. Endeavoring to understand the human body and its relation to the built environment, Lapidus studied "people not geometry" to develop a style that would "please people." His furniture designs provide an intimate experience of the Lapidus Logic.
Famously loved, critiqued, and ridiculed over the course of his career, Lapidus was finally repositioned in the discourse of modern architecture toward the end of his life. Precipitating his revival, conversations with architect Deborah Desilets in preparation for his "Too Much is Never Enough" lecture tour grew into a close architectural collaboration that would continue until his death. Discussions between the two architects about reproducing some of Lapidus' iconic furniture designs would become the foundation for the Morris Lapidus Collection.
The initial five pieces in the collection mark the beginning of what will be a full line of Morris Lapidus furniture. Dennis Miller Associates plans to add rugs, lighting, tables and additional seating to the inaugural collection. The line of rugs is scheduled to debut later in 2007. All licensing of the designs by Dennis Miller Associates has been arranged through Deborah Desilets working with Product Lounge.
Dennis Miller Associates, New York
Since 1983, Dennis Miller Associates has offered innovative furniture and lighting collections designed by architects, interior designers and artisans. The firm's New York City showroom provides a unique, continually evolving showcase for collections of such design excellence and popularity that their on-going availability is amply justified.
In his role as "curator," Dennis Miller's practiced eye brings together collections and individual pieces that invariably work splendidly in combination with each other. Dennis Miller's selections are uniquely modern in concept, style and production. They range from a reproduction collection of pieces by TH Robsjohn-Gibbings, continuous production of furniture by Vladimir Kagan and Hans Wegner to contemporary designs by Clodagh, Jiun Ho, Antoine Proulx, and many others.
Collectively there is a classic twentieth century style to the designs that keynotes Dennis Miller's highly successful approach. Dennis Miller Associates office and showroom are located at 200 Lexington Avenue, Suite 1510, New York, NY 10016; telephone (212) 684-0070, and on the web at www.dennismiller.com
Morris Lapidus Architect + Designer
Morris Lapidus studied acting at New York University and architecture at Columbia University before embarking on one of the most dramatic careers in the history of American architecture.
Today this architect is best known for two of the most glamorous post-war resort hotels in Miami Beach, the Fontainebleau (1954) and the Eden Roc (1955); for inventing the modern storefront; and for a large body of work that includes office buildings, apartment complexes, stores, hotels, and stage sets. Once dismissed for this stylistic excesses, today he is revered for his joyful subversion of European modernism through a uniquely American vernacular of entertainment, spectacle, and whimsy.
Morris Lapidus putting delight at the apex of the experience of architecture. Before his death at the age of 98 in 2001, Lapidus received the 2001 American Original National Design Award from The Cooper Hewitt National Design Museum, Smithsonian Institution.
US Architect, 1902 – 2001
Morris Lapidus architect – information received from SGLA 031106
Location: Miami Beach, Florida, USA
US Architecture
La Clara, West Palm Beach, FL, USA
Design: Hariri Pontarini Architects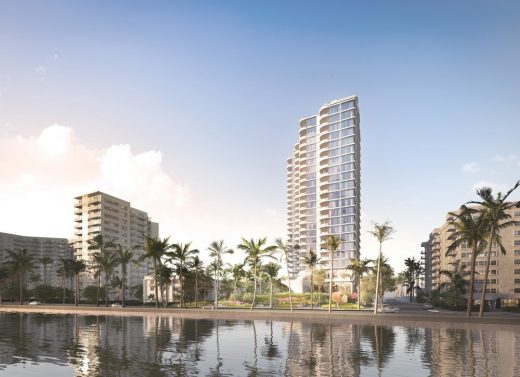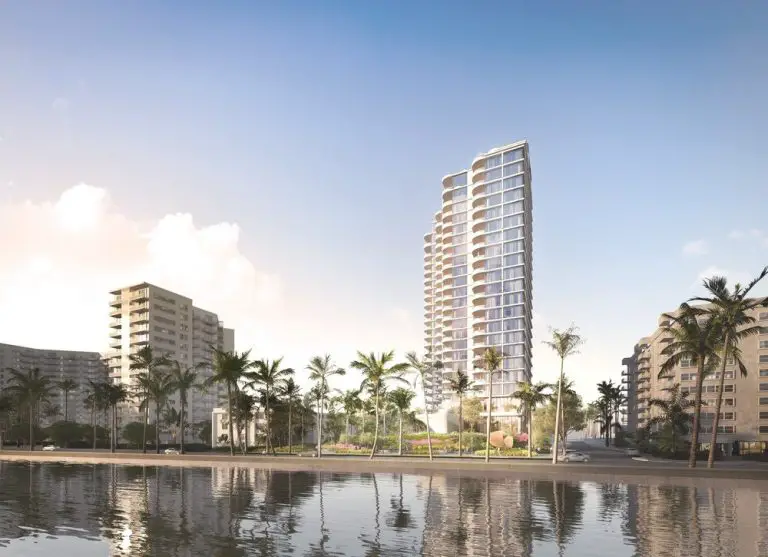 image from architects
La Clara Apartments in West Palm Beach, Florida
Wynwood Walk, Miami Design District
Design: Oppenheim Architecture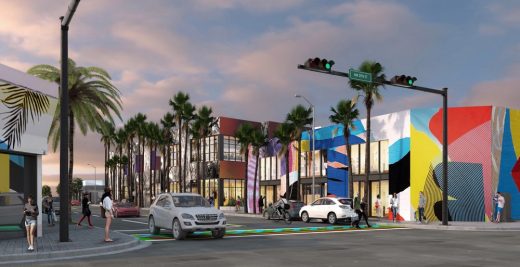 image Courtesy architects office
Wynwood Walk in Miami
Comments / photos for the Morris Lapidus Architecture page welcome
Website: n/a