AA School Events, London Architecture Talks, Building Exhibitions, News, Design Lectures
AA School Events, London
Architectural Association Architecture News, England, UK
16 + 15 Feb 2018
Architectural Association Shortlist for AA Director
The AA School of Architecture Search Committee announce that the following candidates have been invited to stand for election as AA Director:
– Pippo Ciorra
– Eva Franch i Gilabert
– Robert Mull
Architectural Association News
26 Jun 2017
AA Project Review 2017
Architectural Association Project Review
Review by architect Eleonora Nicoletti, one of e-architect's London architecture guides:
AA Projects Review 2017
The narrow spaces of The Architectural Association at 36 Bedford Square seem incapable of containing the exuberance of drawings, models and installations produced by students during the AA's 2016/17 academic year.
Far from being highly polished and refined, the works on display rather convey the never-ending learning process that characterises architectural career paths.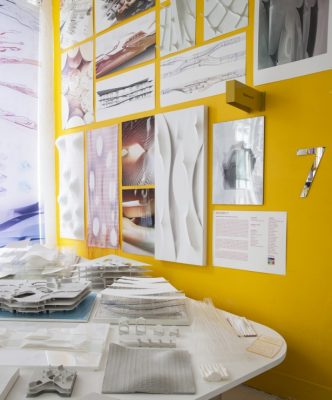 photo courtesy of The Architectural Association London
Among the projects that stand out, there are explorations on novel uses of materials, such as the application of cloth tailoring techniques to wood construction within the Design + Make programme based at Hooke Park, Dorset, and experimental woven structures created with computational design tools as part of the Emergent Technologies Master's Programme: Emtech.
The Architectural Association Projects Review 2017
Projects Review 2017 offers an overview of the AA's 2016/17 academic year. On display are hundreds of drawings, models, installations and photographs from all the AA's units, courses and departments, documenting the diversity and experimental nature of the AA School.
At the AA architecture is pursued as a form of cultural knowledge across year-long design projects and portfolios. We believe that truly great schools don't just nurture and support architectural talent, they also build audiences for experimentation, out of which new architectural ideas, visions and projects emerge.
source: AA Projects Review 2017
4 Mar 2017
AA Visiting School News
AA Visiting School nanotourism, Slovenia
A project called Gastronomy at KSEVT, which was developed as part of the AA Visiting School nanotourism in Vitanje, 2016.
Please see the AA website and facebook page for the new AA Visiting School Slovenia nanotourism, which will be taking place 28 April – 13 May 2017.
AA Visiting School nanotourism
20 Jun 2016
Architectural Association Haiti Visiting School
'Can bamboo alleviate some of Haiti's problems?' A question many ecologists, architects and engineers have asked at a time when Haiti's forest coverage has reached 1.4%. Deforestation has destroyed rural economies and has removed lightweight timbers from the Haitian construction sector. The consequences of which were seen in the disproportionate devastation and death-toll of the 2010 earthquake.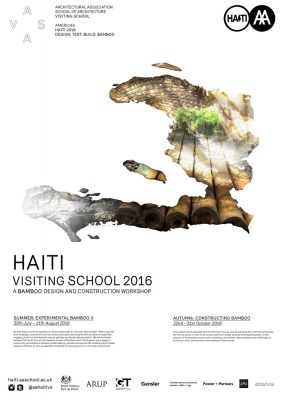 The fast growing material of bamboo is being increasingly seen as a solution not just in binding the exposed hillsides, but as a source of low cost, lightweight, and flexible material for construction.
For the third year we will be investigating the potential of bamboo, through experimental architectural design contextualised for the climate, culture and geopolitical complexities of this Caribbean paradise. Participants will be asked not only to create a vision for a specific site, activity and community, but design a structure that can act a catalyst for a change in a national relationship with the material.
With community discussion, cultural lectures and visits to three areas in Haiti participants will have a rare opportunity. They will embrace many aspects of this Country, whilst simultaneously learning about bamboo, new design methodologies, software, and construction skills as well as becoming members of the global network of creative discourse the Architectural Association affords.
Summer Course Details: Experimental Bamboo II – 30th July – 11th August 2016 (13 days)
As with many countries, bamboo is unfortunately seen as 'the poor man's timber'. With a specific brief to design a community facility, we are looking for students who are able to create that engaging vision of what bamboo can do spatially to change that perception.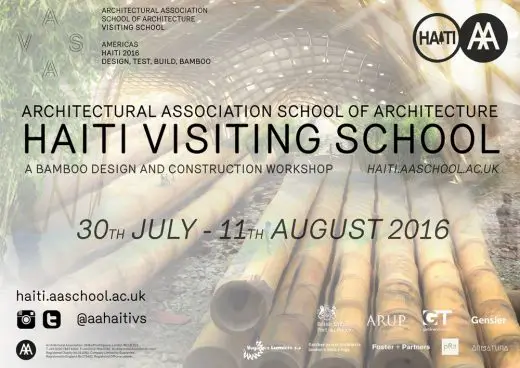 This process will expose students to the following activities:
• Site mapping and community discussion
• Bamboo model making
• 3d modelling software
• Cultural lectures
• Climate simulation modelling
In the bamboo forests of Northern Haiti we will have a short bamboo workshop. Here students will learn about:
• Taxonomy and species types indigenous to Haiti and the region
• Cutting, treatments and drying
• Tools
• Joinery techniques to produce a 1:1 scale component
Software Taught:
• Rhinoceros 3D
• Grasshopper
• Karamba
• Autodesk Flow
• Ecotect
• Geco
• Adobe Creative Suite
Dates: 30th July – 11th August 2016
Website and Applications: Haiti.aaschool.ac.uk
Information and contact: haiti@aaschool.ac.uk
Course Director: John Osmond Naylor – John.naylor@aaschool.ac.uk
AA Events Autumn 2013
Architectural Association Exhibitions
Open from Saturday 5 October to Saturday 2 November
Monday to Friday 10.00-7.00, Saturday 11.00-3.00
– AA Gallery
San Rocco: Book of Copies
– Front Members' Room
AA Honours 2013
Architectural Association Lectures and Events
– Evening Lecture
Carlos Jiménez
What Can Architecture Do?
Monday 21 Oct
Lecture Hall, 6.00
– Evening Roundtable Event
With Viviana Fain-Binda, Sebastian Loew, Richard Nightingale, Jorge Ramos and Diego Trolliet
British Architecture in Argentina
Tuesday 22 Oct
Lecture Hall, 6.00
– Book Launch
System City: Infrastructure and the Space of Flows – AD Special Issue guest-edited by Michael Weinstock
Wednesday 23 Oct
AA Bookshop, 6.30
– Evening Lecture


photo from The Architectural Association School of Architecture
Charles Jencks
Adhocism: The Case for Improvisation
Thursday 24 Oct
Lecture Hall, 6.00
– Friday Lectures
Mark Cousins
Scenography
Friday 25 Oct
Lecture Hall, 5.00
AA Visiting School in Jordan
Architectural Association Visiting School in Jordan – Workshop for students and architects / designers
1 – 10 Sep 2013
ARCHITECTURAL ASSOCIATION VISITING SCHOOL PROGRAM STARTS IN JORDAN
AA Visiting School Jordan – Desert Ecologies
The Architectural Association School of Architecture has opened registration for its newest AA Visiting School, held in Jordan on September 1st to 10th 2013.

image from The Architectural Association School of Architecture
AAVS Jordan is an intensive workshop directed by Riyad Joucka, with the support of Visiting School Director Christopher Pierce and Visiting school coordinator Priji Balakrishnan. The 10 day program will be held within the period of 1st – 10th of September 2013. Registration closes August 20th 2013.
Collaborating with some of the best up and coming talent in the current Generative Architecture community, iterative parametric platforms will be introduced to participants, and used to simulate natural processes.
Participants will work towards generating speculative architectural proposals based on natural formations inherit within the ecology of the Jordanian desert. Initiating the design process, the group will take a trip to the rose-rock carved city of Petra and the desert of Wadi Rum, where man-made and natural morphologies will be observed and documented.
With the objective of generating architectural solutions of a wide range of scales and programs, participants will digitally test their simulations to enhance the performance of their digital and physical design prototypes, operating in a feedback loop. This form-finding method aims at generating an optimal outcome through evaluating several iterations. The resulting architectural proposals should speculate on an ecological intervention within proposed sites of Petra and Wadi Rum, one that would emerges seamlessly from within its contextual conditions.
For more information please visit www.aavsjordan.com
9 Jun 2013
Visiting School in Houston
Architectural Association Visiting School in Houston – Workshop for students and architects / designers
Architectural Association Visiting School in Houston, USA
22 Jul – 2 Aug 2013
Apply at: visitingschool@aaschool.ac.uk
houston.aaschool.ac.uk
"Inter-Scaless" is a two-week workshop where students develop parametric design strategies that enable them to generate design scenarios across scales, while focusing on a given conceptual framework. The challenge this year is to rebuild the relationship between the Houston's Ship-Channel and the public urban structure of Houston, to generate a sense of place.

image : Erick Mazariegos
Situated at the crossroads of Urban Design, Architecture, Environmental Design and infrastructure, this exercise will give participants the opportunity to develop their skills through different methodologies based on the exploration of local conditions, material processes, and the experimentation with digital fabrication and representational tools. The Visiting School is an opportunity to experience methodologies and ideas developed at the Architectural Association in a two-week intensive full time studio.
AA Visiting School Houston Directors: Victoria Goldstein, Arturo Revilla
22 Jan 2013
Arctic ice: The exhibition that melts before your eyes
Accurate scale replicas of Arctic ice floes are the centrepiece of a new exhibition at the Architectural Association in London.
17 Sep 2012
AA Visiting School Algiers
AA Visiting school Mittelmeerland

image from AA School, London
AA VISITING SCHOOL in ALGIERS, ALGERIA
The Visiting school Mittelmeerland, a program of AA's School of Architecture London, is seeking architecture students and young professionals to participate in the 10-day architectural research workshop in Algiers, Algeria from 11-21 Nov 2012.
Mittelmeerland will investigate the future of the Mediterranean and research six different cities over three years. In this workshop we will study, how Algiers's coastline is going to change in relation to the Mediterranean? What are the driving forces behind its rapid transformation? What is the vision for a city in need of modernization?
APPLICATION
The deadline for application is 1 Oct 2012.
Application forms are available online:
www.aaschool.ac.uk/STUDY/VISITING/algiers
SCHOLARSHIPS
A small number of partial scholarships are available. Deadline is 24 Sep 2012.
If you wish to apply, please send a PDF with max. 3 pages including: CV, your motivation and work to Medine Altiok and Stephanie Tunka: mittelmeerland@gmail.com
PROFESSIONALS AND TEACHERS
We are always interested in Professionals and Teachers from other universities doing related research projects. If you like to get involved or wish to participate with your students, please contact us: mittelmeerland@gmail.com
MORE INFORMATION
www.mittelmeerland.org
www.aaschool.ac.uk|STUDY/VISITING/algiers
www.facebook.com/mittelmeerland
mittelmeerland@gmail.com
AA School Exhibitions + Events – 2012
AA Milan Summer School, Italy
'nature does not exist' ecoLogicStudio @ Cornell University:


image : student_Sonny Eric Xu
AA Milan Summer School
Visiting School – organized by Architectural Association with ecoLogicStudio in Milan, Italy
7 – 17 Jul 2012
The teaching model of this Summer School is grounded on the experimental tradition of the Architectural Association and on the design philosophy of ecoLogicStudio, that will curate the event and co-run the design workshop.
AA School – Recent Exhibitions
Lina & Gio – The Last Humanists
Curated by Ana Araujo and Catalina Mejia
AA Gallery
This exhibition explores for the first time the relationship between two seminal figures in 20th-century design. Lina Bo Bardi (1914–1992), best known for the buildings she designed and built in Brazil – the House of Glass (1950–51), Museum of Art, São Paulo (1957–68), among others – was a prolific designer, architect, writer and curator, committed to the promotion of the social and cultural potential of architecture. Before adopting Brazil as her home country in the 1940s, Bo Bardi lived in Milan, where she collaborated with renowned architect Gio Ponti (1891–1979). Ponti is perhaps better known as the founding editor of the design magazine Domus.
He was also a productive architect, designer, writer and curator, having designed the famous Pirelli Tower in Milan (1950), and collaborated with many renowned designers (Piero Fornasetti, Pier Luigi Nervi among others) as well as organising many editions of the Milan Triennial exhibition of the decorative arts.
Curated by co-founders of the Travesia Institute, Ana Araujo, AA tutor and Catalina Mejia, the exhibition focuses on the crossovers between Bo Bardi's and Ponti's approaches to design. It includes drawings, artefacts, film footage and writings covering the work of both architects. Sponsored by the Embassy of Brazil, London.
Forthcoming: Roundtable Event, Thursday 15 March, 6.00
The Work of Lina Bo Bardi:
Photographs by Iñigo Bujedo Aguirre
Curated by Ana Araujo and Catalina Mejia
AA Front Members' Room
Documentation of Lina Bo Bardi's built works in the Brazilian cities of São Paulo and Salvador de Bahia including the influential Sesc Pompeia community centre in São Paulo (1977–86).
Forthcoming: Special Event, Saturday 25 February, 2. See Lectures and Events.
Homes of the American Dispossessed:
Photographs by Ben Murphy
AA Bar
Homeless settlements exist here as liminal spaces – ghettoised counter-cultures, disregarded by the surrounding communities, and identifiable by the make-shift dwellings created out of found or donated materials as much as by the inhabitants themselves. Dwellings are hidden in woodland, under freeways, or on embankments where their occupants can live without fear of eviction, while others deliberately confront the society that has rejected them, with their conspicuous siting on roadsides, in industrial areas or public spaces. Murphy's photographs focus on the habitats created by displaced and forgotten individuals in and around Reno, Nevada and the Californian cities of Los Angeles, Santa Barbara, Sacramento, Fresno and Ontario. The series of images examines how, with limited resources in insecure environments, a sense of home and identity is achieved and established through an improvised architecture, and how these temporary homes inevitably fall apart or are deconstructed to leave no trace of their existence.
AA School Exhibitions in 2011
ARCHIZINES
Public Opening 5 Nov – 14 Dec 2011
Front Members' Room, AA School, 36 Bedford Square, London, WC1B 3ES


photograph : Sue Barr
AA School Exhibition
Exhibitions are open to 26 Oct 2011, Monday to Friday 10.00-7.00, Saturday 10.00–5.00
Double or Nothing
51N4E
AA Gallery
Visions of the Future
AA School Honours Students
Front Members' Room
Tracer Fire
Joel Newman
Back Members' Room
AA Members' Events
Venice Biennale Trip for Members 25-27 Nov 2011
Cost £325 for AA Members, £285 for AA Students
The Beyond Entropy project host a special event for AA members in Venice from Friday 25 to Sunday 27 November. The trip will include two private lectures held at the Giorgo Cini Foundation research centre on the Island of San Giorgio Maggiore with curators Adam Lowe and Jerry Brotton.
Members will also be able to avail of a three-day pass to the Venice Biennale and can chose between attending one or more of the the three final Meetings on Art roundtable discussions of this year's Biennale, or, exploring the Biennale sites across the city. Speakers include: Biennale Curator Bice Curiger, Hans Ulrich Obrist, Germano Celant, Biennale Director Paolo Baratta, Diana Baldon, Giovanni Carmine and Okwi Enwezor.
In addition to the above those on the trip will get to spend Friday and Saturday night at the Centro Vittore Branca Residence on the Island of San Giorgio Maggiore.
To book a place, please email events@aaschool.ac.uk
Saturday Members' Morning: Gallery Talks
God & Co: François Dallegret Beyond the Bubble
5 Nov 11.00
AA Gallery
Tom Weaver introduces François Dallegret
See Exhibitions
AA Archives Opening Party
2 Nov, 5.00–7.00
32 Bedford Square
Members and students are invited to celebrate the reopening of the AA Archives in its new home in 32 Bedford Square.
Building Visit : One New Change
18 Nov, 1.45
London EC4
Free event; please RSVP by emailing events@aaschool.ac.uk
See www.aaschool.ac.uk/membership/benefits/events for full details.
V&A Postmodernism: style and subversion 1970–1990
Wednesday 23 November, 8.30–10.00
Cost £25 incl. breakfast
The V&A's major autumn 2011 exhibition explores Postmodernism, asking what it means and where it came from, with reference to design in the 1970s and 1980s.
Glenn Adamson will lead a small group of AA members on a private early morning tour, 8.30–10.00.
Notices
The Architects' Mass
11 Nov, 6.00
St Patrick's, Soho Square W1D 4NR
This year, the 25th anniversary of the event, the architects' mass will be celebrated at St Patrick's in Soho Square, recently renovated by Javier Castañon's practice (see AJ, 20 October).
All AA staff and students welcome. RSVP: 020 7247 8390 or email architects.mass@blueyonder.co.uk
Complementary Studies
All Autumn Term Complementary Studies Courses this week (please refer to the timetable at the front of the Complementary Studies Course Booklet), available from the Co-ordinator's Office, Second Floor, 36 Bedford Square.
Library Notices
New Library Guides on Library Website
Library Tutorials, Autumn Term
Architectural Association (AA) School of Architecture, 36 Bedford Square, London WC1B 3ES
Previously:
Concrete Geometries
15 Oct 2010
Symposium 'Concrete Geometries – Spatial Form in Social and Aesthetic Processes' which will take place at the Architectural Association on 15th October 2010 for possible inclusion in your calendar.
Concrete Geometries
Bedford Square


photos © Adrian Welch
OMA Book Symposium POSTPONED
The all day OMA Book Symposium scheduled for 28th May was postponed until the Autumn to allow all the contributors to attend.
AA Events : current events at Architectural Association – external link
AA School Exhibitions + Events – 2009
Renzo Piano Lesson
26 May, Central Saint Giles
Renzo Piano gave a lunchtime presentation for an hour onsite on his first UK building to be completed.


photo © Nick Weall
Tatiana Bilbao : Two Public Art/architecture Projects in Mexico
9 Mar
Mexican Pavilion Expo Zaragoza by Tatiana Bilbao
Peter Eisenman Talk
5 Feb


photo © Adrian Welch
RAFAEL MONEO
The first and the latest Projects
27 Nov
Rafael Moneo presents his Diestre Transformers Factory (Zaragoza, 1964-67)
First Works exhibition opening and Fireworks
6 Nov
A restaging of Bernard Tschumi's 1974 fireworks display – Architectural Manifesto 1 – will open First Works, to be viewed from outside the AA School in Bedford Square
Toyo Ito: 'My First & Latest Work'
9 Nov
I would like to look back at my architectural history and compare my Aluminium House with projects completed 40 years later. Toyo Ito
Address: 36 Bedford Square, Fitzrovia, Website: London WC1B 3ES, England, UK
Phone: +44 20 7887 4000
London Architecture
London Architecture Design – chronological list
London Architecture Tours by e-architect
London Architect Studios
Bartlett School Exhibition: London School of Architecture
RIBA Trust Autumn Lecture Series
Comments / photos for the AA School Events – Architectural Association Architecture Event page welcome