Jewish Museum Berlin Building, Images, Architect, Design, Exhibitions, Pictures
Jewish Museum Berlin : Architecture
Juedisches Museum, Germany – design by Daniel Libeskind Architect
6 Dec 2017 + 28 May 2013
Jewish Museum building
Address: Juedisches Museum, Lindenstraße 9, Kreuzberg
Date built: 2001
Daniel Libeskind Architect
Location: Lindenstr. 9, about 20 mins walk south of city centre
Jewish Museum Berlin Expansion : Building News
Juedisches Museum Berlin, Germany – Visitor News
24 Sep 2008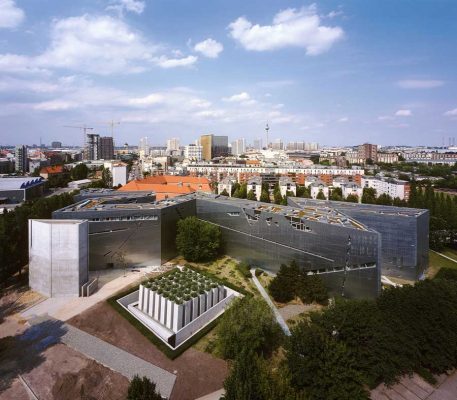 photo © Bitter Bredt
The Daniel Libeskind-designed Jewish Museum Berlin welcomed its five millionth visitor since opening in September of 2001.
This astounding number brings the average over the last seven years to nearly two thousand visitors daily and reflects a steady increase in visitor numbers since 2004.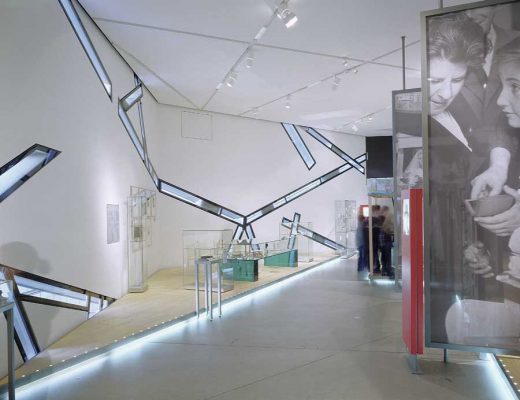 photo © Bitter Bredt
In the first eight months of this year, around 515,000 people visited the Libeskind Building and the exhibitions on German-Jewish history, 8 % more than in the same period last year, during which the visitor total was approximately 733,000.

photos : Michael Hierner + Maleen Diestel
Museum officials and Berliners alike should take pride in this feat, a symbol of Berlin's incredible cultural development in housing a museum which integrates, for the first time in post-war Germany, the history of the Jews in Germany and the repercussions of the Holocaust.
The five millionth visitor was Sarah-Denise Heellmanns, a 17-year-old pupil from Duisburg, who was in Berlin with her class. Ms. Heellmanns entered the museum at roughly 11:00 AM with no idea she would be greeted by the Museum Director, photographed by press, and bestowed with gifts – all to the delight of her classmates. Museum director W. Michael Blumenthal presented her with a gift which included the book on the recently opened exhibition "Looting and Restitution: Jewish Owned Cultural Artifacts from 1933 to the Present" and a glass of pomegranate sparkling wine, one of Liebermann's Restaurant's specialties.
The Jewish Museum Berlin, whose zinc-coated building has long-since been established as one of the capital's landmarks, continues to belong to Berlin's greatest attractions and Germany's most frequented museums. The Museum is particularly popular with young people: About every other visitor in 2007 was under 30 years old – a considerable number for a historical museum. Young teens represent the largest visitor age group with 29 %. Almost every fifth visitor last year was under 18 (19 %). Young people often visit the Museum on school trips: Of the total number of over 7,000 tours booked in 2007, nearly two thirds (63 %) were for school groups.
The Jewish Museum Berlin is one of the most spectacular museum buildings in Germany. Since the beginning it has been a magnet for the public, attracting 350,000 people even prior to its opening in the fall of 2001. This was the second building opened by Studio Daniel Libeskind; the first being the Felix Nussbaum Haus in Osnabruck, Germany.
For more information on the Jewish Museum Berlin, please visit: http://www.juedisches-museum-berlin.de/site/EN/homepage.php

picture © T.Seidel
Jewish Museum Berlin building – scanned photos from 1995 © isabelle lomholt:
Daniel Libeskind Architect
Building exterior – under construction:

Building interior – under construction:

Jewish Museum Berlin architect : Daniel Libeskind
Jewish Museum – new glass courtyard extension
2007
Daniel Libeskind
Building interior – under construction:


pictures © isabelle lomholt
Related Buildings by Daniel Libeskind Architects:
Danish Jewish Museum
Contemporary Jewish Museum San Francisco
Another Jewish Museum in Europe:
Museum of the History of the Polish Jews, Warsaw, Poland
Jewish Museum of New York Exhibition
NMAJH Philadelphia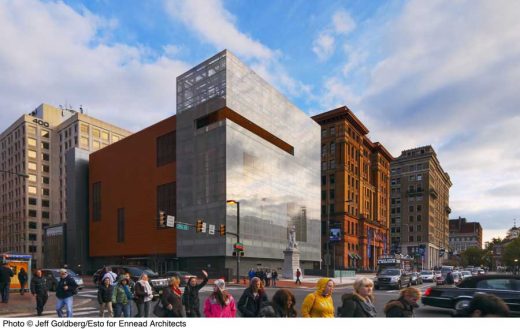 photo © Jeff Goldberg/Esto for Ennead Architects
National Museum of American Jewish History Philadelphia
Location: Jewish Museum Berlin, Germany
Berlin Architecture
Berlin Architecture Designs – chronological list
Berlin National Gallery building
Neues Museum Berlin development : David Chipperfield Architects
Buildings by this architect
Comments / photos for the Juedisches Museum Berlin page welcome