Sadar Vuga Arhitekti Slovenia, Ljubljana Architects, Building Images, Design Studio
SADAR+VUGA Arhitekti : Architecture
Contemporary Slovenian Architects Practice, Europe Design Office News & Info
post updated 25 April 2022
SADAR+VUGA News
SADAR+VUGA Arhitekti Designs
25 April 2022
Ljubljana Railway Station Hall
Design: SADAR+VUGA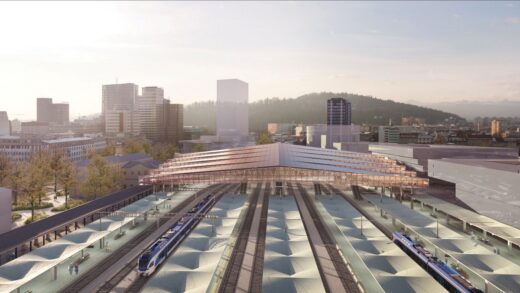 image courtesy of architects practice
Ljubljana Railway Station Hall
The upgrade of the railway infrastructure in the area of the Railway station Ljubljana consists of a new railway station hall, the reorganization of passenger and freight tracks with new covered platforms, refurbished and expanded underpassage, renovation of the early 20th century station building and the new green plazas on the eastern and western side.
11 Dec 2020
University HOGENT Ghent Campus Schoonmeersen Buildings
Design: SADAR + VUGA d.o.o. with LENS°ASS Architecten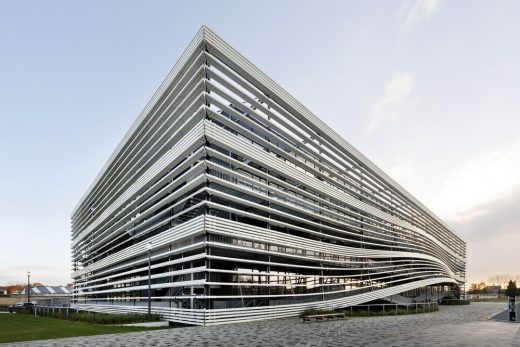 photo : German Luis Bourgeat
University HOGENT Ghent Campus Schoonmeersen Buildings
The new building for the Faculty of Social Work (Building T) and the new Sports Hall Extension at Kampus Schoonmeersen of University HOGENT in Ghent, Belgium, were completed in September 2020. The buildings are now opened to the public with limited access due to the coronavirus.
11 Feb 2019
SADAR+VUGA Architects – Glimpse Of 2019
Through determination and sheer hard work, the goal of SADAR+VUGA continues to show you all that architecture can be diverse, innovative, democratic, intentionally imperfect to the point of even occasionally awkward.
SADAR+VUGA wish to inspire every generation to engage with their environment, to never stop questioning and never-ever stop imagining.
2019 JANUARY HIGHLIGHTS
Construction Completed
– SOAG Faculty of Social Work, University Campus Ghent, Belgium
technical inspection in two weeks
SOAG, Faculty Of Social Work, Ghent, Belgium: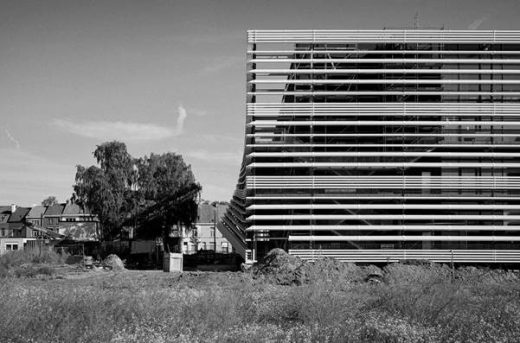 photo : Julian Lanoo
Construction Starts
– Sport Hall, University Campus Ghent, Belgium
Residence Building Elipse, Ljubljana, Slovenia (S+V and GregorcVrhovec)
Scheduled Construction
– Pavilion B4, Kranj, Slovenia
Design Development
– School Of Magistrates, Tirana, Albania
– Tourist Complex Urania, Croatian Coast (S+V and ARTECH d.o.o.)
– Residence, Sinja Gorica, Slovenia
– Drogerie Markt Building,Office and warehouse extension, Ljubljana, Slovenia
Office Move
– Spring 2019, to an iconic building from the 1930s, in the very heart of Ljubljana
16 Mar 2017
SADAR+VUGA Architects News
Documentary film Sadar+Vuga XX
Focus of Sadar+Vuga XX documentary by director Damjan Kozole is the design process behind one of the most influential Slovenian architectural studios of the new generation, Sadar+Vuga.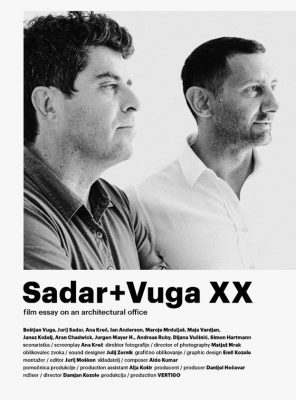 The documentary Sadar+Vuga XX explores the production and communication of the Slovenian architectural firm Sadar+Vuga established by Jurij Sadar and Boštjan Vuga in Ljubljana in 1996. Individual reflections and talks with Slovenian and foreign architects, architectural critics and policy-makers, combined with overviews of the firm's extensive archives and visits to their largest realisations, document the diverse architectural production with which the architects consistently employ to seek out the new in architecture.
Sadar+Vuga XX (2017) trailer eng from Vertigo Ljubljana on Vimeo.
The film leads viewers chronologically through the firm's four distinct periods. It begins with the founding of Sadar+Vuga in the transtitional mid-1990s, a period open to political, social and architectural change, then through a time of growth and economic crisis, culminating with the never fully realised project for the Sports park Stožice, the career achievement that really wasn't.
cast Boštjan Vuga, Jurij Sadar, Ana Kreč, Ian Anderson, Maroje Mrduljaš, Maja Vardjan, Janez Koželj, Aran Chadwick, Juergen Mayer H., Andreas Ruby, Dijana Vučinić, Simon Hartmann screenplay Ana Kreč director of photography Matjaž Mrak sound designer Julij Zornik graphic design Emil Kozole editor Jurij Moškon composer Aldo Kumar production assistant Alja Košir producer Danijel Hočevar director Damjan Kozole production VERTIGO
Watch the trailer: http://vimeo.com/207809870
23 Sep 2016
SADAR+VUGA – Latest Designs
Renovation of Central Lobby at Bank of Slovenia, Ljubljana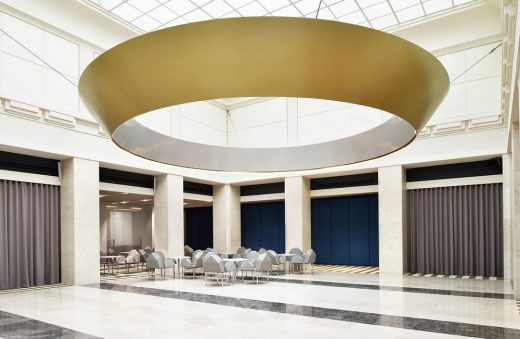 photo : Miran Kambič
Renovation of Central Lobby at Bank of Slovenia, Ljubljana – 23 Sep 2016
The renovation of the Bank of Slovenia's central lobby was designed at a student workshop at Ljubljana's Faculty of Architecture. The project was executed by SADAR+VUGA in close collaboration with the initial student design team.
16 Mar 2016
Home of Revolution, Nikšić, Montenegro
Design: SADAR + VUGA and HHF Architekten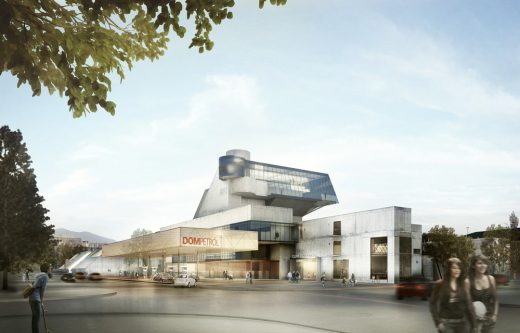 image from architects
Home of Revolution in Nikšić
It was decided that the main intervention should be one that would serve the city and its residents, a social activator that would represent today's changing conditions. Through analysis and local consultation it was determined that trying to complete the existing megastructure would not work as such a project would be suited to a city more than ten times Nikšić's size.
8 Feb 2013
Cultural Center of European Space Technologies, Vitanje, Slovenia
Design: Bevk Perovic arhitekti, Dekleva Gregoric arhitekti, OFIS arhitekti, Sadar Vuga arhitekt


photo : Tomaz Gregoric
Cultural Center of European Space Technologies in Slovenia
14 Sep 2012
Vander Urbani Resort, Slovenia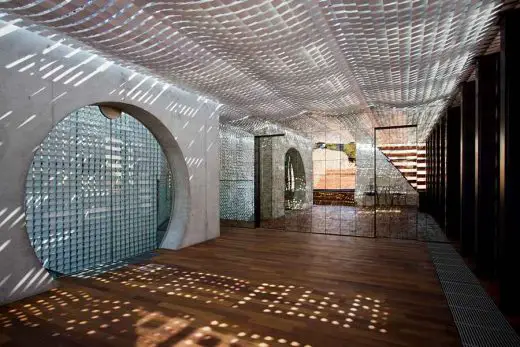 photo : David Lotrič
Vander Urbani Resort
The architectural and design project for Vander Urbani Resort in Ljubljana, Slovenia, is completed. Hotel Vander is a new hotel design located in the historic centre of Ljubljana. The hotel is constructed within the interior space of four historic adjacent buildings. The design of the building plan is spread vertically, with a ground floor space that serves as the main public part of the building and contains the reception, restaurant and bar/lounge areas.
Recent Designs by Sadar Vuga
26 Apr 2012
University College Ghent, Campus Schoonmeersen, Belgium
SADAR + VUGA with LENS°ASS Architecten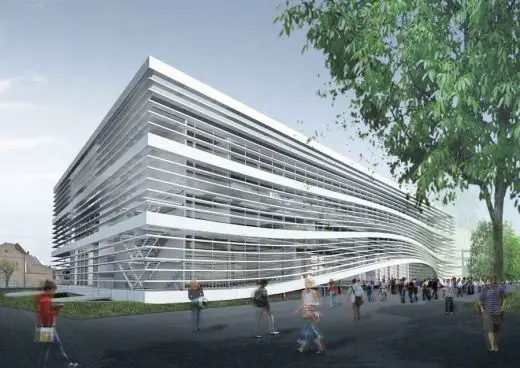 image by architects
University College Ghent
SADAR + VUGA in collaboration with LENS°ASS Architecten participated in an invited competition of the Vlaams Bauwmeester Open Call 21. The competition called for three new buildings on the Campus Schoonmeersen of the University College Ghent, a building for the Study of Social Work (SOAG), a Sports Hall Extension and lastly the Renovation of Building B and adjoining Student Plaza.
Intercity Vienna, Austria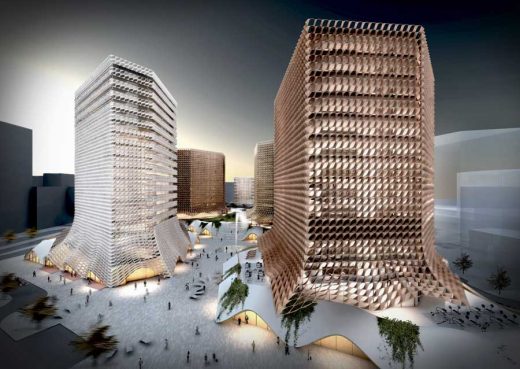 image from architects
Intercity Vienna
The Intercity project is located at large area within the development area next to the new main railway station (Hauptbahnhof) in Vienna. Because of its location, the Intercity Project will become the first contact a visitor will have with the city of Vienna. If you arrive by train and exit at the new station, the Intercity will present the first "postcard" of the new urban development of Vienna.
Major Building by the studio
Sports Park Stožice, Stožice, Ljubljana
2010/11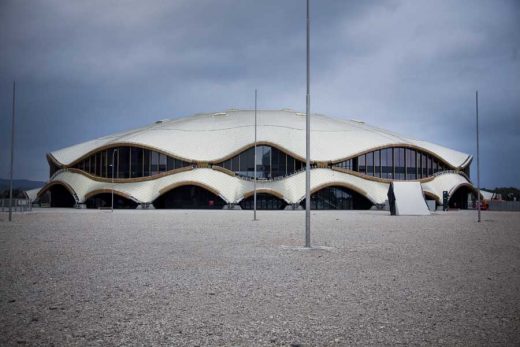 photograph from SADAR+VUGA
Sports Park Stožice
The Sports Park Stozice is a hybrid project. Its realization is the result of the public/private partnership between the city of Ljubljana and Grep Development Company.
The 187,500 sqm complex is located north of the city and combines a football stadium and a multipurpose sports hall with a large shopping centre covered by a recreational park landscape. The park, visibly the largest open space, links the landscape by the river Sava, across the northern sections of the outer ring road, with the green urban space in the city centre.
Sadar Vuga Arhitekti – Key Projects
Featured Buildings by SADAR+VUGA Arhitekti, alphabetical:
Apartment House Gradaška, Ljubljana, Slovenia
2006


photo from architects
Slovenian building
The size, location, shape and spatial organisation of the Apartment House Gradaška outrank all the neighbouring, almost village-like constructions. It is an independent building. There are twelve different and individualised apartments in it.
Apartment House Zvezda, Nova Gorica, Slovenia
–


picture : Hisao Suzuki
Slovenia housing
The House Zvezda is the first apartment building in Nova Gorica with its own garden, underground parking, attractive façade with French windows and balconies, and penthouses with terraces in the attic. Its architecture and design assure identification on three levels to its residents: my house – Zvezda House, my garden – the common house garden, and my apartment.
ATCC, Ljubljana, Slovenia
–


image from architects
ATCC Ljubljana
The centre is conceived so as to provide security and enable high operativeness, 24-hour work comfort as well as comfort for the employees and visitors to the Centre. Furthermore, the Centre is designed according to all strict requirements of safety, operation and efficient functioning, but it is also envisaged as a special, memorable and symbolic building of the arrival in Slovenia.
More projects by Sadar Vuga Arhitekti online soon
Location: Tivolska 50, SI-1000 Ljubljana, Slovenia, southeast Europe
Ljubljana Architecture Practice Information
Architects office located in Ljubljana, Slovenia
SADAR+VUGA Architects Studio founded in 1996
Website: www.sadarvuga.com

image from architects
Buildings / photos for the SADAR+VUGA Architecture page welcome