Mateo Arquitectura Barcelona, Architects, Catalan Design Office, Building Photos, Projects News
Mateo Arquitectura : Architects
Architectural Studio in Spain, western Europe – Catalan Design Practice
post updated 17 December 2021
Mateo Arquitectura News
News for Mateo Arquitectura
17 Dec 2021
Toni Catany International Photography Centre, Llucmajor, Mallorca, Spain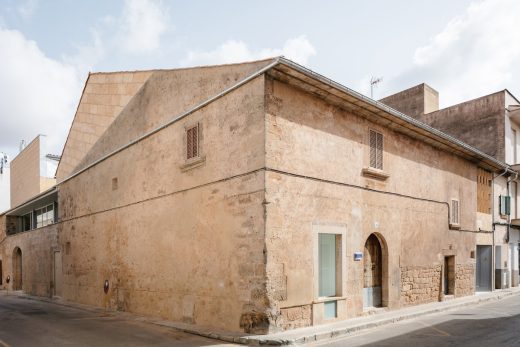 photograph : Aldo Amoretti
Toni Catany International Photography Centre Llucmajor Building
In the old town of Llucmajor (Mallorca), occupying part of the house where the photographer Toni Catany was born, Josep Lluís Mateo – mateoarquitectura built the International Photography Centre, based on the work and the collection of this great artist. The place, the history, the remains, the scale, the classic typology of houses closed to the outside and open onto courtyards… all of this obviously forms the base for the project.
21 July 2021
Banco Sabadell Space Barcelona
"At a time of transformation for bank branches, here, as an experimental proposal, we created a space as a place to work and to meet. Open but active. Private when necessary."
Banco Sabadell Space Barcelona
9 Apr 2020
Mateo Arquitectura Work on pause
Toni Catany International Photography Centre, Llucmajor, Mallorca, Spain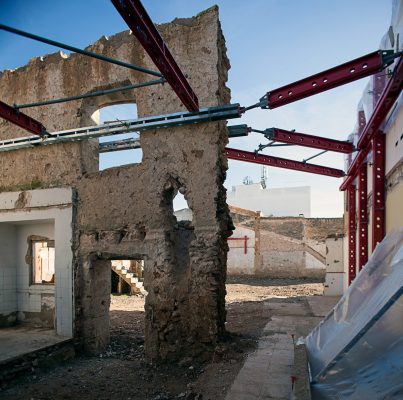 site photograph courtesy of architects practice
Just a few months ago, building work was starting on the site that is to be home to the new Toni Catany International Photography Centre in Llucmajor, Mallorca. After demolishing, we would start to build.
Now, with work stopped, we're looking hopefully to the future.
Soon, we'll continue.
Toni Catany International Photography Centre
Toni Catany Foundation
We're making the most of this pause to see one of Toni Catany's photos a day as part of the initiative organised by the Foundation that bears his name – 40 Photographs for Quarantine:
We travel in time and space (virtually, of course).
Reurbanisation of Place Roubaud Competition, France
Informal
Competition for the Reurbanisation of Place Roubaud in the neighbourhood of La Bocca, Cannes, France
La Bocca is a popular district—there's no glamour, no film stars, no real-estate speculators like there is in La Croisette.
The project is hard; it covers, protects and provides shelter in a wasteland. It is not—it does not set out to be—elegant or bureaucratic. Its activity is its form. Rough and ready.
We realise that it may not be to the liking of sensitive spirits.
Josep Lluís Mateo
Competition
Design date: November 2019
Surface area: 13,237 m2 (public space) + 1,700 m2 (building) + 9,000 m2 (underground car park)
Location: Quartier La Bocca, Cannes, France
Decision: Finalists (not retained). March 2020 (quarantine time)
Place Roubaud Competition, Quartier La Bocca, Cannes
Theory
TRANSFER Global Architecture Platform will soon be launching TRANSFER NEXT, a series of interviews designed to reflect on the new scene that coronavirus will probably bring with it.
TRANSFER Global Architecture Platform
28 Mar 2020
Message of hope from Mateo Arquitectura
Building something represents an effort in relation to a project, to an idea. We build it in order to advance, to check whether (or not) our suppositions were right, to learn from it.
And to pass it on to other users, inhabitants, collectivity… Building is a working time in which we must not lose hope.
Now, with building work halted, Heerhugowaard (dwellings in Holland), ESMA (Ecole Supérieure des Métiers Artistiques) in Montpellier, the headquarters of Banc Sabadell… are waiting.
We trust in the future.
"The first day of the rest of your life" (Sérgio Godinho)
The beautiful, sensitive text by Gabriel Magalhães reminds us, almost between the lines, that a great possibility for the future, the product of present-day circumstances, is control of the savage voracity of capital, of money as the only active force in the world.
Josep Lluís Mateo
https://www.lavanguardia.com/opinion/20200320/474265314241/la-vacuna-de-la-esperanza.html
25 July 2019
One of world's best architecture firms
One of the 100 world's best architecture firms of 2019 by Domus magazine
By means of Best Architecture Firms 2019, Domus analyses the foremost international architecture practices as generators of a cultural discourse in which architecture forms a crucial part of the story.
To make this list, which will be updated annually, Domus draws on its long tradition in architectural research and the criteria of its last ten editors, plus the current one, to generate a selection of architecture firms known for their cultural innovation.
19 Dec 2018
Multimodal Hub, Nice, southern France
Design: mateo arquitectura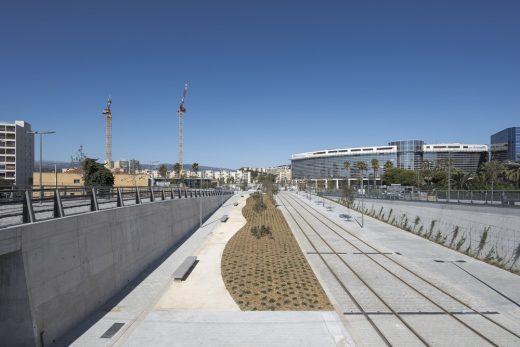 photo © Aldo Amoretti
Multimodal Hub in Nice Grand Arénas
Development is currently starting of the central axis of the new multimodal hub, which will channel all the flows of traffic meeting here, creating a new centrality of this site.
26 Oct 2018
Office Building in Cornellà, Barcelona, Catalonia, Spain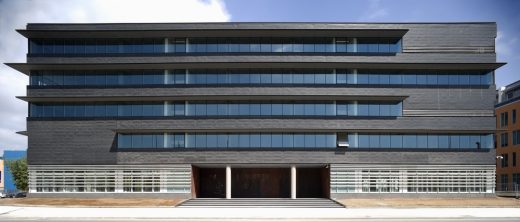 photo : Pedro Pegenaute
Office Building in Cornellà
In the Cornellà Business Park, promoted by the World Trade Centre, Mateo Arquitectura proposed architectural alternatives based on the functional logic already tested and experienced by the ownership, concerning the planned urban concepts.
1 Mar 2018
Bayonne, Entrée de ville
e-architect share with you a short architectural film revisiting Josep Lluis Mateo´s project "Bayonne, Entrée de ville".
The film is directed by the Chilean film-maker Pablo Casals Aguirre.
7 June 2017
Bassins à flot Housing, Bordeaux, France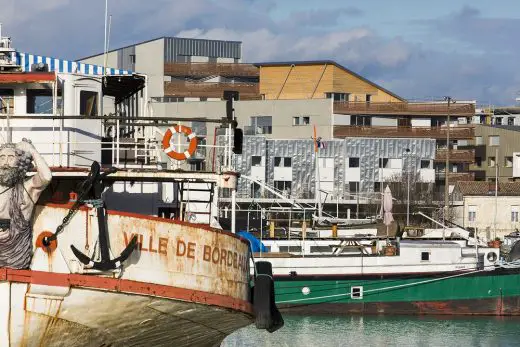 image courtesy of architects
Bassins à flot Housing, Bordeaux
As though washed up here by nearby waters, rises the hulk of the World War II submarine base.
Beside us, other remains of the shipwreck: some small constructions that have to be integrated into the project.
BCN Architecture Guide by Josep Lluís Mateo
23 Dec 2015 – Mateo Arquitectura has updated "BCN Architecture Guide by Josep Lluís Mateo" for this coming year 2016! Discover the hidden places of Barcelona according to Josep Lluís Mateo: from the mountain to the seafront.
The app is available free at the App Store and Google Play.
http://itunes.apple.com/es/app/bcn-architecture-guide-by/id1016925100?mt=8&ign-mpt=uo%3D4
5 Dec 2013
Largo da Devesa City Square and Cultural Center in Castelo Branco, Portugal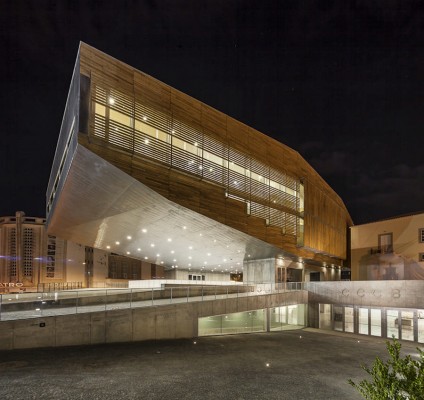 photo © Adrià Goula
Cultural Center in Castelo Branco
The plaza is a surface, a topography drawn out in relation to the movement of the water and built by pedreiros, following patterns that are abstract but not random. The Cultural Center, built in phase two, though part of the original project, floats on two piles over the plaza, like a bridge, freeing up at its base a covered ice-skating rink, and giving continuity to this large public space, to the plaza and to the adjacent park.
11 Oct 2013
Banc Sabadell Tower Block entrances, Barcelona, Catalonia, Spain
Design: Josep Lluís Mateo


photo © Adrià Goula
"In one corner of this great space, we lay out the main entrance to the tower block. At the corner of the floor plan there is a triangle. The space is black but full of life, veined with colour. One side of the triangle marks the border, the point of control. Another, annexed to it, offers an unusual view, slightly raised above the rest. Control and openness."
Josep Lluís Mateo, 2013
Panta Rhei Exhibition, Paris, France


images from architect
Exhibiting, presenting things in public, always means addressing time. The present that leads us to the future, projects that are already being transported to reality.
Also, the present of that which is clearly finished, and a trace of the past that has brought us to this point.
An exhibition allows us to salvage, for a moment, materials produced in different contexts, to support ideas, explain stories or understand a world.
Its ephemeral function plays one of the most important roles here: models, videos, drawings, texts, in our case always instrumental, subordinate to the reality of buildings that ultimately have to be understood and appreciated without them.
Materials that anticipated stories, some just dreamt of.
The exhibition is a dissection of our present work, with some explorations into the past, the origin of our presence here.»
Josep Lluís Mateo
Josep Lluís Mateo opened the exhibition "Panta Rhei"—everything flows—at the Galerie d'Architecture in Paris on 21 March.
The show is a tour through time: the past, present and future of the practice's work, highlighting projects, materials and moments that tend to be concealed from view but that form part of the praxis of Mateo Arquitectura.
The Galerie d'Architecture, at 11, Rue des Blancs-Manteaux in Paris, hosts this exhibition until 13 April 2013.
Accompanying it is a small catalogue that takes a photographic journey through the universe of the Mateo Arquitectura.
Panta Rhei – πάντα ρει
Author: Josep Lluís Mateo
Published by Key Media S.L., Barcelona 2013
12 Dec 2012
International Cave Painting Centre, Dordogne, France


image from architect
International Cave Painting Centre in France
The Conseil Général de la Dordogne (France) recently organized a competition for the construction of Lascaux IV, a complete scale replica of the Lascaux cave, at Montignac, at the foot of the hill where the actual cave is situated.
added 14 Jun 2012
House in Garrotxa, Girona, north east Spain – building added


photo © Adrià Goula
House in Garrotxa
Reconstruction of an old country mansion: the retaining wall to the rear that anchors the house to the hillside was extremely lovely. As well as expressing the effort of retaining the earth, it concentrated in one place the oven and the point of collection of the water that filters through it.
Mateo Arquitectura Book
ON BUILDING Matter and Form, by Josep Lluís Mateo


image : Adria Goula
This book describes that initial moment of a series of buildings, beyond their origins and their physical constitution (both issues, idea and matter, however, based on my work). Here, the objects are presented, captured by Adrià Goula, as visual forms, as compositions of planes and surfaces that form volumes and also as a dialectic of the light and shade that define spaces.
Josep Lluís Mateo
Excerpt from ON BUILDING Matter and Form
14 Jun + 24 May 2012
Josep Lluis Mateo Book
Recent Designs – 2012
9 May 2012
News & Media Building in Ningbo, China


image from Mateo Arquitectura
News Media Building Ningbo
Context is the starting point of the Ningbo News and Media building design. As a reflection to the surroundings, the project appears a double-face character. Building on the south side has a clear form and a continuous street façade. As a result, the continuity of Jingjia road is kept. It also deals with the institutional buildings of government office area on the south.
3 Apr 2012
Prague National Gallery Entrance Hall, Czech Republic


image from Mateo Arquitectura
Prague National Gallery Entrance Hall
Mateo Arquitectura announce the completion of the penultimate phase of this project: connecting hall, main entrance of the National Gallery and access between the palaces Salm and Schwarzenberg.
8 Mar 2012
Multimodal Hub – Grand Arénas, Nice, France


image from Mateo Arquitectura
Grand Arénas Nice : Multimodal Hub
Today Josep Lluís Mateo is going to present his master plan for the Pôle Multimodal Nice-Aéroport quartier d'affairs Grand Arénas at MIPIM, the leading international real state fair, celebrated in Cannes. MATEO Arquitectura won the competition in 2011.
26 Jan 2012
Housing in the Andromède district, Toulouse, France
Josep Lluís Mateo – Mateo Arquitectura


image from Mateo Arquitectura
Andromède Housing
Work will shortly begin on the construction of the housing blocks in the Andromède district. The site is ready for construction work, which will last 18 months. The project consists of four volumes built around a central garden that will house 104 dwellings, each with a terrace or balcony. The four buildings share a car-parking floor, which has a waterproofing system to prevent future leakage, as this is a wetland area.
Recent Mateo Arquitectura Designs
21 Sep 2011
Filmoteca de Cataluña, Barcelona, Spain
2010-11


image : Josep Lluis Mateo
Filmoteca de Cataluña Barcelona – Film Library Building
17 Jun 2011
PGGM Headquarters Building, Zeist, The Netherlands
2011


photograph : Adrià Goula
PGGM Headquarters by Mateo Arquitectura
9 Jun 2011
Bayonne Gateway, France – information added 10 Jun 2011


image from Mateo Arquitectura
Bayonne Gateway
Jean Grenet, Mayor of Bayonne, along with various figures from Bayonne City Council, Kaufman & Broad and Eiffage Construction, visited the offices of Mateo Arquitectura in Barcelona to see the latest progress of the project for Tête de Pont, a new gateway to the city of Bayonne (France).
Boulogne-Billancourt, Paris, France


image : Adria Goula
Boulogne-Billancourt Paris
Mateo Arquitectura – Key Buildings
Mateo Arquitectura Buildings, alphabetical:
Banc de Sabadell Atlantic, Barcelona, Spain
2007


photo © Pedro Pegenaute
Banc de Sabadell Atlantic
Camp Nou Proposal, Barcelona, Spain


image from Mateo Arquitectura
Camp Nou Stadium
CCIB Building, Diagonal Mar, Barcelona, Spain
2004


photo © Adrian Welch, 2011
CCIB Barcelona
Free Zone Consortium Office Building, Diagonal Mar, Barcelona, Spain
2002
(Edifici d'oficines pel Consorci de la Zone France)


photo © Adrian Welch
Free Zone Consortium Office
Place de la République, Paris, France
2010-


image : Mateo Arquitectura
Place de la République Paris
Mateo Arquitectura Projects – No Images
The head office of the Bundesbank in Chemnitz, Germany
1996-2004
Barcelona International Convention Centre
2000-04
Banc Sabadell : Standard office
2002
Sant Jordi Hall of Residence
2001-06
Largo da Devesa park in Castelo Branco, Portugal
2000-07
Office building for WTC Almeda Park in Cornella, Barcelona
2004-07
Film Theatre of Catalonia, Barcelona
2005-10
Extension of the office building for PGGM insurance company in Zeist, Holland
2002-10
The office building in Boulogne-Billancourt, Paris, France
2006-10
Apartment building, Borneo Docks, Amsterdam, Holland
Borneo Docks
Mateo Arquitectura building images / information from Mateo Arquitectura
Location: Barcelona, Catalunya, Spain
Josep Lluis Mateo – Spanish Architect
Josep Lluis Mateo, architect:


photo : Jordi Belver
Website: www.mateo-arquitectura.com
Josep Lluis Mateo entered into association with Marta Cervello in 1995, since when they have directed the practice together.
Spanish Architects
Famous Iberian Architects:
Comments / photos for the Mateo Arquitectura page welcome