Boulogne-Billancourt, Paris Building, Architect, Project, Photo, News, Design Contest, Image
Development on former Renault factory in Paris
Building on Boulogne-Billancourt Site, France design by Josep Lluís Mateo, architect
7 Feb 2011
Boulogne-Billancourt Factory Paris
The Factory, Paris-Boulogne 2010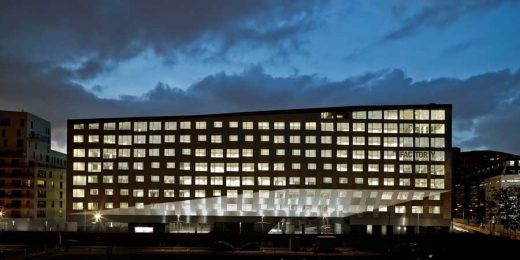 Completion of The Factory, the new office building by Josep Lluís Mateo on the site of the old Renault factory in Boulogne-Billancourt, Paris.
Winning project in the invited competition organized in 2006
When addressing this project for an office building, we started off by thinking about the entire city block as a series of buildings with spaces between them to introduce light and air into the empty space. In this way we began to see the building as a mass that formed Rue Emile Zola, like a complex volume. We had some prior experience with this type of building in terms of dimensions, depth, and so on, that went almost automatically into the drawings and models.
I always start this way, with a very abstract volume as a base. The history and the setting of the building also have to be taken into account. In this case, we were looking at the former Renault plant, which immediately brought to mind old stories of May 1968 and J.-L. Godard's film Éloge de l'amour that was made there shortly before the factory was demolished. However, when we visited the site, what we found was a huge, beautiful, expectant empty space, which involved constructing a new part of the city. As an architect, I like that sensation of emptiness waiting to be filled and taking on the responsibility of imposing clarity.

Boulogne-Billancourt Paris from Josep Lluis Mateo on Vimeo.
The main constraints of the site were the street, the inner courtyard and the adjacent elements. The site's relation with the street suggested that the building should fold to protect the pavement in a very striking urban gesture: you move alongside the building and, at the same time, beneath it. It is a contemporary version of the old porches. The building provides refuge, protects you and then gently lets you go as you pass. It also opens up on the ground floor, connecting you with the garden at its centre which, though not big, is very lovely. The top line of the building is not horizontal; it slopes, adapting to the different heights of its neighbours and increasing the dynamism of the vanishing point.
Evidently, the program too presented constraints, producing some singular results. It called for flexible generic office space that will adapt to future users, but we also created particular spaces, such as the entrance, restaurant, conference rooms and foyers, which I hope will make it special. This type of project calls for clarity and regularity, to which we have, I hope, brought a new complexity. For example, seeing the façade made up of a constellation of different windows sets off an attractive many-faceted vibration in the interior. However, this is a building designed in terms of volume and thickness, not just of skin. The façades are structural concrete walls, which were a major technological challenge, but the kind of challenge a true constructor loves. The proportion and size of the openings were calculated in relation to the expansioncontraction behaviour of the building. For reasons of energy consumption, the walls, which I would have liked to leave bare, called for thick thermal insulation, which we then protected with aluminium sheeting.
The side walls that continue the roof are of zinc, a traditional artisan material that has a great urban tradition. Another important factor is the project's response to HQE, France's high-quality environmental standards to manage environmental impact. The building has great thermal inertia, as it is well insulated and hermetic.
In the south side, the windows are drawn back for protection from the sun, offering views of the established trees in the garden. The mechanical installations incorporate all the latest advances, and the design integrates them rather than merely attaching them to the building. This is particularly striking in the roof, where the slope of the building is used to accommodate all the machinery. Technology is present but invisible.
Boulogne-Billancourt Factory Paris – Building Information
Author: Josep Lluís Mateo
Client: Vincy & Nexity Enterprises
Project: 2006-08
Construction: 2008-10
Budget: 37.800.000 euros
Surface: 17.300 m2
Photography: Adrià Goula ©
Previously:
Boulogne-Billancourt Paris
BOULOGNE Office building at Boulogne-Billancourt on the old Renault factory land First Prize.
Restricted competition
Architect : Josep Lluís Mateo
English text:
The transformation of Paris: Josep Lluís Mateo takes part in the Île Seguin-Rives de Seine operation Josep Lluís Mateo entered the invited competition in 2006, winning first prize for the development of the city block on the former Renault factory site. Identified as one of the outstanding economic and urban sectors in the Île-de-France region, the project is decisive to the restructuring of the west of Paris.
This central site is just a quarter of an hour from the Eiffel Tower. Josep Lluís Mateo's project forms part of the Île Seguin-Rives de Seine development, an ambitious city planning project involving internationally renowned architects. The operation is marked by high standards of urbanistic and environmental quality. The solution proposed for block A3 of the site is a sculptural office building along rue Emile Zola. Rather than designing a variety of different office blocks on the site, the project comprises large volumes.
Taking as its basis the density of the city block, the building plays with full and empty spaces, highlighting the connection of public space with the landscaped site. The long façade on Emile Zola is characterized by a fold on the second floor that generates an empty space at street level, forms the entrance to the building and opens a passage through the city block, freeing up space. This porch constitutes a hub of distribution. From this point, flows lead to the main part of the building, the restaurant and the pedestrian entrance to the underground car park.
Paris Boulogne construction in progress from Josep Lluis Mateo on Vimeo.
The building's main façade is a pattern of empty spaces and perforations of various sizes against a solid ground, a series of windows whose forms respond to the structural logic and force diagram. The south façade follows the same layout. The building comprises seven floors of offices, two balcony terraces with great views of the garden, and a final mezzanine floor, as well as five basement floors that function as a car park. This year sees the completion of building work.
The site forms part of the cultural activation plan implemented by Boulogne-Billancourt Council in 2003. By 2015, the transformation of an area covering 74 hectares is foreseen, creating two main areas. The first will be a new area of over 600,000 m2, with a mix of housing, public facilities and offices of high architectural quality, a true neighbourhood forming an integrated part of Paris. The second involves the construction of "the island of culture", on Île Seguin-Rives de Seine, 11.5 hectares in the river Seine given over to culture and art.
How to build a closed street block using various disconnected pieces was the first question we had to address.The general composition, a score to be played by others, envisaged empty spaces between blocks, like great windows onto the empty green centre, and volumes with different responsibilities: one established the corner; another, taller and long, constituted the front that overlooks the large boulevard; others, pivoting on the corner, defined the sides. We then have to build part of this idea. We continue with the great linear office block in keeping with our studies into the expressive capacity of concrete structural walls and the standard typological conditions of contemporary office space. Josep Lluís Mateo, 2008
Josep Lluis Mateo, architect:

photo: Jordi Belver
French text:
La transformation de Paris: Josep Lluís Mateo intervient dans l'Opération Île Seguin – Rives de Seine Josep Lluis Mateo s'est présenté au concours restreint en 2006 et a gagné le premier prix pour l'aménagement du pâté d'immeubles situé sur les terrains de l'ancien siège Renault. Considéré comme l'un des quartiers les plus importants de l'Île de France du point de vue économique et urbain, le projet constitue un élément essentiel pour la nouvelle configuration de l'Ouest de la Région Parisienne.Sa situation est proche du centre, à seulement un quart d'heure de la Tour Eiffel. Le projet de Josep Lluís Mateo fait partie de l'Opération Île Seguin – Rives de Seine, un projet urbain ambitieux auquel participent de célèbres architectes du monde entier. L'opération repose sur une grande exigence de qualité urbanistique et environnementale. Pour le pâté d'immeubles A3, le projet prévoit la construction un bâtiment structurel de bureaux le long de la rue Émile Zola. À la différence d'une solution reposant sur différents types d'immeubles de bureaux, le projet prévoit sur le terrain de grands volumes.
En prenant pour base la densité du pâté d'immeubles, le bâtiment offre un jeu d'espaces vides et pleins, en renforçant la communication entre l'espace public et les zones vertes. La longue façade de la rue Émile Zola se caractérise par un pli à partir du deuxième étage qui crée un vide au niveau de la rue, fait office d'entrée du bâtiment et ouvre un passage à travers le pâté d'immeubles en dégageant de l'espace. Ce porche joue le rôle de véritable quid de distribution. Ce point permet d'accéder à la zone principale du bâtiment, au restaurant, à l'entrée et à la sortie piétonne du parking souterrain. La façade principale du bâtiment décrit des creux et des perforations de différentes tailles sur une base massive, avec une série de fenêtres qui répondent avec leurs formes à la logique structurelle et au diagramme des forces. La façade Sud répond également au même schéma. L'immeuble de bureaux possède sept étages, deux terrasses-balcons avec des vues privilégiées sur le jardin, et un dernier étage en mezzanine, en plus de 5 étages souterrains qui font office de parking.
Les travaux de construction du bâtiment seront terminés cette année. Le terrain est inclus dans plan de dynamisation culturelle lancé en 2003 par la mairie de Boulogne-Billancourt. Pour 2015, les objectifs de ce plan sont de transformer un total de 74 hectares et de créer deux zones principales. D'un côté, un nouveau quartier de plus de 600 000 m2, un ensemble d'habitations, des équipements publics et des bureaux d'une grande qualité architecturale, un véritable quartier pour lequel Paris est résolument engagé. De l'autre, la construction de " l'île de la culture " sur l'Île Seguin – Rives de Seine qui occupera 11,5 hectares le long de la Seine consacrés intégralement aux arts et à la culture.
Boulogne-Billancourt Paris – Building Information
Date: 2006-10
Site: Boulogne-Billancourt, Paris
Author: Josep Lluís Mateo
Client: VINCI Immobilier d'entreprise / NEXITY Entreprises
Structural & Installations Engineering: SNC Lavalin
Quality Control: VERITAS Fire protection: EURO Coord
Energetic Control: COTEBA
Environment: MAP
Collaborators: Competition leader: Vicky Daroca, Project Leader: Laurent Baudelot
Boulogne-Billancourt Paris images / information from Josep Lluís Mateo
Location: Boulogne-Billancourt, Paris, France
New Paris Architecture
Contemporary Paris Architecture
Paris Architecture Design – chronological list
Paris Architecture Walking Tours by e-architect
Featured Projects by Josep Lluís Mateo
Banc de Sabadell Atlantic, Barcelona, Spain
Banc de Sabadell Atlantic
Free Zone Consortium Office Building, Barcelona, Spain
Free Zone Consortium Office
Paris Architecture – Selection
Gaité Montparnasse, Les Ateliers Gaité, 14th arrondissement
Architects: MVRDV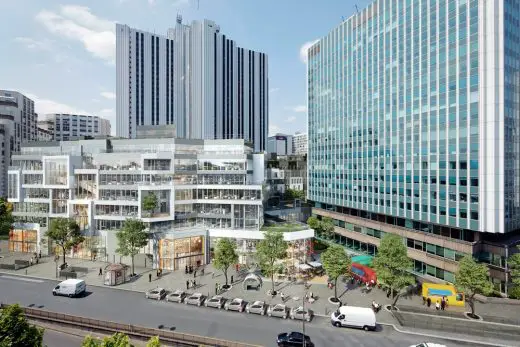 image © L'Autre Image
Gaité Montparnasse
Josep Lluis Mateo Book : Occasions, 2009
Comments / photos for the Boulogne-Billancourt Paris page welcome
Former Renault Factory Development Architecture page welcome