HOK Practice News, Architects Office, Architectural Studio, US Designs Photos
HOK Architects: Design Offices
Contemporary Architecture Practice – International Design Offices: Studio News
post updated 24 July 2023
HOK Architects News
HOK Architects Office News
24 July 2023
Avicii Arena, Europe's Largest Spherical Building, Stockholm, Sweden
Design: HOK with C.F. Moller Architects


image : HOK
Avicii Arena Stockholm building
28 April 2023
HOK Names Eli Hoisington and Susan Klumpp Williams as Co-CEOs
Global architecture practice HOK has appointed Eli Hoisington and Susan Klumpp Williams as its new co-chief executive officers, succeeding Bill Hellmuth who passed away on April 6, shortly after his scheduled retirement. Hoisington and Klumpp Williams, who have served as interim co-CEOs since Hellmuth went on medical leave in May 2022, bring a fresh yet familiar perspective to HOK's leadership. They have previously led two of the firm's largest offices and are longstanding executive committee members:
HOK Architects
21 July 2022
Fleet House, New Bridge Street, Fleet Street Conservation Area, City of London, England, UK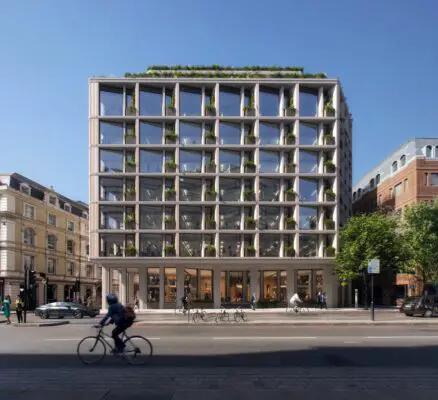 image courtesy of architects practice
Fleet House City of London Offices
Pan-European real estate group Atenor and the London studio of global architecture practice HOK have submitted plans for a deep retrofit of Fleet House, EC4, to the City of London. Atenor acquired Fleet House in April 2022 and it represents its first project in London. The building is located on New Bridge Street near Blackfriars Station and within the Fleet Street Conservation Area.
8 June 2022
University of Glasgow ARC Building News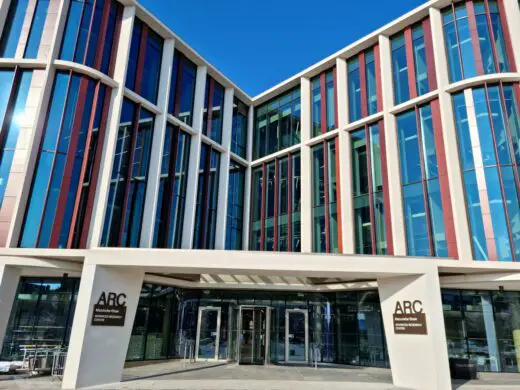 photo courtesy of the University of Glasgow
University of Glasgow Advanced Research Centre
A flagship research facility at the University of Glasgow was opened today (Wednesday 8 June) by Nobel prize winning Chemist, Professor Sir David MacMillan. The £118m Mazumdar-Shaw Advanced Research Centre (ARC) will be the creative and collaborative heart of cross-disciplinary research at the University of Glasgow.
31 May 2022
AO Arena, Manchester, England, UK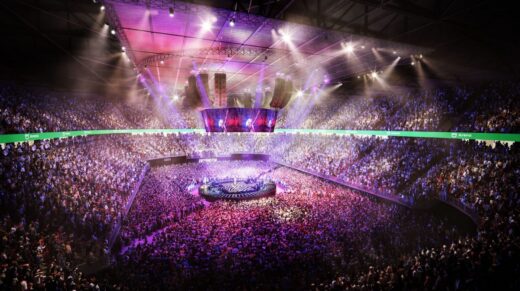 image : HOK
AO Arena Manchester indoor venue
ASM Global and HOK have announced an ambitious plan to transform the iconic AO Arena in Manchester. Set to begin this summer, the £50-million renovation will enhance the venue's position as a premier destination for live entertainment through innovative new guest amenities and significant infrastructure improvements.
25 May 2022
HOK appoints James Leathem as Technical Principal for its London studio
Leathem, who joins from Arney Fender Katsalidis and spent more than 25 years at RSH+P, specialises in detailed facade, structural and sustainable designs.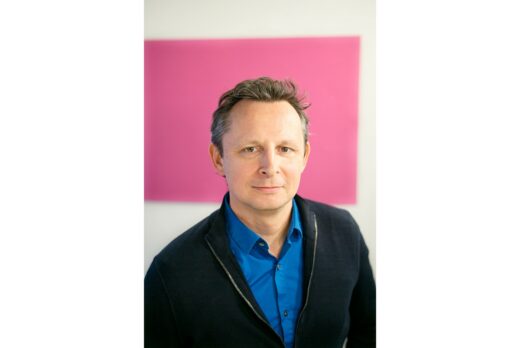 As an architect with more than 30 years of experience, James has collaborated on numerous high-profile projects around the world. His iconic designs span the globe, including the Welsh Parliament building in Cardiff, Wales; Las Arenas Bullring in Barcelona; the International Spy Museum in Washington, D.C.; and Taoyuan International Airport in Taiwan.
His work has also been recognized in the architecture and design community. His award-winning designs include Terminal Four at the Adolfo Suárez Madrid–Barajas Airport in Madrid, which won the Stirling Prize from the Royal Institute of British Architects (RIBA), and the LEED Platinum-certified BBVA Bancomer Bank in Mexico City, winner of the RIBA International Excellence Award.
Daniel Hajjar, Managing Principal of HOK's London studio, said: "James stands out as a highly respected and collaborative technical leader in our profession. We look forward to him working with our teams to create innovative design solutions for our clients."
James Leathem added: "Complex projects require creative problem-solving to achieve a client's goals and design vision. I'm thrilled to bring my technical expertise to HOK's London studio to collaborate on designs that transform our built environment."
Active in the architecture community, Leathem has served as a guest speaker at the Council on Tall Buildings and Urban Habitat's annual conference. He has also tutored at Utah State University and the Bartlett School of Architecture at the University College London.
4 Mar 2020
University of Glasgow New Research Hub, Glasgow, Scotland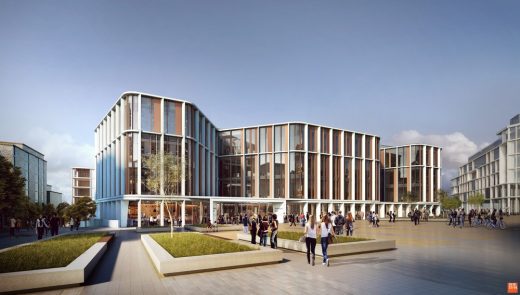 image courtesy of architects
The construction of a £113 million research facility at the University of Glasgow has reached a key milestone, with the building topping out:
University of Glasgow New Research Hub
Aug 10, 2017
Mercedes-Benz Stadium Building Atlanta, George, USA
Date built: 2014-17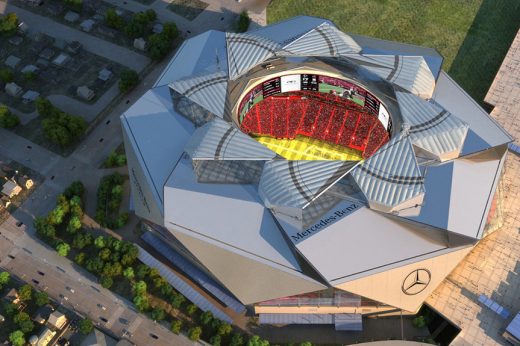 image Courtesy of architects
The Mercedes-Benz Stadium is due to open on August 26 with the first game by Atlanta Falcons in their new home. The arena is also the new home ground for the Atlanta United soccer team. The signature feature is the retractable roof. It opens and closes with eight 'petals' covered in ETFE pillows.
Aug 9, 2017
LaGuardia Airport Terminal C, Central Terminal Drive, East Elmhurst, NY 11371, USA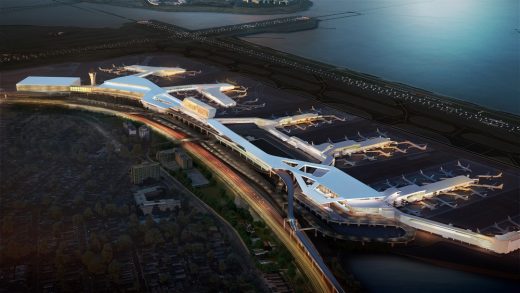 picture from architects office
LaGuardia Airport Terminal C
Ongoing work shows significant progress on Governor Cuomo's vision for one, unified airport. With the groundbreaking of the new Terminal C facility for Delta Air Lines and ongoing work on Central Terminal B, Governor Cuomo's vision for a single, unified LaGuardia Airport is becoming a reality.
8 Jun 2017
LG Science Park, Seoul, Korea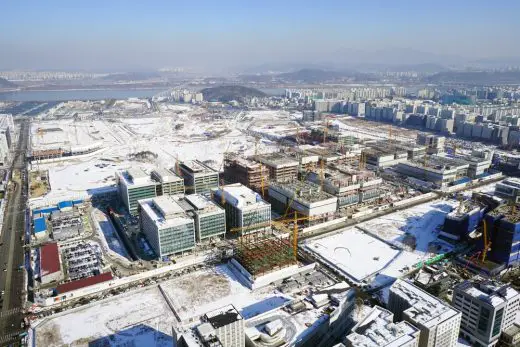 picture from architects office
FLG Science Park Development
The world's largest new corporate research campus is 75 percent complete and on target to officially open in Seoul in 2018.
14 Nov 2016
Cardiff University Innovation Campus, South Wales, UK
Design: Hawkins\Brown ; HOK ; BDP ; DPP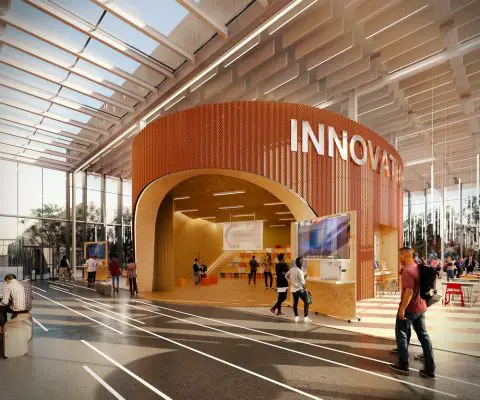 image from architects
Cardiff University Innovation Campus Building
28 Sep 2016
Delos™ and HOK Partner to Accelerate Health and Well-Being in the Built Environment
September 28th, 2016, NEW YORK—Delos™, a wellness real estate and technology firm, has announced a partnership with HOK, a global design, architecture and engineering firm, to accelerate the organization's mission to integrate health and wellness into the built environment. The new partnership will leverage HOK's worldwide network of designers and clients to further expand the global reach of the WELL Building Standard™ (WELL™).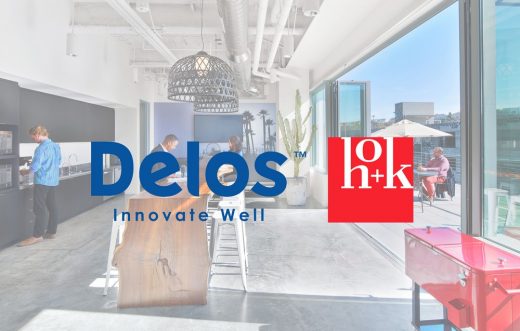 As part of this partnership, HOK is undertaking a major initiative to educate and professionally accredit its design teams through the WELL Accredited Professional (WELL AP™) program, a credential signifying advanced knowledge of health and well-being in the built environment and specialization in WELL. HOK also will collaborate with the International WELL Building Institute™ (IWBI™) to provide research and insight from subject matter experts that will strengthen the foundation of WELL.
"HOK is recognized globally as a champion of environmental stewardship through sustainable design, and we are thrilled to partner with them to advance our efforts to achieve broad industry adoption of the WELL Building Standard," said Delos Founder and CEO Paul Scialla. "HOK has already designed the world's first project certified under v1 of WELL, and we look forward to continuing to collaborate with them to propel the design and construction community forward to build WELL."
Bill Hellmuth, AIA, LEED AP, president and CEO of HOK, has joined the Delos Advisory Board, a distinguished group of industry leaders in science, medicine, real estate, sustainability and government affairs. Hellmuth, who leads the design of HOK projects worldwide, will provide strategic counsel on design that will guide the development of healthier buildings.
Paul Scialla, Delos: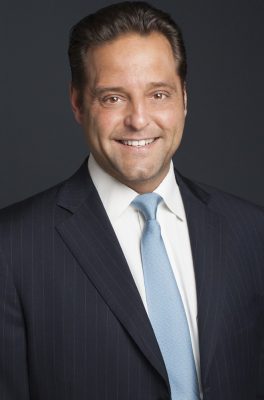 "HOK's fundamental aspiration is to enhance people's lives through design," said Hellmuth. "This partnership with Delos will enable our design teams to integrate the principles of the WELL Building Standard to improve the health and well-being of the people who experience the environments we create. It also is a great honor for me to serve on the Delos Advisory Board. We are eager to contribute our sustainable design expertise and help achieve broad adoption of WELL across the profession."
HOK was the interior design firm and sustainability consultant for TD Bank Group's (TD) newly renovated office within the Toronto-Dominion Centre in downtown Toronto. The project achieved WELL Certification at the Gold level, was the first project globally to be certified under v1 of WELL and was Canada's first within the standard's New and Existing Interiors typology.
"This project for TD Bank is an example of how designers can uses WELL's performance standards to elevate our ability to create exceptional workplaces," said Kay Sargent, ASID, IIDA, CID, LEED AP, director of strategic accounts at HOK. "People are the most valuable assets in any workplace. Using WELL helps designers create spaces that support their well-being, which will drive innovation and productivity."
Delos and HOK are working with the real estate development company Strategic Property Partners (SPP) on the design of multiple buildings within its mixed-use development on a 53-acre site in downtown Tampa. As the world's first WELL Certified city district, this multi-phase project will help create a roadmap for how cities worldwide can be designed and developed to support public health. Individual building projects that HOK and SPP are collaborating on include the new 320,000-sq.-ft. University of South Florida Morsani College of Medicine and Heart Institute, an adjoining 300,000-sq.-ft. medical office building and a parking, residential and retail building.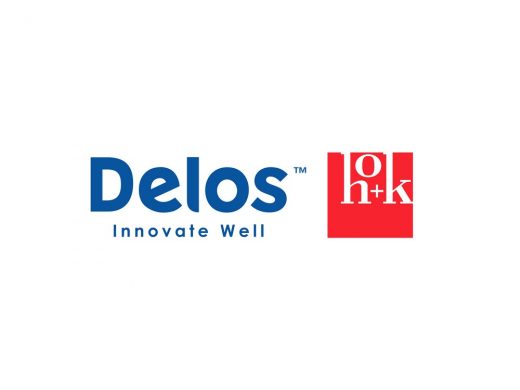 Pioneered by Delos and administered by IWBI, WELL is a performance-based system for measuring, certifying and monitoring features that impact human health and well-being in the built environment. It marries best practices in design and construction with evidence-based medical and scientific research—harnessing the built environment as a vehicle to support human health and well-being. WELL Certified spaces can help create a built environment that improves the nutrition, fitness, mood, sleep patterns and performance of its occupants.
Third-party certification for WELL is provided through IWBI's collaboration with Green Business Certification Inc. (GBCI), the same organization that administers LEED certification. WELL works harmoniously with LEED and the Living Building Challenge, and is expanding alignment with other international leading green building systems like Three Star, Green Star and BREEAM. To date, WELL has enrolled nearly 55 million square feet of over 260 building projects in 23 countries.
About Delos:
As the pioneer of Wellness Real Estate™, Delos is transforming our homes, offices, schools, and other indoor environments by placing health and wellness at the center of design and construction decisions. Delos helps create spaces that actively contribute to human health, performance and well-being by marrying the best innovations in technology, health, science, and real estate. The Delos platform includes programming, consulting, research, and an array of innovative products and technologies that research suggests may improve occupant well-being. More: delos.com.
5 Sep 2016
Spire London Docklands Tower
To become the tallest resi-tower building in Western Europe: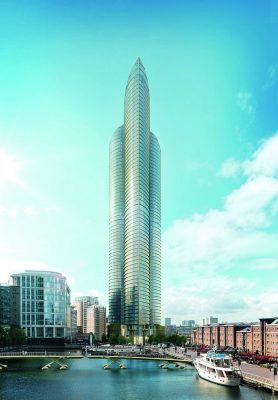 image from architects
Spire London Docklands Building
26 Aug 2016
Driftscape – mobile, self-sustaining hotel, by HOK Toronto
HOK's Toronto office was selected by Radical Innovation jury members for their concept "Driftscape," a mobile hotel that integrates drone technology.
What is Driftscape?
Driftscape is a mobile, self-sustaining hotel that, through the use of drone technology, allows guests to touch down in diverse locations unattainable to traditional hotels. Driftscape hotels are comprised of modular units: The "Driftcraft", an autonomous guestroom pod and the "Oasis", the amenity and service base.

What inspired the concept?
To set off on an adventure, to leave all comforts behind and wander in pursuit of the unknown has been a fundamental urge of humankind throughout history. We thus set out in search of a way to fulfill this urge, seeking a fully "immersive," significantly heightened guest experience and to provide a unique way to wander/drift and experience viewpoint of this amazing world we live in, from above and within.

15 Aug 2016
The Francis Crick Institute, King's Cross, London, UK
Design: HOK – lead architect, lab planner, interior designer and landscape architect worked with PLP Architecture ; with Arup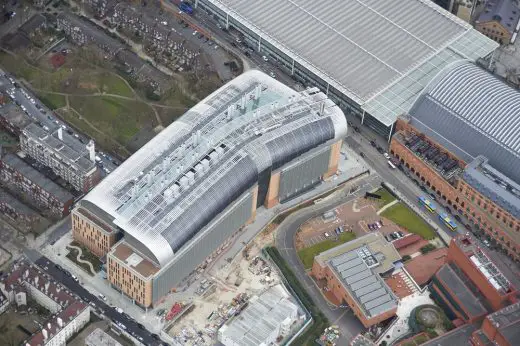 photo from architects
The Francis Crick Institute in London
Construction work has finished for the Francis Crick Institute, a centre of excellence in the field of biomedical research, a stone's throw away from St Pancras International and King's Cross railway stations.
6 Jun 2016
HOK Strengthens Global Workplace Design and Consulting Capabilities
NEW YORK—HOK has announced that Curtis Knapp and Kay Sargent, IIDA, LEED AP, have joined the firm as senior vice presidents, and that Senior Vice President Gordon Wright has a new role. The three senior leaders will direct HOK's continuum of workplace design and consulting services, which begin with strategic property selection, design and construction, and continue through on-site services and building re-use.
Knapp has been named director of HOK's global consulting group, which helps organizations align their real estate and facilities to support their workplace needs. Based in Dallas, he re-joins HOK from Micron Technology, where he was director of global real estate.
Sargent, whose office is in Washington, D.C., and Wright, located in San Francisco, are directors of HOK's Strategic Accounts practice, which supports organizations undertaking multiple workplace projects in various locations. Sargent joins the firm from Lendlease; Wright previously led HOK's consulting group.
"We are helping companies redefine how, when and where their people work," said Bill Hellmuth, AIA, HOK's president and CEO. "To reinvent the workplace, we need to take a holistic design approach that integrates an organization's people, processes and technology. Curtis, Kay and Gordon bring the best of what HOK has to offer—including account management, architecture, consulting, interior design, engineering, facility planning, on-site services and visual communications—to our workplace clients. When our experts in these disciplines collaborate, they can create the most innovative, sustainable and productive workplaces."
About Curtis Knapp
Knapp returns to HOK from Micron Technology, where he was director of global real estate. Prior to that, he was an executive vice president and client relationship manager at JLL. From 1989-1999, Knapp was part of HOK's consulting practice, where he led account relationships with several key clients. He is a member of CoreNet Global and a frequent speaker and author on topics related to strategic portfolio, occupancy and workplace planning.
About Kay Sargent
With more than 30 years of experience, Sargent is a recognized expert on workplace design and strategy issues. She has worked with several Fortune 500 companies to optimize their global real estate portfolios and create innovative work environments. Sargent previously served as director of workplace strategies for Lendlease. She has authored numerous articles and white papers, and spoken about workplace design at CoreNet, IFMA, Tradeline and other industry events.
About Gordon Wright
Based in San Francisco since joining HOK as director of consulting and senior vice president in 2012, Wright has served as principal-in-charge on several large-scale consulting projects that have improved the built environment and transformed the workplace experience for organizations. He brings 20 years of professional experience in consulting, design and real estate, and has held leadership roles at NELSON, Novartis and
1 Jun 2016
Transformation of St Bartholomew's Hospital, London, UK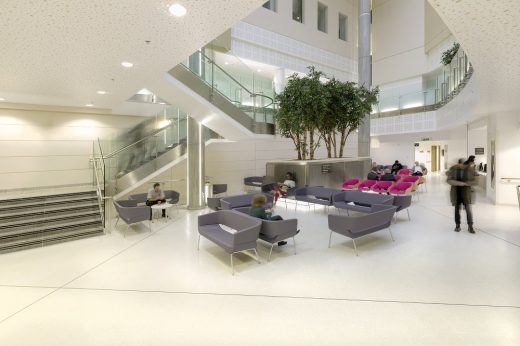 St Bartholomew's Hospital Redevelopment
The comprehensive redevelopment of Britain's oldest operational hospital has been completed following an extensive 10-year modernisation project designed by HOK and delivered by Skanska. The project has created a specialist cancer and cardiac centre with 700,000 square feet of new patient accommodation, consolidating all campus services, and is run by Barts Health NHS Trust, the largest NHS Trust in England.
23 Apr 2016
Long Beach Civic Center Building, California, USA
Design: Arup / HOK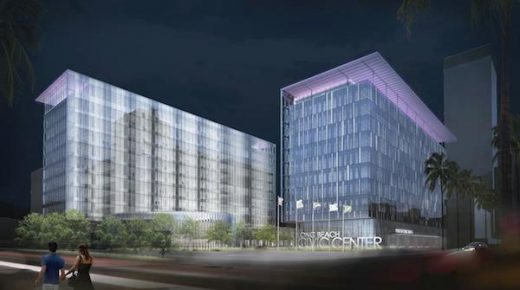 image from architects
Long Beach Civic Center Building
The City of Long Beach and Port of Long Beach has reached financial close for the USD$520m Long Beach Civic Center Project.
20 Apr 2016
Bill Hellmuth is HOK's New Chief Executive Officer
As part of HOK's planned succession process, Patrick MacLeamy remains as chairman
NEW YORK—Bill Hellmuth, AIA, officially took over as HOK's chief executive officer on April 19, with longtime CEO Patrick MacLeamy, FAIA, moving to chairman as part of a planned succession process that the firm first announced Jan. 25.
Bill Hellmuth, AIA, HOK CEO_:


photo © Stephen Voss
Hellmuth, who is based in the firm's Washington, D.C., studio, has been HOK's president since 2005. His promotion to CEO signals a renewed emphasis on design thinking and innovation across HOK. For the first time since 1990, when Gyo Obata stepped down to assume the role of chairman, the firm is being led by a design principal. Hellmuth brings special insight on managing the creative process—balancing the art and the business to generate the best design solutions and most value for clients. He will continue in his role as HOK's firm-wide president and design principal for projects in the Washington, D.C., area and worldwide.
"Design excellence will define our future," said Hellmuth. "I joined HOK in 1991 for the opportunity to be part of a practice that had the opportunity to do the best design work of its time. We're now creating design solutions that address some of the world's greatest challenges. We'll continue broadening the scope of our creativity and problem solving and using design thinking to strengthen our design culture. This will continue to attract the best people and clients to HOK."
Read more about Bill Hellmuth and his vision for the future of HOK in this new Q+A profile.
With current projects in 75 countries, HOK has designed some of the world's most important urban plans, buildings and interior environments. Current and recent projects include the 80-story Capital Market Authority Tower in Riyadh, Saudi Arabia; the Porsche Cars North America Experience Center and Headquarters in Atlanta; the Anaheim Regional Transportation Intermodal Center (ARTIC) in Anaheim, California; Mercedes-Benz Stadium in Atlanta; the Francis Crick Institute in London; and the 74-story Abu Dhabi National Oil Company Headquarters in Abu Dhabi, UAE.
13 Apr 2016
IFC and HOK Partnership Will Accelerate Sustainable Design in Emerging Markets
Firm will use IFC's EDGE green building software and certification program
13th of April 2016 , NEW YORK—IFC, a member of the World Bank Group, and HOK, a global design, architecture, engineering and planning firm, have signed a one-year partnership agreement that will enable HOK to use IFC's EDGE (Excellence in Design for Greater Efficiencies) green building software and certification system.
Supporting the private sector's contribution to climate change mitigation and ensuring sustainable low-carbon growth are strategic priorities for IFC. The building sector presents vast opportunities for achieving these goals. With emerging markets in the midst of a construction boom, environmentally friendly construction offers opportunities to secure emission cuts at a low cost and to lock in long-term energy and water savings.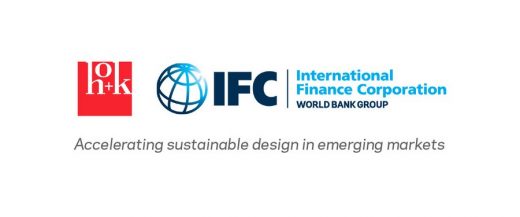 The fast, easy and affordable EDGE certification system is supported by software that enables project teams to determine the financial viability of sustainable strategies early in the design process. After determining the most cost-effective options to reach the EDGE standard of 20 percent less energy, water, and embodied energy in materials, projects teams can use the certification system for verification. Certification is administered by Green Building Certification Inc. (GBCI), which is the same body that certifies LEED projects, and the thinkstep/SGS consortium.
HOK has committed to using the EDGE software and exploring the potential for certification on at least five projects in emerging markets over the agreement's first year. One of these projects will be the 2.3-milllion-sq.-ft., mixed-use World Trade Center being developed by Bengaluru-based Brigade Group in Chennai, India. HOK will also help create awareness about the economic and environmental benefits of EDGE within the global design and construction industry.
IFC will offer EDGE training to HOK design teams and incorporate feedback from HOK's teams after they use the software and certification program.
"We're thrilled to partner with HOK, a firm that is recognized globally as a champion of environmental stewardship through sustainable design," said Christian Grossmann, IFC's director for climate change. "Engaging the private sector to help green the building industry and adopt EDGE certification is a priority for IFC in our efforts to secure emission cuts for climate change mitigation efforts."
"We look forward to collaborating with IFC in pursuit of our shared aspirations to help the design and construction community in emerging markets find lower-carbon, more resource-efficient paths," said Carl Galioto, FAIA, managing principal for HOK in New York. "The partnership will result in better, more sustainable buildings that improve people's lives while providing positive financial returns for all parties."
"We're honored to be the first design firm in the world to have this relationship with IFC," said Anica Landreneau, Associate AIA, LEED AP, HOK's director of sustainable design. "EDGE will be especially valuable for the design of office, healthcare, retail and residential buildings in developing countries, where passive design and practical solutions are essential strategies for sustainability."
About IFC
IFC, a member of the World Bank Group, is the largest global development institution focused on the private sector in emerging markets. Working with more than 2,000 businesses worldwide, IFC uses its capital, expertise and influence to create opportunity where it's needed most. In 2015, its long-term investments in developing countries rose to nearly $18 billion, helping the private sector play an essential role in the global effort to end extreme poverty and boost shared prosperity. IFC has a green building portfolio of almost $2 billion, which includes its own direct investments and mobilized financing. Complementing its investment work, IFC advises governments on green building regulations in Colombia, Costa Rica, Indonesia, Peru, the Philippines and Vietnam. More: ifc.org
About EDGE
As an innovation of IFC, EDGE (Excellence in Design for Greater Efficiencies) helps property developers build and brand green in an easy, affordable way. EDGE is supported by software that encourages solutions to reduce energy, water and the energy used to make building materials by at least 20 percent, which is the standard for EDGE certification. The program has been supported by the following donors: Austria, Canada, Denmark, ESMAP, EU, Finland, GEF, Japan and Switzerland. More: edgebuildings.com
About HOK
HOK is a global design, architecture, engineering and planning firm. Through a network of 24 offices worldwide, HOK provides design excellence and innovation to create places that enrich people's lives and help clients succeed. DesignIntelligence consistently ranks HOK as a leader in sustainable, high-performance design and technology innovation.
10 Feb 2016
New Palau Blaugrana, Barcelona, Catalonia, Spain
Design: HOK and TAC Arquitectes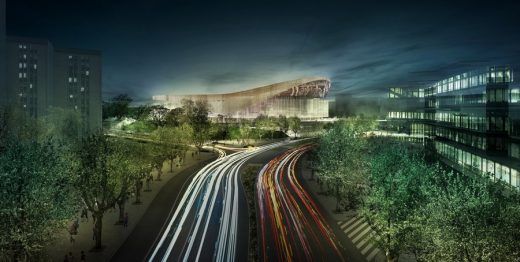 HOK and TAC Arquitectes selected to design New FC Barcelona Arena
International sports venue design leader HOK and Barcelona-based TAC Arquitectes have won a competition to design a new 10,000-seat arena for FC Barcelona. The New Palau Blaugrana is expected to open in time for the 2019-2020 FC Barcelona Lassa basketball season. It will replace the 7,500-seat Palau Blaugrana, which opened in 1971.
25 Jan 2016
HOK Board Names Bill Hellmuth as Next CEO
Patrick MacLeamy remains as chairman, with the transition taking effect on April 19.
NEW YORK—HOK announced today that its group board, as part of its planned succession process, has unanimously selected Bill Hellmuth, AIA, as chief executive officer, effective April 19, 2016. Based in the firm's Washington, D.C. office, Hellmuth will collaborate with the group board to lead the firm's design vision, business strategy and day-to-day management. He will continue in his role as HOK's firm-wide president and design principal for projects in the Washington, D.C. area and worldwide.
Patrick MacLeamy, FAIA, who is stepping down from his position as CEO, will continue to serve as chairman.
"After 49 years at HOK and 13 years as CEO, I am happy to step aside for Bill," said MacLeamy. "He has demonstrated exceptional leadership, brings broad global experience and has a strong vision for our future."
"Our group board is thankful for Patrick's outstanding leadership and grateful that he will continue to offer guidance as chairman," said Tom Robson, AIA, HOK's chief operating officer. "He has put in place outstanding design leaders, a robust growth strategy and a talented management team. HOK is 100 percent employee-owned and, because of Patrick's leadership, has the financial strength to take advantage of growth opportunities such as our recent acquisition of 360 Architecture."
"I joined HOK 25 years ago because I wanted to be part of a firm that was positioned to do the best design work of its time," said Hellmuth. "Our sweet spot is the intersection of design excellence and thought leadership, combining design leadership with expertise in specific markets and building types across the world. We are living in a global market in which design is the differentiator. With organizations of all types embracing the power of design to influence their success, it is an honor to have this opportunity to work with our people to achieve the design excellence that will define our future."
Engineering News Record's 2015 Top 500 Design Firms survey ranked HOK the #1 U.S. architecture/engineering firm.
5 Jan 2016
HOK Wins University of Glasgow Research Hub
5th January 2016 – The University of Glasgow has appointed HOK architects and engineering firm WSP | Parsons Brinckerhoff to develop a £40m research hub at its Gilmorehill campus, Glasgow, Scotland, following a competitive tender.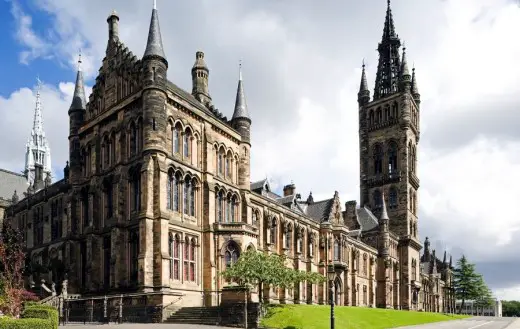 Designed to draw together staff and students from a range of disciplines to enhance research the facility forms part of a larger masterplan for the 31 acre campus.
John Cox, WSP | Parsons Brinckerhoff senior technical director for building structures said: "This is a significant win for us as it strengthens our ongoing relationship with the University of Glasgow as well as raising our engineering skills profile in the education sector across Scotland and the UK as a whole."
14 Dec 2015
HOK Award News
HOK Wins Middle East Consultant Award
HOK has been recognised as Urban Design and Landscaping Company of the Year at the 2015 Middle East Consultant Awards. The award ceremony took place on 6 December at the Jumeriah Emirates Towers Hotel in Dubai. HOK, which has an office in Dubai, has been active in the Middle East for more than 35 years, delivering complex projects across many sectors.
Dubai Expo 2020, UAE – Bird's Eye View, by HOK: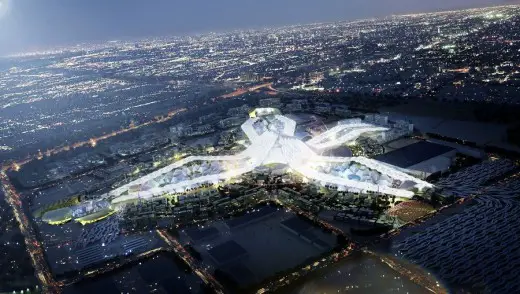 "We have an extensive portfolio of successful projects across the Middle East, demonstrating a deep understanding of local culture and practices," said Daniel Hajjar, managing principal for London. "Our landscape architects and urban planners work together as a cohesive team to provide comprehensive design solutions for a wide range of projects. We are delighted that our multidisciplinary expertise has been recognised with this prestigious award.
Marina Mall in Doha, Qatar, by HOK: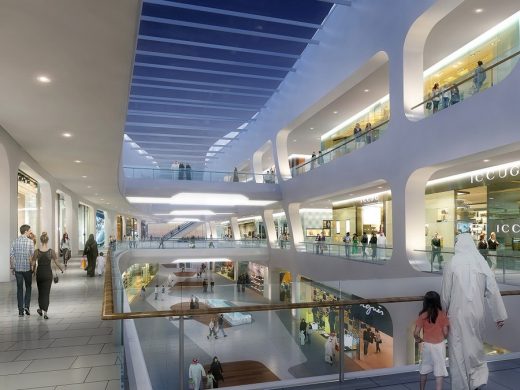 The Middle East Consultant Awards celebrate the region's best multidisciplinary consultants and specialists in the built environment sector. HOK won the top prize in the Urban Design and Landscaping Company of the Year category, which acknowledges 'impeccably crafted urban design and landscaping work in the Middle East'.
Dubai Expo 2020 – Expo Village: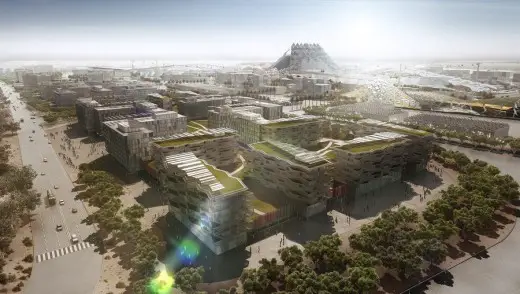 HOK's current and recent projects in the Middle East include: the master plan for Dubai Expo 2020; the Marina Mall in Doha; The Change Initiative sustainable retail prototype store in Dubai; the Rosewood Abu Dhabi hotel; and two of the largest high-rises currently under construction in the Gulf Cooperation Council (GCC) region: the 74-storey Abu Dhabi National Oil Company Headquarters in Abu Dhabi and the 80-storey Capital Market Authority Tower in Riyadh.
Dubai Expo 2020 – Al Wasl Plaza: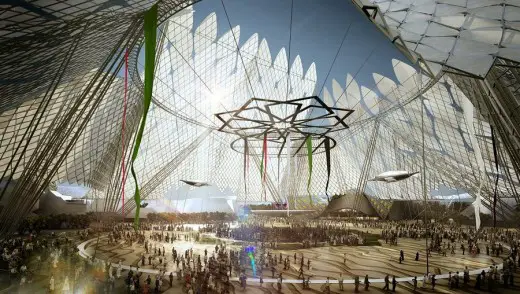 HOK is a global design, architecture, engineering and planning firm celebrating 60 years of design and innovation in 2015. Through a network of 25 offices worldwide, the company provides design excellence and innovation to create places that enrich people's lives and help clients succeed. DesignIntelligence consistently ranks HOK as a leader in sustainable and high-performance design and recently named HOK the #1 most-admired firm for leadership in technology innovation.
Marina Mall, Doha, Qatar: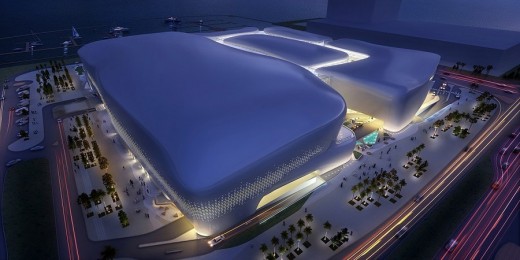 30 Jan 2014
John Rhodes Practice Update
Appointment of John Rhodes Expands HOK's Entertainment and Sport Architecture Group in London
Global architecture and design firm HOK has appointed John Rhodes as director of entertainment and sport architecture in its London practice.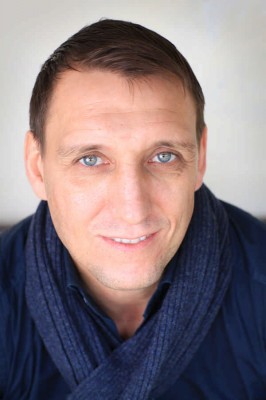 Rhodes has extensive experience in the design of entertainment and sport facilities including arenas and stadia, conference and exhibition centres, horse racing tracks and performance training facilities.
While with his previous firm, Rhodes led the design of the award-winning First Direct Arena in Leeds, Yorkshire, which opened in 2013 as a new global benchmark for arena design and entertainment-led regeneration. Rhodes, who has a reputation as a leader in the design of motor sport infrastructure, also led the design of the new Silverstone Circuit and pits facility in Northamptonshire. He recently collaborated with HOK on the master plan for Dubai's winning bid for the World Expo in 2020.
"We have known John and admired his work for many years, and have always been impressed with his visionary ideas and exciting, imaginative projects," said Larry Malcic, design principal for HOK's European practice. "I am delighted that he has chosen to work with us in London to help expand our skills in many areas, including entertainment and sport facilities, urban design and regeneration, and mixed-use developments that require the collective expertise of HOK's design specialists."
"The next generation of entertainment and sport facilities will be much more integrated," said Rhodes. "As one of the strongest global brands in the design of these facilities, the company is positioned to bring great value to clients by drawing on our world-class, market-focused planning and design leaders – experts in retail, transportation, education and healthcare, for example – to create new synergies."
HOK Architecture Office News Archive
Archive for 2009 – 2013
More architecture projects by architects HOK online soon
Location: international
Key Buildings by this architecture practice
O2 arena, London, UK
HOK Sport
O2 Arena building
London Olympic Stadium, UK
HOK Sport – Peter Cook
London Olympic Stadium
Emirates Stadium, London, England, UK
Emirates Stadium Building
Indianapolis Airport Terminal, Indiana, USA
Indianapolis Airport Terminal
Wisconsin Institutes for Medical Research, USA
Wisconsin Institutes for Medical Research Building
Buildings / photos for the HOK Architecture page welcome
Website: www.hok.com