Albertina Passage Vienna, Austrian Club Design, Building Interior Austria
Albertina Passage, Austria : Vienna Dinner Club
Viennese Interior Architecture – design by Söhne & Partner Architekten
3 + 2 Apr 2012
Albertina Passage Wien
Design: Söhne & Partner Architekten
Location: Vienna, Austria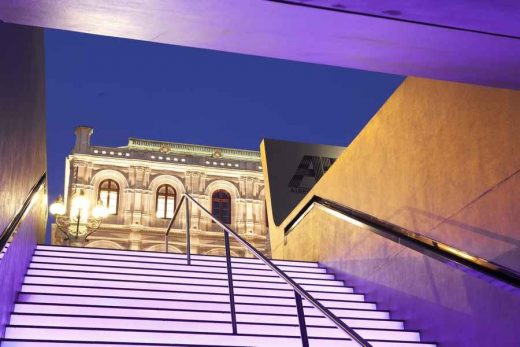 Albertina Passage – A place for fun, a place for pleasure
English text:
The main challenge at Albertina Passage was to recreate an abandoned pedestrian underpass at the very center of Vienna into a modern dinner club for up to 300 persons. Our target was to design a club that is suitable for an elegant dinner as well as for a big party night. Hence, the design includes live music, a restaurant and a lounge. Our idea was to include these functions in one concept.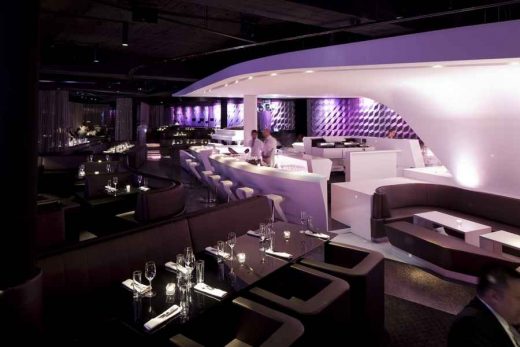 Photos : Severin Wurnig
The centerpiece of our design is a white sculpture which includes main functions like the stage for live music, the DJ Pult, two bars as well as a lounge area in the back. The seats and dining tables are aligned just around of this center. In order to guarantee a perfect view to the stage also from behind they are adjusted on three steps.
Söhne & Partner Architekten connected the dance floor quite in front of the stage which is another eye catcher for the people sitting around. Furthermore due to this position the dining area achieves more intimacy without being excluded from the action.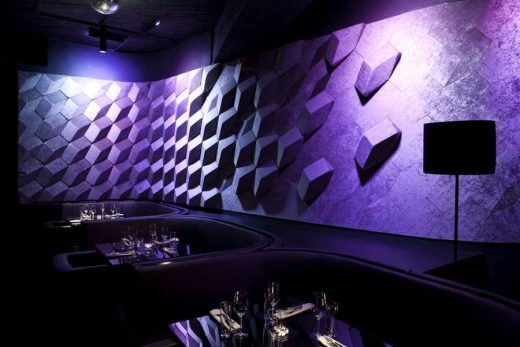 The entrance reminds of the former function of the Albertina Passage. People enter the dinner club just in front of the Vienna State Opera and are guided through stairs and kind of an s-shaped "tunnel" into the main area passing the reception and the cloakroom. The first thing which guests see is again the center with the stage.
Our design consists of modern elements combined with classic details. While the sculpture appears very futuristic the design of the dining area is inspired by American bar tradition from the 1950s and 1960s. Role model was Quentin Tarantino's "Jack Rabbit Slims Twist Contest" from his film "Pulp Fiction".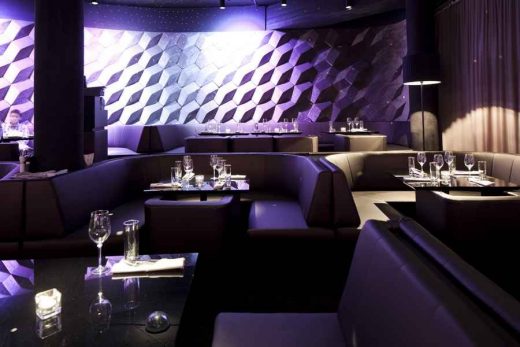 The material of our main design object is Corian, one of the most multifunctional materials. A big advantage of this material is that it allowed us to make one whole surface. This can be experienced optically and haptically. Unlike the modern centerpiece Söhne & Partner Architekten wanted to create a contrast to it when they designed the walls. Hence, they decided to use a warm material in opposition to the Corian. The walls are shaped in a 3-D design which plays with the lights and shadows.
All in all the Albertina Passage seems to be a place full of inconsistency only at first glance. However, on closer examination its elements assemble as a whole. Albertina Passage is Vienna's first dinnerclub. It is a club to be experienced and which is not to be discovered in the first place.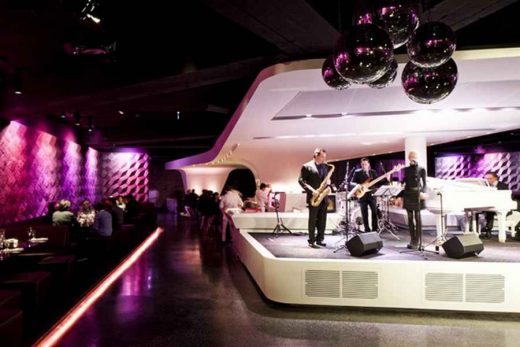 German text:
Albertina Passage, Wien
Die größte Herausforderung beim Umbau der Albertinapassage war es, eine stillgelegte Fußgängerunterführung im Herzen Wiens zu einem modernen Dinnerclub für bis zu 300 Personen umzuwandeln. Es war unser Ziel einen Club zu gestalten, der für ein elegantes Dinner ebenso geeignet ist, wie für eine ausgelassene Partynacht. Daher beinhaltet unser Design Livemusik, ein Restaurant und eine Lunge und verbindet all diese Komponenten in einem Konzept.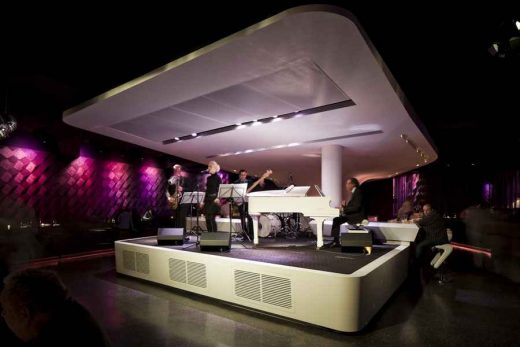 Das Kernstück unseres Design bildet eine weiße Skulptur, die die Hauptfunktionen wie die Bühne für Livemusik, das DJ-Pult, zwei Bars und eine Lounge beinhaltet. Der Essbereich ist rund um dieses Zentrum arrangiert. Um eine perfekte Sicht auf die Bühne zu gewährleisten, wurden die Esstische auf drei verschiedenen Stufen platziert.
Der Tanzbereich wurde vor der Bühne angelegt und ist damit ein weiterer Hingucker für die Gäste. Durch diese Positionierung mit der Bühne und dem Dancefloor in der Mitte wird für den Essbereich eine ganz besondere Intimität geschaffen, ohne dass er ausgeschlossen wird.
Der Eingangsbereich direkt vor der Wiener Staatsoper erinnert an die frühere Funktion der Albertinapassage. Die Gäste, die hereinkommen, werden durch Stiegen und einer Art s-förmigen "Tunnel" vorbei an der Rezeption und der Garderobe in den Hauptbereich geführt. Das erste, das den Gästen dabei ins Auge sticht, ist wieder die Skulptur in der Mitte. Bei unserem Design werden moderne Elemente mit klassischen Details kombiniert.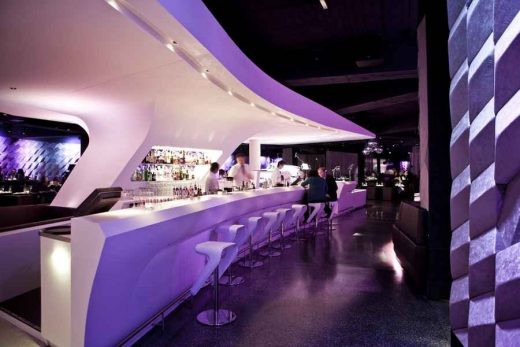 Besonders futuristisch erscheint dabei unsere Skulptur, während der Essbereich von der amerikanischen Bartradition der 1950er und 1960er Jahre inspiriert ist. Als Vorbild hat uns dabei Quentin Tarantinos "Jack Rabbit Slims Twist Contest" aus seinem Film "Pulp Fiction" gedient.
Für die Bühne wurde Korian, ein sehr multifunktionales Material, verwendet. Ein großer Vorteil ist dabei, dass es den Eindruck macht, dass die Bühne aus einer einzigen Oberfläche bestehen würde, so als wäre sie aus einer Form gegossen. Als Kontrast dazu dient die Wandgestaltung, bei der ein besonders warmes Material verwendet wurde. Durch ein besonderes 3-D-Design spielen die Wände mit Licht und Schatten.
Die Albertinapassage ist Wiens erster Dinnerclub, der erst bei näherer Betrachtung komplett entdeckt werden kann und dadurch erfahren werden muss.


image : Söhne & Partner Architekten
Albertina Passage Vienna – Building Information
Design: Söhne & Partner Architekten
Date: 2011
Planer:
Lichtdesign: Christian Ploderer
Haustechnik: Thermoprojekt
Elektrotechnik: TB Vanheelen
Küchenplanung: Metos
Akustische Gutachten: Rosinak & Partner
Soundsystem: Amenti
Ausführende Firmen:
Abbrucharbeiten: Prajo
Baufirma: Voitl
HKLS: Wieselthaler
Elektro: Hornung
Tischler: M&G und Maylan
Fliesen: Ortner
Maler: Schmied
Schlosser: Krobath
Küche: Metos
Terrazzo: Petz
Stoffe: Backhausen
Soundsystem: Amenti
Aufzug: Kone
Polsterer: Roland Hurnaus
Photographs: Severin Wurnig
Albertina Passage Vienna images / information from Söhne & Partner Architekten
Nightclub Buildings / Restaurant Buildings
Location: Albertina Passage, Vienna, Austria
Austrian Buildings
A recent Vienna bar on e-architect:
Sechser Heterotopic Nightclub
Architects: Söhne&Partner Architects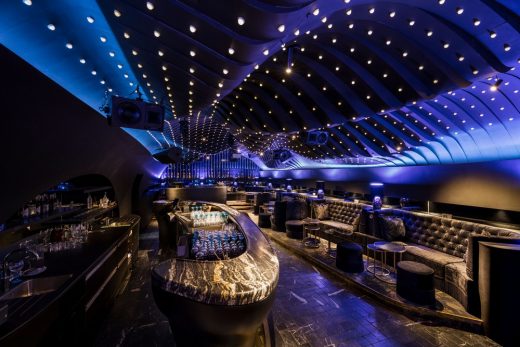 photo : Severin Wurnig
Sechser Nightclub Vienna
A recent Vienna bar on e-architect:
Vienna Architecture – Selection
Town Town Office Tower, Vienna, Austria
Town Town Office Tower
Building with Verandas
Building with Verandas
Intercity Vienna
Intercity Vienna
Vienna Architecture Walking Tours
Comments / photos for the Albertina Passage Vienna page welcome