Tokyo Architecture Photos, Architects, Japan Buildings Images, East Asia Real Estate Design News
Tokyo Buildings : Architecture
Contemporary Japanese Architectural Developments – New Property Japan
post updated 7 April 2023
+++
Tokyo Architecture
We've selected what we feel are the key examples of Tokyo Buildings.
We cover completed buildings, new building designs, architectural exhibitions and design competitions across Tokyo. The focus is on contemporary Japanese buildings.
Tokyo Architecture : news + major projects (this page)
Tokyo Building Design Architecture : A-H
Tokyo Building Designs : I-R
Tokyo Building Developments : S-Z
Latest Tokyo Buildings
Architecture – latest additions to this page, arranged chronologically:
International Popular Culture Laboratory in Tokyo Competition
International Popular Culture Laboratory in Tokyo Competition – 3 Feb 2016
New National Stadium Tokyo Designs
Design: Kengo Kuma
Architect Kengo Kuma denies plagiarising Zaha Hadid and defends his design. 2020 Tokyo Olympic Games organisers are "refusing" to pay the British architect for her designs unless she gives up the copyright and signs a 'gagging order'.
New National Stadium Tokyo Designs – 17 + 16 Jan 2016
Futako Tamagawa Masterplan
Design: Conran and Partners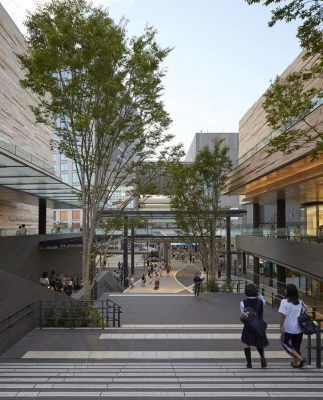 photograph : Edmund Sumner
Futako Tamagawa Masterplan Tokyo
The scheme, located on the south-west edge of the city alongside the Tama River, comprises a total of 400,000 sqm of retail, office, leisure and residential building, as well as a new city park.
Narrow Architecture in Tokyo
Design: architectural office htmn with Masayuki Nakahata


photo © Daici Ano
Narrow Architecture in Tokyo – 11 Jun 2013
This is a clinic and office building complex in Japan, completed recently.
New National Stadium, Tokyo – competition entry
Design: Andrea Maffei Architects


image from architect
New National Stadium Tokyo – 22 Apr 2013
The distribution of the main arena of the stadium follows the best way to avoid big security fire stairs and to give an easy access by the people inside the new stadium. The architects designed a main platform connecting the new stadium with the gymnasium designed by Fumiko Maki in a unique big Plaza as a City of Sport. 35,006 seats goes down from the platform and 45,163 seats rise up from it to the roof. This solution makes the circulation in the stadium very easy and comfortable from the main Plaza.
Luminous Tokyo
Design: Jun Sakaguchi Architect


photograph : Tomohiro Sakashita
Luminous Tokyo – 11 Jan 2013
Nine storey commercial building – reminiscent of a spine, a vertebral column formed from concrete, each floor as a vertebra. The façade has a beautiful and deeply curved glass wall, which maximizes the frontage for tenants and continually reflects changes in the environment. This building provides a new landmark and a novel way to activate a typical commercial area.
Kasumigaoka National Stadium
Design Shortlist for the new Kasumigaoka National Stadium building


image © Marcus Bredt, Berlin
Kasumigaoka National Stadium – 16 Nov + 30 Oct 2012
Japan's bid to host the 2020 Olympic and Paralympic Games
Zaha Hadid Architects has won the international competition to build the new National Stadium of Japan. The Practice, which produced the London Aquatics Centre for the 2012 Olympic Games, was selected ahead of 45 other international architecture firms for the US $1.62bn development.
Hue plus studio office, Kaigan Minato
Design: Jo Nagasaka/Schemata Architects


photo : Takumi Ota
Hue plus studio office – 26 Sep 2012
The alternative space Hue+ is a series of facilities seamlessly integrated into the photo studio, where the visual expression of 'eating' is the particular subject of photographic exploration. Unlike an ordinary photo studio that is a closed box to be used merely as a shooting equipment, Hue+ is an office space, a cafe, a library and a kitchen that the users have control over, making them feel like staying longer for its own sake and enjoy the experience.
'M&M Rosie' – House in Setagaya
Design: ARTechnic architects


photo : Nacasa&Pertners Inc.
M&M Rosie – 18 Apr 2012
"Overcome the disadvantage of the land condition, turn it into the beauty of the architecture"
When the client found this land, we were asked to give an advice. It was a strip of pentagonal land facing west with only a pair of parallel boundary lines. Because of this land condition, it was valued lower, almost 30% larger than regular priced lands for the same cost.
Small House in Meguro-ku, south of Tokyo
Design: Hiroyuki Unemori architects – added


photograph : Ken Sasajima
Small House in Meguro-ku – added 8 Mar 2012
The small house which the married couple and their child live stands at the densely populated area in Tokyo. Though the neighboring houses is very close, I aimed to design the house which exceed the physical narrowness living at the city.
Mode Gakuen Cocoon Tower
Design: Tange Associates Architects


photo : Koji Horiuchi
Mode Gakuen Cocoon Tower – 25 May 2012
Mode Gakuen Cocoon Tower, which contains 3 vocational schools with approximately 10,000 students, is an innovative educational facility located in Tokyo's distinctive Nishi-Shinjuku high-rise district. The building's elliptic shape, wrapped in a criss-cross web of diagonal lines, embodies the "cocoon" concept. Students are inspired to create, grow and transform while embraced within this cocoon-like, incubating form. In essence, the creative design successfully nurtures students to communicate and think creatively.
Storage House, Kanagawa
Design: Ryuji Fujimura Architects


photograph : Takumi Ota
Storage House Tokyo – 20 Apr 2012
New property located in a residential area on the suburbs of Tokyo
Recent Tokyo Building Designs
HA Tower
Design: Frontoffice + François Blanciak Architect


image from architect
HA Tower Tokyo – 23 Sep 2011
After decades of government-backed decentralization urban life is again being promoted in Tokyo, and residential mid-rise and high-rise towers have as a consequence begun to populate the city in large numbers. Collectively the additions form a new normal urban typology that embraces height but unexpectedly denies the surrounding urban landscape in favor of an interior life.
'Outside In' – House in Yamanashi Prefecture
Design: Takeshi Hosaka architects


photograph : Koji Fujii / Nacasa&Pertners Inc.
Yamanashi House – 28 Nov 2011
Musashino Art University Museum & Library
Design: Sou Fujimoto Architects


photograph from architect
Musashino Art University Museum & Library – 18 Aug 2011 – LEAF Awards winner, Sep 2012
This project is a new library for one of the distinguished art universities in Japan. It involves designing a new library building and refurbishing the existing building into an art gallery, which will ultimately create a new integration of the Library and the Art Gallery.
Tokyo Architecture Competition
Central Glass International Architectural Competition
Design: Kutonotuk


image from architect
Central Glass Architecture Competition
"Lightcore" by Kutonotuk (Leena Cho & Matthew Jull) won the Second Prize for the Central Glass International Architectural Competition in Tokyo, Japan. The theme was to speculate on glass architecture in year 2050 and the thoughts and actions that will shape the use of glass in architecture forty years from now.
Buildings in Tokyo
Buildings in the Japanese Capital, alphabetical:
Alexandre Herchcovitch
Studio Arthur Casas, Architects


photograph : Eusike Fukumochi
Alexandre Herchcovitch
Armani/Ginza Tower
Doriana and Massimiliano Fuksas


photograph : Ramon Prat
Armani/Ginza Tower
The Jewels of Aoyama, Minato-ku
Mitsui&Associates Architects


picture : Urban Arts
The Jewels of Aoyama
The Ice Cubes
Jun Mitsui&Associates Architects


photograph : Naoomi Kurozumi
The Ice Cubes
Leaf Chapel, Yamanashi, nr Tokyo
klein dytham architecture


picture from kda
Leaf Chapel Yamanashi
Millennium Tower
Foster + Partners


image : Foster + Partners
Millennium Tower Tokyo
N Building
TERADADESIGN ARCHITECTS


photo : Yuki OMORI
N Building
Prada Store
Herzog and de Meuron


picture © James Whitaker
Prada Store Tokyo
TBWAHakuhodo offices
Klein Dytham architecture


photograph : Kozo Takayama
Tokyo offices
Yokohama International Port Terminal
Design: Foreign Office Architects


photograph via RIAS
Yokohama International Port Terminal
More Tokyo Buildings online soon
Location: Tokyo, Japan
Japanese Architecture – key buildings + design projects
Key Japanese Architects
Buildings / photos for the Japanese Architecture page welcome