520 West 28th Street New York, Boutique Condominium Manhattan, Zaha Hadid NYC Condo Interior
520 West 28th Street, New York
Images of Manhattan Condo Architecture Interior, NY, USA design by Zaha Hadid Architects
Nov 12, 2018
520 West 28th Street Pop-up Exhibition
Zaha Hadid Gallery: Pop-up Exhibition at 520 West 28th Street, New York City
Zaha Hadid Architects (ZHA) redefined architecture for the 21st century with a repertoire of projects that have captured imaginations across the globe. Form and space are woven within the structure of buildings that evolve from their surroundings and tie disparate programs together.
ZHA is one of the world's most consistently inventive architectural studios, over four decades.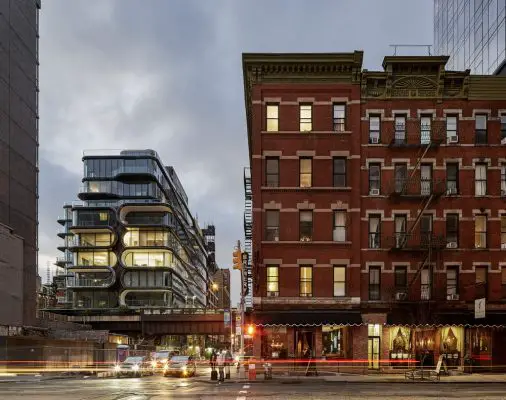 photograph © Hufton+Crow
These 40 years of research are inscribed within every design. ZHA marry innovative digital design methods with ecologically sound materials and sustainable construction practices.
Architect and designer Zaha Hadid explored formal concepts at all scales: from city masterplans and skyscrapers to furniture pieces, product designs and jewellery. Collaborating with the world's most renowned furniture-makers and fashion houses, she established Zaha Hadid Design in 2006; each piece inspired by ZHA's work.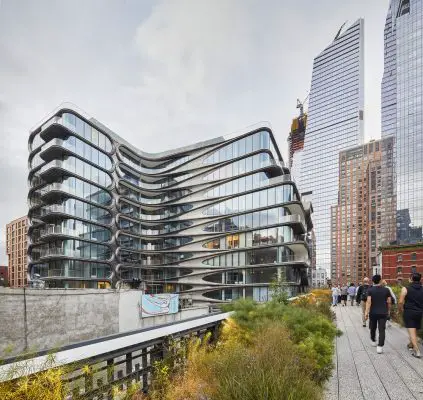 photo © Hufton+Crow
"My product designs and architecture have always been connected. Some of our earliest projects were designs for products and interiors. These design pieces are very important to me and my team. They inspire our creativity by providing an opportunity to express our ideas through different scales and through different media; an essential part of our on-going design investigation," Zaha Hadid explained during her 2006 retrospective exhibition at the Guggenheim Museum, New York.
The Zaha Hadid Gallery in London showcases the collections of Zaha Hadid Design as well as exhibitions with a focus on Zaha Hadid Architects' archive and research, in addition to the work of emerging designers. The gallery is also a venue for events, talks and performances rooted in contemporary culture.
From November 8th 2018, the Zaha Hadid Gallery presents a pop-up exhibition in the new space for art at 514 West 28th Street, New York. Located on the ground floor of ZHA's acclaimed 520 W 28th residential condominium building in Manhattan, this new 2,000 sqft gallery developed by Related Companies joins their adjacent High Line Nine exhibition space.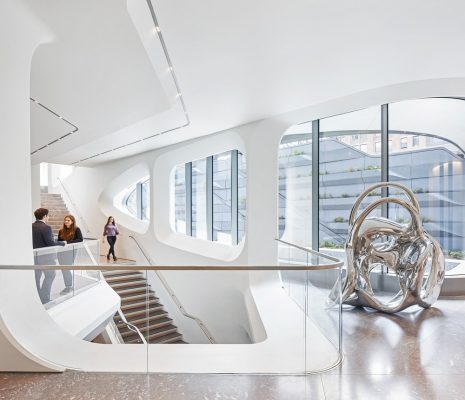 photo © Hufton+Crow
Greg Gushee, Related's executive vice president, explains: "The development of the High Line Nine is part of Related Companies' ongoing commitment to preserve and enhance the cultural character of West Chelsea, and further expand the art and cultural neighbourhood coming to life at Hudson Yards."
Zaha Hadid Gallery's pop-up exhibition in New York presents a curated selection of works including:
– architectural models of 520 W 28th.
– a series of six 'Silver Models' representing eight key projects, originally conceived by Hadid for the 2005 'Silver Paintings' exhibition at the ROVE Gallery, London: these abstract sculptural forms retain the essence of the formal language of the buildings.
– the Striation rug from the new RE/Form collection for Royal Thai, celebrating Zaha Hadid's signature use of layering and play with light and shadow
– AVIA chandeliers for Slamp, integrating complexity with innovative manufacturing techniques, each comprised of 50 intricately layered elements that create a dynamic play of light.
– The Lapella chair is also presented within the exhibition. A research project investigating structure and fabrication-aware tectonics, Lapella reinterprets Hans J. Wegner's iconic 1963 lounge chair using contemporary stone tooling and carbon fibre composites in a patented new manufacturing process. Developed by ZHCODE — ZHA's computation and design research group — Lapella continues the studio's ongoing experimentation into innovative new methods of design and construction to generate geometries defined by light-weight material utilisation and structural performance.
In conjunction with the ammann // gallery, Cologne, photography by Hélène Binet captures the materiality and composition of ZHA's work. Binet began her relationship with the architecture practice in 1993 photographing ZHA's first completed building, the Vitra Fire Station and has continued to the present day with powerful images of the firm's most renowned projects.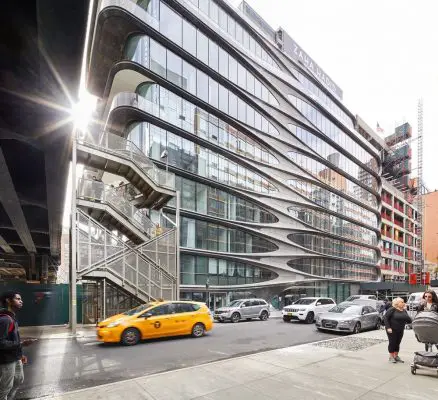 photo © Hufton+Crow
The works presented within the New York pop-up demonstrate the architectural studio's collaborative, research-led methodology where furniture and product designs are inter-related at an architectural scale with their research and experimentation of new materials and manufacturing technologies.
Zaha Hadid Gallery's pop-up exhibition in New York opened to the public on November 8th until December at 514 West 28th Street.
Zaha Hadid Gallery: NYC Pop Up
1pm – 6pm Tuesday to Friday
514 West 28th Street
New York, NY 10001
tel: +1-917-634-5451
email: gallery@zaha–hadid–design.com
This exhibition will occasionally be closed for events during these hours: to ensure access, please contact the gallery if you are planning your visit at a particular time.
Previously on e-architect:
Jun 30, 2018
520 West 28th Street Shortlisted at World Architecture Festival 2018 Awards
520 West 28th Street Manhattan is one of 536 shortlisted entries across 81 countries:
World Architecture Festival Awards 2018 Shortlist
Mar 15, 2018
Amenity Spaces Photos
Amenity Spaces at 520 West 28th Street, NY
Jul 28, 2017
520 West 28th Street Renderings
520 West 28th Street, New York City Images
New renderings posted of luxury Chelsea condos by Zaha Hadid Architects:
external view from south east: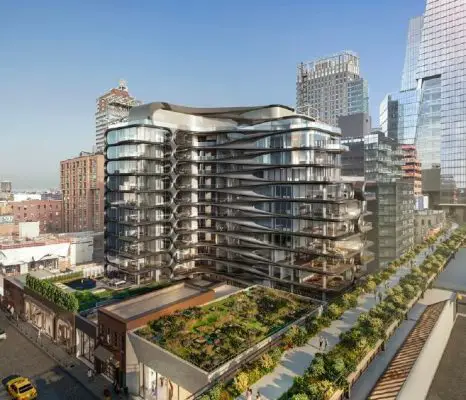 images courtesy of architects
external view from north east: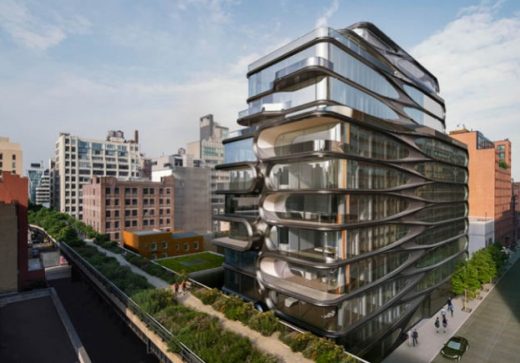 interior view – wellness water feature: inspired by the Turkish hammam, a reservable suite of water elements on the wellness level allows residents to relax and renew in absolute privacy: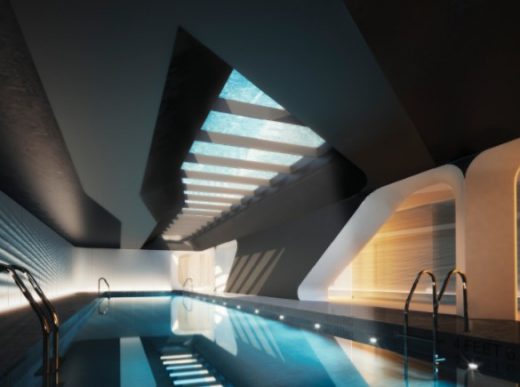 interior view – swimming pool design: a water feature and skylight allow natural light to illuminate the generous 75-foot saline-system swimming pool: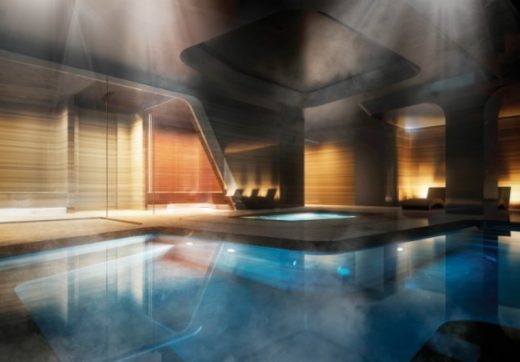 Apr 7, 2017
520 West 28th Street Residences
Official First Look Inside the Residences – 520 West 28th Street Building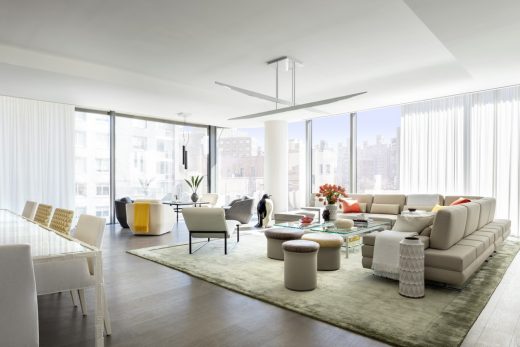 Related Companies has announced the official first look inside the residences of Pritzker Prize-winning architect Zaha Hadid's 520 West 28th, which was designed inside and out by the revered architect, as well as the unveiling of the building's first finished residences. The completion of these mark the true first interior look into the quintessential 21st century dwelling.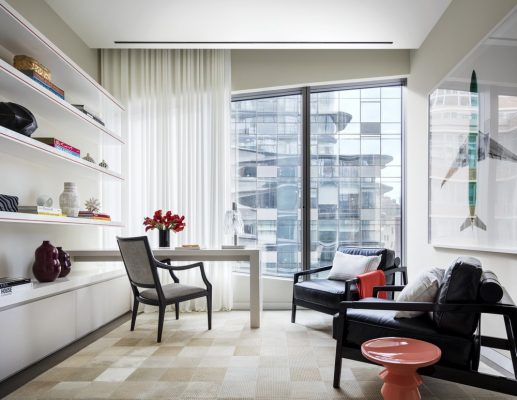 The first look revealed a vast 4500 sq. ft., $15M, four-bedroom home, with views of the High Line and Empire State Building. Noted designer Jennifer Post was commissioned to provide the furniture and décor which illustrates her signature aesthetic, gracefully presenting a dynamic palette of white and muted shades, paired with intrinsic pops of rich color from the contemporary art which adorns the space.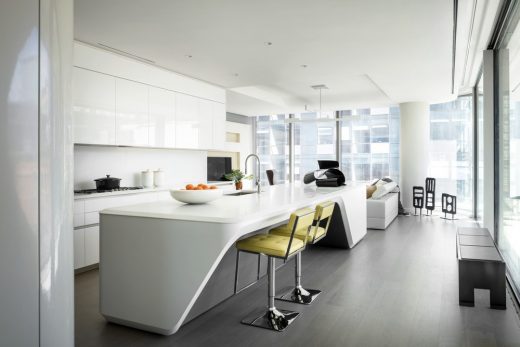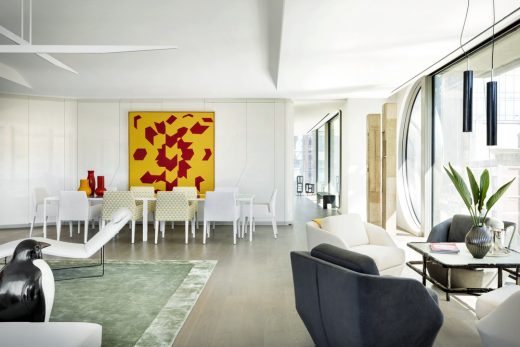 With 520 West 28th's unique residence in mind, Post's design ignites the architectural vision of Zaha Hadid, while preserving her voice and identity, and highlighting the seamless synthesis of indoor/outdoor living.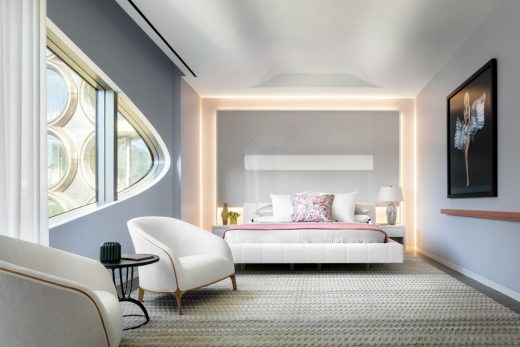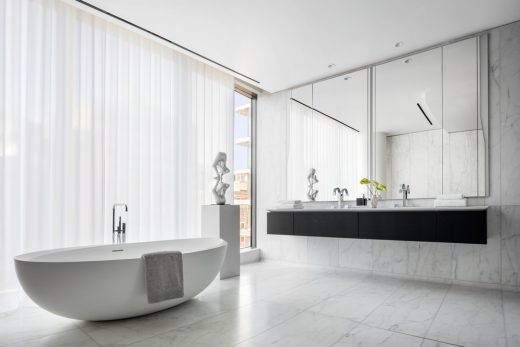 "I am usually the creative visionary behind both the architecture and interior design of a space. Here, I am respectfully creating a vision that coexists with the vision of one of architecture's greatest minds. This prompted me to really consider every move, every decision in a different, special way." – Jennifer Post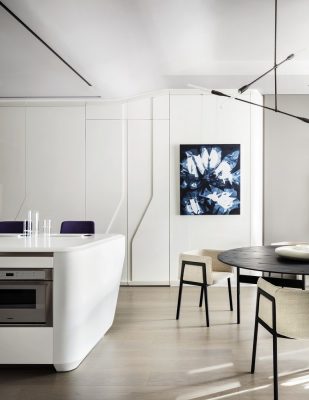 520 West 28th's Jennifer Post model residence unveiling came alongside a 1700 sq. ft., $4.9M residence graced by the interiors prowess of West Chin, principal of West Chin Architects, who brings an interpretation of minimalistic functionality to his revered modern style. Chin's residence invites a stylish couple and single urban dweller alike, as the refined design captures the celebratory architectural moments both inside and outside the space.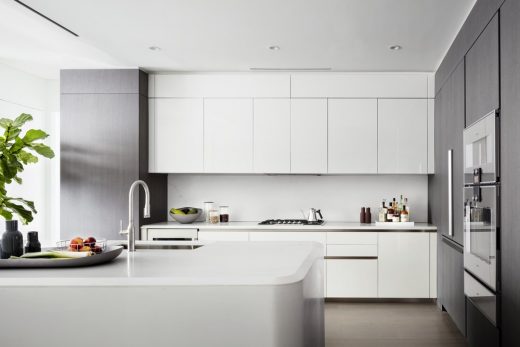 The 11-story development along the High Line in West Chelsea has 21 interlaced levels, and features 39 residences ranging in size from two- to five-bedroom residences priced from $4,950,000 to $50 million for the triplex penthouse. As construction continues to forge its way to completion, the building moves into final stages an expected move in slated for June 2017. Both Jennifer Post's and West Chin's model residences will be utilized as sales galleries for the building.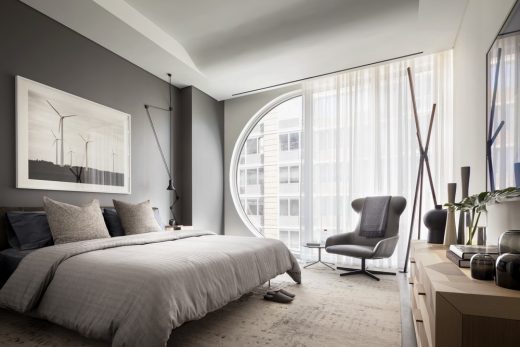 Photography: Scott Francis
For more information please visit: 520w28
Jul 3, 2016
520 West 28th Street New York City
520 West 28th Street Building
Building images from 24 Jun – 2 Jul 2016 © Adrian Welch: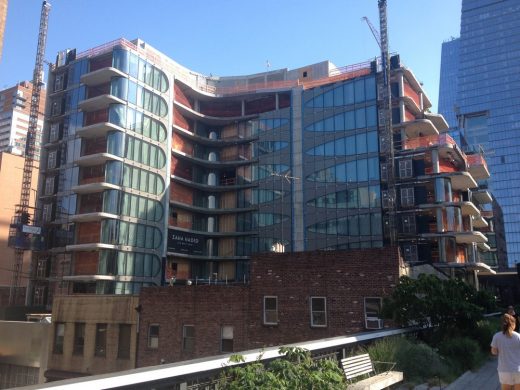 Views taken from the High Line early morning.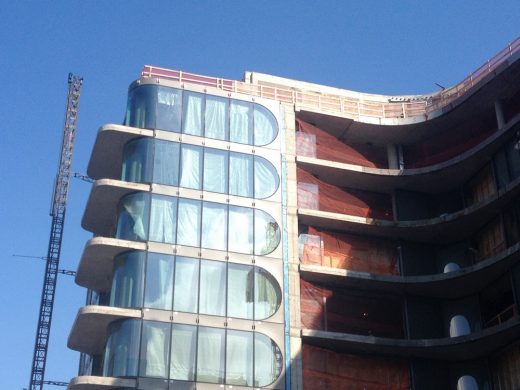 The construction is at an interesting stage where you can see how the twisting facades will be formed.
The facades will look very different when the cladding and glass balustrades are applied.
Jul 17, 2013
520 West 28th Street in Chelsea, New York
RELATED COMPANIES COMMISSIONS ZAHA HADID ARCHITECTS TO DESIGN BOUTIQUE RESIDENTIAL CONDOMINIUM ON THE HIGH LINE AT 520 WEST 28TH STREET
Development Marks First Project in New York City for Internationally Acclaimed UK Architect
Design: Zaha Hadid Architects
Related Companies, New York's premier residential developer, today announced that it has commissioned world renowned Zaha Hadid Architects to design a boutique condominium adjacent to the High Line at 520 West 28th Street in Chelsea just south of Hudson Yards. The 11 – story residential development will mark Hadid's first commission in New York City, leaving an indelible mark on the High Line's architecture map and continuing Related's storied history of partnering with world-class architects and designers.

image from architects
"We are proud to partner with Zaha Hadid Architects and to continue Related's commitment to the very best in urban architecture," said Jeff Blau, CEO of Related Companies. "This development w ill be truly unique within the city's architectural offerings, and will pave the way for future architectural achievements on Manhattan's west side."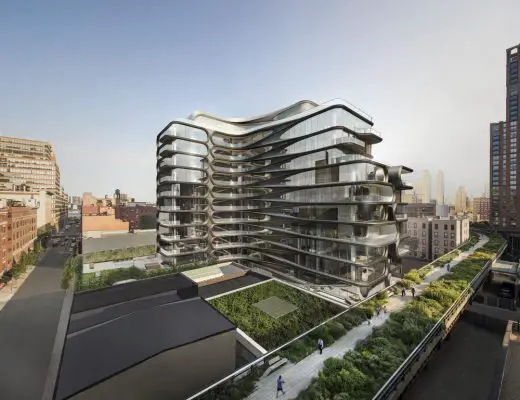 The development's bold design captures the richness of the location's vibrant and historic urban context, where a fascinating interplay between the city and the High Lin e has created a powerful urban dynamic among the elevated park and surrounding streetscape. The same interplay is seen within the building's design; a chevron pattern enhances the sculpted exterior, at once separating and merging the two distinct zones. T he innovative concept further develops this contextual relationship, giving each residence the highest degree of originality .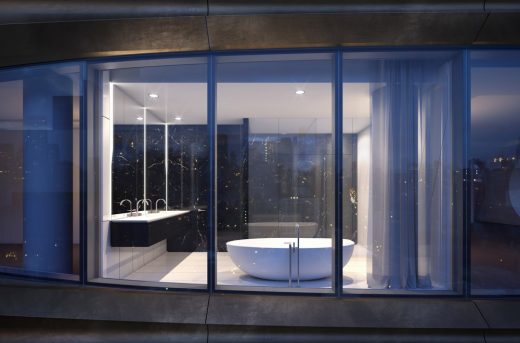 "Our design is an integration of volumes that flow into each other and, following a coherent formal language, create the sensib ility of the building's overall ensemble," explained Zaha Hadid, founder of London-based Zaha Hadid Architects and the first woman to be awarded the Pri t zker Architecture Prize. "With an arrangement that reinvents the spatial experience, each residence wil l have its own distinctive identity, offering multiple perspectives and exciting views of the neighborhood."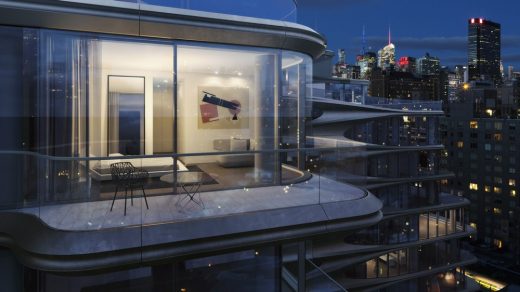 Zaha Hadid, founder of Zaha Hadid Architects (ZHA), is known internationally for her built, theoretical and academic work. Each of her projects builds on over thirty years of exploration and research in the interrelated fields of urbanism, architecture and design. ZHA's interest lies in the interface between architecture and its context as the practice integrates natural topography and human – made systems, leading to experimentation with new technologies. Such a process often results in unexpected and dynamic architectural forms.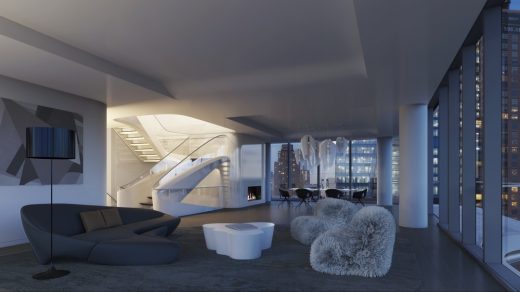 The firm's previous work at The MAXXI: National Museum of 21st Century Arts in Rome, Italy and the London Aquatics Centre for the 2012 Olympic Games demonstrate ZHA 's exploration of fluid space. Previous seminal buildings such as the Rosenthal Center for Contemporary Art in Cincinnati and the Guangzhou Opera House in China have also been hailed as architecture that transfo rms our ideas of the future with new spatial concepts and visionary forms.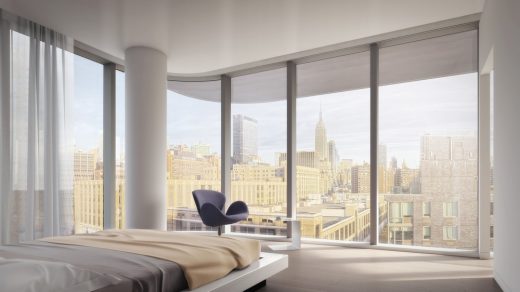 The 11 – story developme nt will feature approximately 37 residences of up to 5,500 sqft, focusing on expansive, gracious layouts with 11 – foot ceilings, thoughtful technological integration and state-of-the-art finishes and features. Designed with multiple elevator cores, a majority of the residences will have a private vestibule and entrance that adds to the intimacy of the building.
Residents of 520 West 28th Street can enjoy the High Line while maintaining privacy and exclusivity. The double – height entrance lobby offers glimpses beyond to the residents' communal spaces and an outdoor garden. The generous terraces and courtyard further enhance the residential experience and a substantial roof terrace, indoor pool and spa, entertainment space and playrooms give even greater opportunities to relax and entertain. These offerings will be part of a rich services and amenities program befitting the discerning luxury buyer to which the property will appeal.
In addition to the enchanting High Line park adjacent to the building, the property will benefit from exciting nearby additions, including Avenues: The World School, and numerous hot new restaurants. The site will also hold an important place within Related's footprint in this valuable neighborhood – the company is soon launching a new luxury rental property at 30th Street and 10th Avenue as well as the much anticipated Hudson Yards project. This dramatic 26-acre mixed-use development two blocks to the north will include residential, office, retail, parks, open space, culture and entertainment. The first tower, the South Tower, will open in 2015.
As the nation's preeminent developer of luxury residential properties for more than a quarter century, Related pioneered the concept of commissioning celebrated architects to design residential properties by selecting Robert A.M. Stern to plan his firm's first luxury condominium, The Chatham. Over the past decade, Related has continued its commitment to world class architecture and design collaborating with distinguished architects and designers, including Skidmore Owings and Merrill, Diller Scofidio + Renfro, Frank Gehry, Yabu Pushelberg, Gwathmey Siegel & Associates, David Rockwell, Marmol Radziner, Adam Tihany and Clodagh.
Related's luxury portfolio has produced stunning and innovative buildings nationwide, redefining sophisticated urban living and placing Related at the vanguard of new urbanism. At Time Warner Center's One Central Park and The Residences at Mandarin Oriental, Related trademarked Five Star Living®: world-class location, breathtaking views, inspired architecture and design, unrivaled amenities and superior services.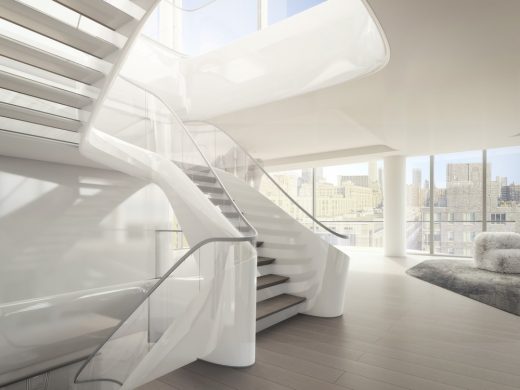 Related is currently developing several notable residential projects in New York City including: 205 East 92 nd Street in colla boration with Handel Architects; 456 Washington Street in collaboration wi th BKSK Architects; 480 Main Street in collaboration with Handel Architects; 500 West 30th Street in collaboration with Robert A.M. Stern Architects; 555 West 30th Street in collaboration with Diller Scofi dio + Renfro and Rockwell Group; Hunter's Point South in collaboration with SHoP Architects; and One Madison. Related is also developing Ocean Avenue South in Santa Monica in collaboration with Moore Ruble Yudell Architects & Planners, Clodagh and Marmol Radziner in Santa Monica; Parcel M in collaboration with Arquitectonica in downtown Los Angeles; 111 West Wacker Drive in Chicago in collaborat ion with Handel Architects; and 100 Arlington in Boston in collaboration with Elkus Manfredi Architects.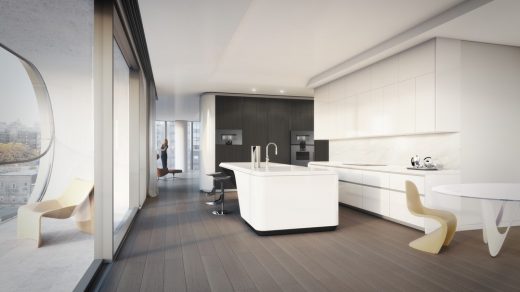 520 West 28th Street Manhattan images / information received 110712
Zaha Hadid Architect
520 West 28th Apartments by Zaha Hadid in New York City – post from Oct 1, 2015
Penthouse 37 in NYC, 520 W 28th St, New York, NY 10001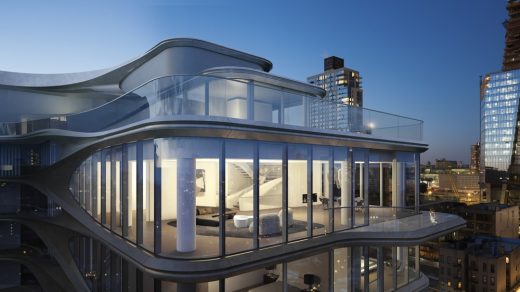 image from architects
Penthouse 37 at 520 West 28th Apartments New York City – May 23, 2016
Location: 520 West 28th Street, New York City, USA
New York City Architecture
Contemporary New York Buildings
Manhattan Architectural Designs – chronological list
New York City Architecture Tours by e-architect
425 Park Avenue – shortlisted design by Zaha Hadid:
Times Square New York – interactive heart installation : BIG ♥ NYC
Comments / photos for the 520 West 28th Street New York – Zaha Hadid Manhattan Condos in Chelsea, NYC, USA, page welcome