City Palace Tower Moscow, Russian Skyscraper Building, Architecture, Architect, Picture
City Palace Tower : Moscow Skyscraper
New Tall Building in Russia inspired by Rodin's 'The Kiss' design by RMJM Architects
24 Jan 2010
Location: Moscow, Russia
Design: RMJM Architects
City Palace Tower Moscow
Jan 2008
Russian Kiss – Designing Moscow's City Palace Tower
On 21 January, Tony Kettle, Group Design Director of leading international architects RMJM and artist Karen Forbes are celebrating the launch of a unique design project – Moscow's City Palace Tower. The inspiration for this dramatic, twisting 46 storey building was Rodin's 'The Kiss', and is possibly the first ever building to be co-designed by an architect and artist from conception.
At the event, to be held at The Lighthouse Scotland's national Architecture and Design Centre, the designers will also launch a limited edition book called 'City Palace, Moscow'. The 80-page publication charts the evolution of the City Palace Tower design concept, from early ideas through to detailed development, providing superb drawings, digital images and statements that tell the remarkable story of the City Palace Tower building and the groundbreaking collaboration between the architect and artist behind it.
The launch event will also include a conversation between Tony Kettle, Karen Forbes and Lighthouse director, Nick Barley – one of a series of keynote architecture and design events being hosted by the centre.
RMJM's design team delivering City Palace Tower is headed up by Group Design Director, Tony Kettle. A much respected architect, Tony is well known for other notable structures such as the Okhta Tower in St Petersburg, and the Falkirk Wheel in Scotland – the world's first and only rotating boat lift.
Tony is also a former alumnus of the Edinburgh College of Art, where Karen Forbes is head of the School of Drawing and Painting. Tony approached Karen in 2003 and together they created the RMJM Award for Art and Architecture at the College. The success of the working relationships established between students of art and architecture and the outcome of their collaborations contributed to Tony inviting Karen to take part in this unusual design partnership.
The City Palace will make history in Moscow. Apart from being a completely unique feature on the city skyline, it will incorporate the most luxurious civil venue in which ordinary Moscovites can marry – the Wedding Palace. This will overturn years of austere civil marriage ceremonies and could attract international visitors to share the same experience.
At the City Palace Tower launch, previously unseen images of the Wedding Palace's proposed interiors will be revealed. There are two wedding halls where couples can exchange their vows. Wedding parties of up to 200 guests will be able to proceed to the top-floor ballroom and enjoy breathtaking views of Red Square.
Tony and Karen focused particular attention on the context of this building within Russian culture, while addressing the many different requirements of the clients. It is part of continued development of 'Moscow-City', a major initiative by the Russian capital to create a central business district on a former industrial zone, three miles from the Kremlin. Therefore, to optimise City Palace Tower's uses, apart from the Wedding Palace, the building will also function as prime office, retail and civic space, and house a museum.
Tony Kettle comments: "Our proposal for this building is deeply rooted in its place and is both a contextual response to the City of Moscow and an emotional response to the brief which included some unusual but important public functions."
Karen Forbes said: "RMJM made a bold decision in designing a building of this significance, through a true collaboration of artist and architect. Together, we were able to unlock the real potential of the idea and create something extraordinary for Moscow."
The 'City Palace Moscow' publication is being distributed exclusively through the RIBA, priced at £15.99.
This Russian tower development is due for completion in summer 2011.
City Palace Tower in Moscow – Building Information
Client: City Palace LLC
Contract Value: £135m
Size: 85,000 m²
Year: 2005-09
Tony Kettle and Karen Forbes:

City Palace Tower Moscow : information / images from RMJM Architects 240108
City Palace Tower Moscow architects : RMJM
initial proposal for 118 storeys – Europe's tallest tower
Located close to Foster's 'tallest tower in Europe'
Russia Tower
Foster + Partners' super-high tower in Moscow


image credit: Foster + Partners
Moscow Skyscraper
Russia tower architect : Norman Foster
City Palace Tower Moscow : Release from RMJM Architects Oct 2007:
The Mayor of Moscow, Mr Yuri Luzhkov, has recently given his seal of approval to a sensual 46-storey tower, designed by RMJM.
The City Palace Tower development is the latest addition to 'Moscow-City', a major initiative by the Russian capital to create a central business district on a former industrial zone, three miles from the Kremlin.
The 'sexy', organic form of the building, which was designed by RMJM in collaboration with Scottish artist Karen Forbes, mixes passion and drama with a conventional square footprint ideal for offices and other commercial uses. For client City Palace LLC, a subsidiary company of CSC INTECO and S&T Equity (Overseas) Ltd, it is the perfect mix of form and function.
Dubbed the 'City Palace' tower, the twisting building will provide approximately 85,000m2 of retail and leisure facilities and 85,000m2 of offices and public functions including a registry office. It is this civic use for weddings which inspired the architect-artist team for the conceptual form of the building.
The City Palace Tower building sits on a simple carved plinth containing a large retail mall and leisure facilities for the tower. The landscaped plinth will form the gateway to the City Palace Tower as well as the Moscow City Convention Centre and the Mayor's Tower and will be broken into three distinct areas with varying levels to create a dramatic sense of arrival for each building.
Location: Moscow, Russia
Moscow Architecture Developments
Moscow Building Developments – chronological list
Russian Architecture Tours by e-architect
Contemporary Moscow Buildings
n.n. – Residence near Moscow, beside the River Moskva
Design: J. MAYER H. und Partner, Architekten mbB, with Alexander Erman architecture & design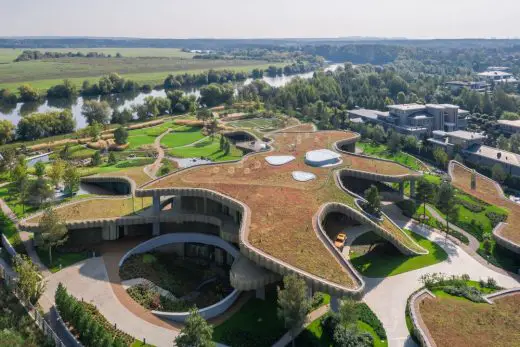 photo : Ilya Ivanov
n.n. – Residence near Moscow
Sberbank Headquarters, Moscow area
Architects: Evolution Design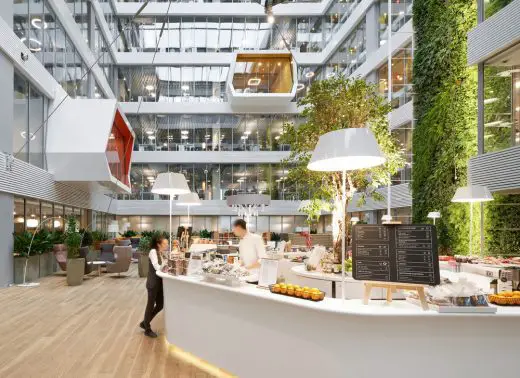 photo : Sergey Melnikoff © Sberbank
Sberbank Headquarters
Moscow Architecture Exhibition
Moscow Architecture Competition
Ostankino Television Tower, Moscow: Tallest free-standing structure in Europe
Okhta Tower : Russian Skyscraper
Crystal Island Tower, also designed by architects Foster + Partners
Comments for the City Palace Tower Moscow – Russian Skyscraper Building page welcome