Trellick Tower London Photos, Modern High-Rise Architecture UK, Property News
Trellick Tower Building
Key Modern High-Rise Building in West London design by Ernő Goldfinger architect, England, UK
27 Feb 2016
Trellick Tower Building in London
Trellick Tower, North Kensington, Royal Borough of Kensington and Chelsea, London, England
Date built: 1972
Architect: Ernő Goldfinger
Height: 98 m
Floors: 32
Owner: Greater London Council
Architectural style: Brutalist architecture
Trellick Tales by SPID Theatre Company
YOUNG PERFORMERS PUT TRELLICK TOWER CENTRE STAGE
Public performance & exhibition: 26 March 2016
26 February 2016 – Trellick Tower is an unmissable landmark on the West London horizon. Although an unwelcome addition to the area back in 1972, Trellick has shaken off its negative reputation and stands proudly in the centre of the community. Now young performers from SPID Theatre are celebrating the tower through Trellick Tales – a year-long project bringing together stories, histories and memories from the local community.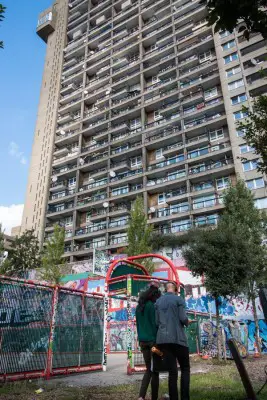 photo from SPID Theatre
On 26th March the project culminates in a multimedia exhibition and immersive theatre performance – inviting audiences to explore the Grade II* listed building and the stories it holds. The event will feature audio recordings, objects, video and images – all presented within an immersive performance, telling the histories and stories of the building. The exhibition and performance will be interactive, featuring activities and interactions with characters, as the audience journeys around the building's indoor and outdoor spaces – including one of the apartments.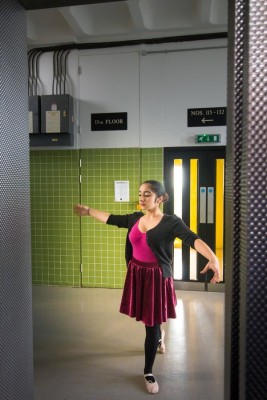 photo from SPID Theatre Company
The young performers and artists have enjoyed interacting with local residents, exploring the building and researching the chequered history of Trellick. Now they are excited to put all of their hard work into the performance, and create a unique experience for audiences. The interactive nature of the performance reflects recent trends in theatre for urban adventure and pervasive gaming, such as the work of Coney and projects by Hide & Seek. The Trellick Tales project builds on SPID's recent youth radio show about Trellick Tower: Trellick Tower Building London by SPID Theatre Company.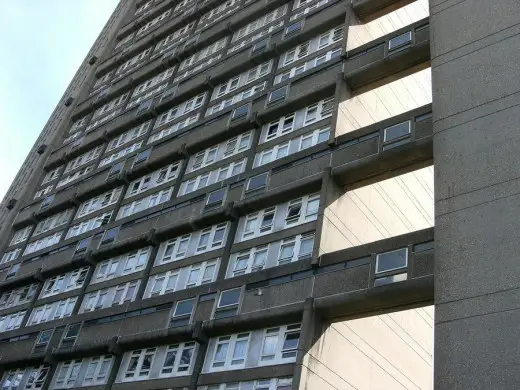 photo by Mark Ahsmann – Own work, CC BY-SA 3.0, http://commons.wikimedia.org/w/index.php?curid=25533510
The year-long project has offered free weekly drama and heritage sessions for 13-25 year olds, with public performances, workshops and a radio play happening over the past 12 months. It has been led and produced by SPID Theatre Company with funding from The Clore Duffield Foundation in association with the Oral History Society and Kilburn to Kensal Radio.
The Victoria and Albert Museum have also offered the participants workshops in design and curating exhibitions. Last year the BBC created a documentary about Trellick Tales and the tower itself as part of their primetime Inside Out London programme, and this can now be viewed here:

SPID are also planning a longer future for Trellick Tales, including a digital online archive of the project.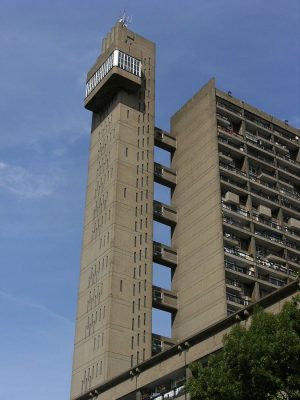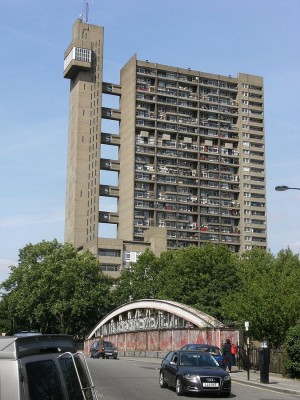 photos by Mark Ahsmann – Own work, CC BY-SA 3.0, http://commons.wikimedia.org/w/index.php?curid=25533510
The free exhibition and performance takes place on Saturday 26th March 2016 at Trellick Tower.
Performance slots are available at 2pm, 3pm or 4pm.
Audiences can reserve a place by calling 0208 968 2961 or 07903 861674, or by emailing youth@spidtheatre.com with your name, phone number and choice of performance time.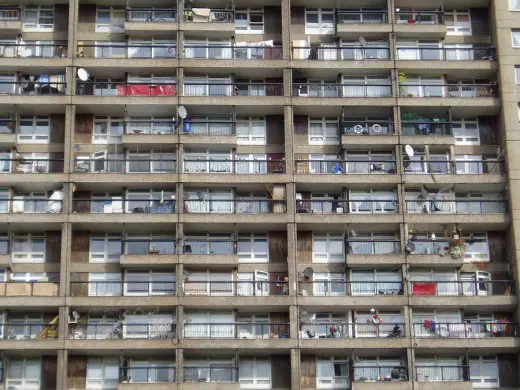 By Steve Cadman – Flickr: The Trellick Tower, CC BY-SA 2.0, http://commons.wikimedia.org/w/index.php?curid=24741741
Trellick Tales
SPID Theatre Company
SPID (Social Political Independent Direct) Theatre Company is an award-winning youth charity that specialises in interactive art for council estates. Based in the Community Rooms on the Kensal House estate, SPID won the First Light Award for Best Animation 2013 for its short film High Above the Sky and received an Off West End Award nomination for its production iAm and sold out for Arthur's World at The Bush.
Its most recent project Kensal Voices concluded with a site-specific show at Kensal House and was a huge success. SPID is an arts charity that empowers participants to express themselves in a way that brings their local environment to life.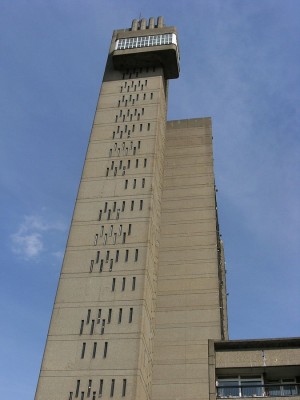 photograph by Mark Ahsmann – own work, CC BY-SA 3.0, http://commons.wikimedia.org/w/index.php?curid=25533510
This year Trellick Tower celebrates its 50th anniversary, having been designed in 1966 by Brutalist architect Erno Goldfinger. By the late 1970s it had become known for anti-social behaviour and crime. However, the introduction of the 'right to buy' scheme began to change things and in 1984 a new residents' association was formed resulting in several security improvements. Property prices rose and Trellick Tower began to be a desirable place to live. In 1998 it was awarded a Grade II* listing.
Trellick Tales is supported by the Clore Duffield Foundation. Clore Social Fellow David Russell said," I have supported SPID for over a decade as a trustee, and in partnership with Clore Leadership Fellow, Rachel Grunwald, we now cannot wait to work with the young people in Trellick to demonstrate how their dreams can rise as high as the flats in which they live".
Project leaders: Mariana Sastre and Nnenna Samson
Artistic Director: Helena Thompson
www.spidtheatre.com Twitter @SPIDTheatre
Balfron Tower in London by Erno Goldfinger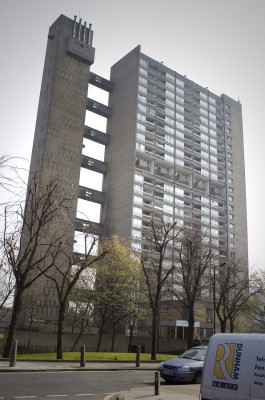 photo : Graeme Maclean, commons.wikimedia
"Notorious in the decades following its completion, Trellick Tower epitomized the stereotype of crime-ridden and poorly maintained post-war social housing schemes in Britain. However, in recent years the scheme has seen a miraculous change of fortune. Granted Grade II* listing in 1998, followed by a government funded £17 million renovation by John McAslan & Partners, this monumental Tower block has rapidly become one of London's Brutalist icons."
Trellick Tower London – Campaigning for Twentieth century architecture
"Goldfinger's design is based on his earlier and slightly smaller Balfron Tower (in Poplar, east London), and is in effect a sibling building. It has a long, thin profile, with a separate lift and service tower linked at every third storey to the access corridors in the main building; flats above and below the corridor levels have internal stairs."
Trellick Tower – wikipedia
A previous SPID Theatre Company project in West London on e-architect:
Kensal House, Ladbroke Grove, London
Date built: 1938
Design: Max Fry with Elizabeth Denby
Modern housing – 68 apartments
Kensal House Tours
Young historians deliver free guided tours of iconic estate Kensal House to the local community
The rich and eventful history of iconic estate Kensal House will be brought to life through interactive and performative guided tours of this Grade II* listed Modernist building designed in 1936 by architect Maxwell Fry with social reformer Elizabeth Denby. The tours are being developed and delivered by young people aged 13-25 taking part in Kensal Voices, SPID Theatre Company's year-long intergenerational heritage project, in collaboration with the Victoria and Albert Museum and the 20th Century Society. The project is funded by the Heritage Lottery Fund.
Taking pictures around Kensal House: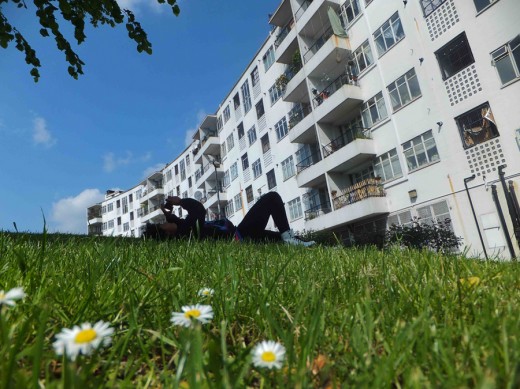 photo from SPID Theatre
Location: Trellick Tower, London, England, UK
London Buildings
Contemporary London Architecture Designs
London Architecture Designs – chronological list
London Architectural Tours – tailored UK capital city walks by e-architect
20th Century West London Buildings
Gillette Corner – razor factory, Hounslow
Banister Fletcher


photo © Nick Weall
Gillette Corner
Kilburn State, Kilburn


photogrpahs © Nick Weall
Monsoon Building – 'The Battleship', Westway Flyover, Paddington
Paul Hamilton


photograph © Nick Weall
Monsoon Building
New West London Architecture
One Hyde Park, Knightsbridge, south west London
Architect: Rogers Stirk Harbour + Partners
One Hyde Park
Chelsea Barracks, Chelsea, south west London
Design: various architects
Chelsea Barracks
Duke's Avenue House, Chiswick
Architects: IBLA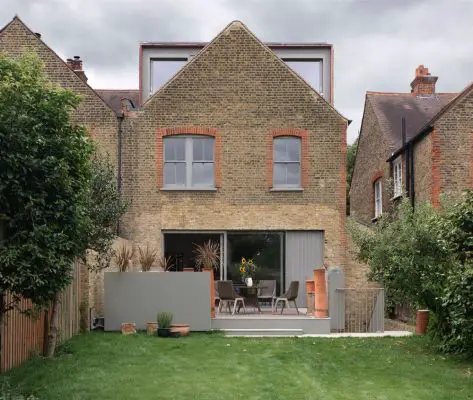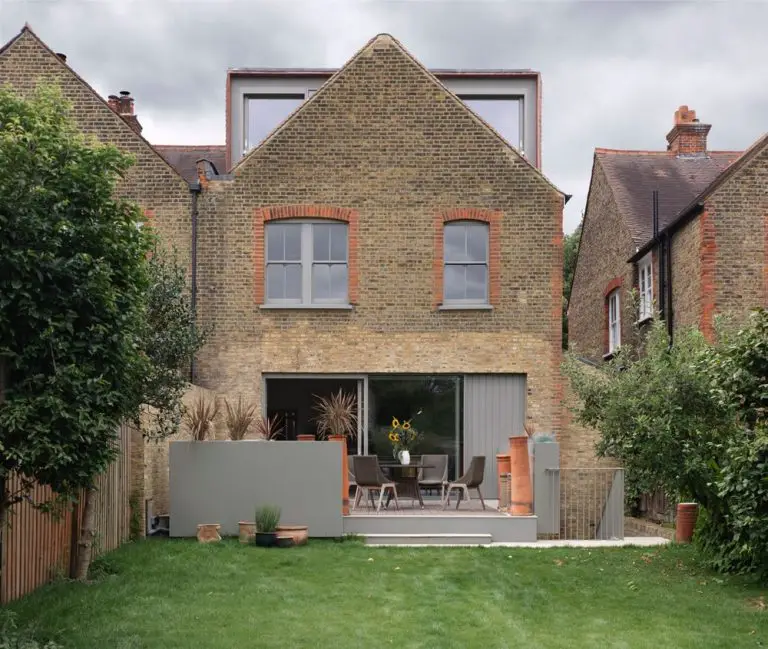 photo : Brotherton Lock
Contemporary House in London
Keeling House : 20th Century Architecture in London
Photos for the Trellick Tower Building London Architecture page welcome