Chelsea Barracks Image, West London Apartments Design, Qatari Diar Property UK, Architect, Site News
Chelsea Barracks London
Approval: Masterplan for Luxury Apartments London Development by Qatari Diar
22 Jun 2011
New plans for the redevelopment of Chelsea Barracks in central London were given the go-ahead yesterday by Westminster council, two years after the Prince of Wales intervened over the original plans for the site.
Chelsea Barracks new plan – site with height annotations: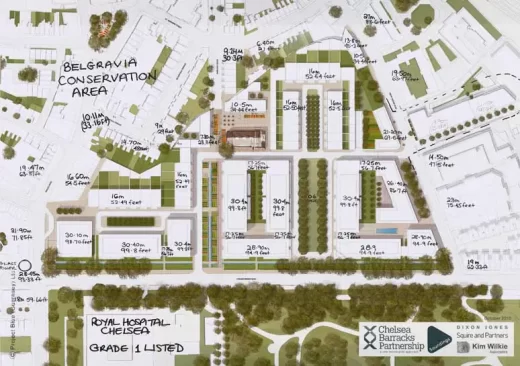 picture from Chelsea Barracks Action Group
Chelsea Barracks Approval
The outline of the Chelsea Barracks masterplan, which will cost around £3bn, will see the 13-acre property that used to house the Queen's guard transformed to include up to 448 houses and flats, as well as a sports centre, retail and a health centre.
The Chelsea Barracks approval comes two years after the site's owners Qatari Diar withdrew their plans following Prince Charles' objections to architect designs by Richard Rogers.
The new plans, revised by architects Dixon Jones, Squire and Partners and Kim Wilkie, will now be referred to London Mayor Boris Johnson for approval before more detailed designs for the buildings are put before Westminster Council.
20 Jun 2011
Chelsea Barracks Protest
Chelsea residents chained themselves to the bars of Chelsea Barracks on 17 Jan 2011 in protest against the failure of developer Qatari Diar to demonstrate the full height of the huge residential scheme that will be built at the site.
Residents from the Chelsea Barracks Action Group (CBAG) said that the developer had broken its promise to show residents how the tallest 9-storey, 100 ft tower, would affect views of the "classical" buildings in the surrounding area.
Georgine Thorborn from the CBAG said residents were willing to be arrested over the protest, which she said was precipitated by Westminster's failure to property consult on the scheme ahead of the planning meeting that will decide if the scheme goes ahead, which is scheduled for tonight (20 Jun 2011 – Monday evening).
She said: "We are protesting at the broken promises of Qatari Diar to not display the height of the resi block, and whether they would create an eyesore over a classical part of London."
She said the developer had promised to erect cranes to the height of the tallest buildings in order make the impact of the development clear.
"Westminster council has been entirely spineless in not forcing the developer to consult us properly on this. So instead of going to Ascot we've chained ourselves to the railings, because this is so important. Our MP Mark Field doesn't give a damn, the mayor doesn't give a damn. It's very undemocratic."
aerial view:


picture from developer
The CBAG was formed in February 2007 by the local residents, with an objective to work with the new owners of the Chelsea Barracks site, to ensure the new development would "enhance our area and quality of life rather than detract from it".
The CBAG commissioned Quinlan Terry (the architect of the new infirmary at the Royal Hospital Chelsea) to design "an alternative plan to the hideous Rogers scheme. As a result of this His Royal Highness Prince Charles became involved. He was the only person to support Londoners who did not want the ugly steel and glass tower blocks which were so inappropriate in this iconic part of our capital city".
The Chelsea Barracks Action Group welcome the new design as being a "much more London-style development but we are dismayed about the heights in particular the large towers in the centre of the site. At 99.8 feet (30.4m) the buildings will mushroom over the Belgravia Conservation Area and in particular overshadow the attractive 1859 Victorian Garrison church. We really hope that the church will be retained for use as a Centre of the Arts where local children can learn music, drama, dance and art. It could also be used for a community centre for lectures, art shows and space to hire for all sorts of events".
7 Dec 2010
Chelsea Barracks Outline Planning Application
Masterplan design by Dixon Jones Limited + Squire and Partners + Kim Wilkie Associates submitted.
The Chelsea Barracks planning submission includes a private and affordable housing, retail, public sports facility, medical centre, boutique hotel and the former Garrison Chapel is due to converted into a multi-purpose community centre.
The Chelsea Barracks developers – Qatari Diar – are wholly owned by the Qatar Investment Authority is currently involved in more than 30 projects in 18 countries around the world.
8 Oct 2010
Prince Charles calls Chelsea Barracks plans 'insane'
The Daily Telegraph reports (7 Oct) that The Prince of Wales has described the previous plans for this redevelopment as "insane", and said he was compelled to intervene in order to stop London being "mucked about with".
Speaking in detail for the first time about the Chelsea Barracks controversy, he admitted that the leak of a letter he wrote to the chairman of the developers "had the desired effect" on the £3billion scheme, which was later abandoned, although he insisted it was meant to be confidential.
In a magazine interview, the heir to the throne also declared that he would devote the rest of his life to being "the defender of nature", and that the authorities have carried out a "demolition job" on education in recent decades.
The Prince, known for his outspoken but often old-fashioned views, says it is "no fun having your head shot off all the time" by critics, adding that he believes he is "quite courageous" in broaching subjects such as Islam's contribution to civilisation. Asked why he perseveres, he replies: "The only reason is because I mind. I always have done. So I can only assume it's something that's sort of inherent."
He likened the Chelsea Barracks designs to "Brutalist" developments and confessed that his "heart sank" when he saw them. Qatari Diar then withdrew its planning application, leading to a failed legal action by Christian Candy's CPC group to obtain an early payment of £68.5m. During the Chelsea Barracks court case the judge said the Prince's intervention must have been "unexpected and unwelcome" to the developers.
In the November issue of Vanity Fair, published on Friday, the Prince makes his first detailed comments on the case, saying: "It just seemed to me that you have to start drawing lines in the sand about how much London is going to be mucked about with. I'd seen some of the plans and I thought, this seems insane. I just wrote a letter – a confidential letter to somebody I happen to know. I didn't do anything in public. It only came into play when they, for some reason or other, leaked my letter.
"Anyway, it produced the desired effect, in that it revealed that an awful lot of people are concerned. Frequently, I've written letters to people that they pay no attention to at all. I think people don't quite understand how much it requires to put your head above the parapet. It's no fun having your head shot off all the time. But I just feel deeply. And, after a bit, you've been through the fire, so you become tempered, and you just expect it."
He admits his new book on the environment, Harmony, will bring his critics "out of their lairs" but says it is "crucial" that the future of the planet is discussed. In a play on the British monarch's title of Defender of the Faith, he says: "I am absolutely determined to be the defender of nature. Full stop. That's what the rest of my life is going to be concerned with." Describing the work of his schools for arts and drawing, and his Teaching Institute, the Prince said it is "nonsense" to throw away traditional knowledge and subjects.
Previously:
25 Jun 2010
Chelsea Barracks : Court Case
The High Court has ruled that Qatari Diar breached a contract with developers CPC Group, when it withdrew Richard Rogers' Chelsea Barracks scheme.
The BBC state:
The High Court has handed a partial victory to property developers CPC Group, who demanded compensation after plans to redevelop were shelved. The firm blamed an intervention re the barracks proposal by Prince Charles for giving their partners, Qatari Diar, cold feet.
Mr Justice Vos found the Qatari partners had breached the terms of their agreement by withdrawing planning permission for Chelsea Barracks after the intervention of the Prince of Wales. But the judge said the barracks developer Candy & Candy (CPC Group), was not entitled to a payout.
Chelsea Barracks Court Case : further information
5 Feb 2010
Chelsea Barracks Art Marquee : Westminster City Council Statement
Chelsea Barracks Architect Winners
7 Dec 2009
Dixon Jones Limited + Squire and Partners + Kim Wilkie Associates
Masterplanning team selected for Qatari Diar's Chelsea Barracks Development
Qatari Diar Real Estate Investment Company ("Qatari Diar"), the sole owners and developers of the Chelsea Barracks project, today announced their selected team to prepare a masterplan for the development. The purpose of the masterplan will be to create a design framework for the 12.8 acre Chelsea Barracks site, including sustainable land use mix and public realm, ahead of any detailed design architecture. Among other issues, it will address building use, height, density and site layout, reflecting its immediate barracks surroundings and its location within London. In particular, it will draw on the substantial number of responses from the local community.
Following a rigorous selection process, in which submissions and presentations were considered from ten shortlisted teams, Dixon Jones with Squire and Partners and Kim Wilkie Associates have been selected to lead the masterplanning stage of the Chelsea Barracks project. No detailed design architects have yet been appointed; it is likely that several firms could be involved in working on the different phases or elements of the scheme, to provide the diversity and sustainable quality merited by such an important site within Central London.
The initial Chelsea Barracks submissions from the shortlisted teams were reviewed by an expert evaluation panel. The Chelsea Barracks panel included representatives from Grosvenor, The Prince's Foundation for the Built Environment, renowned international and local architects and architectural commentators.
Mr Ghanim bin Saad Al-Saad, Managing Director and CEO of Qatari Diar, said:
"Qatari Diar has a long-term commitment to major investment at this site, in order to create a magnificent and sustainable new neighbourhood, respectful to the traditions, diversity and cultures of the surrounding urban fabric, and delivering the private and public spaces where people will want to be. The masterplan process continues the journey of investigation and consultation which has met with such a positive response over the past few months. We would like to continue the working partnership which has been evolving between ourselves and the local community, in order to deliver a very special place for London."
Chelsea Barracks Architect Winners information received 071209
Chelsea Barracks Architects – Links
Dixon Jones + Squire and Partners
QATARI DIAR Real Estate Investment Company
The developers of Chelsea Barracks are wholly owned by the Qatar Investment Authority, QATARI DIAR Real Estate Investment Company was established in December 2004 to support Qatar's growing economy and to co-ordinate the country's real estate development priorities. Qatari Diar is currently involved in more than 30 projects in 18 countries around the world.
Qatari Diar is becoming established as one of the world's most trusted and respected real estate companies because of its commitment to quality, local community, partnership and hallmark sustainability.
Qatari Diar's hallmark vision of sustainable development places community and local traditions at the forefront. The Company aims to create and manage property investments and developments which not only comply with the best international standards, but which also strongly reflect local culture and values. As a result, Qatari Diar's projects deliver a distinctive and sustainable social, economic and environmental benefit to the community. In addition, Qatari Diar often enables local and international developers and investors to partner in its projects, and to work together in exploring other opportunities, both locally and internationally.
In the UK, Qatari Diar has a £5bn investment and development programme under way including, in addition to the Chelsea Barracks project, its recent acquisition of the US Embassy building in Grosvenor Square, London, and its involvement in the development of the iconic, 300m tall Shard Tower, designed by Renzo Piano, which will become Europe's tallest building and a catalyst for the regeneration of the area surrounding London Bridge Station, known as London Bridge Quarter.
Architects Shortlist Update
24 Sep 2009
– Alan Baxter & Associates + Paul Davis and Partners + Liam O'Connor Architects, Heatherwick Studio + Todd Longstaffe-Gowan
– Dixon Jones Limited + Glenn Howells Architects
– Duany Plater-Zyberk & Company + KPF London + Paul Murrain + ZEDfactory + Merrill Pastor Colgan Architects + Gillespies Landscape Architects
– Feilden Clegg Bradley Studios + AHMM + Macreanor Lavington Architects + Alison Brooks Architects + Grant Associates
– Hamiltons Architects + Think Place + Patel Taylor
– Lifschutz Davidson Sandilands + Haworth Tompkins Architects + Churchman Landscape Architects
– Porphyrios Associates + Allies and Morrison + Townshend Landscape Architects
– Robert Adam Architects + Ash Sakula Architects + LDADesign
– Squire and Partners + Kim Wilkie Associates
– Terry Farrell and Partners + Panter Hudspith + Peter Barber Architects + Chris Dyson Architects
Chelsea Barracks Architects Shortlist
12 Aug 2009
Alan Baxter & Associates + Paul Davis and Partners
Dixon.Jones
Duany Plater-Zyberk & Company + others
Feilden Clegg Bradley Studios
Hamiltons Architects + Think Place + Patel Taylor
Lifschutz Davidson Sandilands + others
Porphyrios Associates + Allies and Morrison
Robert A.M. Stern Architects + others
Squire and Partners + Kim Wilkie Associates
Terry Farrell & Partners
Chelsea Barracks Shortlist to be reduced to three architects in Nov 2009
Architects Boycott
18 Jun 2009
Architects are being urged to boycott the Chelsea Barracks project following Prince Charles's intervention in the design. Chelsea Barracks developer Qatari Diar is due to ask architects if they wish to submit alternatives to Richard Rogers' designs.
Labour MP Ken Purchase has tabled a Commons Early Day Motion calling on the Royal Institute of British Architects to implement a Chelsea Barracks boycott. RIBA President Sunand Prasad said re Chelsea Barracks "I would not enter a competition to replace an architect in these circumstances." Former RIBA President, Jack Pringle, said the Prince of Wales' "tendency to interfere in a powerful and undemocratic way…is an abuse of his position."
Chelsea Barracks proposal – view from Ebury Bridge Road


image : Hayes Davidson/Candy & Candy
Chelsea Barracks, Chelsea, south west London
2007-
Architect: Rogers Stirk Harbour + Partners
Chelsea Barracks design, Rogers Stirk Harbour + Partners ; alternative, Quinlan Terry


image on left : Hayes Davidson/Candy & Candy
Chelsea Barracks Phase 3a
Architect: PDP London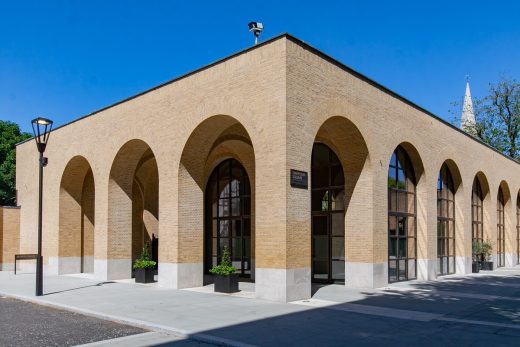 photo courtesy of Brick Awards
Chelsea Barracks Phase 3a
Chelsea Barracks Development – further information
Chelsea Barracks news reports in full from Jun 2009
Chelsea Barracks architect Richard Rogers Partnership – renamed as RSHP
Chelsea Barracks Photos
Site photos of the barracks site on 27 + 28 Jun 2009:
Chelsea Barracks as was, from Chelsea Bridge Road:


photo © Nick Weall
Chelsea Barracks – Pimlico Road aspect of boundary:


photo © Nick Weall
Prince Charles lecture at RIBA
Chelsea Barracks Architect : Rogers Stirk Harbour + Partners
Location: Ebury Bridge Road, London, England, UK
London Buildings
Contemporary London Architecture
London Architecture Designs – chronological list
London Architecture Tours by e-architect
Candy & Candy : 21 Chesham Place apartments, London
Quinlan Terry architect
Candy & Candy : One Hyde Park, Knightsbridge
Millennium Dome London design by Richard Rogers Partnership
Lanesborough Hotel & Spa, Hyde Park Corner, Belgravia, Southwest London
Architecture: Filer & Cox ; Interiors: 1508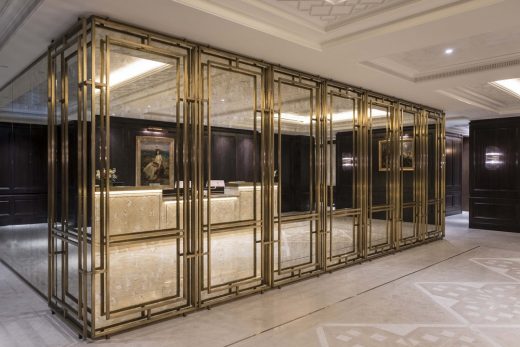 image from architects
Lanesborough Hotel & Spa
45 Park Lane Hotel
The Office of Thierry W. Despont / Paul Davis + Partners


photo : Adam Parker
45 Park Lane Hotel
Comments / photos for the Chelsea Barracks property for Qatari Diar in West London, England, UK, page welcome
Website: chelseabarracks.com