Pitzhanger Manor, Walpole Park, PM Gallery London, Soane Building Restoration
Pitzhanger Manor Exhibitions
Walpole Park Museum Building in Ealing, west London, England, UK: Conservation – Archive
3 Aug 2016
Pitzhanger Manor Building Restoration
Sir John Soane's original design scheme for Pitzhanger Manor revealed by the current conservation project
Major Restoration Of Sir John Soane's 'dream House' Reveals An Extraordinary Decorative Scheme For An Architectural Treasure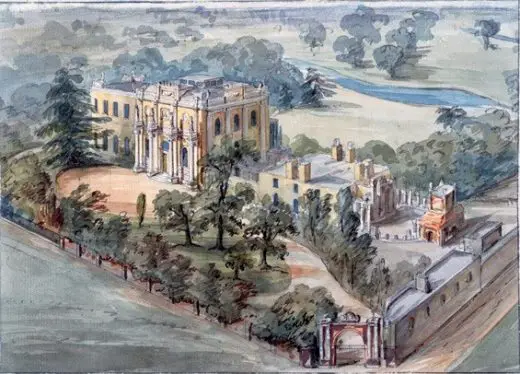  Pitzhanger Manor & Gallery Project uncovers rarely-used pigment in Soane's drawing room
 Possible rare identification of lapis lazuli in architectural paint
 Soane's original architectural vision to be restored when building re-opens in 2018
2 August 2016 – New scientific analysis of centuries of historic decoration inside one of London's architectural treasures is revealing an extraordinary decorative scheme. The ongoing project to restore Pitzhanger Manor, the country house of one of Britain's greatest architects, Sir John Soane (1753-1837), has identified Soane's previously unknown original design vision for his weekend 'dream house'.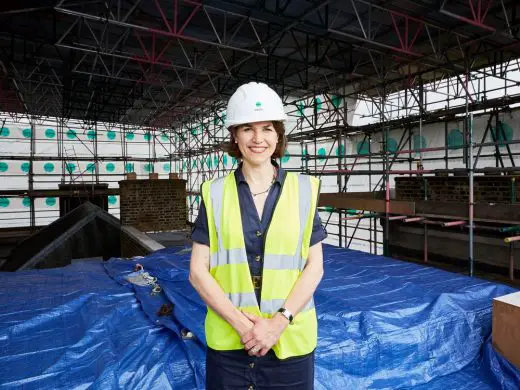 Architectural paint research carried out by Hare & Humphreys, one of Britain's leading companies specialising in the interior decoration, conservation and restoration of historic buildings, on the Regency villa in Ealing, West London, has uncovered evidence that Soane used some unusual natural pigments more usually associated with Renaissance paintings in the Eating Room and the Drawing Room.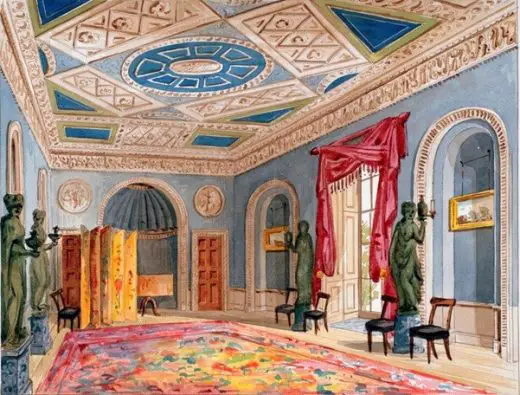 The paint analysis has already shown that the intense dark terracotta colour on the background of the ceiling rose in the Drawing Room was realgar, a highly toxic, unstable mineral which was rarely used by the 18th century, even in easel paintings (and is stable in situ!). Further work is now being undertaken to confirm the indications that blue pigments in the Eating and Drawing rooms were the extremely expensive lapis lazuli or natural ultramarine (by weight, more expensive than gold), or an early use of synthetic ultramarine. While it is well known that the fine, intense blue, pigment, made from the ground semi-precious stone, has historically been reserved for the finest art or ornament, if proven, it would represent a rare use in architectural decoration.
Soane's use of these classical pigments in the earliest years of the 19th century, when he designed, built and decorated Pitzhanger, is a major historic design discovery. Paint analysis throughout the building has also revealed the gloriously colourful and richly detailed decorative scheme Soane created for Pitzhanger, including:
 The dramatic first impression which Soane created for his guests – sienna and black marble and bronze-effect paint decorated Pitzhanger's Entrance Hall.
 Unusual black floral wallpaper from between 1790 and 1800 found in the North View Lobby.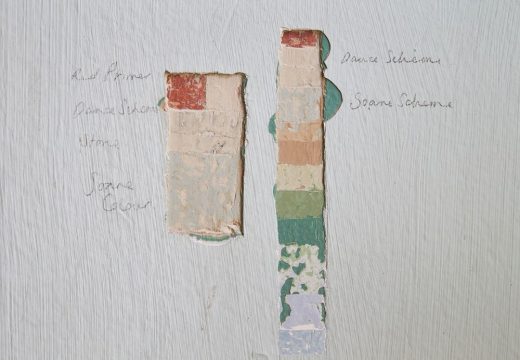 When Pitzhanger Manor House & Gallery re-opens in 2018, Soane's original scheme will be restored throughout his home. The project will restore the Grade I-listed house completely, revealing Pitzhanger's history and creating a major arts and heritage site, telling the story of Soane's life. The £11M Pitzhanger Manor & Gallery Project is funded by Ealing Council, the Heritage Lottery Fund (HLF) and Arts Council England. Pitzhanger Manor & Gallery Trust, which will manage the Manor & Gallery when it reopens, is charged with raising the remaining £1.8M and, to date, has secured £1M of this figure.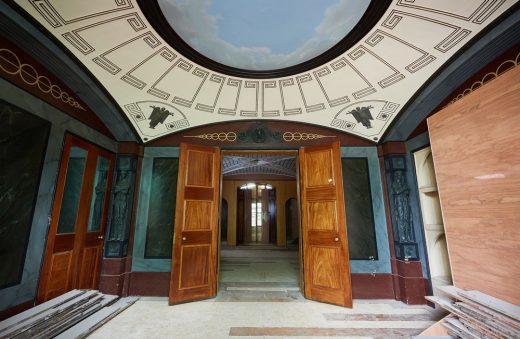 Chair of the Pitzhanger Manor & Gallery Trust, Sir Sherard Cowper-Coles, said, "Our new discoveries are extremely exciting and, for me, one of the real joys of being involved in a project which is able to delve into the strikingly original creations of a master designer. The discoveries take the project in a new direction. We always knew that Pitzhanger was used by Soane as an advertisement for his design instincts. Now we know that he was breaking new ground in his use of exceptionally lavish materials to complete his designs. We are even more excited at the prospect that will await visitors when we open Pitzhanger's doors and welcome them into Soane's weekend home, via his gloriously decorated Entrance Hall."
Leader of Ealing Council, Councillor Julian Bell, said, "The manor house and Gallery is bursting with beauty and history, so I am delighted that Ealing Council is working alongside Pitzhanger Manor Trust to restore the building so that the story of Soane can be fully revealed for the first time. Pitzhanger Manor House and Gallery is the crown jewel of Ealing and is a true inspiration with its architectural significance and the findings of the work to identify the paint samples are historically fascinating."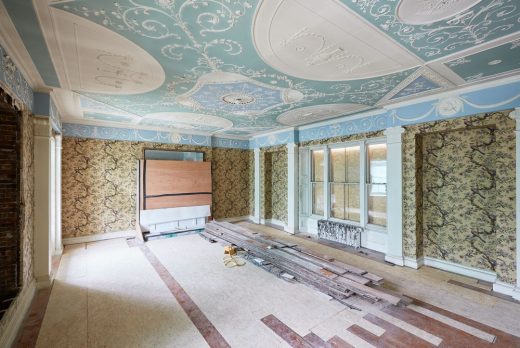 Director of the Fitzwilliam Museum, Cambridge, Tim Knox, said, "The recent discoveries at Pitzhanger Manor remind us that this was John Soane's country house, and a showplace for both his architectural practice and his burgeoning collections. The striking colour schemes and decorative effects that have been revealed through paint analysis are tremendously exciting. When completed they will restore this beguiling Neoclassical masterpiece to its original glory."
Sir John Soane, the master architect of space and light, purchased Pitzhanger Manor at the height of his fame, in 1800, to be rebuilt as his 'dream home', a weekend retreat for entertaining his friends and clients. It contains some of Soane's most impressive interiors: vaulted ceilings, interconnecting rooms, inset mirrors and stripped back classical detailing.
Soane was particularly fond of Pitzhanger, regularly inviting his circle of friends and contemporaries from the arts and sciences to visit him there. His invitations, to the likes of artist J.M.W. Turner, sculptor John Flaxman, opera singer John Braham and Bank of England Director Samuel Thornton, were to take part in cultural gatherings – opportunities to discuss and debate the issues of the day.
At Pitzhanger, Soane started to build his eclectic collection of artworks and antiquities and took pleasure in exhibiting it to his friends and clients. Renowned works as Hogarth's The Rake's Progress were originally bought by Soane for Pitzhanger.
A design team, led by architects Jestico + Whiles and including conservation architects Julian Harrap Architects LLP and landscape architects J&L Gibbons, is transforming Pitzhanger.
Several lost examples of Soane's design genius will be uncovered or reinstated, perhaps most notably his impressive single-storey glasshouse at the rear of the building. The House's original north elevation, which featured arched windows and ornamental columns, will be revealed; original rooms, previously closed to the public, will be opened up; and a tribune will bring new light to the second floor. A colonnade linking the House with adjacent buildings will also be reinstated; the covered route to Pitzhanger's entrance offered glimpses of the grounds and contained niches for displaying sculpture.
A landscape design will transform the building's immediate surroundings, linking into the wider, already-completed, HLF-funded, restoration of his parklands (the 28-acre Walpole Park), reconnecting the House to the grounds in the way intended by Soane. The Walpole Park project has already conserved a number of Soane's structures in the grounds in which he used to stroll and go fishing with Turner and has recreated the Regency planting design. A new brasserie in the historic walled garden and the already completed Rickyard, which is used for community education and events, will accompany the restoration.
Pitzhanger Gallery, linked to the Manor house by the reinstatement of Soane's colonnaded walkway, is being remodeled as a state-of-the-art exhibition centre with Grade-A display space. This will provide the environmental and security conditions which will allow for significant loans from national museums and galleries.
For latest project information, please visit www.pitzhanger.org.uk
11 Jul 2016
Pitzhanger Manor PM Gallery News
DIRECTOR APPOINTED TO LEAD MAJOR RESTORATION OF ONE OF BRITAIN'S ARCHITECTURAL TREASURES
Clare Gough named first Director of Pitzhanger Manor & Gallery Trust
Soane's original architectural vision to be restored when building re-opens in 2018.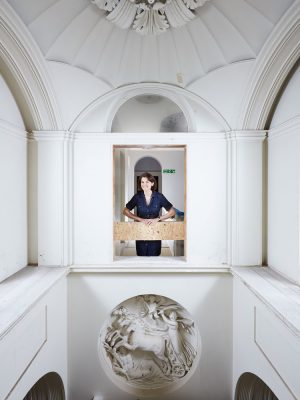 11 July 2016 – A Director has been appointed to an important new London cultural venue set to open in 2018. Clare Gough, who has formerly led major innovative projects for the National Gallery and V&A Museum, will oversee the completion of a four-year, £11M project to restore Pitzhanger Manor, the country house of one of Britain's greatest architects, Sir John Soane, and will lead the re-opening of the house to the public. The Heritage Lottery Fund and Arts Council-funded project will also see the re-launch of Pitzhanger Gallery, the adjacent contemporary art and architecture space.
Built by Soane in 1800 on the site of an older manor house in Ealing, West London, Pitzhanger Manor, along with its surrounding grounds, is one of the few surviving examples of pure Soanian architecture and landscaping in the UK. When it re-opens in 2018, Pitzhanger will have been restored to Soane's original and innovative design, with his typically vibrant decorative and paint effects painstakingly recreated. The adjacent Pitzhanger Gallery will host contemporary exhibitions, building on Soane's interests and his passion for both the antique and modern.
Clare Gough brings a wealth of essential senior management experience from both the arts and business worlds. She was Director of Communications at the National Gallery and then went on to set up her own arts consultancy business, leading diverse projects for a variety of museums and arts organisations. Clare pioneered the production of live cinema films from major art exhibitions: she produced for the V&A its award-winning film of the David Bowie is exhibition. She was formerly New Media Director at National Gallery Company Ltd. and is a Trustee of the Geffrye Museum. Clare started her career in the commercial world as a management consultant with McKinsey & Co and a solicitor with international law firm Freshfields.
Clare Gough said, "I am delighted to be joining Pitzhanger at this exciting time, when restoration work has just begun and we can already see Soane's striking architecture and interior design begin to re-emerge from behind later additions and extensions. We look forward to welcoming visitors from all over the world to this extraordinary place. Sitting in its original park, Pitzhanger is still an oasis of calm, as Soane intended, and we'll be using both the Regency house and upgraded Pitzhanger Gallery to pursue Soane's passion for sharing his love of architecture and design with others. Soane believed in the power of history and antiquity to inspire bold new thinking, and so do we."
Sir Sherard Cowper-Coles, Chair of the Pitzhanger Manor & Gallery Trust, said, "The whole Trust is absolutely delighted to have Clare Gough as our first Director. Her skills and wide experience, across the arts and heritage, management and business, will be a huge asset and are also a measure of this exciting project's potential and ability to attract talent of the highest quality."
For latest project information, please visit www.pitzhanger.org.uk
24 Mar + 13 Jan 2014
Pitzhanger Manor PM Gallery Recent Exhibition
Living Laboratory: Richard Pare on Le Corbusier and Konstantin Melnikov
PM Gallery & House
21 March – 11 May 2014
Extraordinary modernist buildings explored
The works of two great architects and one exceptional British photographer are celebrated in a new exhibition that opened in London on 21st March. The buildings of two of the most influential modernist architects – Le Corbusier and Konstantin Melnikov – are examined in a show devoted to the photography of Richard Pare.
Notre Dame du Haut chapel, Ronchamp, 1951-22. Panoramic view © Richard Pare, 2011


Living Laboratory: Richard Pare on Le Corbusier and Konstantin Melnikov runs from 21 March–11 May 2014 at PM Gallery & House in Ealing, west London. Sitting in Walpole Park, central Ealing, the Gallery is the extension to one of Sir John Soane's great architectural treasures, Pitzhanger Manor, the 'dream house' designed by Soane as a place to entertain his friends and display his collection of art and antiquities.
Villa Savoye, Poissy, 1929-30. General view in the site © Richard Pare, 2012

Richard Pare's fascination with modernist architecture shines through his vast collection of images taken over several decades. Living Laboratory will illustrate how he photographs buildings, taking care to reveal both their many subtleties and magnificent monumentality. Pare's perceptive point of view brings into play dramatic use of light, (always achieved with no supplemental lighting) as well as varied weather conditions and seasons.
Notre Dame du Haut chapel, Ronchamp, 1951-22. View towards the east © Richard Pare, 2011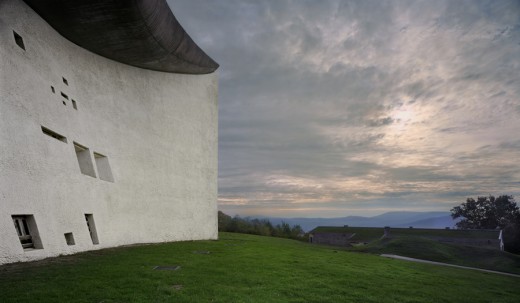 To achieve his images he deploys a wide range of technical approaches, combining conventional film and a view camera with the latest advances in digital image making. These state-of-the-art aspects of his work serve to highlight the majesty of his subjects without in any way overwhelming the purposes of the undertaking. He is also attentive to the effects of the passage of time and changing social conditions on the works he chooses to portray. The absence of human beings, coupled with signs of wear and decay, including creeping vegetation and the lingering evidence of past eras, emphasise the impermanence of seemingly solid structures and their struggle for survival.
High Court, Chandigarh, Punjab, India, 1952-56. View of the main hall © Richard Pare, 2012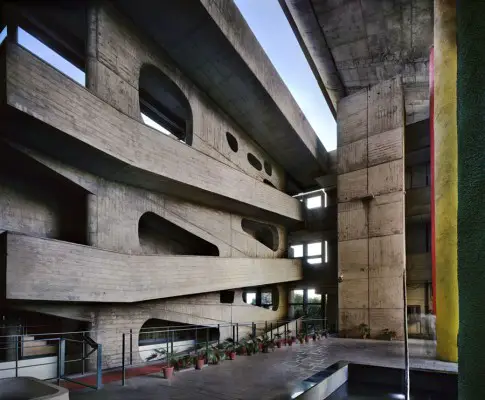 While Pare's work covers many subjects, Living Laboratory reveals his admiration for Le Corbusier and Konstantin Melnikov, two of the finest and earliest proponents of modernist principles in architecture.
Unité d'habitation, Marseilles, 1946-52. View of the terrace roof, the pool and the sea © Richard Pare, 2011

A prolific creator over six decades, Le Corbusier (1887-1965) revolutionised the ways in which we inhabit spaces, reinventing the idea of the house, designing radical furniture, vast urban planning schemes and the design of whole cities. His use of open-plan spaces, terrace gardens, horizontal windows and light-filled interiors created iconic and immediately recognisable buildings, among them the Villa Savoye outside Paris, Chapelle Notre-Dame du Haut in Eastern France, L'Unite' d'Habitation in Marseille and the Capitol Complex in Chandigarh, India. Richard Pare's obvious delight in the detail and poetics of Le Corbusier's architecture creates new and vital views of buildings which are so well known that they could easily lead to clichéd photography.
Small cabanon, Roquebrune-Cap-Martin, 1952. View of the interior © Richard Pare, 2012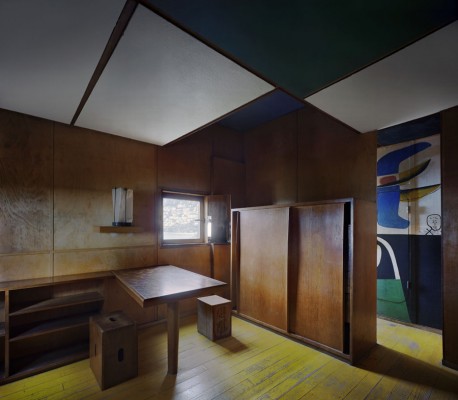 Small cabanon, Roquebrune-Cap-Martin, 1952. View of the window facing the sea © Richard Pare, 2012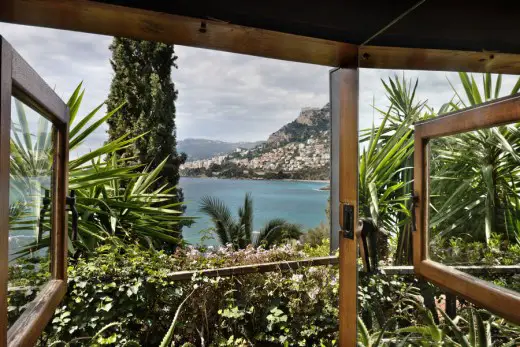 Konstantin Melnikov (1890-1974) was a Russian modernist architect whose work emerged during a period, of little more than a decade, when architects were endeavouring to establish a new architecture for a new age. The social ferment of the time made it possible for a handful of architects to design and build a number of structures that have had considerable influence on the architectural thinking of succeeding generations all over the world, in spite of the fact that the modernist experiment was snuffed out by the regime under Stalin. Even today, Melnikov's buildings remain radical and innovative, revealing a courageous individualism that was both his genius and downfall.
Melnikov house 1927-31, Moscow, Russia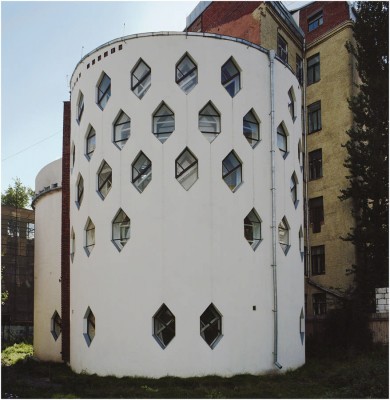 Perhaps the most significant of Melnikov's buildings was the house he built for himself, which also served as an experimental studio and a personal investigation into the idea of the house. Melnikov's ingenious use of space, even within the confines of his very limited budget, is emphasised by Pare's sensitive and subtle approach. His images of Melnikov's house are especially poignant, becoming one of the final sets of images made during the life of Melnikov's son, who gave over the majority of his life to defending his father's legacy. The fate of the building remains precarious, locked in a battle of wills between members of the family, private interests and the government.
Melnikov house 1927-31, Moscow, Russia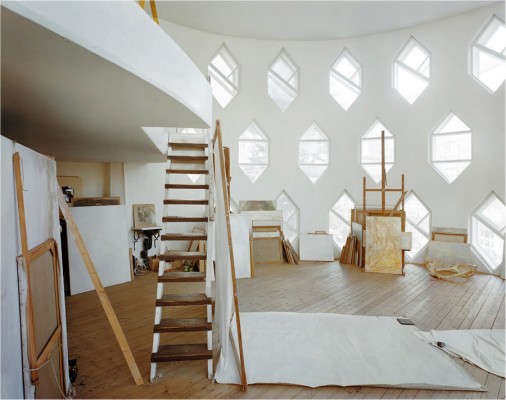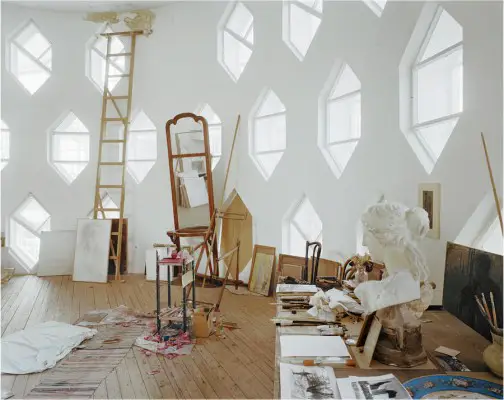 Carol Swords, Gallery Programmer, said "Richard Pare's appreciation of Le Corbusier and Konstantin Melnikov's work is shown by the care with which he creates his images. His photographs are completely enveloping, leading to suspended disbelief, as one is transported momentarily to their settings. Pare's comprehensive quest to document these modernist architects' careers has led him to create memorable work which is not to be missed."
Melnikov house 1927-31, Moscow, Russia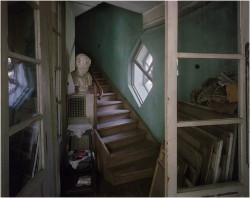 Recent Pitzhanger Manor Exhibition
Designer, illustrator and architect MacDonald 'Max' Gill
A new exhibition : "Out of the Shadows: MacDonald Gill"
20 Sep – 2 Nov 2013
First major London retrospective of the graphic art & design of MacDonald Gill
Glorious abundance of pictorial maps and rarely-seen original artwork, including posters, personal papers & artefacts unearthed at Gill's cottage in a remote corner of Sussex.
MacDonald 'Max' Gill by Howard Coster (29 Nov 1935):


photo by Howard Coster
A major, free retrospective exhibition of the work of influential designer MacDonald 'Max' Gill will open in London this autumn. The first London exhibition to display the full range of Gill's work, Out of the Shadows: MacDonald Gill will open at PM Gallery & House on 20 September, running until 2 November 2013. PM Gallery is the extension to one of Sir John Soane's great architectural treasures, Pitzhanger Manor, designed by Soane as a place to entertain his friends and display his collection of art and antiquities..
Inspired by the Arts & Crafts Movement, illustrator, letterer, architect and mural painter, MacDonald 'Max' Gill (1884-1947) produced a captivating and innovative range of graphic design in many forms, across four decades. Covering political and social issues and the fields of transport and communication, his work was celebrated in his lifetime but, unlike that of his elder brother, sculptor and typographer Eric Gill, it faded from view after his death.
Perhaps best known for the richly-coloured and highly-detailed, light-hearted pictorial maps he created for the London Underground, Gill's body of work also includes the design of the alphabet for standard military headstones (for the Imperial War Graves Commission); the procession map and title page for the official programme for the Coronation of King George VI; painted wind-dial panel maps commissioned by Edwin Lutyens; a new logo and posters for the General Post Office; and a huge painted map of the North Atlantic for the First Class Dining room on the Cunard liner Queen Mary.
Theatreland (1915):


picture from Pitzhanger Manor
As well as featuring a selection of London Underground maps, the exhibition will include an extensive collection of original Gill artwork, personal papers and other assorted material, which had lain, undisturbed for over 50 years, tucked away in chests, wardrobes and cupboards under the eaves of the remote Sussex cottage where Max lived with his second wife Priscilla, until his death in 1947.
Most of the material to be displayed was discovered by Priscilla's nephew, Andrew Johnston and his wife Angela, when they inherited her cottage in the 1980s. With Gill's great-niece and biographer Caroline Walker carefully documenting each new discovery, a comprehensive collection of his work emerged once more into the light of day. As the poster maps were unrolled, they revealed colours as fresh as the day they were printed. Gradually it became clear that the collection had great significance, not only because it included graphic work of the highest quality, unseen for over half a century, but also because it formed an important record of a vanished age.
Among the key exhibits are:
– Wonderground Map of London Town (1914) – the first of a series of seven humorous and colourful maps for the London Underground, which led to a worldwide resurgence in the art of decorative map-making.
– Highways of Empire (1927) – a traffic-stopper across the major cities of the Empire, this map launched the Empire Marketing Board's publicity campaign.
– GPO Mail Steamship Routes (1937) – part of a set of three communications maps, this shows the transatlantic journey of mail from pillar box to quayside.
– Tea Revives the World (1940) – a global view of the history and beneficial effects of Britain's national drink.
– Atlantic Charter (1942) – celebrating the Anglo-American treaty which led to the peacetime UN and the cementing of the 'special relationship', this poster features the signatures of Franklin D. Roosevelt and Winston Churchill, pasted in to the original artwork shown.
Past Pitzhanger Manor Exhibition
Caroline Walker – In Every Dream Home
A new exhibition exploring relationships with architecture.
18 Jul – 8 Sep 2013
Caroline Walker
Illuminations
2012
Oil on linen
240 x 305 cm:


photo : Gustavo Murillo Courtesy the Frank Suss Collection, London Image courtesy the artist and ProjectB, Milan
Caroline Walker's cinematic paintings explore people's relationships with the buildings in which they spend time – whether at home, work, or in more mysterious circumstances. With inspiration from Roxy Music, not to mention Hitchcock and David Lynch, 'In Every Dream Home' wil take place in Sir John Soane's own 'dream house', Pitzhanger Manor, running from 18 July – 8 Sept.
Caroline Walker
Recreation Pavilion
2013
Oil on linen
280 x 190 cm:


photo : Gustavo Murillo Courtesy the artist and ProjectB, Milan
Cinematic scenes exploring relationships between people and architecture
Sometimes dream homes can be anything but…
PM Gallery is delighted to announce the first public solo exhibition by London-based artist Caroline Walker. A bright talent in current international figurative painting, Caroline Walker makes paintings that explore people's physical and psychological relationships with the buildings in which they spend time – whether at home, work, at leisure or in more mysterious circumstances. With a particular interest in femininity and full of contemporary and historical references and influences, Walker's practice is an engaging journey into the modern female condition and the 'female gaze'.
In Every Dream Home runs from 18 July – 8 September at PM Gallery, the extension to one of Sir John Soane's great architectural treasures, his own 'dream house', Pitzhanger Manor in Ealing, west London. Sitting in Walpole Park, central Ealing, Pitzhanger Manor was designed by Soane as a place to entertain his friends and display his collection of art and antiquities.
Caroline Walker depicts women undertaking all manner of activities, from everyday chores, sleeping and sunbathing to more obscure or dramatic scenarios, taking the viewer inside people's private worlds and states of mind. Some seem lonely, bored, tired or depressed, while others appear happy and relaxed, whether alone or in company.
While the paintings are often charming and appealing, there is regularly something odd or unexpected underlying them – occasionally verging on the threatening or dangerous. Often it is unclear who the women are, or what their relationship is with the premises in which they are located; as many of the locations depicted are luxury houses and apartments, it is hard to say if a particular person is the owner or a tenant, a guest or a maid, opening up social and cultural questions about the paintings and inviting us to question whether we are looking at the super-rich at leisure, house-sitters, holidaymakers, people under house arrest, domestic workers, squatters, or actors on set. The show's title was inspired by the Roxy Music song 'In Every Dream Home A Heartache', about which Caroline Walker said, "'The song is about our obsession with material wealth and how this is ultimately empty; we might appear to have a perfect life, but things are never that simple."
The research and development for Walker's paintings is an elaborate process. She finds properties around the UK and abroad in which to stage photo shoots. Carefully chosen costumes, accessories and props are brought along and Walker directs her cast of life models and actors around the property. Following this, the artist makes a number of drawings and oil sketches before settling on a composition to work up into a final painting back in her studio.
As a result, a cinematic and theatrical atmosphere pervades the work; alongside film influences ranging from Hitchcock to Lynch and recent Hollywood productions, Walker is inspired by artists including Eric Fischl, the Scottish colourists and current painting from Central and Eastern Europe, as well as by the constructed photography of Hannah Starkey, Gregory Crewdson and Jeff Wall.
In Every Dream Home has been curated by Matt Price in association with PM Gallery and House. A new monograph on the artist featuring texts by Marco Livingstone, Jane Neal and Matt Price has been published to accompany the exhibition. The project has been generously supported by the Valerie Beston Artists' Trust, ProjectB Gallery, Milan, and Ivan Gallery, Bucharest.
Caroline Walker
Tribute
2013
Oil on linen
66 x 51 cm:


photo : Gustavo Murillo Courtesy the artist and ProjectB, Milan
Previously:
14 Sep + 29 Aug 2012
Pitzhanger Manor Soane Exhibition
Sense of Soane – Pitzhanger Manor Exhibition
SENSE OF SOANE
14 Sep – 27 Oct 2012
PM Gallery & House
European city views & imaginary architecture inside Sir John Soane's dream house
A contemporary exploration of Soane within the walls of his home
Grand Tour In Search of Soane by Emily Allchurch:


image from PM Gallery
A new free exhibition of works inspired by the creative mind of Sir John Soane will soon occupy the rooms which he built as a country retreat. Sense of Soane brings together three contemporary artists – Emily Allchurch, Anne Desmet RA and Catrin Huber – whose shared admiration for the designs and collections of the celebrated British architect shines through their work. Sense of Soane runs from 14 September – 27 October at PM Gallery & House in Ealing, west London.
Each artist has taken a distinct yet complementary approach, producing work to be displayed inside one of Soane's most significant buildings.
Grand Tour In Search of Soane by Emily Allchurch – detail:


image from PM Gallery
Emily Allchurch meticulously constructs photographic images, blending together many hundreds of pictures of buildings and design features to recreate historic paintings from a 21st-century perspective. The result is a journey around a city, compressed into a single scene, revealing a subtle social narrative. For Sense of Soane, Allchurch is re-creating Joseph Gandy's seminal painting Perspective of various designs for public and private buildings executed by John Soane between 1780 and 1815, from Soane's collection. She will also exhibit Urban Chiaroscuro 4: Rome (after Piranesi), an homage to Piranesi's Carcere d'Invenzione (Imaginary Prisons) series. Both works are highly complex examples of her photographic collage technique, exploring London and Rome and, in the process, touching upon the original inspirations for Soane's own work.
Urban Chiaroscuro No.4 Rome (after Piranesi) by Emily Allchurch:


image from PM Gallery
Anne Desmet's city views explore architectural fantasies, urban myths, destruction and regeneration. She will make a series of collages on glass lenses, featuring her own architectural engravings and linocuts relating to Soane and referencing the convex mirrors which are set into the walls and ceilings of the Sir John Soane's Museum. Anne Desmet will also present a collection of tiny, fragmented, architectural images collaged on to found objects such as pebbles, shells and tile fragments, exploring the enduring resonance of archaeological collections such as Soane's. Her work looks back to the classical architecture of ancient Rome, while tracing a line of architectural development to the present, building upon ideas from her recent studies of the London Olympic site.
Catrin Huber explores ways of representing architectural space within painting, drawing and collage, producing work which is in some cases abstract and at other times based on specific buildings. She will bathe the Pitzhanger Manor Drawing Room in a succession of coloured lights, projecting collages on to its blank ceiling, echoing and complementing Soane's sky ceiling painting in the Breakfast Room and his theatrical use of light.

image from architect
Together, the new work emphasises Soane's continuing relevance amongst contemporary artists and his profound architectural legacy.
Sitting in Walpole Park, central Ealing, Pitzhanger Manor is the 'dream house' designed by Soane as a place to entertain his friends and display his collection of art and antiquities. In 1800, Soane bought the estate, demolishing most of the existing property and redesigning and rebuilding it to his own specification. Similar to his main London home at Lincoln's Inn Fields, now the Sir John Soane's Museum, Pitzhanger includes many typical Soane features: curved ceilings, inset mirrors, false doors and wood panelling with many cupboards. He sold the house in 1810 and it passed through several hands until, in 1843, it became home to the daughters of Britain's only assassinated Prime Minister, Spencer Perceval.
11 Jan 2012
Pitzhanger Manor Event 2012
London Unfurled – Pitzhanger Manor Exhibition
LONDON UNFURLED BY MATTEO PERICOLI – FIRST UK EXHIBITION
11 Jul – 2 Sep 2012
PM Gallery & House
A 35-mile walk along the north and south banks of the Thames
From 11 July, PM Gallery & House will present a richly detailed exploration of the riverside architecture of London. Loaded with character and displaying the distinct qualities of the north and south sides of the city, London Unfurled is the result of a walk alongside the Thames by Italian illustrator and architect Matteo Pericoli.

picture Courtesy Matteo Pericoli
London Unfurled runs from 11 July to 2 September at PM Gallery, in Ealing, west London, the extension to Sir John Soane's Pitzhanger Manor. Admission is free. This is the first time that Matteo Pericoli's original London Unfurled drawings have been shown anywhere in the UK.
Over two weeks in September 2009, Matteo Pericoli walked from Hammersmith Bridge to the O2 Arena and back again, examining the scene beside the Thames, taking 6,100 photographs and seeing off a pair of shoes in the process. The two resulting 11.5 metre drawings, showing the city as it is seen from the north and south banks, will each be unfurled around PM Gallery.
Filling the gallery with the architectural complexity of the riverside, the exhibition presents a compelling profile of the city. Matteo Pericoli's drawings are packed with buildings which will be very familiar to many, including St Paul's Cathedral, the Houses of Parliament, Battersea Power Station and the Shard, but also reveal details and urban quirks that people may never previously have noticed. Contained within the pen-and-ink drawings are some 41 bridges, 58 cranes (distributed equally between the north and south banks), 1,343 individual buildings, over 27,000 window panes and 3,000 waves on the river.
The hardback book in concertina form, London Unfurled, by Matteo Pericoli, with essays by Will Self and Iain Sinclair, is published by Picador, priced £25.00. A new adapted version, London for Children, with full colour illustrations and funny and often gruesome facts about London and the river, will be published by Macmillan on 5 July, priced £14.99.
A digital companion to the print edition, the London Unfurled App for iPad enables people to scroll seamlessly through the entire drawing, flipping from north to south, jumping from place to place, zooming in on its extraordinary detail and sending favourite views to friends. An audio voiceover from Matteo Pericoli also gives an insight into the creation of the drawings.
The exhibition will feature new material from both the London for Children book and the London Unfurled App for iPad.
VISITOR INFORMATION
Exhibition dates: 11 Jul – 2 Sep 2012
Admission is free to all visitors
PM Gallery & Pitzhanger Manor, Walpole Park, Mattock Lane, Ealing, London W5 5EQ
Opening Times: Tuesday-Friday & Sunday 1-5pm; Saturday 11am-5pm; Closed Monday
Late openings until 8pm: 21 & 24 July; 3, 17 & 31 August
Further visitor information www.ealing.gov.uk/pmgalleryandhouse 020 8567 1227
Travel: Trains & tube to Ealing Broadway. Buses 207, 65 & 83
FREE Gallery Tour led by Matteo Pericoli: Saturday 1 September at 2pm. No need to book, just arrive at the Gallery
Matteo Pericoli
Matteo Pericoli was born in Milan, where he graduated from the Polytechnic School of Architecture. He moved to New York in 1995, where he has worked as an architect, illustrator, author, journalist, and teacher. From 1997 to 2000, he worked at the architectural firm Richard Meier & Partners as the project architect for the Jubilee Church in Rome. His drawings have been published in various newspapers and magazines, including The New York Times, The New Yorker, The Observer, and La Stampa, for which he is a regular contributor.
In 2007, he completed Skyline of the World, a 397-foot-long panoramic mural for American Airlines' new International Terminal at JFK Airport. He has taught architecture and illustration at Saint Ann's School in Brooklyn, NY. He has held a Visiting Professorship at the Polytechnic of Turin, Faculty of Architecture, where he teaches architecture to creative writing students at the Scuola Holden. His books have been published in the UK, the USA, Italy, South Korea, Taiwan and China.
Pitzhanger Manor is the 'dream house' designed by Soane as a place to entertain his friends and display his collection of art and antiquities. Sitting in Walpole Park, central Ealing, Pitzhanger Manor & PM Gallery are owned and run by Ealing Council, which is planning a major development project that will see rooms restored and improved gallery, visitor & education facilities.
Previously:
11 Jan 2012
Pitzhanger Manor PM Gallery Event News
Pitzhanger Manor Exhibition
'The near and the elsewhere'
25 Jan – 17 Mar 2012
PM Gallery & House
The global downturn, abandoned architecture and the stories within buildings
Artists: Francis Alÿs, Sarah Beddington, James Casebere, Thomas Demand, Greg Girard Gregor Graf, Noel Jabbour, Ferit Kuyas, Edgar Martins, Gaia Persico, Peter Piller Sara Ramo, Rachel Whiteread, Michael Wolf, Cino Zucchi Architetti. Curator: Gaia Persico
Greg Girard
#11 Branch Lane 22, Lane 195, Urumqi (Wulumuqi) Bei Lu, 2005


photograph Courtesy the artist and Monte Clark Gallery, Vancouver/Toronto
A new exhibition exploring the global downturn and its effect on cities and their inhabitants opens at PM Gallery & House in January 2012. The near and the elsewhere examines the constant upheaval within developing cities and the shrinking personal space available to those that live in them. Combining photography, painting, film and installation from a group of renowned artists drawn from across the world, the exhibition focuses on the daily battles inherent in metropolitan living and the defiance of people against mass economic forces.
The near and the elsewhere records unsuccessful commercial ventures and the resultant empty spaces, abandoned as they no longer fulfil the reason for their creation. As well as exploring the physical growth and loss of urban architecture, the exhibition follows the city's marginalised inhabitants into the gaps outside general awareness.
The exhibition's global theme is mirrored by the international perspectives of its artists. Peter Piller and Noel Jabbour use documentary photography to record projects gone west amid a culture of wastage and excess; previously populated areas are now isolated in Gaia Persico's urban landscape drawings; and Edgar Martin's photographic series for the New York Times, 'This is not a House', and Gregor Graf's images of half-constructed homes now deserted and gone wild, capture evidence of sudden abandonment alluding to more complex stories behind.
Michael Wolf
a57 from the series 'Architecture of Density', 2008


photograph Courtesy Flowers Gallery, London
Conversely, Michael Wolf presents breathtaking views of Hong Kong skyscrapers, densely populated and expanding organically; and at the heart of the exhibition are Greg Girard's haunting and timely images of Shanghai, documenting the city at a pivotal moment in its transformation, where the growing metropolis can be seen as a visible wave of neon development on the brink of engulfing traditional homes.
Working with constructed photography, James Casebere pushes the idea of the 'metropolis' to a cinematic level to question the utopian vision and Rachel Whiteread's archival print of an installation of dolls houses examines the unreachable ideal of the perfect home. At ground level, a film by Sarah Beddington uncovers individual stories within buildings as past layers of occupation and history intertwine; Sara Ramos's projection explores the psychological attributes of internal spaces filled with detritus and slides by Francis Alÿs of homeless people reveal the true human consequences of development.
Against the overarching theme, the exhibition offers hope, as overlooked areas become poetic, urban environments turn into private corners of refuge and decrepit interiors are made homely by the sheer willpower of their inhabitants, often in stark contrast to the original vision.
PM Gallery – Visitor Information
Admission is free to all visitors.
PM Gallery & Pitzhanger Manor, Walpole Park, Mattock Lane, Ealing, London W5 5EQ
Opening Times: Tuesday-Friday 1-5pm; Saturday 11am-5pm; Closed Sunday & Monday.
FREE Gallery Tour: 2pm, Saturday 11 February 2012. Please join us for an informal tour of the exhibition with curator Gaia Persico. No need to book.
Further visitor information www.ealing.gov.uk/pmgalleryandhouse 020 8567 1227
Travel: Trains & tube to Ealing Broadway. Buses 207, 65 & 83.
26 May 2011
Pitzhanger Manor
Royal Academy chooses Pitzhanger Manor drawing for Summer Exhibition
The Royal Academy of Arts has chosen a conjectural image of Pitzhanger Manor (Ealing), for display in the Architecture Room at the Summer Exhibition, which opens early next month (June).
Submitted by Andrew Coles, an Architectural Assistant at Julian Harrap Architects, it shows Pitzhanger Manor during the time of Sir John Soane's ownership of the Estate, 1800 to 1810. The villa design includes typical Soanian features such as rooflights and a conservatory glazed with coloured glass, caryatids on the front façade and a fantasy Roman temple ruin.
The Royal Academy Summer Exhibition runs from 7 June – 15th August.
Pitzhanger Manor, Ealing; Conjectural East and West elevations as Sir John Soane, 1800-1810:


image from architect
The Project – Pitzhanger Manor, Ealing
JHA is working together with Jestico + Whiles to prepare proposals for the restoration and reinterpretation of Pitzhanger Manor (des. by Sir John Soane and George Dance the Younger) for Ealing Council.
Located adjacent to Walpole Park, Ealing, the Manor sits within landscaped gardens. Features in the landscape include a brick and flint entrance archway (grade I listed), a rustic bridge (grade II* listed) and a carved stone bench boundary wall (both grade II listed).
The grounds are connected to the wider parkland with a small lake.
Pitzhanger Manor – Soane Masterpiece to be Transformed
17 Jul 2009
Soane Masterpiece to be Transformed 17 July 2009 Jestico + Whiles has been successful in its bid to remodel Pitzhanger Manor and Walpole Park in the London Borough of Ealing. The nationally important Grade-I-listed building, designed by Sir John Soane and George Dance the Younger, will be sensitively restored and transformed into a world-class museum.
Jestico + Whiles is leading the core design team, working alongside exhibition designer Ralph Appelbaum Associates and landscape architect J & L Gibbons, supported by Julian Harrap Architects and Sarah Couch Historic Landscapes who are providing heritage advice. Engineers Ellis & Moore and environmental specialists King Shaw Associates complete the team.
Jestico + Whiles was selected, following a two-stage tender and interview process, from a shortlist of talented architects. Client Ealing Borough Council was particularly impressed by the team's past experience and integrated approach to the building, landscape and interpretation design.
Pitzhanger Manor London image / information from Jestico + Whiles 200709
Sir John Soane's House


photo © Adrian Welch
The project team will host a public consultation picnic in Walpole Park as part of the national Big Lunch event on Sunday 19 July 2009
Pitzhanger Manor Exhibition : PM Gallery, Ealing, London
Location: Walpole Park, London, England, UK
London Building Designs
Contemporary London Architecture Designs
London Architecture Designs – chronological list
London Architecture Tours – tailored UK capital city walks by e-architect
Major project by Julian Harrap:
Neues Museum, Berlin, Germany
David Chipperfield Architects – with conservation specialist Julian Harrap


photograph : Ute Zscharnt
Neues Museum : Mies van der Rohe Awards 2011 Winner
Key London Buildings by Jestico + Whiles architects
Comments / photos for the Pitzhanger Manor Exhibitions – PM Gallery Walpole Park London page welcome