Historic Architecture, Architects, Ancient Churches, Historical Designs, Old Buildings Photos
Historic Architecture : Ancient Buildings
Historical Built Environment – projects from around the world
post updated 22 July 2022
Historic Buildings
We've selected what we feel are the key examples of Historic Architecture. We aim to include ancient buildings that are either of excellent quality or interesting, or ideally both. e-architect cover completed buildings, renovations and architectural exhibitions across the world.
We have 2 pages of Historical Architecture selections.
Historic Architecture : A-I (this page)
Historic Buildings : J-Z
Historic Architecture Designs
Historic Buildings – latest additions to this page, arranged chronologically:
Preservation of Oasis Sites, Guelmim Region, Morocco
Design: Salima Naji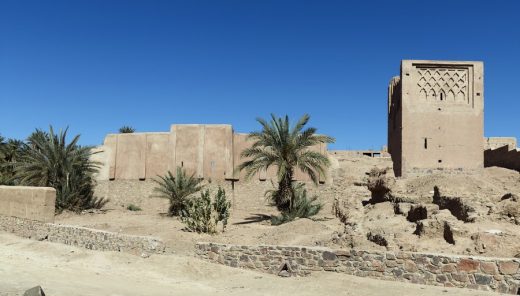 photo : Cemal Emden
Preservation of Oasis Sites – 21 Jun 2013
For the last decade Salima Naji, trained as an architect and anthropologist, has worked to save the heritage of several oasis towns in the anti-Atlas mountains of Morocco. This ambitious undertaking involves four sites that range in scale from communal granaries to partially abandoned fortified towns.
Tabriz Bazaar Rehabilitation, Iran
Design: ICHTO East Azerbaijan Office


photo : Amir Anoushfar
Tabriz Bazaar Rehabilitation – 21 Jun 2013
The Tabriz Historic Bazaar Complex was officially protected in 1975 and has been covered by special stewardship measures until 2010, when it was added to the World Heritage List. The complex covers 27 hectares with over 5.5 kilometres of covered bazaars. Three different protection areas have been established (a nominated area, a buffer zone and a landscape zone), subject to special regulations incorporated into the planning instruments.
Thula Fort Restoration, Yemen
Design: Abdullah Al-Hadrami


photo : Cemal Emden
Thula Fort Restoration – 21 Jun 2013
Threatened by the disruption that might ensue from the construction of a road, the Thula community, with the help of The Social Fund for Development, has undertaken a series of historic preservation projects to protect cultural assets, including rebuilding the walls of burial grounds and walls of agricultural terraces, restoring the Bab al Mayah gate, watch towers, paths and waterways, and repairing the cistern that remains in use to this day.
Birzeit Historic Centre, Palestine
Design: Riwaq


photo : Riwaq
Birzeit Historic Centre – 19 Jun 2013
This five-year project, part of a rehabilitation master plan initiated by Riwaq, has transformed the decaying town of Birzeit, created employment through conservation and revived vanishing traditional crafts in the process. Community involvement was encouraged from the start, including local NGOs, the private sector, owners, tenants and users, all working with the municipality.
Students have to present their creativity everywhere – in architecture essay writing, in diverse research papers, etc. Thus, most of them turn to professional writing services like CustomWritings for help.
Major Historic Buildings, alphabetical:
St Paul's Cathedral, City of London, England, UK
Design: Sir Christopher Wren


photo © Adrian Welch
Summary of key aspects of the building:
– Church of England cathedral
– seat of the Bishop of London
– dedication to Paul the Apostle dates back to the original church on this site, founded in AD 604.
– St Paul's sits at the top of Ludgate Hill, the highest point in the City of London
– present church dating from the late 17th century
– built to an English Baroque design of Sir Christopher Wren
– as part of a major rebuilding program which took place in the city after the Great Fire of London
– was completed within his lifetime.
– one of the most famous and most recognisable sights of London
– dominating the skyline for 300 years.
– 365 feet (111m) high, it was the tallest building in London from 1710 to 1962
Royal Opera House, London, England, UK
Design: Dixon Jones Architects


photo © Nick Weall
Royal Opera House London
Following final presentations to the jury at the end of January, the Board of Trustees of the Royal Opera House has selected Stanton Williams Architects to carry out a feasibility study for the 'Open Up' project. This decision marks the culmination of a six month competition process involving seven firms of architects.
Historical Architecture
Key Historic Architecture + Projects, alphabetical:
Altes Museum, Berlin, Germany
Design: Karl Friedrich Schinkel Architect


picture © Isabelle Lomholt
Altes Museum Berlin
Berliner Dom, Berlin, Germany
–


photo © AW
Berliner Dom Building
Calton Hill – various buildings, Scotland
Design: various architects


picture © Isabelle Lomholt
Calton Hill – mostly Greek Revival buildings
Christ Church, Spitalfields, London, UK
Design: Nicholas Hawksmoor Architect


photo © Adrian Welch
Christ Church Spitalfields
Church of St George, London, UK
Design: John James


picture © Adrian Welch
Mayfair Buildings
Downing College Buildings, Cambridge, UK
Design: various architects


picture © IL
Downing College
Edinburgh Castle, Scotland
Design: various architects / masons


photo © IL
Edinburgh Castle
Emmanuel College, Cambridge, UK
Christopher Wren Architect


photograph © Adrian Welch
Emmanuel College – Chapel
Fitzwilliam Museum, Cambridge, UK
Design: George Basevi


building photo © AW
Fitzwilliam Museum
Gesù, Rome, Italy
–


image © Adrian Welch
Gesù church
Hospital de Sant Pau, Barcelona
Architect: Lluis Domenech i Montaner


building photo © Thomas Boczko
Hospital de Sant Pau
Royal Albert Hall, west London
Design: Francis Fowke


picture © Nick Weall
Royal Albert Hall
Town Hall Copenhagen, Denmark
–


image © AJW
Copenhagen Town Hall
Key Historic Public Spaces
Area Sacra, Largo Argentina, Rome, Italy


photo © AW
Campo de' Fiori, Rome


picture © AW
Circo Massimo – Circus Maximus, Rome


photograph © Isabelle Lomholt
Fontane di Trevi – Trevi Fountain, Rome


photo © Isabelle Lomholt
Piazza Colonna, Via del Corso, Rome


image © AW
Piazza del Popolo, Rome, Italy


photograph © IL
Piazza della Republicca, Rome, Italy


picture © AW
Piazza Navona, Rome, Italy


image © Isabelle Lomholt
Spanish Steps, Rome, Italy
Date built: 1726


photo © Adrian Welch
Historic Gateways
Brandenburg Gate
–


photograph © Isabelle Lomholt
Brandenburg Gate
Charlottenburg Gate
–


picture © IL
Charlottenburg Gate
More Historic Architecture online soon
Architectural Designs
Historic Tower Architecture
Tour Eiffel, Paris, France
Design: Gustave Eiffel


photo © IL
Historic Paris Architecture
Sacre Coeur Paris, France
Architect: Paul Abadie


photograph © Adrian Welch
Buildings / photos for the Historic Building page welcome