Royal College of Art Events, London Architecture Talks, Building Exhibitions, News, AA Design Lectures
Royal College of Art Events, London
Upcoming Architecture Events at the Royal College of Art, England: Information
15 Aug 2010
Royal College of Art Exhibitions + Events 2010
15-19 Sep 2010: 20/21 British Art Fair
The only fair specialising exclusively in modern and contemporary British art. Here you will find all the great names of 20th century art: Bacon, Freud, Frink, Frost, Hepworth, Hockney, Hodgson, Lanyon, Lowry, Moore, Nash, Piper, Riley, Scott, Sutherland and Spencer. Alongside is a large selection of work by both emerging and established contemporary artists.
Admission: £9 (concessions £6)
Open Wednesday 3-9pm; Thursday 11am-8pm; Friday/Saturday 11am-7pm; Sunday 11am-6pm.
18-19 Sep 2010: Open House London
The Sackler Building will be open for the public to explore as part of the Open House London weekend. This is a rare chance to have a closer look at this RIBA award-winning building – an old factory converted into the impressive home of the Painting Department.
14-22 Howie Street, SW11 4AY
Free admission. Open 1pm–5pm. First come, first served.
18 Sep – 17 Oct 2010: Album
Album is an exhibition comprised of new and existing works by 17 Photography MA students. Working across the disciplines of photography, film and video, new site-specific works, which seek to respond to the particularities of the city will be produced and shown for the first time in a former textile factory as part of the Liverpool Biennial Independents. The exhibition has been curated by Morgan Quaintance, a student from the RCA Curating Contemporary Art (Inspire) course. On Saturday 18 September at 1pm there will be a curator's talk and meet the artists event in the gallery.
Wolstenholme Creative Space, 11 Wolstenholme Square, Liverpool L1 4JJ
Free admission. Open Thursday-Saturday, 11am-5pm.
23 Sep- 7 Oct 2010: RCA at the London Design Festival 2010
The Royal College of Art presents its biggest programme of exhibitions to date as part of this year's London Design Festival, bringing together seven exhibitions that reflect the incredible diversity and depth of innovative design thinking from the world's most renowned postgraduate art and design university.
Open 10am-5.30pm daily.
The Design Products Collection – Entrance Gallery
This exhibition launches The Design Products Collection, exclusively created by graduates and staff associated with the RCA Design Products Department and made available commercially for the very first time. The intention of the Collection is to present more widely the wealth of creative ideas within the Department.
Sustain – Upper Gulbenkian Gallery
Sustain brings together sustainable practice from across the art and design disciplines of the RCA, in a unique exhibition that showcases objects, thinking and solutions to issues and arguments in the ever-more-complex arena of sustainability. From nutshell jewellery to life-changing solutions to global water shortages, from a mobile chai trolley to re-using textile waste to reduce landfill, RCA graduates demonstrate the 'systems'-thinking creativity of cross-disciplinary practice that is unique to the world's most influential postgraduate art and design school.
IDE with iGuzzini & Fratelli Guzzini – Upper Gulbenkian Gallery
The collaboration of Innovation Design Engineering with Italian design company iGuzzini and Fratelli Guzzini resulted in two unique projects. Bin 2 Bin explores integrating cyclical sustainable materials for use in domestic consumer products. The designers had to consider sustainable materials lifecycle, consumer education, then produce a bin made from recycled materials. The second project, Space Hotel, tasked students with developing concepts for space tourists of the future, considering physical and psychological aspects such as eating and lighting in extreme micro-gravity conditions.
The Lives of Others – Courtyard Gallery 1
The 2010 Helen Hamlyn Research Associates exhibition will feature eleven collaborative projects led by thirteen new design graduates of the RCA, working with a range of industry, government and voluntary sector partners. The Research Associates develop live industry projects resulting in new thinking, products and services in relation to inclusive design, design for patient safety and workplace design – the three core research themes of the Helen Hamlyn Centre.
Redesigning the Ambulance – Courtyard Gallery 2
This collaboration between the RCA Vehicle Design Department and the Helen Hamlyn Centre supported by NHS London, shows a work in progress redesign for the interior of an Accident & Emergency ambulance.  The exhibit will feature a full size replica of the new design proposal.
White Feast – Courtyard Gallery 3
Seven groups of students from Innovation Design Engineering, Fashion, Textiles and Vehicle Design worked in cross-department teams to a brief set by BlackBerry® and the Helen Hamlyn Centre. The project aims to create a range of design proposals in which technology acts to significantly improve communication, with a focus on the body and lifestyle.
22–26 Sep: Cut To Fit – Hockney Gallery, Stevens Building
Cut To Fit showcases the work of three designers Catherine Aitken, Eva Malschaert and Hannah Sabapathy, all studying Textiles at the College. In its diversity, the work on show frequently stretches the perceived confines of the discipline, questioning where the boundaries of textile design lie. Often done in an inquisitive or playful way, there is an emphasis on both materials and on an exploratory approach to making.
Wednesday-Friday 10am-6pm, Saturday 1-6pm, Sunday 1-5pm
1 Oct 2010: Full Steam Ahead: Innovative London Yesterday, Today and Tomorrow
As part of the citywide festival, Story of London 2010, InnovationRCA brings key creative visionaries together for a panel discussion on London's innovative future. Chaired by Joe Kerr, head of Critical and Historical Studies at the Royal College of Art, the panel will include: Max Fordham, Founding Director of Max Fordham Partnership; Richard Seymour, Co-Founder of Seymourpowell; Erik Spiekermann, Co-Founder of Edenspiekermann and Chris Wise, Co-Founder of Expedition, and the designer and engineer behind the London Millennium Bridge. Hear these distinguished speakers discuss how innovative interventions, disruptions and achievements from the creative sector can help shape London's future and address the wider challenges of twenty-first century urban living. Questions will be taken after the discussion.
7-8.30pm, Hochhauser Auditorium, The Sackler Centre, Victoria and Albert Museum.
Tickets, £8 or £6 with concessions. To book call 020 7942 2211
7 Oct 2010: Selling Sustainability
The opening lecture of the Sustain lecture series, Selling Sustainability explores the question: If you want to behave and work in a socially and environmentally responsible way, is designing perfectly functional sustainable solutions enough, or do you need to design in desirability?
Fashion designer and educator Dilys Williams, guerrilla gardener Richard Reynolds, pro-environmental marketeer Ed Gillespie and architect Ken Yeang will discuss their own personal strategies for broaching the sustainability question with different audiences, turning hearts and minds for the better.
6-9pm, Lecture Theatre 1, Royal College of Art, Kensington Gore
Admission free, email sustainlectures@rca.ac.uk to reserve a place
13-14 Oct 2010: Art For Youth Exhibition
This annual event has given thousands of young artists the chance to exhibit and sell their paintings, watercolours, sculpture and photographs, whilst also giving art enthusiasts the opportunity to buy affordable works by talented contemporary artists. Over 1,000 works of art valued from £200 to £3,500 are offered for sale by approximately 140 artists. Bonham's Auctioneers conduct an auction on 13th October featuring more established artists.
14-17 Oct 2010: Frieze Art Fair
For the third year running, ReachOutRCA, the College's outreach team have been selected to programme the education events at the Frieze Art Fair in Regent's Park. Encompassing workshops for schools, a weekend of interactive events for families, an activity guide for young visitors and an online resource, the programme offers an accessible yet innovative experience of contemporary art for young people's learning and creativity.
15 Oct 2010: Royal College of Art Auction at Christie's
RCA alumni, staff and honorands including David Hockney, Tracey Emin, Frank Auerbach, Paula Rego and the Estate of RB Kitaj have each donated an artwork to raise funds for the third and final phase of the College's campus in Battersea, south west London. The Royal College of Art Auction will be one of the highlights in a series of art events happening in October when the international art world will gather in the capital for a showcase of exhibitions and sales, including the Frieze Art Fair.
2pm, Christie's, 8 King Street, London SW1Y 6QT
12-20 Nov 2010: RCA Secret
RCA Secret is an annual contemporary art exhibition and fundraising sale consisting of around 2,500 original postcard-sized artworks. All cards are made and donated by professional artists, designers and illustrators, students and graduates from the College.  The cards are sold to the public at a one-day sale, with every postcard costing just £45, regardless of whether it has been made by a famous name or a young art student. What's the Secret?  Each postcard is signed on the back, so buyers do not know the identity of the artist until they have made their purchase. All monies raised goes to the RCA Fine Art Student Award Fund.
Viewing days: 12 & 14–19 November. 11am–6pm daily (late night opening until 8pm on 18 November). Please note that the exhibition will be closed on Saturday 13 November.
Sale day: 20 Nov
Most exhibitions are open 10am – 5.30pm daily unless stated otherwise.
Royal College of Art Events – Location and Contacts
Royal College of Art, Kensington Gore, London SW7 2EU
Nearest tubes: High Street Kensington, South Kensington
Buses: 9, 10, 52, 452
For more information, telephone +44 (0)20 7590 4444
Location: Royal College of Art, Kensington Gore, London SW7 2EU, UK
London Architecture
London Architecture Design – chronological list
London Architecture Walking Tours
Royal College of Art Design Competition for Battersea South Campus
Design: Herzog & de Meuron, Architects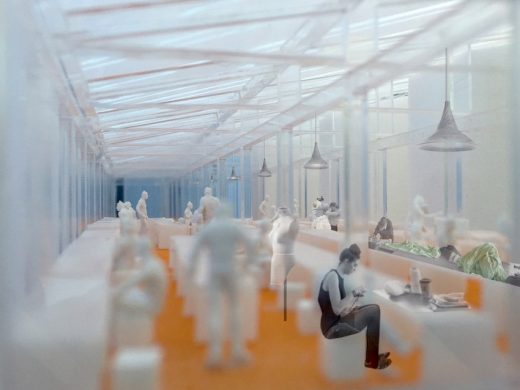 image © 2016, Herzog & de Meuron
Royal College of Art Design Competition – 10 Nov 2016
Royal College of Art Dyson Building
Design: Haworth Tompkins, Architects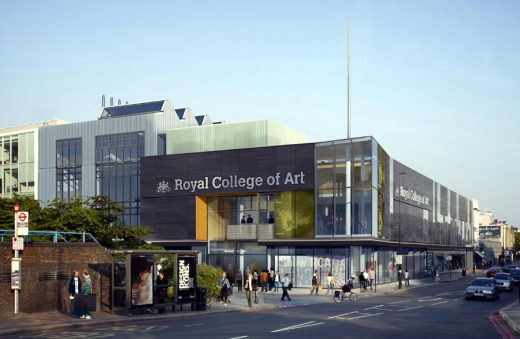 photo from architects
Royal College of Art Battersea – 10 May 2016
Royal College of Art Battersea Architects – Haworth Tompkins
Architectural Association Events
Bartlett School of Architecture Events
AA Summer Pavilion 2009


picture from architect
Comments / photos for the Royal College of Art Events – RCA London Architecture page welcome