Bath architecture, Somerset building photos, UK architects news, Southwest English design project images
Bath Buildings : Architecture
Contemporary Architectural + Property Developments in southwest England, UK
post updated 4 September 2023
Bath Building News
Bath Architecture News arranged chronologically:
1 Dec 2022
Sulis Hospital Bath, Peasedown St. John, near Bath, southwest England, UK
Design: Foster + Partners, architects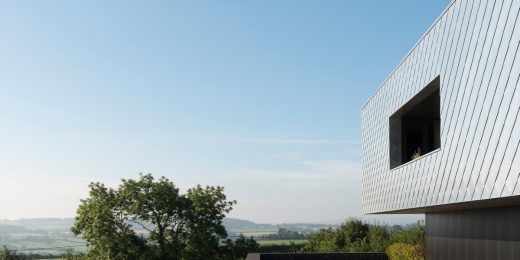 photo © Nigel Young / Foster + Partners
Sulis Hospital Bath, Peasedown St. John
Designed by Foster + Partners, Sulis Hospital Bath is a quietly revolutionary building which incorporates biophilic design to enhance wellbeing and improve recovery times for patients. The hospital is set in the picturesque Somerset countryside, on the outskirts of Peasedown St John village.
18 Oct 2022
Alumno secures funding for Bath Conservation Area student residence
Design: AWW Architects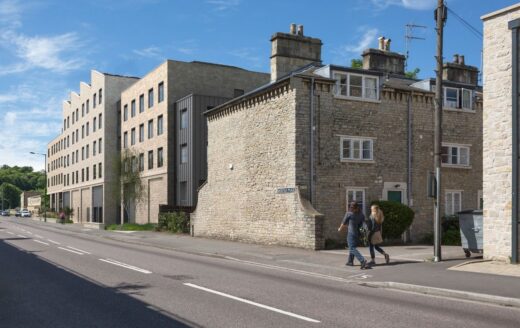 Global real estate investment management firm Heitman has agreed to fund Alumno's latest purpose-built student accommodation (PBSA) project, which is located in Bath, one of the UK's most sought after PBSA locations.
Planning consent was granted in December 2021 for the Hollis Building, a new mixed-use development, sitting on the River Avon, that will house 120 students from the University of Bath and Bath Spa University. With a building value of £11 million, it will feature a combination of ensuite bedrooms in 5, 7 and 10-person cluster flats and self-contained studio flats. In addition, the site will include a new office, storage and distribution space for the existing tenant Mercy in Action, a renowned local charity using the space as a distribution centre for clothing.
To secure planning permission, the design of the build had to reflect the site's location within Bath Conservation Area and a World Heritage Site, along with its proximity to Grade II listed buildings Rackfield Place and Twerton Viaduct. AWW Architects' successful proposal was carefully planned using a striking industrial-influenced design template, which references historic waterside mill buildings.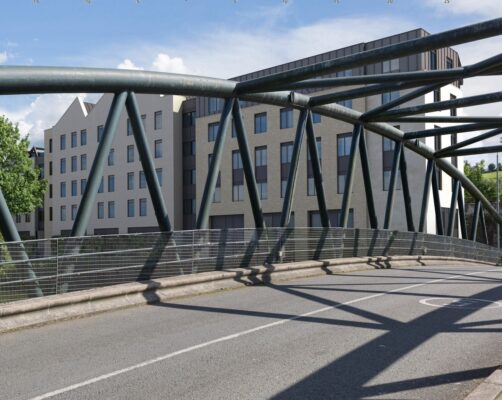 This includes dramatic sawtooth roof detail, along with other areas featuring local rubble stone and buff brick elevations. Meanwhile, the biodiverse green roof, living wall and photo-voltaic panel to meet part of the building's energy needs underline the project's strong Environmental, Social and Governance credentials.
"Transforming a poor-quality industrial site into a high-quality building that will enhance a World Heritage Site and provide much-needed student accommodation is so rewarding, and we're delighted to be working with Alumno on this exciting project," said AWW Architects Director Phil Bevan.
The development is easily accessible to and from Bath City Centre, located on a frequent bus route, and has various amenities in easy walking and cycling distance. It's also just a five-minute walk from the riverfront and Locksbrook Bath Spa campus. The current proposed construction period is March 2023 to July 2024.
The Hollis Building will mark the fourth Heitman investment in Alumno projects in the past 12 months, with the company's Managing Director of European Real Estate Investment Caleb Mercer saying: "We are pleased to continue our partnership with Alumno Group and deliver premium student housing assets for the UK's growing domestic and international student populations. The need for student-specific housing remains significant as demand for space continues to outpace supply."
Commenting on the new development, Alumno Managing Director David Campbell said: "We are delighted to be working with Heitman again on this new and exciting project, building on our solid relationship. This level of investment is a real boost to our business and again demonstrates a significant confidence and commitment in Alumno to deliver the best in student accommodation design and development. To be able to work in such a beautiful city as Bath for the first time is a major opportunity for us."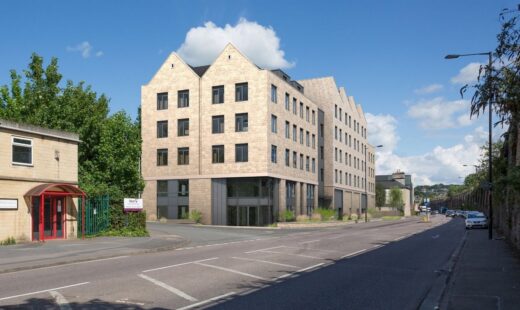 About Heitman
Founded in 1966, Heitman LLC is a global real estate investment management firm with more than $53 billion in assets under management. Heitman's real estate investment strategies include direct investments in the equity or debt capitalization of a property or in the securities of listed and publicly traded real estate companies. Heitman serves a global client base with clients from North American, European, Middle Eastern and Asia-Pacific institutions, pension plans, foundations and corporations and individual investors. Headquartered in Chicago, with additional offices in North America, Europe, and Asia-Pacific, Heitman's approximately 350 employees offer specialized expertise – from a specific discipline to local insight.
About Alumno
Alumno, established in 2006, partners with universities, colleges and other stakeholders to provide high quality living space for over 7,000 students to date across the UK, including London, Birmingham, Norwich, Glasgow, Durham and St Andrews. Alumno delivers distinct and sensitive designs, carefully engaging with local residents to integrate its developments for the benefit of the existing community. Its schemes introduce a mix of other uses alongside the student accommodation.
www.alumnogroup.com
12 Jul 2021
Bath Preservation Trust appoints Design Team for Beckford's Tower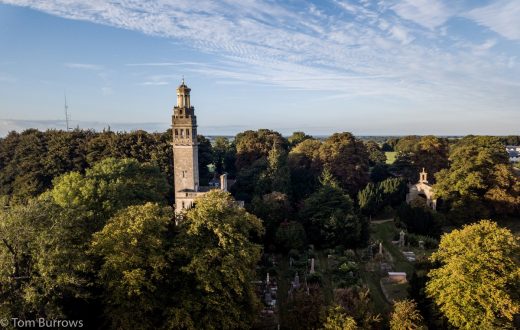 photograph © Tom Burrows
Beckford's Tower Bath Renewal
Bath Preservation Trust (BPT) has announced that architects Thomas Ford & Partners and quantity surveyors Stenning & Co have been appointed to lead the design work for the £3.3 million Our Tower project.
Playing the Picturesque Interactive Installation
An exhibition by You + Pea
Commissioned by the Royal Institute of British Architects (RIBA)
Tue 24 Sep – Sat 14 Dec 2019
Tue – Sat · 11am-5pm
The Andrew Brownsword Gallery at The Edge is delighted to present Playing the Picturesque this autumn, premiering a new virtual environment of Bath's much-loved Palladian Bridge at Prior Park.
Playing the Picturesque – an exhibition by You + Pea at The Architecture Gallery, RIBA London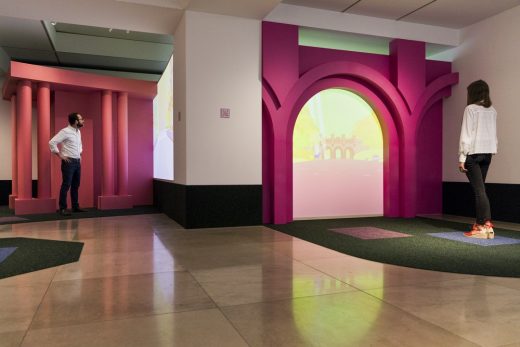 photos © Tristan Fewings, Getty Images for RIBA
Playing the Picturesque is an interactive installation exploring the boundaries between virtual and physical space.
It takes the form of a series of scaled folly structures extracted from real picturesque landscapes by 19th century architect John Nash and extended into interactive virtual game environments. By exploring the interface between the physical and virtual realms, it asks whether such boundaries are now so fluid that we can consider virtual worlds as sites for realising architecture in their own right.
Today, we spend much of our time living in virtual realms, endlessly producing, sharing and looking at pictures of an idealised and filtered world on the screen of personal devices. In the eighteenth century too, architects and artists became interested in picturing the 'ideal'. Landscapes, townscapes and buildings were arranged in an aesthetically pleasing manner, producing the stylistic movement of 'the Picturesque'. Designing its own harmony and beauty, the Picturesque provides delight in the experience of looking through framed views, dramatic reveals and a romantic relationship to nature.
You+Pea is the architectural design studio of Sandra Youkhana and Luke Caspar Pearson. Their work explores the integration of video game technologies into architectural design.
Exhibition: https://www.edgearts.org/whats-on/events/playing-the-picturesque/
The Edge, University of Bath, Claverton Down, Bath, BA2 7AY
www.edgearts.org
@EdgeArtsBath
This project has been commissioned by the Royal Institute of British Architects.
Playing the Picturesque – RIBA Summer Installation 2019
Background:
The Edge: Art, Research, Adventure
The Edge is an arts and creativity hub informed by the context of the University of Bath. We encourage and nurture arts/research collaborations, providing a place where artists, audiences, researchers and academics can find new perspectives and fertile ground to showcase new thinking and ideas. Here, mechanical engineers meet sculptors interested in moving structures, architects work with artists to shed new light on the nature of play and how architecture influences it, artists bring together inventing and engineering expertise to create artworks of scientific complexity.
Our year-round programme of exhibitions, performing arts presentations, talks, arts classes, family and community events; provide experiences of educational, emotional and intellectual stimulus, all based around our ethos of bringing together arts, research and adventure. Our focus is on participatory programmes and our belief is that everyone can be creative and contribute.
The state-of-the-art Edge building offers galleries, theatres, music and art studios, plus a lively café/bar – a destination that promotes the art in science and the science in art.
The Edge Hire
We provide a unique collection of alternative, creative spaces complemented by a bright, fashionable cafe/bar plus a free contemporary art gallery for visitors to enjoy. With a large variety of adaptable spaces accommodating anything from 2-220 people, there's a space for every type of event, from break-out rooms to our Smithson-designed theatre, with full technical provision, perfect for conferences and symposia.
With a dedicated professional events team and first class catering, we can accommodate a wide range of activities whether hosting an away-day, week-long conference, training session or product launch.
The Edge Cafe
Settle down with a drink, a salad, sandwich or a slice of cake in this modern new venue set in the heart of our impressive new arts facility. Indulge your senses with snacks and light bites at CAFE before taking in stimulating art, classes, courses and entertainment.
26 Apr 2013
Bath Riverside
Design: Alison Brooks Architects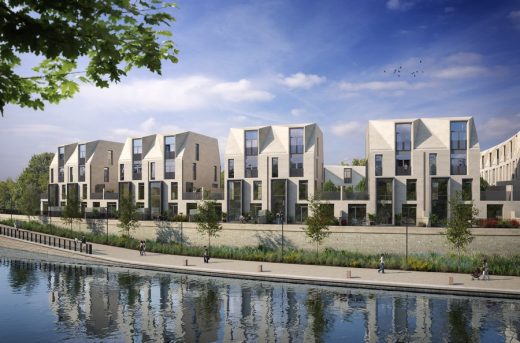 image from Alison Brooks Architects
Bath Riverside
Alison Brooks Architects is pleased to announce that planning consent has been granted for their mixed-use residential scheme in Bath on the banks of the River Avon for client Crest Nicholson Regeneration. The Site forms a prominent part of one of the largest brownfield regeneration projects in the south-west, the first phase of which is nearing completion.
3 Apr 2013
Bath Abbey Building
Design: Feilden Clegg Bradley Studios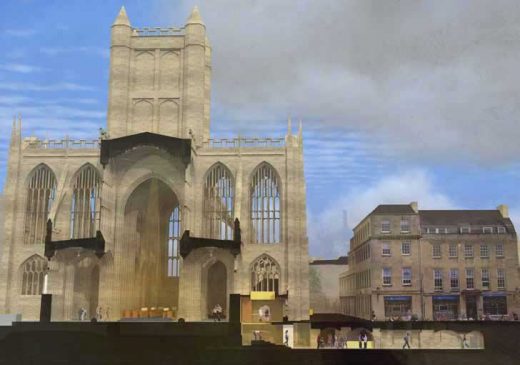 image from architect
Bath Abbey Building
In an extraordinary feat of ingenuity, Bath Abbey in partnership with Local Authority BANES, are looking to use the 40 degree C water in the Great Roman Drain which currently flows into the nearby River Avon to heat the Abbey and a number of other buildings.
14 May 2012
The Royal High School Bath
Feilden Clegg Bradley Studios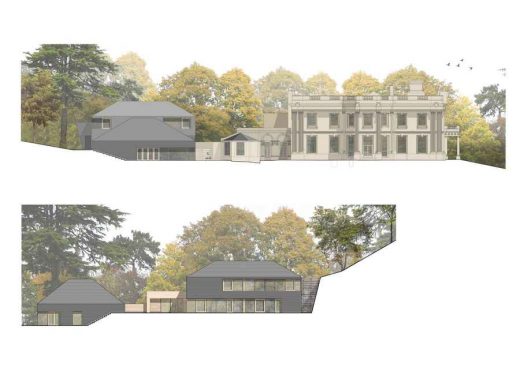 image from architects
Royal High School Bath
Feilden Clegg Bradley Studios with the Girls' Day School Trust have received planning permission and listed building consent from Bath and Northeast Somerset Council to move ahead with the proposed redevelopment project at Cranwell House in Bath, the new location for the Junior Department of The Royal High School, Bath.start of 2013 academic year.
10 Apr 2012
Keynsham Town Centre Regeneration
Aedas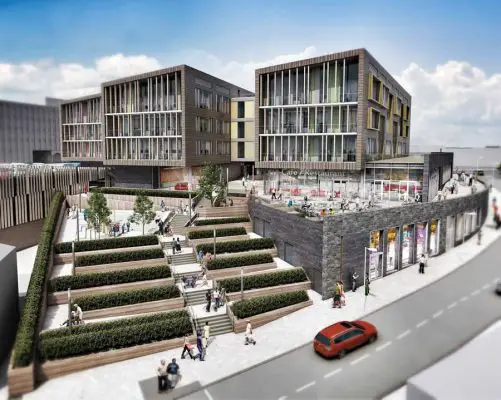 image from architects
Keynsham town centre
Aedas has submitted a planning application for a major £34M regeneration of Keynsham town centre for Bath & Northeast Somerset Council.
The application contains proposals for 20,000 square feet of new modern retail and restaurant space, a new civic building with One Stop Shop and new library, meeting and performance space for community use, new low carbon Council office space, and new streets and spaces for markets and events, amongst other aspects.
Recent Bath Building Designs
9 Jan 2012
University of Bath – Centre for the Arts, Claverton Down campus
Feilden Clegg Bradley Studios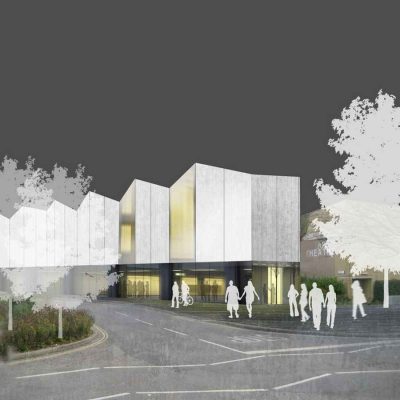 render from architects
University of Bath Centre for the Arts
The Institute of Contemporary Interdisciplinary Arts (ICIA) will be the primary user of the new building for the delivery of student-led activities and its public programme of classes, workshops, performances and exhibitions in visual arts, dance, theatre and music.
3 Aug 2011
The Dyson Centre for Neonatal Care
Feilden Clegg Bradley Studios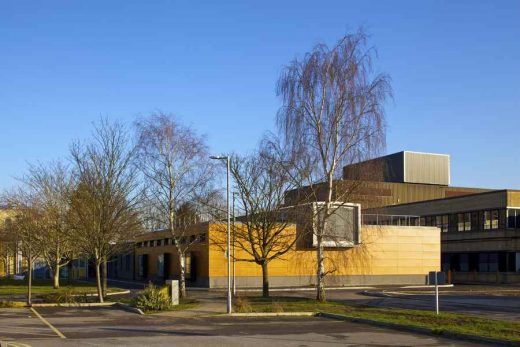 photo © Craig Aukland / Fotohaus
The Dyson Centre for Neonatal Care Bath
The Dyson Centre for Neonatal Care opened its doors on the 23rd July to its first babies. The Royal United Hospital Neonatal Intensive Care Unit (NICU), in Bath, has been transferred from its existing small, cramped facilities into its pioneering new home.
Bath Architecture
Key Buildings in Bath, alphabetical:
Bath arts complex – ICIA, Bath University
Winner: McInnes Usher McKnight Architects
Shortlist: Jamie Fobert; McInnes Usher McKnight Architects; Penoyre & Prasad; Stanton Williams; Tony Fretton
Bath University Arts Complex
RIBA-organised competition: redevelopment of a site that includes two existing buildings by Peter and Alison Smithson, one due to be demolished
Bath Spa development
2006
Grimshaw Architects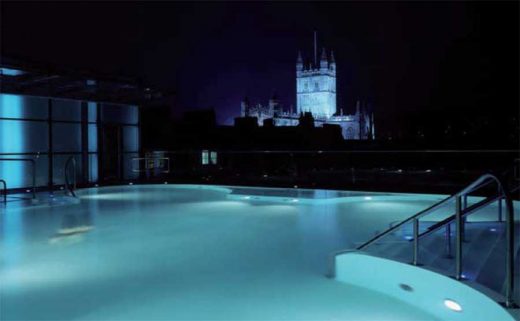 photograph : Edmund Sumner
Thermae : Bath Spa
Bath Transport Interchange, Southgate development
2007-
Wilkinson Eyre
£13m
Circle Bath – Centre of Clinical Excellence
2006-09
Foster + Partners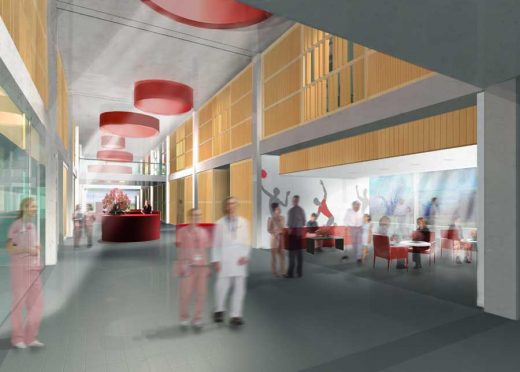 image : Foster + Partners
Circle Bath
The Egg
2006
Haworth Tompkins Architects
Client: Theatre Royal Bath
Bath building award : RIBA Awards 2006 – Wessex
English Institute of Sport, University of Bath
–
David Morley Architects
Holburne Museum of Art
2007-
Eric Parry Architects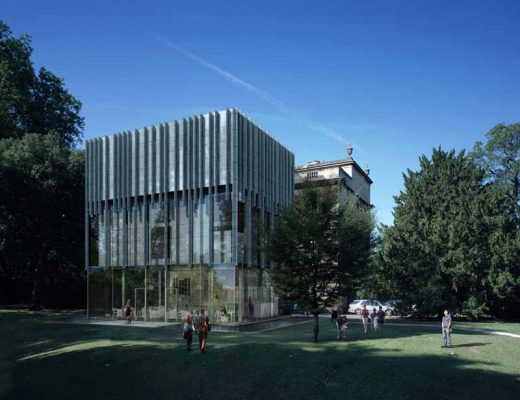 image by Smoothe from Eric Parry Architects
Holburne Museum of Art building
Holburne Museum : proposal rejected by planners Jul 2007
Holburne Museum extension revised designs receive planning consent Nov 2007
Resubmitted Sep 2007 with more contextual colours and slight height reduction
James Dyson Design School
2008-
Wilkinson Eyre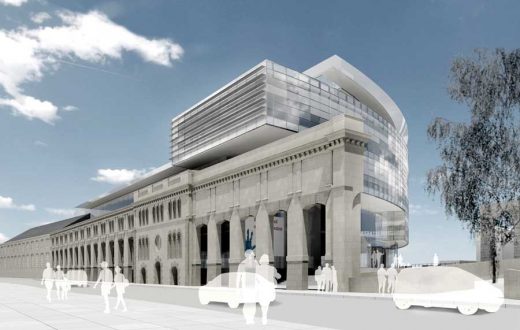 picture from architect
Dyson School of Design Innovation
SouthGate Bath
2009-
Chapman Taylor Architects
SouthGate Bath
Wessex Water Operations Centre
2003
Bennetts Associates
Western Riverside
–
Feilden Clegg Bradley Studios
Western Riverside regeneration designs receive planning consent Nov 2007
Mixed-use development for Crest Nicholson
More Bath architectural projects online soon
Location: Bath, south west England, UK
Avon Architecture
House, St Catherine's Valley, nr Bath
2006
Mitchell Taylor Workshop – Piers Taylor
Grimshaw Architects – Spa development design
Bath Architectural Heritage Debate : Speakers incl. Eric Parry + Sir Richard MacCormac
Comments / photos for the Avon Architecture page welcome