Bordeaux building news, New Southwest France architecture, Western French architects, Property photos
Bordeaux Architecture News
New Architectural Developments Southwest France: French Built Environment Updates
post updated 1 October 2023
Bordeaux Architecture Design – chronological list
Bordeaux Architecture News 2022
Bordeaux Architectural News, Gironde department, Southwest France, chronological:
3 Nov 2022
Cap Leeuwin, Bassins à Flot
Design: Hessamfar & Vérons and Moon Safari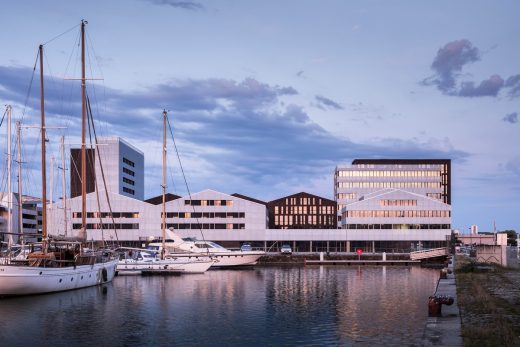 photo © Ivan Mathie
Cap Leeuwin
In Bordeaux, France, the architecture firms Hessamfar & Vérons and Moon Safari just delivered Cap Leeuwin, a new mixed-use lot. This operation is part of the programme of urban renewal of the Bassins à Flot, it brings together four different programmatic entities: offices, a 3-star hotel with 124 rooms, a residential hotel with 128 studios and an active retail base.
18 July 2022
Tri Postal
Design: CoBe Architecture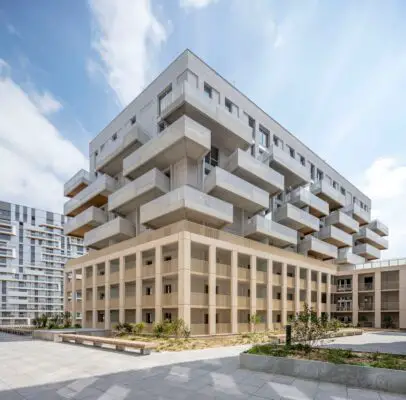 photo : Luc Boegly
Tri Postal Apartments
Tri Postal CoBe Architecture et Paysage BNP Paribas Real Estate Construction of 44 housing units for sale, and 33 social housing units St-Jean Belcier district – L1&L2 lots Bordeaux, France. Overlooking the Place d'Armagnac, the Tri Postal block, as its name suggests, includes the city's former mail sorting building, whose activity stopped in 2016.
12 Nov 2019
Viravent Apartments, Rue Emile Zola/Rue Henri Descot, Cenon
Architects: Martin Duplantier Architectes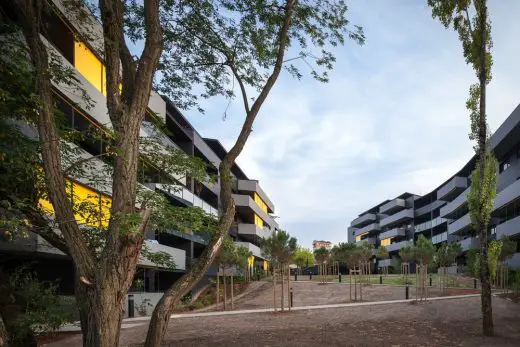 photo © Yohan Zerdoun
Viravent Apartments in Cenon
Towards a new paradigm – The burning issue in Metropolitan Bordeaux is a project of 50,000 housing units. Envisioned and designed to be a real estate opportunity, the overly dense development has created quite a controversy.
28 Sep 2019
Le Dôme Winery, Saint-Émillion
Architects: Foster + Partners
Le Dôme Winery in Saint-Émillion, Bordeaux
Foster + Partners' designs for the new Le Dôme winery in Saint-Émillion have been unveiled. Nestled in the rolling hills of Bordeaux, the design of the new building aims to blend seamlessly with the landscape.
3 July 2019
MÉCA Bordeaux Building
Design: BIG-Bjarke Ingels Group + FREAKS freearchitects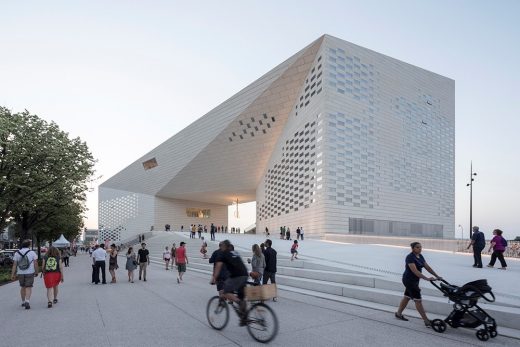 photo : Laurian Ghinitoiu
MÉCA Bordeaux Building
Designed by BIG-Bjarke Ingels Group and FREAKS freearchitects, MÉCA creates a frame for the celebration of contemporary art, film and performances, giving Bordeaux the gift of art-filled public space from the waterfront to the city's new urban room.
6 Jun 2019
MÉCA – Maison de l'Économie Créative et de la Culture en Nouvelle-Aquitaine
Design: BIG-Bjarke Ingels Group + FREAKS freearchitects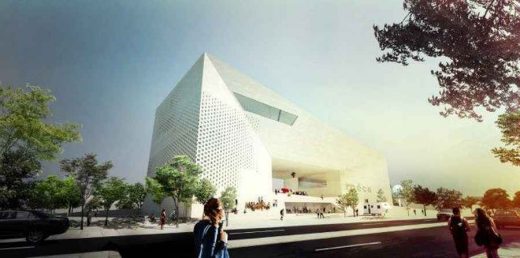 image from architects
MÉCA – Maison de l'Économie Créative et de la Culture en Nouvelle-Aquitaine
11 Apr 2019
Bordeaux Building wins Mies Award 2019
European Commission and the Fundació Mies van der Rohe have announced the Winners of the European Union Prize for Contemporary Architecture – Mies van der Rohe Award 2019.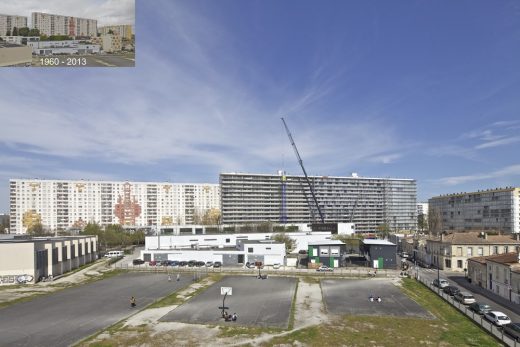 photographs © Philippe Ruault
Transformation of 530 Dwellings – Grand Parc Bordeaux by Lacaton & Vassal architectes; Frédéric Druot Architecture and Christophe Hutin Architecture is the 2019 Winner of the Prize.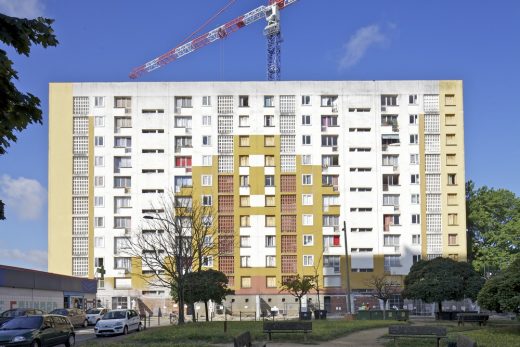 The transformation gives to all dwellings new qualities of space and living, by inventorying very precisely the existing qualities that should be preserved, and what is missing that must be supplemented.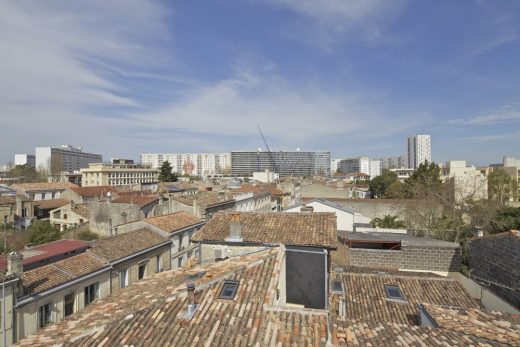 The addition of large winter gardens and balconies in extension of the existing give the opportunity, for each apartment, to enjoy more space, more natural light, more mobility of use and more views.
The existing small windows are replaced by large, glazed sliding doors opening onto the winter garden.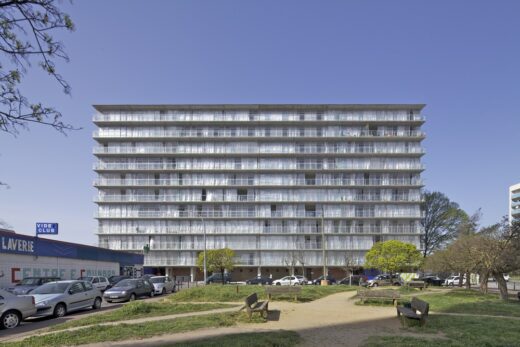 The technical facilities are upgraded: bathrooms electrical installation, the two former elevators in every staircase are replaced by a bigger one and supplemented by a new elevator.
New access halls are done and the gardens in front of the building are improved. All the families stayed in their dwelling during the construction works. No increase of rent after the transformation.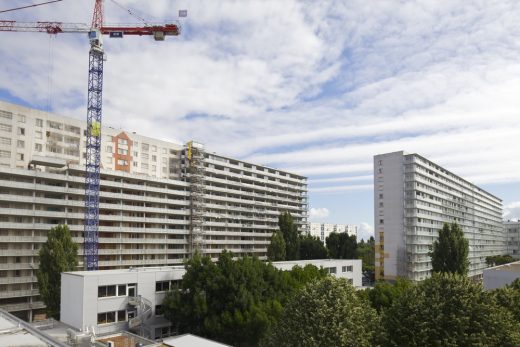 While the high-rise buildings for luxury housing are now designated as examples of ecological housing, the G, H and I buildings offer the opportunity to reach these qualities immediately, in a generous, economic and sustainable way.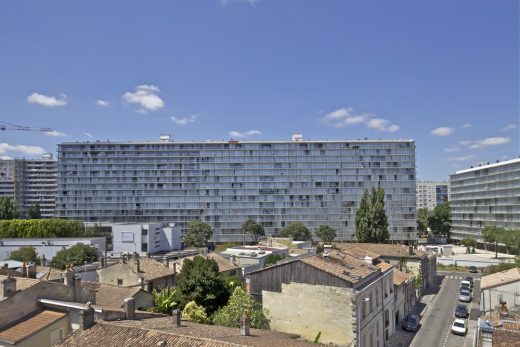 Due to the proposal of transformation with all inhabitants inside, the project excludes interventions on the existing structure, stairs or floors, and proceeds by additions and extensions, large enough to be fully used. Inside the flats, only refurbishment of facilities or finishes has been done.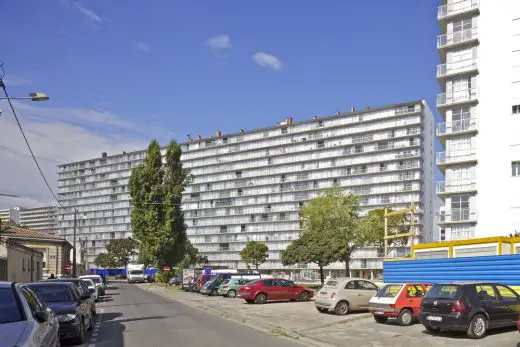 The extensions of 3,80m deep widen the space of use and the mobility through glazed sliding doors connecting every room to the winter garden, offering, as in a house, a pleasant private semi outdoor space.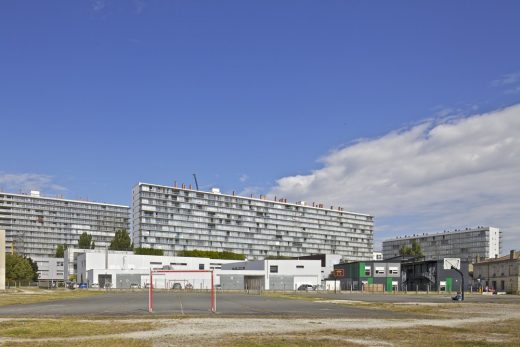 The energetic performance of the building envelope is highly improved by the addition of winter gardens which act as passive solar collectors.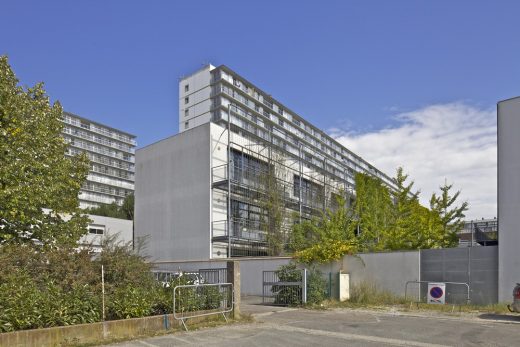 The work on economy allows to concentrate the budget on the extensions, the key point to improve in a significant and sustainable way the dwellings quality. The overall cost of transformation respects the budget, based on the usual cost for a basic renovation of facades, insulations, and facilities.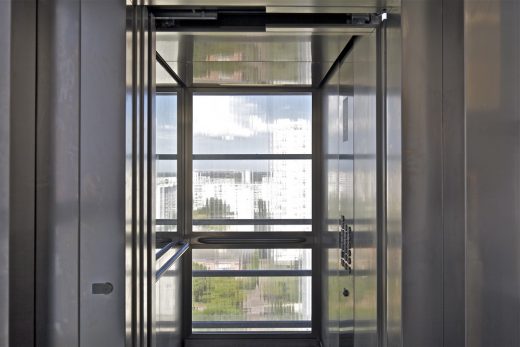 In order to reduce the duration of the works, the construction uses prefabricated modules, fast built like scaffolding in front of the building. Precasted slabs and columns are transported to the site and lifted into position by a crane to form a freestanding structure. Concrete poured in place was used only for foundations.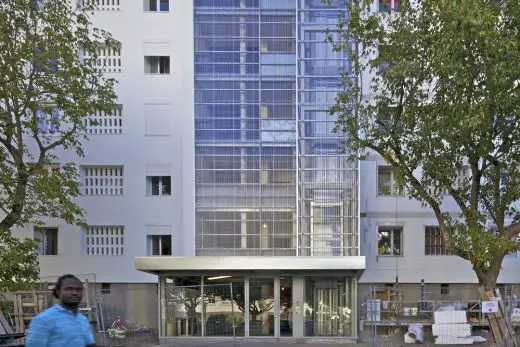 Along the added structure, the original windows are removed in a specific intervention to take care of asbestos-contaminated seals. Concrete window sills are removed to open from floor-to-ceiling, and create double-glazed sliding doors. Thermal curtains behind the glass provide extra insulation to the heated interiors.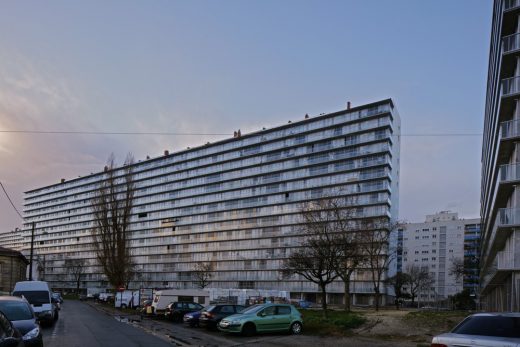 On the other side, a lightweight façade of transparent, corrugated polycarbonate panels and glass in aluminium frames is assembled and equipped with reflective solar curtains. Glazed hand railings run along the balconies.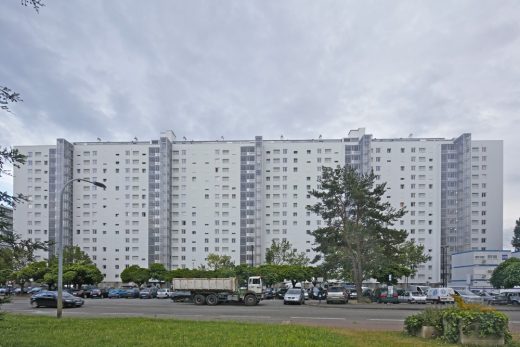 A proper planning and scheduling of the construction site allowed to achieve the transformation in just 12-16 days per apartment: half day for laying the concrete slab, 2 days for adapting the old façade, 2 days for placing the new façade, and 8-12 days for renovating the interiors.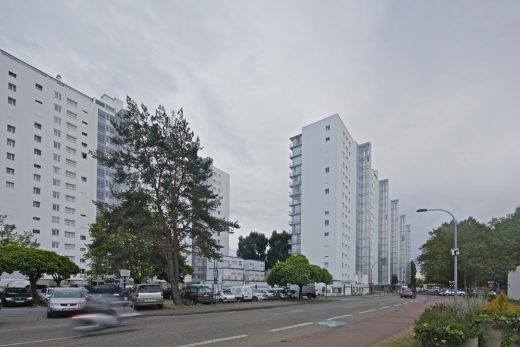 Title in French:
Transformation de 530 logements – Grand Parc Bordeaux
Prize year: 2019
Location: Bordeaux, France
Year completed: 2017 (Year began 2014)
Architecture studios: Lacaton & Vassal architectes; Frédéric Druot Architecture; Christophe Hutin Architecture
Authors: Anne Lacaton (1955 France); Jean Philippe Vassal (1954 France); Frederic Druot (1958 France); Christophe Hutin (1974 France)
Program: Collective housing in a Linear block
Total area: 23745 m2
Usable floor area: 81000 sqm
Cost: 365 (50000€/flat) €/m2
Client: AQUITANIS
Client Type: public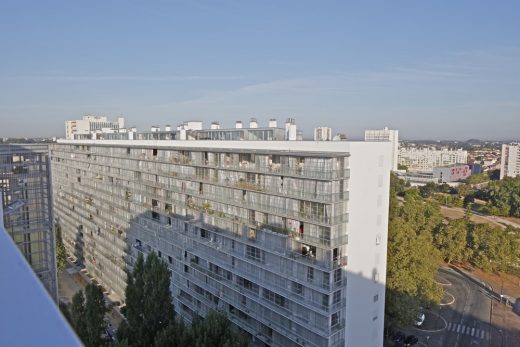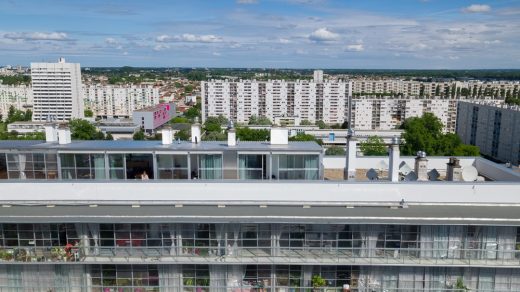 photographs © Philippe Ruault
Bordeaux Architecture Design – chronological list
More Bordeaux Architecture News online soon
Bordeaux Architecture News 2015 – 2018
20 Feb 2018
Mansion L'hôtel de Bethmann
Architects: Martins | Afonso atelier de design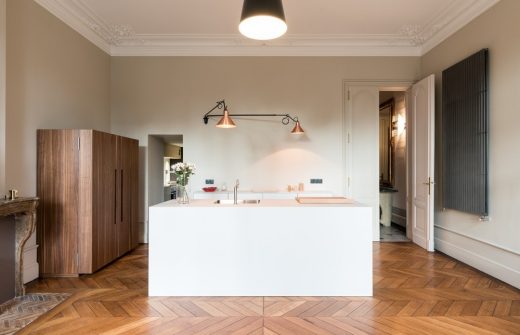 photo : Mickaël Martins Afonso
Mansion L'hôtel de Bethmann
In this mansion, the living space is revealed by the encounter between past and present. It is in the interpretation and the articulation of the existing architectural signs that has emerged the project, where each new architecture fragment fits and dances in its context.
30 Oct 2017
Facette Building in Belvédère
Design: Studioninedots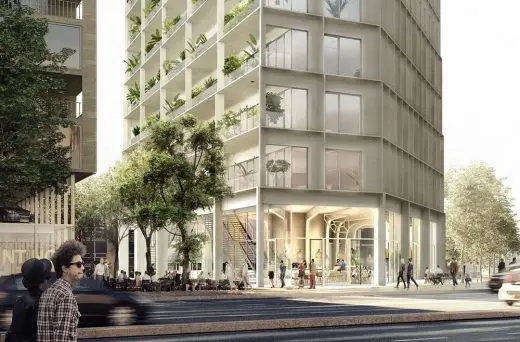 image : Studioninedots | A2Studio
Facette à Bordeaux Building
Facette, a collective and future-proof mixed-use office building in the heart of Bordeaux's new district Belvédère.
7 Jun 2017
Bassins à flot Housing
Design: Mateo Arquitectura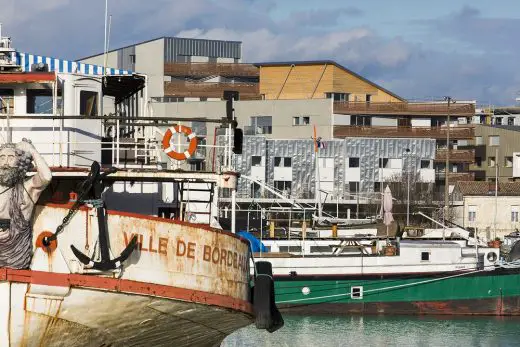 photos : Luc Boegly and Jean-François Tremege
Bassins à flot Housing in Bordeaux
The architects designed two storeys right across the plot, introducing the car parks at the centre and arranging dwellings around them, with services along the front. In this case, the floor is porticoed, drawing the perspective from the street towards the old submarine base. Three volumes are arranged on this platform.
24 May 2017
Tam-Tam Housing, Rue Lucie Aubrac
Design: B/NT architects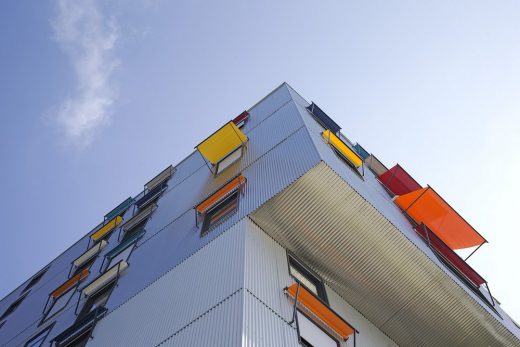 photo © Olivier Amsellem
Tam-Tam Housing in Bordeaux
24 Mar 2017
Sou Fujimoto at Arc en Rêve Bordeaux Architecture Center
Arc en Rêve Bordeaux Architecture Center
17 Mar 2017
145 Student Housing in Bassins à Flot
Design: Gardera-D Architecture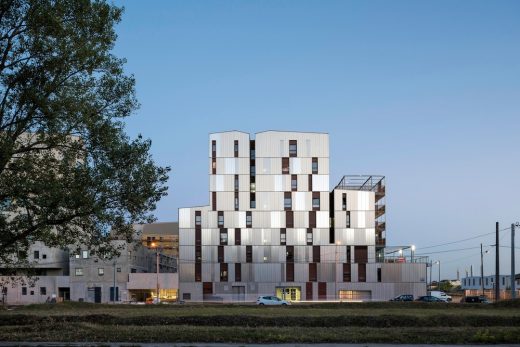 photo : Jean François Tremege
145 Student Housing in Bassins à Flot
7 Oct 2016
University of Pau and Pays de l'Adour, Avenue de l'université, Avenue du Doyen Robert Poplawski, Pau
Design: Patrick Mauger Architecture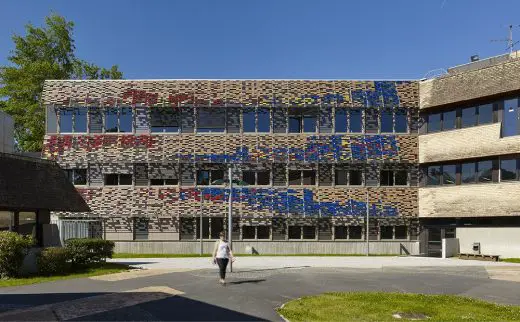 photo : Didier Boy De La Tour
University of Pau and Pays de l'Adour
The campus of Université de Pau et du Pays de l'Adour (UPPA), bearing the hallmark of its architect André Grésy, is immersed in wooded grounds and has a strong relationship with its environment.
22 Mar 2016
Hyperion Tower
Design: Jean-Paul Viguier et Associés, Architects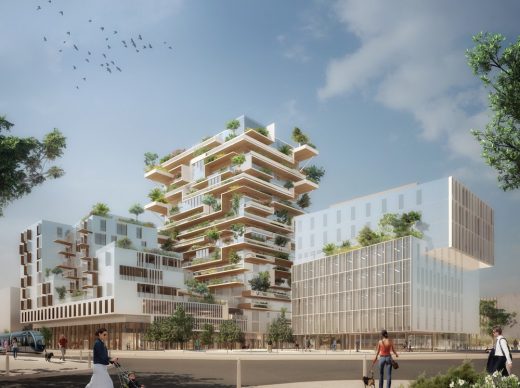 picture from architecture office
Tower Building in Bordeaux
Jean-Paul Viguier et Associés, in partnership with Eiffage and Woodeum, has won an architecture competition to build a 50-meter-high residential tower in Bordeaux on plot 8.4 in the Saint-Jean Belcier district.
2 Jan 2017
La Cité du Vin Bordeaux Nominated for Mies van der Rohe 2017 Awards
Design: XTU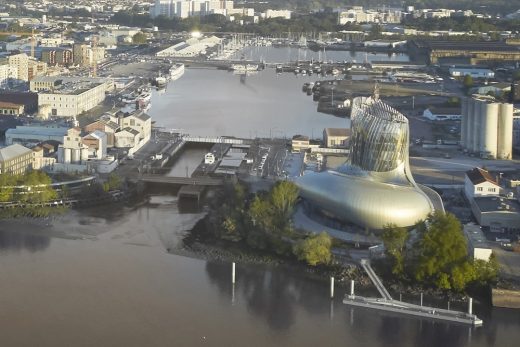 images © XTU-Julien Lanoo
La Cité du Vin Bordeaux
The Bordeaux-based wine museum and cultural center known as La Cité du Vin (www.laciteduvin.com) opened its doors on June 1, 2016.
Mies van der Rohe 2017 Award Nominations
20 Jun 2012
MÉCA Bordeaux
Design: BIG + FREAKS freearchitects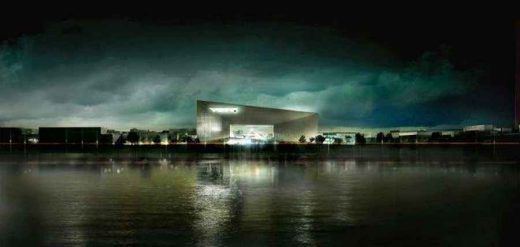 image from architects
MÉCA Bordeaux: Maison de l'Économie Créative et de la Culture en Aquitaine
Team BIG+FREAKS freearchitects, dUCKS scéno, Khephren Ingénierie, VPEAS, ALTO Ingénierie, Vincent Hedont, PBNL, Mryk & Moriceau, Ph.A wins the architectural competition to design a new 12,000 sqm cultural center on the riverfront of Bordeaux, merging three cultural institutions into one single building.
Arc En Ciel Bordeaux
Design: Agence Bernard Bühler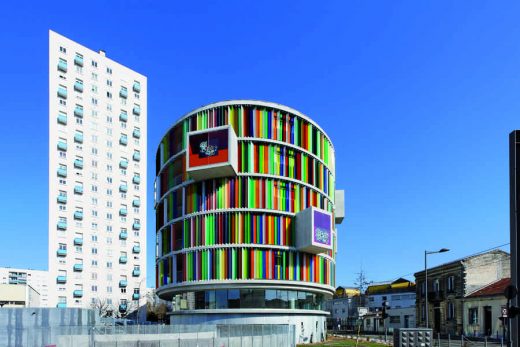 photo from architect
Arc En Ciel Bordeaux
Maison at Bordeaux
Design: Rem Koolhaas Architect / OMA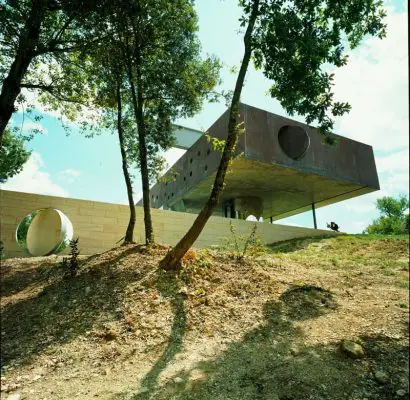 photo : Hans Werlemann
Bordeaux house
Bastide Niel
Design: MVRDV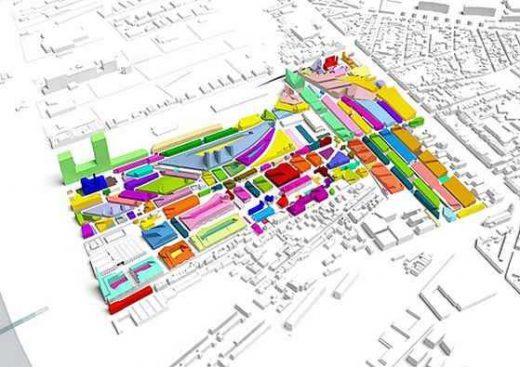 image from architects
Bastide Niel
More Bordeaux Building News online soon
Location: Bordeaux, Gironde department, Southwestern France, western Europe
French Architecture
Bordeaux Architecture Design – chronological list
Bordeaux Architecture – Selection
Bordeaux Installation Design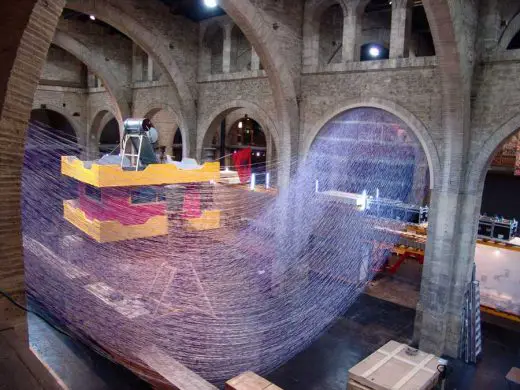 photo : Benjamin Ball
Paris Architecture Walking Tours : city walks by e-architect
Comments / photos for the Bordeaux Architecture News page welcome.