8 Spruce Street, Rippling Building Manhattan, US Tower Design, NY High Rise
8 Spruce Street Manhattan : New York by Gehry
Beekman Tower NYC – New York by Gehry Skyscraper discussion by Douglas Klahr
31 May 2011
Architectural article for e-architect by Douglas Klahr
8 Spruce Street New York
Being born in Manhattan, I consider forthrightness part of a New Yorker's genetic makeup, especially when it comes to matters within my hometown, regardless of where one might momentarily be living around the globe. I shall therefore be forthright in my appraisal of the residential tower recently opened at 8 Spruce Street in Lower Manhattan that was designed by Frank Gehry.
New York's architectural critics have focused upon the most noteworthy feature of the building; its shimmering skin of stainless steel panels that is draped across all but one of the structure's facades in a manner that Mr Gehry maintains was inspired by the sharp folds of fabric in the Baroque sculptures of Bernini. The effect is indeed lovely and – merely as facades go – truly an enlivening presence within the skyline of Manhattan.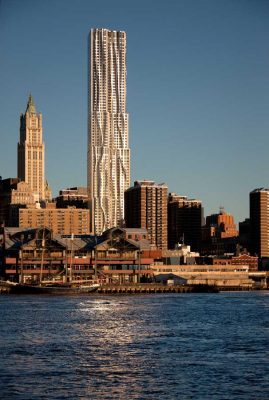 photo : Gehry Photos
However Mr Gehry and the triumvirate of New York critics who have written about the building – Nicolai Ouroussoff, Paul Goldberger, and Fred Bernstein – have missed a major failure of this project. Mr Gehry ends his tower with a horizontal edge, resolutely ignoring one of the principal characteristics that made pre-Modernist New York skyscrapers so distinctive: he fails to provide a suitable crown for the structure.
The reason is not hard to fathom: the simplistic, dichotomous mindset that has ruled architects since Modernism that one is either "innovative" or a hopeless practitioner of retrogressive, nostalgic kitsch. Indeed, Nicolai Ouroussoff of The New York Times evinced this mindset in an article of 31 May 2008 when he stated that Gehry's design "harks back to the euphoric aspirations of an earlier age without succumbing to nostalgia."
This atavistic fear of taking lessons from the past has resulted in countless skyscrapers in America since the onset of Modernism that usually end with a horizontal whimper or occasionally attempt to fashion a crown and fail miserably. Yet, as Louis Sullivan noted, a tall building naturally leads the eye upward, and such a building requires a suitable finish.
A century later, no better resolution for skyscrapers has emerged, so why are we so reluctant to acknowledge this and then comprehensively incorporate this component into skyscraper design? Perhaps one should be glad that of all contemporary architects, Mr Gehry did not provide 8 Spruce Street with a Gehryesque flourish of a crown, but the question still remains: why are architects and architectural critics so maddeningly obdurate (if not downright incompetent) when it comes to addressing this issue?

photo : Gehry Photos
Messrs. Bernstein, Goldberger and Ouroussoff are dazzled by the façade yet fail to see the complete object for what it is: yet another addition to the Manhattan skyline of a skyscraper that terminates with a dull, boring, horizontal thud. Especially given the wonderfully sculptural stainless steel panels that define this building's exterior, imagine what Gehry could have wrought had he created a cascade of receding setbacks to form a crowning element on this edifice. Imagine what an addition to Manhattan's skyline such a dynamic conclusion would have been.
Perhaps our sensitivities have been dulled since New York rescinded its Setback Law of 1916 in 1961, resulting in a half-century of skyscrapers that usually end – but never resolve – with horizontal edges. A photograph that currently is part of The New York Times' slide show about 8 Spruce Street may help reinvigorate readers' visual acuity.
Photographed several blocks away from 8 Spruce Street, it unintentionally underscores the deadening aspect of buildings that lack a crown, regardless how intriguing the façade might be. Readers may access it at: http://www.nytimes.com/interactive/2010/10/10/realestate/20101010post_ssl?ref=realestate#2
Douglas Klahr

photo : Douglas Klahr
Born in Manhattan, Douglas Klahr has a Ph.D. in architectural history from Brown University and is an Assistant Professor in the School of Architecture at the University of Texas at Arlington. His research interests are bifurcated into two distinct areas: issues of German identity as expressed in late Nineteenth-Century German architecture, and contemporary issues concerning sustainability, ranging from slum housing in the developing world to teaching sustainability as an interdisciplinary topic.
He has delivered papers at conferences in London, Paris, Berlin, Glasgow, Washington, Miami and Dallas and has authored the opening chapter of the forthcoming textbook "Teaching Sustainability and Teaching Sustainably".
Upcoming publications include an article about Munich as a Kunststadt scheduled to appear in the July 2011 issue of the Oxford Art Journal, and an article about fin-de-siècle housing in Berlin, scheduled to appear in the September 2011 issue of the Journal of the Society of Architectural Historians. His essay "Becoming Builders again in an Age of Global Crisis" appeared in the March 2011 issue of trans, published by the ETH in Zurich.
New York by Gehry


photo : Gehry Photos
Frank Gehry's skyscraper, the city's tallest residential building, offers luxury renters iconic design and unobstructed 360˚ views
Free-form bay windows and dramatic steel folds create hundreds of unique apartment layouts; Gehry-designed finishes distinguish each of 903 units in new "vertical city".
With the opening of its 37th Floor Rental Gallery, prospective residents of New York by Gehry are invited to tour 18 model units showcasing Gehry-designed interiors that take rental apartment living to elegant new heights. Rising to 870 feet, Frank Gehry's first skyscraper, the 76-story New York by Gehry, with its stainless steel cladding shaped to look like draped fabric, is now the tallest residential building in the Western Hemisphere, and an inspired addition to the Lower Manhattan skyline.
8 Spruce Street – external link to New York by Gehry
8 Spruce Street architect : Frank Gehry
Location: 8 Spruce Street, New York City, NY, USA
Signature Center Manhattan – another NYC design by architect Frank Gehry
Frank Gehry Buildings
Key Buildings designed by Frank Gehry in USA
Weisman Art Museum, Minneapolis : Frank Gehry
Walt Disney Concert Hall, Los Angeles, California, USA
Manhattan Architectural Designs
Architecture in United States of America
Contemporary Architecture in USA – architectural selection below:
New York State Architecture Designs
Comments / photos for the 8 Spruce Street Manhattan – Rippling Building page welcome