Design: Skidmore Owings Merrill Architects, SOM Buildings, America, US Design Office
Skidmore Owings & Merrill : SOM Practice Information
Contemporary Architecture Practice, New York / Chicago, USA + International
Sep 7, 2017
Skidmore Owings & Merrill News
SOM Chicago Architecture Biennial News
The architectural firm is honored to participate in three groundbreaking exhibitions presented in partnership with the Chicago Architecture Biennial.
Mana Contemporary Chicago presents "SOM: Engineering x [Art + Architecture]"—an in-depth survey of SOM's structural engineering practice and the firm's long tradition of collaboration with visual artists:
Skidmore, Owings & Merrill News
8 Sep 2016
Beinecke Rare Book & Manuscript Library at Yale University
Completion of building renewal by HBRA Architects, Chicago.
The Beinecke Rare Book & Manuscript Library at Yale University, designed by Gordon Bunshaft of Skidmore, Owings & Merrill in 1963 is a Modernist masterpiece, reports the Architectural Record.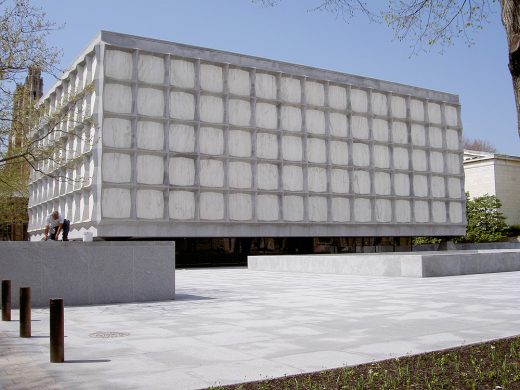 photo by Henry Trotter in 2005, via Wikimedia Commons
The iconic building closed for a major renovation in May 2015. The renovation replaced the mechanical systems partly to fix condensation problems.
The renocation also allowed expandsion of its research, teaching, storage, and exhibition capabilities.
The building reopened on September 6.
This archive of the Yale University Library in New Haven, Connecticut is located on Yale University's Hewitt Quadrangle.
Its rectangular volume is enclosed in sheets of marble, thin enough (at 13∕8″) to transmit light. That means the interior of the building glows by day.
But it also posed "a major challenge," says Bill Mahalko, who, as project architect for Chicago's HBRA Architects, oversaw a 16-month, $70 million renovation of the building. New Haven's Newman Architects was architect of record.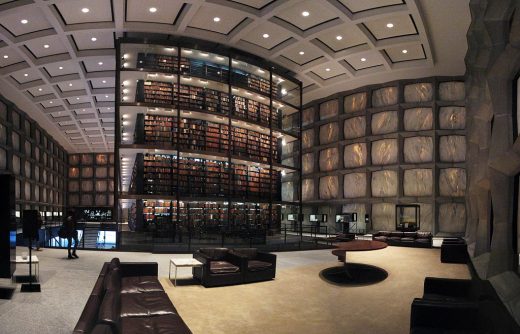 photo by Lauren Manning [CC BY 2.0 (http://creativecommons.org/licenses/by/2.0)], via Wikimedia Commons
"The thermal qualities of the marble are similar to those of single-pane glass," says Mahalko. "It's not a good insulator." In cold weather, condensation formed inside the building, which houses some of the world's most precious volumes—including a Gutenberg Bible.
Beinecke Rare Book & Manuscript Library at Yale University by SOM – article in the the Architectural Record.
7 Dec 2011
Skidmore Owings & Merrill Award News
AIA Chicago Recognizes SOM Chicago for 75 Years of Global Design Excellence
SOM receives organization's Firm of the Year Award
The Chicago office of Skidmore, Owings & Merrill LLP (SOM), with its culture of inter-practice innovation, design excellence and commitment to the city where the firm was founded, has earned the 2011 Firm of the Year Award from the American Institute of Architects' (AIA) Chicago chapter. The award is the organization's highest honor a firm can receive. It recognizes outstanding achievements by a firm, excellence in the body of work produced by the firm, and the contribution made by the firm to the advancement of the architectural profession in the areas of design, research, planning, technology and architectural practice.
The Firm Award Jury concisely summarized SOM Chicago's qualifications in the following statement:
"Skidmore Owings & Merrill is the jury's unanimous choice for AIA Chicago's 2011 Firm of the Year. It is evident in the submission that SOM has a distinct culture that is collaborative and team-oriented with a history of high aspirations for design excellence. For the professional community, SOM's innovation continues to impact and inform tall building design around the world, while it is also evident that SOM is an involved and active citizen of Chicago, reaching outside of itself to positively impact the community and its organizations."
SOM Chicago will celebrate this honor with members of the design community at the AIA Chicago annual meeting and awards presentation on Friday, December 9, 2011 held at ReBuilding Exchange in Chicago.
About AIA Chicago
Founded in 1869, AIA Chicago represents over 3,000 licensed architects, architectural interns and allied professionals in northeastern Illinois. AIA Chicago is the second largest AIA chapter in the nation.
2 Dec 2011
SOM Architecture Practice News
SOM's Nada Andric Inducted into Interior Design Hall of Fame
December 2, 2011 – Chicago, IL – Skidmore, Owings & Merrill LLP (SOM) congratulates Ms. Nada Andric, Associate Director and Chicago office interior design studio head, on being inducted into Interior Design magazine's illustrious Hall of Fame The Hall of Fame was established by the magazine in 1985 to recognize individuals who have made significant contributions to the growth and prominence of the design industry.
Previous Hall of Fame luminaries include Antonio Citterio, Clodagh, Thiery W. Despont, Frank Gehry, Albert Hadley, Andre Putman, David Rockwell, Lauren Rottet, Philippe Starck, Robert A.M. Stern and SOM Interior Design Partner, Stephen Apking. In addition to Andric, Patricia Urquiola, David Keinberg and George Beylerian will also be inducted into the class of 2011.
"It is truly an honor to be a 2011 inductee into Interior Design's Hall of Fame and to be joining an elite group of professionals. My work is a passion of mine so to be recognized by my colleagues and collaborators with such a high honor is simply astonishing," Andric said upon receiving her award at the Hall of Fame event at the Waldorf-Astoria in New York City.
Since joining SOM in 1992, Andric has focused her extensive design experience on large-scale global architecture and interior design projects that have afforded her the opportunity to work in 13 countries. Her work can be seen in some of the world's most iconic buildings including Burj Khalifa, the world's tallest building in Dubai, and Jin Mao Tower in Shanghai, China, which upon its completion was China's tallest building. Nada's body of work also includes Virginia Beach Convention Center (Virginia Beach, USA), Korea World Trade Center Expansion (Seoul, South Korea), Hyatt Global Headquarters (Chicago, USA), Nestlé Makati Administrative Offices (Manila, Philippians), Xerox Center (Chicago, USA) and The Broadgate Tower (London, UK).
18 May 2011
SOM Structural Engineering Travel Fellowship
SOM Foundation Awards Winner of the 2011 SOM Structural Engineering Travel Fellowship
Foundation celebrating its 30th Anniversary
Chicago, IL – The Skidmore, Owings & Merrill (SOM) Foundation announced today that the $10,000 SOM 2011 Structural Engineering Travel Fellowship has been awarded to Ashley Thrall, who will receive her PhD this month from the Department of Civil and Environmental Engineering at Princeton University, where she has also received an Master in Arts in 2009 and a Master of Science in Engineering in 2008. Working with Professors Sigrid Adriaenssens, Maria Garlock, and David Billington, her PhD research has focused on improving the sustainability of movable bridges by generating new forms that integrate the structural and mechanical systems.
Based on her essay submitted for fellowship consideration, "Deployable Structures: Elegant Kinematics for Social Responsibility," Ashley will utilize her fellowship to continue her interest in kinematic structures by studying the application of deployable structures for disaster relief. Her itinerary will include 1) visiting the site of a recent disaster; 2) meeting designers at research centers and design firms, and 3) evaluating deployable structures through site visits. Ashley will begin her itinerary in Haiti, at the site of the recent earthquake, and then will proceed to study deployable structures in the United States and throughout Europe.
Having grown up in Canton, Connecticut and graduating from Canton High School in 2000, Ashley then earned her Bachelor of Arts in Physics from Vassar College. While studying physics, she utilized her summers to gain research experience at Vassar College, NASA's Goddard Space Flight Center, the University of California – San Diego, CERN (European Center for Nuclear Research) and the University of Michigan. She was eventually drawn to structural engineering while seeking a field which blended her passion for design with her technical interests.
The SOM Structural Engineering Travel Fellowship is awarded annually through a national competition. In January 2011, the SOM Foundation received portfolio submissions from students at US schools having an accredited program in civil and structural engineering. The submissions were judged on the quality of the design portfolios, research proposals and travel itineraries.
Meeting in Chicago this year, the jury was comprised of some of the city's most distinguished professionals: John Carrato, SE, PE, President and CEO, Alfred Benesch & Company; Inigo Manglano-Ovalle, Artist; Lawrence Novak, SE, PE, Portland Cement Association, Director of Building Structures; and Mark Schendel, AIA, Principal, Studio Gang Architects. The jury was chaired by SOM Structural Engineering Partner, Bill Baker.
Now in its 30th, the Foundation's fellowships continue to offer recent graduates the rare opportunity to travel in conjunction with carrying out in-depth research, collaborating with other professionals, and pursuing independent study outside the realm of established patterns. To date, the Foundation has awarded more than $1,000,000 to architecture, design, and engineering students who have gone on to distinguish themselves in professional and academic careers.
Skidmore Owings & Merrill Awards
SOM SAN FRANCISCO HONORED WITH FIVE AWARDS AT AIA CALIFORNIA COUNCIL AWARD CEREMONY
November 19, 2010 (San Francisco, California) – The Partners and Directors of the San Francisco office of Skidmore, Owings & Merrill LLP (SOM) are pleased to announce that the office was honored with five awards from the American Institute of Architects California Council (AIA-CC) at the 2010 Awards and Installation Celebration held at the Solage Resort in Calistoga, California. Three projects received merit awards for design, the Structural Engineering Studio earned an achievement award for research and technology, and the 2011 firm award was bestowed on the San Francisco office. In the past two years, SOM's San Francisco office has achieved a record-breaking number of accolades – nearly 90 awards for design and innovation.
The US Embassy in Beijing, Merit Award for Architecture
The new US Embassy in Beijing responds to its diplomatic role as a secure space that is both welcoming respectful of local traditions. AIA-CC praised the project as it "reflects American cultural, social, and political values while respecting China's ancient and extraordinary vibrant culture." Simple architectural geometrics, coupled with gardens and courtyards, symbolically fuse eastern and western traditions.
Parkmerced Vision Plan, Merit Award for Urban Design
AIA-CC hailed the Parkmerced Vision Plan as "a pioneering neighborhood revitalization effort." The program transforms a 1950's era, car-centric neighborhood into a holistic urban ecology through a comprehensive and innovative long-term development program based on the best-applied principles of environmental sustainability and neighborhood livability. The project promotes these principles by creating a pedestrian-friendly neighborhood that establishes a productive network of open space, applies evolving environmental technologies to reduce energy and water usage, and resolves automobile dependency by realigning public transit.
Tianjin Financial City Vision Plan, Merit Award for Urban Design
Tianjin has long been one of Asia's leading trading cities with a financial heart running along Liberation Road. City officials adopted a plan to transform this deteriorating, yet historic, neighborhood into a modern 133-hectare Financial Street. SOM worked with city officials to develop an ancillary program for Tianjin Financial City to bring this new vision to life, proposing a rich mix of commercial, residential and recreational uses to create a vibrant mixed-use district. Through the integration of historic revitalization, compact density, riverfront access, and environmental sustainability, Liberation Road will become a unique and livable place among the high-rise sprawl found throughout Tianjin.
SOM San Francisco Structural Engineering Studio, Achievement Award: Research & Technology Honor Award
The SOM Structures Studio, under the direction of Mark Sarkisian, PE, SE, LEED® AP, was praised by AIA-CC: "Mark and the SOM Structures Studio strive to achieve the most environmentally responsive structures and have made significant contributions to the profession through their research and development." Mark and his team have created seismic structural systems that allow buildings to behave mechanically during seismic events without sustaining damage in order to reduce the carbon footprint associated with repairs. They have devised a method to utilize post-consumer waste as building material. And through their commitment to raise awareness of the impact of buildings on the environment from the moment their built throughout their service life, have developed a tool to quantify carbon emissions of structures and the potential positive impact of using the enhanced structural systems and post-consumer inclusion systems they have invented. These new and innovative developments demonstrate their contributions and commitment to a safer and healthier built environment. The Structures Studio was commended by AIA-CC for being "on the leading edge in the field of seismic and sustainable engineering through the research and development of products and devices that contribute to more sustainable and environmentally responsible engineering practices."
SOM San Francisco, 2011 Firm Award
The firm award is the highest honor the AIACC can bestow on an architecture firm. This award recognizes firms that have consistently produced distinguished architecture that transcends a specific area of expertise. SOM San Francisco's mission is to elevate the quality of design and innovation in the profession and regenerate cities and campuses by holistically addressing the environment and enriching the human spirit. The firm also strives to make a significant, quantifiable reduction in the carbon footprint of new real estate developments on the Pacific Rim and in California. AIA-CC congratulated the firm's achievements, stating "SOM San Francisco has contributed significantly to California's architectural, cultural, and civic landscape, particularly over the past ten years."
SOM Architects Award News
Phillip Enquist Award


photo : SOM / studiothomas
Phillip Enquist, architect, to receive the 2010 Distinguished Alumnus Award from the Architectural Guild of the University of Southern California (USC) School of Architecture – 10 Mar 2010
Bruce Graham
1925-2010


Bruce Graham photo : SOM / Stuart Rodgers Photography
Bruce Graham – 9 Mar 2010
Former SOM partner passed away in his home at Martin County, Florida, USA.
Key Buildings by SOM Architects
Major Projects by Skidmore Owings Merrill, chronological:
Lever Building, New York, USA
1952
Inland Steel Building, Chicago, Illinois, USA
1958
JP Morgan Chase, New York, USA
1960
One Chase Manhattan Plaza, New York, USA
1960
Beinecke Library, New Haven, Connecticut, USA
1963
John Hancock Center, Chicago, Illinois, USA
1970


photograph : Royce Douglas
John Hancock Center
Sears Tower, Wacker Drive, Chicago, USA
1973


photograph courtesy of Jan Klerks
Sears Tower Chicago : classic Skidmore, Owings & Merrill building
Arts Hotel, Barcelona, Spain
1992
Jin Mao Tower, Pudong, Shanghai, China
1998


photo © Dennis Remmelzwaal
Jin Mao Building
Freedom Tower – Site of World Trade Center, New York, USA
2004-14
More Skidmore Owings Merrill – SOM projects online soon
Location: New York City, USA
Skidmore Owings Merrill (SOM) – Practice Information
Skidmore Owings Merrill studios based in the USA and other locations across the globe
Walter Netsch : past SOM partner
Gordon Bunschaft : past SOM partner
Gordon Bunschaft of SOM (+ Oscar Niemeyer) : Pritzker Prize architects Winners in 1988
Former Architect Marshall Strabala
Buildings / photos for the Design: Skidmore Owings Merrill Architects page welcome
Website: www.som.com