John Lautner Architect, 20C Californian Building, USA Design Studio, American Projects, Office
John Lautner Architect : Architecture
Modern Architecture, United States of America – 20th Century Houses
post updated May 20, 2021
John Lautner – Key Projects
Major Buildings
Desert Hot Springs Motel, Palm Springs, USA
The Chemosphere, Los Angeles, California, USA
Arango Residence, Marbrisa, Acapulco, Mexico
Date built: 1971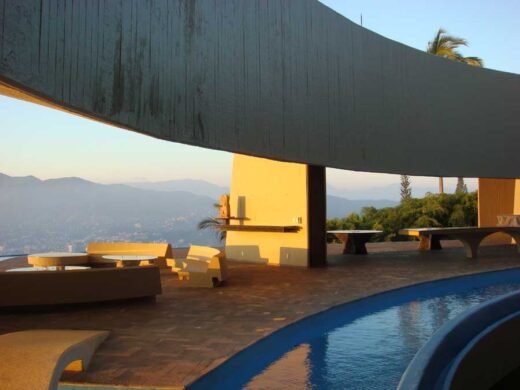 photo : Sara Sackner
John Lautner house
John Lautner, Architect (1911-94)
John was born in Marquette, Michigan, USA
The John Lautner Foundation (JLF), P.O. Box 29517, Los Angeles, CA, USA
Chemosphere, Los Angeles, California, USA


photo : Sara Sackner
John Lautner – Turns 100 Events
THE JLF PRESENTS
JOHN LAUTNER (1911-1994) TURNS 100 CELEBRATIONS
16 Jul – 13 Nov 2011
Los Angeles, CA (June 30, 2011) – The JLF announces updates to the John Lautner Turns 100 series, taking place July 16-November 13, 2011. Developed in collaboration with architecture and design institutions in Los Angeles, California and Marquette, Michigan, the series commemorates this legendary architect. Featuring exhibitions, film screenings, home tours, symposia, and receptions, the celebration seeks to showcase Lautner's extraordinary body of work and inform and inspire the public about the importance of preserving it.
Garcia House, 7346 Mulholland Drive, Los Angeles, CA
Date built: 1962
aka Garcia Rainbow House or The Rainbow


photo on left by Tycho Saariste ; on right by Judith Lautner
Lautner is considered one of the most visionary architects of the twentieth century. Born in 1911 in Marquette, Michigan, he received a liberal arts degree from Northern Michigan University before studying with Frank Lloyd Wright at Taliesin.
As one of Wright's first apprentices, Wright himself claimed Lautner was "the world's second greatest architect." Known for creating architecture that is uniquely responsive to its site, Lautner's work is celebrated for the way it seamlessly blends into the natural landscape.
Due to his work's inherent beauty and dramatic qualities, countless projects have been featured in Hollywood films, and two documentaries have recently explored his work. Lautner, who was made a Fellow of the American Institute of Architects (AIA) in 1970, was honored with a Gold Medal for lifetime achievement in 1993 by AIA Los Angeles.
In anticipation of what would have been the architect's 100th birthday on July 16, 2011, and due to growing interest in and admiration for his work, The JLF created this series to acknowledge, reflect upon, and further educate the public about one of the twentieth century's greatest architects.
The John Lautner Turns 100 series partners include the American Institute of Architects – Los Angeles Chapter, Getty Research Institute, LACMA, Los Angeles Conservancy, MAK Center for Art and Architecture at the Schindler House, The American Cinematheque, and the Society of Architectural Historians. Media sponsors include Dwell, California Home + Design, FORM, and The Architect's Newspaper.
Calendar of Events:
Complete details about the series can be found online at www.johnlautner.org or www.facebook.com/johnlautnerfoundation. Visit the website for tickets and up-to-the-minute information, including event and location details. Note that all programs are subject to change.
John Lautner – Turns 100 Events in July
John Lautner Day
July 16, 2011
The City of Los Angeles has officially proclaimed July 16, 2011 'John Lautner Day.'
Event at LACMA
July 16-24, 2011
Where: LACMA, 5905 Wilshire Blvd., Los Angeles, CA, USA
In celebration of John's 100th birthday, LACMA will be hosting the following exhibition and companion programming designed to explore Lautner's astonishing career.
John Lautner Exhibition
July 16-24 | Art Catalogues at LACMA, Los Angeles, CA, USA
Free.
This special exhibition, featuring an abstracted composition, archival model, and photographs of John's famous Goldstein Office, will convey a sense of what it was like to be inside the magical space.
Stayin' Alive: The Legacy of John Lautner
July 16, 2:00-4:00 pm | Brown Auditorium. Free, tickets required. Limited availability.
This panel, featuring architects and critics Michael Rotondi, Craig Hodgetts, and Sylvia Lavin, will look at Lautner's work, assessing its impact on the thinking and practice of architecture. It will be followed by a conversation on architectural preservation, featuring Frank Preusser, LACMA's Conservation Scientist, and Christopher Carr, Vice President of JLF. The conversation will be moderated by archivist and curator Nicholas Olsberg. A special birthday reception to officially commemorate 'John Lautner Day' will follow the discussion at 4.30pm.
Artist Talk with Dan Graham
July 17, 4:00-6:00 pm | Art Catalogues at LACMA, Los Angeles, CA, USA
Free. Limited availability.
This talk features Dan Graham in conversation on this celebrated US architect. Graham is a conceptual artist, art critic, and theorist. His work consists of film, video, performance, sculpture, photography, and architectural models, focusing especially on the relationship between his artwork and the viewer, and the study of space and light. His work blurs the line between sculpture and architecture. Graham has recently been studying and writing about architects' horoscopes for Domus magazine.
John Lautner 100th Birthday Home Tour
July 23, 2011, 10:00 am-6:00 pm
Price: $100 General Admission | $90 MAK Center friends, JLF members, and students.
Where: Various Los Angeles Neighborhoods
This tour series offers unique, behind-the-scenes access inside four of Lautner's most significant Los Angeles homes, including the Harpel House (1956), Jacobsen House (1947), Schwimmer House (1982), and Sheats/Goldstein House (1963). Tour co-presented with the MAK Center for Art and Architecture at the Schindler House.
(NOTE: Original tour date has been changed due to the 405 closure.)
2011 Gala Celebrating the 100th Birthday
July 24, 2011, 6:00 pm Intimate Home Tour | 7:00 pm Cocktails and Hors d'Oeuvres, Awards Presentation and Auction
Price: $250
Where: Harpel Residence (1956), Hollywood Hills
Join The JLF for an exclusive evening at the iconic and newly restored Harpel Residence, benefiting the Foundation's Preservation Fund. Guests will be treated to intimate home tours of the Harpel Residence and a special auction featuring rare Lautner memorabilia and other items. The evening will also honor early Lautner clients Leonard Malin and Ken Reiner, the original owners of the Chemosphere Residence (1960) and Silvertop Residence (1963), respectively.
Celebrating Lautner in Film
July 30, 2011, 7:00 pm
Price: Regular General Admission
Where: Egyptian Theater, 6712 Hollywood Boulevard, Los Angeles
Step inside the magic of Lautner's legend by viewing three documentary films on his work. Films include John Lautner, The Desert Hot Springs Motel (Director: Sasha Pirker), The Spirit in Architecture: John Lautner (Director/Producer: Bette Jane Cohen) andInfinite Space: The Architecture of John Lautner (Director: Murray Grigor). Evening co-presented with The American Cinematheque and featuring a panel discussion with the film makers.
John Lautner – Turns 100 Events from August to November
John Lautner: A Life in Architecture Exhibition
On View August 19 – November 13, 2011 | Opening Reception: September 2, 2011
Where: DeVos Art Museum at Northern Michigan University (Marquette, MI) Highlighting NMU alumnus Lautner's architectural styles through drawings, floor plans, models, photography, and video, this exhibition showcases Lautner's ability to create versatile spaces that integrate the natural landscapes they inhabit. Companion programming includes:
Frank Escher in Conversation about this architect
September 2, 5:00 pm
Dutch Architects Tycho Saariste and Jan-Richard Kikkert in Conversation about this Modern US architect
September 18, 3:00 pm Panel Discussion | 5:00 pm Reception
John Lautner: A Life in Architecture Exhibition News
On View August 19 – January 7, 2012 | Opening Reception: September 2, 2011
Where: Marquette Regional History Center (Marquette MI)
Showcasing Lautner's influences growing up in Marquette, including the family house and camp, Midgaard.
Lautner Preservation Symposium
October 9, 2011
Co-hosted with the Los Angeles Conservancy
Behind the Scenes: The John Lautner Archive Collection
Fall 2011
Where: The Getty Research Institute at The Getty Center Co-sponsored by the Society of Architectural Historians
About The John Lautner Foundation
The JLF is a non-profit organization formed in 1996 to educate the public and to celebrate and maintain the work of one of America's most creative architects. The Foundation serves as the primary source of information on Lautner's work. Its major focus is the preservation of Lautner buildings.
John Lautner Exhibition
'John Lautner (1911-1994) Turns 100' exhibition
Organiser: JLF
In celebration of what would have been the architect's 100th birthday on July 16, 2011
24 Jun – 13 Nov 2011
Schwimmer Residence, Beverly Hills, Los Angeles, CA
Date built: 1982


photos : Tycho Saariste
Locations: Los Angeles, California + Marquette, Michigan
Events: exhibitions, film screenings, home tours, symposia and receptions
'John Lautner Foundation at dwell on design', Los Angeles, CA, USA
24 – 26 Jun 2011
The John Lautner Foundation – external link
Key Buildings by this Modern Architect
Arango Residence, Acapulco, Mexico
Bob Hope Residence, Palm Springs, USA
Desert Hot Springs Motel, Palm Springs, USA: restored 2001, open to public
Elrod Residence, Palm Springs, USA
Garcia Residence, Los Angeles, California, USA
Googie's Coffee Shop, Sunset Strip / Crescent Heights, USA 1949
Malin Residence – The Chemosphere, Los Angeles, California
Sheats-Goldstein Residence, USA
Silvertop: Reiner-Burchill Residence, USA
More buildings by this Modern US architect online soon
Location: Los Angeles, California, USA
John Lautner Architect Practice Information
Education
Taliesin Fellowship (Frank Lloyd Wright)
The Chemosphere – restoration
2000-
For Benedikt Taschen
Architects: Frank Escher / Ravi GuneWardena
Related Modernist Architects
Comments / photos for the John Lautner Architecture page welcome
Website: www.johnlautner.org